When it comes to starting a blog, you just can't skip search engine optimization (SEO). In other words, WordPress blog SEO is crucial if you ever want for people to discover your blog.
But don't worry – it's not as complicated as you might think. We'll quickly cover the basics so you can start blogging on the right foot.
This is chapter 9 of a bigger guide on how to start a successful blog.
Specifically, we'll talk about:
👨‍🔬 Keyword research
📄 On-page SEO
📱 Mobile SEO
🏛 Site architecture
🔗 Link building
Keyword research – the key to WordPress blog SEO 👨‍🔬
Every page and post on your blog
should have a target keyword
. Every single one!
But how do you know what keyword to target?
The easiest way is one we talked about in one of the previous chapters – simply start with your competition.
Find their top-performing posts by plugging their URL into
BuzzSumo
, then take the URL of their top post and plug that into 
Google Keyword Planner
 (GKP) to see what keywords they rank for.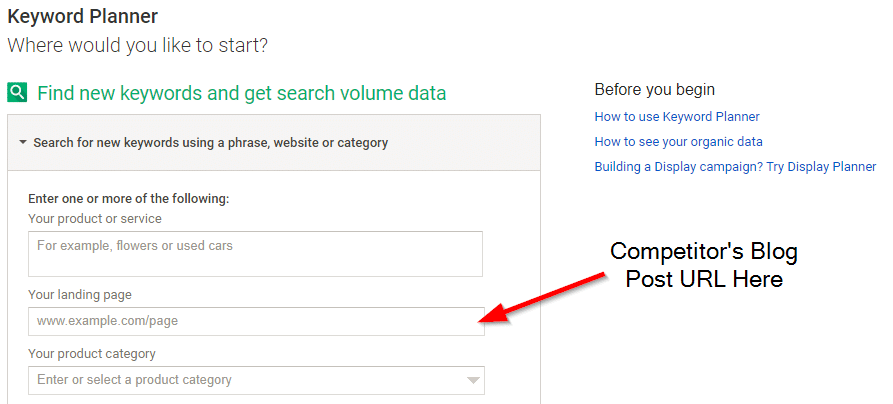 If you see any good ones, steal 'em!
💡 PRO TIP: The "competition" row in GKP refers to paid advertising, not organic rankings, so don't worry about that when choosing a keyword.
You can check out this guide for more help on finding a proven topic and good keywords for your WordPress blog SEO.
On-page SEO: a quick & dirty overview 📄
On-page SEO is the practice of including your keyword (and LSI keywords – words or phrases that are semantically related to each other) in strategic locations on your page. It's important to tell Google what your content is about.
Specifically, you should include your primary keyword in:
The page title

The URL of the page

At least one subheading (H2 or H3) on the page

At least one image's alt text

The meta title

The meta description

The body content (a handful of times)
So, for example, if you're targeting "SEO tips" as your main keyword, your page would be optimized like this:
Sounds like a lot to remember, right?
That's where the Yoast SEO plugin comes in! The best all-in-one solution for WordPress blog SEO (and also one of the plugins that we've recommended as a must-have
in an earlier chapter
).
Yoast reminds you to put your keyword in the right places and warns you if you're doing something wrong. So just make sure you get "all green lights" from Yoast before you publish anything!
Right below your main content block – when editing a post – is where you're going to find the Yoast block, and within it is where you should seek the approval of the almighty green lights 🚦 (example below).
And I really do mean
all
of those green lights. For instance, the editor here at CodeinWP won't ever approve a post until it's all green. I know this is sometimes a difficult thing to achieve based on what your keyword is, but it really pays off in the long run.
Check out this guide to learn more on how to go about your on-page SEO.
Mobile SEO – the must-have element in 2019 📱
Views from mobile devices account for more than 50% of all website visits right now (and it's been like that since 2014). Add to that, 60%+ of mobile visitors will leave your site if they have a frustrating browsing experience.
When you think about this, it makes total sense. Everyone and their dog has a smartphone now, and they use them for nearly all web purposes.
Mobiles is where we go to see Facebook, watch a YouTube video, check email, everything.
This is why making sure that your web pages look good on mobile is key. Two reasons for that:
mobile-friendly page means that it'll be easier for your readers to consume the content you're publishing,
Google now actively penalizes websites that are not sufficiently mobile-friendly; or, even more than that, Google uses mobile-first indexing, which means that it's the mobile view that decides how highly your page will rank in Google.
Here's what you can do with that information and how to make sure that your whole website as well as your individual posts and pages are mobile-friendly:
(a) Use Google's mobile friendliness tool
Google has made their own tool public so that every webmaster can check how mobile-optimized their web pages are. You can access the tool
here
.
To use it, just enter the URL of the page you want to check.
It's a good practice to test a couple of types of pages on your site:
your homepage
a standard blog page – any standard page built in the Pages section of the WordPress dashboard
a standard blog post
any custom or otherwise non-standard page or post – test any post and page that have custom designs or use custom page templates
Doing all of the above gives you a good overview of the situation.
If any of those tests return a negative result, you need to investigate some more and follow Google's tips on how to fix the issues.
Here's what the test should look like when all is fine:
(b) Use a mobile optimized theme
Since WordPress is a fully modular platform, so to speak, this means that you can exchange your themes whenever you see fit. Thus, you can use this opportunity to make sure that your theme works good on mobile as well.
Here's how to do that:
test your theme using the Google mobile test described above,
emulate different devices in the Chrome browser and see if the content still looks correct.
To emulate different devices in Chrome, launch the developer tools by hitting either Cmd+Opt+i (Mac) or Ctrl+Shift+i (Win). You'll see a new panel appear on the screen. Click on the "device" button:
Once you do this, you'll have the option to select a specific device that you want to emulate.
Refresh the page once you make a selection.
Scroll up and down the screen to make sure everything is in order. You can also switch to other devices and repeat.
If there are any significant issues at all, you'll likely not be able to fix them in a straightforward way. At this point, it's better to just switch your theme to something that's mobile-optimized from the get-go.
(c) Switch to AMP
AMP stands for Accelerated Mobile Pages and it's an open source project that describes itself as:
"The Accelerated Mobile Pages (AMP) Project is an open source initiative that embodies the vision that publishers can create mobile optimized content once and have it load instantly everywhere."
In practice, AMP is a technology that makes your pages load lightning-fast when viewed by a person on mobile.
The good news is that you don't really have to understand how that works under the hood to get the benefits. AMP can be enabled in WordPress via a plugin called AMP for WP.
With it, you can customize how your blog handles AMP pages and even build custom AMP-validated page structures for your posts, pages and homepage.
With these three elements taken care of – testing for mobile optimization, having a good theme, using AMP – you're basically ready to welcome any mobile visitors that might be interested in your content. Having this level of mobile optimization will also have a huge impact on your site's overall SEO.

Site architecture: structure your site for readers and Google 🏛
The way your site is set up affects how easily users (and Google's crawler bots) can navigate it.
There are two golden rules to site architecture in terms of WordPress blog SEO:
Every page should be within three clicks of every other page.
Your site should be simple and scalable.
More on those later. First, and example of BAD site architecture (each block is a single sub-page):
It breaks both rules. It takes as many as five clicks to get to the content (go from the top to the bottom left), and it's not scalable.
Not only is this poor for navigation, it also hurts your search rankings. Here's why:
Typically, your home page is the most authoritative page on your site. Internal links from one page on your site to another pass some of that "link juice" or "authority" from one page to another. This was formerly called PageRank, but Google no longer uses that term.
Visually, it works like this:
So if you bury your posts deep within your site, you're losing the authority from your home page. Here's another visual:
So your blog posts lose out on that link authority.
Instead, set up your site like this:
Your pages are linked together like a web. These internal links help Google crawl all your pages efficiently, while helping users get around your site. It also spreads around your site's authority, helping all your content rank = that's good WordPress blog SEO.

How to get started with link building 🔗
Just as internal links from one of your pages to another passes authority, so too do links from other people's websites to yours.
Actually, links from another website to yours are far more important for ranking your website on Google than internal links. Think of links like votes for Google. The more votes your website has, the better chance it has to rank highly.
However, you don't just want links to your homepage. While they do help, what's more important are links directly to the individual blog posts you're trying to rank.
Matthew Barby, the director of HubSpot, performed a study on their site and found that pages with more links received far more organic search traffic than pages with fewer links.
I would even risk saying something like this:
So you get it – links are important. But
how do you get them?
If I were starting from scratch with no connections in a brand new niche, I would start by building relationships with the influencers in the industry.
Not only will these relationships leads to backlinks, but they can also lead to partnerships, help sharing your content, and loads of learning.
To find those influencers, start with Google. Just start searching for topics you're interested in. The top results are typically influencers.
Get together a list of 10-20 of these people. Follow them on social media, share their content, and comment on their blogs. Do all the things you wish people would do for you.
After that, reach out to them and ask for their feedback on your content. Be genuine about it – talk about how you found them, what you love about their blog, or what you admire about them. The more genuine you are, the better your chances of getting a response.
Once you become better than acquaintances with them, ask them straight up if they'd mention your content on their blog. Make sure it's valuable for their readers, and they'll probably be more than happy to help.

And that's all there is to it! You now know more about WordPress blog SEO than 80% of bloggers out there. Give yourself a pat on the back!
With all that being said, I do realize that some of this may sound perhaps a bit too simple and too convenient. There doesn't seem to be any secret sauce here, right?
Well, there's no magic trick that's sure to "break SEO," unfortunately. SEO is mostly about doing a lot of
little
things, and doing them
regularly
. It really is about showing up and doing the actual work rather than hoping to stumble upon the next killer technique.
This is basically how we built this blog's position in the WordPress niche. We networked with people, commented, reached out to them a number of times, made friends, and so on. This, in time, allowed us to get links and thus improve our search engine rankings.
We talk some more about that in the next chapter, which is all about effective blog promotion, check it out: