Covid-19 has brought the world to a standstill. With travel restrictions and social distancing guidelines in place, video-conferencing has become the new normal for many businesses, schools, and even families and friend groups. If you're in a similar situation, you're probably considering Zoom vs Microsoft Teams vs Google Meet for your regular meetings. However, it can be difficult to decide which one is the best.
Choosing the right video-conferencing platform will largely depend on your needs.
☑️ For instance, large organizations will require advanced security measures.
☑️ You might also want access to additional tools such as file sharing, interactive chats, or calendar integrations.
☑️ Ease of use is an important factor for streamlining meetings and making sure everyone can participate, too.
In this article, we'll compare Zoom vs Microsoft Teams vs Google Meet on their features, pricing, and ease of use. We'll also share some guidance on which is the best depending on your situation. Let's go!
Zoom vs Microsoft Teams vs Google Meet
Now that we've discussed what you might need from your video-conferencing platform, let's look at three excellent alternatives. The one that's the best fit for you will at least partly depend on your use-case, but they all offer somewhat similar features.

Zoom is a popular platform for video and audio conferencing, serving over 300 million daily participants [1]. It enables users to communicate via private or group chat and to exchange files. You can also record your meeting and make it available for those who couldn't attend the live session.
Zoom offers several products, including Zoom Meetings and Zoom Room. The latter is a robust conference room system that provides wireless audiovisual capabilities and access to the Zoom cloud platform. However, Zoom Meetings is usually sufficient for most users.
⚙️ Key features:
Calendar sync (Outlook, Gmail, or iCal)
Encryption and password protection
Virtual 'waiting rooms'
High Definition (HD) video and audio
Screen sharing
Recording and transcripts
Live chat
Engagement tools ('hand raising', reactions, polls)
👐 Ease of use: Zoom is very easy to use! Participants can join the meeting from any location via an invitation link, which is compatible with desktop and mobile devices. Hosting a conference is straightforward, too. All you need to do is log in to your Zoom account and enter your meeting details.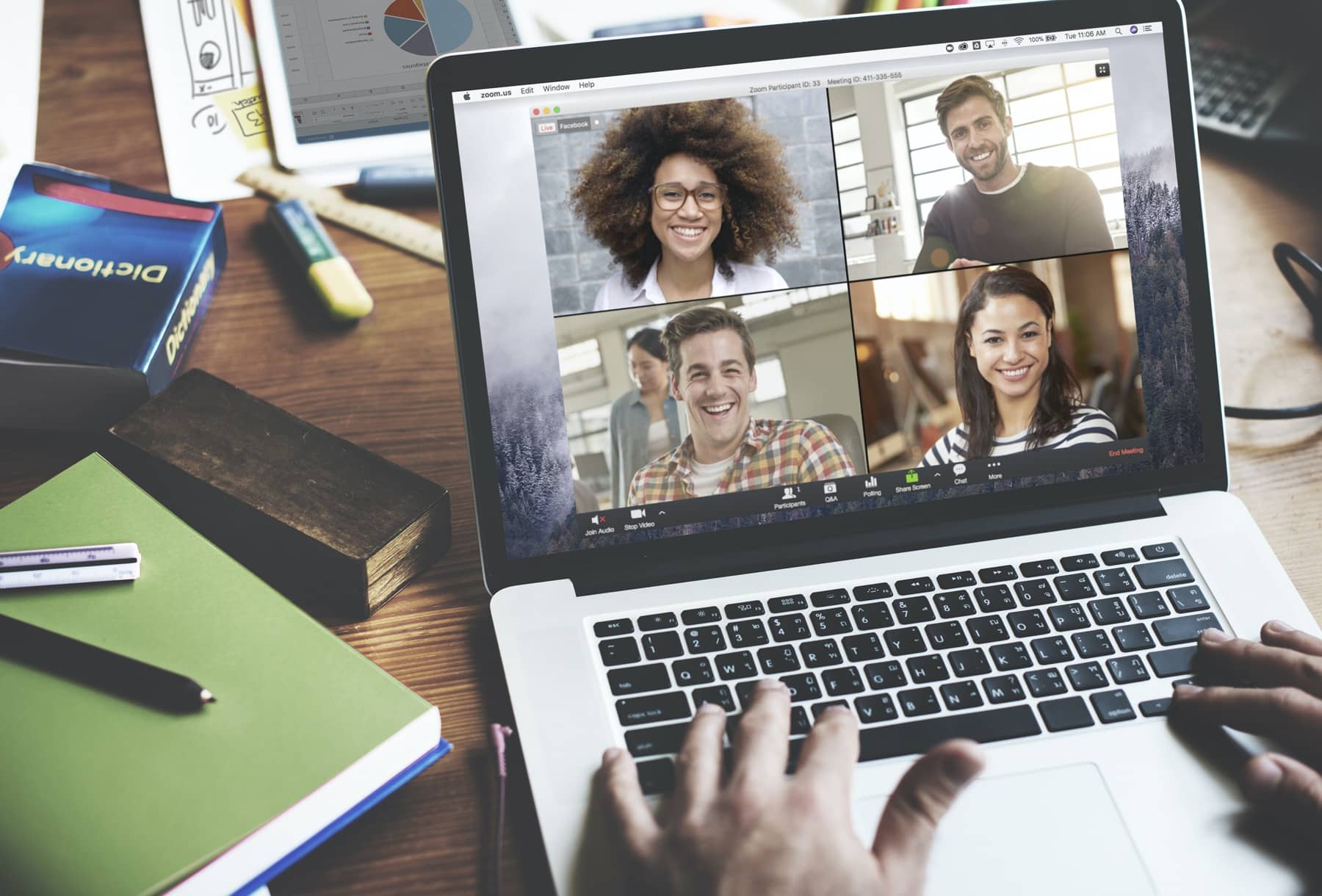 💰 Price: Zoom Meetings Basic is free to use for up to 100 participants and 40-minute sessions. The Pro plan gives you unlimited meetings, video streaming synced with your social media accounts, and 1 GB of cloud storage for recordings at a price of $149.90 per year.

If your team is already using Microsoft 365 for other purposes, Microsoft Teams could be the optimal video conferencing app solution for you. It's integrated with other Microsoft products including Skype, Outlook, and Office. It's mainly a chat-based collaboration tool, but its robust video conferencing functionality makes it a go-to app for over 44 million daily users [2].
⚙️ Key features:
Screen sharing
Scheduling options
Custom backgrounds
'Together mode' with a shared background
Instant file sharing and real-time editing
Virtual waiting rooms
Video recording
Live captions
Advanced security and privacy measures
Integration with business apps such as Evernote, Trello, and others
👐 Ease of use: Microsoft Teams has an intuitive interface, which makes things simple when collaborating with a large group. You can set up a channel with a few clicks and easily organize conversations in distinct threads. You can also transition smoothly from a chat to a video or voice call, as all of these functions are centralized in one tool.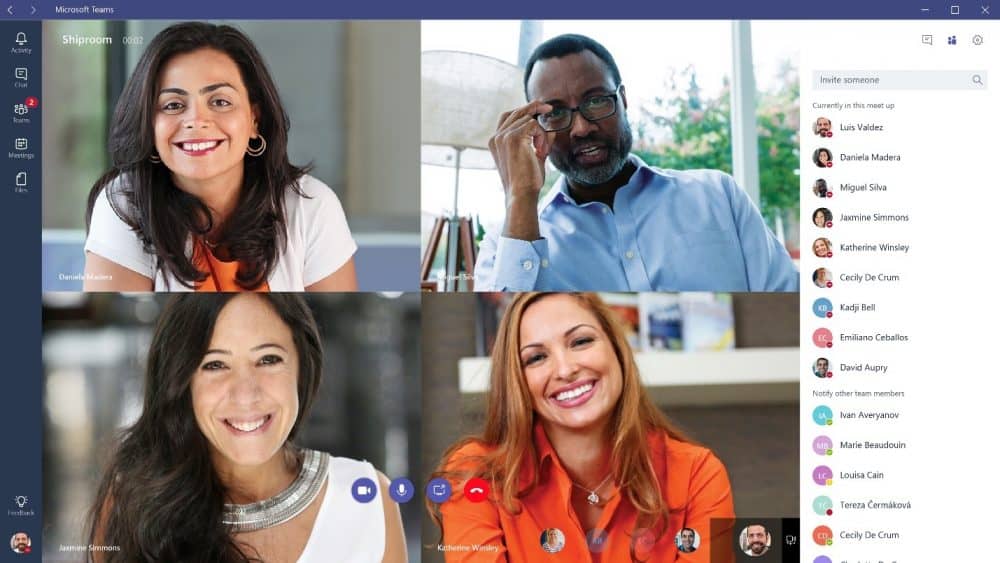 💰 Price: Microsoft Teams is bundled with Microsoft 365. There is also a freemium version available, which gives you unlimited chats and video calls and 10 GB of team file storage. The paid version starts at $5.00 per user per month. It includes 1 TB storage and enterprise-level security and compliance.

Unlike Microsoft Teams, Google Meet (previously Hangouts) is solely a video conferencing solution, with over 100 million daily participants [3]. It's integrated with Google Workspace (G Suite) products including Gmail and Google Drive. Note that you and your participants all need to have Google accounts to use it.
⚙️ Key features:
Live captions
Optional hardware for conference room support
Custom layouts and screen settings
Screen sharing
Live chats
Integration with Google and Microsoft Office calendars
Encryption and security features
👐 Ease of use: The interface is typical for Google products – light and super intuitive. Once you log in to your account, all you have to do is navigate to the Google Meet page and start your meeting. There is no need for any software installation, although mobile users should download the corresponding app for the best user experience (UX).
💰 Price: The price starts at $6 per user per month. There is also a freemium version available, enabling you to host unlimited 60-minute meetings for up to 100 participants.
Zoom vs Microsoft Teams vs Google Meet: which is best?
Choosing the best video-conferencing app will depend on your needs:
For instance, if you only require basic video calling functionality, Google Meet might be your ideal solution. It's free and super easy to use, but the requirement to sign up for a Google account could be a limitation for some.
On the other hand, if you need a robust collaboration tool with enterprise-level features, Microsoft Teams is probably your best bet. Its wide array of integrations outshine its competitors, and the ability to transition from chat to video can be useful when managing a large group of participants. However, if your team relies on platforms outside the Microsoft ecosystem, you might want to consider another solution.
Finally, if you're a school or small business, Zoom will probably be the best platform for you. It's straightforward and user-friendly, and your participants won't even have to sign up for an account. Plus, it's excellent for online classes and presentations due to its interactive features and effortless screen sharing.
Note that Zoom experienced some security issues in the past, so it may not be the right app for privacy-critical tasks. However, the company has since doubled its efforts to protect data, making it our preferred video conferencing app overall.
Conclusion
Working from home is a challenge for many organizations. To continue business as usual, video conferencing apps such as Zoom, Microsoft Teams, or Google Meet have grown significantly in popularity. However, it's important to compare them to make sure you choose the platform that suits your needs.
To recap, we find Zoom Meetings to be the optimal solution for most users. As a world leader in video conferencing, this platform is easy to use and flexible enough to adapt to personal, educational, or business purposes. However, Microsoft Teams and Google Meet are also worthy of your consideration, especially if these brands' other products are essential to your daily work.
Do you have any questions about Zoom vs Microsoft Teams vs Google Meet? Let us know in the comments section below!
…
Don't forget to join our crash course on speeding up your WordPress site. Learn more below:
* This post contains affiliate links, which means that if you click on one of the product links and then purchase the product, we'll receive a commission. No worries though, you'll still pay the standard amount so there's no cost on your part.