I'm officially crappy with email.
And it's not that I don't care or I can't be bothered when people contact me. I just seem not compatible with the medium itself.
Being a pro blogger and working with WordPress, this doesn't make my life easy, and especially when dealing with new prospective clients who might be put off by my struggles.
But hold on … why am I telling you this?
Well, the thing I'm leading up to is the holy-grail of professional productivity – some people would want you to believe – which is the topic of business automation.
Automation – as in having some parts of your business put on autopilot, so you don't have to spend time taking care of them by hand. For example, the main problem for me, as I said, was email. Email was something I needed to have taken care of, and just … get done as painlessly as possible. But there are more problems like this. Problems that countless freelancers struggle with every day, maybe without even knowing it.
In itself, automation is probably something you should start thinking about right now … even if you're relatively new to the WordPress freelance world. And if you've been in this business for a while now, how on earth have you managed to get by without automation?!
Anyway, here are the specific things that you can do to put parts of your WordPress business on autopilot:
1. The Method X
Okay, I was just going to say "be methodical" instead of "Method X" but then you'd just stop reading, since "be methodical" sounds really cliche. But hold on and bear with me here, please! This is what I mean:
The secret to automation – as said by David Allen (someone a lot more knowledgeable about these issues than me) – is all about focusing on three things (and I am paraphrasing):
(a) Eliminate. Figure out whether a given task/action/element really needs to be done. Maybe you can just eliminate that thing altogether? If so, do it.
(b) Simplify. Figure out whether the thing isn't perhaps needlessly complicated – much like this expression. In other words, whatever you want to automate, it needs to be simple first!
(c) Automate. The main task. Please notice that this comes third – meaning that you can only automate something that has proven to be important (wasn't eliminated), and that is already simple enough.
So in that light, being methodical, or Method X is all about automating only the things that matter enough so that they can't be eliminated altogether.
Essentially, being methodical prevents you from going willy-nilly and looking for another thing to automate "just because." Instead you can focus on improving your current processes.
"To remain competitive you need to automate–or someone else will automate you out of business."
– Jeff Haden
As Jeff Haden says in his Inc.com column, "To remain competitive you need to automate–or someone else will automate you out of business." And I couldn't agree more.
This might all sound kind of preachy, I understand, but I really want to emphasize this Method X part, so all I ask you is to keep it in mind as we proceed through the other points on the list.
2. Work on your systems
Automation is hard to do if you don't document each repeatable thing that's part of your daily agenda.
Frankly, if you don't know the exact steps that lead to executing a certain task, how can you automate them?
This is why the #1 habit on your way to automation should be taking note of your processes, and then reviewing those processes every time you go through them to execute that given task.
Next, once you already have (what you think is) the final version of the process, only then begin to automate it.
Start building your library of processes today – the processes that are essential to your way of doing your business. That library will soon become an invaluable asset.
3. Go for the easy wins
Automate what's the easiest to automate first.
Just to give you an example, as well as my first tool recommendation of the day, as I said, most of my problems have revolved around email. One of those problems is never following up with people on time. The thing I used to do is mark an email with a star, and then come back to it ASAP (read: never).
My salvation came from something called Boomerang. It's a simple Gmail plugin that adds a new row of controls under every new email draft, like this:
With it, you can mark certain emails to come back to your inbox later, based on some triggers. For instance, you can set an email to come back if you don't get a response within X days. Essentially, if you set things right, you can have Boomerang automating your "follow up with that person" prompts.
This is an example of an easy win. You no longer have to mark these things in your calendar. Boomerang will remind you at the right time.
4. Use Grasshopper for clever automation (with toll free numbers)
Although not immediately apparent, Grasshopper is a cool service that can be quite handy for automation, but it's all in the details of how you set it up.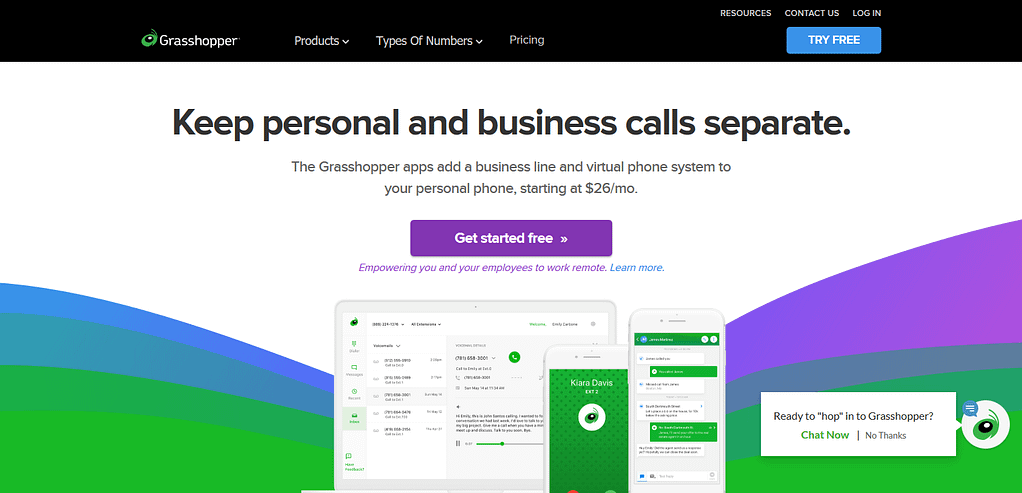 Just so that we're on the same page, Grasshopper is a virtual phone system. In other words, you can set up working phone numbers with it (1-800 toll free numbers or local numbers), and then have those numbers redirect to other places based on your needs.
In the simplest setup, you can just have that toll free number redirect to your personal cell, just for privacy reasons (that way you don't have to display your real number on the website).
But there's actually a lot more waiting inside Grasshopper. Two of the most important features for us are extensions and custom greetings.
First off, some people will still prefer to actually pick a phone and call you, rather than communicate through email. And if there's no number listed on your site, they will just ignore you as a potential contractor altogether.
By using Grasshopper, you can not only enable them to reach you, but also welcome them with a custom message, and let them select a specific extension that relates to their inquiry.
For instance, you can have the x1 extension set to be about "sales," then x2 to "support," and so on. Then, each of them can lead the client to a pre-recorded message getting them more familiar with your offer. That client is probably more likely to listen to your actual voice, even if recorded, than to read copy on your site.
At the end of it, the call goes to voicemail, and then you can get the recording of the call + a transcript delivered to you.
In terms of automation, though, you can go even further:
For example, if one day a major bug is discovered somewhere, and your clients start suffering from it, obviously they will be calling you for a solution. You can record a message telling them what to do, and set it as the main greeting. That way, you don't have to repeat yourself each time.
Going on vacation? Record a new greeting and let people know when you're coming back.

Also, if you're on vacation, but still want your most important clients to be able to reach you, set a "secret" extension on your toll free numbers. Don't announce it in the greetings, but just tell your clients what number they need to press to get through to you immediately. Set that extension to connect with your cell directly.

Forced to disconnect for a while completely? Redirect all calls to a partner or co-worker, or just straight to voicemail with a custom greeting letting people know what's up.
Grasshopper lets you do all that. Your imagination is probably the only limit here. Some more examples.
In a sense, this type of automation is to eliminate some of the repeatable interactions from your agenda, and let them be taken care of by a virtual phone system.
5. Automate lead capture
"Lead capture" sounds like a dirty word.
Moreover, the phrase also delivers us from the fact that it's real people that we're dealing with, not just some abstract "leads." Unfortunately, though, there's hardly any better way to call it, so let's just leave it at that.
Lead capture is key to every business, WordPress-related and otherwise.
The problem is two-fold:
if you're just starting out, how are you going to get leads,
if you're already established, how can you prevent missing out on leads that are of higher quality?
Here's what I mean with the latter. Mainly, when you're working for one client, you're likely occupied enough that you don't pay 100% attention to new leads coming in. After all, you're busy. This is another problem of mine with email … leads come in, I don't act. I'm sure you can relate to some extent.
So, the main thing you should do is to make sure that every lead that comes in is properly serviced, and that if they are right for you, you will not miss them. Relying on your ability to handle everything by hand is a short path to failure, I'm afraid.
Here are two alternative solutions, both equally good (in my opinion):
Use optin forms to get leads
The classic way of letting people reach you is to just put a contact form on your site. Simple.
But not effective.
What seems to work much better now is to use an optin form instead of a standard contact form.
Here's what you do:
First, sign up with Sendinblue – it's what we use for everything at CodeinWP/Themeisle (we love it). It's affordable (especially compared with MailChimp) and offers neat features, particularly in the automation department.
Next, create a new form and put it on your contact page. On the outside, that form looks normal. There's a place for someone's name and email. But what comes next is the unique part.
Go to Sendinblue's automation section and create a short sequence of messages guiding the person through your offer and the process of working with you. Tell them to visit certain pages on your blog, maybe survey them via Typeform (it's the tool we used for our extensive hosting survey), etc. Ask them about their needs, budgets, and so on. Basically, whatever fits your business.
I leave the details of this up to you, but you get the idea.
At the end of it all, you have a lead that is 100% ready for you to pick up and handle in person. And most importantly, some people will abandon the process mid-way – those are your non-ideal clients, and you'd still have to take care of them if it wasn't for the lead gen system.
To some extent, this path is similar to what we discussed with Grasshopper toll free numbers, but it's done via email vs over the phone.
Use CRM integration to get leads
An alternative method is to use a CRM system to handle the process.
The CRM path might be a better solution if the beginning stages of your selling process are more complex, and need your personal input quicker (compared to the optin form path).
All popular CRMs out there have great email integration and various ways of handling new leads. I guess it's all up to your personal preference, as there's no one CRM to rule them all. Though, check out Nutshell CRM, Insightly CRM, or Highrise CRM.
6. Automate your WordPress development
I guess it's high time we talk WordPress specifically.
I realize that not all of the following will be useful for your particular kind of WordPress business, so feel free to pick and choose whatever seems cool:
Automate site migration / cloning
With most WordPress projects, you start by working on a local version of the site, and then migrate it to the final server. If you already have an effective system setup for this, then feel free to ignore what I'm about to say, but if you don't – then the Duplicator plugin is likely to help you.
This is a plugin that the CodeinWP team has been using for a long time to move sites around, and to speed up our launch processes considerably.
In the end, why would you do all this by hand? With an automation plugin like Duplicator, you're making things not only faster, but also not as prone to human error.
Automate cleanup
Another thing you might have to do every once in a while when working on WordPress development is to restore the whole installation to its default settings. This might happen if you did something really shady and the whole thing collapsed.
Of course you can do this by hand, but going the plugin route will be quicker. Here's a detailed guide.
Automate your theme settings
If you're working on a WordPress project that involves tuning up the theme, you will probably use child themes. Although that's a way better approach than just tinkering with the parent theme, in some cases you can be a bit more creative and automate some of the process.
For instance, if you're using a framework theme for most of your projects, then you probably have your favorite set of theme settings – the ones that you roll out every time. But implementing them by hand isn't very efficient.
An alternative is to take all those settings and turn them into a custom config plugin. That way, you can just activate the plugin and have your settings integrated with a new site with one click.
There's a cool guide on WPMUDEV all about that.
Automate social media sharing
Whether it's yours or your client's site, social media is going to be an important element for the overall success of the whole thing.
So to make the ongoing management easier for whoever's running the site, why not just get a plugin that will share the content from the blog automatically?
It just so happens, quite mysteriously (cough!) that our own Revive Old Post works great for that. Just like the name suggests, the plugin takes a peek into the site's archives, and shares one of the posts to your social media profiles on autopilot (works with Twitter, Facebook, LinkedIn).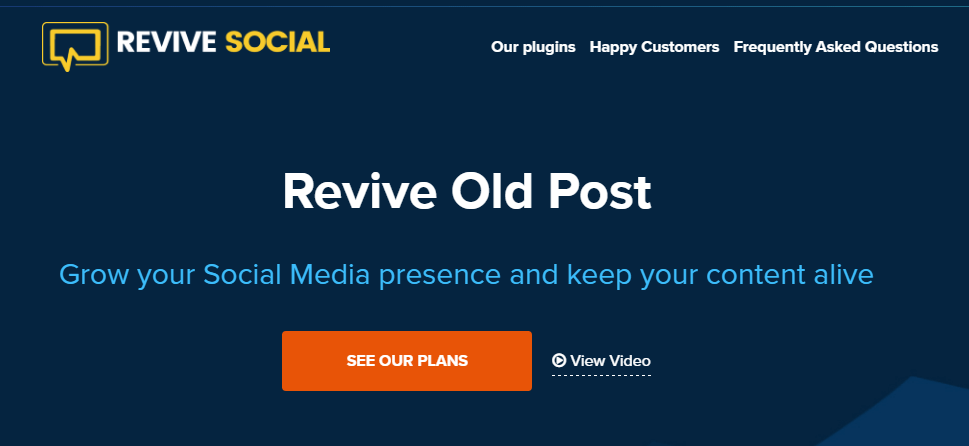 Automate backups
Backups are simply something that you don't want to have to worry about. You just want them to be taken care of.
Here's an extensive comparison of ours, looking into the most popular backup solutions for WordPress (spoiler alert; our winner is BlogVault).
You can set most backup plugins to work on complete autopilot … like it should be.
7. Advanced automation – use Zapier
Last but not least, we have Zapier – arguably the best way to connect two apps with each other and automate what happens as a result.
And in Zapier's world, an "app" is a very broad term.
In case you don't know, Zapier is quite similar to IFTTT, but a bit more advanced (and reliable, in my experience). In short, you get to select an input app, a trigger, an output app, and an action that should be conducted on that output app.
Okay, that might not sound very clear, but here's an example:
One of the many apps supported in Zapier is GitHub. What you can do, for example, is take new issues from GitHub, and create cards in Trello for each one.
(And, by the way, when I say that "you can" do this, I actually mean that it happens on autopilot – Zapier carries out the task.)
That way, you no longer have to go to GitHub to see what's going on. But that's just the tip of the iceberg … Zapier supports more than 700 apps.
What else is there?
Summary: Here are our top tool recommendations for automating parts of your business:
Tools to automate your WordPress business

| Boomerang | Grasshopper | Sendinblue | WordPress development | Zapier |
| --- | --- | --- | --- | --- |
| Use it to automate your follow-up emails. Send them just at the right moment and find out when people read them. | Set up toll free numbers, and use Grasshopper's virtual phone system to automate all phone activity in your business, and also get more clients at the same time. | Use it to replace contact forms with optin forms – thus automating parts of your lead capture. | Automate site migration, database resets, theme settings, social media sharing, backups. | Connect any two apps and automate the workflow between them. |
That's it for this post, but maybe you have some other ideas regarding automating your WordPress business…
Do you think that things like optin forms (with Sendinblue or otherwise), toll free numbers with Grasshopper, or putting parts of your development on autopilot are a good way to automate your work in the WordPress space? Feel free to share.
…
Don't forget to join our crash course on speeding up your WordPress site. Learn more below:
* This post contains affiliate links, which means that if you click on one of the product links and then purchase the product, we'll receive a small fee. No worries though, you'll still pay the standard amount so there's no cost on your part.