Work from home has always been a topic that leaves room for debate. Some people think it's a superior model of work, while others are totally against it. The pandemic put many of us in the situation of turning our personal rooms into offices; this experience either made you acknowledge the work from home benefits that you hadn't been aware of before or just confirmed your previous doubts.
If you're still on the fence about remote work, we will be listing several benefits to show you that working from home can be just as effective for you or even better than the standard, office-bound model of work.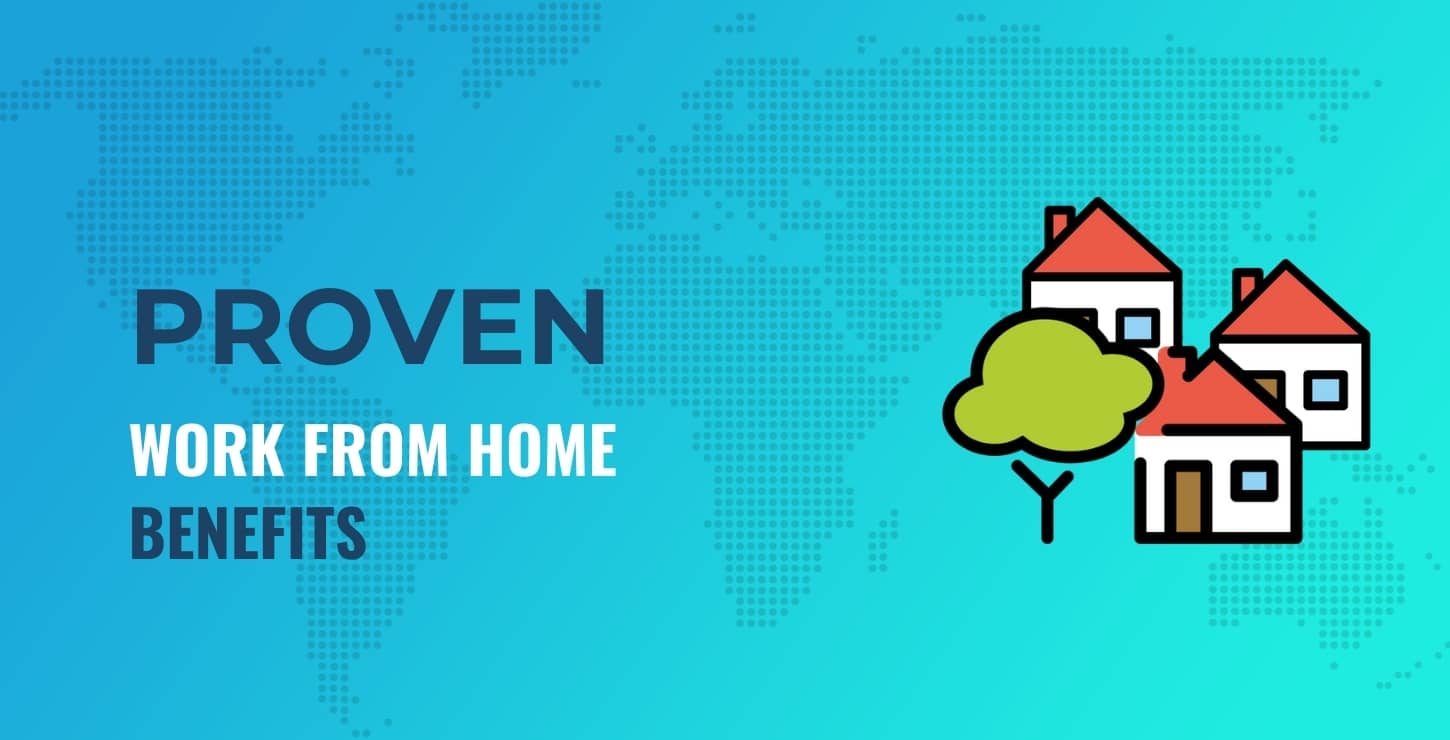 Proven "work from home" benefits
With so many video conferencing tools available, multiple companies are finding it easy to shift to flexible work from home arrangements, so it's a perfect time to consider the benefits of making your home an office.
You can create your own work environment 🛋️
Being able to create a custom work environment is one of the most attractive work from home benefits of them all. Being in the right environment can massively influence the way you do your job. At the office, you need to comply with commonly agreed on conditions, which might not be optimal for you.
At home, you can adopt your own work routine and work-life balance that both favor you and don't affect other people.
Take these few examples of what you can do at home, but not in the office:
Work from your desk, your sofa, or even from bed without thinking that it might look ridiculous or unprofessional. You don't have to sit in the same spot the entire day.
Wear your coziest clothes.
Adjust the room temperature to best fit your preferences. No more too hot or too cold.
Create your own routine that's not shaped by the office routine. Basically, do the things you want to do when you want to do them without depending on other people's schedules (e.g. eating at certain hours, taking breaks when your colleagues take breaks and not when you want to take them, trying not to make much noise because it will disturb others, etc.).
Do 10-minute workouts between tasks or meetings.
Listen to music/podcasts (or, start your own podcast using one of the best podcast platforms). without having to wear headphones all day. Or, go the other way around and keep your workplace completely quiet without the need for noise cancellation.
You're going to save a lot of money 💰
Various experts calculated all the possible expenses that someone who works from the office bears and estimated that an average person saves around $4,000 per year through remote work[1].
Where does all that money go?
Commuting by public transportation.
Commuting by car (which is much more expensive).
Food and snacks from restaurants and cafeterias. You have the chance to cook more at home or buy stuff in bulk at more affordable prices.
Self-care. While this might sound over the top, self-care does cost a lot of money if you need to buy all sorts of products constantly. Cosmetics, more clothes to change every day, and accessories are among the things we spend the most of our money on.
Experience less stress and tiredness 😰
The work itself isn't the main stress-generating factor when working from the office. There are a lot of side-factors that we don't usually think of at first:
You have to wake up early.
Get yourself decent-looking for the workday.
Go out while you're still half asleep.
Face the overcrowded rush hours.
Sit in the same spot for almost eight hours in a row.
Deal with frequent distractions.
Face the same rush hours at the end of the day just to get home.
In the work from home scenario, none of the above happens. You should know yourself very well by now to understand how you respond to such external factors, so you can eliminate them from your life.
Once the extra stress disappears, your wellness improves. This leads to better mental and physical health, which will prevent burnout.
Most people who have put the office work behind them seem to agree with that. The stats say that 80% of telecommuters experience less stress when working from home[4].
You can set a flexible schedule 🕒
When you're not stuck in an office environment, you are able to organize your own schedule. You know better what your most productive hours are and how to make the most of them. This doesn't really happen in an office because you are there during a strict time frame, in which you need to deliver. Being available during a specific timetable doesn't necessarily make you efficient.
Once you are able to create your own schedule and do not depend on external factors that take precious hours away from you, you can squeeze in more workout exercises, dedicate more time to your hobbies, and simply make room for more activities in a day's time.
You get more job satisfaction 😊
Like I mentioned earlier, all the things that you do to get to work (that don't imply the work per se) aren't usually very enjoyable. The moment you get rid of the annoying parts of your day and only take care of what matters, your satisfaction and motivation at work will increase. You won't see your job as a chore any longer, therefore, you'll like it more.
According to a study from Owl Labs, remote workers are more likely to stay in their current job for the next five years than people who work from the office, based on their own statements[5].
Moreover, 40% of the respondents to Dice's survey[2] said that remote work offers them more time for in-depth and creative thinking. This makes sense since, at the office, you don't have the right environment to ponder on your work and think about the big picture behind what you do. You just do it.
You may also be interested in:
You get to experience the nomad life 🗻
If you choose to work from home, you can make any place your home. You can work from another city, from the countryside, or from another country if you feel like you want to change the scenery once in a while.
Of course, make sure you have a solid internet connection in the respective place before you commit to working from there. Other than that, you are free to blend work with seeing the world if you enjoy traveling.
You see little things and chores in a better light 🛍️
When your first thing on the list is getting to the office and back home in unpleasant circumstances, the other issues of the day become secondary. And, most of the time, you don't even have much energy left for them anyway.
When you have the freedom to organize your day the way you want, you make time and enjoy other activities more, even the ones that people usually consider as chores. For instance, going out to buy groceries, picking up an order, or even taking a walk with no particular purpose.
You appreciate going out more after a day of working entirely from home, so you basically start to enjoy the things that you previously didn't find enough time for or were too tired to do.
If, before, all you wanted after a day at the office was to get home and relax, now you are keener to go out in the evening and enjoy the things around you more. Because you are less tired and have more time, too. It's not like you must iron your shirt for tomorrow, is it?
You avoid the small talk that takes place in the office 🗣️
If you're an introvert who doesn't always like to talk unless there's some interesting discussion around, then this is one of the work from home benefits that you will appreciate a ton – small talk can be energy-consuming. Extroverts will probably never understand how this can happen and will find it outrageous.
No matter how much you like your colleagues, you can't have something useful or great to share with them every day. Yet, you feel the urge to talk when you see someone just for the sake of making conversation.
And no matter how much you would like to, you can't be friends with everyone in the office, so you can't avoid small talk.
No office distractions, hence better productivity ⌨️
Here's one of the work from home benefits that's up for debate. That's because some people find the quiet place at home perfect for work, while others find it too quiet and even more distracting.
This is one of the benefits that also depend on what kind of person you are. If you don't mind seeing and hearing people around you all the time, then you can probably be productive in the office. But being at home will put you in an environment where you can easily do your job without being interrupted when you're getting into your daily flow.
Some people say that there are a lot of distractions at home, too. That's also right. But the difference here is that these distractions depend entirely on you, you can control them. You won't play games when you're busy or have stuff to finish, right? Whereas at the office, you can't avoid the noise or taking part in group activities because it involves everyone, whether you like it or not.
According to Stanford Graduate School of Business, it's easier to increase your productivity at home than at the office simply because you don't have to deal with external factors that are out of your control[6]. You can structure your day based on what you're working on.
CoSo Cloud's survey found that 77% of employees observed an increase in their productivity while working from home because there are fewer distractions than in an office[3].
Are these work from home benefits right for you?
The discussions about working from home versus from the office won't end anytime soon. What works great for you might look like hell for other people. Everyone is free to find the best solution for themselves, which clearly won't coincide with other people's thinking.
Anyway, if you know what kind of personality you are, you should be able to understand what environment fits you best and how much these work from home benefits weigh in your career decisions. Let's simplify:
If socializing at work is not important for you, and you can do your job without having people around, you might find your home to be a perfect place to work from.
Work from home will actually be beneficial for you if your job doesn't imply constant communication, feedback, or teamwork and you mostly work on your own.
Gaining a significant number of hours per day is one of the biggest wins for remote workers. If time is super important to you, working from home will actually solve this problem.
No one enjoys commuting during rush hours when all the residents of a city are out for/from work. If this gives you anxiety and stresses you out, working from home will save you from this routine.
If you like to travel, you can mix this hobby up with remote work and become an occasional nomad.
Some types of work do not require your physical presence in the office. If going to an office doesn't bring anything essential to your work quality and productivity, it might be the moment to explore the work from home benefits.
If you feel unproductive at the office, you should try working from home. Creating a great environment and working on your own terms might make the difference.
Are you spending too much money every day? You should recalculate your expenses to see whether work from home reduces your costs, and reconsider your options.
If you're not working from home yet, but would like to find a remote job after reading this article, then check out these best remote job boards to get started.
What do you enjoy most about working from home? Do you know any other interesting work from home benefits that are worth sharing? Let us know in the comments below.
…
Don't forget to join our crash course on speeding up your WordPress site. Learn more below:
Layout and presentation by Chris Fitzgerald and Karol K.