When the first version of WordPress was shipped in May 2003, it had groundbreaking design features for the time and defined the first batch of WordPress theme design trends to come. There were highly intelligent line breaks, nice textures, and the ability for bloggers to add links to their blogrolls.
Remember blogrolls? They were a big deal 16 years ago. Everyone who was anyone was linking to other bloggers and hoping to get links in return.
Today, blogrolls are a thing of the past. In 2023, we've got page builders and block-based editing that let anyone create and customize a WordPress site — no code required.
So how did we get here? To understand what WordPress is today, let's take a look at how WordPress themes have evolved over the past 16 years.
WordPress theme design trends from 2003-2023
The first default WordPress theme (hint: it wasn't Kubrick)
When WordPress 0.71-gold was released in 2003, it came with the default b2layout.
The template was basic and ideal for blogging at the time. It had a simple header and a black sidebar. You've got to remember, internet speeds were relatively slow at the time and the simple WordPress theme design not only loaded quick enough, but was easy to modify compared to rival blogging platform Moveable Type.
Sidebars: A mainstay of early blogs
Sidebars were an important component of early web design as designers tried to figure out how to design for the web — and WordPress theme design was no exception. Sidebars would feature prominently for many years, briefly disappearing in Twenty Thirteen and returning in Twenty Fourteen.
In the early days of WordPress theme design trends, sidebars enabled bloggers to proudly display their blogrolls. With the release of WordPress 0.7 and its Links Manager, bloggers could better manage their blogrolls and automatically add them to the sidebar.
The basic template that came with WordPress was given a facelift for WordPress 1.2. The new color scheme was a breath of fresh air — a pleasant change from the previously dark theme.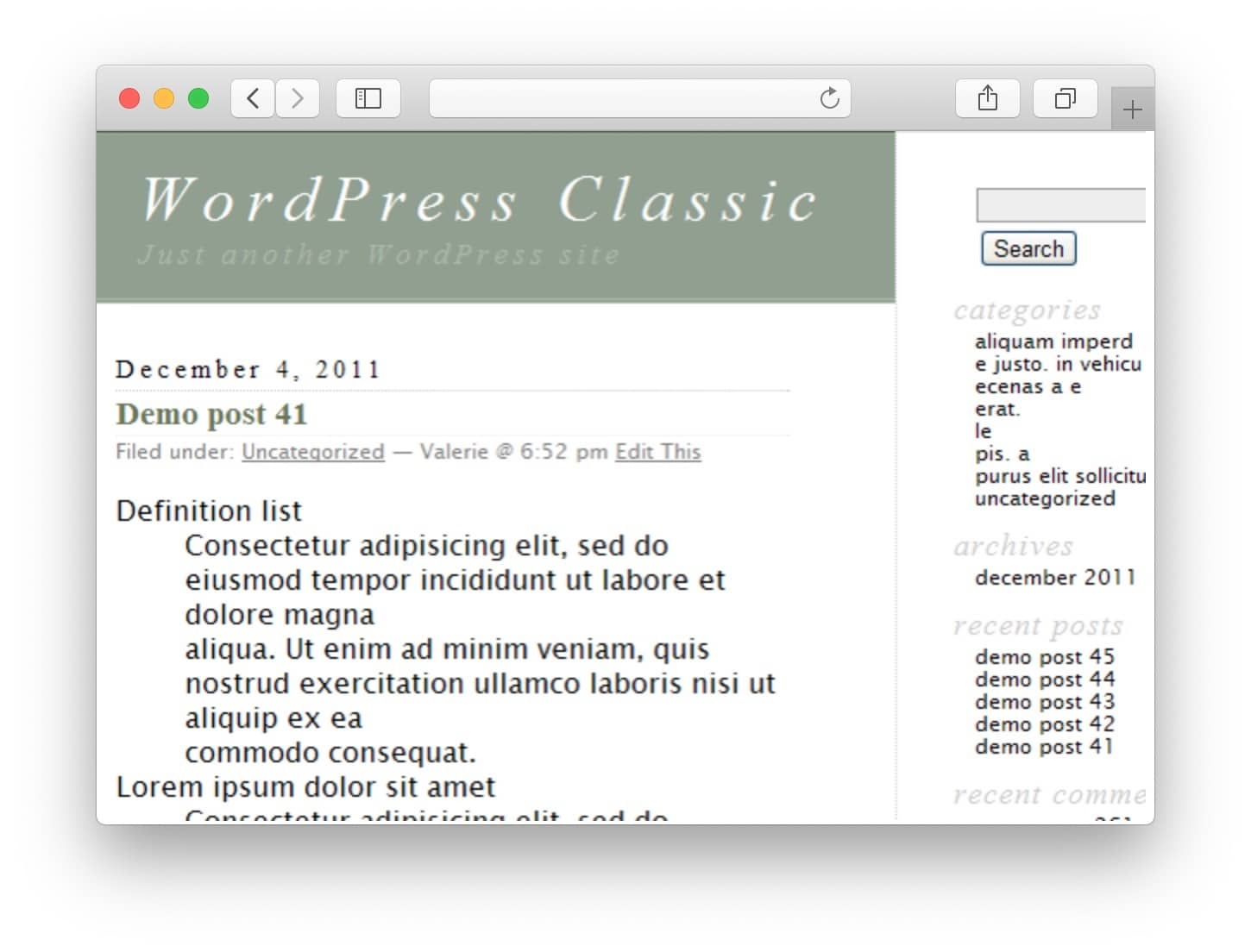 WordPress 1.2 featured plugin architecture for the first time, which allowed developers to extend the functionality of their theme design and share their plugins with the fledgling WordPress community.
In 2004, WordPress was the new kid on the blogging block — and something fun for folks who loved playing with code to customize. These tech savvy bloggers took to plugins with enthusiasm, and contributed to WordPress development overall by reporting bugs, providing feedback, and asking for new features.
WordPress core developers were all volunteers and used WordPress themselves for their blogs. As an open source project, feedback was welcomed and encouraged — and it enabled a user-centric approach to WordPress development that was unlike other blogging platforms at the time.
The Kubrick era: 2005-2010
In 2005, WordPress 1.5 introduced a flexible new theme system. Themes were broken down into different sections and files, giving users more control over how they customized their sites.
For instance, common site elements like headers, footers, and sidebars were split into their own files. Users could make a change to just one file (i.e home.php or comments.php) and see it everywhere immediately.
WordPress 1.5 also heralded the start of the long-running Kubrick era. Generally acknowledged as the first real default theme for WordPress, Kubrick showcased the power of the new theme system.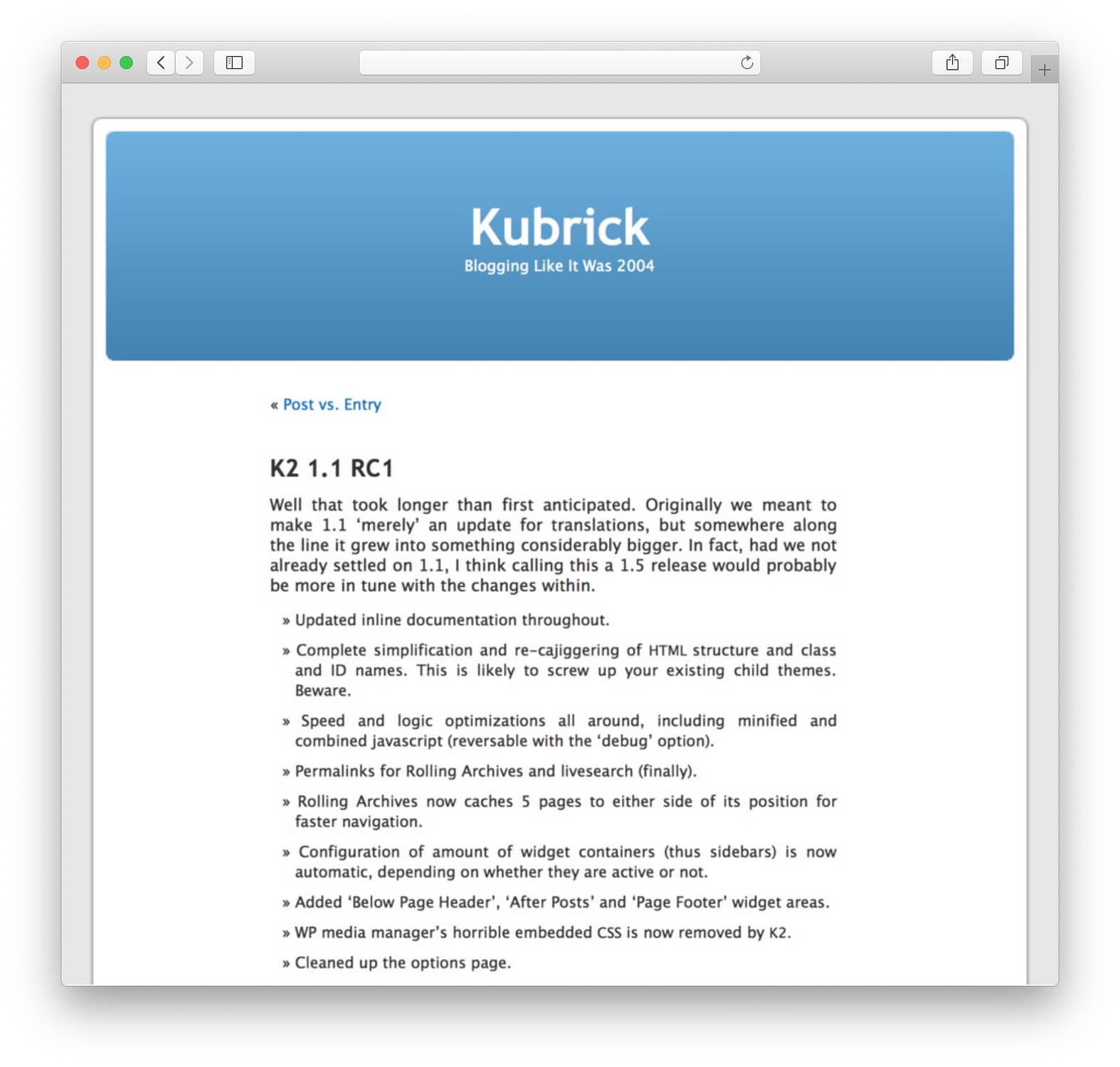 Michael Heilemann created the simple blue and white blog template and, for its time, this WordPress design was striking. With its rounded corners, custom header and two white columns — including a wide one for posts and a slimmer one for a sidebar — Kubrick was cutting edge!
Kubrick was the first flexible theme that worked out-of-the-box with many plugins. It was also the front-end face of WordPress from 2005 to 2010, making it the mainstay of WordPress theme design trends for years to come.
Premium themes: A happy accident
The WordPress Theme Repository was launched in 2008, allowing bloggers to download free WordPress themes and upload and share their own custom theme designs. The repository was something of a WordPress theme design showcase, letting users see how others were customizing WordPress and stretching the limitations of the platform.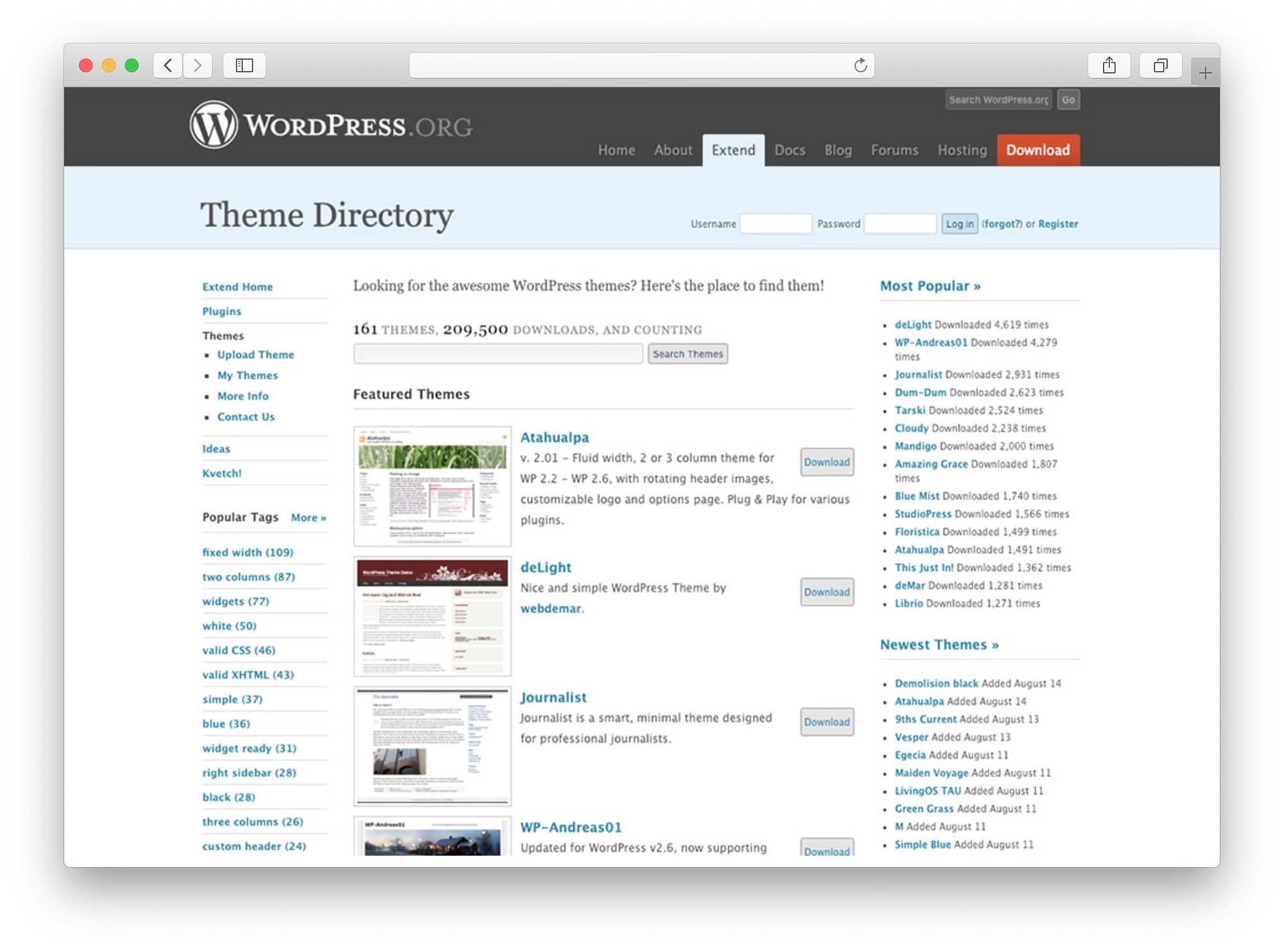 Brian Gardner was one such blogger trying to push the boundaries of what WordPress could do. He downloaded themes, made his own customizations, and then uploaded his updated designs to the repository for others to use for free.
This led to requests for customizations. At first, bloggers paid him $25-$50 to change things like colors. But soon he was getting requests for more complex customizations. As he would later tell the StudioPress.fm podcast, he was making "vacation money" and it was fun compared to his boring desk job.
Things changed when a real estate agent asked him to customize his blog. Brian went above and beyond, creating a WordPress theme design that could work as a front page so it would look more like a website than blog.
However, the agent rejected it saying he just wanted a basic blog. Brian was crushed.
Rather than ditch the design, he wrote a blog post about it and asked his followers if the custom theme was something they'd be interested in buying. The response was overwhelmingly positive. Brian called his theme design the Revolution theme.
In 2009, Revolution was rebranded to what we know it as today – StudioPress.
The rise and rise of WordPress customization
During 2008 and 2009, premium theme shops and WordPress-centric projects were being launched and there was a wave of new tutorial websites offering code hacks and ideas for customizing theme design that you wouldn't find in the Codex. It was a whole new era in WordPress theme design trends – empowering the user.
Among these how-to sites was ThemeShaper.com. Originally started by Ian Stewart, ThemeShaper was a place for Ian to share his Thematic theme. But Thematic was more than just a theme — it was an opportunity for Ian to learn how the WordPress theme system worked and share his learnings with the community.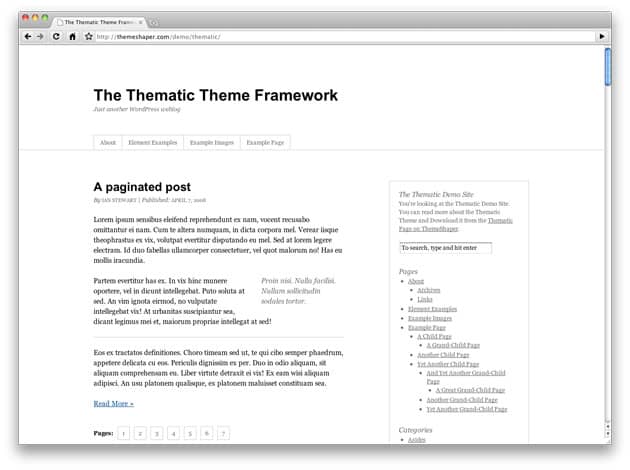 As WP Tavern's Jeff Chandler recalls of Ian and Thematic, 2008 was the "wild west of theme development and any person who regularly shared theme development techniques became an influential member of the community."
The emergence of theme frameworks
It was around this time that Brian Gardner partnered with Nathan Rice to launch Genesis, one of the first WordPress theme frameworks. These frameworks enabled developers to create themes that shared a common code base, providing a code library and basic architecture for themes that allowed users to put different designs on top. As Brian told the StudioPress.fm podcast:
"Once we built Genesis and introduced that idea and concept to the WordPress community, people bought into it. Obviously, we had a pretty good following through StudioPress and me personally. That sort of transitioned from standalone themes to what's now Genesis the framework and the child theme system that comes along with it."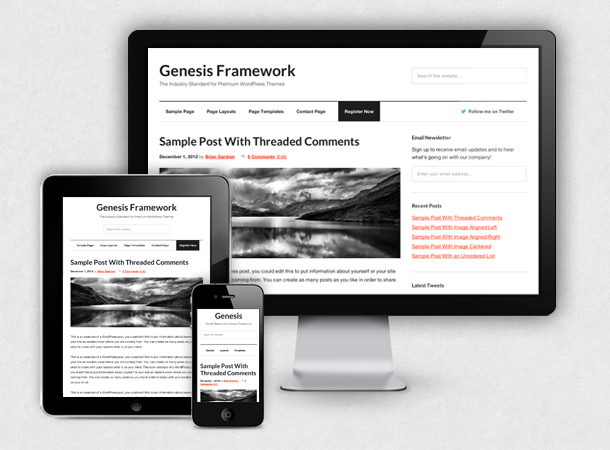 Other theme frameworks soon emerged, such as Thesis. These frameworks marked an evolutionary step forward in WordPress theme development, which Yoast's Joost de Valk summed up perfectly in a ThemeShaper post back in 2009:
"Chris Pearson's Thesis and Ian Stewart's Thematic might be pointing (WordPress theme design trends) in the direction where it should be heading: a theme that basically isn't a theme anymore, it's a layout engine."
WordPress 3.0: A turning point
In 2010, the release of WordPress 3.0 marked a major leap forward in the development of the platform. With features including custom post types, better custom taxonomies, and custom background, headers, and menus, WordPress was becoming a fully fledged content management system, not just a simple blogging platform.
WordPress 3.0 came with Twenty Ten, officially ending Kubrick's reign as the default theme and ushering in the tradition of a new default theme for each year, which was a big milestone for WordPress theme design trends.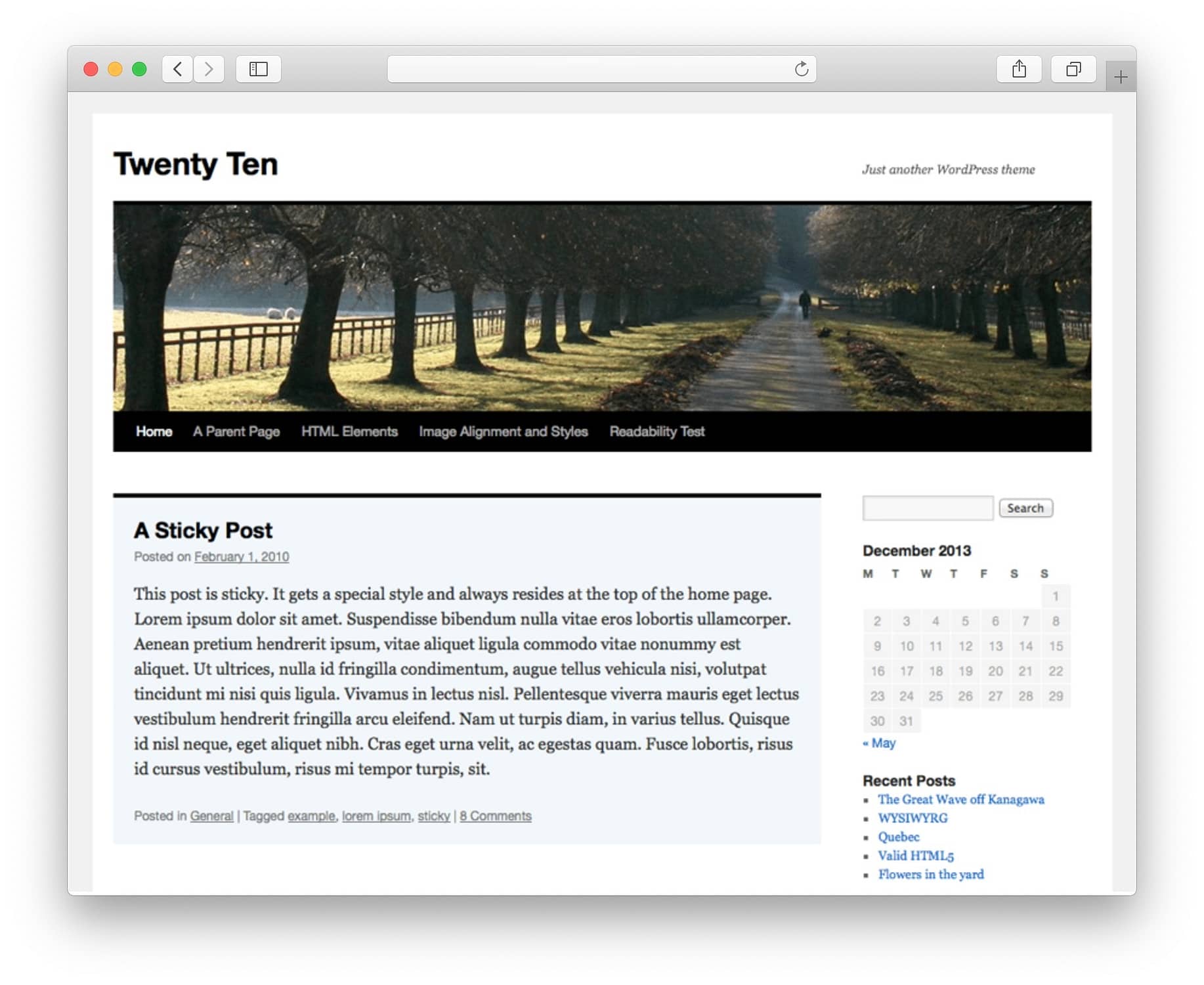 The theme customizer
By 2012, the evolution of WordPress theme design was moving along at steady pace. Now that commercial businesses were invested in seeing WordPress grow, they were developing premium themes with more features and functionality that enabled users to customize them more easily via panels in the WordPress admin.
It was during this time that the Theme Customizer was introduced to WordPress 3.4. The Theme Customizer let users make basic changes to themes, such as colors and backgrounds and preview them before making them live.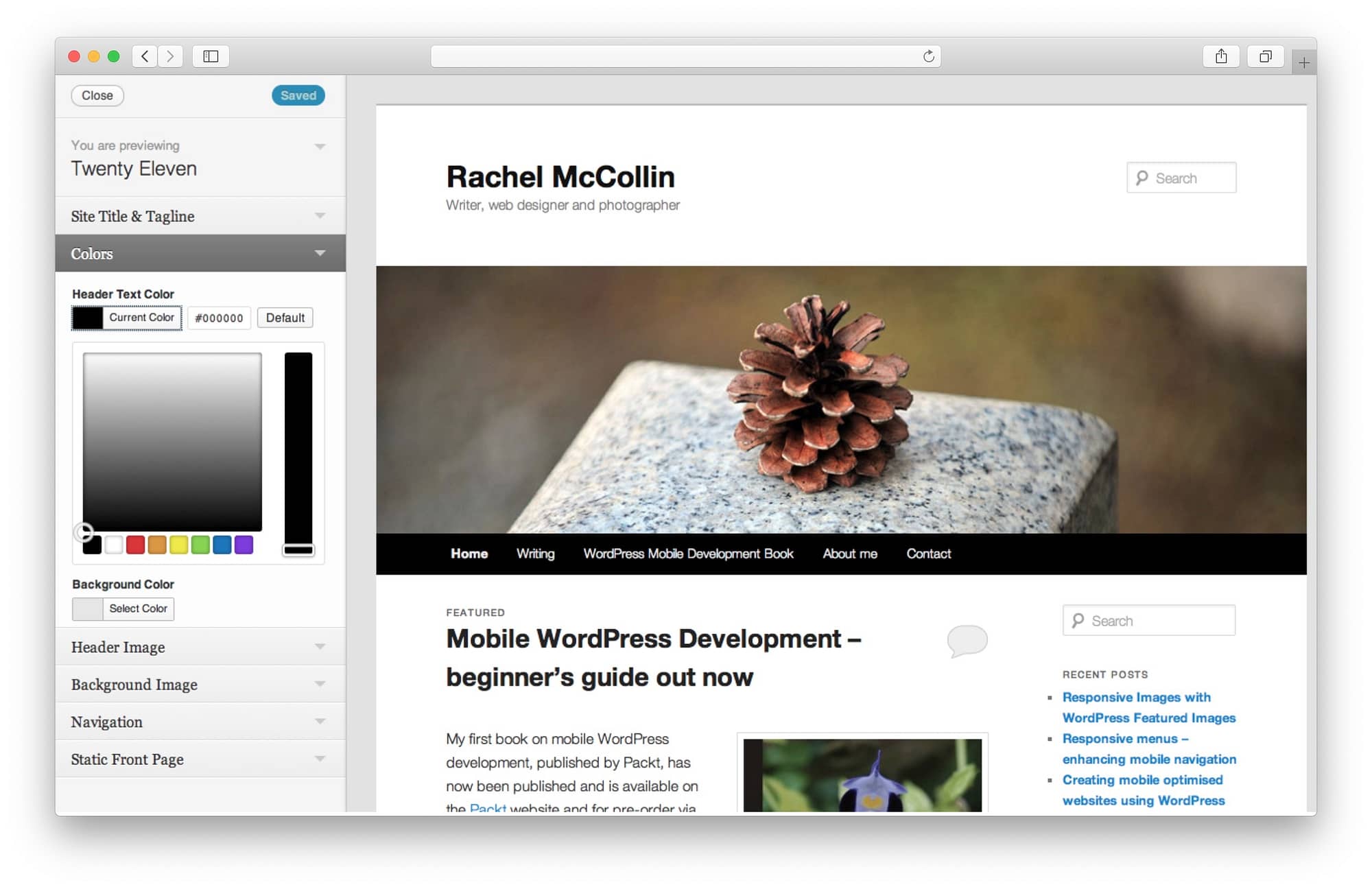 Responsive design and mobile
Around this time, responsive design was growing in popularity as more and more people were using their smartphones to access the web. Twenty Twelve was the first fully response default theme crafted with a mobile-first layout so it could be viewed on any size device, from smartphones to big HiDPI/retina screens.
Twenty Twelve was also special for another reason — it was the first default theme to come with a special homepage template, rather than force users to display blog posts on the homepage.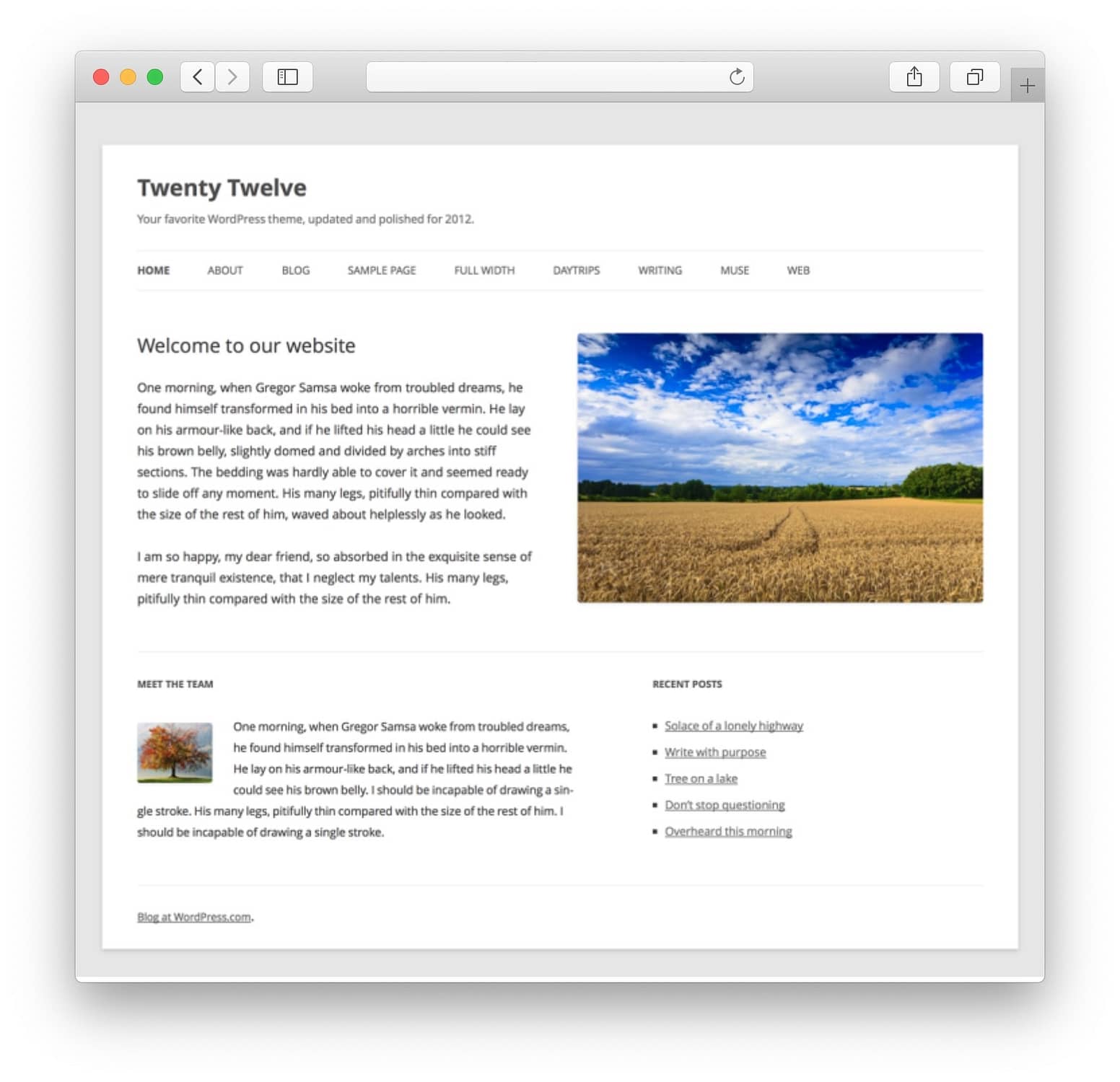 The emergence of builder themes
Customizing WordPress around this time was starting to get easier. Thanks to the Theme Customizer and the many websites that published tutorials on how to customize WordPress, users could make any change to their site.
The only problem was, users still needed some knowledge of CSS and PHP if they wanted to make customizations beyond the advanced settings available with many themes at the time.
This changed in 2013 when page builders emerged — and the most well-known at the time was Divi.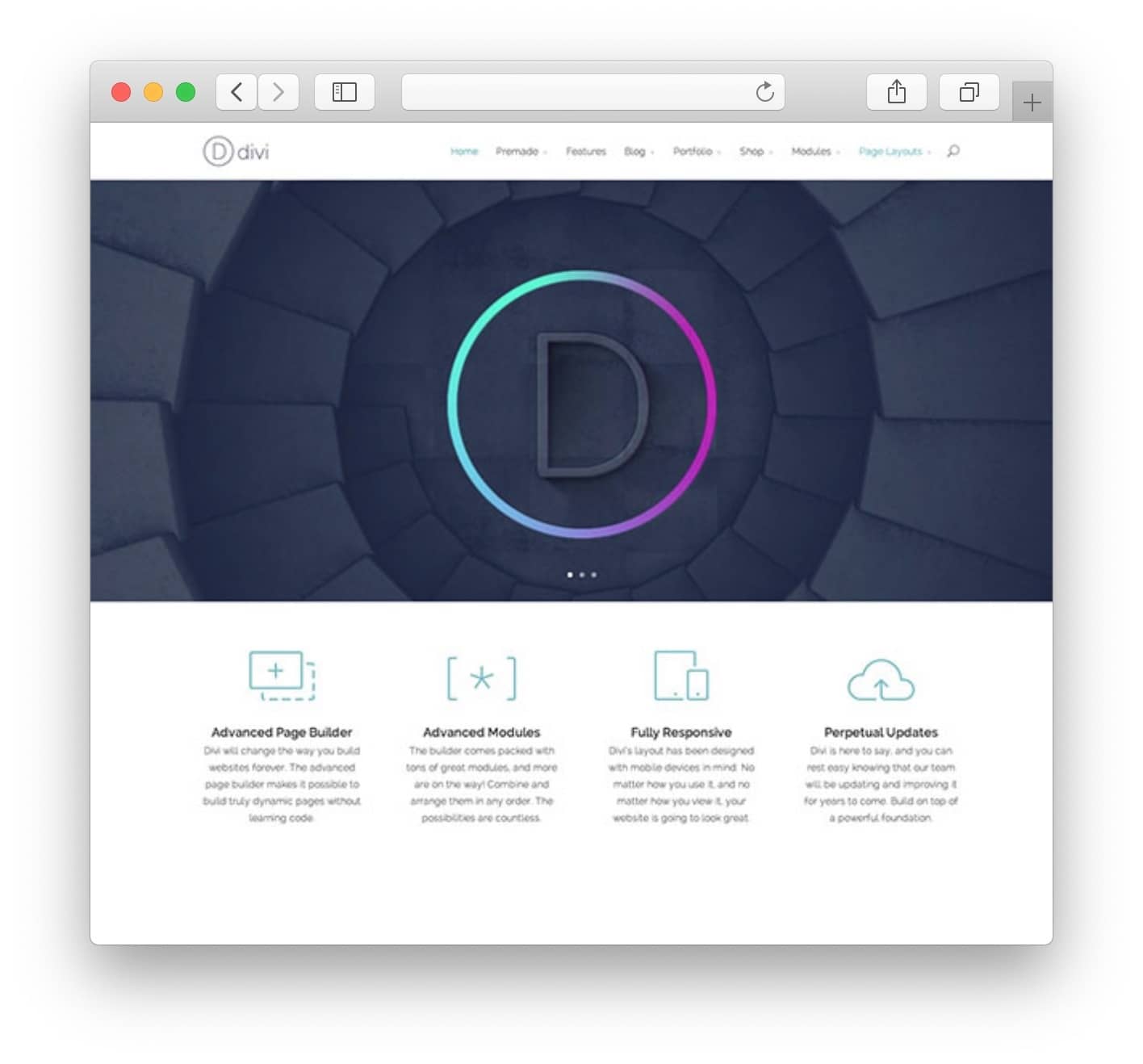 Elegant Themes' Divi page builder was groundbreaking. It let users drag and drop different sections within a page and control every aspect of a site, from colors and fonts to headers and footers. It came with various pre-built layouts and could be easily integrated with WooCommerce. It was responsive and could be used to display fullwidth images and video.
Divi was an instant success — the 965 comments on the announcement post prove that! For the first time, anyone could build a website without having to touch a single line of code.
The world of WordPress theme design trends to this point had evolved from having the ability to drag and drop widgets, to drag and drop pages, and now drag and drop themes.
Magazine themes
Let's pause for a minute and rewind the clock back to 2009.
The Theme Repository was still quite new, but it was growing. Users were downloading theme and contributing their own theme designs.
At the same time, premium WordPress themes were also growing in popularity. Compared to the free themes in the repository, premium themes offered advanced features. But more importantly, they were not blogging themes. The Theme Repository was a great place to download a theme — if you wanted a blog.
So started a new chapter in WordPress theme design trends – magazine themes, which allowed people to run more sophisticated blogs and news sites with more content than a traditional blog layout allowed. These types of themes often included ad space, which appealed to users who wanted to make money via their site.
Magazine themes were a natural evolution of blogging themes that allowed users to most of categories, tags, and post formats.
Fast forward to 2014 and the default WordPress theme finally caught up. Twenty Fourteen featured a sleek, modern, and beautifully crafted responsive design that allowed anyone to turn their website into a magazine.
Business and portfolio themes
In 2015, as WordPress continued to grow into a fully fledged CMS, the next natural evolution was business and portfolio themes. People were starting to use WordPress to power their business and agency sites — and even corporate sites — while freelancers were using WordPress to showcase their portfolios.
The most popular theme available at this time was Avada, which today is still the most popular theme at ThemeForest.com.
Launched in 2006, ThemeForest helped propel premium WordPress themes. ThemeForest provided a marketplace where users could buy themes, and at the same time providing a place where developers and agencies could sell their creations.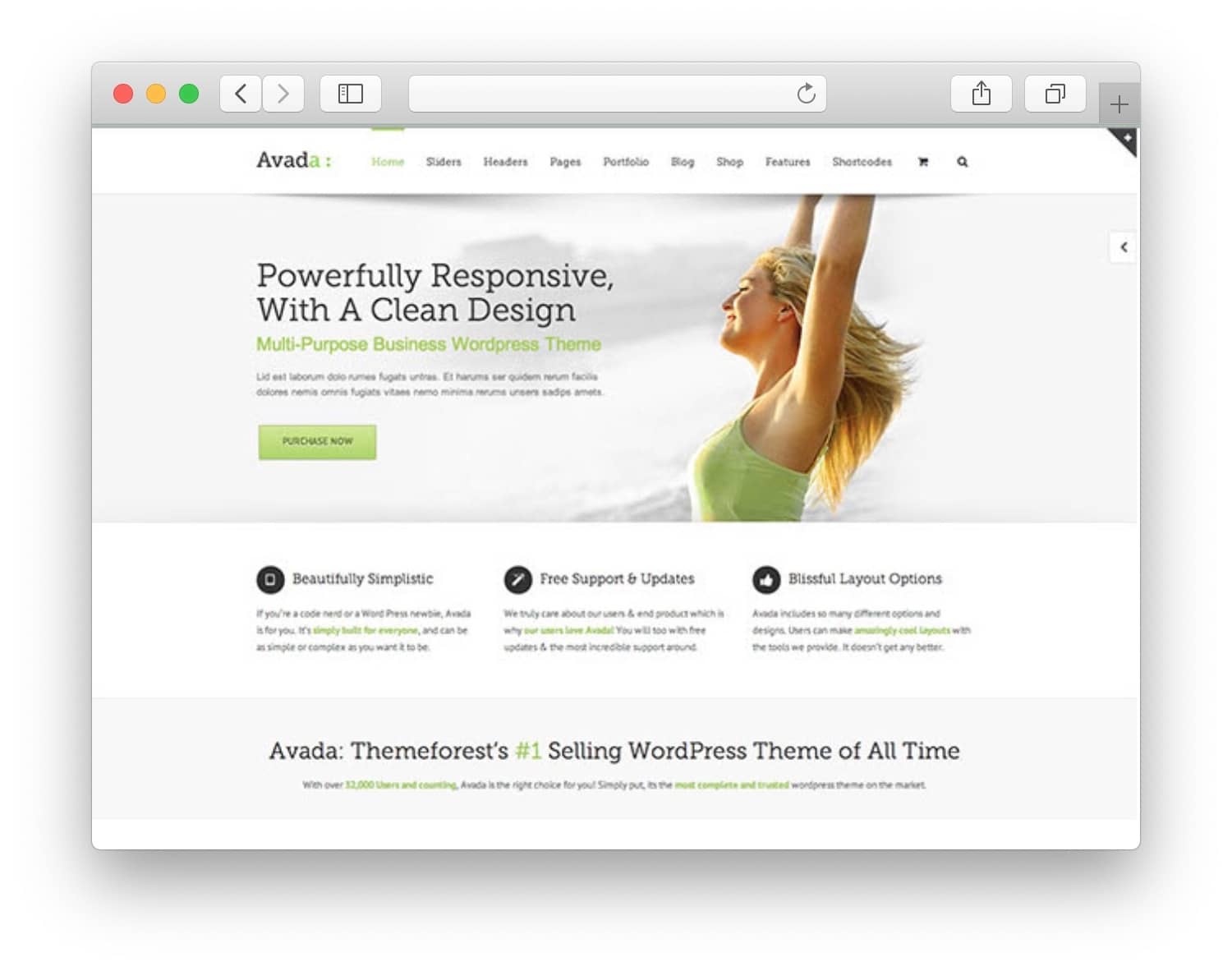 Meanwhile, sidebars were less common in business themes, which tended to feature a horizontal and layered design similar to the Zelle theme pictured below. The popularity of sidebars waned as responsive design evolved (sidebars were tricky to display on smaller devices). Sidebar-less designs similar to the default Twenty Thirteen theme were becoming more popular.
This was also around the time that minimal, flat designs, such as Flat by Themify, were becoming popular among WordPress theme design trends.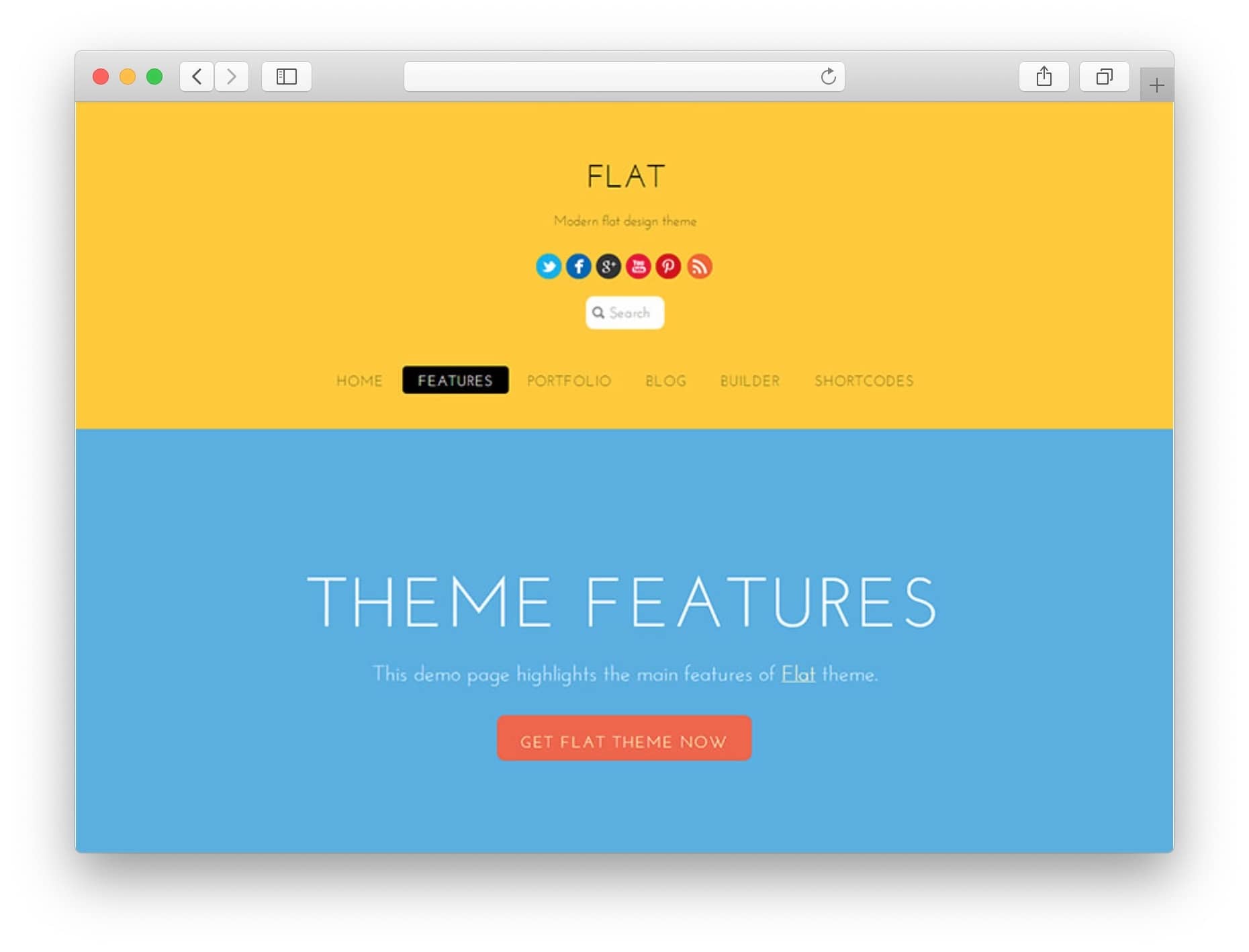 Multipurpose themes
By 2015, multipurpose themes were a thing — and ThemeForest was the place to find them. The proliferation of multipurpose themes was undoubtedly due to the popularity of ThemeForest's vast marketplace, but also independent premium theme shops. ThemeIsle's popular Neve theme, for example, is hugely customizable and ideal for use on any kind of site thanks to its many built-in templates: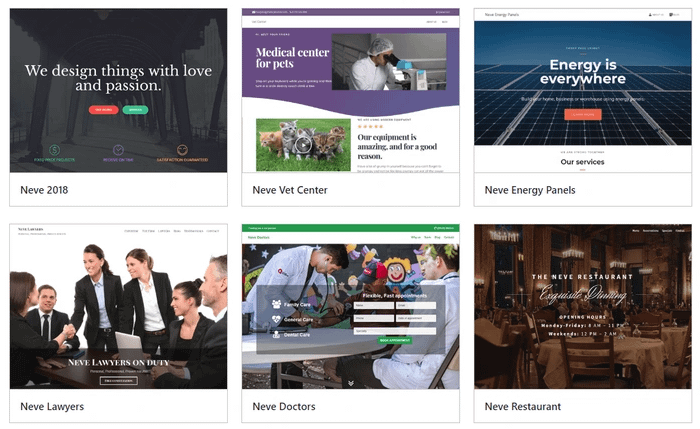 These multipurpose everything-but-the-kitchen-sink themes packed tons of different options into one theme on the backend, while featuring loads of different designs on the front-end.
Similar to theme frameworks, this type of WordPress theme design could be configured for many different purposes. You could use the same theme to create an e-commerce site, a business site or portfolio simply by updating the theme options panel.
For instance, here are just some of BeTheme's 400+ demos:
Initially, these themes featured all the necessary functionality needed for the theme to work inside the theme itself. But then they started to bundle third-party plugins to handle any additional functionality. Popular bundles would include a premium theme like Avada + Slider Revolution + Visual Composer.
Page building plugins like Visual Composer (now WPBakery Page Builder) were frequently bundled with premium themes, allowing users to customize their themes on the front-end and preview changes live.
Fullscreen and hero headers
By 2016, headers were getting bigger and bolder. At first, they were fullwidth and then they became fullscreen and featured sliding images or videos.
This trend in the wider web design community was reflected in the popular premium WordPress themes of the time, including Avada, X Theme, Bridge, and BeTheme, which all offered fullscreen and hero header designs like the Salient theme below.
Niche themes
By 2017, ThemeForest and smaller independent premium theme developers were developing niche themes. While multipurpose themes enabled users — often implementers — to create any kind of WordPress site, niche themes serviced specific industries.
Churches, charities, musicians, personal trainers, life coaches, law firms, real estate agents — you name it, there was a niche theme for it.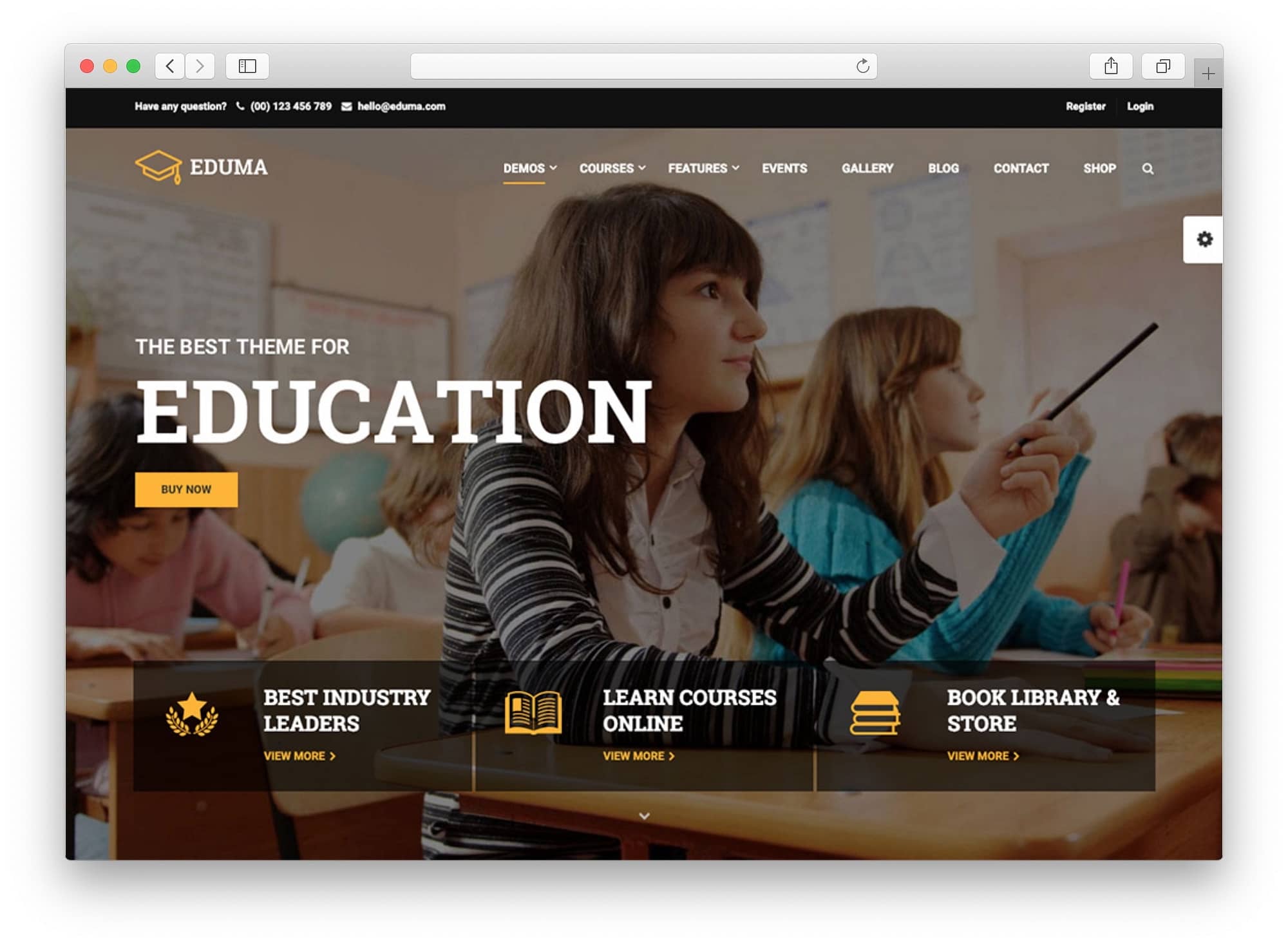 These themes shipped with features that were useful for specific purposes. For example, music players for bands, fund-raising tools for nonprofits, and even points table management for sports clubs.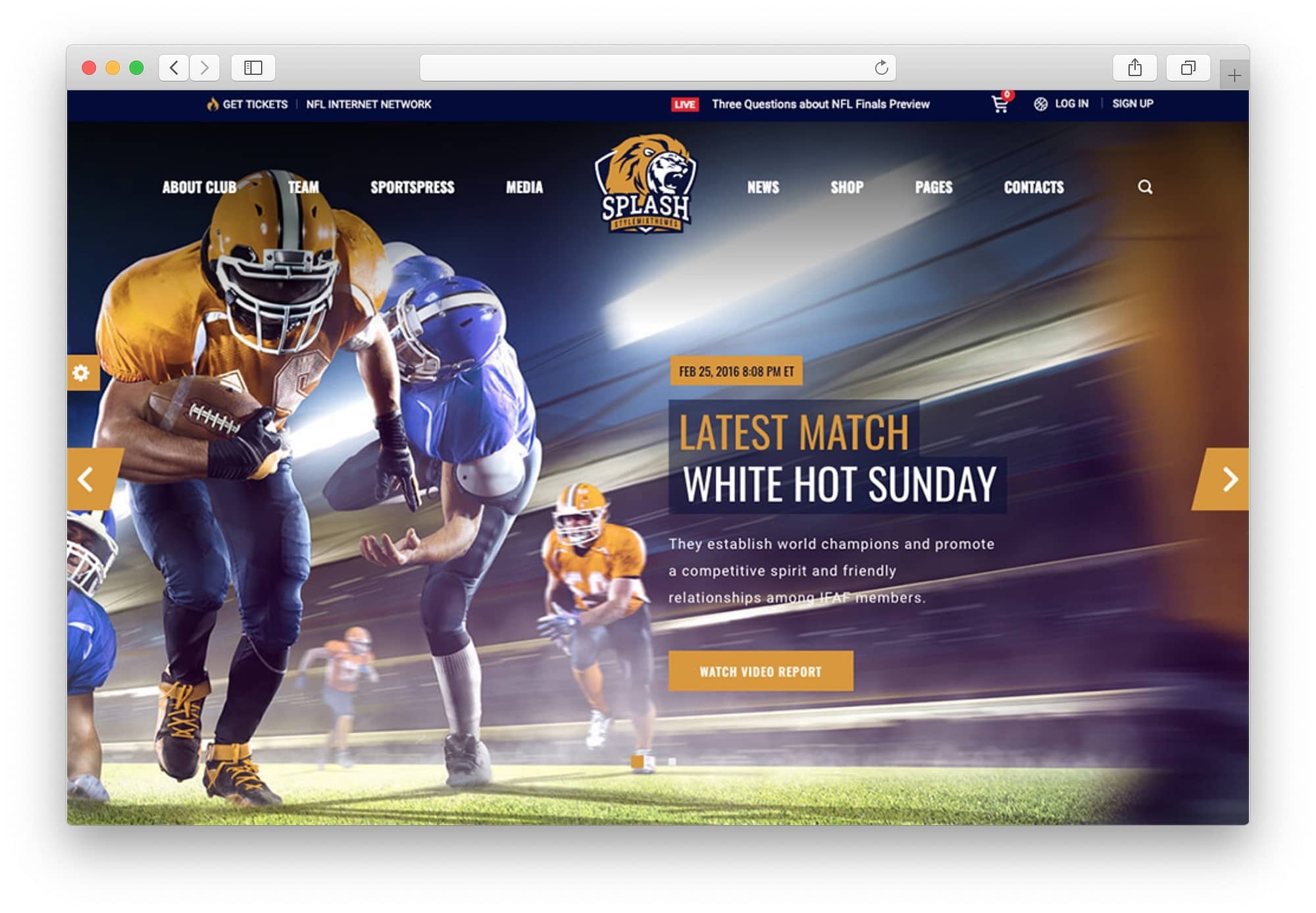 Today: page builders and the block editor
And now we're at themes for builders, and the merging of Gutenberg into WordPress core.
For a time, Visual Composer was the go-to drag-and-drop page building plugin for WordPress theme design — ThemeForest and its theme bundling made sure of that. Divi has been another hugely popular solution for users who want to build websites quickly.
And yes, there have been many other similar page building tools over the years. Beaver Builder and, more recently, Elementor have allowed users and developers alike to create complex sites using drag and drop. And now, you can even download Elementor themes and templates.
New website platforms like Squarespace and Wix challenged WordPress' dominance as the world's most popular CMS. The fact is, these competitors offer user friendly drag-and-drop page building that WordPress core simply doesn't have. Well, it didn't have until WordPress 5.0.
WordPress 5.0 and the merging of the Gutenberg project into WordPress code is WordPress' attempt at playing catch up, and so it can appeal to users who now expect page building functionality in website platforms.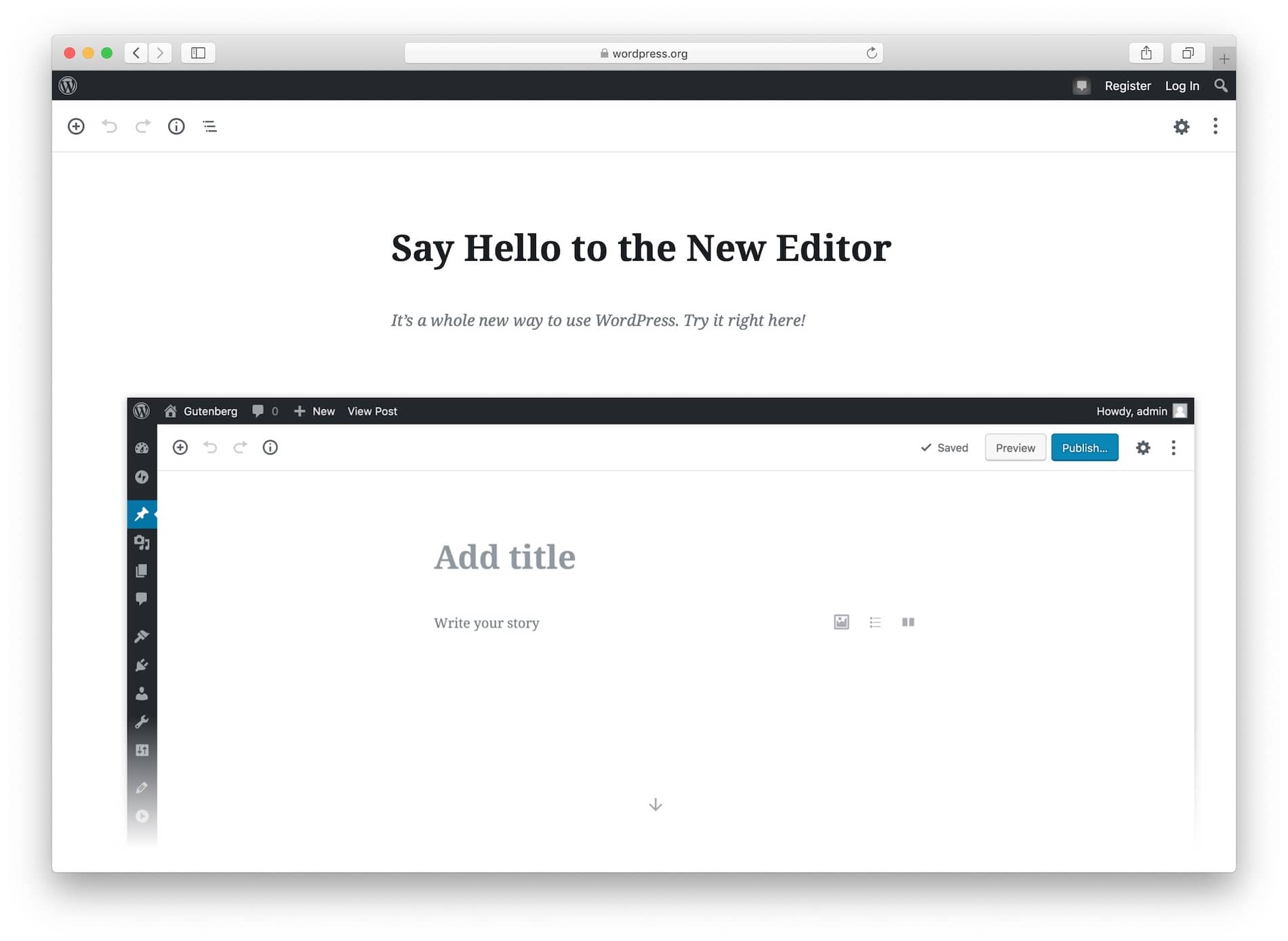 As WordPress.org explains:
"Gutenberg is more than an editor. It's also the foundation that'll revolutionize customization and site building in WordPress."
Gutenberg (and Gutenberg-compatible themes) offers a block-based editing and building experience that allows users to create blog posts (at least for now). A block is any single element of content — an image, a paragraph of text, or a YouTube video — and these blocks can be inserted, configured, and moved around to build post layouts.
The current default Twenty Twenty was designed to show off the power of the block editor. It features custom styles for all the default blocks and unlike many default WordPress themes that suited one purpose (i.e. blogging, magazines), Twenty Twenty can be adapted for use on a wide range of websites, from portfolios and business sites to blogs and non-profits.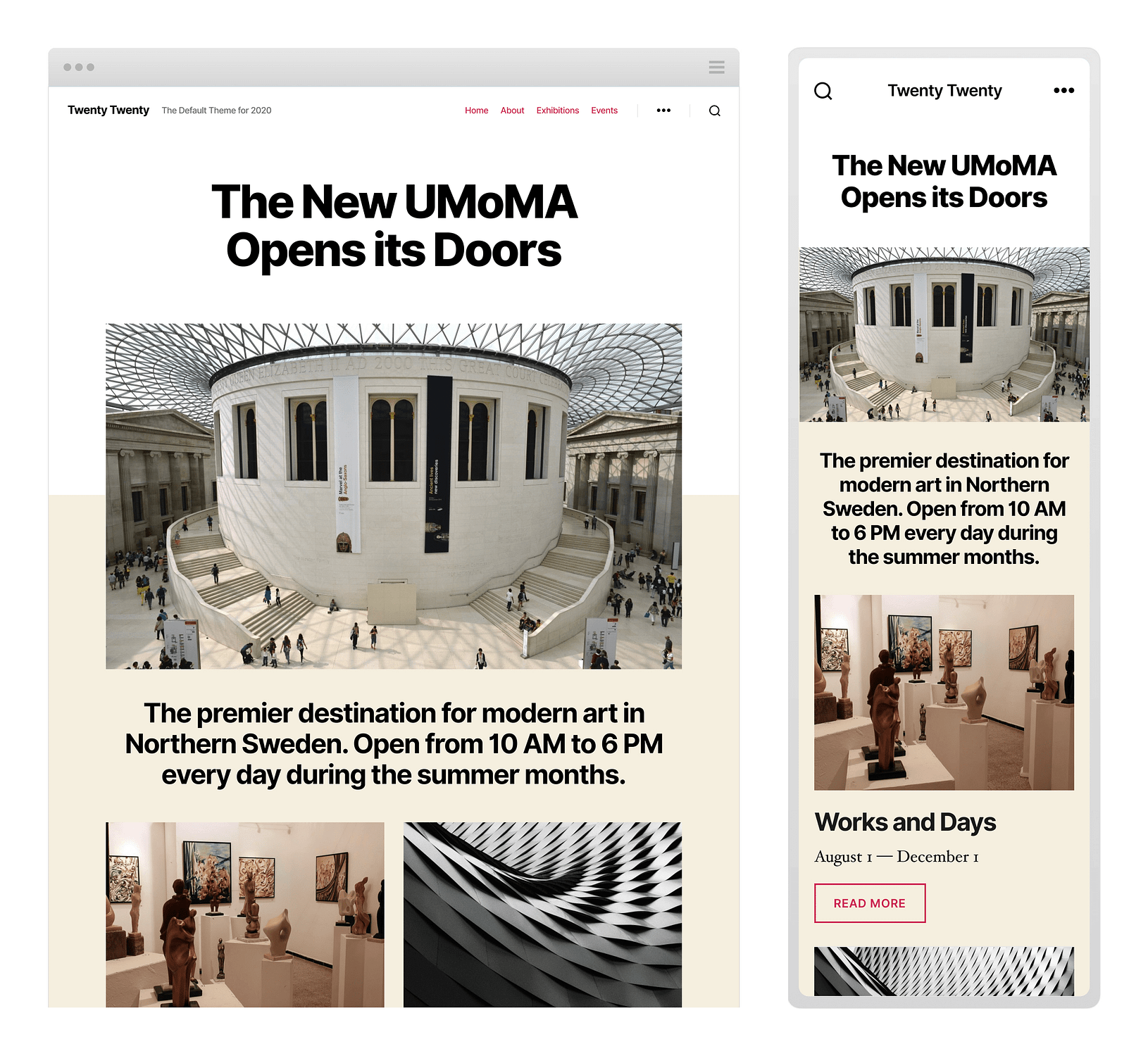 What's next for the block editor? The project is still in active development as a separate plugin, with plans to continue developing the project to provide a greater page building experience across WordPress, not just posts.
Conclusion
There have been many different WordPress theme design trends over the years, and WordPress as a platform has come a long way since 2003. Now, users can control every aspect of their site's design thanks to the development of page building solutions.
Where will WordPress theme design go in future years? Who knows. The block editor is still new and has a long way to go. Page builders have become the norm, offering customization that users 16 years ago could only dream of.
Meanwhile, on the backend, the WordPress REST API means anything goes — WordPress is completely unrecognizable on decoupled websites, with even static WordPress solutions popping up here and there. Finally, if you'd like a lighthearted take on what makes WordPress great, check out our totally legitimate reasons for avoiding WordPress.
What are your predictions for the future of WordPress theme design trends? Let us know in the comments below.
…
Don't forget to join our crash course on speeding up your WordPress site. Learn more below: