Why you need a WordPress SEO checklist? With the emergence of WordPress as a preferred content management system for all websites, site owners everywhere are looking for more effective ways to boost their search engine optimization (SEO). Many sites, though, do not follow a clearly-defined strategy for SEO. Instead, they apply quick fixes. These fixes might work for a while, but the results aren't effective or sustainable in the long run.
To bring your site to the top of the search rankings and keep it there, you need a comprehensive strategy that will cover all aspects of your website's SEO. Today, we'll share a full WordPress SEO checklist that helps you improve your WordPress site's search ranking and grow your business.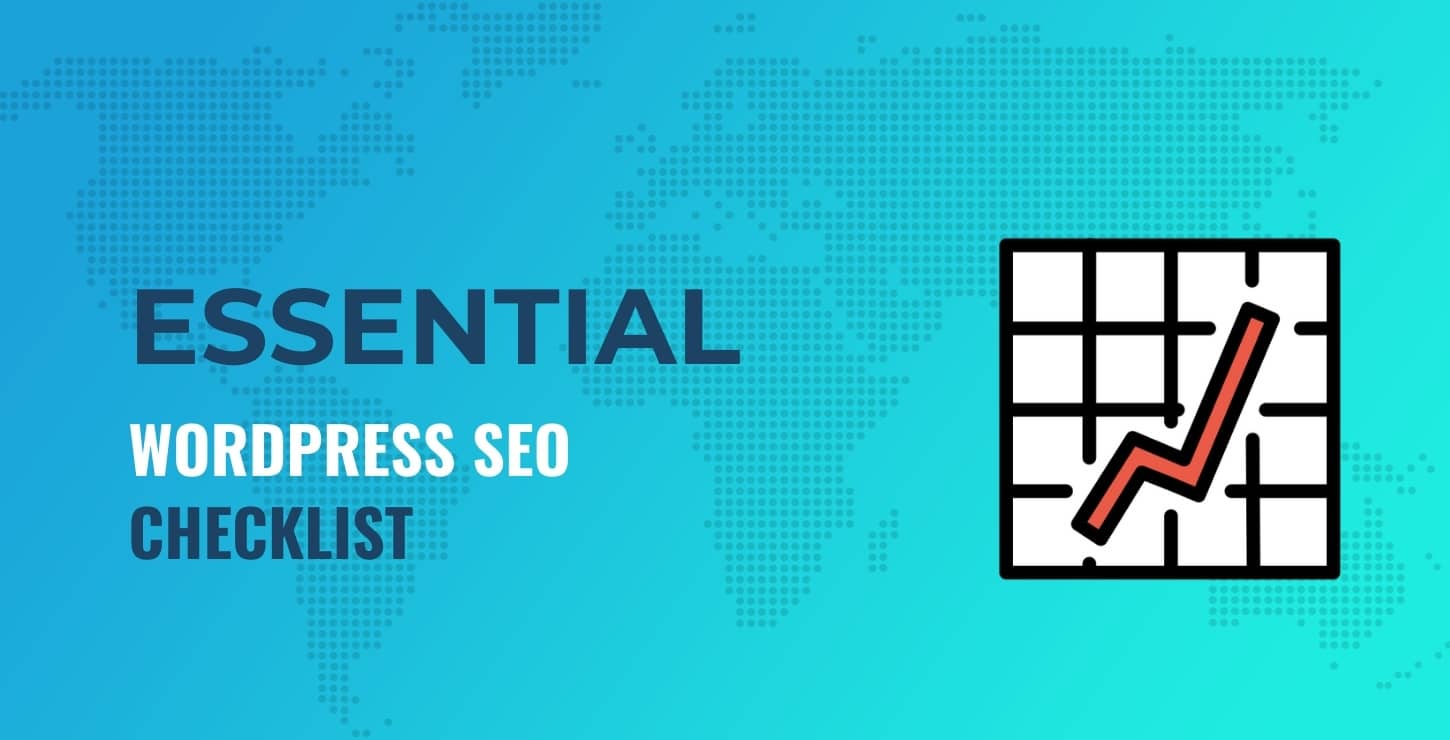 The complete WordPress SEO checklist
When you have a quality WordPress website with informative, relevant, and optimized content, it can top the search engine results pages (SERPs). In this section, we'll cover some of the powerful WordPress SEO tactics that you can use on your business website:
1. Get the index settings right
When it comes to on-page SEO, your website needs to be Googlebot-friendly.
Google indexes your website if WordPress permits it to do so. To enable Google indexing, go to Settings and then the Reading section of the admin page (known as Search Engine Visibility) to see if the box is deselected. If it is enabled, switch it off so search engines can index your website.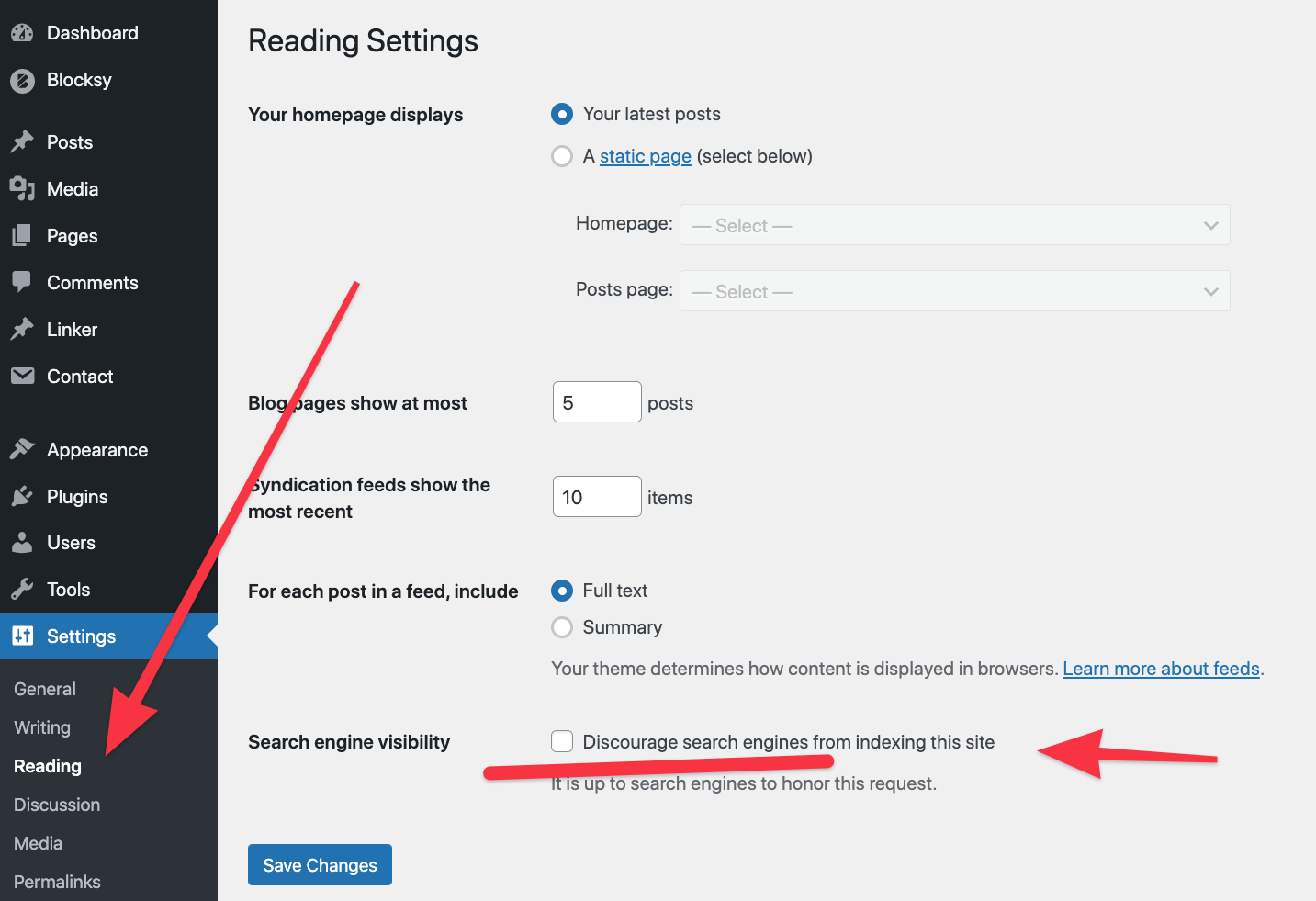 Make sure your site has a "robots.txt", as this permits search engine crawlers to index your website.
Visit YOURSITE.com/robots.txt and ensure there is nothing that disallows search engine crawling. Add a "meta robots" tag ("index,follow") to all web pages that you want search engines to spot and index. When robot tags are not mentioned, it means the web page is crawled. You can change this setting using SEO plugins. When you alter it to "noindex,nofollow", Google and other search engines miss the page or entire website.
To detect crawl errors on your WordPress website, use the "URL Inspection" feature in Google Search Console. Do this regularly to ensure your web content is correctly indexed.
2. Choose a reliable hosting provider
When comparing hosting providers, you need to know about the different options and how they measure up so you can make the perfect choice.
If you pick a self-managed hosting provider, you rent the hosting space or server and install everything on your own. With self-managed hosting, you enjoy flexibility but need to look after the operating system, security, and updates.
A shared hosting service provider can be a great choice if your WordPress website has hundreds of weekly visits. However, as your traffic grows, it may slow down your website's performance (as other websites share the same hosting server). In this case, you may choose to migrate to specialized WordPress hosting as your website traffic increases. This can improve your site's speed, performance, and user experience.
3. Install SEO-friendly plugins
Installing an SEO plugin will help you fully optimize every page on your website for search engine performance. This allows you to have full control over the things Google users see when your website pops up in their results.
Some of the most popular WordPress SEO plugins include Yoast SEO, All In One SEO Pack, and SEOPress. Using a plugin enables you to build keyword-rich content, modify meta descriptions, activate breadcrumbs, create XML sitemaps, create HTML sitemaps, and add schema markup.
👉 If you're starting out with WordPress, then we recommend using one of these SEO-friendly WordPress themes.
4. Perform keyword research & mapping
Proper keyword research is essential for your search engine ranking. Google's search and ranking algorithm uses keywords to calculate ranks. Here are some tips for your keyword research:
Look for relevant keywords that have high search volumes but not much competition. Tools like Ahrefs, SEMrush, and KWFinder will help you find those keywords (read our SEMrush vs Ahrefs comparison) .
If you're looking to expand to an international market, pay close attention to your multilingual SEO. The market for English searches is close to getting saturated, while SEO for other languages is relatively easier.
Generate a sitemap of your website's structure and hierarchy. This information will help you determine how Google crawls through your site and allow you to structure your site so Google can crawl through it more easily. One of the SEO plugins we discussed above can help you create a sitemap.
Once you know which keywords you should aim for, it's time to build content around them.
5. Start creating solid content
Content is king of marketing, and it also rules SEO. Both Google's crawlers and your audience love great content, so it is essential for performing well in the search rankings. Long-form content has been proven to boost search engine performance and help you generate more backlinks. Longer articles can also rank for more target keywords, including long-tail search terms.
According to Search Engine Journal, content that's 3,000-10,000 words long, generates nearly double the number of links compared to content under 1,000 words[1].
Focus on evergreen content (content that will be relevant for a long time) and update the data and context periodically to adapt to the times. A balanced mix of trending and evergreen content will get your site noticed and attract more traffic.
6. Use HTML tags to improve your on-page SEO
WordPress allows you to tweak with your content's HTML code to maximize its SEO performance. For example, using content header tags (<H1> to <H6>) will help Google identify the hierarchy of information in your blogs and content pages and make it easier for the crawlers to index your page.
In addition, using a target keyword in an <H1> tag and a secondary header will boost your page's performance. Front-loading these keywords, or using them at the beginning of headings, works best for search rankings. However, you need to ensure that your content and keywords match. Otherwise, Google will flag your tags as irrelevant and penalize you for keyword-stuffing.
Finally, add alt tags (snippets of text that describe the contents and purpose of an image) to any visual content on your site. Writing clear, descriptive alt text will help Google users find your images using relevant long-tail keywords.
7. Utilize internal linking and external backlinks
Internal links that connect your WordPress site pages to one another will help improve SEO and make navigating your site easier and more convenient for users. Strong internal linking creates a hierarchy of information and encourages users to spend more time on your site. A high-traffic page on your site that links to other pages will boost traffic to those pages and increase their authority.
Therefore, use internal links to connect a web page on your WordPress site to another page on the same website to improve SEO and ease site navigation. Depending on the length of your content, you can use 3-5 internal links per piece of content.
Aside from internal links, backlinks from external sources will also push your site up the search rankings. Earning a link back from a site with high authority will "pass on" some of that authority to your site and do wonders for your SEO.
Using a tool like Ahrefs will reveal a lot about your current backlink profile. It can help you find sites to target for backlinks and guest posts to build your profile, too. Ensure that you focus on sites with a strong Domain Rating (DR) and plenty of organic traffic.
Use the right keywords for your internal and external links, utilizing anchor text optimization to get as much out of them as you can.
8. Use schema and structured data wisely
Adding the right schema (also known as structured data) can significantly improve your click through rate (CTR) by displaying site information that is more relevant data to visitors. According to a study by CXL Institute, companies using schema have witnessed a rise in CTR by 35%[2].
You can find numerous WordPress themes with easy schema markup options enabled. You can also add schema to your WordPress site using the free Schema plugin, which automatically adds the required coding. Then test it out using Google's structured data testing tool.
You can add information in categories such as:
Products, Authors, Organizations, Events, Local Business, FAQs, How To, Job Postings
…And many more!
Structured data also helps Google and other search engines understand your content easily and display richer and more relevant search results.
9. Optimize your URLs
Each of the URLs in these top results give users an indication of what the page is all about, encouraging them to click on it. Adding relevant keywords to your URLs will help your SEO somewhat, but the boost will come mostly from the additional traffic you'll enjoy when you have understandable and descriptive URLs.
Resist the temptation to stuff your URLs with keywords or make them too long. Shorter URLs are easier to share and embed in blogs and social media. As much as possible, keep the URL length to fewer than 60 characters, including the domain and extension.
10. Boost your site speed
No WordPress SEO checklist could be complete without considering performance. Website speed has a huge impact on WordPress SEO and visitors' user experience. If your website takes more than 4 seconds to load, 1 in 4 people will abandon it[3]. Close to half of users will not return to a website that takes too long to load.
Ecommerce giant Amazon's website conversions increase by 2% for each 1 second improvement in page loading time. That proves the importance of site speed.
There are many ways to increase your website speed. Decrease the size of images and other media, remove unused links and HTML code, and ensure you choose an appropriate SEO-friendly hosting service. Each action will shave off a few milliseconds from your site's response time – not much at first glance, but a whole lot of difference when it comes to search performance and bounce rates.
11. Include target keywords in the opening paragraph
The opening paragraph of a piece of content sets the tone for the rest of the piece, so you need to draw in the user from the first sentence. Search engine crawlers also search for relevant keywords from the top down. When Google finds your target keyword right away, it considers your content relevant to that keyword.
However, you need to be cautious with the number of keywords you use in your opening paragraph. A lot of irrelevant or forced keywords will frustrate users, increasing your bounce rate and doing your SEO more harm than good in the long term.
12. Keep an eye on keyword density
Keyword density refers to the percentage of a piece of content that is made up of target keywords, and it directly affects your website's search engine ranking. To rank for a specific keyword, you need to use it a certain number of times in your content so that search engines will think your content is relevant to a certain topic. But it's possible to overdo it.
Yoast suggests a keyword density of 0.5%-2.5%. It is advisable to maintain a keyword density that aligns with the top-ranking content for similar keywords. You can check your present density score using an on-page SEO analyzer offered by various WordPress SEO plugins.
13. Add videos to increase dwell time
Dwell time is defined as the total amount of time visitors spend on your website. As it is one of the key ranking factors for Google, you need to encourage users who arrived from organic search results to spend as much time as possible on your website. Adding informative and interesting videos can drive traffic to your website and get users to extend their dwell time.
Aside from getting users to spend more time on your site, posting videos may also help your site rank in Google video searches. High-quality videos that explain your products, teach users how to get the most out of your services, and solve customer pain points will generate traffic and establish your brand as a credible source of information in your niche.
The bottom line on our WordPress SEO checklist
Performing SEO on your WordPress websites is essential if you want your content to rank well in searches. Fortunately, it's not too difficult to learn. In fact, WordPress offers many built-in tools that make SEO easier, and the availability of advanced SEO plugins for WordPress gives you more options to enhance your performance even more.
We hope the techniques we've discussed in this WordPress SEO checklist will help drive traffic to your site and boost your search engine ranking. Don't be afraid to experiment with different SEO tactics to get the results your site deserves!
Is there anything missing from our WordPress SEO checklist? Let us know in the comments section below!
…
Don't forget to join our crash course on speeding up your WordPress site. Learn more below:
Layout and presentation by Chris Fitzgerald and Karol K.
About the author: Matt Diggity is a search engine optimization expert and the founder and CEO of Diggity Marketing, The Search Initiative, Authority Builders, and LeadSpring LLC. He is also the host of the Chiang Mai SEO Conference.