If you are looking to create and sell online courses then you need an effective WordPress LMS (learning management system) to assist you. A powerful LMS plugin will help you to design varied and stimulating courses, that inform your learners and provide value for money.
Importantly, a powerful WordPress LMS will also enable you to manage your online courses and users, taking payments, tracking and rewarding course progress, and fostering an online community. So which LMS plugin should you use for your project?
In this article we pit LearnDash vs LifterLMS vs LearnPress against each other to see how their features, user experience, and pricing, compare. All three solutions are great options. However, one of them will likely be the better fit for your needs. Read on to find out which of these tools it is for you.
What's the top WordPress LMS? Three options compared…
Let's get started by having a quick look at how the main features of these three WordPress LMS plugins compare:
| Feature | LearnDash | LifterLMS | LearnPress |
| --- | --- | --- | --- |
| Drag-and-drop course builder | ✅ | ✅ | ❌ |
| Flexible course options – lessons, quizzes, forums | ✅ | ✅ | ✅ |
| Membership site options | ✅ | ✅ | ✅ |
| Detailed assessment and grading options | ✅ | ❌ | ✅ |
| Monetization options | ✅ | ✅ | ✅ |
| Website analytics | ✅ | ✅ | ❌ |
| Free plan | ❌ | ✅ | ✅ |
Now let's find out exactly what each of these WordPress LMS plugins is offering:
LearnDash
LearnDash is an extremely popular and feature-rich WordPress LMS. Their customers consist of Fortune 500 companies, world-class universities, training organizations, and entrepreneurs from across the globe, who all create and sell online courses.
Using LearnDash, you can easily design and sell fun, informative, and varied courses. This platform comes packed with options, enabling you to incorporate quizzes, assignments, forums, certificates, badges, and much more into each course, ensuring your students stay engaged with your content.
So let's have a look at the top features of LearnDash…
🧰 Top features of LearnDash
LearnDash has too many features to mention them all, so we have just picked out some of the highlights…
Powerful course builder – The user-friendly course builder allows you to quickly create attractive and interesting courses for your students.
Flexible course options – Create your courses in a way that works for your niche and audience. Drip feed your lesson content according to a schedule set by you, set prerequisites to ensure students take courses in a set order, add dynamic forums where your users can discuss questions raised during the course, reward your learners with points, badges, and certificates, and much much more.
User profiles – Set up front-end user profiles so learners can easily manage their courses, access course material, view their progress, and print their certificates, to name a few options.
Assignment management – Create courses where assignments are required to be submitted. You can then select to have these automatically approved, or manually assessed. You can also write private comments on submitted assignments that only the individual learner will see.
Monetization options – Using LearnDash, you can charge learners a one-off fee or a monthly subscription to access your courses. You can sell courses individually or create course bundles, and there is WooCommerce integration which, amongst other options, will enable you to add a shopping cart to your website. You also have complete control over your pricing strategy and can integrate with PayPal, Stripe, and 2Checkout, to take payments on your site.
Detailed reporting – LearnDash compiles reports on both your learners and courses. You can view students progress, their results from tests and quizzes, time users spend on each course, and much more.
As you can see, LearnDash has a range of pretty impressive features. But what specifically helps this WordPress LMS stand-out from the crowd – why should you pick it over LifterLMS and LearnPress?
🤔 Why choose LearnDash vs LifterLMS vs LearnPress?
Although we are yet to discuss LifterLMS and LearnPress, there are a couple of key stand-out factors that may sway you to choose LearnDash as the WordPress LMS plugin for your eLearning project.
Everything is included in the price – Once you have purchased LearnDash, you will have access to all of their features. This means you won't have to pay extra in the future to get the advanced functionality you need. In comparison, if you opt for LifterLMS, although the initial core plugin is free, if you want a similar standard of high-end features, purchasing the premium add-ons will actually work out as more expensive in the long run. And although LearnPress is much cheaper, you won't find the same level of functionality.
Professional – If you are looking to create a large professional eLearning platform then, again, LearnDash is the stand-out LMS plugin. LearnDash is set up to cater for big business and large global corporations, as their impressive list of current customers infers. It also provides a range of professional features, which include allowing you to brand your LearnDash eLearning platform, integrate with a wide assortment of tools and services, and much more.
Price: LearnDash doesn't come cheap, with prices starting at $159 a year for a one site license.
👉 Go to LearnDash 👈
LifterLMS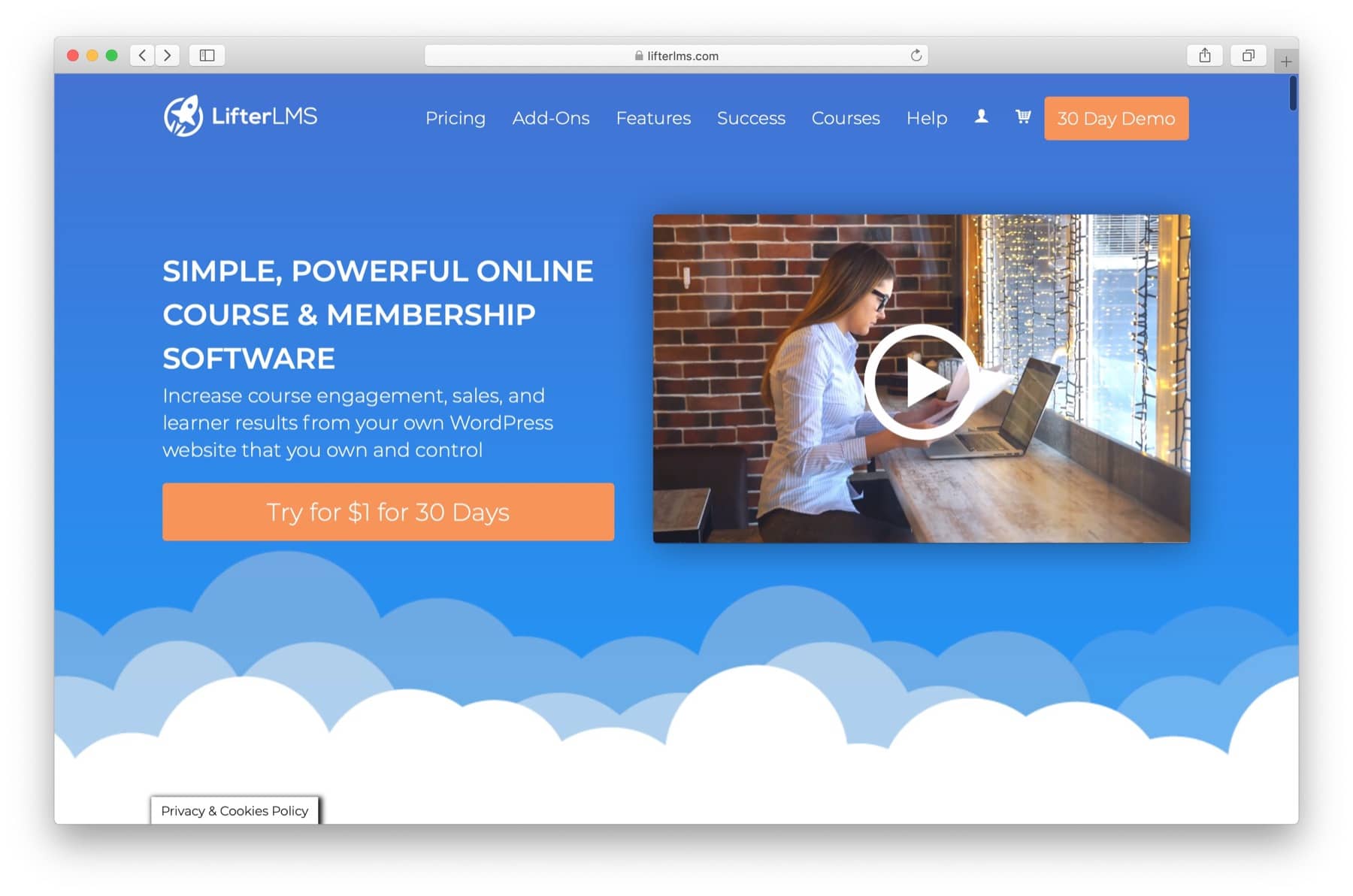 LifterLMS is another powerful WordPress LMS that is well worth considering if you are looking to create online courses.
This plugin is a complete membership solution, and works by turning your website into a membership site, where your students can then sign in to access their courses. You can set up different membership options, allowing certain members access to different courses and areas of your site.
The core LifterLMS plugin comes for free, with built-in PayPal support. So this plugin is a good option for those on a budget.
However, many of the features we will discuss next do have to be purchased as add-ons. So if you are looking for advanced functionality then treat LifterLMS as a premium product.
🧰 Top features of LifterLMS
So let's find out about these many features that LifterLMS offers…
Membership site options – LifterLMS allows you to create an unlimited number of memberships to restrict or allow access to your courses, pages, posts, forums, and other content.
Drag-and-drop course builder – With the LifterLMS course builder you can easily design multi-tier courses, all with simple drag-and-drop functionality.
Course options – Create quizzes, add a selection of multimedia including videos, images, and audio, drip-feed lesson content based on a timed schedule, and much more.
Student dashboard – Set up user accounts for each of your learners, giving each individual access to their own front-end dashboard. Here they can view, track and study their courses.
Monetize your website – LifterLMS provides numerous ways to generate revenue. Integrate your website with numerous payment providers, including PayPal (built-in), Stripe, Authorize.Net, and WooCommerce. You can charge one-off payments for access to courses, create an unlimited number of membership plans and set the pricing, charge monthly or annual subscriptions, create an affiliate program, and more.
Integrate with your email marketing provider – Connect your LMS to MailChimp, ConvertKit, and more, helping to build your mailing list and connect with your students.
So now you have a clear idea of what LifterLMS is offering. But before we move on to discussing LearnPress, let's first clarify why you should choose LifterLMS. What has this plugin got that the other two haven't?
🤔 Why choose LifterLMS vs LearnDash vs LearnPress?
The stand-out features of LifterLMS include support and scalability. Let's find out more about this…
Support – LifterLMS provides an extensive and well-organized knowledge base. It includes detailed documentation, free training, and demo courses, forums and more. You can also contact expert customer service representatives via email or phone. So, for those who like the peace of mind of a strong support network, then look no further than LifterLMS.
Scalability – In comparison to LearnDash and LearnPress, LifterLMS is the most scalable solution. Perfect for those starting small but looking to grow quickly, you can start your eLearning business for free but then upgrade the plugin's functionality with add-ons as your revenue increases, to ultimately create a powerful eLearning platform.
Pricing: As mentioned above, the core LifterLMS plugin is free. Add-ons can then be purchased individually for $99 a year. Or you can choose from two different add-on bundles, starting at $299 a year.
👉 Go to LifterLMS 👈
LearnPress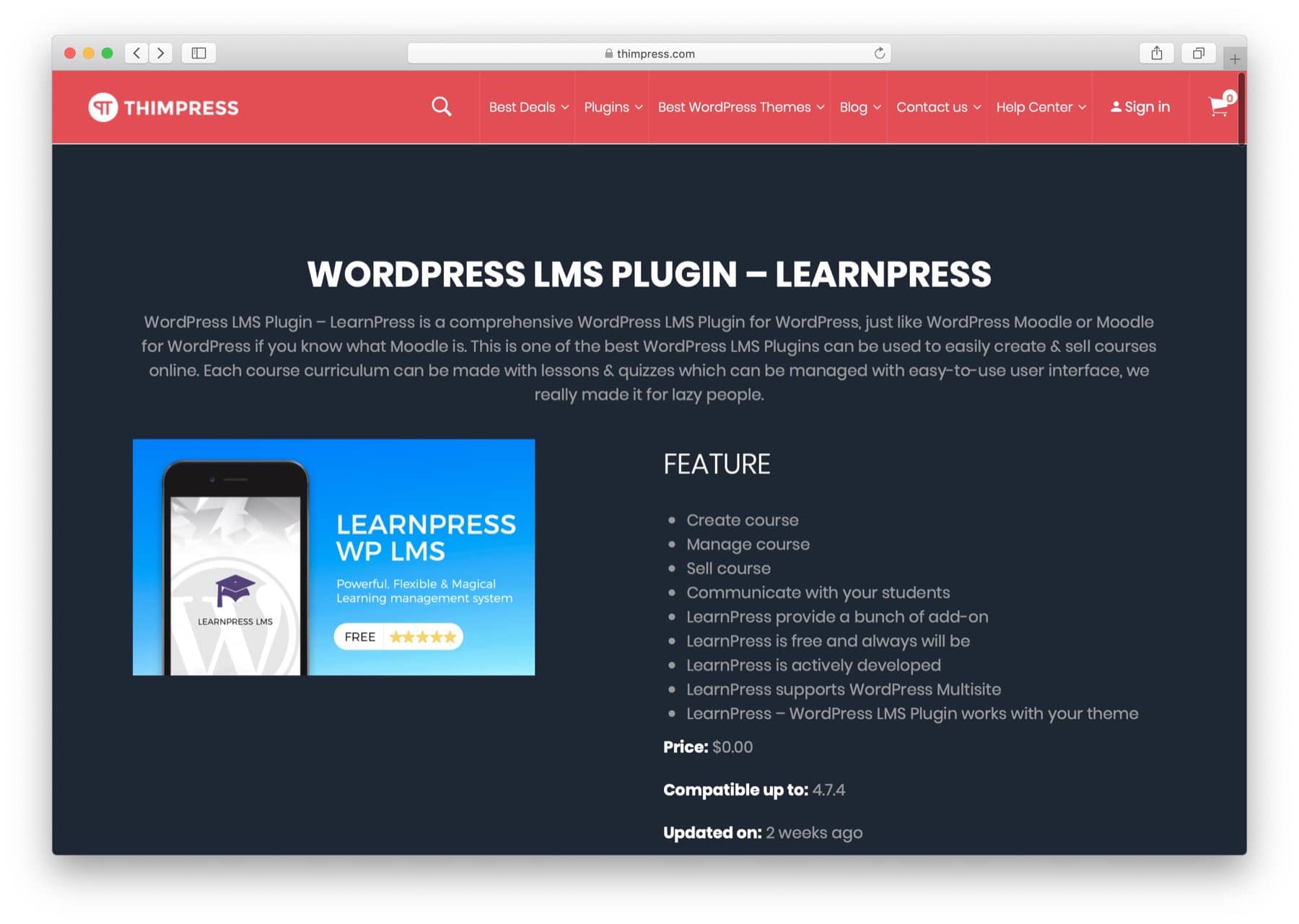 LearnPress is a free WordPress LMS, and although it does offer premium extensions, these are much cheaper than the LifterLMS add-ons. So if you are working to a tight budget, this is the WordPress LMS plugin for you.
Although free, LearnPress still incorporates a range of useful features and functionality. For each course you create, you can add lessons and quizzes, set prerequisites, and more. Courses are all designed and managed within your WordPress dashboard, using the user-friendly LearnPress interface.
Free and premium add-ons can also be installed. These can add functionality like drip-feeding content, certificates for learners, and online payments, to name a few options.
Let's find out more…
🧰 Top features of LearnPress
The features below are a combination of free built-in components, as well as free and premium add-ons…
Compatibility – LearnPress works with any WordPress theme and supports WordPress Multisite.
Payment gateway integration – Once created, courses can be sold on your site. LearnPress supports numerous payment gateways including PayPal, Stripe, and WooCommerce.
Content drip – Release content piece by piece, restricting students' access to lessons based on progress or time.
Forums – LearnPress provides BuddyPress support. This enables you to set up forums on your website where students can discuss topics together.
Drag-and-drop certificate builder – Available via a premium add-on, the drag-and-drop certificate builder will allow you to create certificates for your students.
Membership site – LearnPress integrates with Paid Memberships Pro so you can turn your website into a powerful eLearning membership site.
🤔 Why choose LearnPress vs LearnDash vs LifterLMS?
As you can see, although most of what LearnPress has to offer is free, it still provides some high-end features. But why would you choose LearnPress over LearnDash and LifterLMS?
Price – A key advantage LearnPress has over LifterLMS and LearnDash is price. If you are on a budget, want to offer free courses, or are looking to keep your eLearning site on a small scale, then LearnPress may be for you. It offers all the main features that you will need to create successful online courses. And also provides some advanced extra functionality if the need arises.
Simplicity – Both LearnDash and LifterLMS boast extensive features, which is great for many projects. However, this wide assortment of features may, in fact, seem very daunting to some. Especially if you lack the skills or design experience to understand or make use of them. If you are looking for a more simplistic tool, that won't overwhelm you from the get-go, then we recommend LearnPress.
Pricing: LearnPress core is free, and so are the majority of the add-ons. If you are keen to purchase a premium add-on, these generally cost between $19.99 – $39.99 (this is a one-off payment with lifetime access to updates).
👉 Go to LearnPress 👈
Which is the right WordPress LMS for your project?
All of the above plugins are effective options. So whichever one you choose you will be able to create impressive online courses that can engage your learners and generate revenue.
That being said, here are our top recommendations:
LearnPress – great for a DIY test project in eLearning or a small scale operation. You get the basic features for free. 🐣
LifterLMS – great for upstart eLearning platforms that are ready for growth. Pick this one if you want to DIY a learning platform but also want to be able to grow with it over time. 🏗️
LearnDash – great for a professional eLearning platform. 🛩️
When selecting a WordPress LMS plugin, think carefully about the needs of your project. You need to consider your content, audience, and budget. Then pick the plugin that is a best match with that criteria.
Which WordPress LMS plugin will you choose? Please share your thoughts in the comments below…
…
Don't forget to join our crash course on speeding up your WordPress site. Learn more below:
Layout, presentation, and editing by Karol K.
* This post contains affiliate links, which means that if you click on one of the product links and then purchase the product, we'll receive a commission. No worries though, you'll still pay the standard amount so there's no cost on your part.