📆 This is the November 2022 edition of "This Month in WordPress with CodeinWP."
Hey, WordPress fans.
We are back with all the latest WordPress news and updates that happened in the previous month.
For the biggest story, WordPress.org removed a piece of data that a lot of plugin developers rely on, which kicked up a storm on Twitter, Trac, and elsewhere.
Beyond that, WooCommerce is planning to release a new hosted offering in 2023, Cloudflare released a new free anti-spam tool called Turnstile, Full-Site Editing themes got a visibility upgrade at WordPress.org, and plenty more.
Let's get to all of the WordPress news from the past month…
November 2022 WordPress News with CodeinWP
WordPress.org removes plugin active install growth data – drama ensues
The biggest news (and drama) this month involved the removal of a piece of information from the WordPress.org plugin directory – the "Active install Growth" data that used to appear in the Advanced tab of a plugin's listing page.
Plugin developers who distribute their plugins via WordPress.org were surprised and unhappy because this data was one of the few pieces of information that they could use to gauge the success (or failure) of their product enhancements and marketing efforts.
What's more, there was no public discussion of removing the data – everything happened behind closed doors and then the data was just suddenly gone one day.
At first, the stated reason for the removal was some type of undefined "security issue" or "insufficient data obfuscation." However, later references just said that it wasn't working as intended (i.e., the data wasn't accurate) and nobody was using it.
At this point, no one has stated any specific reasons for removing the chart, so it's hard to know the actual reasoning.
Overall, the removal created a bit of a firestorm on Twitter, as well as in the discussion of this Trac ticket created by Mark Zahra.
It seems like there are two big reasons that people are upset:
A lot of plugin developers relied on that information. Again, it's one of the few options that WordPress.org developers have to gauge whether what they're doing is working.
The discussion happened entirely behind closed doors. People were mad that there was never any public mention/discussion of removing the data. Everything happened in a private Slack channel until the data just disappeared one day.
So what's going to happen?
Well, the discussion continues on Trac, Twitter, and Slack.
In the end, it seems like WordPress.org might work on some new data to help developers gain insight into the success of their plugins.
If plugins don't get this data, we might start seeing more free plugins implementing opt-in prompts upon plugin activation to gain permission to collect usage stats directly from users.
If you want to dig into this topic, here are some links:
WooCommerce aims to offer a hosted solution in 2023
On the backs of new hosted WooCommerce offerings from Bluehost and GoDaddy, WooCommerce announced in October that it plans to launch an official hosted WooCommerce offering some time in 2023.
Unlike those other offerings, this will be a turnkey solution that's launched in collaboration with hosting partners.
It will include a number of features to streamline creating a successful WooCommerce store:
Pre-installed WooCommerce software
Optimized store onboarding.
Bundled essential plugins (so that store owners don't need to purchase and install a bunch of separate plugins)
WordPress.com will be the first to trial it, but other hosts will eventually be able to work with WooCommerce to offer the solution to their own hosting customers.
For example, SiteGround could hypothetically partner with WooCommerce to offer a more turnkey hosted WooCommerce solution to its customers.
GoDaddy and Bluehost have largely built their offerings by acquiring a bunch of companies. For example, GoDaddy acquired SkyVerge and Pagely, while Bluehost acquired YITH and others.
Obviously, smaller hosts can't really compete with this strategy. But with access to such a turnkey system, these hosts would still be able to offer competing hosted WooCommerce products without the big-budget acquisitions.
Overall, you'll probably be seeing a lot more optimized WooCommerce hosting plans coming in 2023 and beyond.
WPTavern has a good explainer if you want to learn more.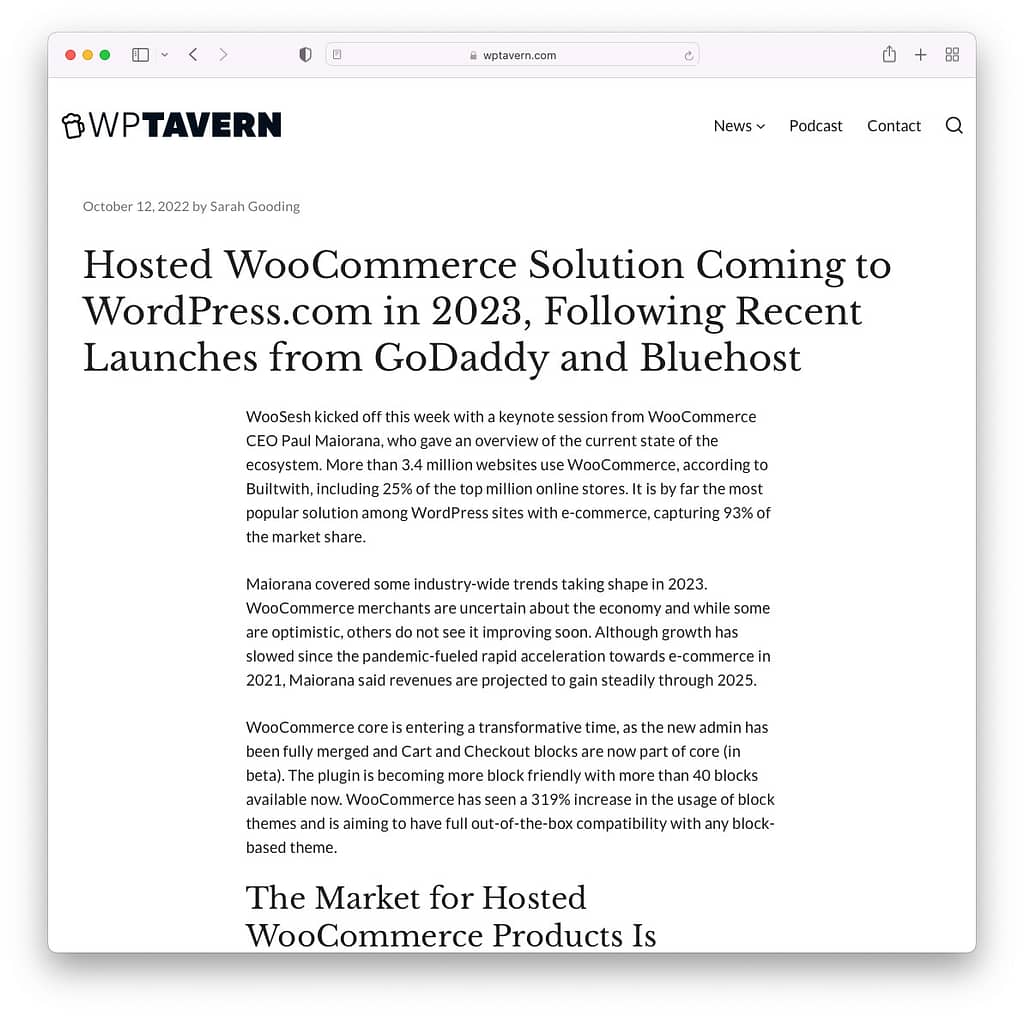 Style variation previews at the WordPress.org theme directory for FSE themes
With the release of the global styles features, WordPress themes that use Full-Site Editing can now include pre-made style variations for users to choose from.
To make it easier to see those style variations, WordPress.org added a new preview tool to the theme listing page at WordPress.org (only for Full-Site Editing themes, of course).
The style variations appear below the theme preview image. The cool thing is that the style variations are clickable and selecting a different variation will change the preview image.
Speaking of Full-Site Editing themes, the free Raft theme from the screenshot is also a brand new release from our sister company, Themeisle.
Raft marks Themeisle's first foray into Full-Site Editing and comes with 9+ style variations and a bunch of block patterns. You can check out the WordPress.org listing here or the dedicated product page on the Themeisle website.
You may also be interested in:
HTTP Archive 2022 report shows WordPress is still growing
There's been a lot of discussion over how WordPress experienced its first ever website usage market share drop according to W3Techs data – going from a peak of 43.3% in March 2022 to "just" 43.0% in October.
Well, the numbers aren't all down, though.
HTTP Archive just released its 2022 Web Almanac, which shows that 35% of all websites that use an identifiable CMS run on WordPress.
While that's lower than W3Techs' number because of different data methodology, it is higher than the 33.6% market share from the 2021 Web Almanac.
It's worth noting that the date ranges here are slightly different. So it actually is possible that W3Techs data and HTTP Archive's data don't contract one another.
That is, if you compared W3Techs data from 2021 to 2022, WordPress would still show growth. It's only within 2022 that WordPress' market share has dropped in the W3Techs data.
Still, it's always good to see numbers where WordPress is moving in the right direction.
HTTP Archive also included page builder usage data this year. Unsurprisingly, Elementor is the leader with ~40-43% share of websites using a page builder.
Surprisingly, WPBakery Page Builder isn't that far behind with a ~33% market share, while Divi sits at around ~15%.
Cloudflare Turnstile – a new solution for WordPress spam protection
In late September, Cloudflare launched a new 100% free Turnstile tool that aims to be a user-friendly and privacy-friendly anti-spam alternative for CAPTCHAs.
In terms of user-friendliness, it aims to protect against spam without requiring any input or verification from the user, similar to how recent versions of reCAPTCHA function.
However, one key difference between Turnstile vs reCAPTCHA is that Turnstile aims to also be privacy-friendly in that it doesn't collect or store any data.
You can learn more in Cloudflare's Turnstile announcement post.
So – how about using Cloudflare Turnstile on WordPress?
Well, some WordPress form plugins have already added Turnstile support to their products. So far, the plugins that I know about include Fluent Forms and WS Form.
Elliot Sowersby also released a standalone Simple Cloudflare Turnstile plugin that can protect core WordPress forms (login, comments, etc.). It also supports integration with some other plugins including WooCommerce, WPForms, and Gravity Forms.
Cloudflare is also working on an official Turnstile plugin for WordPress, though it isn't available at this time.
Another new paid Jetpack plan – Jetpack Social
In our news roundups, we've written several times about the atomization of Automattic's Jetpack plugin.
Whereas before Jetpack was one unified plugin and one unified service (for the most part), it's now being broken up into separate services. For example, you can install just the Jetpack Backup plugin and pay for just the Jetpack Backup service.
This trend is continuing in October, with Automattic launching a new paid Jetpack Social plan to go along with the standalone Jetpack Social plugin.
If you're not familiar with this plugin, it lets you automatically share content to your own social media accounts when you publish a new piece of content.
While the standalone plugin has already been out for a few months now, the paid plan is brand new.
Previously, you could share unlimited posts via your own accounts. Now, the free plan only lets you share 30 pieces of content per month. To go beyond that, you'll need to pay $10 per month for unlimited shares.
This price seems a little hefty given that you can find free plugins that support unlimited sharing, such as our Revive Old Posts plugin.
However, I think that where Jetpack Social can add value is by bundling in the Social Image Generator plugin that Automattic acquired back in 2021. This plugin lets site owners automatically generate social images with unique text and images.
If users got unlimited sharing and automatic image generation for $10 per month, that would be a much more attractive offering.
Overall, we'll see how this develops going forward. But if you're a current Jetpack Social user that shares a lot of content, you might want to switch to a different plugin to save yourself that $10 per month.
Automattic open-sources the Pocket Casts app
Ok, this one isn't directly WordPress related. But it does involve Automattic and open source, so there's plenty of connection.
In 2021, Automattic acquired Pocket Casts, a popular podcast listening app that was previously acquired by NPR and a group of other media companies.
Now, Automattic has made Pocket Casts open source and fully available on GitHub – iOS version and Android version.
Matt Mullenweg explained his reasoning in a blog post – here's the most relevant bit:
I love Spotify and Apple, and I hope that Pocket Casts can do for podcast clients what Firefox did in the early days and what Chromium now does for browsers — push the state of the art, be manically focused on user control, and grow a more decentralized and open web.

Matt Mullenweg
Despite the popularity of Spotify and Apple, they have, at least in my opinion, crafted two of the absolute worst podcast listening experiences.
It's great to see them challenged in a new way, though there are also lots of quality closed-source alternatives (I like Overcast).
Vulnerability in the Shortcodes Ultimate plugin (already patched)
In October, the United States government's National Vulnerability Database (NVD) published a warning about a vulnerability in the popular Shortcodes Ultimate plugin, which was discovered by Dave Jong at Patchstack.
Yes – the US government is involved in logging plugin vulnerabilities!
The Shortcodes Ultimate team has already patched the problem, but you'll definitely want to update if you haven't done so already to avoid issues.
The vulnerability affects versions older than 5.12.0. So if you aren't using version 5.12.1 or later, you need to update ASAP.
That sums up our November 2022 WordPress news roundup. Anything we missed?
…
Don't forget to join our crash course on speeding up your WordPress site. Learn more below:
Layout and presentation by Karol K.