WordPress is the most popular Content Management System (CMS) in the world, powering over 35% of the world's monitored websites. It is heralded for its usability, and yet few people are familiar with the platform's basics when first creating a website. Given this knowledge gap, there exists a definite demand for online WordPress courses for beginners.
To become part of the elite few who can harness WordPress' full capabilities, it's a good idea to hit the books and bone up on your WordPress knowledge. However, finding reputable WordPress training is no simple task. Training courses need to be up to date, easy to follow, and – perhaps most importantly – give you value for money.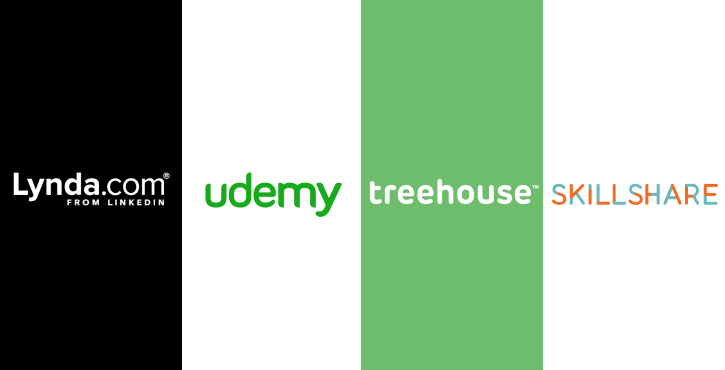 To streamline your search, we've identified four of the best WordPress training providers: Udemy, Lynda, Treehouse, and Skillshare. Throughout this article, we'll compare each training platform, giving the pros and cons of each, before summing up who we believe each provider is suited to.
WordPress courses for beginners: Udemy vs Lynda vs Treehouse vs Skillshare
Udemy (www.udemy.com)
Overview
Udemy is a "no strings attached" course marketplace. Members sign up for free and only pay for the courses they want to access. There are over 130 free WordPress courses to start with, and a further 500 premium courses to choose from.
Furthermore, Udemy does a good job of catering to both beginners and more technical users, so there's plenty of scope for growing your WordPress knowledge over time.
Here are three Udemy WordPress courses for you to sample:
WordPress Theme Development with Bootstrap
WordPress for Beginners – Master WordPress Quickly
Ultimate WordPress Plugin Course
Price
Udemy offers a range of free courses, and doesn't have a subscription fee. Instead, members pay for courses they want access to individually.
Individual course prices range from $9 to $300.
Pros 👍
Over 130 free WordPress courses
Good mix of short and long video courses
Individual course fees
Cons 👎
Course quality has been known to vary, so you need to do your own research before signing up to a specific one
Who is Udemy best suited for?
Get Udemy if you:
✅ Are looking for good WordPress courses for beginners.
✅ Want to take a slow (and free) journey towards learning about WordPress.
Lynda (www.lynda.com)
Overview
Lynda is owned by LinkedIn (which is now owned by Microsoft), and the professionalism from its parent company trickles down to its course presentation. It's a very organized environment, but lacks the casual vibe you might find elsewhere.
The courses themselves have high-quality tutors, with some presented by top WordPress industry leaders, such as WooCommerce's Patrick Rauland. Here are three Lynda WordPress courses for you to sample:
Price
Lynda offers a one month free trial. After which you will be charged based on the plan you select. With LinkedIn Learning you will get access to 15,000 expert-led Lynda courses.
Monthly – $30
Annually – $20
Pros 👍
One month free trial
Android, iOS, and Windows apps
Discounts for annual subscriptions
Content from WordPress industry leaders
Cons 👎
No member forums or community
Courses are very niche, rather than broad and encompassing
Who is Lynda best suited for?
Get Lynda if you:
✅ Want a highly professional learning environment for a specific areas of WordPress.
✅ Don't mind missing out on the entertainment factor that you might find in places such as Udemy.
Treehouse (teamtreehouse.com)
As of 07/06/2019, Treehouse retired all their WordPress courses. They are no longer available for users. There are, however, countless other courses on the platform.
Overview
We believe Treehouse is a healthy mix between Udemy and Lynda when it comes to WordPress courses for beginners. It strikes a balance between high-quality professional courses, as well as lighthearted learning. Many of the WordPress related courses offered by Treehouse will take you through entire projects (constructing a WordPress theme, for example).
Treehouse's presentation is of a very high standard, with smatterings of Lynda's staunch professionalism complimenting their casual vibe.
Price
Treehouse offers a 14-day free trial, along with two premium plans:
Basic: $25 per month. Learn by viewing over 1,000 videos, practicing with Treehouse's Code Challenge Engine, and accessing the members-only forums.
Pro: $49 per month. This plan gets you all of the above benefits, plus access to talks from industry professionals and other bonus content.
Pros 👍
7-day free trial
No contracts
Available on Android, iPad, and Desktop
Cons 👎
No iPhone app
No discounts for long-term commitment
They are no longer creating new WordPress courses
Who is Treehouse best suited for?
Get Treehouse if you:
✅ Want to embark on guided WordPress projects, rather than just watch videos on how to carry out tasks.
Overview
Skillshare, as the name implies, enables members to share their skills and knowledge through video courses. Like Udemy, there is variety in course quality, although many more WordPress courses for beginners are on offer to free members.
It should be noted that Skillshare is community-driven. Although that can be a good thing, you'll often find poorly presented content dotted around their library.
Here are three Skillshare WordPress courses for you to sample:
Price
Skillshare has two membership plans:
Free: This plan offers you over 500 free courses, mobile app access, and online member community access.
Premium: $8.73 per month. This plan gets you all of the above, plus over 4,000 more courses, and offline access to course content.
Pros 👍
Free to join, with over 500 courses available upon signing up
Access to iOS and Android apps, as well as Apple TV streaming
The cheapest option when compared to Udemy, Lynda, and Treehouse
Cons 👎
Overall course quality is not very high
Not on par with Lynda or Treehouse in terms of professionalism
Who is Skillshare best suited for?
Get Skillshare if you:
✅ Want a cheap and sometimes very quick way to learn something new about WordPress.
Conclusion
WordPress is utilized the world over, by everyone from personal bloggers to global corporations. Learning how to use WordPress from respected sources and WordPress courses for beginners is the best way to hone skills for your own personal use, or to improve your value to clients.
To start your journey, pick one of our top four choices:
Treehouse: For those who want to be guided through actual WordPress projects.
We write our own instructive content here at CodeinWP, too! For example, check out our 14 of the Best JavaScript Libraries and Frameworks to Try Out.
Do you know of any other sources of WordPress courses for beginners? We certainly haven't covered all the bases with just these four platforms, so let us know if you have any favored picks in the comments section below!
…
Don't forget to join our crash course on speeding up your WordPress site. Learn more below:
* This post contains affiliate links, which means that if you click on one of the product links and then purchase the product, we'll receive a small fee. No worries though, you'll still pay the standard amount so there's no cost on your part.