📆 This is the February 2022 edition of "This Month in WordPress with CodeinWP."
Hey, WordPress folks. We are checking in with the first batch of WordPress news stories from 2022.
Unlike last month, there was a lot going on. Most notably, a brand spankin' new major WordPress release – WordPress 5.9 "Josephine."
This is one of the biggest releases in a long time as it brings a bunch of full-site editing features to the core. More on this below.
Beyond that, Yoast SEO just released a huge new product…but it's not for WordPress. Is Yoast breaking up with WordPress? Obviously not – but it was pretty surprising to see this release.
Beyond that, there's a new design at WordPress.org to match the new release. WooCommerce is finally giving people custom order tables later this year, and plenty more.
Let's dig into all of the WordPress news from January 2022.
February 2022 WordPress News with CodeinWP
WordPress 5.9 was officially released on January 25
In the biggest news this month, WordPress 5.9 "Josephine" has been officially released into the wild.
The release was originally scheduled before the end of 2021, but it was delayed because the release team needed more time to implement key features, most notably around full-site editing.
And that's the biggest new feature – full-site editing.
While this functionality is still in its early stages, the idea is that you'll be able to design your entire site using the block editor (as long as you have a block-based theme, which most themes aren't at this time).
In addition to getting access to the new site editor when you go to Appearance → Editor, you'll also get new sitewide theme blocks, including the following:
Navigation
Template Part
Header
Footer
Next Post
Previous Post
Post Author
Post Comments
Archive Title
Term Description
With the site editor, you can also create sitewide styles and change the style of the default blocks on your site.
Another big shift is that you'll now be able to design your site's navigation menus using the block editor, instead of relying on the existing menu tool that you see when you go to Appearance → Menus.
And if that's not enough, there's also a new default theme – Twenty Twenty-Two – as well as a bunch of other smaller changes, including tweaks to the editor.
Overall, this is the biggest WordPress release in a long time. The only recent release that rivals it is WordPress 5.0, which gave us the block editor in the first place.
As with any big release, some people aren't happy about the breadth of the changes. But, like with the WordPress 5.0 release, I think the basic idea is to just get full-site editing into the core so that the team can iterate once they see how people are using it.
Would I use full-site editing on a live site as of WordPress 5.9? Probably not. But I think that once it's in the core, developers can start doing interesting things with it and it will evolve into something more useful over time.
Since this is a major release that deals with features and not just security fixes, there's no rush to upgrade your site. Personally, I recommend waiting a couple of weeks to let any bugs get ironed out.
Yoast SEO launches an SEO app for Shopify
For a long time, Yoast SEO has been synonymous with WordPress SEO.
While Rank Math and a revamped All In One SEO Pack are also drawing attention, and smaller upstarts like The SEO Framework and SEOPress have their fans, Yoast SEO is still the de facto plugin when you're talking about SEO on a WordPress blog.
That's why this news is so interesting:
In January 2022, Yoast SEO officially launched its new SEO app for…Shopify. It's now officially available in the Shopify App Store.
It does pretty much exactly what the WordPress plugin does, even down to using roughly the same interface (and the same red-yellow-green analysis system).
There are some Shopify-specific tweaks, though. For example, it will apply different analysis criteria for product pages than it does for blog posts.
It will also be significantly more expensive for Shopify users, though, as they'll need to pay $29 per month. That's a big step up from what WordPress users are paying, even for WooCommerce stores.
As with other Shopify apps, it will also not be open-sourced, which makes this Yoast's first closed-source project.
I'm wondering if this launch had something to do with Yoast SEO's acquisition by Newfold Digital in August 2021. Newfold Digital is the reformation of Endurance International Group (EIG), the massive company that owns Bluehost, HostGator, and tons of other web hosts and tools.
Newfold Digital has to make its investment pay off, and a great way to do that is with a juicy new stream of recurring revenue in the form of $29/month payments from Shopify stores.
Still, it will be interesting to see how much Yoast SEO's brand recognition in the WordPress space will make a difference in the Shopify space.
I'm sure there's a decent overlap between people who are familiar with Shopify and those who are familiar with WordPress. But in the Shopify app store, Yoast SEO won't enjoy the massive historical advantage that it has in WordPress.
Will Yoast SEO for Shopify be able to carve out a space against other apps that already have thousands of five-star reviews?
All I know is that I'll definitely be keeping an eye on it to see what happens.
If you want to learn more, Sarah Gooding at WP Tavern has a good interview with Thijs de Valk, Yoast's CEO, about the reasoning and deliberations behind launching the Shopify app.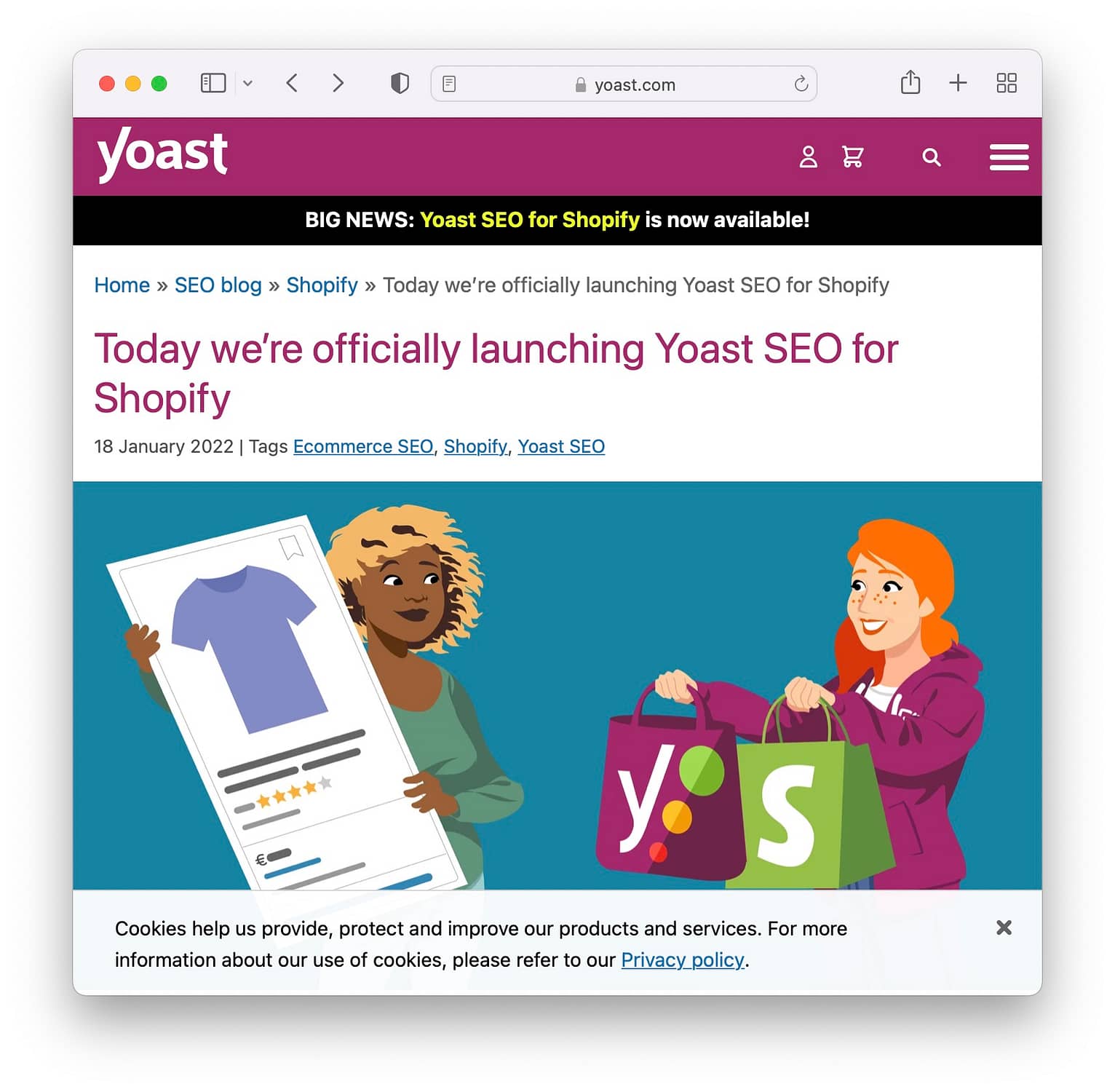 You may also be interested in:
WordPress.org has a new sticky header (and a new footer)
In slightly less exciting WordPress.org release news, WordPress.org got a new look in January. It's not a huge change, but the header and footer have been redesigned.
Beyond the style changes, the header is now sticky, which means it's always visible even as you scroll down the page.
Personally, I find it a bit odd to see the header change while the rest of the design stays the same.
However, I get why the change needed to be made. There have been a lot of new features added, such as the Block Pattern Library and the Openverse photo project that we mentioned last month.
In total, the following menu items were added:
They also changed the name of the "Blog" menu item to "News."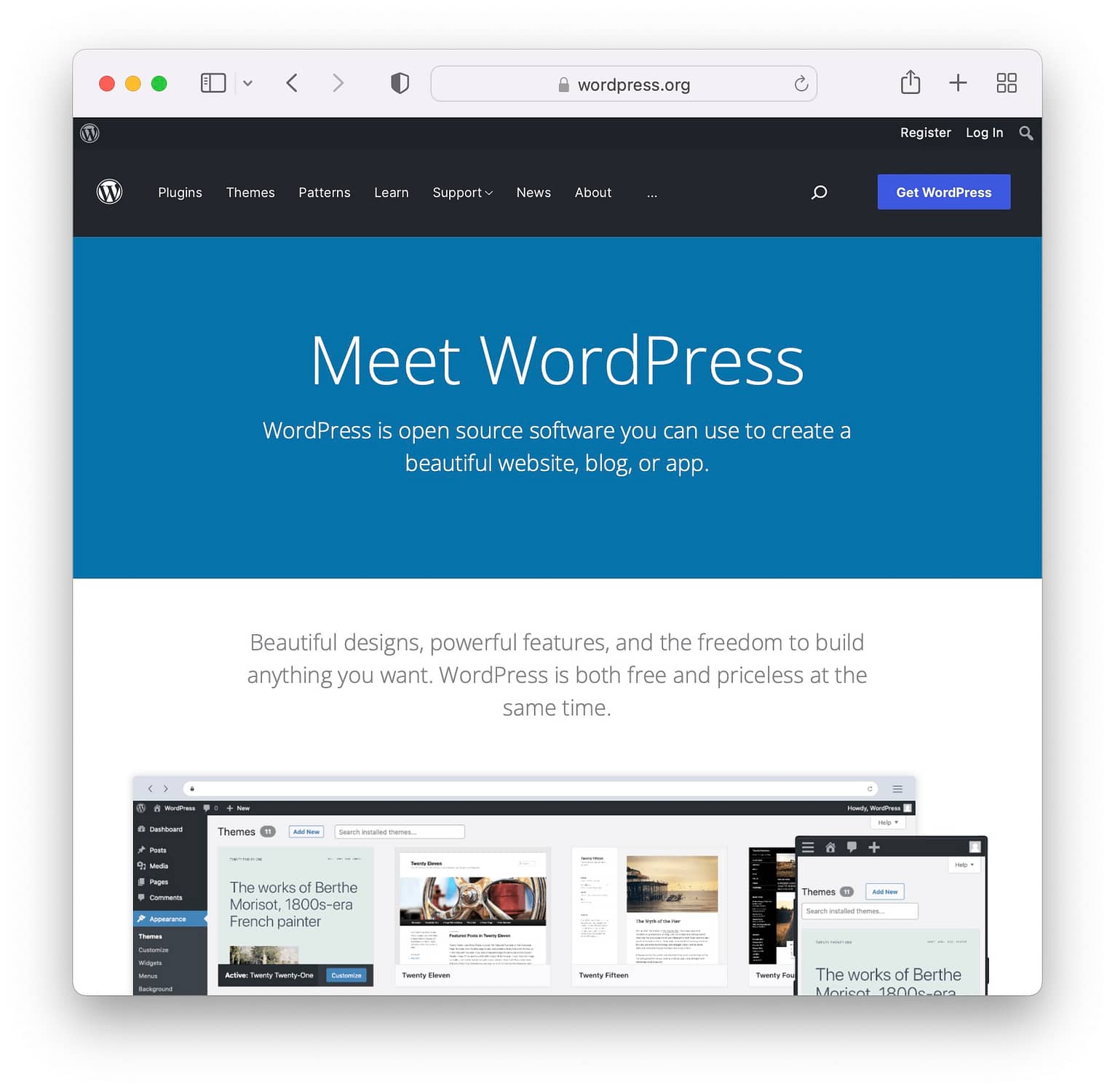 In addition to being sticky, the new header also takes up the full width of the page, whereas the old header was boxed.
Here's how the old header looked:
And here's the new header:
WooCommerce is working on custom database tables for orders
If you have a large WooCommerce store with lots of orders, you'll love this bit of news – the WooCommerce development team is working on an official implementation of a custom database table for orders.
Using a custom table for orders can improve the scalability of your store, as it keeps the data in a more efficient way. It also makes it easier for developers to work with order data for new functionality and backups.
For that reason, a lot of people have long wished for WooCommerce to implement these types of custom tables for key parts of the store, including orders, products, coupons, etc.
Some hosts, notably Nexcess, have built their own solutions to create a custom orders table, which is one of the reasons I like Nexcess' managed WooCommerce hosting plans. Liquid Web/Nexcess have actually open-sourced this, so you can use it with other hosting, too – check out the GitHub page for more details.
Soon, though, you won't have to rely on such third-party implementations and you'll be able to do everything with the core WooCommerce plugin.
While the plans are still early, the initial timeline has a goal of releasing this feature in Q3 of 2022.
At first, using the custom tables will be 100% opt-in, which ensures backwards compatibility and that stores that don't want to deal with switching aren't forced to do so.
If you want to see the plan in much more detail, check out the WooCommerce team's official blog post.
BuddyPress 10.0 is out
Our last bit of news is smaller, but BuddyPress fans will be happy to know that BuddyPress just had a major release – BuddyPress 10.0.0. It's named "La Pino'z" after a popular pizza chain in India.
One change that you'll notice right away is that a lot of the front-end user profile/activity feed areas have a much nicer out-of-the-box look.
Another big tweak is a new "Site Membership Requests" feature, which lets you require users to submit a request to join your community before they can become a member. These requests will require manual admin approval, kind of like how private Facebook pages work.
If you want to learn more about the new release, check out Sarah Gooding's post at WP Tavern or the official BuddyPress 10.0.0 release post.
That sums up our February 2022 WordPress news roundup. Anything we missed?
…
Don't forget to join our crash course on speeding up your WordPress site. Learn more below:
Layout and presentation by Karol K.