📆 This is the January 2021 edition of "This Month in WordPress with CodeinWP."
Hey everyone, we wish you all a Happy New Year and hope you have a great year ahead. Let's have a look at how the last month of the year was for WordPress and what to expect heading into the new year.
There's certainly been a lot going on in the WordPress ecosystem. For once, we have a completely new version of WordPress, and Matt Mullenweg held his annual State of the Word. But there's more! Enjoy:
January 2021 WordPress News with CodeinWP
Lead by an all-women and non-binary squad, WordPress 5.6 "Simone" was released last month. This version is named after legendary performer and civil rights activist Nina Simone. This version includes a brand new default theme, greater layout flexibility, enhancements for the block editor, and built-in block patterns.
This comes after a long wait and a handful of beta releases.
Updates to the block editor:
This development cycle has been focused on full site editing (FSE). This update brings a more polished editor and improvements to block patterns. Block patterns are combinations of blocks that allow users to easily add complex layout elements to the page. In this update, you will get a quote pattern that allows you to add a separator and image above and below the text. This version also includes Block UI changes, and the Block API version 2.
New Twenty Twenty One default theme:
This new minimal theme has a single-column layout and a widgetized footer. It is focused on faster performance and easy customization. It takes full advantage of the new features of the block editor.
Some other things you'll find in WordPress 5.6:
Auto-updates for major releases, which users can enable or disable themselves.
Improvements to the block editor layouts for greater flexibility and more beautiful designs.
Easier video captioning and subtitles.
A new built-in plugin that enhances your site's accessibility.
Application Passwords for REST API authentication.
Support for PHP 8.
If you want to send your feedback to the squad, fill out this form.
Meanwhile, WordPress 5.7 development already kicked off, with Matt Mullenweg leading the way towards full site editing implementation in 2021.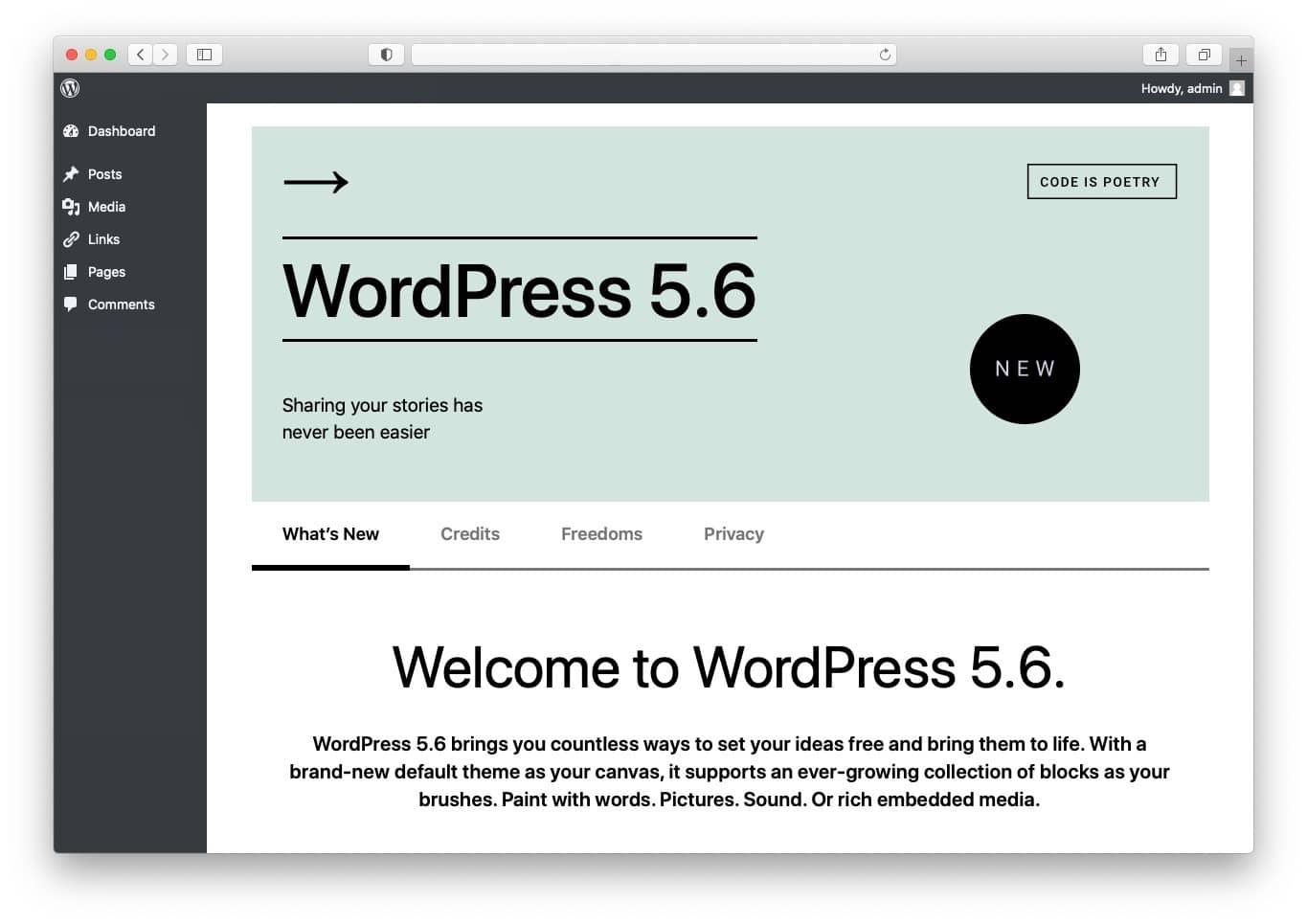 Matt Mullenweg's annual State of the Word address was hosted virtually this year. It was a new edition to the list of many firsts we have seen in 2020. Matt Mullenweg recognized that how 2020 taught us to work together while being apart. He discussed the successes of the year and what's to come. There was also a live Q&A session where he answered the pre-submitted questions of the community members. In an incredibly difficult year, it was the power of the WordPress community that made it possible to put out three major releases.
WordPress now powers 39% of the entire internet!
Just wow. Only this year, the percentage grew by 5%. Mullenweg justified the causes of this growth: the lockdown, eCommerce, and economic uncertainty of these times.
The key points of the discussion were followed by a Q&A session, where Mullenweg answered the community's questions. The topics included WordPress' multilingual capabilities, the progress of the development phases, and upcoming roadmaps.
You may also be interested in:
Learn WordPress Platform Launches with Free Courses, Workshops, and Lesson Plans
WordPress.org's Learn WordPress has been officially released. There was a beta launch earlier this year, and it seems to have worked perfectly, since we can now all enjoy and learn from WordPress' official resources.
Since WordCamps and meetups are on hold due to the ongoing pandemic, this platform offers a new way for new and existing WordPress users to stay connected and learn with the broader community.
Some of the things you'll find there include workshops, quizzes, courses, lesson plans, and discussion groups. Beginners and advanced users alike are welcome.
In addition to the wealth of valuable content available on Learn WordPress, the platform provides an opportunity for individuals to learn alongside other community members and become connected with a global network of WordPress users, developers, and contributors.
Hugh Lashbrooke, WordPress community manager
The platform has launched with more than 85 lessons. Learn WordPress is open to contributions and anyone can contribute to lessons and workshops. You can submit an idea for workshops, as well as take part in discussions.
Gutenberg 9.6 Introduces Drag-and-Drop Blocks and Global Inheritance for the Query Block
Gutenberg 9.6 was released with a much-demanded feature that lets you drag blocks directly from the inserter into your content. This release also includes enhancements, new APIs, and bug fixes. The new feature doesn't work with the patterns yet – it only allows users to drag and drop blocks from the inserter. Beyond that, the button block can now use a vertical layout in addition to the default horizontal layout.
This release is focused on full site editing and global styles. The main feature of this release and the most important one for full site editing is the update to the Query block. In older versions, the Query block depended on themes to define which posts to display via their block templates. But now the Query block can inherit the global query arguments. You can choose in the Query block settings if you want to use the customized query or global query. This feature is very useful for block-based themes.
Great Articles From Around The Web
That sums up our January 2021 WordPress news roundup. Anything we missed?
…
Don't forget to join our crash course on speeding up your WordPress site. With some simple fixes, you can reduce your loading time by even 50-80%: