What's the pricing for WooCommerce? I mean, really, what does it cost to design, launch, and manage a WooCommerce store?
It's not free, like how WooCommerce marketing content, and many bloggers, make it seem. In fact, taking the time to scale a legitimate online store with WooCommerce could become fairly expensive. You're definitely able to keep costs low, but one thing we're certain about is that building a functioning WooCommerce is not free, even if the core WooCommerce software is.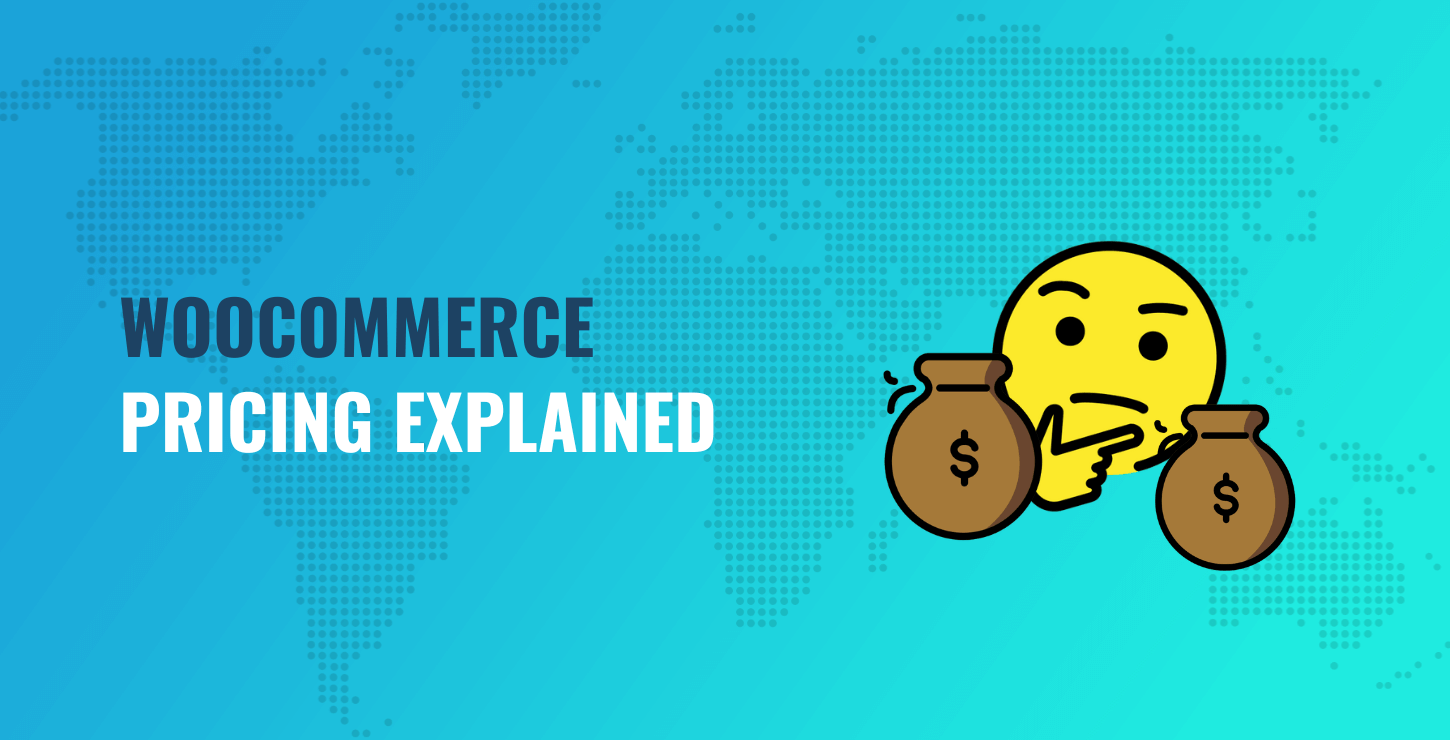 👉 In this article, we answer the questions:
What are the tools/resources needed to successfully make and run a WooCommerce store?
What's the overall WooCommerce pricing with all of these necessary tools and resources?
Keep reading to get the most detailed possible look on WooCommerce pricing.
Everything you need to make/run a WooCommerce store
To build and manage an online store with WooCommerce, you should expect to acquire the following elements:
WordPress CMS (content management system): Free
WooCommerce plugin: Free
Hosting: Paid
WordPress theme with WooCommerce support: Free and paid options
Potential plugins and WooCommerce extensions: Free and paid options
Domain name: Paid
Someone to manage/develop the store: "Free" (if doing it yourself by investing sweat equity) or paid
Shipping/fulfillment setup: Mostly paid options
Payment processing: Paid (if accepting credit/debit cards)
These are the main requirements for building an online store, each of which may come with some sort of WooCommerce pricing or fee.
In the following sections, we'll break down 🔨 each requirement to run a WooCommerce store, and include WooCommerce pricing estimates for each one.
Price of WordPress and the WooCommerce plugin (fixed cost)
You must have the WordPress CMS to run a WooCommerce site.
In addition, WooCommerce is an extra plugin to install to turn your WordPress site into an ecommerce store.
⚙️ Options to consider
There are other ecommerce plugins (and platforms), but WooCommerce makes the most sense, and it's free.
For WordPress, you have two options:
WordPress.org: Self-hosted (free to download)
WordPress.com: Hosted (monthly fee)
Learn the main differences
between the two.
💸 Price range
Anywhere from $0 to $15 per month.
💰 Realistic pricing
$0.
Why?
The WooCommerce plugin is completely free to download and install.
It's free to download WordPress.org.
Although WordPress.com removes the need to find your own hosting, we don't feel its monthly pricing is the greatest value for an online store.
With self-hosting, you can shop around and choose stronger hosting options that grow with your store.
Pricing for WooCommerce hosting (fixed cost)
Quality, fast, secure hosting – the kind you want for an online store – is never free.
The good news is that smaller online stores and those just getting started have options to begin with low-priced shared hosting. You can then upgrade as your business grows.
However, we'd argue that just about any serious online business needs something more than shared hosting, considering the slightest bit of poor performance or security can hinder sales.
⚙️ Options to consider
Here are the best WooCommerce hosting providers:
👆 An example of quality WooCommerce hosting from SiteGround.
💸 Price range
Anywhere from $2.99 per month to $2,000+ per month.
💰 Realistic pricing
$25 per month is a good starting estimate for WooCommerce hosting.
Why?
Providers like Bluehost and Siteground offer rock-bottom promotional prices (like $2.99 per month) for their shared hosting, but the pricing eventually goes up, and then you're stuck with the limits of shared hosting, like potential for performance and security declines.
Kinsta and WP Engine have excellent managed hosting plans for WordPress/WooCommerce; they start at around $25-30 per month and eliminate the need to optimize your site, which is a cost in itself.
Providers like SiteGround, Bluehost, and Dreamhost have special WooCommerce plans with the necessary tools for backups and increased monthly visitors, and those tend to float around the $25 per month mark.
You can always upgrade to $50, $100, or even $2,000+ per month as your ecommerce site requirements grow.
Pricing for WooCommerce themes (fixed cost)
WooCommerce themes allow for immediate, beautiful styling without any design experience, and they're a fraction of the cost of hiring a designer.
⚙️ Options to consider
Whether you opt for fast, free, or premium WooCommerce themes, here are the best places to find them:
👆 If you're looking for a quality theme that's compatible with WooCommerce, give Neve a try.
💸 Price range
Anywhere from $0 to $300+. Some themes come as subscriptions, while others only require onetime payments.
💰 Realistic pricing
If you only want to pay once, $50-$100 is reasonable; if you'd rather a subscription package (with ongoing support, upgrades, and features), $60-$150 per year makes sense.
Why?
Free WordPress themes are fine for personal blogs, basic business websites, and some smaller online stores, but most growing WooCommerce stores need a premium theme.
Premium themes aren't that expensive to begin with, yet you're given customer support, upgrades, and far more features than what you'd find in a free theme.
Themes with onetime payments are nice for keeping costs low, but you may need someone on your team with development experience, since customer support may lapse after a certain period.
Subscription themes give you the advantages of endless customer support, updates, and new features. And you often receive extras like premium plugins and themes (great for developers and agencies).
WooCommerce pricing for common extensions/plugins (fixed cost)
WooCommerce/WordPress extensions and plugins could be an additional tool to improve your site. Some are free, but it's very common to pay for plugins with WooCommerce sites.
Sure, you may get away with snagging basic WordPress plugins for free (like for spam protection, backups, and performance), but plugins for advanced ecommerce functionality (think subscriptions, multichannel selling, and bookings) generally cost something.
⚙️ Options to consider
There are thousands of WooCommerce extensions and WordPress plugins to consider.
Here are the best places to find them:
WooCommerce Extension Store: Offers the most WooCommerce-specific collection of extensions for things like bookings, subscriptions, social selling, payment gateways, and shipping.
CodeCanyon Marketplace: Sells thousands of WooCommerce and general WordPress plugins for everything from infinite scrolling to product magnifying.
WordPress Plugin Directory: You can find most WordPress plugins there, but it's usually best to search under "ecommerce" or "e-commerce" tags if you're interested in WooCommerce-oriented plugins.
💸 Price range
Anywhere from $0 to $1,000+.
Some have onetime prices, but it's becoming more common to see subscriptions for plugins.
💰 Realistic pricing
Assuming you'll be paying for multiple plugins (not just one), it's wise to budget up to $500 for some extensions with onetime payments; and $10-$50 per month for premium subscriptions.
Why?
The WooCommerce Extension Store has onetime and yearly pricing, but they're often necessary for online stores – and they can add up; for instance, WooCommerce Subscriptions costs $199, Jetpack Backup is $119, Product Bundles costs $49, Smart Coupons is $99, and Gift Cards is $49. That's $515 for five extensions that store owners regularly need to install.
You can absolutely find free plugins in the WordPress Plugin Directory – we encourage you to look before committing to premium plugins. But many are actually freemium, or they're simpler plugins for basic WordPress functionality.
Subscriptions for premium plugins are usually inexpensive, but have monthly or yearly fees. The subscription price gets you upgrades, new features, and regular support. For instance, Sparks for WooCommerce is $49 per year, and WPLandingKit is $99 per year.
The main reason plugins can get expensive is if you add too many of them, when it's better to get a theme with those features or to seek some free alternatives to pair with a few powerful premium extensions/plugins.
Pricing for a domain name (fixed cost)
Domain names are cheap, and the pricing isn't specific to WooCommerce. However, it's a necessary expense to run a WooCommerce store.
Our main advice is to completely avoid sellers who price gouge.
⚙️ Options to consider
First off, learn how to buy a domain name . Thereafter, you'll find that there are some reputable domain registrars to stick with, such as:
👆 Namecheap offers good deals on domain names and has all the popular domain name extensions available.
💸 Price range
Anywhere from $2 per year to $10,000+ if buying a premium domain name from a reseller.
💰 Realistic pricing
Most domains sell for around $10 per year, and that's what you should stick with.
Why?
Domain names are plentiful and inexpensive, so you can locate excellent pricing, even if you struggle to get your first choice in domain name. You can use a domain generator if you're struggling to come up with ideas.
You can always opt for a unique or industry-specific domain extension to find a better deal.
Some "businesses" buy up potentially popular domain names in an attempt to price gouge those who might want them. Any domain listed for more than $100 per year is far too expensive, and you should skip it. It's either already owned by a legitimate business, or by someone trying to price gouge.
Store management costs (variable cost)
From product page writing to homepage design, you may have to pay someone to build your store. And even if you have development experience, or opt to strictly build with a WooCommerce theme, someone must consistently manage the store, completing tasks like:
Accepting orders
Posting new products
Communicating with customers
Publishing promotional banners
Managing fraud and security aspects
Keeping an eye on site performance
A/B testing
Email marketing
Managing inventory
⚙️ Options to consider
Here are the best ways to manage your WooCommerce store:
Do it yourself or have a business partner do it
Hire a freelancer
Hire a full-time employee
💸 Price range
Anywhere from $0 per month to $5,000+ per month.
💰 Realistic pricing
Store management expenses are highly variable, so it's impossible to pick a general number. We can, however, offer some example costs:
$0 if you, or a partner, manages the site
Starting at $5 per month for light freelance store management (occasional ads, image uploads, banner designs, customer support emails)
$150+ per month for more hands-on store management (consistent ads, blogging, order processing, email marketing, customer support, and more)
$1,500+ per month to hire a full-time employee or for a WooCommerce management agency
Why?
You could have you or a partner manage the site for free, but your time is still worth something, so it's not technically free.
WPAutoPilot – a reputable WooCommerce management firm – offers plans starting at $1,495 per month and going up to $3,995 per month.
Toptal experts, at $100 per hour, would cost $6,400 per month if you hired one for four hours per day and four days per week. That's one of the pricier options when looking at freelancers.
Upwork virtual assistants provide simple customer assistance, inventory management, order management, and more, and the pricing can start around $150 per month. They usually aren't going to manage your entire store, so you usually need multiple virtual assistants or should still expect work on your end.
Fees for WooCommerce shipping/fulfillment (variable cost)
Shipping/fulfillment costs are threefold*:
You may have to pay for a shipping/tracking/calculator plugin or service.
It will cost something to continuously print shipping labels, store products, and package them up.
You must pay fees to shipping carriers like UPS, USPS, and FedEx.
*️ Note: None of these apply if you're selling digital goods.
⚙️ Options to consider
For self-fulfillment/shipping, use this guide on how to configure WooCommerce shipping with some of these tools:
To use a third-party logistics company (where you pay a monthly fee for storage, packing, and shipping), choose from our list of favorites, like:
💸 Price range
Anywhere from $0 to $12.49 per order, for the entire fulfillment process – with picking, packing, storage, and delivery – according to ShipBob's fulfillment cost calculator. It could end up cheaper as you increase sales or sell different products. Alternatively, you could see higher shipping/fulfillment fees for very expensive or large items.
Finally, the selling of digital goods costs $0 to fulfill and ship.
💰 Realistic pricing
We can't make an accurate estimate for shipping and fulfillment due to its variable nature.
However, we can give you a range of examples:
$0 to fulfill and send digital items (although some digital fulfillment plugins do have small fees)
About $5.38 to $5.91 per package to fulfill supplements, or similarly sized items (according to ShipBob's cost calculator)
About $6.13 to $7.23 per package to fulfill apparel or similarly sized products (according to ShipBob)
About $9.59 to $12.49 per package to fulfill subscription boxes (according to ShipBob)
Some 3PLs also offer starter plans for stores with a certain volume of sales per month. In addition, you may find it cheaper with ShipMonk or another fulfillment company, depending on your sales and storage needs (considering we mainly used ShipBob as a reference here).
Why?
Digital items are generally emailed to customers or downloaded right from a website, meaning there are no shipping or fulfillment fees.
Regardless of your fulfillment process, you must pay to store physical goods.
Picking, packing, and packaging materials are included in third-party fulfillment costs.
You get customer support, return management, and inventory software with third-party fulfillment.
You can decrease fulfillment costs by selling smaller products, opting for more efficient storage options, sticking with plain packaging, and more.
Fees for payment processing (variable cost)
Payment processing fees aren't exclusive to WooCommerce, but you must consider them when running any ecommerce store. They're small fees that happen on each transaction, and they go to the credit card companies, not WooCommerce.
You also might have to pay for a plugin to install a specific payment processor, but that's not as common.
⚙️ Options to consider
Here are the best payment processing solutions for WooCommerce:
💸 Price range
Anywhere from $0 to $100 for a processing plugin (usually $0).
Starting at 2.9% + $0.30 per transaction (the current industry standard) for credit card fees.
💰 Realistic pricing
It's free to install most payment gateways on WooCommerce.
Credit card fees vary greatly depending on sales volume and product pricing.
Here are some transaction fee examples based on the 2.9% + $0.30 per transaction industry standard (multiply by projected sales per month to find monthly cost):
A $5 sale costs $0.45 in credit card fees
A $50 sale costs $1.75 in credit card fees
A $100 sale costs $3.20 in credit card fees
Keep in mind, that you may occasionally encounter extra fees for things like international payments, Amex cards, and chargebacks.
Why?
There's no way around it. Credit card companies and processors must maintain their infrastructures, online interfaces, and the overall security systems required to manage online payments. So, the costs are passed to merchants.
Some niche payment processors (those that accept payments for high-risk countries, high-risk industries, and unique products) typically cost more to install, and they have higher fees.
WooCommerce pricing summary
With all that analysis, what's the overall WooCommerce pricing to launch and operate an ecommerce store?
It's dependent on a wide range of factors, but let's break down the potential expenses by fixed and variable costs.
Estimated fixed costs for a WooCommerce store

| Component | Realistic fixed costs |
| --- | --- |
| WordPress CMS and WooCommerce plugin | $0 |
| Hosting | $25 per month |
| Theme | $60 per year |
| Extensions/plugins | $25 per month |
| Domain name | $10 per year |
| Total | $56 per month (less if you get cheaper hosting and use fewer plugins) |
Variable costs for a WooCommerce store

| Component | Notes |
| --- | --- |
| Store development/management | Development comes as cheap as $50-$100 for quick jobs. It can cost $10,000+ for larger projects. Ongoing management also ranges, from a few dollars per month to several thousand. |
| Shipping/fulfillment | For digital fulfillment: Free. For physical items: 3rd-party logistics and shipping fees are highly dependent on sales volume, product sizing, and other variables. |
| Payment processing | You can calculate potential payment processing fees by using the industry standard of 2.9% + $0.30 per transaction. The costs are variable based on sales volume and product pricing. |
…
Don't forget to join our crash course on speeding up your WordPress site. With some simple fixes, you can reduce your loading time by even 50-80%: