If you're interested in building your own websites, you probably already know Wix is one of the most popular website builders on the web. I mean, it's still nowhere near WordPress' popularity (currently powering more than 43.1% of the entire web and counting[1]), but it's still a popular WordPress alternative that's getting a lot of publicity due to their user-first approach and an overall easy to use interface.
But setting everything aside, there's one particular thing that we'd like to look into today … Wix templates – as in, website designs that you can use on your Wix website. More specifically, how they compare to WordPress themes?
So this is Wix templates vs WordPress themes – a quick look at a handful of Wix templates vs their WordPress counterparts. Pros and cons, who can benefit from these Wix templates vs WordPress, plus another list of WordPress themes that look very similar to their corresponding Wix templates.
Basically, what I'm trying to prove here is that, for all Wix templates, there's always a WordPress-based alternative, one that's very similar and that can often save you lots of money.
And please don't get me wrong, I have nothing against Wix or Wix templates. But I just want to show you another side of the coin, and talk about the pros and cons of using Wix vs WordPress, focusing on the design side of things primarily this time.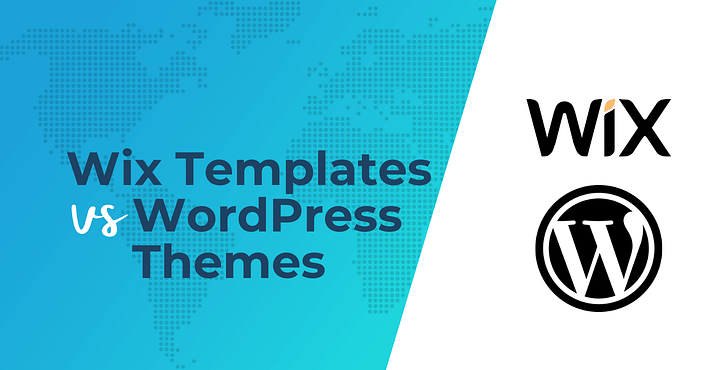 Here are 10 beautiful Wix templates and their WordPress alternatives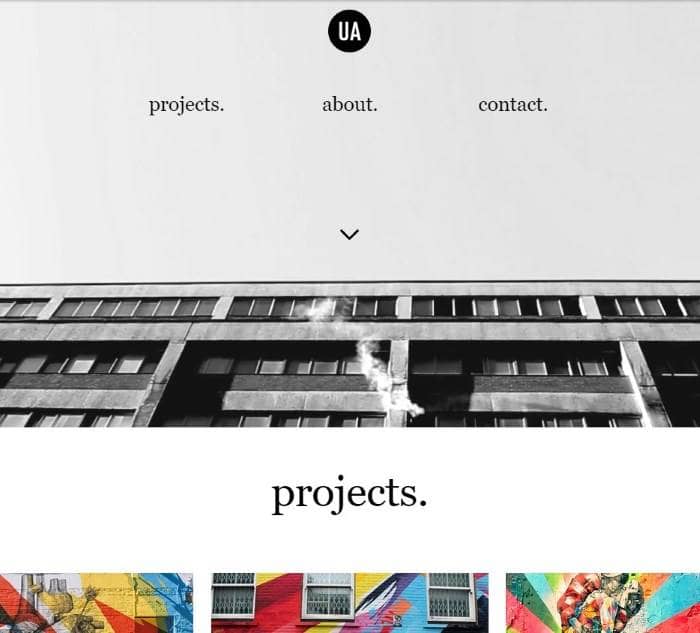 A simple and beautiful template that supports a video header, parallax scrolling, a nice portfolio section. Everything presented as a one-page layout. It comes with an interesting way of letting people know about you and your work by using a catchy and clean design. You can showcase your arts through beautiful galleries as well.
Meant for: Grafitti Artist is a modern and vintage-like theme for artists such as photographers, street artists, and all sorts of creative people who need an online portfolio for their projects.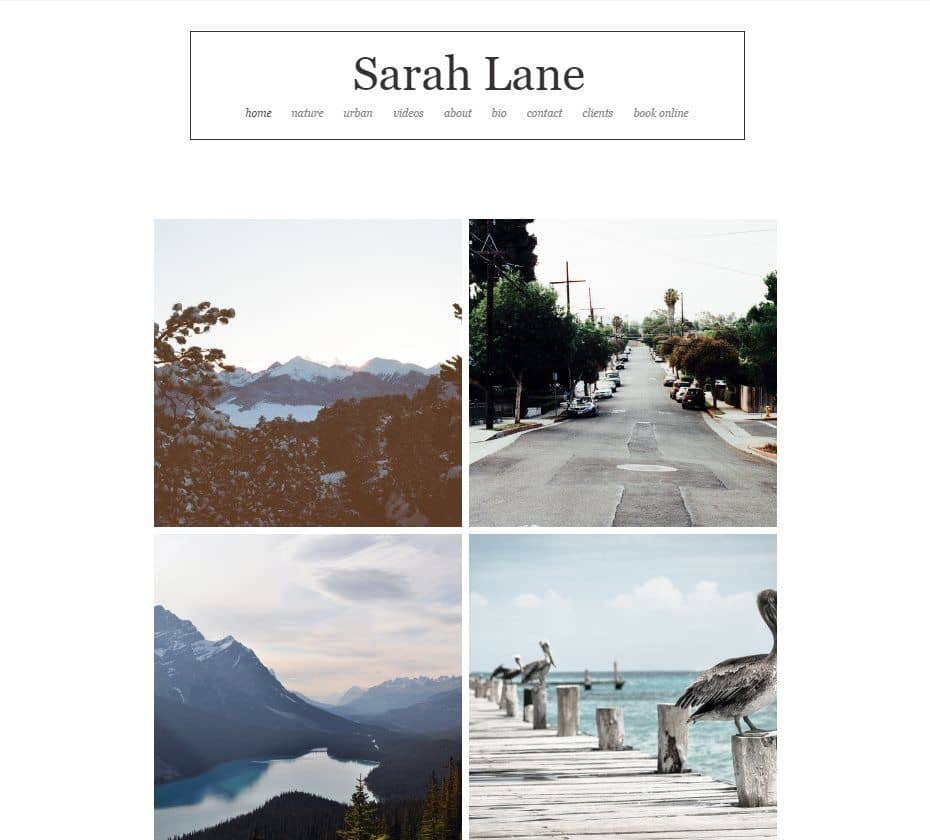 Outdoor Photography is one of those Wix templates that manages to remain minimal, and at the same time very neat. The template is beautiful in its own way, providing a clean interface and a grid photo gallery meant to elegantly showcase your works. The template doesn't come with any distractions, which will put your projects in the spotlight quickly. The gallery can be visualized in a Lightbox slideshow too.
Meant for: Outdoor Photography is primarily a portfolio template where photographers can share their works and wow their audiences. But not only photographers can benefit from this one. Any other creative professionals – designers, illustrators, painters, video producers – might be interested in this template as well.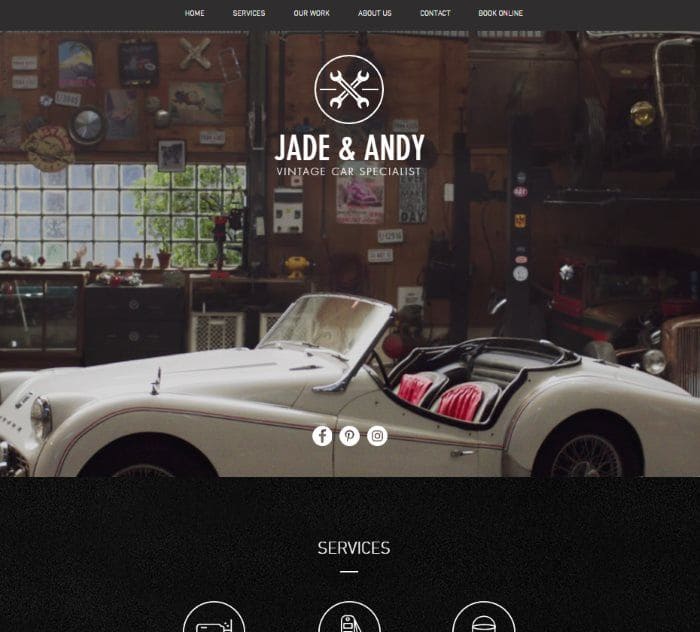 A modern and friendly template originally presenting a vintage car website, but can work equally well for any type of business. The template provides a full-width video/static header, parallax scrolling, and very catchy sections that you can customize the way you want, and to which you can add a handful of things. The Vintage Car template has a fast and beautiful one-page layout, which can be scrolled through nicely and easily.
Meant for: Even though it was made for vintage cars, motorcycles, and automotive specialists and lovers, this theme is actually ready to serve all kinds of businesses – from small businesses and startups to design agencies, personal portfolios, basically, all creative and non-creative projects imaginable.
A Wix template for small online stores, with a simple boxed design optimized for sales. It has a featured image space, minimalist shop pages with the products filtered by categories, nice boxes for collections, and Ajax galleries that can be viewed in slideshows. Each product page is simple, providing quality information along with shipping details. The products can be customized just the way you want and in an easy way.
Meant for: Online Tees is mostly dedicated to online store owners who want to sell clothing or related articles. Even though fashion is the main purpose of this template, you can basically sell anything – from Christmas decorations to gadgets.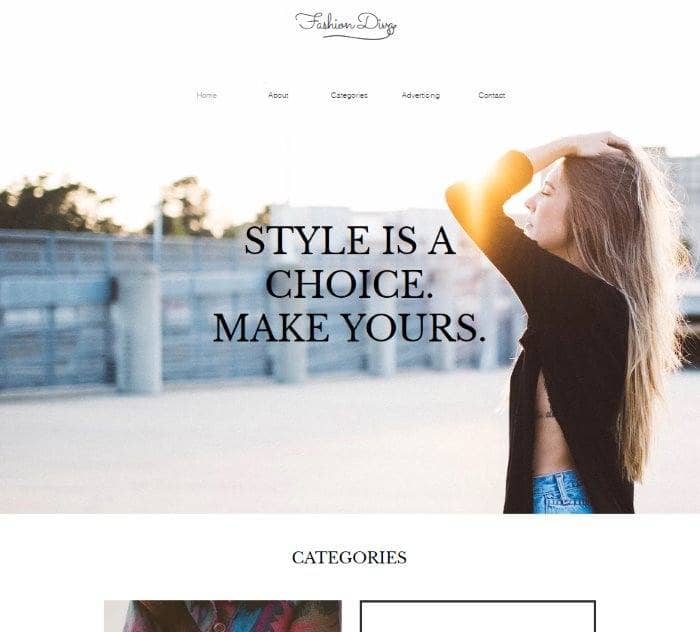 A classic layout for bloggers, yet with a hint of style just to make fashion bloggers satisfied. The template looks very beautiful, clean, and modern. It provides a nice full-screen header with smooth parallax scrolling, blog categories drawn as fancy boxes, ad spaces, author boxes, and a standard blog structure presenting the posts one below the other.
Meant for: Everyone who loves fashion and wants to write about it. Since fashion blogs are very popular and the market is pretty saturated with them, I guess you need to stand out somehow by picking an elegant and chic template like Fashion & Style.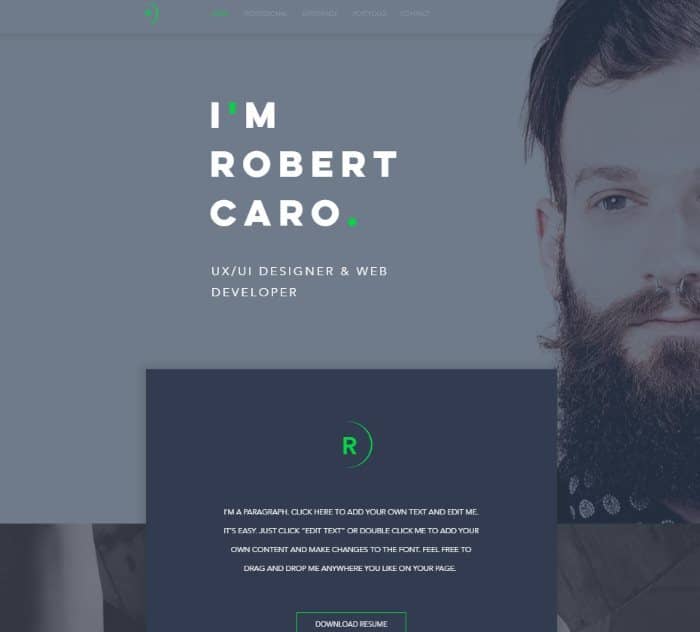 A stunning example of what Wix templates can look like, especially if you want to present yourself online in a visually appealing way. Thanks to this template's design, your strong points, skills, and works will be highlighted nicely so your potential employers can notice you. The template has a deep parallax scrolling, full-screen layout, modern and elegant animations, along with a one-page structure.
Meant for: This template is perfect for designers or other creatives who find a visual resume more captivating and attention-grabbing than a traditional one. It's for people who think through images, colors, graphics, and other visual elements.
An imposing, mouth-watering template which is just amazing. The design utilizes the parallax scrolling effect very neatly, and the visuals just catch your eye instantly. The template is lively and full of colors, providing full-screen images and backgrounds. Visually, Ice Cream Parlor is a total blast of deliciousness.
Meant for: If you run a shop or a cafe/bakery that has anything to do with desserts, this is for you. With such a vibrant design and great images of your good-looking food, there's a big chance that you get customers faster than you would expect.
This is a Wix template built for corporate sites. Its professional and classy design speaks for itself. The template is full-screen, provides a large and broad header, and offers an awesome parallax scrolling. Made with class, not cluttered at all and showcasing the content clearly and cleanly. The color scheme used here is also stylish and elegant.
Meant for: Corporate Conference is a template that will fit corporations and corporate-related events such as conferences, gatherings, product releases etc. If your job requires wearing a suit and a tie, then this template might look appealing to you.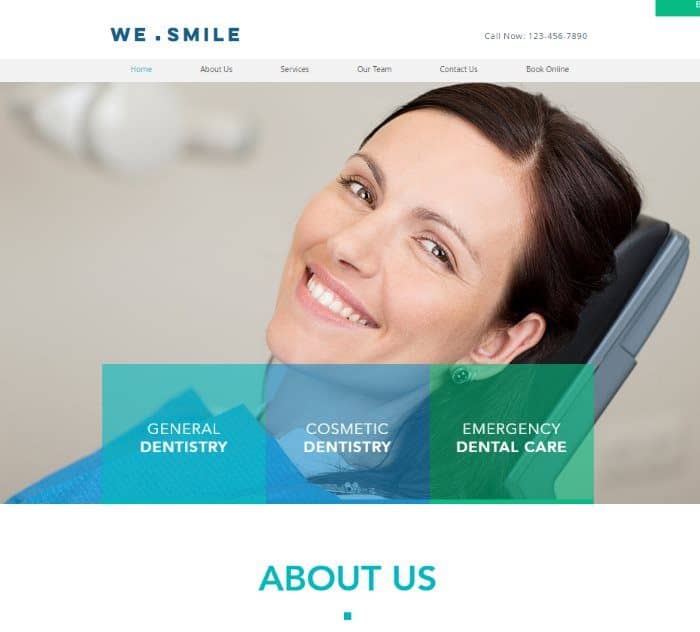 A modern Wix template for dental clinics and medical purposes in general. It looks great and comes with colorful sections and parallax effects. The layout is full-screen and built on a single page. Overall, the Dentist template looks clean and friendly.
Meant for: This template was created with medical and health fields in mind, so if you're a doctor and want to develop your own private business, this template might be a good call for you. Also, hospitals and medical centers can use the template for their websites.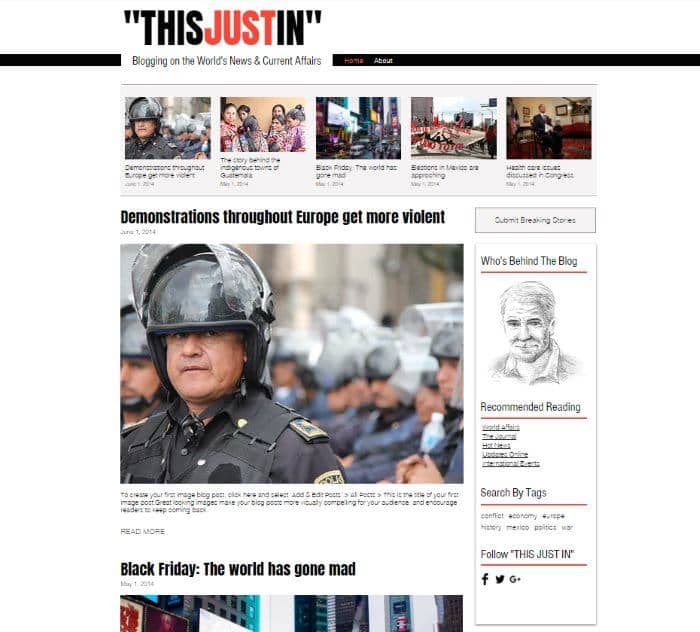 A clean and minimalist theme for anything that has to do with news and publishing. It comes with a featured slider for the newest or popular stories and a classic blog layout (a one-below-another style for the posts).
Meant for: Bloggers, journalists, writers, or people who just want to share their daily findings with the audience.
Wix templates or WordPress themes, which is cheaper?
You may ask what's the point of presenting WordPress alternatives for Wix templates. Well, the fact is that, most of the time, working with WordPress will simply save you money.
Let's do the math:
First off, if you want a Wix site that's launched on your own domain, and without Wix's own ads cluttering your design then you can forget about the free version of Wix. You need to pay a small fee to avoid these problems.
The cheapest sensible solution for that is around $8 a month. This makes it $96 per year.
Also, if you want something more than a business-card-like site – maybe an eCommerce store – then the price tag on this is $17 a month = $204 per year.
Achieving the same effect with WordPress can be much cheaper. For instance, even if you go for a cheap host at $5/month and a $10/year domain, it's still only $70/year in total. This still leaves you a handful of dollars to use on a premium theme (which is usually a one-time payment for most people).
(Launching an eCommerce store on WordPress, even though will grow your bills to around $150 a year, is still a lot cheaper than using Wix.)
Of course, setting a site on WordPress takes a few extra steps. The main downside, WordPress is self-hosted, so you have to take care of finding a host on your own. But choosing a host to fit your needs and installing WordPress on top of it is not complicated at all. On the contrary, all the quality hosting companies simplify things so you can have a hassle-free process.
There are lots of WordPress hosting services on the market, cheap and expensive, for all pockets.
Conclusion
Many Wix templates are truly beautiful … I won't try to say they're not. But just be aware that there is a price tag to using Wix over the long haul, and especially for a serious business purpose. I just want you to be aware of that.
Some of the top WordPress themes might be expensive, but putting things in perspective and thinking long-term, WordPress is the cheaper alternative. And by the way, you can find lots of great free WordPress themes as well.
But hey, that's just me. Given all these facts, which path do you think is the best for you? Wix and Wix templates or WordPress and WordPress themes?
…
Don't forget to join our crash course on speeding up your WordPress site. Learn more below:
Layout, presentation and editing by Karol K.
* This post contains affiliate links, which means that if you click on one of the product links and then purchase the product, we'll receive a small fee. No worries though, you'll still pay the standard amount so there's no cost on your part.