Since you're here, it means that you are considering using Wix for building your next website. It also means that you're still undecided and want to learn more about this website platform before making the final decision. We are here to shed some light on what you should expect when you choose Wix to be your tool. This is a comprehensive Wix review that will highlight all you need to know about this platform.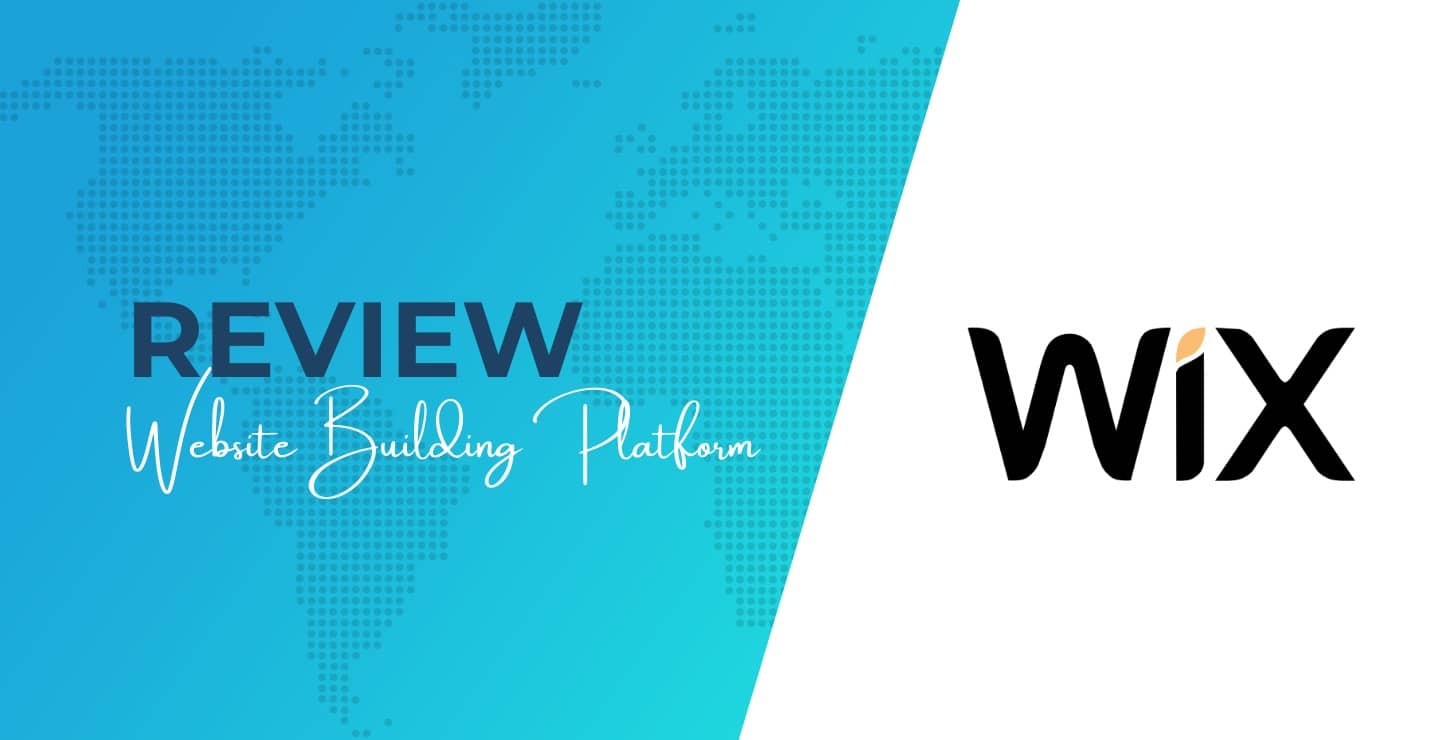 We will expand on what Wix's features and advantages are, how easy it is to use, how to set it up, what design options it offers, how much it costs, and how it stacks up against the competition.
Read on to see if Wix is a match for your needs. Let's get started!
What is Wix?
Before looking at the individual features in this Wix review, let's see what Wix is in general.
Wix is a website builder that non-technical people can use to create a website by themselves. The aim of the company is to help small businesses, freelancers, and individual users build an online presence for either personal or commercial purposes.
The platform offers a modern interface and a significant collection of drag-and-drop tools and apps that any casual user can manage. It's an all-in-one piece of software that covers all the needs a future website owner might have to build an online presence. From hosting, to design, functionality, and third-party integrations – it's all there.
Wix also offers a simple setup process that anybody can complete on their own. We will talk about this later on in this post.
Wix review: Should you use it for your website?
To make your reading easier, we split this post into a few main categories to analyze Wix in detail. Here's what we will cover in the following Wix review:
📚 Table of contents:
Features 🧰
Wix has a lot of things to offer to its users, both in the free and premium versions. These are the features that are the most useful to someone who wants to create their first website with Wix:
Web hosting and custom domain name included
Drag-and-drop custom design and 500+ templates
SEO and marketing tools (via the app market)
Instant website builder (Wix ADI)
AI Text Creator in the Wix Editor
ecommerce and blog modules
Various supported niches
If you choose to go with Wix for your next website project, you don't need to worry about hosting. Wix provides its own hosting included. This will save you time and the responsibility to do research on your own to find one. Even if you opt for the free version of Wix, hosting is still included.
While Wix lets you use a custom domain name, the free users will have to upgrade in order to have access to this feature. Custom domain name means that you will be able to get rid of the .wix.com web address format and create a personalized one.
When it comes to design, Wix has plenty of options. But we will talk more about this feature in the Design section.
Another interesting and useful Wix feature is the Wix ADI (artificial design intelligence). Wix ADI is a built-in AI module that creates a website for you in minutes. If you are not sure how your site should look or do not have the time to check the huge collection of templates, Wix ADI asks a few questions about your site's purpose and niche. Based on your input, it builds a website tailored for you.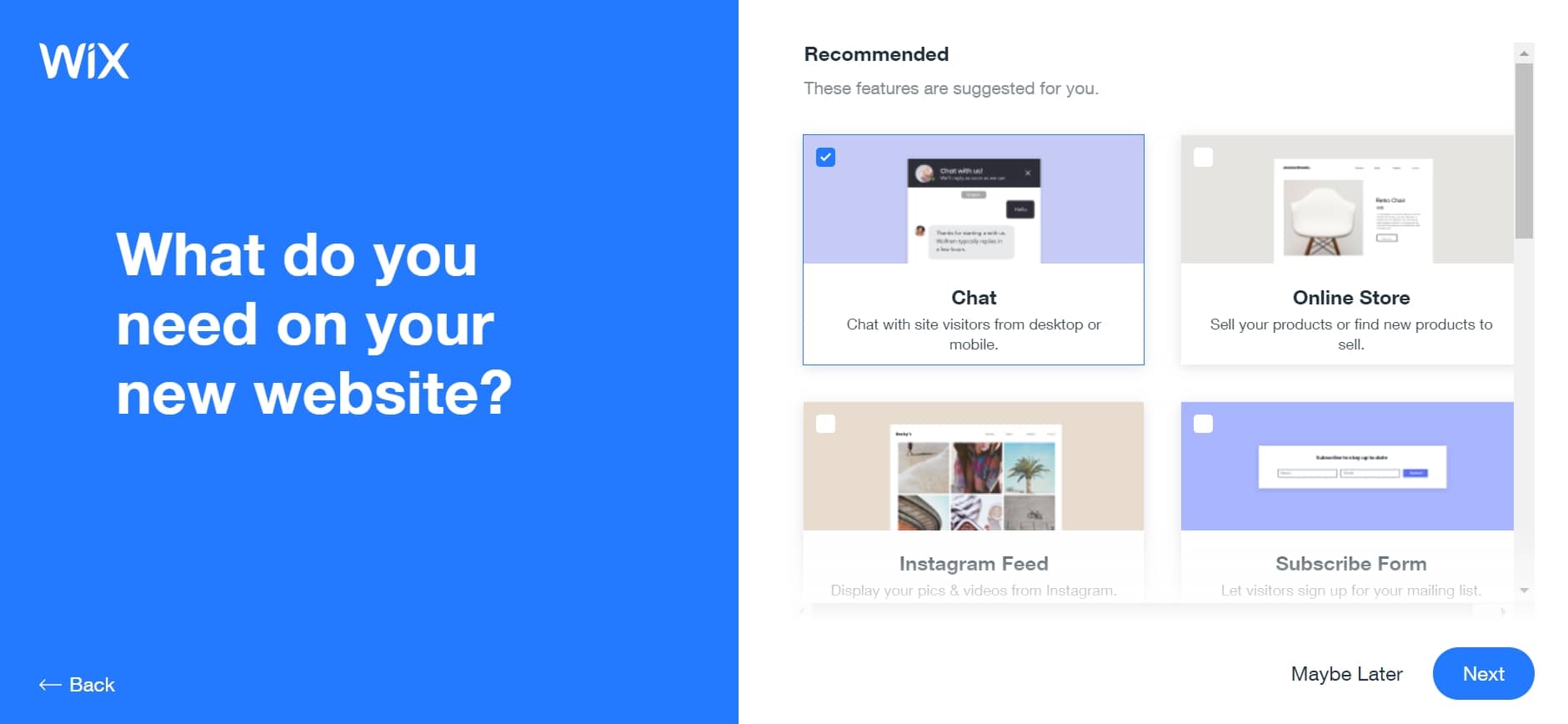 From there, you can take over and customize further using all the tools that Wix has in store for you.
Sticking with artificial intelligence a bit longer, Wix comes with an AI Text Creator based on OpenAI's GPT-3. This feature is integrated within the Wix Editor and allows you to generate unique content for your website. How does it work? You just write some quick inputs about your business (like type or name), the topic of the text, and important mentions. Then, the tool will create several text variants for you to choose from.
Wix is also an effective platform for those who want to use it for blogging or ecommerce. By installing the respective apps, you can optimize your website to start blogging and/or sell goods and services online without much effort.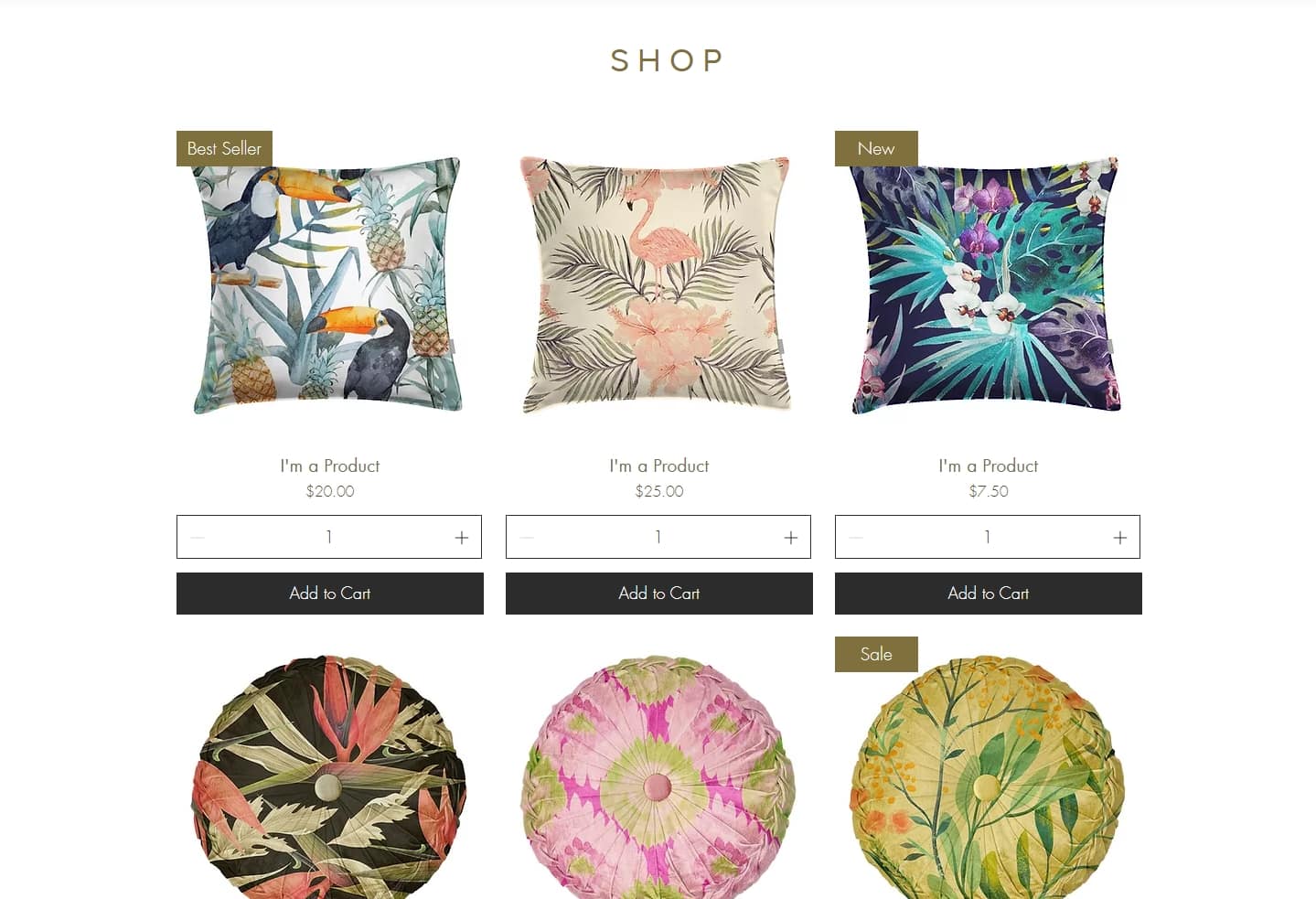 If you want to build a site in a specialized niche, you are in the right place. Wix comes with advanced support for photography, bookings, music, video, events, restaurants, and many more niches.
The next important feature that Wix provides is their app market. The Wix app market is like a marketplace where you can find a multitude of applications, add-ons, and tools built for Wix. With all these apps, you can expand the functionality of your website.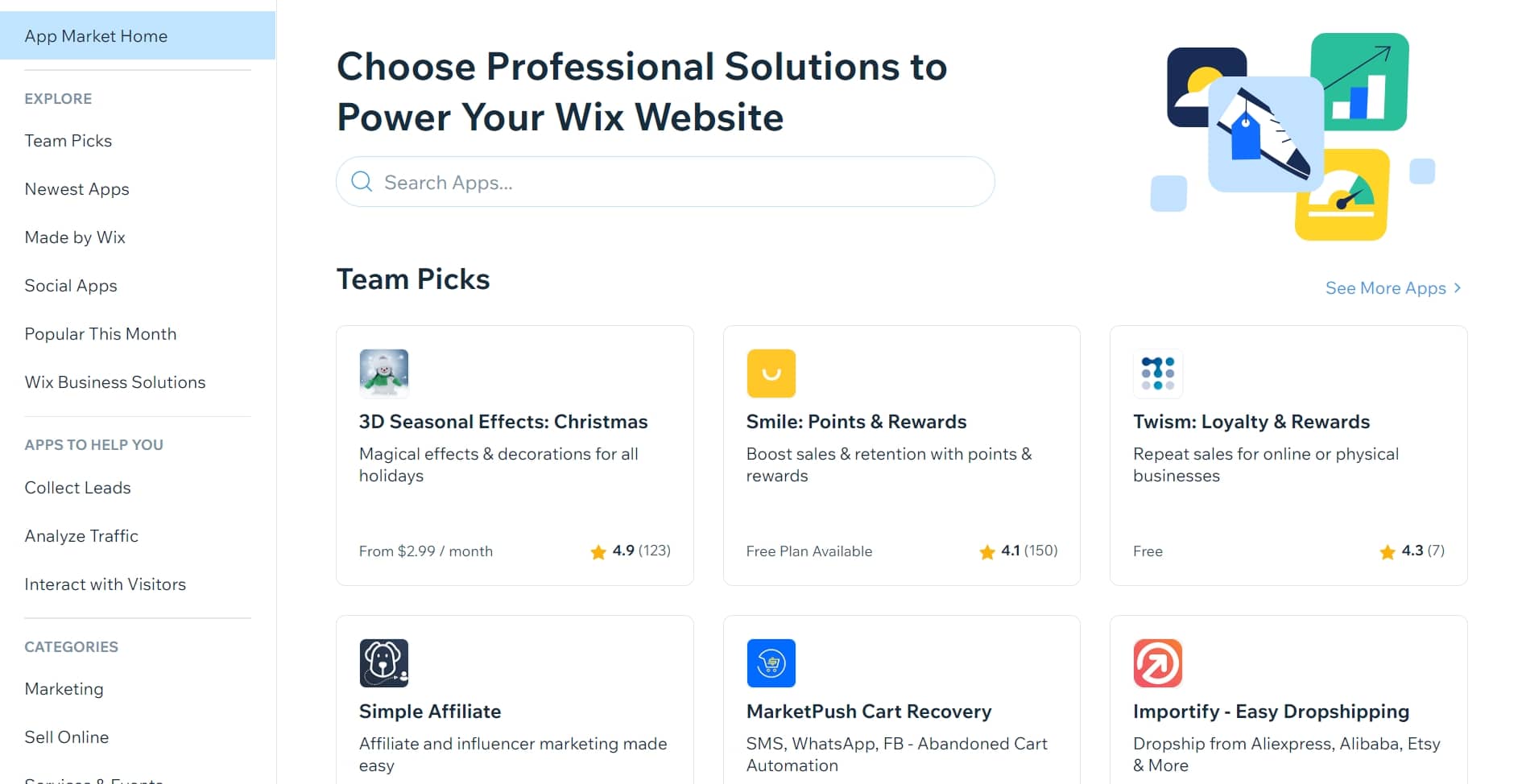 For instance, many website owners will want to install some of Wix's SEO and marketing apps. After you build a site with Wix, you can't optimize it for SEO until you install these related apps. The same applies to the marketing tools that you need if you want to invest in your site's promotion.
Via these tools, you can do many things. You get a personalized SEO plan, intuitive SEO setup, different SEO tools (for meta tags, structured data, robots.txt, search optimization, site indexation, etc.), email marketing, visitor analytics, subscription forms, social media tools, and more.
Ease of use 🔧
Is Wix easy to use? Our Wix review will show you how it works. Everything in the setup process is straightforward and all the actions required after launching the website are intuitive. The interface is easy enough to grasp.
For starters, you need an account on the Wix.com website. Once you sign up, you will be directed to your user dashboard. Click on Create New Website to enter the site setup. Here, you have two options: either let Wix ADI build a site for you or choose to build the site yourself via the Wix editor:
If you want to create the site yourself, you'll need to search for an appropriate template and edit it via the Wix editor.
Here, you can go through all the options Wix provides and manually select the elements, widgets, and functionality that you want to use on your site. You can drag and drop all these elements and arrange them on the page the way you want.
Via the Wix Editor, you can handle all the aspects of your website – design, content, forms, embeds, integrations, apps, media, menus, and more. Of course, you can always come back to it for further customizations. You don't have to finish the website all at once.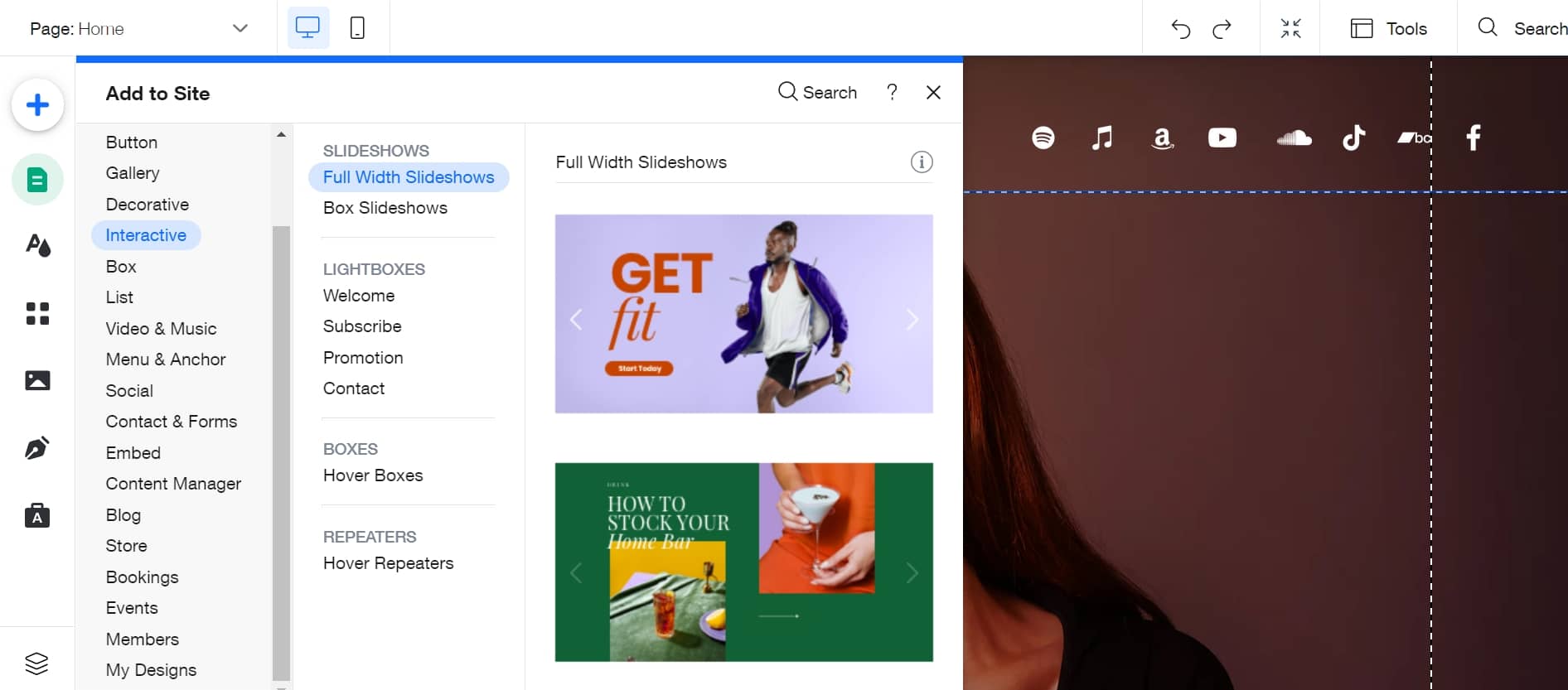 You can customize each section by clicking on it and adding/removing elements.
When you are done editing, you can preview your site and then publish it. When you click on Publish, your site becomes available for others to visit.
One thing to keep in mind about Wix is that you don't have to take any external actions to build your website. All your website needs to go live is there – inside the Wix editor. That's what makes Wix simple. Everything is at your fingertips.
Design 🎨
Design plays an important role in a website's creation process. Wix gives you the flexibility to choose from over 500 templates. You can customize each one the way you like until you get the design you wished for.
In their library, you will find designs for almost any niche you can think of – corporate, restaurant, agency, health, travel, fashion, arts, education, online stores, communities, events, blogs, and many more.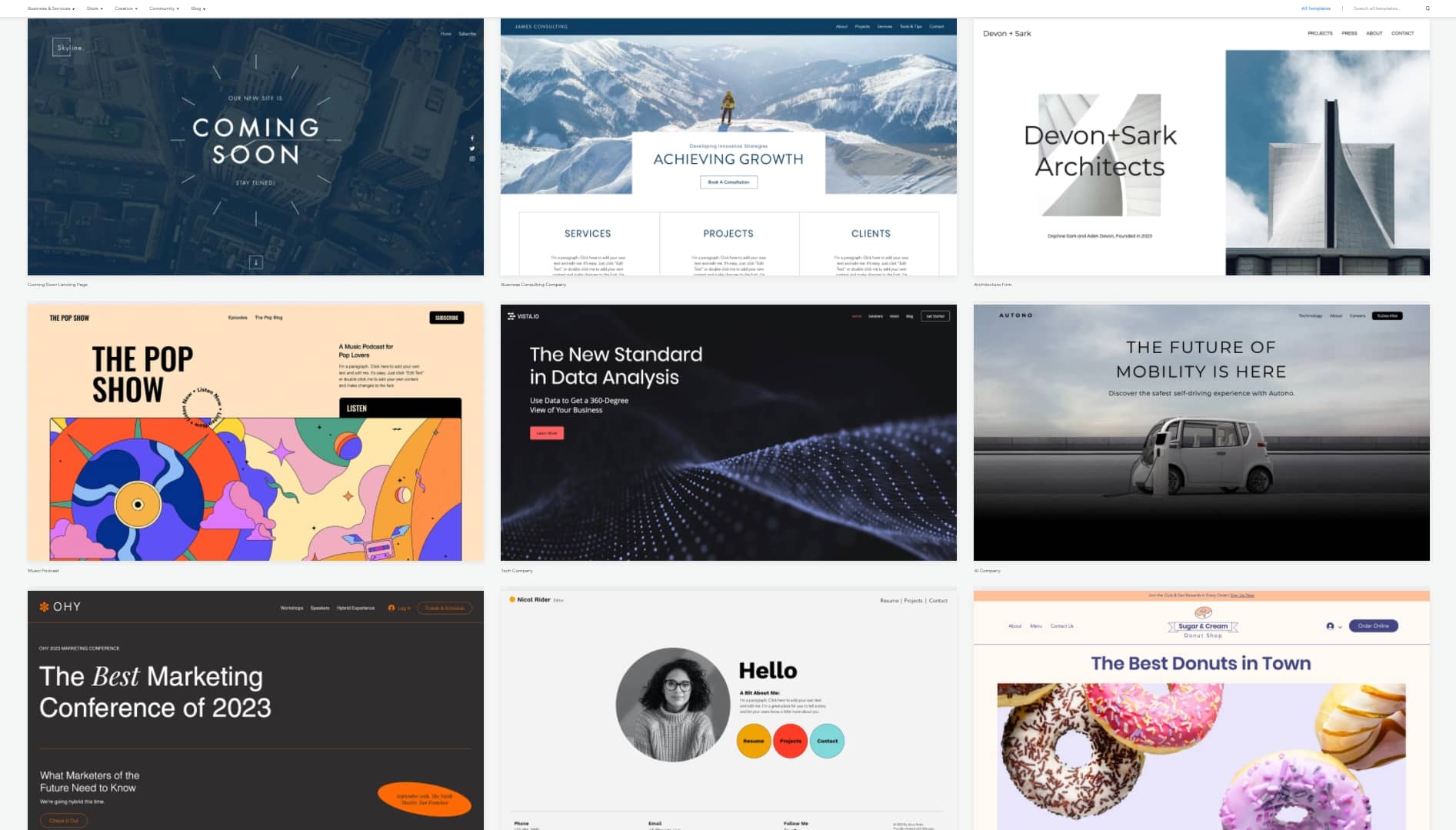 Apart from the full-site templates, you also get section templates/landing pages so you don't have to build new ones from scratch. When you edit your site via the Wix editor, you can add new pages. For each page, you get suggestions of templates made for the respective sections.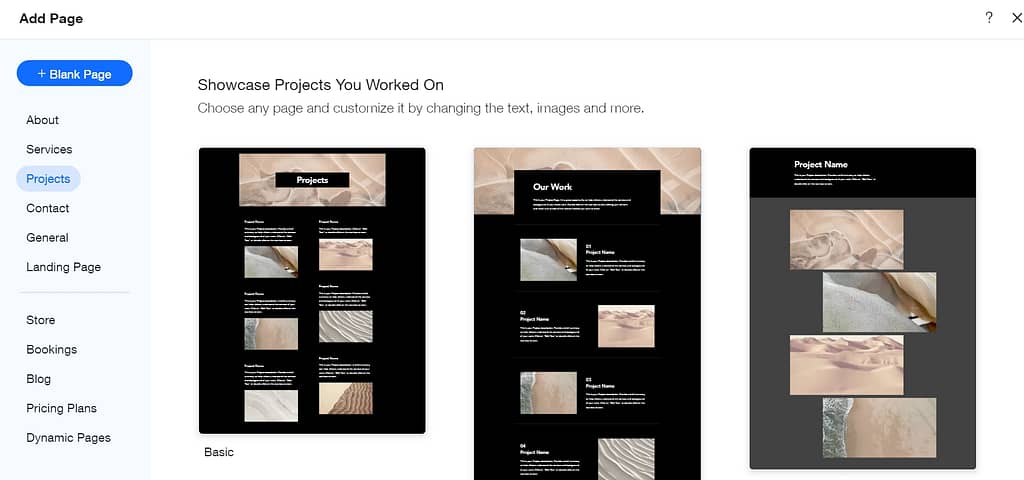 But you don't have to stick with the design of a pre-made template. You can customize each one as you like or create templates for scratch starting from a blank page.
Not only templates play a role in a good site design. Wix also lets you choose your own color scheme, fonts, buttons, landing pages, backgrounds, boxes, logos, shapes, illustrations, and other decorative elements.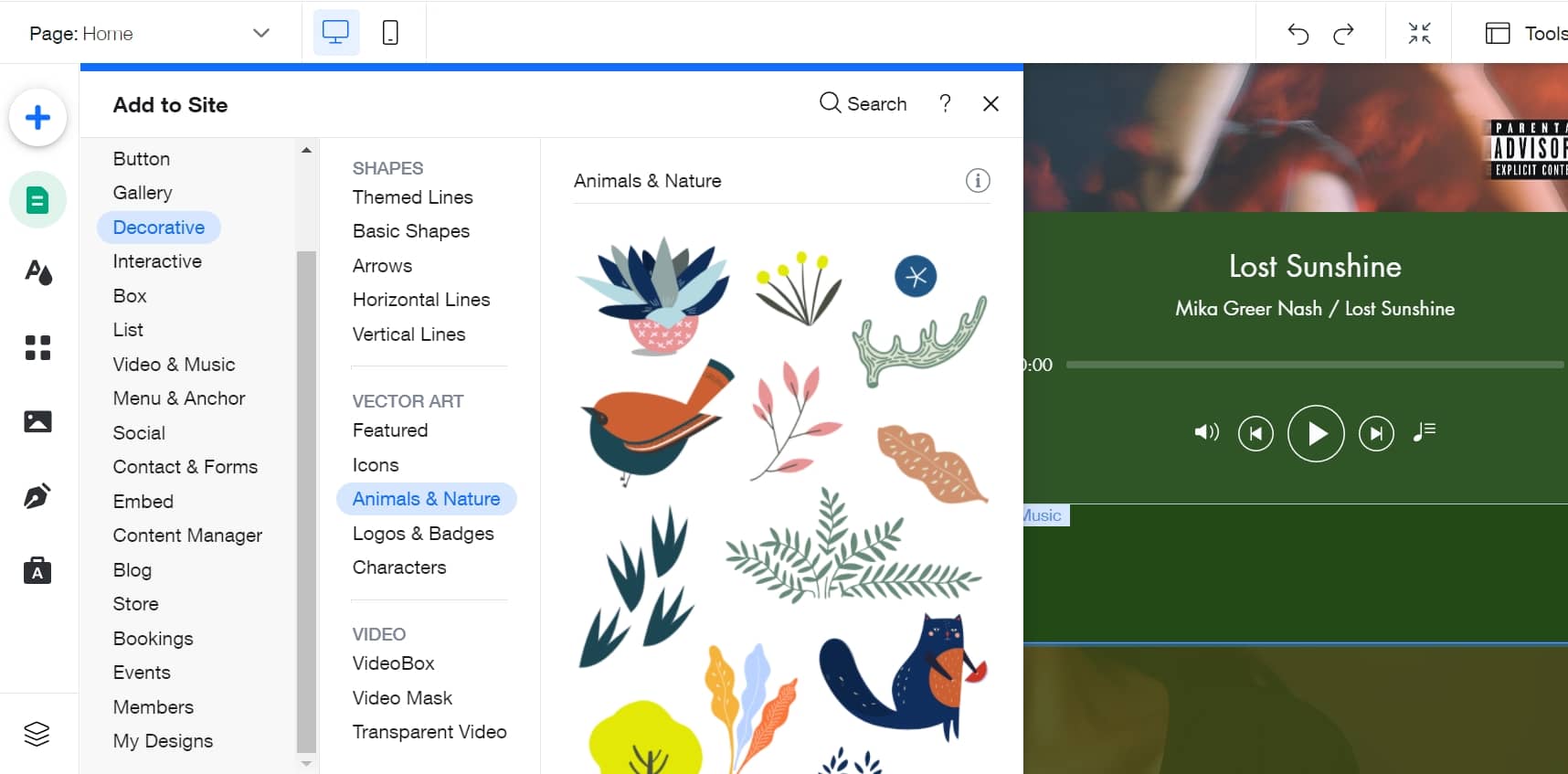 Pricing 💳
Wix has a very diverse price range, from basic to advanced features and functionalities. Depending on your website's needs, you can choose from the following pricing plans:
Free
No custom domain, Wix ads across the site, up to 500MB of storage and bandwidth, no access to online payments and Google Analytics.
Website plans
Connect Domain – 4.50 EUR / month: custom domain, SSL certificate, 1GB of bandwidth, Wix ads. Available in select regions only.
Combo – $16.00 / month: more bandwidth, 2GB of storage, free domain for one year, no Wix ads, 30 minutes of video, free SSL.
Unlimited – $22 / month: unlimited bandwidth, 5GB of storage, one hour of video, free Visitor Analytics and Site Booster apps for one year.
Pro – $27 / month: 50GB of storage, two hours of video, professional logo, social media logo files, 24/7 customer support. Available in select regions only.
VIP – $45 / month: 100GB of storage, five hours of video, professional logo, social media logo files, highest priority customer support.
Business and ecommerce plans
Basic – $27 / month: ecommerce functionality, plans and recurring online payments, customer accounts, 50GB of storage, 5 hours of video.
Unlimited – $32 / month: subscriptions, multiple currencies, product reviews, multiple transactions, sell on marketplaces, dropshipping, 100GB of storage, 10 hours of video.
VIP – $59 / month: more product reviews, more transactions, unlimited dropshipping products, sell on marketplaces, unlimited storage, unlimited video hours, customized reports, and priority customer support.
With so many pricing options, it can be hard to figure out which one is the most effective for your website and business model. We have dedicated an entire post to Wix pricing plans only to help you find the best deal for yourself and understand what you pay for.
Pros and cons 🤔
👍 Pros
Easy to set up for anybody
Modern, good-looking interface
Works for every market, including ecommerce and blogging
Offers many apps for extended functionality
Design flexibility
Web hosting included
It has an integrated logo maker that builds a site logo for you automatically
👎 Cons
You don't have complete freedom over how you manage your site – you can't control software updates, security, backups, or the extra functionality that you add to your site (you can only use what's in the app store)
The integration with third-party services is more limited than with other website platforms – like WordPress
You must pay extra for some apps even if you are a premium user
Once you create a site with a specific template, you can't switch to another template later on – unless you create a new site
Wix vs the competition
So far, Wix does seem to be a good solution for your new website. But is it the best deal out there? Let's see how it compares to other similar website builders.
Squarespace is the most popular Wix competitor. Although they are similar overall, we can point out a few differences:
Wix vs Squarespace

| | Wix | Squarespace |
| --- | --- | --- |
| Custom domain | Yes | Yes |
| Hosting | Yes | Yes |
| Drag-and-drop builder | Yes | Yes |
| Editor | Full page | Section |
| Templates | 500+ | 100+ |
| Marketing & SEO | Yes | Yes |
| Ecommerce | Yes | Yes |
| Apps/plugins | 250+ | 20+ |
| Pricing plans | From $0 to $49 / month | From $16 to $54 / month |
Another competitor that we must feature in this Wix review is WordPress.com:
Wix vs WordPress.com

| | Wix | WordPress.com |
| --- | --- | --- |
| Custom domain | Yes | Yes |
| Hosting | Yes | Yes |
| Drag-and-drop builder | Yes | Yes |
| Editor | Full page | Full page |
| Templates | 500+ | 200+ |
| Marketing & SEO | Yes | Yes |
| Ecommerce | Yes | Yes |
| Apps/plugins | 300+ | 55,000+ |
| Pricing plans | From $0 to $49 / month | From $0 to $59 / month |
👉 If you are interested in discovering more Wix competitors, this post covers all of them in an in-depth comparison of their features, functionality, pricing, target audience, ease of use, and pros versus cons.
👉 Note: In the previous tables, we compared Wix to two similar alternatives. But there's also WordPress.org – the content management system – for those of you who want to be entirely in charge of how your site works and performs. See the differences in this post.
Wix review: CONCLUSION
This is what you should expect from the Wix website builder. We hope that our Wix review helped you learn new things about what Wix is and how it works.
If you ask me, Wix is a great solution when you want to build a cool website fast and do not mind leaving the maintenance matters to the Wix team. If you must have full control over how you administrate your site's back-end and content, you will probably not feel fully comfortable using this platform.
With Wix, you mostly manage your website's looks and functionality, but you won't be at the core of things – you won't have access to things like doing security checks, handling updates, integrating with external tools, working on site performance, etc.
The Wix team takes care of security and updates for you, which might be a huge advantage if you find this task to be an extra concern or factor of stress. But if you want to own your site completely, you probably need to look into another builder or content management system.
What do you think of Wix? Are you going to give it a try when working on your next website?
…
Don't forget to join our crash course on speeding up your WordPress site. Learn more below: