If you're new to Wix and looking to create an impactful presence on the web, one of the most critical steps is figuring out how Wix domains work and how to pick the best option for your site.
Having a unique domain name gives your website an official identity and helps search engines recognize it while providing visitors with a professional-looking URL address.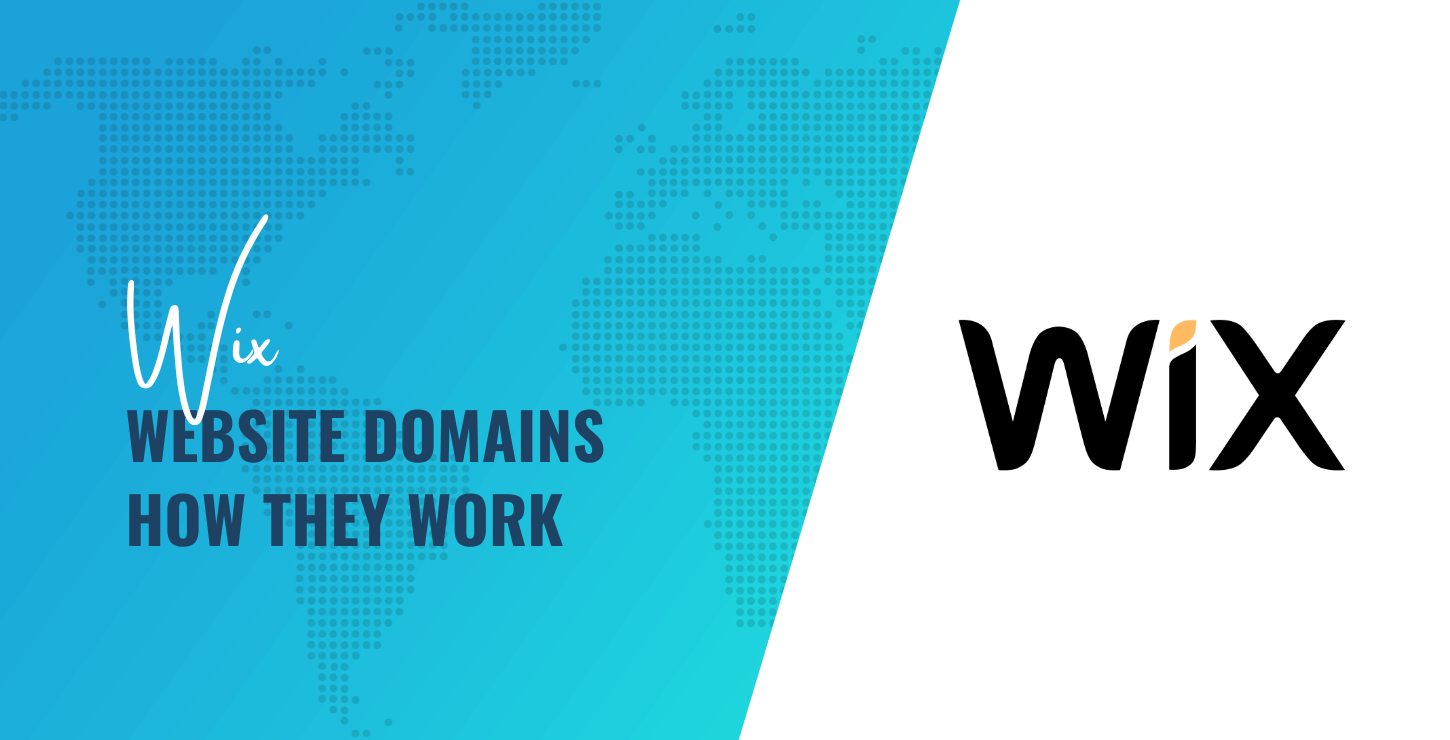 What is a domain name?
A domain name is like an address for a website. It helps you find a specific website on the internet and makes it easier to remember how to get there. Instead of remembering a bunch of numbers, you can use normal words plus a TLD (like .com or .org) to find the website you're looking for.
Pros and cons of Wix domains
Before deciding whether to buy a domain name on Wix, think about the following:
Pros 👍
When you sign up with Wix, they will promptly and correctly set up not only your domain name but your whole website.
They provide free DNS management, which allows you to handle all of your domain name server (DNS) configurations from within your Wix account.
Cons 👎
Although Wix provides a free domain name for the first year, renewing it for an additional year will cost you at least $14.95.
WHOIS protection is an almost $10 add-on for Wix domains and is not included in the base price. WHOIS domain name protection is a service that hides the personal information of a domain name owner from the public WHOIS database. This can help protect the owner's privacy and prevent spam or unwanted solicitations.
How to add a domain name to your Wix site
👉 Depending on your needs, Wix has several options for domain name registration:
Personalize your free Wix domain
When building your website with Wix, it is vital to have a personalized domain for your visitors. With your free domain from Wix, you don't have to worry about buying and registering a separate domain.
It will be automatically created for you in the form of ACCOUNTNAME.wixsite.com/SITEADDRESS. The ACCOUNTNAME and SITEADDRESS identifiers are somewhat under your control but leave a lot to be desired compared to the level of branding that a custom domain name would give you.
It is essential to note that this form of a domain name will not remove the Wix branding from your website if your plan is free. If you choose to upgrade to the Premium plan, you can connect your domain or purchase one from Wix.
Wix's premium plans come in two types: Website, and Business-and-Ecommerce. Website plans are designed for independent professionals, bloggers, and brick-and-mortar businesses, while Business-and-Ecommerce plans are designed for those who need to sell products or services online.
Purchase a custom domain through Wix
Wix also offers the ability to purchase and connect your custom domain if you don't already have one. You can do this easily in the Domains tab of your Wix account.
You can select the registration period and privacy protection level and add additional services. It is important to remember that several factors determine the cost of Wix domains, such as:
The type of domain extension
Your local currency
The number of years selected
Adding privacy protection
The use of a domain voucher
Your local tax or VAT laws
Pricing of Wix domains
Most Wix Premium subscriptions come with a voucher for free domain name registration for an entire year. This voucher is valid for two months. Even though not all possible domain name extensions are included in this special deal, there is still a wide range to choose from. Wix supports a variety of domain extensions, including.com, .net, .org, .co.uk, and others.
After the initial year, the price will change depending on the domain extension and length of registration you decide on:
| Length of registration | Common extensions (e.g., .com, .net, .org) | Other extensions |
| --- | --- | --- |
| 1 year | $14.95 per year | $30.95 per year |
| 2 years | $13.95 per year | $29.95 per year |
| 3 years | $12.95 per year | $28.95 per year |
Connect your existing domain to Wix
If you already have a domain through a third-party provider, you can have two options to connect it to your Wix site:
1. Transfer domain name to Wix
If you got your domain from another provider, you can transfer your existing domain name to Wix. This is the easiest and simplest way to move your domain over to Wix without downtime or disruption in service.
First, you need to unlock your domain and get your current provider's EPP code or key. Then, you'll need to provide Wix with that information to transfer the domain. If you need help with this process, you can always contact Wix Customer Support via chat or phone and they'll be able to help. Alternatively, your current domain registrar should be able to provide you with some assistance on how to best execute these steps.
Some things you need to keep in mind when transferring the domain to Wix are:
Not all domain extensions can be transferred to Wix
To transfer your domain name, you must wait 60 days from the date you initially registered it or made any necessary changes
If a privacy protection service was purchased for the domain, the transfer won't include it
2. Connect your existing domain to Wix
You can do this if you want to keep the domain with your current provider but want it connected to your Wix site.
You can connect the domain name through name servers or point it to the Wix IP address. The best option is to follow the instructions in the Domain tab of your Wix account to connect it, as this will already have all the necessary settings.
Once you've connected a domain, you can also configure email forwarding and create custom email addresses for your website. This will help to give your online presence an even more professional look and feel.
However, if you already have an existing email provider, you can point your domain name to Wix. The only thing that would need to be done is to update your A-record. While this is more technical than connecting the domain via name servers, it can still be done relatively quickly.
Create email accounts
Wix provides an easy-to-use platform that lets you create a stunning and highly functional website with ease. Unfortunately, while they offer domain registration and hosting, Wix plans do not include email account hosting.
You'll need to purchase a third-party service to use your domain with an email account.
Using one of these services is quick and straightforward; plus, you can get even more features like extra storage space and security depending on your chosen service.
Final thoughts 🧐
A domain name is a unique identifier for your website. It's how people find you online and visit your site. Having a custom domain name makes it easier for people to remember your site, and it also gives you a professional edge.
When you are considering Wix for your website, you have the option of getting a domain through Wix. But if you already have one from another provider, you can always connect it to your Wix site as well.
No matter what option you decide on, make sure that you take into consideration all of the features available to get the best possible domain for your website.
Do you have any other questions about Wix domains and how they work? Let us know in the comments section below!
…
Don't forget to join our crash course on speeding up your WordPress site. Learn more below: