When signing up for a Wix.com account, you have two options for building your site: Wix ADI vs Wix Editor. In this article, we compare them to show how many of their features are the same, but that other areas are drastically different.
Keep reading to learn about the artificial intelligence-supported Wix ADI, and how it stacks up to the drag-and-drop Wix Editor.
Wix ADI vs Wix Editor: What's the difference?
Wix ADI and Wix Editor both serve as standalone editing experiences from the same company: Wix.
Wix ADI is a website builder powered by artificial intelligence, whereas Wix Editor uses a more traditional method of offering pre-designed templates and a drag-and-drop builder.
| | Wix ADI | Wix Editor |
| --- | --- | --- |
| Design process | AI-generated styles, formats, and content curated based on your business and industry | Pre-made template in a certain category; edit content as needed (no AI support) |
| Features | Section-based editor with customization for styles, formats, and content | Grid-based, drag-and-drop editor with full customization |
| Ease of use | Easiest option to launch a website | Easy, but some editing and formatting required |
| Design flexibility | Customizable, but not as much as Wix Editor | Full drag-and-drop control over everything |
| Apps | Access to all Wix apps | Access to all Wix apps |
| Ecommerce | Included | Included |
| Customer support | Phone, chat, email, and online documentation | Phone, chat, email, and online documentation |
Design process ⚙️
When you create a website with Wix, you're prompted to choose between Wix ADI (Let Wix create a site for you) and Wix Editor (Customize a designer template).
👉 When choosing Wix ADI:
Wix asks what style/theme you'd like for your website
It creates pages
It generates content that's relevant to your industry and brand
The design is unique to your brand styles and formats
You get to choose from multiple AI-generated designs
The completed website goes into an editor with section-based controls
👉 When opting for Wix Editor:
You pick a template from hundreds available in Wix (for a multitude of industries)
The template gets placed into a drag and drop Wix Editor
Depending on the theme's features, you most likely start with demo content, pages, products, and menus
Add elements, sections, pages, menus, and apps
Customize the site design, stylings, background, and page transitions
So, what's the main difference in the overall process?
Wix ADI constructs a unique website, with AI-generated content (and a less flexible editor)
Wix Editor lets you choose an industry template, after which, you customize everything with a very powerful drag-and-drop editor (but without help from AI)
Are the website builder interfaces any different?
Yes, slightly.
At first glance, you'll assume that Wix ADI and Wix Editor have the same page builders. However, Wix Editor provides a true drag-and-drop interface with grid-based building. This means you can move elements just about anywhere (without limitations from preset sections).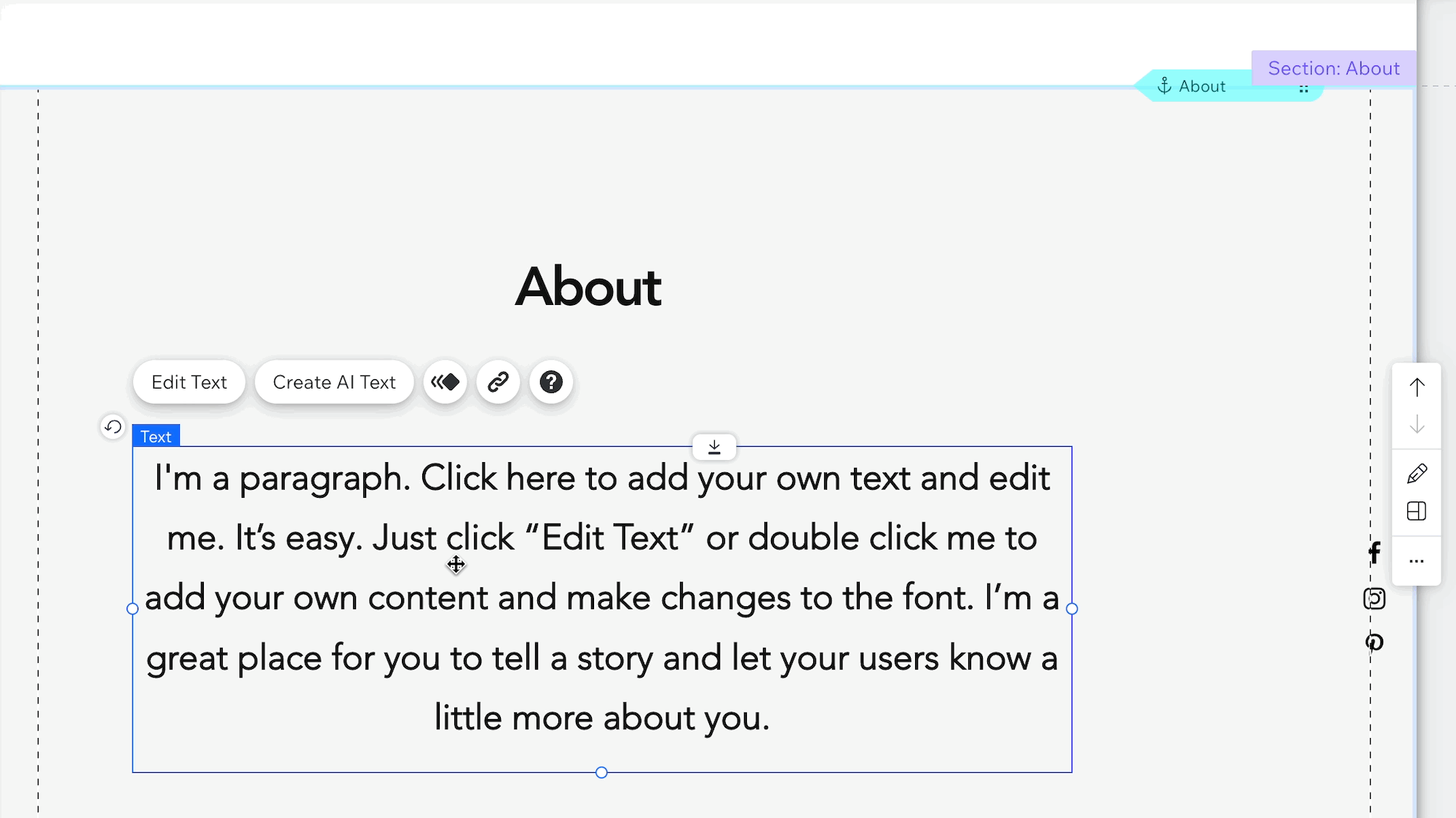 Wix ADI is more confined. It lacks the flexibility of a grid-based system, so it's not a true drag-and-drop editor. That's because the Wix ADI constructs sites using entire sections. Therefore, any edits you make are done by moving sections up and down, or clicking to adjust content blocks—not dragging and dropping.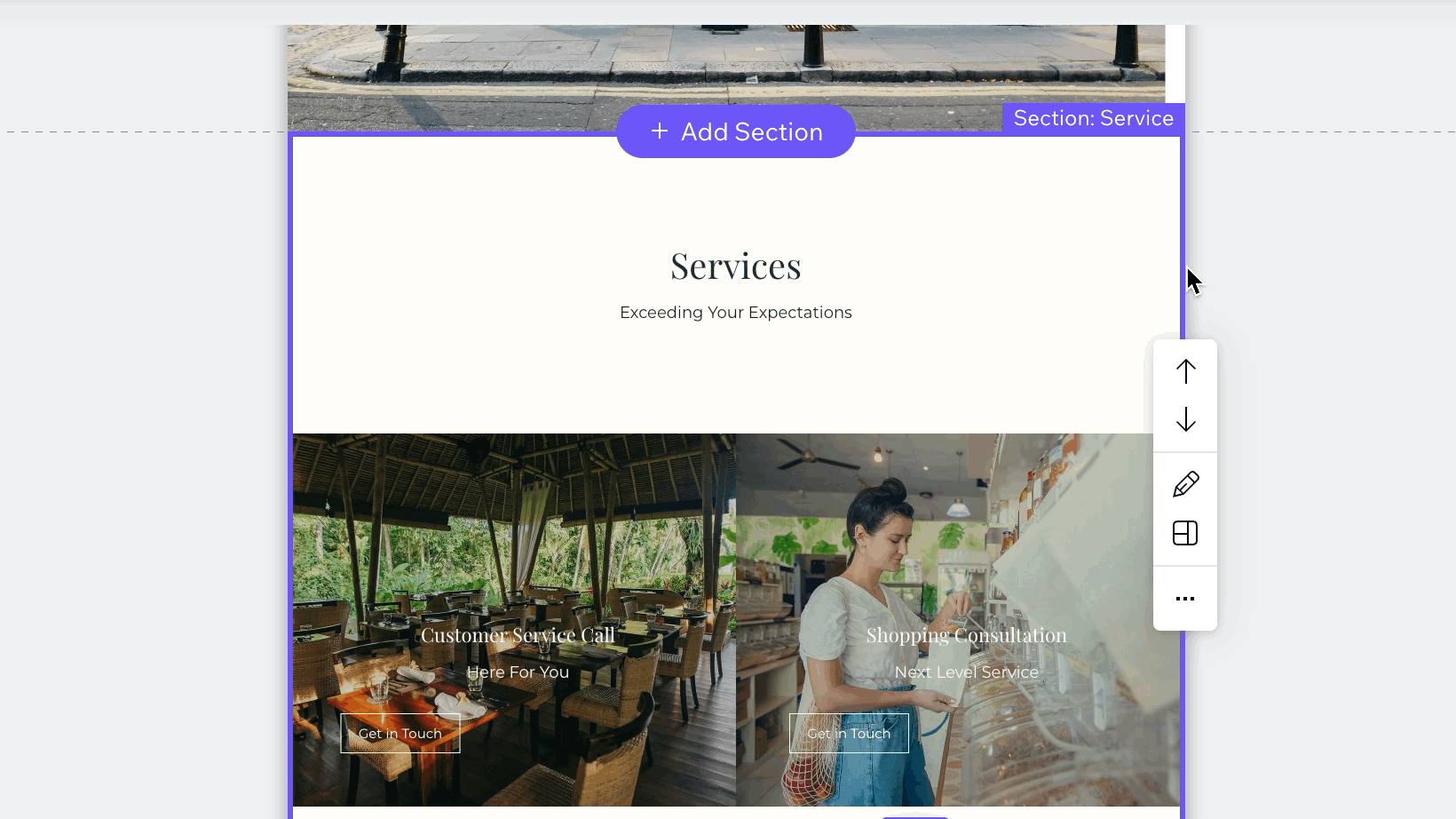 🏆 Winner in design: It depends
When comparing Wix ADI vs Wix Editor, your choice will ultimately come down to how you'd like to design a website. If you're willing to sacrifice drag-and-drop functionality for a completed website, Wix ADI is right for you. If you prefer more customization control and a drag-and-drop interface, pick Wix Editor.
Features 🎯
In terms of features, Wix ADI vs Wix Editor are the same, except for two things:
Wix Editor has a grid-based drag-and-drop interface
Wix ADI does not; instead, you get a visual designer where you can move entire sections
Other than that, the page builders for each are almost identical:
Mobile optimization
Font, style, and color control
Social, blogging, and marketing tools
Apps
An online store (optional)
Analytics and SEO
And much more
Due to the drag-and-drop builder, however, Wix Editor is an outlier.
But what about the features provided before you get into the page builders?
Wix ADI
Provides an original design tailored to your brand, industry, and location (colors, styles, and formatting)
Smart tips for designing your website
Automated menu and page generation
AI-generated content and media for pages catered to your business and industry
Options to edit anything later with the section-based builder
Wix Editor
Over 500 pre-made templates categorized by industry
Preset content, pages, and menus (not AI-generated)
Complete control over all template elements with the drag-and-drop builder
🏆 Winner: Wix Editor
You can't beat the simplicity and power behind the Wix Editor's drag-and-drop page builder.
Pricing 💳
The pricing of Wix ADI and Wix Editor are the exact same—that is, you choose from the list of Wix.com pricing plans for either.
In fact, each Wix plan gives you the opportunity to pick between Wix ADI vs Wix Editor. You might even consider Wix ADI for one project and Wix Editor for another.
Wix plans are as follows:
Website plans:
Combo: $16 per month
Unlimited: $22 per month
Pro: $27 per month
VIP: $45 per month
Business and Ecommerce plans:
Business Basic: $27 per month
Business Unlimited: $32 per month
Business VIP: $59 per month
Wix also offers enterprise plans, and a free personal website plan. There's a 14-day free trial, too.
🏆 Winner: Tie
Ease of use 🖱️
There's no doubt that the Wix Editor's drag-and-drop page builder is more powerful than the design tools you get with Wix ADI. Yet, does that make it easier to use?
No.
Wix ADI is by far the easiest option for building a website within minutes and launching it with pages, content, and styles unique to your business.
Let's take the first few steps of the design process, for instance. After landing in the Wix dashboard, you can opt to design your website.
Wix ADI ease of use
If you choose Wix ADI, it has two quick pages with questions about styling needs and business information.
Then, Wix ADI goes to work, delivering several beautiful homepage designs. They're filled with AI-written content, images that relate to your business, and section formatting that's aligned with website design best practices.
Thereafter, Wix ADI presents you with pages to add.
You might choose:
An About page
Services page
Inventory page
Contact forms
Again, each of the pages you decide to add gets formatted, added to the navigational menu, and loaded with content that's relevant to your business.
After that, you simply wait a few seconds for Wix ADI to prepare your design.
The Wix ADI page builder isn't as flexible as the drag-and-drop builder from Wix Editor, but you can still add/edit content modules, change the order of sections, and access everything from the App Market.
It's wise to check all content to make sure it sounds good, but Wix ADI has a better chance of delivering a publication-ready website than Wix Editor.
Wix Editor ease of use
It's still easy to use Wix Editor, but launching a website takes longer.
It all begins by choosing to Begin with a template.
Next, you select a Wix template to serve as the foundation. You can filter based on industry or category, and test the templates first.
Each template comes with its own preset formats, content, and media, none of which are curated for your specific business—so you'll have to edit much of the content.
You have full control over the website design in Wix Editor. There are options to Add Elements, Add Sections, configure Pages and Menus, and Add Apps. There are even buttons for Media Management and the Content Manager.
The best part of Wix Editor is its drag-and-drop functionality. It offers an extraordinary amount of control, but definitely takes longer when compared to a site designed with AI.
🏆 Winner: Wix ADI
Although it's recommended you edit some of the content, you can technically launch a ready-to-go website in a matter of minutes with Wix ADI. The content and media from a template in Wix Editor generally requires editing.
Apps 📱
There has been some debate online whether Wix ADI provides access to all apps in the Wix App Market. After rigorous research of the app markets while working in Wix ADI and Wix Editor, we can confidently say they are exactly the same.
Sometimes the Wix App Market recommends different apps depending on your business, but both Wix ADI and Wix Editor users receive the option to install any apps.
🏆 Winner: Tie
Ecommerce 🛒
There's nothing to compare between Wix ADI and Wix Editor when it comes to ecommerce. That's because all online store features from Wix come with both (assuming you choose a plan with ecommerce functionality).
Some ecommerce features to look forward to include:
Support for up to 50,000 products
Advanced shipping
Subscriptions
Abandoned cart recovery
Automated sales taxes
Marketplace selling
Product reviews and loyalty programs
Multiple currencies
🏆 Winner: Tie
Customer support ℹ️
The customer support from Wix is the same for both tools, so there's zero difference between Wix ADI vs Wix Editor when it comes to customer support.
For direct support with a human, Wix offers:
Multilingual phone lines
Email support
A live chat box
You'll also receive online resources, like:
A help center
The Wix blog
Wix social accounts
A privacy and security hub
SEO learning hub
Wix encyclopedia
🏆 Winner: Tie
Wix ADI vs Wix Editor: Which one wins? 🥇
Here's the final tally from our comparison of Wix ADI vs Wix Editor:
⚙️Design: Depends on your needs
🎯Features: Wix Editor wins
💳Pricing: Tie
🖱️Ease of use: Wix ADI wins
📱Apps: Tie
🛒Ecommerce: Tie
ℹ️Customer support: Wix Editor wins
If you want the fastest AI-supported design process possible, Wix ADI is the clear winner.
On the other hand, if you'd prefer to work with a drag-and-drop builder and you want complete control over every element on your site, go with Wix Editor.
To learn more about Wix in general, you can check out our full Wix review.
And if you're ready to get started, 🎬 you can follow our tutorials on how to make a Wix website or how to create an eCommerce store with Wix.
Or, if you're not sure about Wix in general, you can browse 👉 our collection of Wix alternatives or read some of our comparisons, such as Wix vs WordPress and Wix vs Shopify.
Finally, if you still have any questions about Wix ADI vs Wix Editor, let us know in the comments and we'll try to help!
…
Don't forget to join our crash course on speeding up your WordPress site. Learn more below: