Deciding where to sell a business has never been easier. There are online marketplaces that match buyers and sellers, along with brokers to help you through the entire process. Not only that, but you can list your business for sale in online industry groups, social media pages, advertising outlets, or reach out to your own personal business network.
Having said that, you still want to take a focused approach when choosing where to sell your business, whether it's a brick and mortar business or an online store. This way, you're able to sell fast and to someone who'll take care of your business well.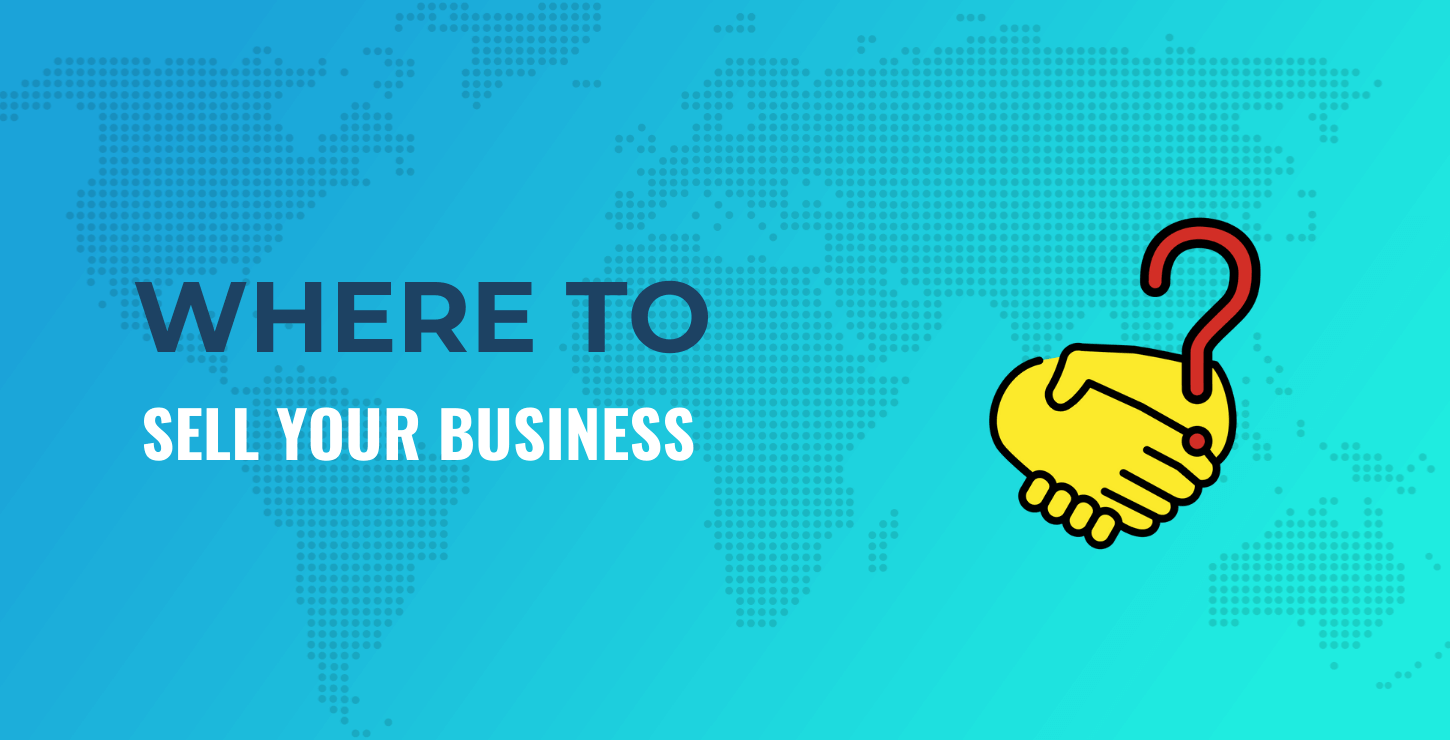 👉 In this article, we show you where to sell your business fast, and to the right buyer. Keep reading to see your best options!
📚 Table of contents:
Where to sell a business: the top options
Learning where to sell your business is much like establishing your business in the first place:
Where do you look to find employees and partners?
Which business contacts have you compiled?
Are there investors you have worked with?
What about suppliers and manufacturers?
And where on the internet do they discuss businesses like yours?
💡 In short, you're not looking to post a general advertisement, but rather, to find a place where like-minded business professionals interact.
With that in mind, here's where to sell your business and get results:
1. Online business-selling marketplaces
First things first. List your business on popular exchanges and marketplaces – more than one if possible. These marketplaces efficiently connect sellers with buyers, giving you a much stronger chance of selling your business. People who visit marketplaces like these are intentionally seeking out new businesses, offering you a more targeted experience when seeking a buyer.
The benefits of selling your business on a marketplace:
Marketplaces offer both paid and free listing options.
Sellers get profiles with landing pages to sell their business.
These marketplaces have messaging tools for potential buyers to contact you.
Marketplaces provide recommendations on what information to share with sellers, like business revenues, profits, inventory values, and your asking price.
You gain more targeted exposure than other methods of advertising your "for sale" business.
Marketplaces often allow for unique business listings, like if you want to just sell a domain name, or to sell your branding rights.
👉 Now that we know the benefits of these marketplaces, let's explore the best marketplaces 🛒 for selling a business:
Exchange Marketplace, a business selling and buying marketplace from Shopify, lets online store owners list their businesses for vetted buyers. Its unique advantage is that sellers can't mess with their Shopify numbers, so all buyers know exactly what they're getting into.
Exchange Marketplace offers sleek business profiles to explain the sale, list pricing, and categorize by:
It's also possible to make the listing confidential and note specific requests, like if you'd like to maintain some equity in the business or if you have a particular supplier you'd like to keep on working with.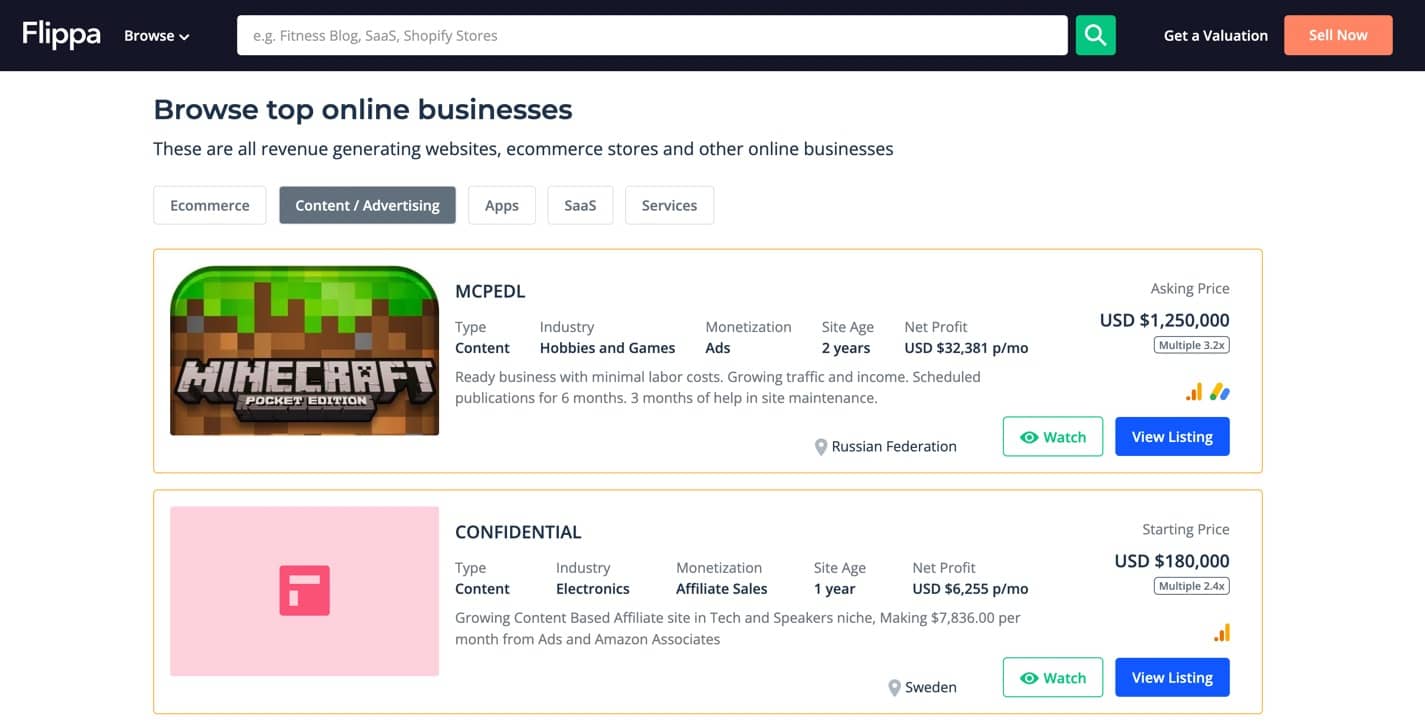 Flippa offers a robust collection of tools for listing and selling your online business. There's a free escrow service to ensure you get paid, and a proprietary valuation tool to connect you with brokers, find the right selling price, and figure out how to make a sales pitch to the right buyers.
After building your profile, Flippa analyzes your type of business and automatically matches you with qualified buyers. You can negotiate on the website, view information about the buyers, and even complete legal documents online.
With tools to keep listings confidential, and an intuitive communications system to remain in touch with potential buyers, BizQuest is an outstanding marketplace for creating a listing and connecting with an extensive network of entrepreneurs.
The best part is that BizQuest isn't only limited to online businesses. It allows brick-and-mortar shops, and there are tools for listing based on location, business type, and revenues.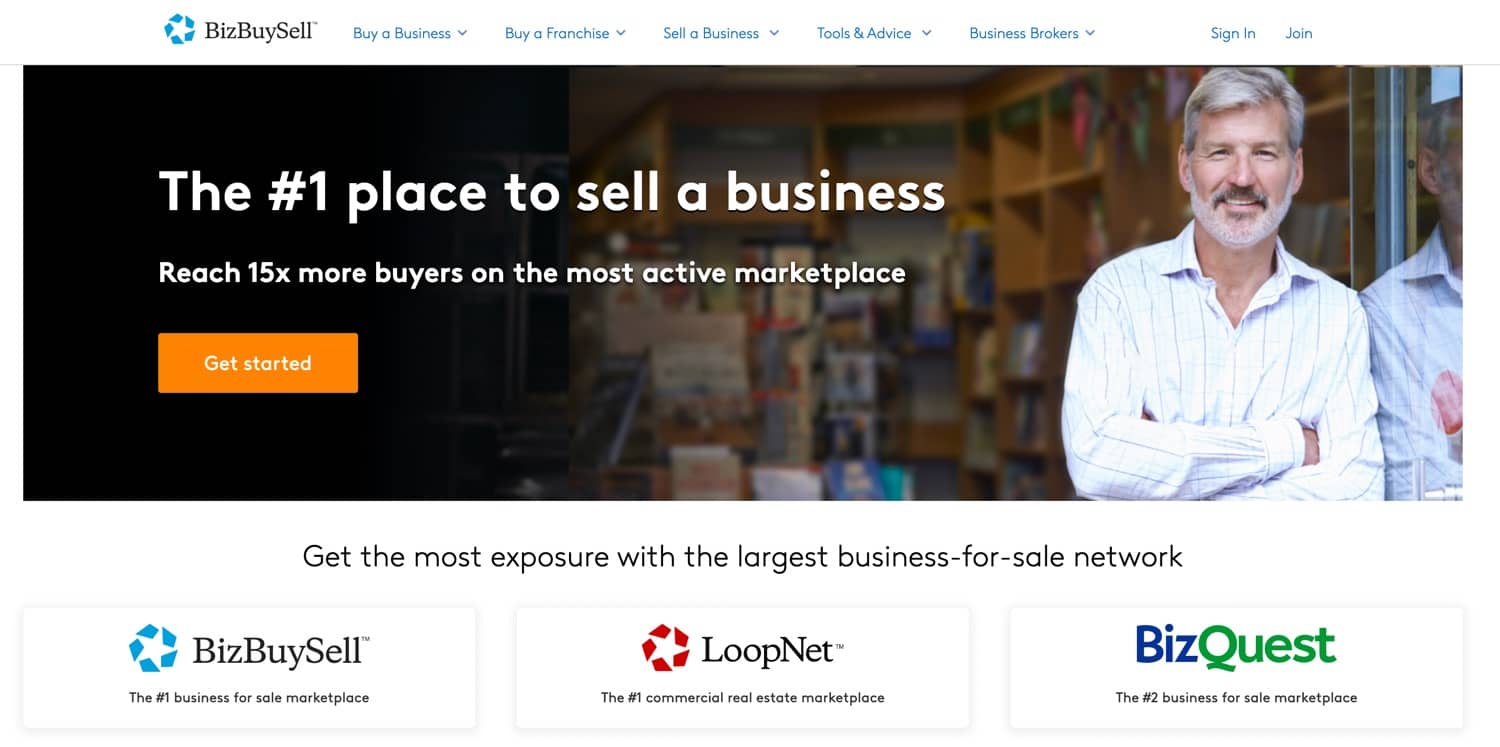 BizBuySell is part of the LoopNet (real estate sales) and BizQuest network, making it a leading marketplace for where to sell a business. The website touts over 3M monthly visits and claims 15x more traffic and sales than the nearest competitor.
You can sell start-ups, real estate, established businesses, and closed business assets. There's even a business valuation tool to get things started.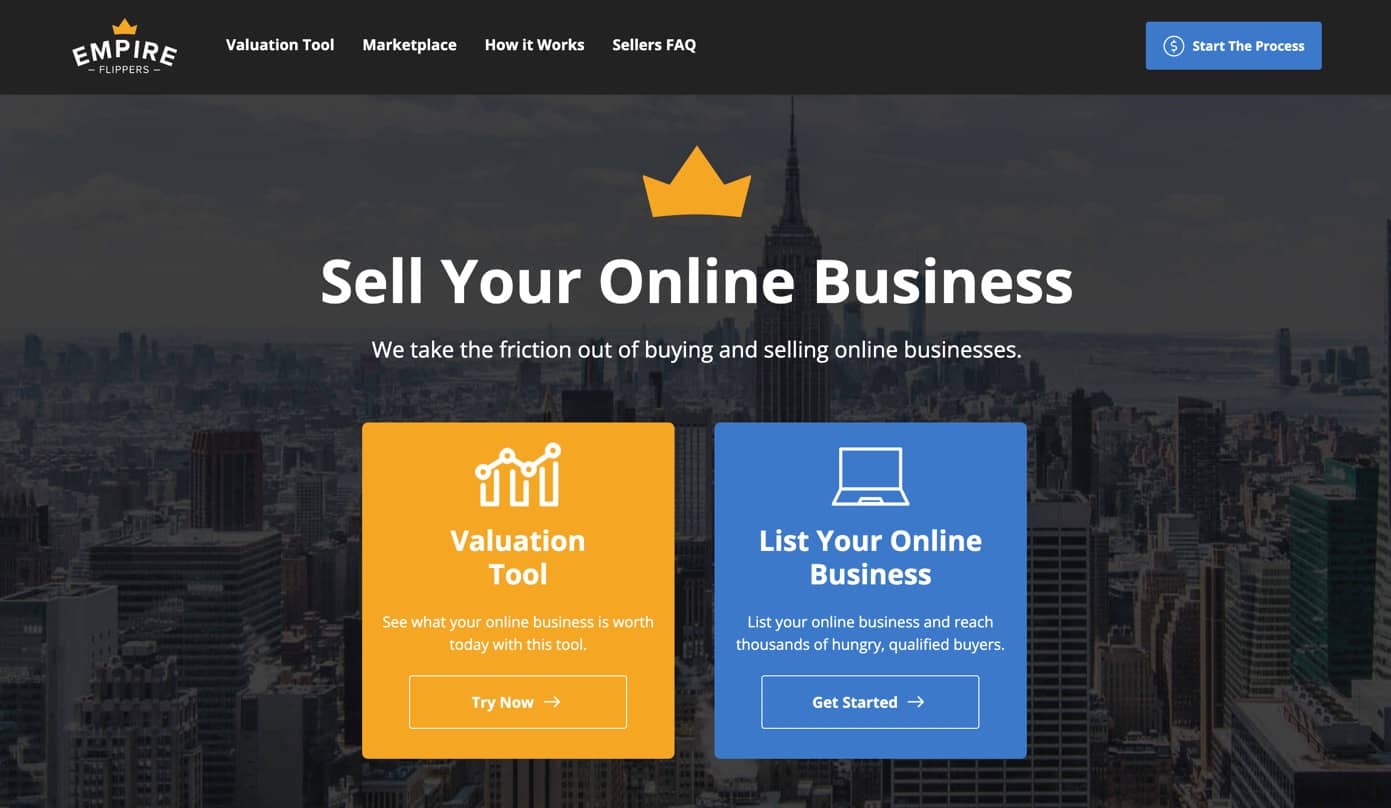 EmpireFlippers provides a valuation tool and exchange for listing for-sale online businesses (such as websites and apps). Some top business categories include:
Pet care
Home
Apparel and accessories
Occasions and gifts
Survival and security
The success rate for selling a business on EmpireFlippers is at 77%, and we know the website for keeping out unserious buyers and scammers. You can create a quick profile, list business details, and communicate with potential buyers in the dashboard.
From physical to online businesses, BusinessesForSale.com helps owners of all backgrounds connect with legitimate buyers, and it's all done through email. Simply make a listing, share your business name , add photos and financials. Then all of your communications get kept in your inbox.
BusinessesForSale.com has a community of over 1.2M buyers, and there's no commission on the sale; just a simple monthly or onetime fee to keep your listing active.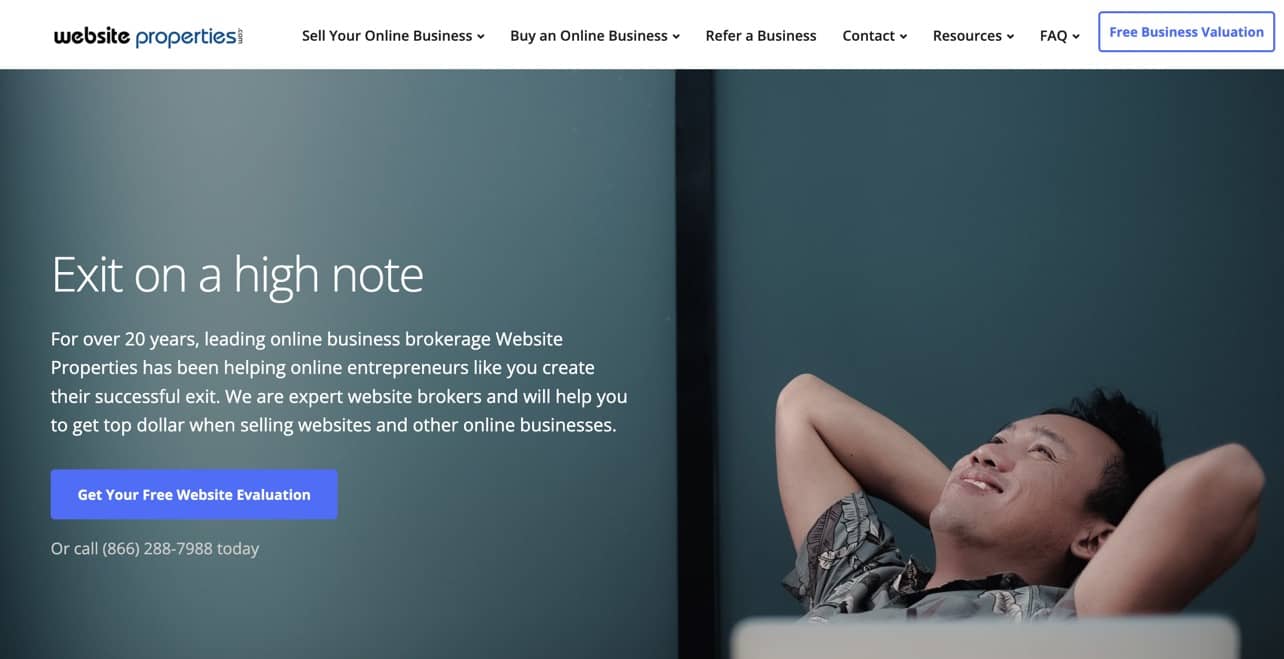 The idea behind WebsiteProperties.com is to give online business owners a smooth transition away from their brands. It offers valuation tools and a way to connect with brokers and serious buyers.
They report the "deal closure rate" at 90%, and over 35K buyers come to the site regularly. This is one of the smaller sites on the market, but it's completed over 600 successful transactions and over $500M in those sales.
💵 Pricing for marketplaces
Each marketplace has its own pricing. Overall, you should expect to pay some sort of monthly fee to keep the listing active, or a onetime fee for a certain period.
Examples:
BusinessesForSale.com has plans for $99 per month or $299 for six months.
BizBuySell sells plans starting at $59.95 per month (six-month term).
Flippa varies depending on your valuation, but the starting price is $29 for a three-month period.
2. Through a broker
Some see marketplaces as brokers, but that's not the case. Brokers are firms or individuals who specialize in the sale of businesses, and they have the contacts and resources to get the word out about your business' approaching sale effectively.
Business brokers come with potential advantages, like:
Confidentiality
Financing assistance
Access to professional networks
It's someone you can actually call and have a one-on-one relationship with
They know qualified buyers and have application processes to vet buyers
Fees are usually low, most often with no upfront fees, smaller ongoing listing fees, and a commission at the end
Here's how to find a suitable broker:
Search for business brokers in your area (it's best to meet in person) on sites like BizBuySell, through trusted business referrals, or by searching local listings online.
Get free consultations with your prospects.
Figure out which of the brokers are communicative, familiar with your industry, experienced, and connected with potential buyers.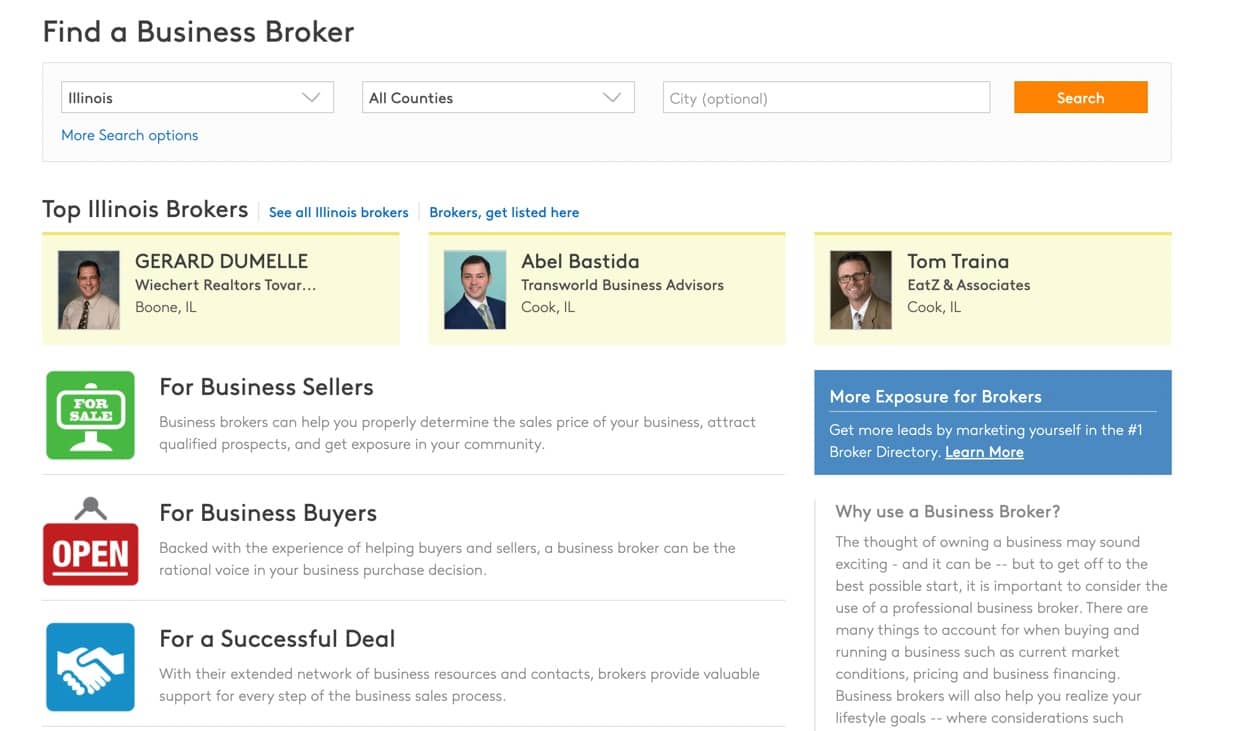 3. Through relevant advertising mediums
Advertising the sale of your business has many downsides. Business owners usually don't want the general public to know about an impending sale, so as not to attract unwanted attention, scare away current customers, and put employees into a panic.
So, the only advertising mediums that make sense are when you target a market where your listing goes directly to the right people, and with little publicity.
Where to sell your business depends on the industry, but start with:
Industry forums: Some allow for advertising
Social media: Only if the targeting options cut out too much publicity (some industries, like real estate, have absolutely no targeting on Facebook, so you're left to advertise to the masses)
Search engines: Only if you don't mind the publicity, or if you're able to target down to specific industry professionals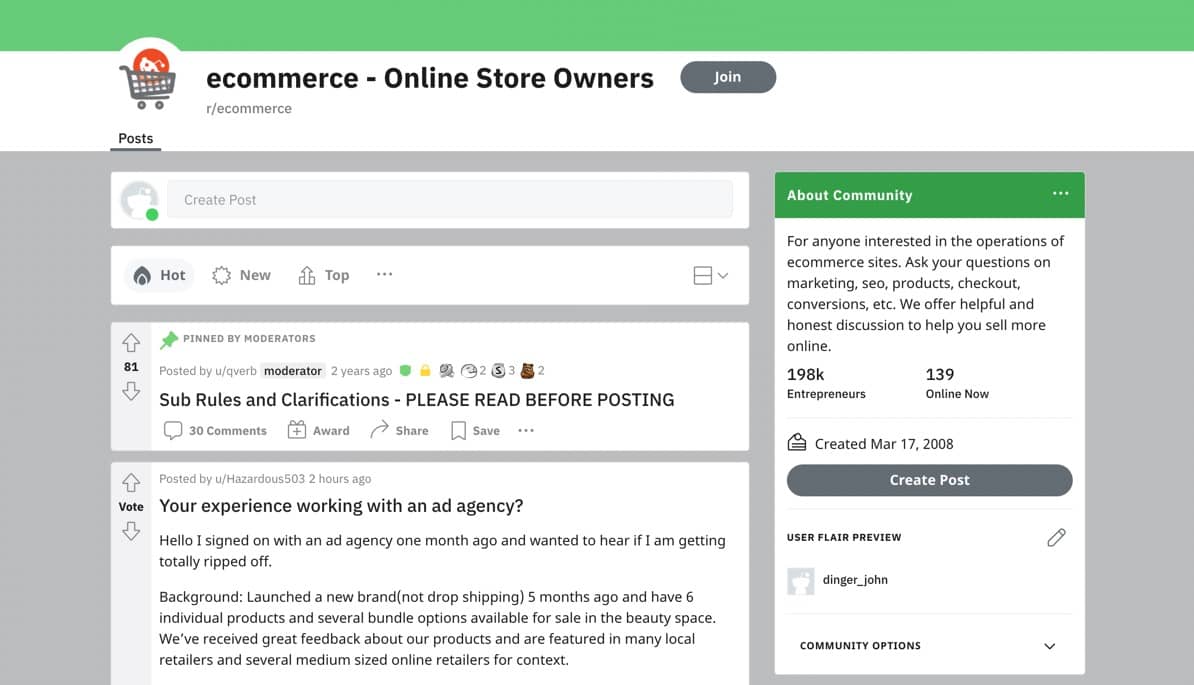 4. In online industry groups
From forums to social media groups, these are the online chatrooms where industry professionals discuss everything from funding to employee inventory management.
Choosing an online group generally only works if you:
Have previous experience as a contributor to the forum or group
Are certain the forum or group allows for these types of posts (many of them have designated threads for "for sale" listings)
Do your research to only find active, reputable groups and forums (paid forums generally cut down on bots and unserious buyers)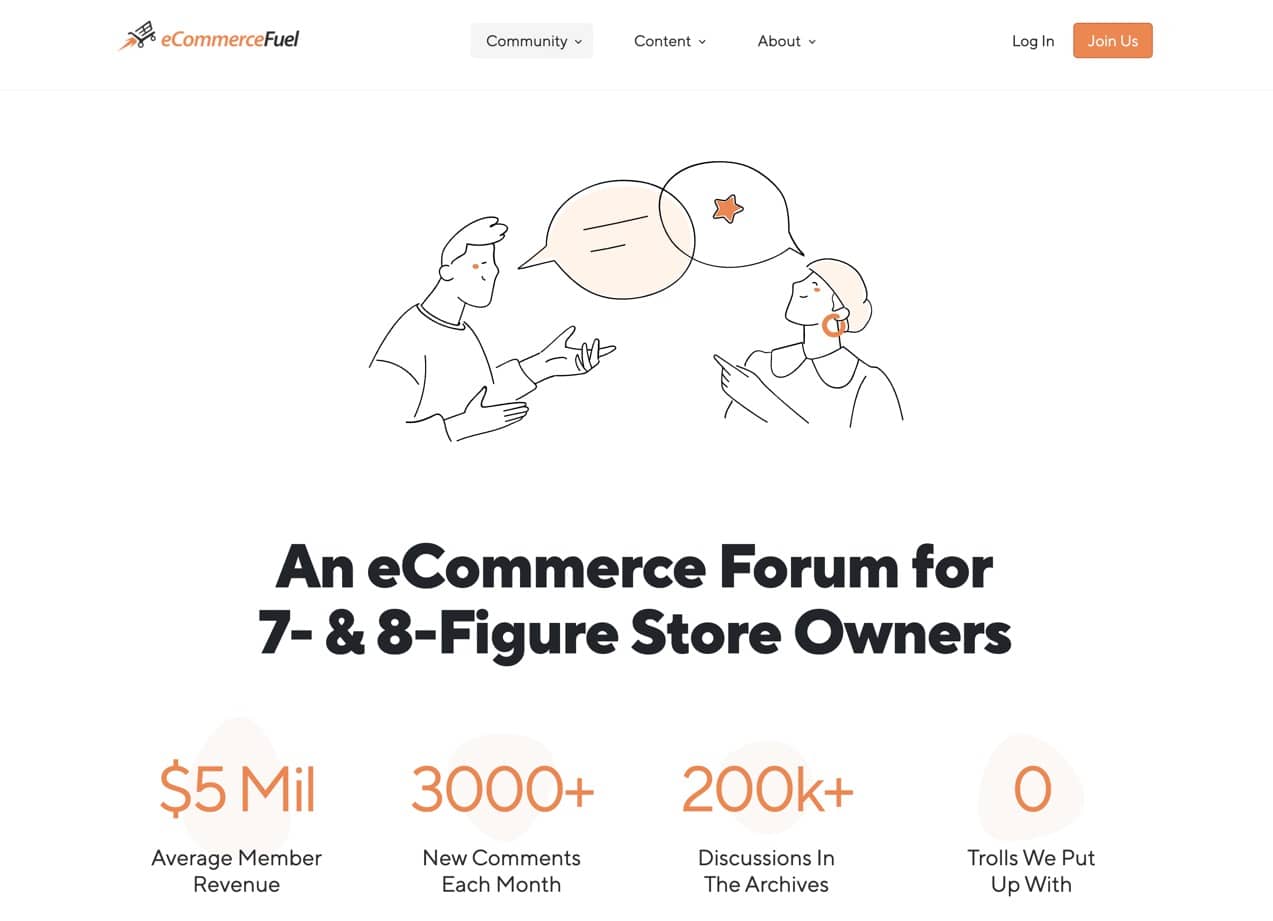 5. In your own marketing materials
Don't forget that you still have your own marketing tools to reach out to potential buyers!
This tactic works best for B2B brands, since you're already marketing to individuals and companies who know your business.
However, you might also find that a B2C customer loves your brand and has the funds to take it over.
This method isn't for everyone, or perhaps it's only for those willing to target email lists and social media posts to the customers you know as potential buyers, but we recommend considering these to sell your business:
Email newsletter
Social media accounts like Facebook and Twitter
Your blog
Your affiliate network
6. At industry events
At industry events, you'll encounter the people who have a direct interest in your business, and know how to run it (or at least they're the closest to that possibility).
If you sell golf apparel, for example, seek potential buyers at PGA shows. For a tech product brand, check out user conferences, webinars, and local business owner meetings.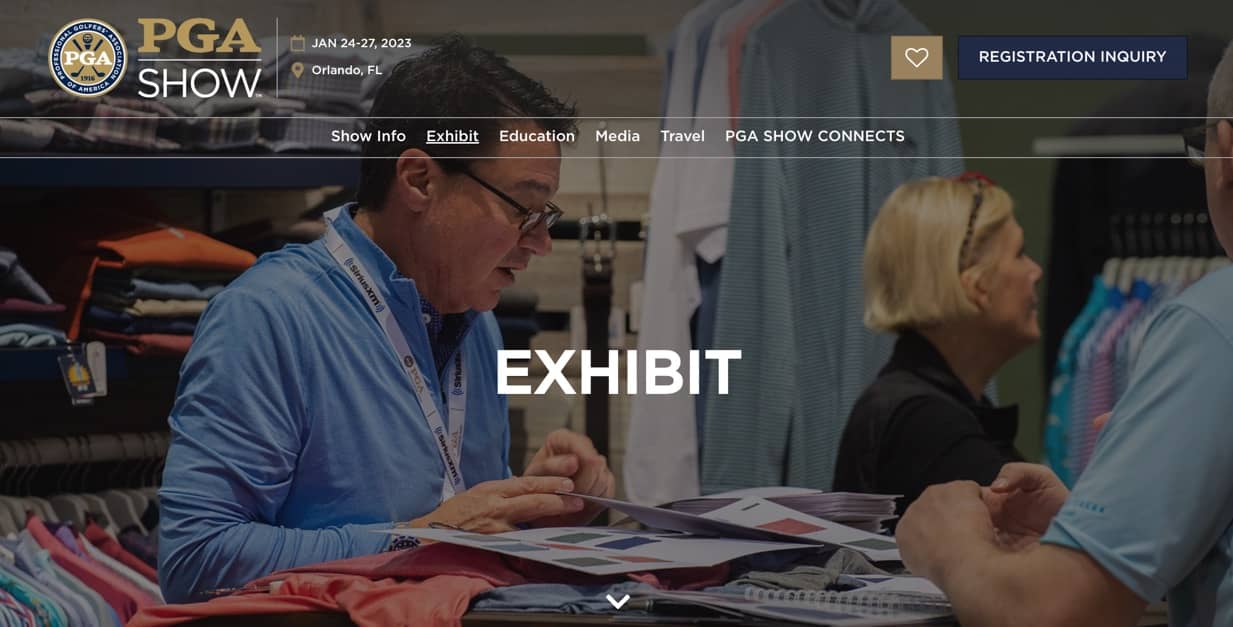 It's also wise to visit your local chamber of commerce meetings, as all of those individuals are entrepreneurs who may want another business or know someone to connect you to.
7. Directly contacting your private network
There's a good chance that most of your friends and family aren't concerned about your business, or they care, but never thought about running it.
Yet, it's important to at least make a thought-out list of people you know who have shown interest in your business, even if just asking questions.
On your list, include:
Business associates
LinkedIn connections in the same industry
Family members
Friends
Neighbors
Competitors
Suppliers
Manufacturers
Affiliates
Marketing partners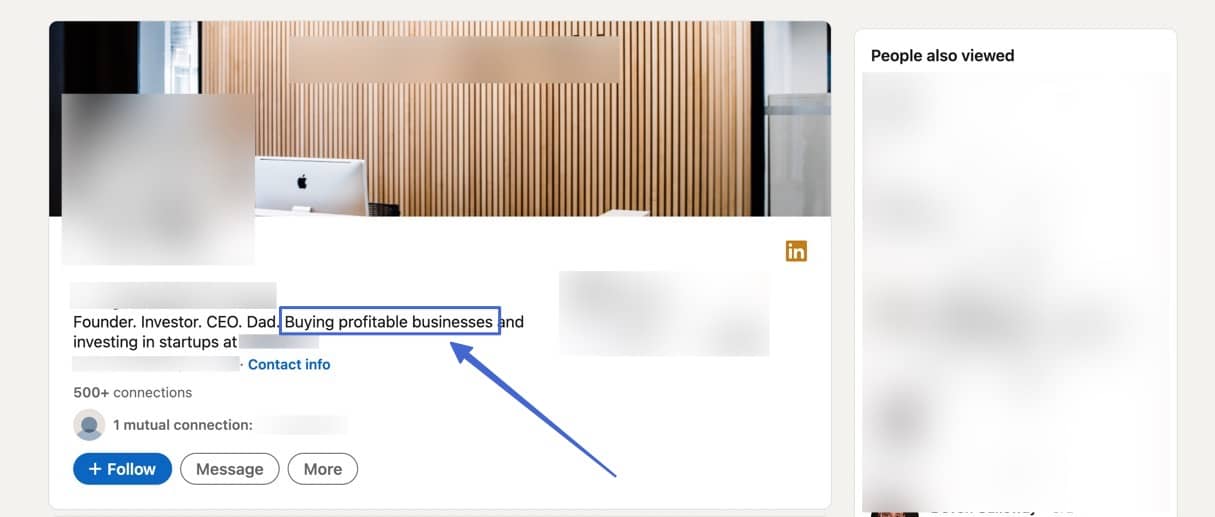 When drafting your list, cut out people who lack:
A genuine interest in your business
Experience in the industry, or at least with some sort of similar business
The potential funding needed
Enthusiasm for taking over
The need for another job (think more about the contact who mentioned they're not satisfied with their current position and are waiting for a chance to leave)
8. Private equity firms
A private equity sale makes sense if you:
Want to keep some equity in your business
Believe in the future of your business
Are okay with surrendering a significant amount of control
Would like to increase the valuation of your business and, therefore, create the option to cash out shares at a higher price
In short, private equity firms function as partner companies with capital from outside investors. They typically only purchase a portion of the company and expect returns after given periods. Therefore, this is a useful tool if, say, one owner wants to retire, and another is willing to stay on; or if the sole owner wishes to cash out some equity with the potential for an increased share valuation in the future.
Summary on where to sell a business 💸
Learning where to sell a business takes time and effort, much like starting one, actually. But the goal is to make the sale: fast, for a fair price, and to someone who will respect what you created.
In this article, we outlined the best places to sell your business:
Online marketplaces
Through a broker
Through relevant advertising mediums
In online industry groups
In your own marketing materials
At industry events
By directly contacting your private network
Through private equity firms
My advice? Start with the first option, then move through the list, and always remember that 🏎️ speed, 💰 price, and 👪 people make the best sale.
Do you have any experience on where to sell a business? How was the process when you attempted to sell it? Share your thoughts in the comments section below!
…
Don't forget to join our crash course on speeding up your WordPress site. Learn more below: