When it comes to your business website, choosing the right web hosting is one of the most crucial decisions you'll make. However, it's impossible to make a smart choice if you're still wondering: "What is web hosting?"
By taking some time to learn the fundamentals of web hosting, you can find the provider, hosting type, and plan that will place you on the road to success. With these strong foundations in place, you can start working on what really matters – creating compelling content and growing your audience.
In this article, we'll demystify the world of web hosting. We'll discuss what hosting is and what you should look for in both a provider and a plan. We'll also explore the main varieties of hosting, so you'll have all the information you need to choose wisely. Let's get started!
📚 Table of contents:
What is web hosting?
In simple terms, web hosting is the technical setup that makes it possible for your website to be "on the web."
Under the hood, web hosting – or web server – runs on a seemingly normal computer (even with a Windows interface). What's different about those computers compared to the one you have on your desktop is the hardware used inside of it. Servers are built from components that are optimized to run websites and make them available to visitors round the clock.
Every website needs to be hosted on a server, and yours is no exception. While you could run your own server, most website owners choose to enlist the help of a provider company. These companies supply the hardware, software, internet connectivity, and other services required to power your site and make it available to visitors.
It's worth noting that whether you need hosting depends on your choice of website builder or Content Management System (CMS). With a simple site builder like Wix or Squarespace (or WordPress.com), you'll receive a free domain and hosting without having to purchase a separate plan.
On the other hand, with a full CMS such as self-hosted WordPress (or WordPress.org), you'll need to find and pay for hosting on your own. While this adds a step to the site-building process, it provides you with a lot of flexibility. You'll be able to choose the hosting provider and plan that are best suited to meet your unique site's needs.
How do I choose a web hosting provider?
A 'provider' is the company that hosts your website on its servers. The one that's right for you will vary depending on factors such as your budget and audience size.
However, some characteristics are must-haves for any host, starting with reliable uptime. Downtime is always bad news, but it's particularly disastrous for business-critical sites. If your site goes offline for extended periods of time, it can result in lost revenue and negatively impact your search engine rankings.
If you encounter issues with your website (which is bound to happen from time to time), you'll want a quick resolution. Therefore, it helps to have access to 24/7 customer support from your hosting provider.
In addition, studies indicate that 40 percent of customers abandon a site[1] that takes longer than three seconds to load. Therefore, your provider should offer a high level of performance. While there are steps you can take to optimize your site, you're ultimately confined by what your hosting provider offers.
And, in particular, check out any reviews for hosts with a reputation for performance in your geographical region. This means, looking for the best web hosts in Canada if you're in Canada. Also, keep your customers in mind. So, if you have customers in Singapore, then search for information on the best web hosting in Singapore. For the best results, we recommend investigating hosts independently, via third-party review sites such as ours.
What are the most common hosting plans? (five types)
Different websites have varying needs. Fortunately, there are plenty of plans to choose from. To help you make the right choice, let's look at five of the most common hosting plan categories:
1. Shared web hosting
As the name suggests, shared hosting involves sharing a server and resources with other websites. This makes it a more affordable option, which is ideal for startups and small businesses.
Shared hosting can also be a strong choice if you're hosting a new blog or trialing a new idea and are unsure whether you want to commit in the long term.
However, a shared server may struggle to withstand unexpected spikes in traffic. If your site suddenly attracts lots of attention, the server might be unable to process all of the additional requests, ultimately affecting your site's performance and perhaps even taking it offline.
There's also a chance you'll wind up sharing a server with bad neighbors who consume an unfair amount of resources. This can also hamper your site's performance, and even result in downtime.
👉 Looking for a shared hosting plan? Bluehost has some nice affordable offering: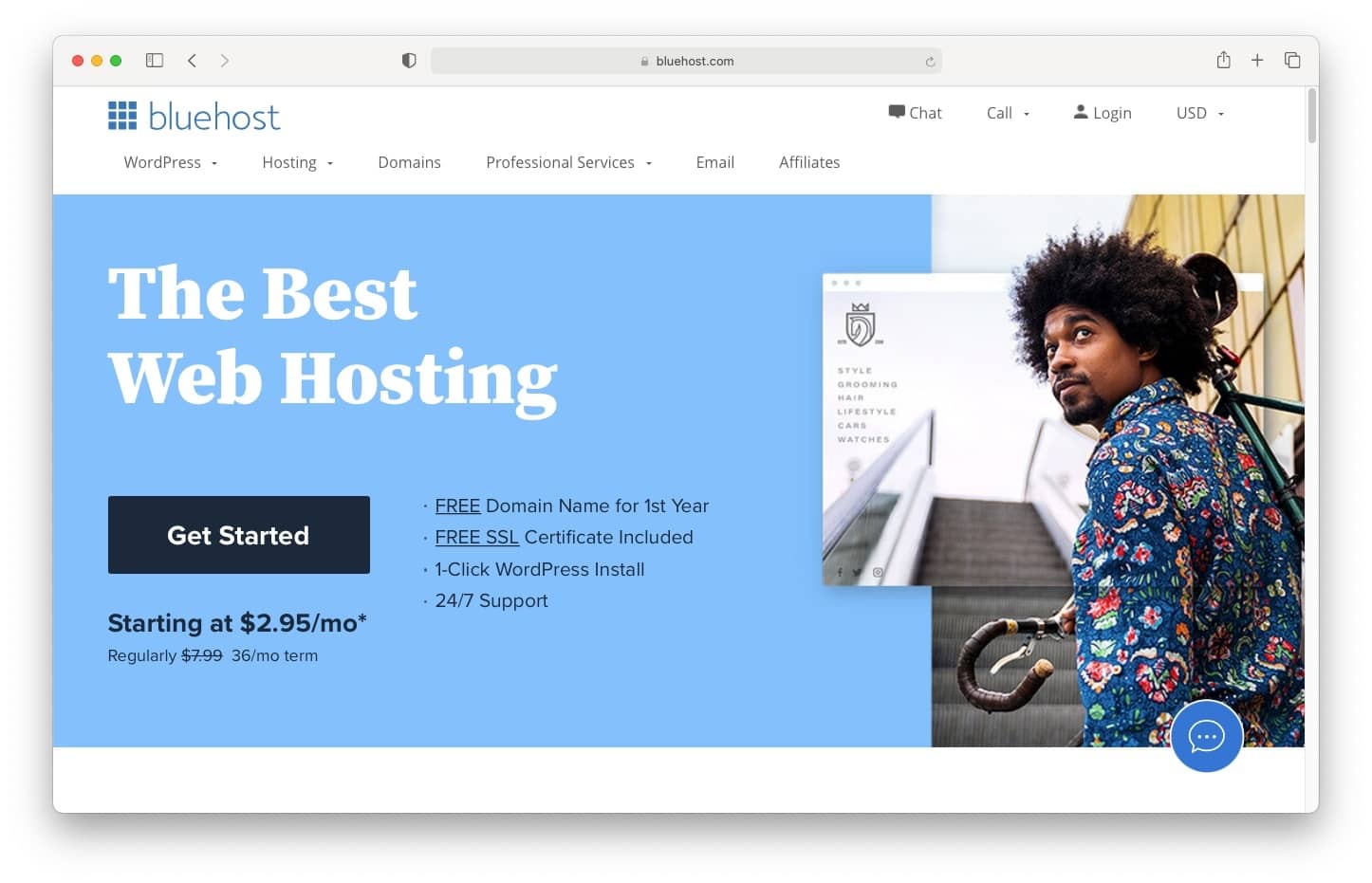 2. Virtual Private Server (VPS) hosting
A Virtual Private Server (VPS) is a single physical server, divided into multiple virtual partitions. Although you're sharing the same hardware with other customers, VPS hosting provides you with a more isolated and secure environment.
By opting for VPS hosting, you'll have guaranteed access to a portion of the server's resources, including RAM and bandwidth.
Since your provider can still host multiple customers on the same server, VPS hosting tends to be more affordable than dedicated hosting (up next). This makes it a popular choice among budget-conscious customers. VPS is also a smart option if you suspect that your site may experience traffic fluctuations, but you don't want to invest in a more expensive plan.
Since you're separated from other users, VPS hosting also gives you some freedom over how your server is configured. This is ideal if you have complex or unique technical needs.
👉 Looking for a reliable VPS hosting plan? Check out A2 Hosting. They offer both managed and unmanaged VPS: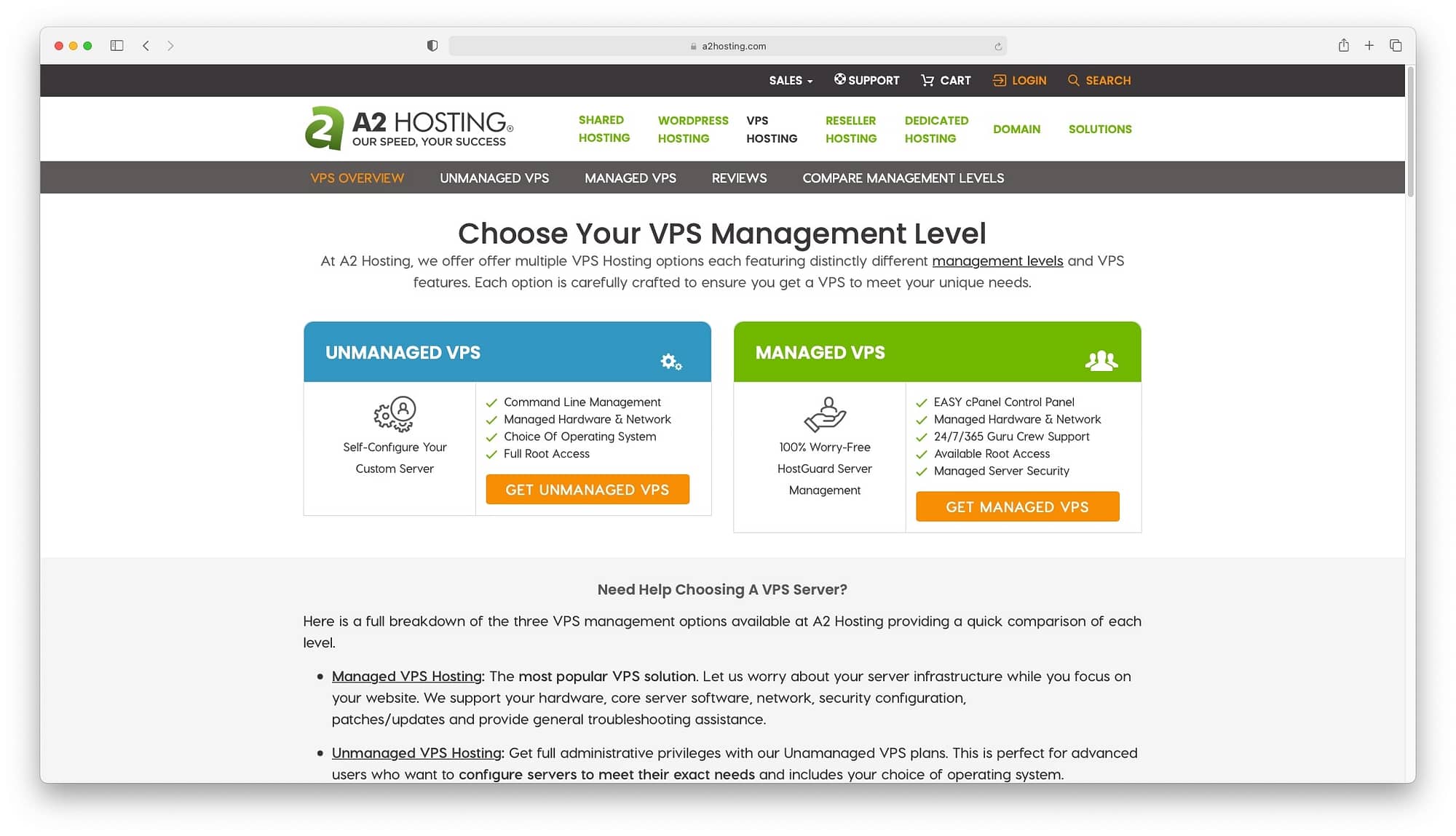 3. Dedicated hosting
With dedicated hosting, your site lives on a physical server that's reserved for your use only. You get access to 100 percent of the server's resources, making this the perfect solution for sites that attract high traffic volumes.
As the sole customer, you'll also have near-complete control over the server's configuration. If you have complicated or unusually technical needs, a dedicated host should provide the level of customization you require.
Since you're physically separated from other customers, dedicated hosting tends to offer increased security. However, as you might expect, these plans are typically much more expensive than VPS or shared services.
A dedicated server might also require more ongoing maintenance. However, you can mitigate this by opting for managed hosting, which we'll discuss in a moment.
👉 Looking for an affordable dedicated server? Check out InMotion Hosting. They offer three tiers of dedicated server plans: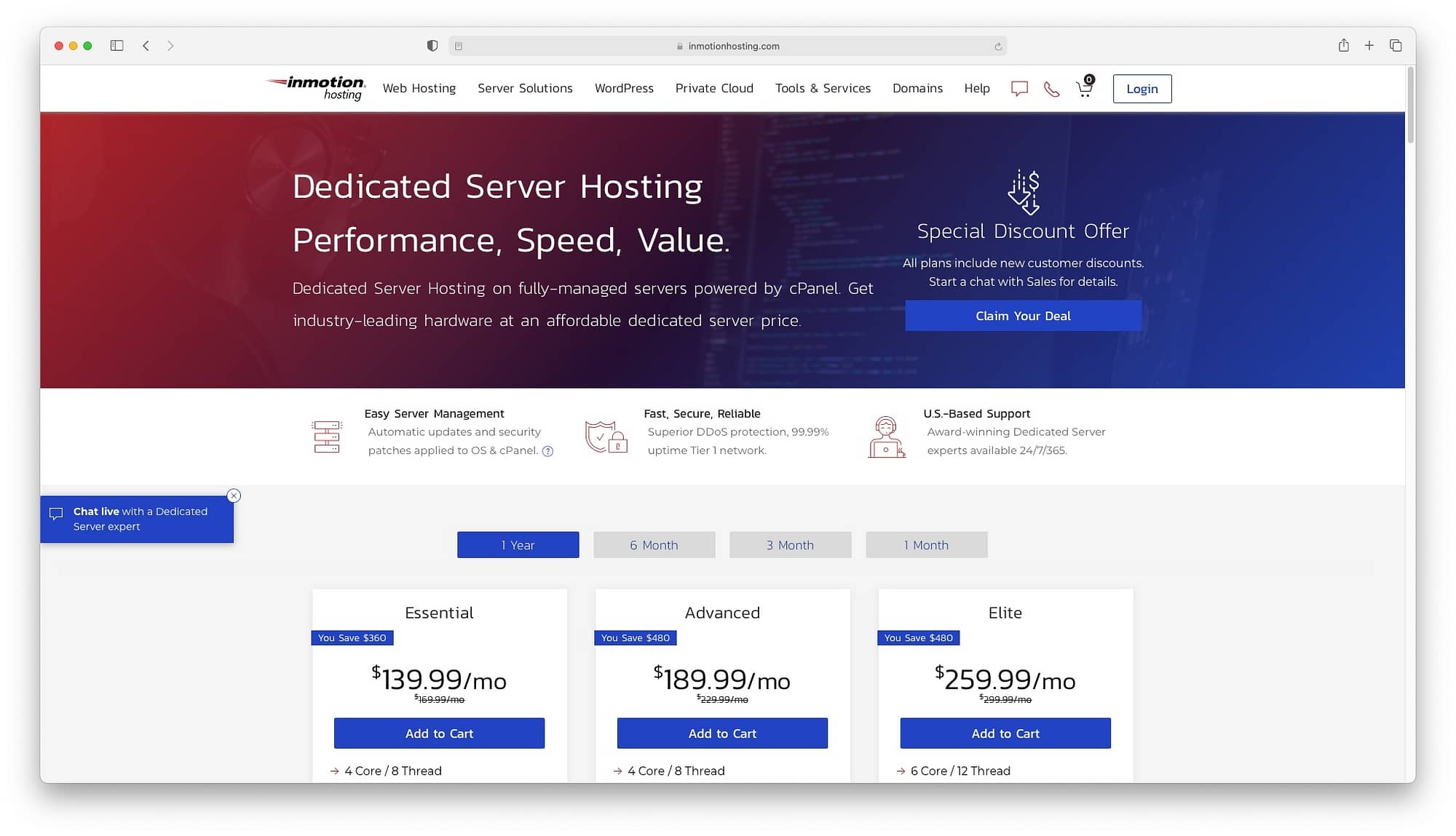 4. Cloud hosting
Instead of hosting your site on a single machine, cloud hosting enables you to spread your data across multiple servers connected in a virtual environment. If one machine within the network goes down, your site will remain online. This reliability is ideal for business-critical websites.
With multiple interconnected servers at your disposal, cloud hosting is highly scalable, which is useful if your traffic often fluctuates. You can host your site in the public cloud, which is a collection of networked machines that host the data for multiple sites. This is the cloud equivalent of a shared server.
Alternatively, you can avoid sharing your infrastructure with other websites by opting for a private cloud. This solution offers increased security and customization options, but typically comes at an increased cost.
👉 Looking for a powerful cloud hosting setup that will scale depending on your site's needs? SiteGround has affordable plans for managed cloud hosting: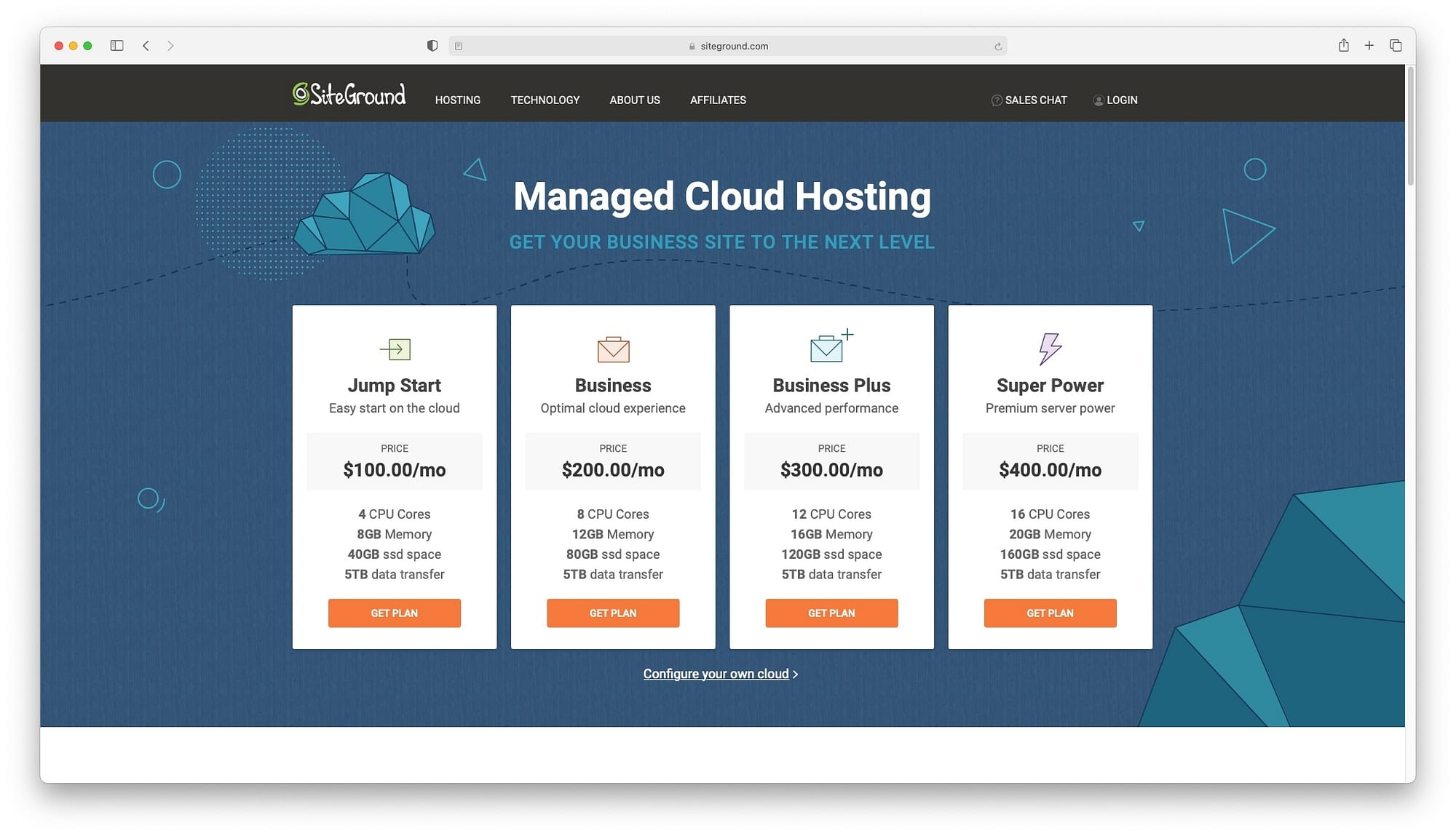 5. WordPress hosting
Powering over 43.1% of the web, WordPress is one of the world's most popular website platforms. Unsurprisingly, it's possible to purchase hosting that's optimized to suit WordPress' unique needs.
WordPress hosting often includes one-click installation and automatic updates. This makes it easy to launch your website quickly and keep it running smoothly.
Since these plans specifically cater to WordPress users, you may find that your provider's customer support team has more in-depth knowledge of the CMS. This can put them in a better position to answer complex technical questions. However, if you're using any other software to build your site, there's little value in opting for WordPress hosting.
👉 Looking for good WordPress hosting? We recommend two options. If you're on a budget, try Bluehost. Their plans are more than affordable, and the actual performance you get in exchange is nothing to complain about. Then, for a more high-end solution, consider WP Engine.
⭐ If you'd like more options, we have a whole comparison of the top WordPress hosts on the market. Just scroll back to the top of this post and check out the additional hosting articles.
What should I look for in a web hosting plan?
Many providers offer multiple plans for each type of hosting. These often include different amounts of storage and resources, such as disk space and bandwidth.
When choosing a plan, it may help to consider the amount of traffic you expect to receive and the kind of content you'll be posting. For example, if you're hosting large video files or high-resolution images, you'll require more disk space and bandwidth than you would with text-only content.
We also recommend considering your website's needs both in the short and long term. For example, perhaps you don't currently have much content or site traffic. However, if you expect to significantly expand your operation in the future – and you don't want to deal with upgrading your hosting – you might choose a plan that leaves you enough room for growth.
You can also pick between managed and unmanaged plans. With unmanaged hosting, your provider is responsible for maintaining and securing the server, but you handle website-related tasks such as installing updates and creating backups. Unmanaged hosting plans tend to be more budget-friendly.
With a managed plan, your provider performs the majority of maintenance work for you.
Although this type of hosting may cost more, you'll spend less time keeping your site updated and running smoothly. You can also expect strong performance and security, since those tasks will be in the hands of experts.
Conclusion
Choosing the right hosting for your site can be challenging. However, after taking time to familiarize yourself with the available options, you should have no problem finding a provider and plan that have everything your website needs.
Let's recap the five categories of web hosting you can choose from:
Shared hosting for small, startup sites that don't receive a lot of traffic. Our top selection: Bluehost.
Virtual Private Server (VPS) hosting, which is a step up from shared plans.
Dedicated hosting for large, enterprise sites that require a high level of security and storage.
Cloud hosting, which lets you spread your data across multiple servers.
WordPress hosting, which is often available in the form of managed and unmanaged plans.
Do you have any questions about web hosting? Let us know in the comments section below!
…
Don't forget to join our crash course on speeding up your WordPress site. With some simple fixes, you can reduce your loading time by even 50-80%:
Layout and presentation by Chris Fitzgerald and Karol K.