What is a blog? What is blogging? Should you become a blogger? 🤔
These are common questions nowadays when it seems like everyone and their dog has their own blog.
But if you haven't joined the blogging revolution yet, you might not be familiar with what a blog is and why so many people are blogging right now.
That's what this post is here to help with. Below, we're going to cover everything you need to know about blogging, including:
Let's dig in!
What is a blog?
A blog is a type of website that contains individual posts (called "blog posts") and lists them in reverse chronological order, with the most recently published blog posts appearing at the top of the list.
You can kind of think of it like an online journal or diary, where each day gets a separate entry.
Nowadays, though, blogs have evolved far beyond simple personal journals. You can create blogs centered around a specific topic, region, hobby, and so on.
For example, you're reading a blog right now. It's a blog about helping people make websites and use the WordPress website building software (which we'll talk about later in this post).
You can find some blogs that post recipes, travel tips, personal finance help, self-help, and lots, lots more.
Looking for more info on how to start a blog?
Key characteristics of a blog
There are a few key characteristics of a blog:
Dynamic, fresh content – blogs are always publishing new content, which is different from more "static" types of sites that don't change very much.
Publish dates – most blog posts will have a public publish date or a "last updated" date. Having a publish date is one of the key things that differentiates a "blog post" from a generic "page" on the internet.
Reverse chronological order – a blog's posts are ordered in reverse chronological order. That is, the newer posts are listed before the older posts.
Public author – most blogs have a public author associated with each blog post, which usually isn't the case for static website pages.
Comments section – this isn't a must-have, but many blog posts will allow comments from readers. Typically, the comments section is below the content of a blog post.
Categories/tags for posts – this also isn't a must-have, but many blogs use categories or tags to organize blog posts. This lets readers filter posts by the topics that they are interested in.
What's the difference between a blog and a website?
The difference between a blog and a website is a bit fuzzy because there can be some overlap.
All blogs are websites, but not all websites are blogs. What's more, a website can also have a blog.
For example, Themeisle is a digital eCommerce website that sells WordPress themes and plugins. However, if you go to themeisle.com/blog, you can see that Themeisle also has a very popular blog.
Here's the general difference:
A website is any site on the internet that you can access. It could be a portfolio, an eCommerce store, a business website, or even a blog.
A blog is one specific type of website (or part of a website) that meets the characteristics of a blog that we defined above.
Five real-life examples of blogs
Now that you know what a blog is, let's look at some real-life blog examples.
1. CodeinWP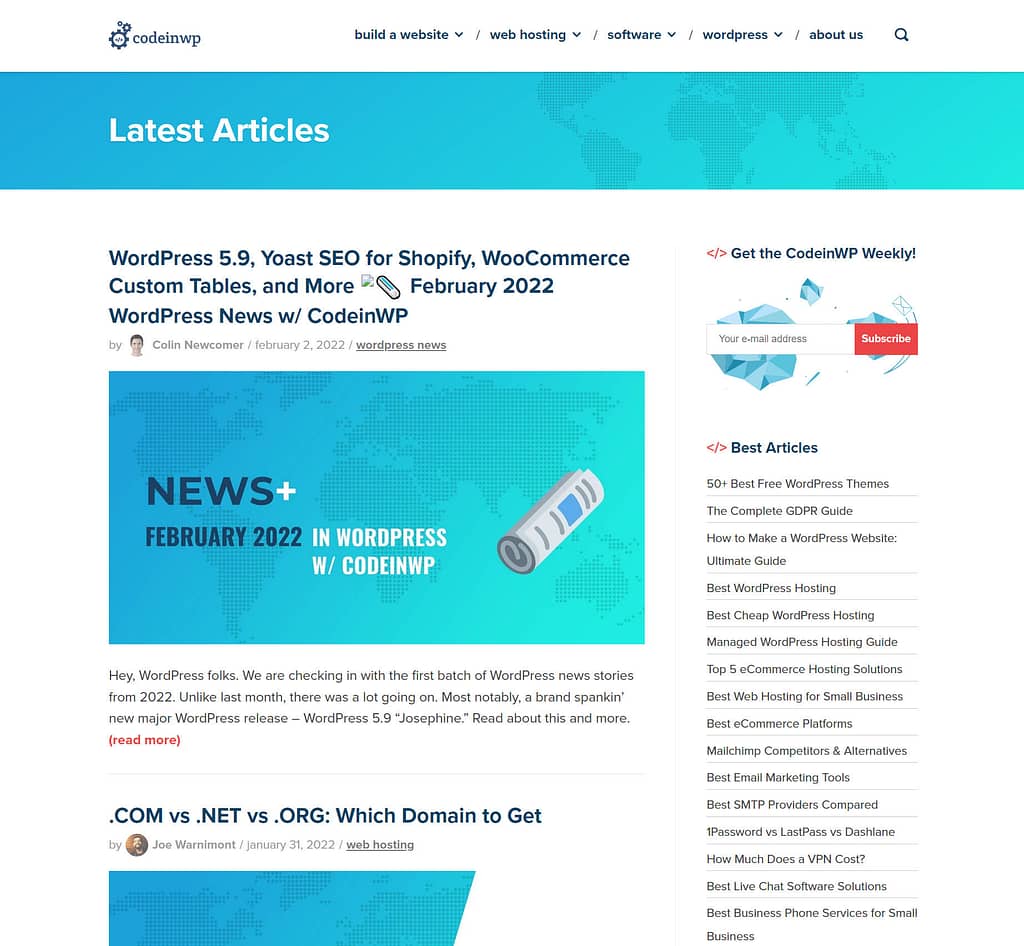 First off, the very site you're reading right now is a blog. If you go to our main blog page, you'll see a fresh list of content in reverse chronological order, complete with authors and publish dates.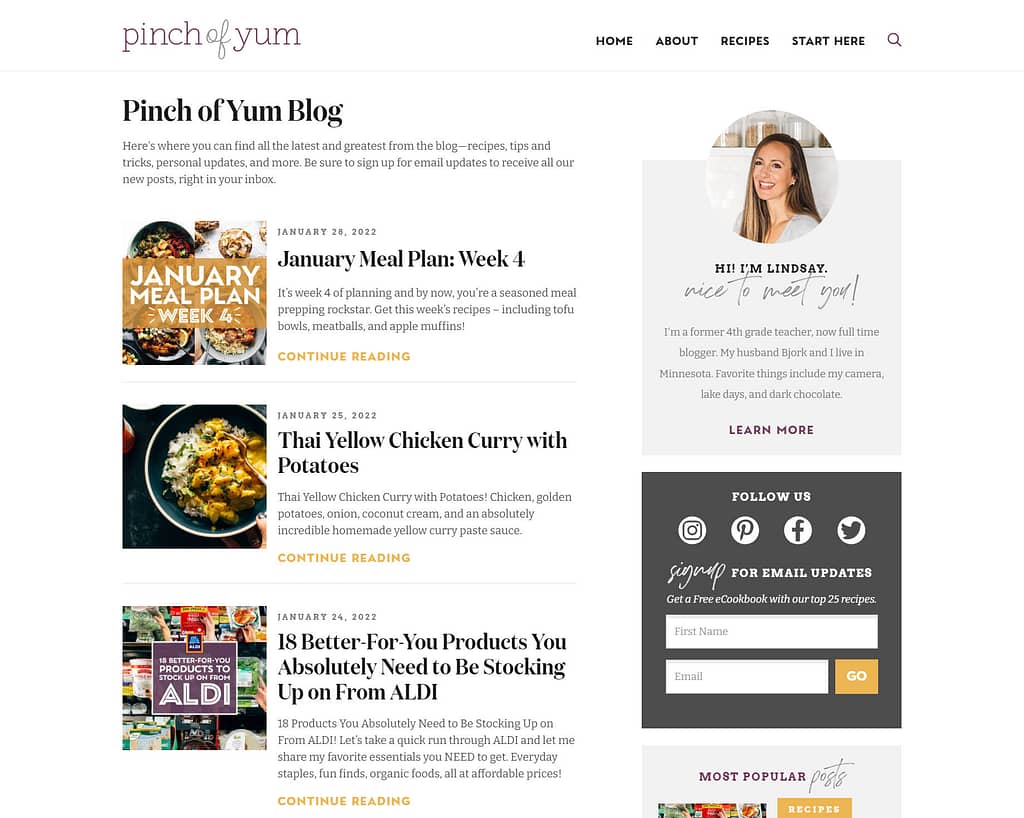 Pinch of Yum is a popular food blog that posts recipes and cooking tips. You can see that there's a constant feed of new recipes listed in reverse chronological order.
As we mentioned above, Themeisle is a good example of how you can have both a blog and an eCommerce website. The main Themeisle site is a website to sell WordPress plugins and themes, while the Themeisle blog is a popular blog about WordPress.
RadReads is a personal blog by Khe Hy that focuses on productivity, finances, and just generally working harder. It's a good example of how a blog can be very minimal, as it has a simple design with lots of white space.
It also shows how some blogs are tied to a specific author (like this one), while other blogs have multiple authors.
FinMasters is a personal finance blog that covers a range of topics around making money, credit, debt, investing, and more.
What is blogging?
So if a blog is the actual website where you post content, what is blogging?
Blogging is just the act of publishing content on a blog. It could be any type of content – pure text, images, art, and more. If you're publishing it on a blog, then you're blogging.
Similarly, a blogger is a person who engages in blogging.
Put it all together and…
A blogger is blogging on their blog.
(You'll have to forgive me; I couldn't resist.)
What are the benefits of blogging?
If all these people are creating blogs, your next question might simply be – why?
What are the benefits of blogging that have attracted so many people and businesses?
There are several potential benefits to blogging, and you can choose the ones you might want to focus on:
Personal expression – a blog is a great avenue for personal expression and sharing thoughts with the world. For many people, that might be the only thing they care about.
Making money – blogs can make a lot of money if you're able to grow an audience. You can find full-time bloggers who earn all their money from blogging, as well as part-time side hustlers who make a nice side income in addition to their day job. It takes time, but you can make real money blogging.
Building an audience – building an audience with your blog can be valuable, even if you don't make money directly from your blog. For example, if you want to become an expert in your field and get speaking gigs and consulting deals, having a popular blog is a great way to establish yourself.
Level up your knowledge – blogging is a great way to "learn by doing." If you want to become an expert on a topic, creating a blog is a great way to immerse yourself and grow your knowledge.
This is by no means a complete list. The idea is just that there are a lot of benefits to having a blog, including both personal and financial incentives.
Here's what you need to create a blog
Okay, now you know what a blog is, and you also know some of the benefits of blogging.
If you're intrigued and want to get your feet wet, the next step is to figure out what you need to make a blog.
Well, beyond your content and ingenuity, there are only two fundamental pieces you need to make a blog:
A domain name that should reflect the name of your blog.
A blogging tool. Basically, some software or a service that lets you make a blog.
1. A domain name for your blog
Your blog's domain name is its permanent address on the internet. Our domain name is codeinwp.com, Facebook's domain name is facebook.com, Google's domain name is google.com, and so on.
While .com is the most popular domain ending (AKA domain extension), there are tons of other options, including generic endings, location-specific endings, and topic-specific endings.
For example, Emily Luxton is a popular UK-focused travel blogger, and her domain name is emilyluxton.co.uk, which is a location-specific ending that indicates the blog is focused on the UK.
Farnam Street is a popular blog and podcast, and its domain name is fs.blog, which is a topic-specific ending that obviously indicates the website is a blog.
We'll talk about how to choose and purchase your domain name in the next section.
2. A blogging tool
In addition to your domain name, you'll also want some tools or software to help you manage your blog.
While you could technically code your own blog, that's super complex! There's also no need to reinvent the wheel when you have tons of great blogging tools that are already available to you.
There are two broad types of blogging tools that you can choose from:
Self-hosted blogging software
A blogging service or website builder
With self-hosted software, you'll first need to purchase web hosting, which is basically like renting space on a computer to power your blogging software and make it accessible to readers around the world.
The most popular example of self-hosted blogging software is WordPress, which powers over 43.1% of all websites on the internet. While WordPress actually started as a blogging tool, you can now use it to build any type of site, including blogs [1].
With a blogging service or a website builder, you usually just sign up for an account by entering your email and username. Then, you can start blogging.
Popular examples here are Squarespace and Wix.
While the blogging service might sound more appealing because of its simplicity, using a self-hosted tool like WordPress will actually be better for most serious bloggers who are looking to earn an income.
This is because the extra flexibility that WordPress gives you far outweighs the somewhat added complexity.
Additionally, because WordPress is so popular, it's still very easy to use and most hosting services make it simple to purchase hosting and install the WordPress software.
How to create your own blog and start blogging using WordPress
Next, let's get into how you can actually create a blog using WordPress. Because this post is mostly focused on what a blog is rather than how to make a blog, we're going to keep this brief.
💡 If you want a more detailed look, you can follow our full guide on how to make a website using WordPress. While the tutorial uses the term "website," the process is exactly the same to launch a blog because WordPress already includes blogging functionality.
👉 We also have a huge post on details to consider before starting a blog, which is a useful starting point once you've set up your blog.
1. Purchase hosting (and claim your free domain name)
To get started with a WordPress blog, you'll need to purchase WordPress hosting and your domain name.
To make this simpler, you can get both from the same spot. In fact, the hosting service that we recommend will give you a free domain name as part of the deal.
For blogging beginners, we recommend Bluehost because it's affordable and makes it easy to set up your site.
Go ahead and sign up. You can use the cheapest package to start – it only costs $2.75 per month with our special discount. You'll also enter your domain name as part of the process.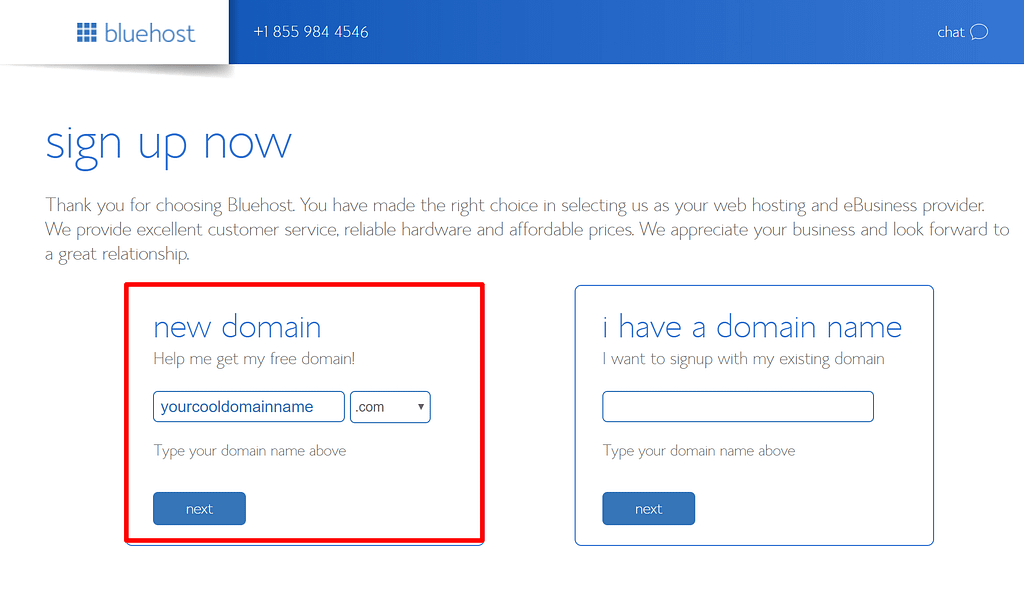 💡 If you're having trouble coming up with a good domain name, you can use a domain name generator.
2. Set up WordPress
Once you sign up for Bluehost, Bluehost will prompt you to set up your site and install WordPress.
You don't need to deal with any code – just follow the simple steps in the Bluehost interface to set up your WordPress blog.
3. Choose a blogging theme
Once you've set up your WordPress blog and logged in to the WordPress dashboard, you can set up the design of your blog by choosing a WordPress theme.
While there are lots of great WordPress blogging themes, we recommend the Neve theme because…
It's free.
It has multiple blogging templates that you can choose from.
It's lightweight and performance-friendly, which means your blog will load fast for visitors.
You can install the Neve theme by going to Appearance → Themes → Add New, and entering "Neve" into the search box, like so: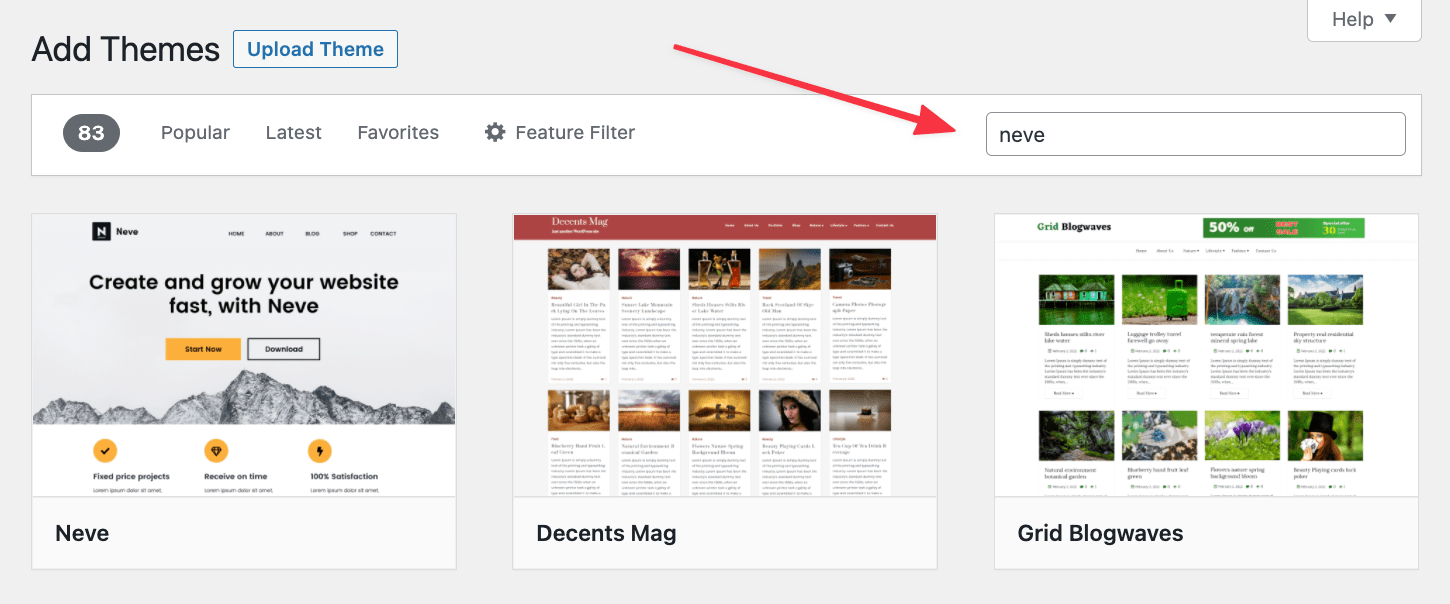 Then, you can check out what the theme is going to look like on your blog, and click on Install.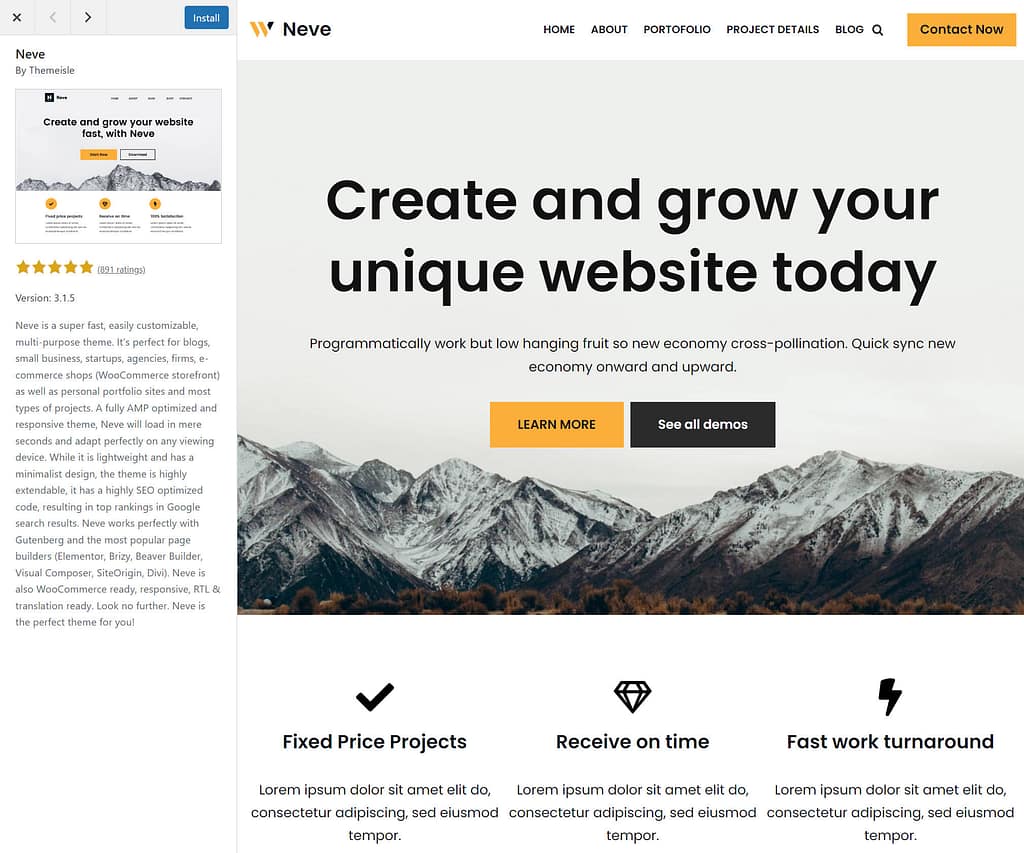 4. Start writing content
Once you have your theme, you're ready to start writing content.
In WordPress, you can easily spin up a new blog post by going to Posts → Add New in your WordPress dashboard.
This will launch the WordPress content editor, AKA the "block editor," AKA "Gutenberg."
You can start writing by just clicking on the page and typing. If you want to add media – like images or videos – or switch up the layout – like add a multi-column design – you can use the many included "blocks" by clicking the plus icon in the top left corner:
💡 If you want a deeper look, we have a very detailed guide on using the block editor.
5. Install plugins for more features
One of the biggest benefits of choosing WordPress over other blogging platforms is that you're able to use plugins to add more functionality to your blog.
Plugins can add all sorts of features, from a basic contact form to letting you add an eCommerce store or online course to your blog.
💡 For some ideas of which plugins to add to your blog, check out these posts:
👉 To learn how to get started with plugins, check out this WordPress plugin install guide.
Further reading on how to start a blog
We've intentionally kept this tutorial brief because it's not the main focus of this post.
👉 If you want to see much more detailed guides on how to start a blog and make it successful, please check out these posts:
What is a blog? Now you know!
A blog is a type of website where you can publish blog posts. Each blog post typically contains an author, a publish date of each post, categories/tags, and potentially a comments section.
Your blog will then list these posts in reverse chronological order (newest first) so that visitors can easily consume the latest content.
Creating a blog is a great way to express yourself, grow an audience, and maybe even make some money.
While there are lots of different tools to help you create a blog, WordPress is the best blogging tool for most people, which is why it powers over 43.1% of all the websites and blogs on the internet.
Do you still have any questions about what a blog is or how to make a blog? Let us know in the comments!
…
Don't forget to join our crash course on speeding up your WordPress site. Learn more below: