Trying to decide between Weebly vs WordPress?
If you want to make a website, these are two popular options.
WordPress is free, open-source software that powers 43.1% of the websites on the internet, while Weebly is a simple website builder tool that makes it easy for non-technical users to create a functioning site.
Choosing the right tool 🔧 for your needs will depend on the type of site you're building, your budget, your knowledge level, and any other unique considerations for your site.
As such, this post will compare 📊 Weebly vs WordPress in a few areas, and at the end, sum up which one you might want to opt for. First, let's look at what types of site each platform can help you create.
Introducing Weeby vs WordPress
This comparison will look at WordPress.org – i.e., the self-hosted version of WordPress that you can install on your own web hosting. This is slightly different from WordPress.com, which you can learn about in our WordPress.com vs WordPress.org comparison post.
This means there's one huge ⚠ difference between both platforms:
Weebly is a website builder tool. It gives you an all-in-one platform with limited third-party integrations. The idea is to access everything you need from Weebly's control panels. You don't have as much flexibility, but this makes it very easy to set up and use.
WordPress.org is a 'self-hosted' solution. In contrast to Weebly, you'll have full control of how you run your site. This includes hosting and any additional functionality. You'll use themes and plugins extensively and rely on third-party services to bolster your site's feature set. You also have full access to your site's underlying code if needed.
With both platforms, 😎 you'll have a way to design your site's look, create pages of content, and write blog posts. Also, you'll be able to manage your visual assets, and make sure others on the web can find your site.
We'll discuss 🫖 most of these throughout the rest of the article. By the end you'll know about all of the features and functionalities of both platforms.
The types of sites you can build with both Weebly and WordPress
Some platforms have more flexibility and versatility than others. WordPress has a good reputation in these areas. However, Weebly can hold its own too – albeit with more specific focuses.
Here's a quick table to show you what we mean:
Type of Site
Weebly
WordPress
Small business website

✅

✅

Portfolio website

✅

✅

Blog

✅

✅

Online store

✅

✅

Membership website

✅

✅

Online course

❌

*

✅

Directory website

❌

✅

Booking website

✅

✅

Social community

❌

✅

Forum

❌

*

✅

Wiki/knowledge base

❌

✅

Multilingual website

✅

✅

Podcast website

✅

✅
*There are ways to create these types of sites by embedding third-party services in your Weebly site, but it's not an ideal setup as Weebly doesn't offer core support.
For business and ecommerce websites, you'll want to put Weebly on your shortlist. The platform is part of the Square ecosystem – a major player for online and point of sale (PoS) payments.
In contrast, WordPress is adaptable to all types of sites, so could suit you better if you envisage a wide range of site types in your future.
How usable Weebly vs WordPress is (and how easy each one is to set up)
The good news is that Weebly vs WordPress has equal footing with regards to set up.
Weebly might be a little bit simpler, but both platforms are accessible for non-technical users.
Weebly setup
For Weebly, you'll click the button to Create Your Website and fill in some personal details:
Once you do this, you come to the main Weebly dashboard. This keeps things straightforward – there are options within the left sidebar, and a checklist to help kick things off:
This checklist begins with designing your site, and we'll talk about this more in a later section. However, the sidebar has a logical layout that contains everything relating to your site. It's super-quick to access anything concerning your store from this sidebar.
WordPress setup
WordPress can be just as quick to set up, especially if you have a host that caters to the platform. With the plethora of one-click installers available across various hosts, you'll be able to spin up a new site fast.
👉 If you're looking for a recommendation, Bluehost is a great hosting platform that caters to WordPress websites of all shapes and sizes.
Once you install WordPress on your hosting, you'll be able to manage everything about your site from the WordPress dashboard.
WordPress also uses a left-hand sidebar to access its settings, but one that's more comprehensive: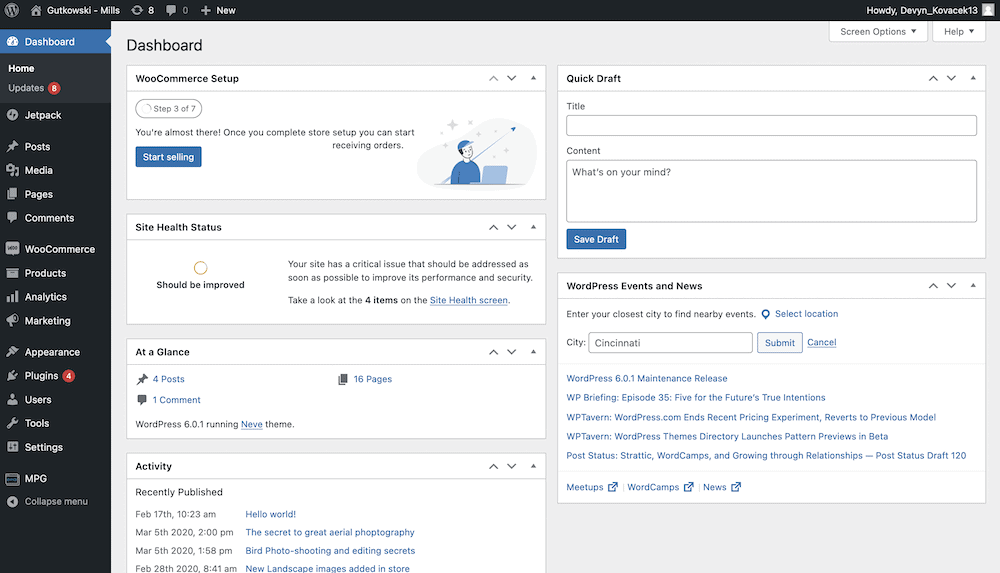 At times, the dashboard can be overwhelming with the scope of options available, and you might miss an option or setting depending on the themes and plugins you install. However, you'll likely know what each plugin will add to your site.
The design and options within both Weebly and WordPress
Next, let's take a look at the design options that you get with Weebly and WordPress.
Weebly design options
With Weebly, you'll spot an Edit site button on the Overview page: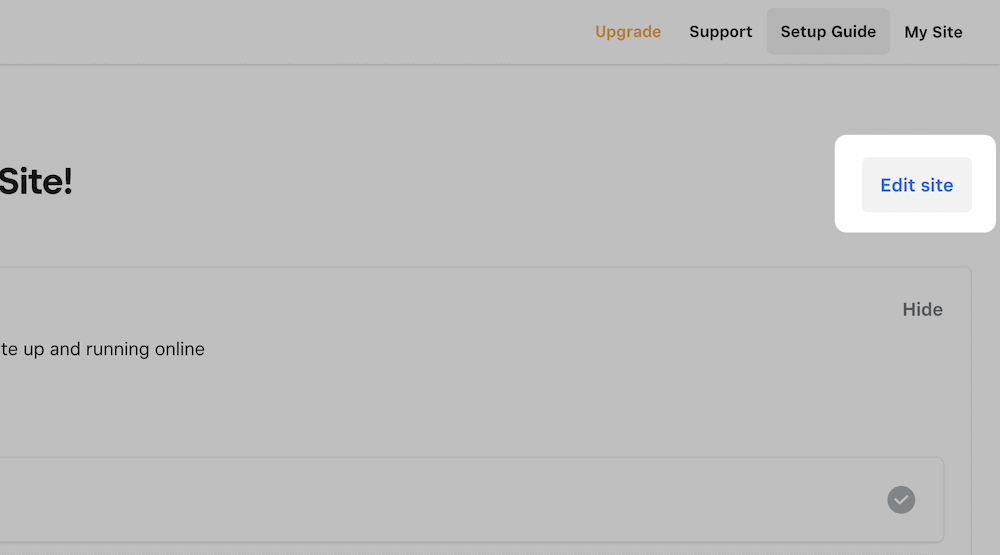 This will bring you to a simple visual editor where you can use drag and drop to control the content and layout of your site: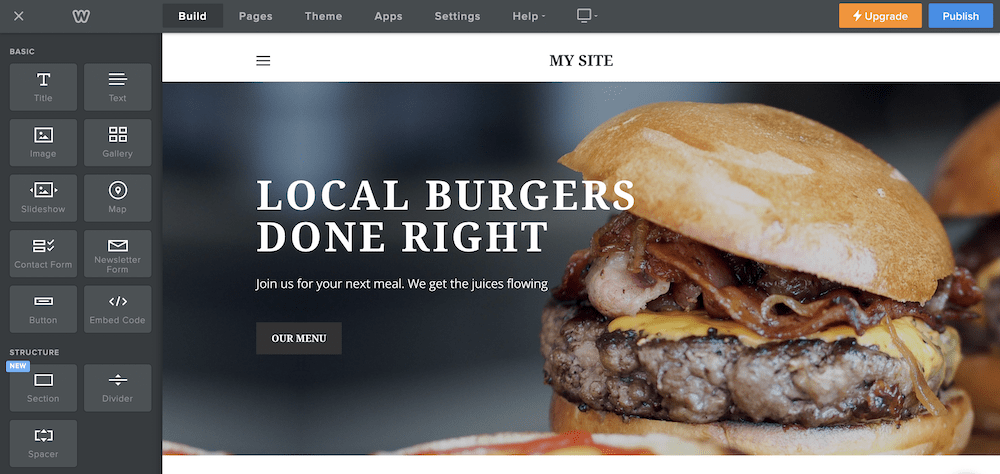 You can also choose a theme – your site's overall design template – from the Theme link at the top of the screen, which will show you a gallery of different options in various categories:
Once you choose this, you can add different site elements using the left-hand sidebar. There are all the options you'd need here to build your site, and you could be here for a while. To carry out more specific customization to elements, you can click on the preview and use the in-context menu: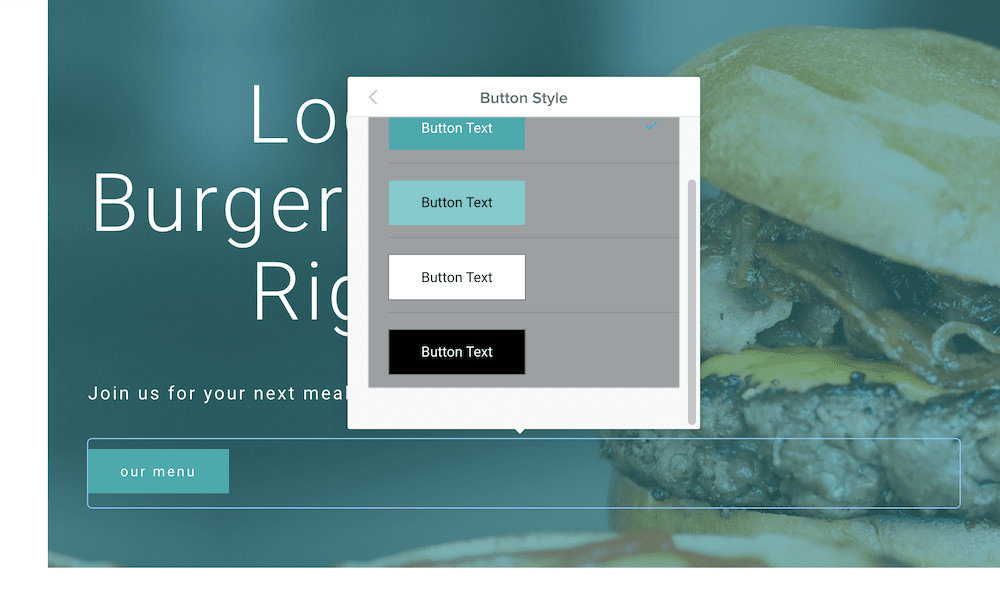 WordPress design options
WordPress also uses themes to give you a starting point for your designs, but you get a lot more options.
👉 There are thousands of free options within the WordPress Theme Directory, along with many more premium choices, such as Neve Pro: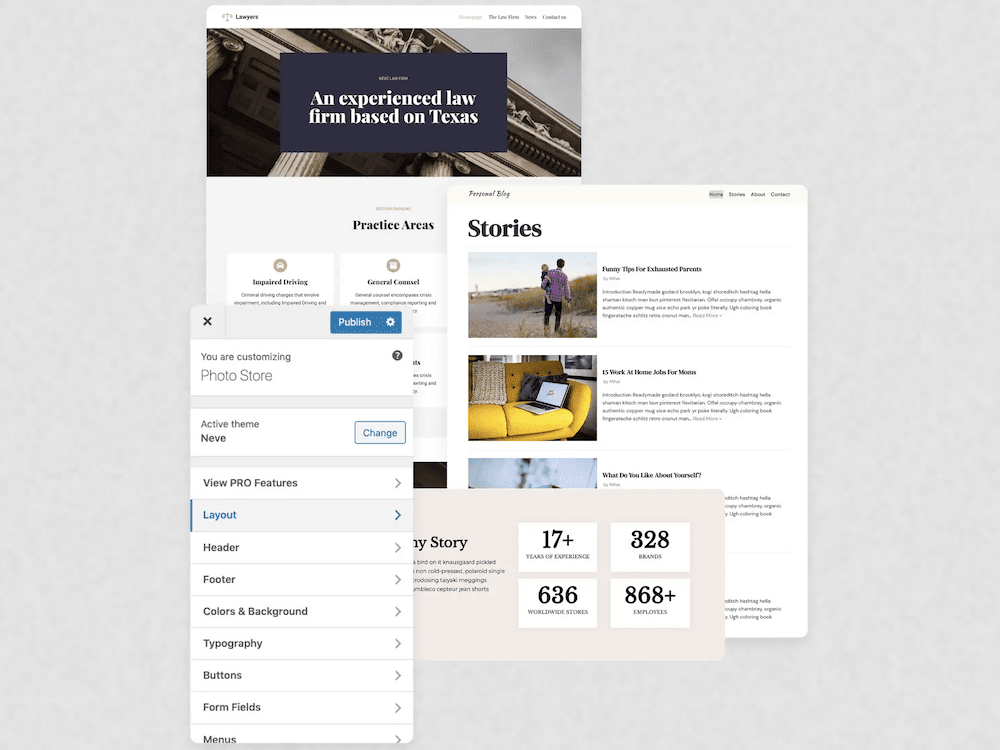 In addition to choosing your theme, you can also control your editing experience.
By default, WordPress uses the Block Editor, which offers a simple block-based design experience. You can learn more 🎁 in our full WordPress Block Editor guide.
Here's an example of how it works:
If you want more flexibility, you can also install extensions called page builder plugins that add a visual, drag-and-drop design experience that goes even further than the Weebly builder. Extension options here include Elementor, Beaver Builder, and many more.
Each solution will have its own workflow and quirks, though. As such, you might want to stick with the same one for a while, so you can learn about how it works.
On the whole, Weebly provides an instant way to visualize your content and build a layout. In contrast, WordPress gives you a ton of flexibility and choices – you only have to narrow them down.
How extendable Weebly and WordPress are
Here's the spoiler: WordPress has no equal when it comes to the way you extend its features and functionality. However, the comparison between Weebly vs WordPress on this basis alone isn't straightforward.
First, both platforms look to achieve the same goal in different ways. For example, Weebly looks to include everything under one roof, which lessens the need for third-party plugins or extensions. Despite this, the Weebly App Center does contain a number of free and premium extensions for your site: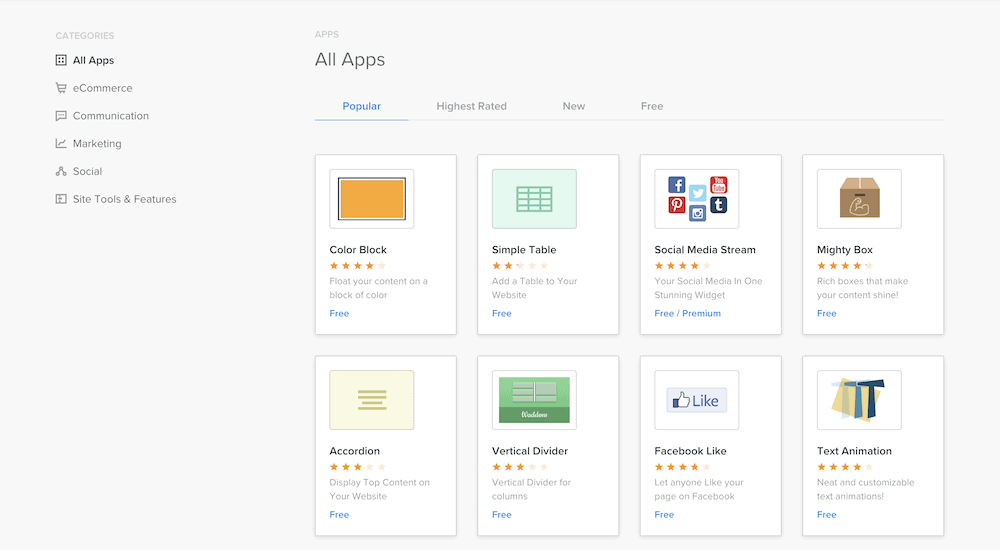 We like how the App Center segments the apps into relevant categories, such as traffic boosters, sales enhancers, and more: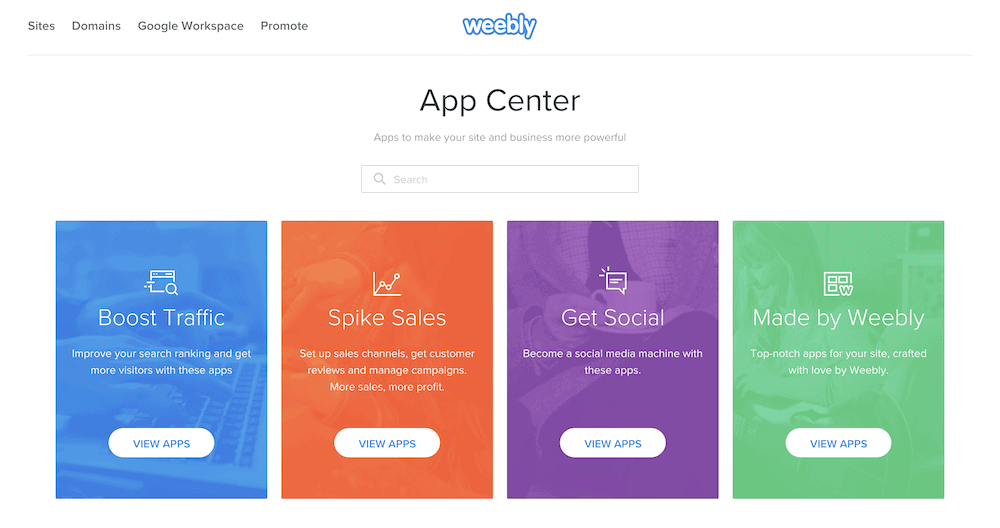 What we're less fond of is the poor selection of available apps and the low ratings for many of them. With only around 400 apps within the marketplace, it's a shame that we see a lot of filler rather than killer ways to enhance your Weebly website.
On the other hand, WordPress' Plugin Directory has oceans of choice available: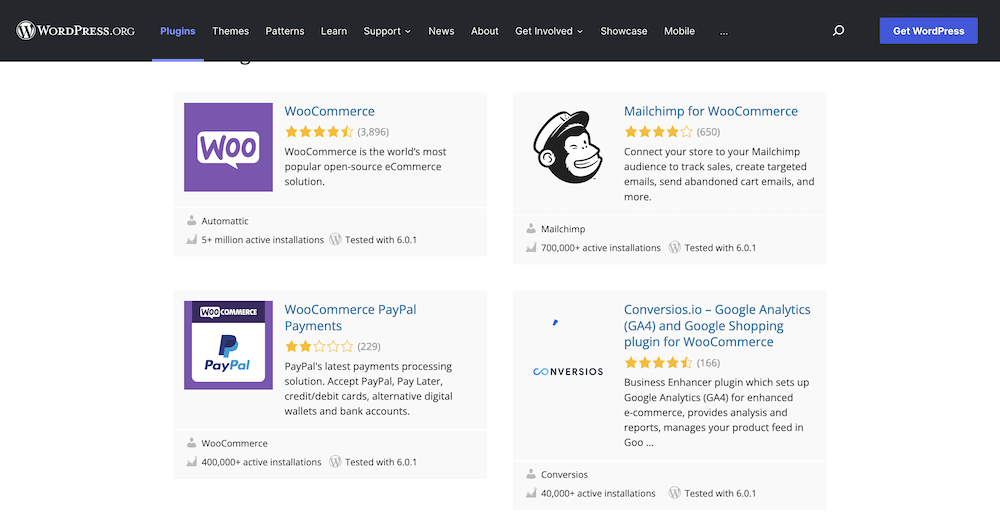 There are thousands of plugins here, all for free (although many have premium upgrade plans, and there are premium plugins you won't find within this directory.)
WordPress plugins are central to the experience. The platform has a full feature set, but can't include everything out of the box. Instead, you bring in plugins to fill the gaps, in most cases using the interface on the WordPress dashboard: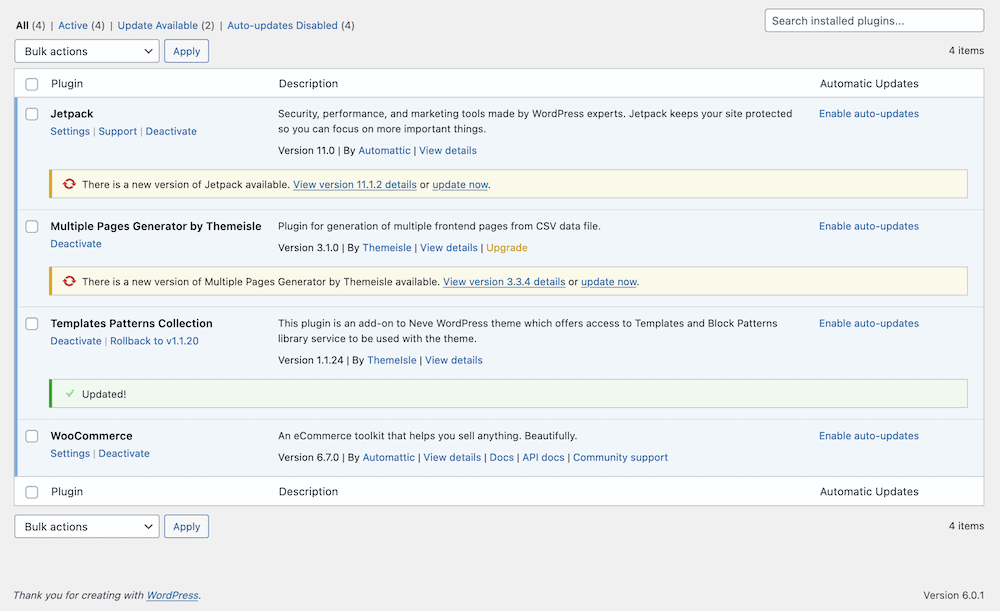 From there, the settings for each plugin are integrated into your dashboard. This can make things unwieldy if you have a high number of plugins with settings screens. Even so, it's rare that you'll lose your way at the back end of your site. We think the flexibility and power you have is worth a few seconds of extra navigation.
Weebly vs WordPress: the cost
Comparing the cost 💵 of Weebly vs WordPress is straightforward in some areas, and complex in others. For example, because Weebly is a website builder platform, there's a simple pricing model:
Free ($0) This is more like a demo or trial than a viable plan. In fact, other than a free SSL certificate and 500MB of storage, there's little else. You'll even need to use Weebly branding for your site's domain, which won't be viable for most cases.
Connect ($6/month) There's little difference between the Free and Connect plans. For your money, you get to connect a custom domain to your site and forgo the Weebly branding. Still, it's not a viable option for lots of business-type websites.
Pro ($12/month) This plan gives you access to a shopping cart, and removes Weebly ads from your site. You can also accept payments using Square or other third-party providers. We'd still say it is under equipped to handle most ecommerce applications, though.
Business ($26/month) You get the full Weebly experience here. This includes item badges and options, gift card functionality, the ability to offer discount codes, shipping calculators and labeling, and advanced statistics. It's the plan we'd recommend for all serious websites.
However, you can't compare this to WordPress in a simple way. For starters, the self-hosted version of WordPress is free and always will be. In order to use it though, you have to consider hosting, your domain name, and any premium purchase you make, such as theme and plugins.
This could be as little as $70 for a functioning WordPress site built on cheap WordPress hosting from a provider such as Bluehost, but most people will pay a bit more than that when all is said and done.
👉 For a more detailed look, our sister site Themeisle has a breakdown of how much a WordPress website cost.
While it does sometimes come out as more expensive per year if you compare to Weebly, WordPress gives you more value. You have greater flexibility, choice, design options, and much more.
Weebly vs WordPress: which one you should choose for your website
In most cases, you'll want to ask yourself a few questions 🤔 before you decide between Weebly vs WordPress:
Do you care about day-to-day site maintenance? By this, we mean, working within your hosting account, search engine optimization (SEO) concerns, theme and plugin updates, and more.
Does the thought of finding a hosting provider, a domain registrar, and third-party themes and plugins overwhelm you?
Do you have modest ideas for your site – something you can put together fast and go online with? In contrast, do you have grand and complex ideas for what your site will be?
Will your site expect a lot of traffic?
👉 Your answers will sit in one of two piles: simple or flexible. If you want simple, Weebly can fit, especially if you use a PoS system.
However, in most use cases, WordPress will offer greater versatility and flexibility for whatever site you want to create.
Despite this, it can also be simple to use thanks to its intuitive and familiar interface.
In fact, we'd suggest that if you only want something simple, Weebly might suit you. For any degree of flexibility, though, WordPress is the clear choice.
Create your website today 🚀
Choosing a platform for your website is no easy decision. Weebly vs WordPress is a common comparison, because both platforms offer simple usability and lots of design capabilities. This makes the final choice a tough one.
Our money 💰 goes to WordPress for most types of sites, thanks to its versatile interface and expandable functionality. (Just as a reminder, you can set up a WordPress site hassle-free through Bluehost.)
However, Weebly could also be ideal for simple ecommerce 🛒 applications. For a straightforward online presence that supports your PoS strategy, it can be perfect.
If you want to discover even more options, you can check out 👉 our full collection of the best website builders.
Do you have any additional questions about Weebly vs WordPress? Let us know your thoughts in the comments section below!
…
Don't forget to join our crash course on speeding up your WordPress site. Learn more below: