Weebly is a popular website builder and is highly rated amongst entrepreneurs and small business owners that want to create their own website or online store.
The tool is generally considered very easy to use. However, if you're new to it, you might be wondering what the best way to get started is.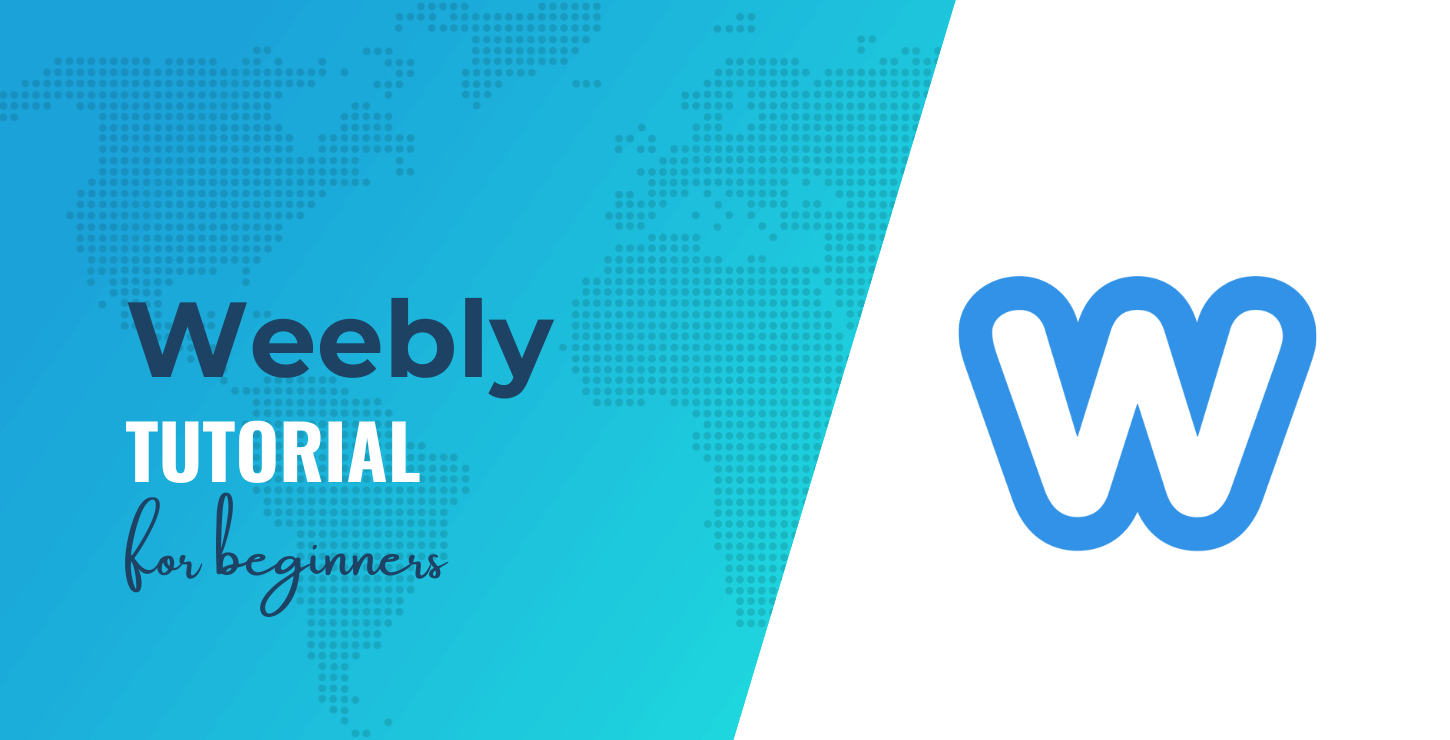 In this Weebly tutorial, we will walk through all the steps required to set up a new Weebly website and show you a few things you should consider before launching it. So, let's get started!
What is Weebly, and why would you want a Weebly website?
Weebly is a free website builder that lets you create professional-looking responsive sites, blogs, and small shops using a handy visual drag-and-drop editor tool. Weebly provides users with several helpful pre-designed themes and an extensive photo repository with thousands of free images you can use throughout your website pages.
The reason Weebly has become a popular tool among small business owners (and continues to be so in 2023) is that the platform is very easy to use and (for the larger plans at least) supports several ecommerce functionalities, such as the ability to set up online stores and sell products through them.
Weebly has a free tier (500MB of storage and a Weebly domain name) and three paid plans ranging from $6 to $72 a month (which include more advanced features, such as PayPal payments, reporting, and shipping rate calculators. You can read more about these plans here).
How to create a Weebly website or store
Setting up a Weebly website is quite straightforward, as it remains one of the most uncomplicated website builders out there. So, if you are ready to give it a try, here's a Weebly tutorial with everything you will need to get started.
Step 1: Signing up with Weebly
The first thing you will need to do to use Weebly is open a Weebly account. To do this, go to Weebly.com and click on the Sign Up button in the top right corner.
The platform will ask you for an email and password and prompt you for what type of site you want to create. There are two options: a personal website or a business website. For this Weebly tutorial, we will create a Personal website.
In the next step, you'll be taken to Weebly's template library.
Step 2: Choosing a Weebly theme
Weebly offers over 50 free themes or templates you can use to create a professional website. The themes are divided into different categories, such as Portfolio, Blog, Personal, or Business. Each of these has around seven themes available.
Although Weebly is a trendy website builder, the themes are not particularly modern or attractive. However, you can customize them to a decent degree, so at this point, what you should do is navigate through them until you find one that you think can fit your business idea. Make sure you check them in full size, and when you find the perfect one, click on "Start Editing."
Before taking you to the Weebly website editor, the platform will ask you to choose a domain name. Weebly domains are free ("yourname.weebly.com"), but you can also register your own unique one for around $14 to $20 a year.
Step 3: Using the Weebly editor to create pages
Once you have picked your domain, it's time to start editing your pages! We won't go into too much detail for this part of this Weebly tutorial, as there are lots of guides you can follow to get the perfect layout. However, here are the most important things to keep in mind when setting up your Weebly website:
Weebly uses a drag-and-drop interface to create pages, so WYSIWYG (what you see is what you get) applies. This means you can drag headlines, paragraphs, images, and rich media and pick where they will show on your pages. Your visitors will see the same layouts you prepare.
If you want to add pages to your site, all you need to do is go to the Pages tab in the menu and click on the plus sign. You will then be presented with a list of possible types of pages (for example, standard page, blog page, category page, product page, or external page).
You can add sections to your pages by using the Elements sidebar. From there, you can easily drag components such as menus, galleries, team boxes, contact forms, and many more.
You can change the entire site's color scheme from your dashboard's Theme section. The Edit Background feature is also available for all pages and lets you pick custom background images and add scrolling effects and animations.
Step 4: Setting up your site's navigation
All sites need a navigation element to help users find what they are looking for. Creating a navigation bar in Weebly is very easy; all you need to do is click on the Pages tab and drag the ones you want to show into your menu. You can even set up submenus by dragging pages underneath the right of another one!
Suppose you want to use elements that are not functional (for example, a menu item called Categories that is not a link). In that case, you can select the component, click on the plus icon, and add the "Nonclickeable" property to it. And you can also hide specific elements you don't want to show (by checking the "Hide in Navigation" option for the Pages on the sidebar).
Step 5: Playing with advanced customization and apps
Weebly is designed to be simple, but that doesn't mean you cannot add more advanced functionality to your site. In fact, Weebly supports numerous apps to help boost traffic, spike sales, promote your social media channels, and much more.
There are also tons of customizations for pages. For instance, you can duplicate sections and elements, customize all fonts, change the appearance of text, use columns, and add and resize images, slideshows, and galleries. Weebly also supports favicons and personalized footers and has a handy undo function to revert accidental deletions or changes.
Step 6: Publishing your site
Once you've created your pages and sections and customized all the elements to make your site perfect, you should be ready for the last step in our Weebly tutorial – going live. To do this, just click on the blue "Publish" button (it should be in the top right corner) and…that's it! Your site is ready to be shared.
Remember that you can always make changes to it or upgrade your plan if needed (if you want to edit things, simply scroll down to the "Unpublish" button).
Final thoughts 🏁
As we've seen in this Weebly tutorial, creating sites using the platform is pretty straightforward – the reason why many entrepreneurs choose it over WordPress (which requires much more customization), Wix, Virb, or Squarespace.
Although more prominent platforms can give you access to more advanced functionality, this will come at the price of either more time, more money, or the need to hire a developer to get things working exactly as you want them.
Weebly is perfect for small sites and supports simple ecommerce applications. So, if you're looking for an easy website builder, we definitely recommend you give it a chance.
Was this Weebly tutorial helpful? Do you have any additional comments or questions? Let us know in the comments section below!
…
Don't forget to join our crash course on speeding up your WordPress site. Learn more below: