Choosing a website builder 🏗️ for your next project can be a tough decision, even once you whittle down the options to a handful. Weebly is often one of the top contenders, due to its straightforward usability, reasonable pricing, and ecommerce integrations. However, it's just as important to compare what this platform offers in relation to the likes of WordPress, Squarespace, and Wix. Our Weebly review will shed as much light as possible on what the builder does well, and where it can improve.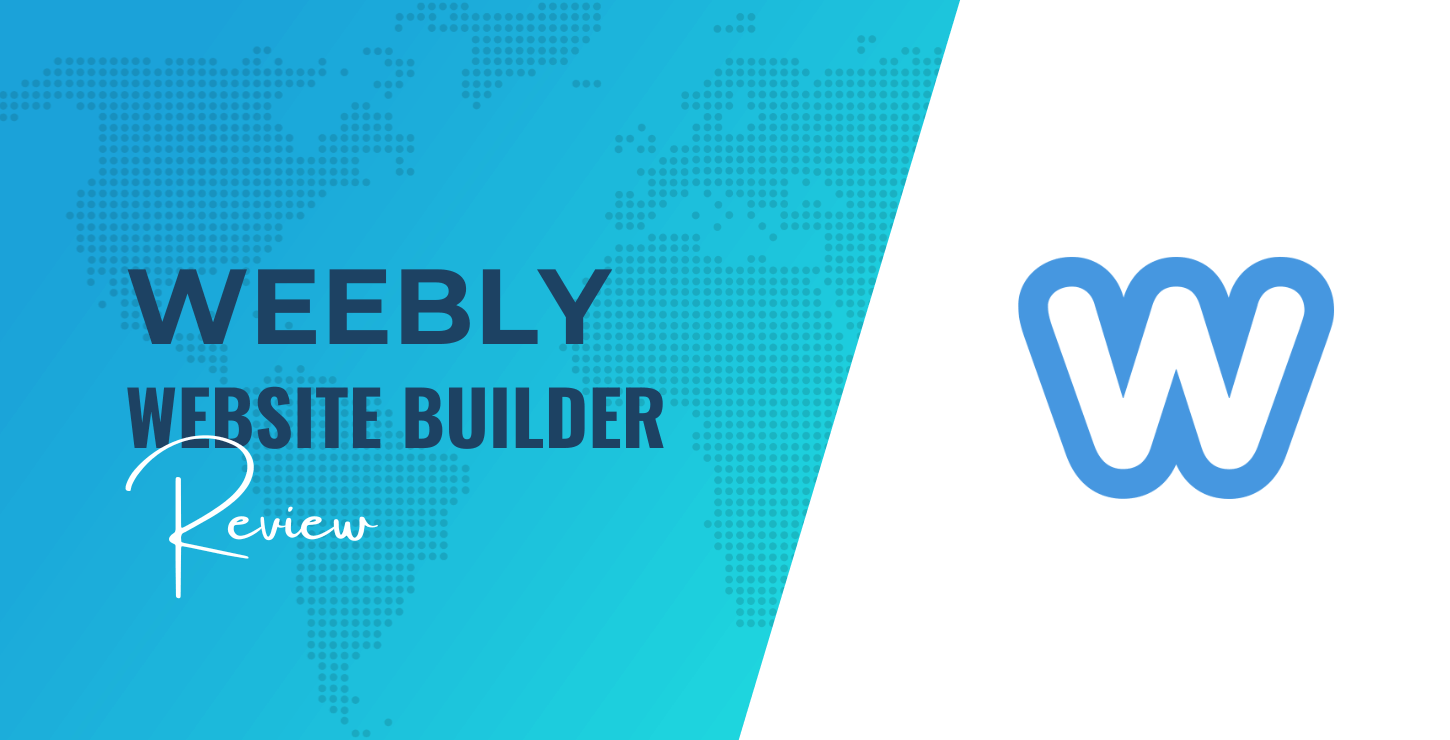 👉 For this post, we'll give you a full Weebly review. It's going to look at a number of different areas. At the end, we'll compare Weebly to some of the other platforms you might have on your shortlist. First, let's give you a quick overview of what Weebly offers:
What is Weebly?
You'll likely have some understanding about what Weebly can offer you, but there's a lot to consider. In short, it's a website builder that looks to give you everything you'll need under one "roof."
Weebly will give a small-to medium-sized ecommerce business lots of value, given that it forgoes advanced and technical setup processes for a simple and intuitive interface. You'll find almost everything to help you build and publish a website with Weebly.
It gives you a drag-and-drop builder, complete with plenty of customization options. You'll also have dedicated ecommerce functionality to help you sell products and services from your website.
There's lots more we can talk about, and you'll read more about this across the next few sections. You'll also find how straightforward it is to setup the platform.
Weebly review: Weighing up the website builder
Within this Weebly review, we're going to cover almost everything the platform can offer across six different areas. Here's what we're going to look at:
First, though, let's discuss the features and functionality that Weebly gives you:
⚙️ Features
There's plenty to take in when it comes to Weebly's features across both its free and premium plans. Here's a quick list of the core features you'll get:
A drag-and-drop builder that shows you how your site looks on the front-end, without the need for technical or coding knowledge.
Search engine optimization (SEO) tools to help you earn a high search ranking.
A free SSL certificate, so you can receive customer information without it falling into the hands of malicious users.
Of course, you'll have a different experience depending on the exact pricing tier you choose. However, one constant among these plans is no need to worry about hosting your site. Weebly provides hosting for you, and even lets you use a free domain.
The structure of this will depend (again) on your plan. We'll have more details on this later, but the free tier only lets you use a Weebly-branded one. In contrast, premium tiers enable you to use a custom domain of your choice:
Weebly gives you a full-featured drag-and-drop builder to let you piece your site together in a visual way. This means you won't need tricky HTML or CSS to realize your vision. This is the "central" screen in Weebly, and we'll talk about this again in more detail shortly.
One of the biggest draws for Weebly is its built-in ecommerce functionality. Because Weebly's parent company is Square, this means you'll get access to its payment gateway and store features.
However, Weebly is suitable for lots of different types of sites. For example, you can choose to run a portfolio website and showcase your work without the ecommerce functionality. If you hold events, you can also create a Weebly site with this in mind. You have built-in form functionality that lets you create signups, typical contact forms, surveys, and more:
In fact, this is a good time to run through how simple it is to use Weebly, starting with the signup process itself:
👐 Ease of use
The next facet we'll cover in our Weebly review is how intuitive and straightforward the platform is to use. First, though, you'll want to run through the setup process. To do this, head to the main Weebly website, and click the Create Your Website button:
You'll come to a typical form where you'll provide your details and create a password:
Once you click to confirm, you'll start the onboarding process. Your first decision is to choose either a Square Online experience, or that of Weebly Websites:
From here, you can pick a template. There are around 50 options available, which isn't at the same level as other platforms, but each one looks great as a starting point:
Once you preview the template, you can click the button on-screen to start the editing process. For your first time, you'll have to connect a domain name using the prompt, although you could skip this until later. After this, you can begin to create your site. We'll have more details on this next, but note that you'll access almost every option from the navigation bar at the top of the screen:
From here, you can change your theme, access the App Center to integrate third-party tools, read up on the documentation, and work with your accounts settings.
Note that if you want to tweak settings such as the site title, the publishing status, and date formatting, you'll head to the Settings > General page.
In addition, the Settings > SEO screen lets you add header and footer code, a site description, and the ability to work with 301 redirects:
In fact, we should talk more about the drag-and-drop editor next, given that it's central to the whole Weebly experience.
🎁 Design
During our look at the signup process, we skipped over the choice of templates you have to pick from. There are only around 50, which is much less than other website builders offer. In addition, there isn't much variety in the designs. For example, check out how similar these business templates are:
However, while you can find third-party themes, this isn't the focus of the article. In addition, you'll find that some of the templates use the same base theme, which can be confusing. Above all, we'd like to see more variety in the templates and themes you have access to, but what is on offer looks great.
All in all, unless you find a template that matches your exact vision, you'll need to edit the templates in order to do so. In fact, the editor is the main screen you'll use within Weebly:
The editor gives you a sidebar of elements to choose from, and a full-screen display of your site that slides in and out of focus. You'll drag-and-drop elements onto your page, then work on them in place. For instance, the Button element gives you basic ways to alter the style, text, link, spacing, and alignment:
Even so, you won't be able to change colors here. This happens from the Theme tab in the navigation bar, but you will only be able to choose a color scheme here:
However, you have a lot of other ways to alter the theme from this screen. For example, you have lots of ways to change typography across the whole of your site. You'll also find theme-specific options here, such as the ability to add a search box, or turn on guides:
On the whole, the editor itself is fantastic, but you don't have lots of scope to create unique designs without the need for code. We'd like to see more, but the ecommerce features are key for Weebly, especially for Point of Sale (PoS) transactions.
💵 Pricing
Straight off the bat, Weebly's pricing tiers offer a lot, and we like how diverse they are. You'll find a tier to suit you within each of its four offerings. Here's a quick breakdown of each:
Free. While you get an SSL certificate, most of the ecommerce functionality, and almost all of the marketing features, you lack the ability to connect a custom domain to your site. What's more, you'll have to serve Square ads too. On the upside, you won't have to pay for your site.
Personal. Between this tier and the free one, it doesn't look like you get much extra for $6 per month. However, you're able to connect a custom domain with this plan. Also, you get to sell digital goods from your store, get access to all of the marketing features, and can create shipping labels. You'll also get to use a shipping calculator for your site too.
Professional. For $12, you get the same ecommerce and marketing functionality as the Personal tier. However, you can now access phone support if you need to. In addition, you won't have to serve ads on your site, and can obtain a free domain. There's also no cap on your storage needs, which can help if you need to run a large site.
Performance. For $26 per month, you get the full Weebly experience. Some of the extras include priority support, advanced ecommerce insights, the ability to use PayPal as a payment gateway, and much more.
Compared to other website builder platforms, Weebly offers a straightforward model that means you can get a lot of value for money. We'll look at how Weebly shapes up against the competition later.
Pros 👍
Fantastic integration with the Square payment gateway.
Ecommerce businesses will find almost everything they need within the Weebly feature set. This includes an integrated checkout and shopping cart.
The site builder is straightforward to use, and includes drag-and-drop functionality.
You have simple pricing options, and each one won't hurt your budget.
Every Weebly plan includes an SSL certificate.
There's a decent range of third-party integrations too, although you may not need them.
Cons 👎
You'll butt up against the capabilities of the Weebly editor fast. If all you want is a simple site, it will likely serve you well. However, despite the professional templates on offer, you won't have much scope to build an advanced ecommerce site at the same level as Shopify or WooCommerce.
The template selection isn't as broad or as varied as many other website builders. For example, Weebly only offers ~50 templates whereas something like Wix offers 800+ templates.
Content marketing options – i.e., blog posting – is underwhelming too. We'd take almost any other platform over Weebly for its blog features.
💡 Competition
For specific use cases – ecommerce, for example – Weebly might suit your needs. However, you'll also need to compare it to other website builder platforms. As such, we have three different tables here with comparisons to Wix, Squarespace, and WordPress.com. Let's start with comparing Weebly to Wix:
| | Weebly | Wix |
| --- | --- | --- |
| Custom Domain | Yes | Yes |
| Hosting | Yes | Yes |
| Drag-and-Drop Builder | Yes | Yes |
| Editor | Full page | Full page |
| Templates | ~50 | 800+ |
| Marketing and SEO | Yes | Yes |
| Ecommerce | Yes | Yes |
| Apps/Plugins | 350+ | 250+ |
| Pricing Plans | From $0 to $26 / month | From $0 to $49 / month |
A comparison between website builder platforms will often include Squarespace. Compared to Weebly, it has lots of visibility, and comes with a wide-range of features and functionality:
| | Weebly | Squarespace |
| --- | --- | --- |
| Custom Domain | Yes | Yes |
| Hosting | Yes | Yes |
| Drag-and-Drop Builder | Yes | Yes |
| Editor | Full page | Section |
| Templates | ~50 | 100+ |
| Marketing and SEO | Yes | Yes |
| Ecommerce | Yes | Yes |
| Apps/Plugins | 350+ | 20+ |
| Pricing Plans | From $0 to $26 / month | From $16 to $54 / month |
WordPress.com is often a popular choice, and in fact, it is one of the more dominant platforms available [1]. Here's how it stacks up to Weebly:
| | Weebly | WordPress.com |
| --- | --- | --- |
| Custom Domain | Yes | Yes |
| Hosting | Yes | Yes |
| Drag-and-Drop Builder | Yes | Yes |
| Editor | Full page | Full page |
| Templates | ~50 | 10,000+ |
| Marketing and SEO | Yes | Yes |
| Ecommerce | Yes | Yes |
| Apps/Plugins | 350+ | 55,000+ |
| Pricing Plans | From $0 to $26 / month | From $0 to $59 / month |
If you'd like to find out about more competition to Weebly, you can read our full collection of the best website builders. This goes in-depth with the comparisons, and gives you the information you need to see whether Weebly is right for you.
Also, while this Weebly review compares it to three different website builders, WordPress offers an open-source (and free) content management system (CMS.) This gives you all of the scope (and more) of a website builder, without the need for advanced technical knowledge. We have a dedicated comparison between Weebly and WordPress.org on the blog.
Weebly review: 🧐 Our conclusion
The decision about whether you opt for Weebly as your website builder 🏗️ is yours alone. However, this Weebly review looks to offer almost all of the relevant information you need to make that choice. In our opinion, Weebly is a fantastic consideration for simple ecommerce stores, especially if you run PoS transactions.
👉 We like the integration with Square, and you get a typical industry payment gateway that you know will carry you as your business grows. While Weebly won't look as great as the very best WordPress or Squarespace websites, it will give you a foothold and presence online that can make a difference. What's more, the platform does provide nearly everything you'll need to run a business under its hood. This alone is a solid plus point in Weebly's favor.
Do you agree with our Weebly review, and if not, why? Let us know in the comments section below!
…
Don't forget to join our crash course on speeding up your WordPress site. Learn more below: