Interested in building a website on Weebly but not sure which Weebly pricing plan is the best option? Luckily, Weebly only sells four packages, allowing you to hone in on the perfect one for your business needs.
In this article, we outline the offerings in each Weebly pricing plan, their cost, and the types of features and customer support provided.
We'll also explore the additional expenses that usually go into running a website, especially for those interested in selling products online. For instance, you may have to pay for an app, design help, or the fees associated with payment processing.
Below, you can view a detailed comparison of the Weebly pricing packages. After that, we'll dive into the extras that some people tend to forget about. This way, you're able to prepare your entire budget prior to committing to Weebly.
📚 Table of contents:
Weebly pricing plans and features compared
Weebly Pricing Plans
Free
Personal
Professional
Performance
Monthly price with monthly billing
$0
$9
$16
$29
Monthly price with annual billing
$0
$6
$12
$26
Free SSL?

✅

✅

✅

✅

Custom domain?

❌

✅

✅

✅

Unlimited storage?

❌

❌

✅

✅

Advanced stats?

❌

❌

✅

✅

Free domain?

❌

❌

✅

✅

Remove Square Ads?

❌

❌

✅

✅

eCommerce shopping cart w/ unlimited item support?

✅

✅

✅

✅

Tax calculator?

✅

✅

✅

✅

Coupons and gift cards?

✅

✅

✅

t

✅

Shipping calculator?

❌

✅

✅

✅

Digital products?

❌

✅

✅

✅

PayPal support?

❌

❌

❌

✅

Abandoned cart emails?

❌

❌

❌

✅

Product reviews?

❌

❌

❌

✅

Shipping labels?

❌

❌

❌

✅

SEO and lead capture?

✅

✅

✅

✅

Instagram feed?

✅

✅

✅

✅

Pop-up notifications?

❌

✅

✅

✅

Advanced eCommerce insights?

❌

❌

❌

✅

Forum, chat, and email support?

✅

✅

✅

✅

Phone support?

❌

❌

✅

✅

Priority customer support?

❌

❌

❌

✅
To give you a stronger view of what to expect from the pricing plans, here are brief descriptions to guide your decision:
Weebly Free Plan – A free website with SSL security and basic eCommerce elements, like a shopping cart, unlimited products, and coupons. Marketing tools for SEO, lead capture, and an Instagram feed. You can't connect a custom domain nor remove ads. There's also no selling of digital products, no shipping calculator, and no password protection.
Weebly Personal Plan – Starting at $6 per month for everything in the previous plan, the option to link a custom domain, digital product support, a shipping calculator, and pop-up notifications. This plan still lacks the option to remove ads. You also don't get password protection, unlimited storage, or advanced site stats.
Weebly Professional Plan – Starting at $12 per month for everything in the previous plan, plus the removal of ads, password protection, a free domain, and unlimited storage. In addition, you get advanced site stats and access to phone support.
Weebly Performance Plan – Starting at $26 per month for everything in the previous plan, plus PayPal support, product reviews, shipping labels, and abandoned cart tools. You also gain access to advanced eCommerce insights and priority customer support.
Are there any other costs on top of the regular Weebly pricing plans?
Let's start with the initial monthly and yearly Weebly pricing.
All customers can expect to pay anywhere from $0 to $29 per month depending on your plan and if you opt for annual billing. That's $0 to $348 per year.
The Free and Personal plans are decent for personal websites and journals, but any legitimate business requires the Professional plan, seeing as how it gets rid of site ads, gives you unlimited storage, and allows for custom domains.
So, we'd argue that proper businesses should plan for a $144 to $348 per year bill with their Weebly plan.
The good news is that the following features are already included:
A drag-and-drop website builder
One general website theme with customizable branding elements (Weebly doesn't provide a library of themes since its acquisition by Square)
Some apps
A built-in blogging interface
An SSL certificate
An eCommerce site with unlimited products
The option to add third-party embed code
Gift card and coupon support
An automated tax calculator
Inventory management
Marketing tools for SEO, lead capture, and an Instagram feed
Customer support through live chat, email, and a community forum
Having said that, the following sections cover potential extra costs associated with building a website on Weebly:
📛 Domain names
Weebly offers a free domain name with its Professional and Performance plans. But don't let that fool you. Yes, it's a solid promotion, but it's only valid for one year. After that, you must pay for your domain.
You also may want to transfer a domain name from another registrar, which obviously means you paid for it elsewhere.
Regardless, Weebly/Square lets you purchase a custom domain through its website, transfer a domain, or use a Square subdomain.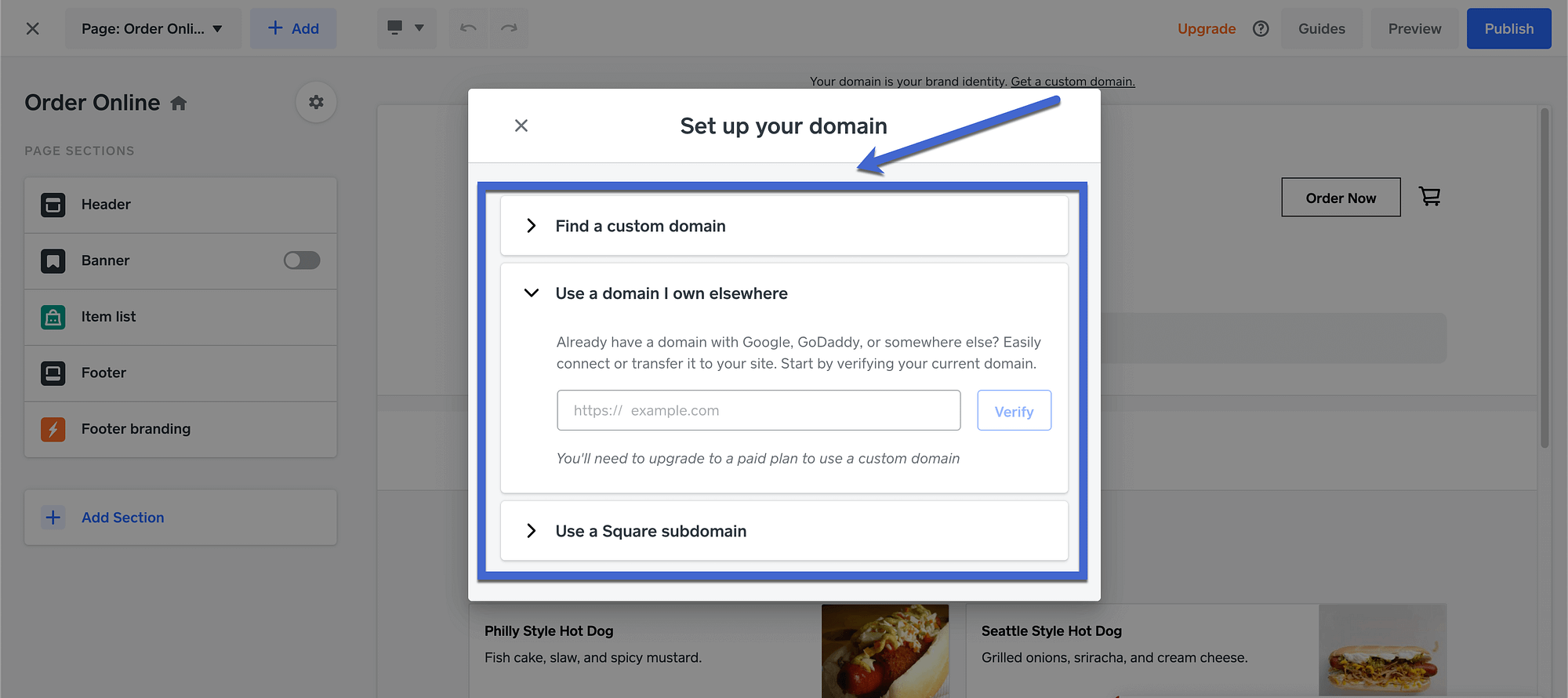 Domain names generally cost from $10 to $30 per year.
You may stumble upon extremely expensive domain names due to their uniqueness or high desirability. We encourage you to skip these since paying hundreds or even thousands of dollars won't make your business successful.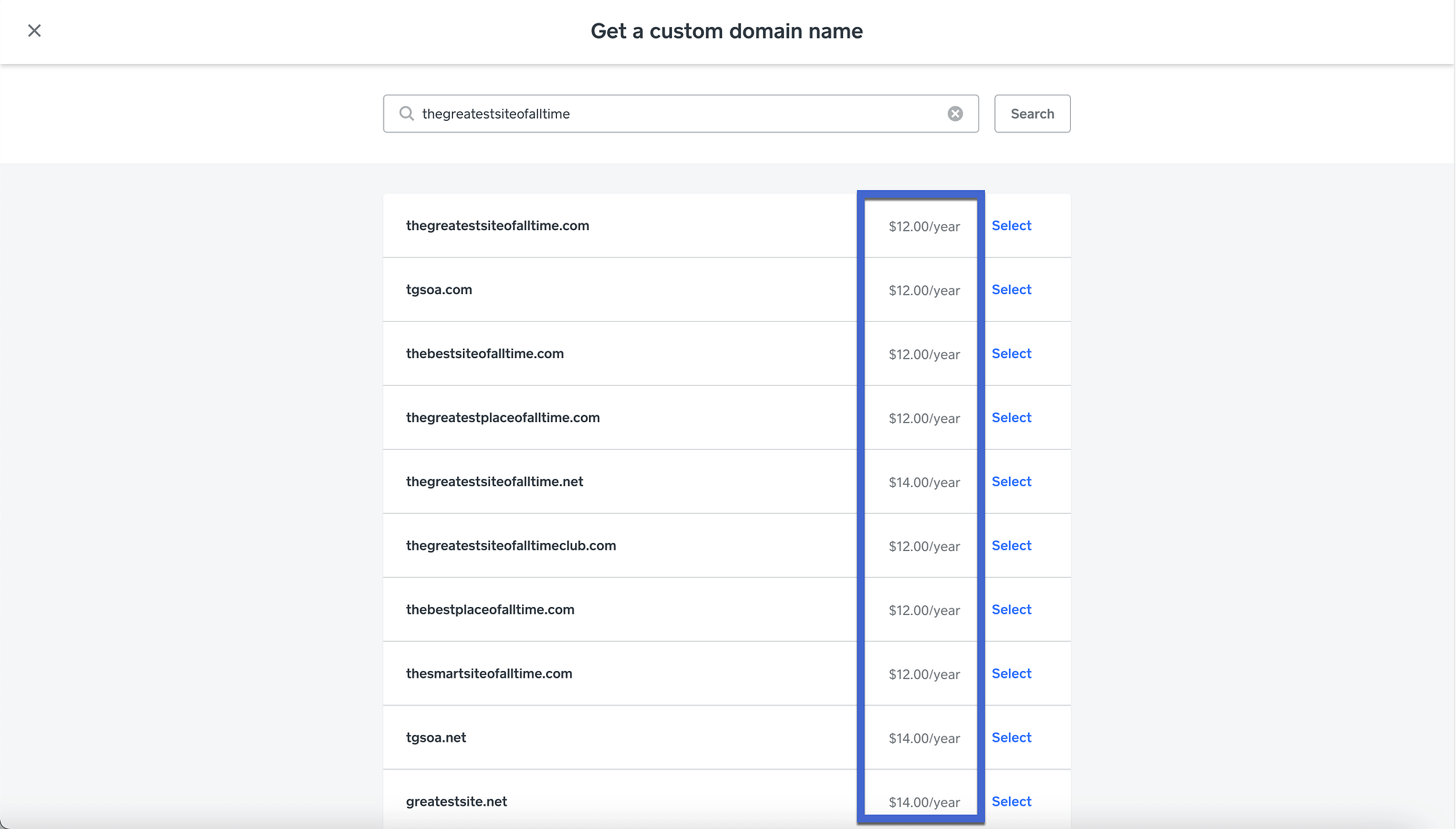 Expected cost for a domain name:
Free for the first year in the Professional and Performance plans. Otherwise, $10 to $30 per year.
You don't get a custom domain name with the Free or Personal plans.
⚙️ Weebly apps
Weebly has a healthy collection of apps for you to scale your business and expand with tools that aren't built into the system.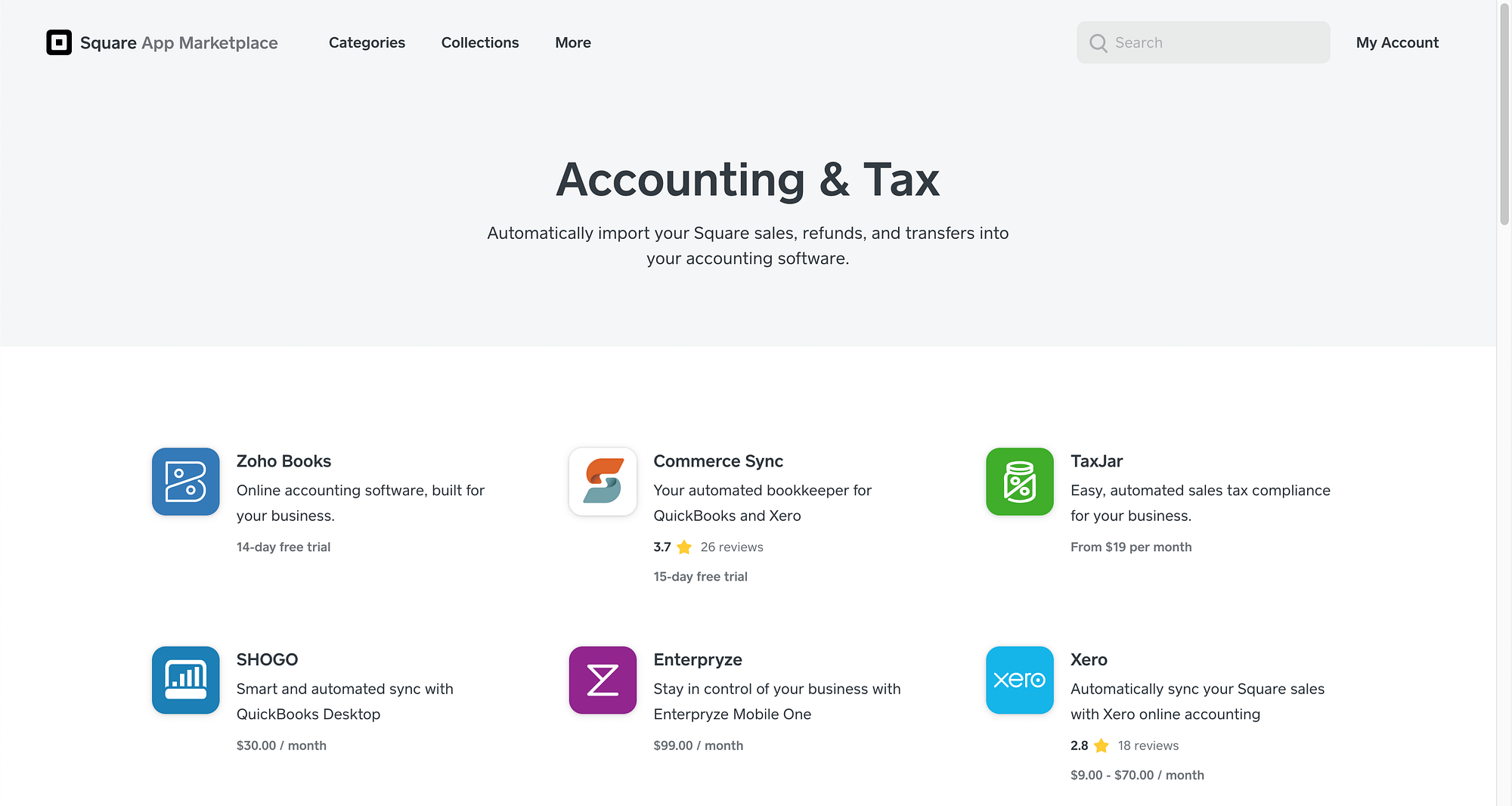 Some app categories include:
Accounting
Delivery
eCommerce
Loyalty and rewards
Marketing
Restaurants
Ticketing and events
Many more
Some apps are completely free. Others offer free plans where they eventually try to get you to upgrade.
Overall, these apps are third-party tools made by companies outside of Weebly and Square. They're simply integrated into the Weebly website builder. Therefore, many have their own pricing plans.
Here are some examples:
The IFTTT app (a tool that integrates all of your software with triggers) doesn't cost anything to install it on Weebly.
Zoho Books (an accounting app) has no free plans at all. It provides a free trial, but it's required to pay at least $15 per month to use the software.
The Mailchimp email marketing app has a free plan for small lists, but the premium pricing goes from $9.99 per month to $299+ per month.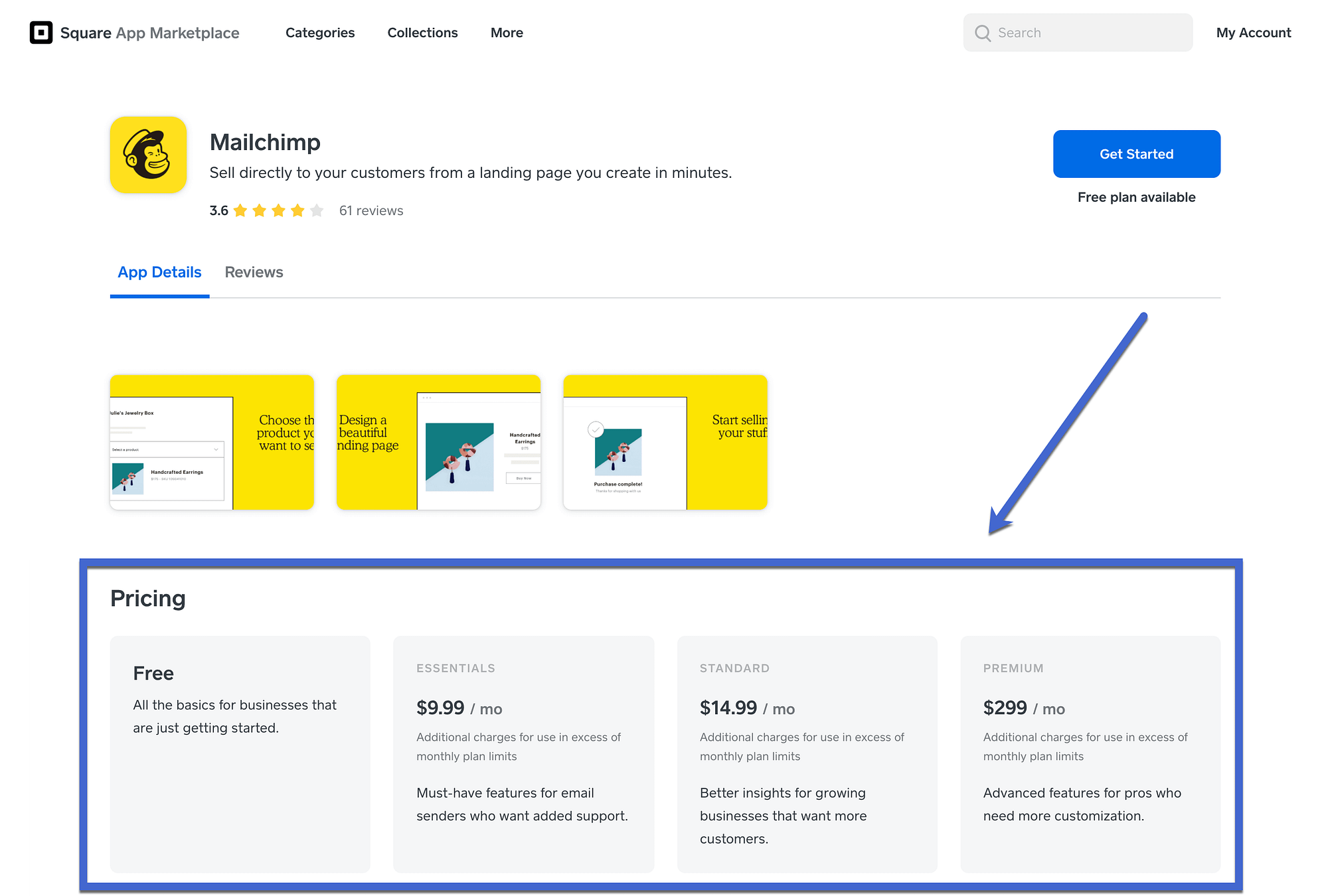 Therefore, it's tough to land on an expected price for Weebly apps. During our research, we noticed many free plans, some lower-priced ones at around $5 per month and prices as high as $500 per month.
Expected cost for Weebly apps:
$0 to $500+ per month.
It's more realistic to budget at least $10 to $20 per month for apps, seeing how most businesses need some sort of extension to run their website.
🧮 Payment processing fees in addition to the Weebly pricing
Weebly is owned by Square, the payment processor. Therefore, all payments go through Square as the primary processor. Some alternative processing tools are included as well, such as PayPal, Apple Pay, and Google Pay. PayPal is considered a separate method of collecting payments and requires the Performance plan. Apple Pay and Google Pay get processed through Square like regular credit cards.
Regardless, all online payments (no matter which website builder you use) have their own credit card processing fees attached to them.
That means you must budget for the percentage taken by the processor on every transaction.
The industry standard is 2.9% + $0.30 per transaction. Weebly sticks to this standard for all payment methods, including PayPal, Apple Pay, and Google Pay.
Expected overall processing fees:
2.9% + $0.30 per transaction.
🚢 Shipping fees
You don't have to worry about shipping fees if you're running a website without any eCommerce functionality.
Online sales, however, where you ship a product to the customer, involve shipping fees. Services like UPS, USPS, and FedEx all want to get paid as well, so you must either absorb the cost of shipping or pass it onto customers.
We can't give an exact number for shipping, but we can tell you that shipping fees vary based on package weight, materials used, speed of shipping, and destination. They'll also factor in the package's size and dimensions.
Each shipping provider offers its own business discounts as well. Furthermore, Weebly and Square partner with UPS for up to 55% off regular rates.
Expected cost for shipping:
You must factor in your own shipping costs based on your shipping partner (UPS, FedEx, or USPS), the weight of products, dimensions, and other things like the shipping destination.
🏗️ Additional site development and design
Many websites and online stores have no reason to expand beyond the basic web design offered by Weebly.
As mentioned earlier, Weebly has discontinued its library of themes and instead provides one basic theme that you can extensively customize with its drag-and-drop builder.
However, that also leaves much to be desired for those who want more extreme customizations.
In that case, you may need to hire a developer or designer.
You could always reach out to a freelance designer online, but pricing for that can range from $50 to $10,000+ depending on the size of the project and who you hire.
An easier way to establish Weebly pricing for external design work is by going through Weebly's partnership with 99Designs.
The marketplace pairs you with Square and Weebly design experts, helping you find people for logo designs, full site construction, and marketing materials. The marketplace states that one-page sites start at $199. Larger sites start at $450. You can also hire people for other Weebly-specific jobs.
Expected cost for other site design work:
Starting at $50 for simple eCommerce updates, $199 for self-serve ordering cards, $199 for a one-page site, $499 for standard websites, and $799 for full, large websites with branding and eCommerce.
📣 Marketing pricing
You have the option to complete your marketing with whatever tools you want. You may even be able to find some free email marketing, receipt, and text messaging apps.
However, Weebly offers a program called Square Marketing where you receive the following tools:
Email marketing
Facebook promotions
Receipts
Text messages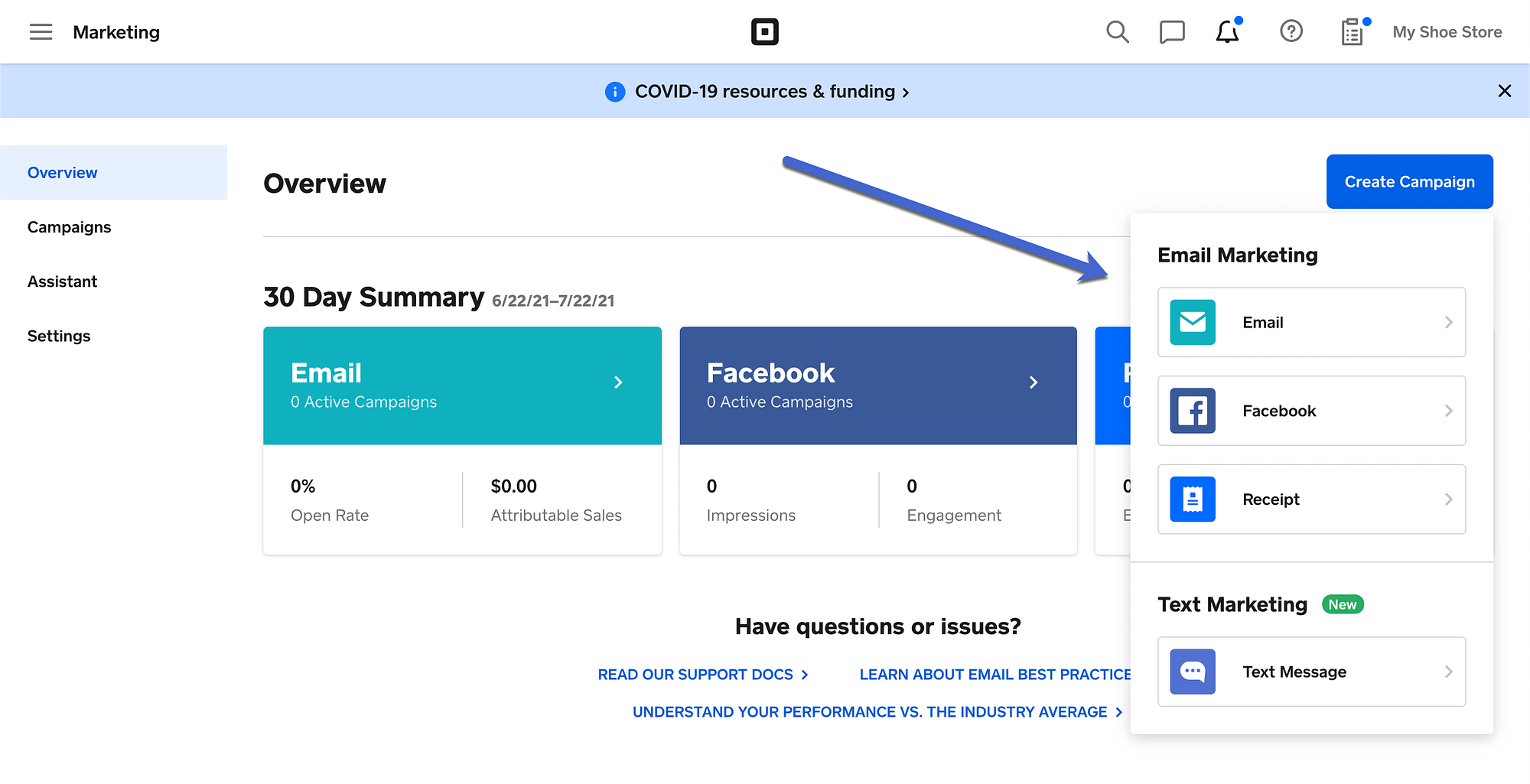 You can pay on a per-message basis or with a subscription, which starts at $15 per month.
Expected cost for marketing:
Pay-as-you-go emails start at $0.10 per email.
Square Marketing pricing looks like this:
Up to 500 subscribers – $15 per month
501 to 1,000 subscribers – $25 per month
1,001 to 2,000 subscribers – $35 per month
Coupons and Facebook messages are priced in with the Square Marketing plan.
Text message pricing is different. It starts at $10 per month for up to 250 texts and goes to $2,500 per month for up to 500k texts, with many plans in between.
Which Weebly pricing plan makes the most sense for your business?
Weebly is a regular in our roundups of the best website builders for good reason. But, if you're still having trouble deciding on a Weebly pricing plan, look at our final recommendations below:
Free plan – Best for personal websites where you don't want to spend money but don't mind seeing Weebly and Square ads on the site.
Personal plan – Could be useful for a somewhat professional site, like a resume or portfolio. You can connect a custom domain but it still has those unwanted ads.
Professional plan – Ideal for a professional website without ads. We like it if you want added features like advanced site stats, unlimited storage, and pop-up notifications.
Performance plan – Really, most businesses should go with this plan. It's inexpensive and gets you everything from product reviews to abandoned cart emails, and advanced eCommerce insights to shipping labels. The only reason you might skip this plan is if you have no intention of selling online.
Let us know in the comments if you have any further questions about Weebly pricing!
…
Don't forget to join our crash course on speeding up your WordPress site. With some simple fixes, you can reduce your loading time by even 50-80%:
Layout and presentation by Chris Fitzgerald and Karol K.