Known for its simplicity and a few handy business tools, Weebly has been a popular choice for those looking to create a website. It's affordable, easy to use, and accessible to users of all ages. So why would anyone need to look for Weebly alternatives?
Well, although Weebly is a highly recommended website builder, it is not the best option for everyone. Weebly may no longer be enough for you and your growing website now that you realize that ease of use comes at the cost of fewer customization options. Maybe you want access to more engaging apps or higher-quality templates. The good news is that you can find some great Weebly alternatives. This article will discuss five of the best. Let's dive right in.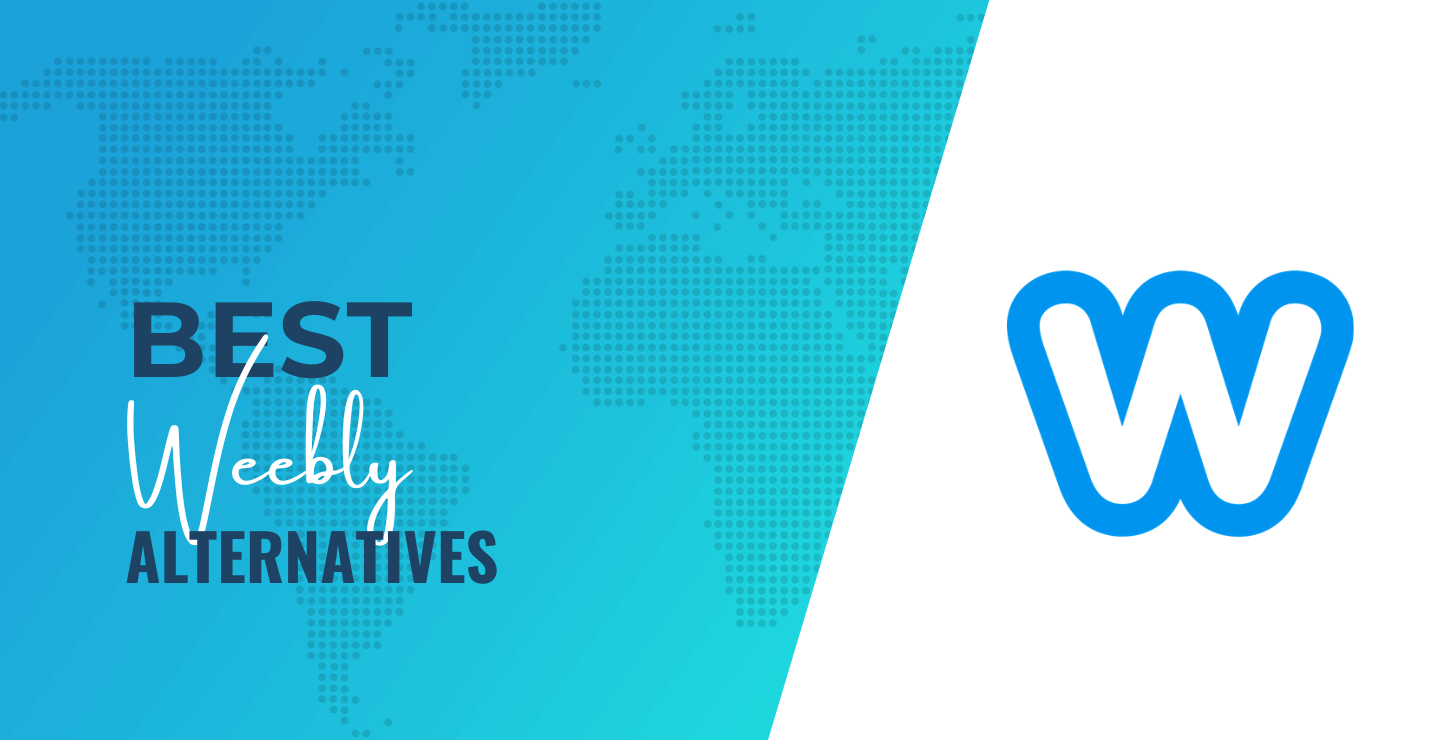 📚 Table of contents:
Wix is perhaps Weebly's biggest rival, and it's a considerably excellent web-building tool. It's the most versatile of the Weebly alternatives, which is why it draws the most users. Wix is perfect for people who don't have any design experience. Due to its user-friendly design, it is also suitable for those who have never worked in web development before.
When compared to other website builders, Wix's extensive template library is superior in terms of quantity, diversity, and quality. You'll be able to make a truly one-of-a-kind website thanks to Wix's extensive customization options. Despite Weebly's superior out-of-the-box capabilities, Wix's App Market gives it an edge.
Prices 💸
Free: $0 a month
Connect Domain: $5 per month*
Combo: $16.00 per month
Unlimited: $27.00 per month
Pro: $27 per month*
Business Basic: $32.00 per month
VIP: $45 per month
*These two Wix plans are offered regionally, so depending on where you are in the world, you may or may not see them as an option. Wix's overall pricing structure varies by region as well. The figures listed above are based on the U.S. but might be different if you view the Wix website in another country (or use a VPN).
Pros 👍
Wix has an extensive collection of templates available, with over 500 to choose from across a variety of categories. You can access all templates for free with any pricing plan.
You can choose from a variety of paid and free apps to customize your website features. Vital tools like a Blog and Form Builder are provided for free.
With an all-inclusive, drag-and-drop website editor, you can give your site any look you like.
Wix is constantly improving and updating its service by adding new features, apps, and templates.
There are plenty of options for creating and personalizing your website, including using the Wix Editor, writing your own code, or relying on their ADI (Artificial Design Intelligence) tool.
Cons 👎
Wix's broad range of features and options for personalization can be intimidating for new users.
Some features vary per template, so you may need to add or buy them from the App Market before you can start using them.
Most of its plans have low caps on things like data transfer and storage space.
If you're looking for an elegant platform, look no further than Squarespace. It's developed specifically for the creative sectors, with templates so beautiful that anyone would assume you're a web designer. If visuals are crucial to you, then Squarespace is among the best Weebly alternatives. Design-wise, Weebly has slipped behind in past years. See our in-depth Squarespace vs Weebly comparison to help you decide.
Squarespace is an all-inclusive, user-friendly, and straightforward platform for creating websites. Additionally, it has excellent support service and is regularly updated.
Prices 💸
Personal: $16.00 per month
Business: $23.00 per month
Online Store (Basic): $27 per month
Online Store (Advanced): $49 per month
Pros 👍
Squarespace lets you sell memberships, digital goods, physical products, and even schedule in-person meetings.
Use adaptable email marketing campaigns, social media features that work across platforms, search engine optimization (SEO) tools, and real-time analytics.
Squarespace allows you to choose from a wide variety of premade designs, features an "undo" button for easy revisions, and even has professional designers available for hire.
Cons 👎
As monthly subscriptions go, Squarespace starts at $16.00, which is a substantial amount.
Other useful features, such as marketing tools like email marketing, must be bought separately.
Next on our list of Weebly alternatives, Zyro is an exciting new web development platform. Compared to other platforms like Weebly, Zyro is more affordable but also more basic. However, it also has plenty of room to grow in the years to come. It's still on the rise and worth keeping an eye on.
While it seems like several elements are still in need of improvement, the logo creator and AI writer built right in are fantastic. It also doesn't cost too much money. More often than not, it will be more cost-effective than even Weebly. However, Zyro lacks Weebly's app library and offers fewer marketing tools.
Prices 💸
Website: $2.59 per month
Business: $3.59 per month
Pros 👍
Even first-time users will have no trouble navigating the Zyro Editor Dashboard.
Zyro is a very affordable platform option.
Access AI-powered tools for tasks such as logo creation, content writing, and page import.
The Zyro Editor Dashboard has a large collection of free-to-use images.
Cons 👎
In comparison to other Weebly alternatives, Zyro's template customization options are limited.
You can create a website at no cost, but you'll need to upgrade to a premium plan to make it accessible to everyone.
Some of the AI-generated content seems simple.
Weebly might not be the best tool to use if you want to create an ecommerce store. It's a website builder with ecommerce capabilities, but it's not designed specifically for that purpose. This is where some other, more optimized Weebly alternatives come into play. Shopify is the top tier of those.
Services like Shopify are designed specifically for ecommerce and are the best option for those who want to set up an online store but have no interest in running any other kind of website. It comes with a variety of tools and apps that can help boost sales and revenue. This includes everything from search engine optimization (SEO) advice and email marketing to mobile-friendly themes and seamless integration across channels.
Price
Basic: $25.00 per month
Shopify: $71 per month
Advanced: $266 per month
Pros 👍
When compared to other ecommerce systems, Shopify's ability to integrate with third-party services is unrivaled.
The platform allows you to link your physical business with your online shop.
With more than a hundred professionally designed ecommerce store templates, Shopify provides some of the best theme collections available.
Shopify's exclusive coding language, Liquid, allows both extensive customization of preexisting templates and the creation of new ones from the ground up.
Shopify can be scaled to fit the needs of large businesses, and it can assist you in developing a customized solution.
Cons 👎
Shopify charges a fee ranging from 0.5%, 1%, and 2% of each sale, regardless of the plan you choose.
Apart from the high cost of their plans, Shopify's paid templates and apps are also relatively expensive when compared to those offered by other builders.
When compared to other options, Shopify's lackluster blogging and SEO features are significant drawbacks.
Websites built using WordPress are adaptable and scalable, meaning they can grow with your company as it expands. The platform is excellent for making attractive blogs, which can support a startup in gaining exposure and customers. Unfortunately, it's not the easiest thing to use, especially if you're just starting off.
The good news is that when you sign up for hosting with Bluehost, you'll have access to their WordPress site builder, which allows you to quickly drag and drop objects to customize your website. Ideal for a newcomer just getting their feet wet, this makes it easy to build a site while also including clever AI to assist you in quickly creating one that fits your industry.
Prices 💸
Hosting: $2.75 starting price per month
Template: From $0 to $50-$70
Plugins: From $0 to $200
Programmer: Minimum of $30 an hour if you need any custom work done on your site
Pros 👍
The WordPress software itself is available for no cost.
Considering WordPress is an open-source content management system, the possibilities for customization are virtually endless.
WordPress is capable of handling any type of website – not just blogs.
The WordPress repository is a vast collection of plugins that can be used to enhance your site in countless ways.
Cons 👎
For new users, learning how to navigate WordPress can be a significant challenge.
There is a chance that you will have issues while attempting to add your own plugins and themes to your website.
Final thoughts on Weebly alternatives 🧐
Even if things haven't panned out with Weebly, you shouldn't give up on having your own website. While Weebly is good in its own way, there are many other website builders out there that are just as great, if not better.
👉 In this post, we've covered the following Weebly alternatives:
Each of these Weebly alternatives has its pros and cons, and each is going to be suitable to a different kind of user. However, if you're looking for the most versatile alternative to Weebly – and the best choice overall – then it's going to be the pairing of WordPress and Bluehost. WordPress – the software – can run any type of site, and Bluehost – the web host – is more than capable of handling that load. At the same time, it's one of the cheapest solutions on this list.
Let us know if you have any questions on how to choose the ideal Weebly alternative to match your specific needs.
…
Don't forget to join our crash course on speeding up your WordPress site. Learn more below: