Webflow vs Squarespace are two of the top-rated web builders used all around the world to create content sites, ecommerce stores, and custom websites. The platforms are also design-oriented, which means they come with their own impressive set of templates and customization options.
In this article, we will compare Webflow vs Squarespace and determine which one is the best website builder for each use case.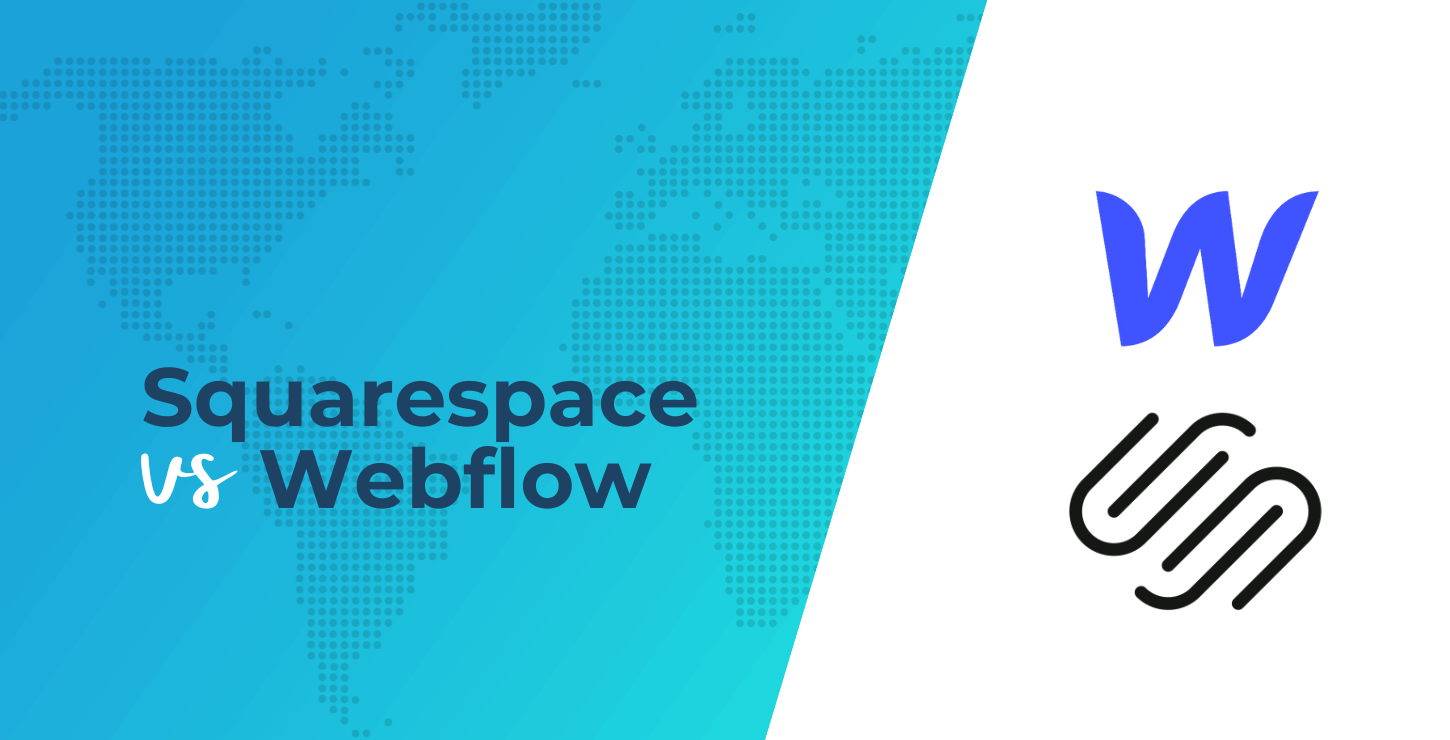 To do this, we will look at 🔎 their different features, see how easy they are to use, and check the pricing options. Let's get right to it, shall we?
Webflow vs Squarespace: who should use each?
The first thing we should consider when talking about Webflow vs Squarespace is understanding what these tools are and what you can do with them. Although both Squarespace and Webflow are website builders, their users are slightly different.
Webflow is a publishing and hosting platform and a 100% visual canvas tool, meaning you won't have to worry about doing any coding. Webflow is used by millions of designers and teams to create sites in a collaborative manner. You can build your site plans, share them with others, and hit publish to get your site live. In addition, Webflow websites (created using the Webflow editor) are easy to scale.
So, who is this platform's primary audience? Webflow is mostly used by experienced designers who want to create larger websites, usually involving many team members. 🧙
Squarespace is a site builder that allows people to create websites using beautifully designed templates. The platform also offers several powerful ecommerce features and marketing tools to help your site stand out and grow. The process is relatively straightforward: you pick a template (there are several covering all sorts of purposes) and customize it to fit your needs and brand style.
Squarespace is typically used by beginners and small site owners who want complete control over their project's appearance without worrying about complex functionality. 🌱
Webflow vs Squarespace: features, templates, ease of use, pricing
Before we look into each of these platforms' advanced features, we should clarify one thing:
Webflow is a bit harder to use, especially for new users or those unfamiliar with web design, but it offers more flexibility.
Squarespace, on the other hand, is friendlier – but you might feel a little limited in what you can do using their pre-built functionalities.
So, let's take a look at what these two impressive tools can do so you can see which one fits your needs best.
👨‍💻 Ease of use (and getting started)
When we compare Webflow vs Squarespace on their signup processes, the verdict is that they both make it pretty easy to register with them. In fact, Webflow will ask you for your level of expertise even before taking you to the website builder! Squarespace, on the other hand, will take you directly to their templates (we'll talk more about Squarespace templates in the next section).
When you start building a site using Squarespace, you will be offered a handy walkthrough. Webflow uses pop-up tips instead, but unlike the first's, these cannot be skipped.
Webflow uses a drag-and-drop editor, which can feel a little confusing at first. You'll typically have to edit spaces and dimensions to get things to look like you want, which is the reason why many owners hire a web designer to use the tool. Squarespace's template editor is, in our opinion, more user-friendly and cleaner. However, because this platform will tend to try to "do things for you," you won't be able to drag things exactly where you want them but rather where the builder thinks will make more sense.
🏎️ In short: Webflow is more flexible but takes longer to master. Squarespace is easier to use, provided you don't want to do anything too complex.
🎨 Templates and customization
There is such a thing as Webflow templates, but only 50 of them (out of 500) are free and they do not look particularly special. As we mentioned above, Webflow's main capabilities have to do more with customization, so it's the web designers who are expected to do the heavy lifting in terms of site appeal.
Squarespace's templates, on the other hand, are usually beautiful. The tradeoff, of course, is that you can't change them much. Still, among its 100+ options, you'll find some highly customized blog templates, templates that support powerful ecommerce analytics, portfolio website templates, and dozens of page layouts that will typically fulfill your site's needs. And the best part is that you can switch between them in seconds.
🏎️ In short: Webflow doesn't offer many templates, but you can customize any page entirely to your liking with relative ease. Squarespace does all the design work for you, so you just have to add your personal touch here and there.
⚙️ Advanced features
If you're planning on running an online store, you'll be happy to hear both Webflow and Squarespace offer ecommerce plans. You can see the pricing differences below, but here we should mention that Webflow will charge a transaction fee of 2% and limit the number of products you can sell if you're on the most economical plan. On the other hand, Squarespace has no fees and no product limits from the get-go. However, you can't customize the latter's checkout page, which you can do if you use Webflow.
In terms of marketing and SEO tools, we'll also have to look at the different plans to understand what's offered. If you go for the cheap option, both platforms will allow you to add image alts, optimize your designs for mobile, generate sitemaps automatically, and link to your social media accounts. With the pricier options, Webflow will also allow you to integrate a CMS, give you access to analytics, and support syncing with Google Shopping. Squarespace will let you use analytics but will only let you create custom animations and pop-ups for campaigns and banners. So, the tools are different, but the level of marketing abilities will be somewhat similar.
Lastly, if we look at integrations, there's a clear winner. Webflow is designed to be fully customizable, and this includes an extensive integration library with all sorts of available functionality. Squarespace, on the other hand, offers ready-made apps called Squarespace Extensions, which have 24 apps to add some new features to your site.
🏎️ In short: Webflow offers more functionality, provided you're going to do most of the work yourself. Squarespace supports some nice features, too, but you'll be limited to "what's common online."
💵 Pricing
Webflow has a free plan available, and Squarespace offers a free trial that lasts 14 days. The price range for the alternative options, though, is slightly different.
A Webflow plan will cost you between $14.00 and $212 per month, depending mostly on the level of collaboration you want to have for your site design and whether you wish to support CMS items. For example, the CMS plan includes 2,000 elements and 1,000 monthly form subscriptions and three content editors. Below that is the Basic plan ($14.00 per month) for just one user, and above is the Business plan ($39 per month) with ten people allowed in and 400 GB bandwidth.
Squarespace has four plans. The personal plan ($16.00 per month) includes access to all templates and a free custom domain. The more popular Business plan ($23.00 per month) adds advanced analytics and fully integrated ecommerce features. Then there's the Commerce Basic plan ($27 per month) which changes the transaction fee from 3% to 0%, and the Commerce Advanced plan, which adds advanced shipping and discounting.
🏎️ In short: Webflow is best for designers and business owners that plan on having a lot of growth. Squarespace is for smaller players who don't have intensive requirements and want to pay less (the bigger plans just add ecommerce functionality, but you get to use the templates even if you're on their smallest one).
Webflow vs Squarespace: the verdict 🏁
We've gone through all the features, customization options, and pricing plans for both Webflow and Squarespace. So, which one should you choose? Well, the answer is not as straightforward as you might like because it truly depends on the type of website you want to create and your level of confidence in customizing it. So, here are the pros and cons in a nutshell:
👍 Webflow pros: You can personalize all templates to the smallest detail; there are tons of integrations available and a broad range of pricing options.
👎 Webflow cons: To get the best out of this platform, you will need to be familiar with coding. You will also have to pay for and connect your own custom domain.
👍 Squarespace pros: It is extremely easy to use (no coding required at all), it offers superb value for money, and it includes excellent templates with truly beautiful designs.
👎 Squarespace cons: Because the platform is template-based and so easy, you won't have as much flexibility to change things. This can, unfortunately, potentially translate into less room to grow.
So, which wins? 🏆 If you are a beginner and only need a little customization, go for Squarespace. If you want more control over your site and you are either skilled or eager to learn, consider creating a Webflow site!
What do you think of Webflow vs Squarespace? Let us know in the comments what your favorite is and why.
…
Don't forget to join our crash course on speeding up your WordPress site. Learn more below: