Trends pop up in basically every industry, and web design is no exception. From time to time, it feels like every new website is copying the same design features, which isn't necessarily a bad thing. Often, these web design trends become popular because they enhance usability and make your website stand out from outdated aesthetic looks.
From voice-activated interfaces to "scrollytelling," web design trends in 2023 are all about enhanced usability and incorporating new ways for users to experience websites. By studying these trends, you'll be able to come up with inspiration for your next design project.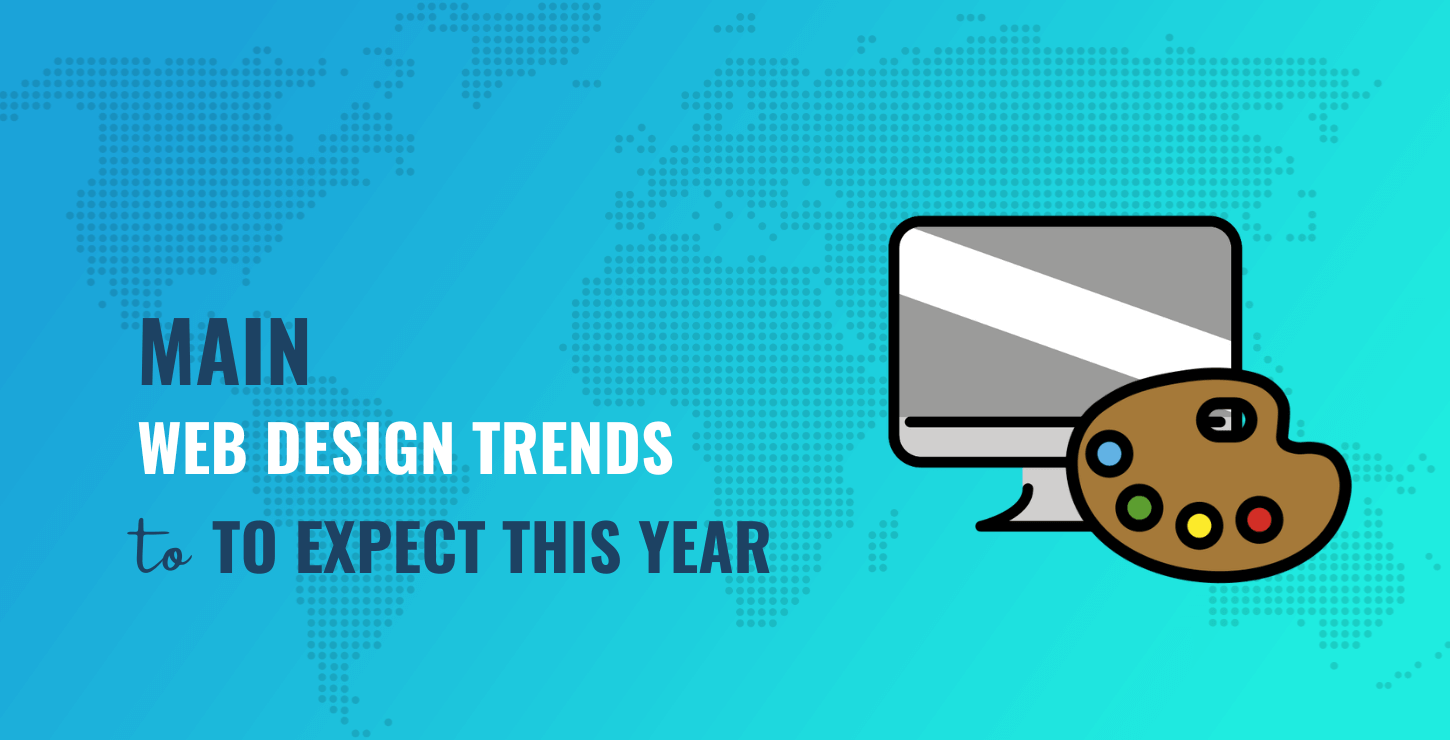 In this article, we'll discuss five web design trends and what makes them so popular. Let's get to it!
📚 Table of contents:
1. Voice-activated interfaces
The past decade has seen a drastic shift in how people browse the web. Nowadays, most people interact with websites primarily through their phones and other small devices. On top of that, around 40 percent of US consumers interact with the web using voice commands [1].
A lot of those interactions are voice searches. In fact, if you keep up with Search Engine Optimization (SEO) news, you'll know that it's considered best practice to try and incorporate the kind of language that people use with voice searches. That way, your site is more likely to appear in the results for that massive segment of users.
Some websites are starting to take things a step further when it comes to voice by incorporating it into their navigation and conversion processes. For example, services such as Speechly enable you to incorporate voice functionality into your site, such as allowing for form filling and adding items to an ecommerce cart using verbal commands:
This type of functionality has the potential to unlock a new level of usability for websites. As voice-activated interfaces become a mainstream tool in website development, users with problems navigating the web using touchscreens and mouses or keyboards are sure to start demanding this kind of functionality from their favorite websites.
Moreover, voice-activated interfaces have the potential to let users skip complex navigation sequences and look for the right elements. For instance, instead of looking for a shopping cart icon, you could say, "Take me to the checkout." In theory, this could help reduce bounce rates as users will be able to choose between multiple ways to navigate through sites. Either way, when it comes to web design trends, voice activation is going to continue being a force in the industry for the foreseeable future.
2. Horizontal scrolling
Vertical scrolling is such a core component of the web that few people think about alternatives. The vast majority of websites are designed to be viewed by scrolling downward and upward, so why would you consider a horizontal alternative?
The thing is, horizontal scrolling can work well precisely because most users don't expect it. Moreover, moving from side to side to navigate a page doesn't really affect its functionality. The only thing that changes is how you go about designing it.
For the longest time, horizontal scrolling has been relegated to niche-art websites and agency portfolios, which use it to stand out visually. Now, websites are starting to incorporate horizontal scrolling into their designs in interesting ways. For example, you can make sections of your website design, such as galleries, scroll horizontally in full screen to be more immersive.
Implementing this functionality in galleries is simple thanks to WordPress plugins, many of which you can use to create stunning horizontal-scrolling elements. If you want to incorporate horizontal scrolling into your next web design, we recommend that you don't overdo it when it comes to microinteractions. That's a common mistake that a lot of horizontal scrolling sites make, and it can severely hinder your website's performance and usability.
3. Advanced accessibility
Accessibility has always been a key component of great web design. However, this aspect of design gains more importance each year. In 2023, we're bound to see more designers emphasize digital accessibility in their projects.
There are a lot of ways to use design to make a website more accessible. One of the latest trends in web design accessibility is a focus on one-handed scrolling. We also call this "thumb-design" since it revolves around navigating sites with just your thumb.
Being able to reach every element on the page using just one finger is important because the vast majority of users rely on their thumbs for navigation. They rely on other fingers for more advanced interactions, such as filling out forms.
Another growing trend in accessibility in web design involves adding closed captions to your website's media elements. This is relatively easy to implement thanks to advancements in automatic captioning by platforms such as YouTube:
Finally, if you want to make your website as accessible as possible in 2023, we recommend that you rethink its color palette. Some colors are particularly hard for users with visual impairments to distinguish, including navy blue, brown, black, pale green, and other similar tones.
Avoiding these colors may be impractical, but what you should do is not use them for key elements such as navigation menus. Remember that in terms of web design trends, accessibility and usability trump style, and that applies to colors as well.
4. Scrollytelling
Scrolling is one of the main ways in which we interact with websites. You scroll down or sideways on a website, find new elements, and interact with the ones that you want. It's an elegant approach that's worked for decades.
"Scrollytelling" seeks to use the fact that we're all accustomed to scrolling to help tell stories (as the name implies). You've probably seen this design technique in long-form news stories, where the design of the pages shifts as you scroll. It's also a great way to present scientific data and statistics:
Scrollytelling is a powerful technique because it forces you to pay attention to pages as you navigate them. This is particularly relevant because most users on the web only skim content, even if it's highly engaging.
Moreover, scrollytelling adds a layer of interaction to the simple act of scrolling through a website. Instead of being passive viewers, users get to change the design of the page merely by navigating.
Modern scrollytelling involves parallax and, usually, HTML5 and JavaScript. That's because HTML5 enables you to animate parts of your website in ways that used to be impossible. When you combine it with JavaScript, you can design incredibly immersive stories that function through scrolling.
Unlike most of the other trends we're discussing, scrollytelling typically requires a background in web development. You can focus on the design aspect of the story, but you'll need a developer to help you implement it on a website.
5. Parallax scrolling
Parallax is not a new element in web design. In fact, this technique has been around for a very long time. In the past, we sometimes recommended avoiding parallax because it can have a performance impact on your website, even if it does look amazing.
Nowadays, mobile devices and computers can handle parallax scrolling much more efficiently. That means you can incorporate this technique into your designs without it impacting the user experience negatively (unless you parallax everything).
Parallax scrolling is usually the main component in scrollytelling. This technique is what enables the elements on the page to shift as users navigate it. However, you don't necessarily need to stick to using parallax as a storytelling tool. You can also choose to incorporate it simply because it looks stunning.
If you use WordPress, it's relatively easy to incorporate parallax scrolling into your website. A lot of WordPress themes come with elements designed to use parallax effects, such as Neve:
Alternatively, you can decide to implement parallax scrolling using plugins. Tools such as Advanced WordPress Backgrounds enable you to add parallax effects to specific WordPress blocks. That means you can limit it to the sections of the website that you want.
Having control over what elements to apply parallax to is essential, as you don't want to overuse it on every page. Parallax scrolling can be perfect for parts of the design that need to stand out visually. However, if you overuse the technique, it can have the opposite effect, making your website harder to navigate.
Conclusion 🧐
Keeping an eye out for web design trends in 2023 will help you keep your projects looking sharp. There's no shame in following trends as long as they're the good ones, and they make your websites more engaging, as well as easier to navigate.
When it comes to 🎨 web design, usability should always be at the forefront of any changes you make. That's why so many of the most popular web design trends in 2023 focus on these elements, including:
Voice-activated interfaces
Horizontal scrolling
Advanced accessibility
Scrollytelling
Parallax scrolling
Do you have any questions about web design trends in 2023? Let's talk about them in the comments section below!
…
Don't forget to join our crash course on speeding up your WordPress site. Learn more below: