Using a video on website homepage designs has become the norm for most brands in 2023 and is likely to continue into the future.
Plain-text homepages aren't as engaging as those with colorful visuals and crystal-clear HD-quality sounds. Static homepages have given way to motion-filled and entertaining videos. Brands have been doing their best to hook first-time visitors to their sites by making a great initial impression. Video has proven to be a useful marketing tool for doing that.
Eager to know how best to use a video on your website homepage to boost engagement and conversions? Here are nine tips and best practices for killing it with homepage videos.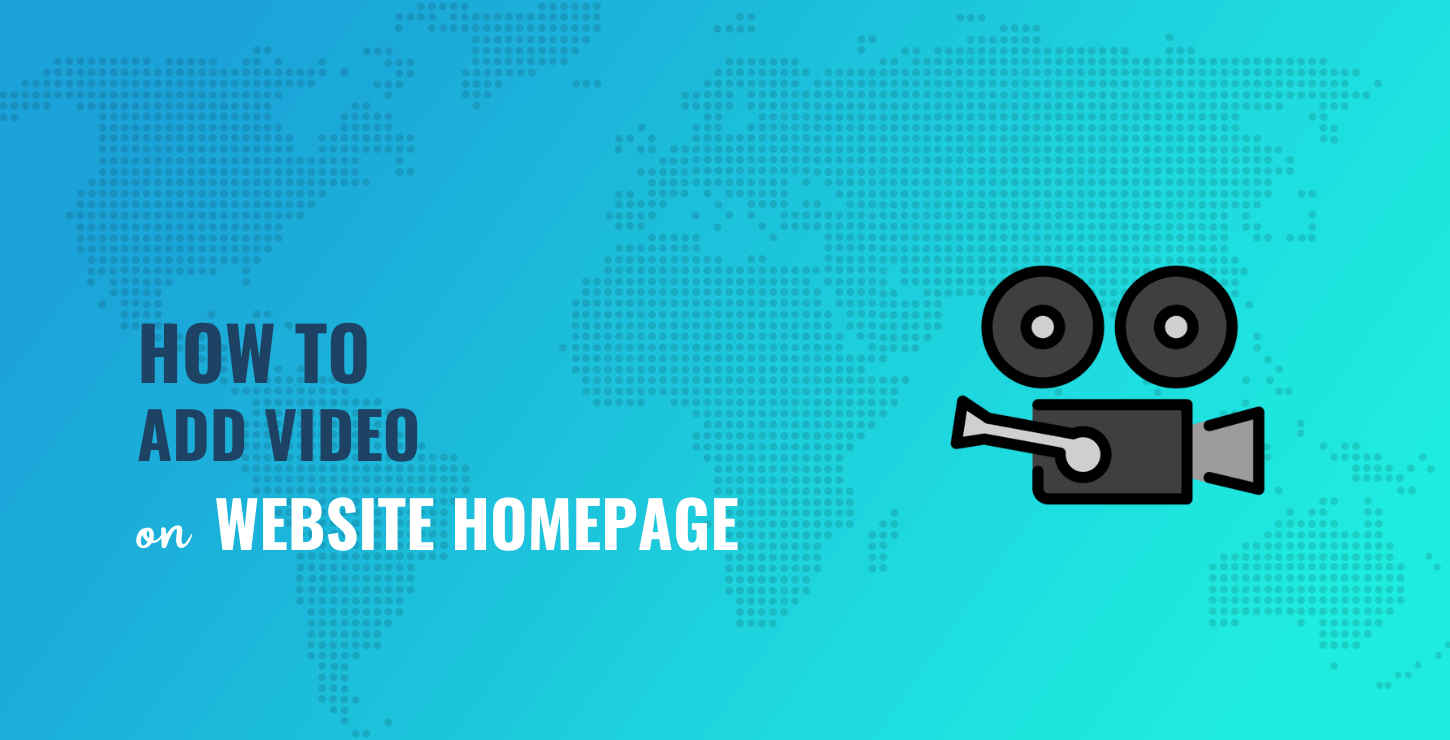 📚 Table of contents:
1. Pick the right video hosting platform
First, you must find a video hosting platform for you to show your homepage video.
An online video hosting platform is a third-party solution where you can upload, store, manage, and distribute your video files. You can distribute your videos to many places online, such as your website and social media channels. Importantly, hosting your video elsewhere keeps your website pages lightweight, so they load faster. Hosting bulky video files on your site makes your pages sluggish.
For the best results, look for a video hosting and streaming service with the following:
🔒️ Data security: Choose a service provider that keeps your content secure and takes privacy seriously.
📹 Topnotch viewing experience: Go for a platform that gives users a sleek, delightful viewing experience.
📀 Ample storage: Lean towards a tool with lots of storage, so you don't run out of space quickly.
📊 Analytics capabilities: Pick a service provider with excellent analytics so you can optimize your videos for the best results.
⚙️ Customization options: The best platforms allow you to embed videos easily on your website and customize your HTML video player.
Because of these and other benefits, the norm today is hosting your video on a third party platform.
Now that you've sorted the video hosting bit, let's dig ⛏️ into the rest of these video on website homepage tips and best practices.
2. Put your video front and center
Your homepage video is such a powerful weapon.
It can create a great first impression of your brand. It directs visitors to important pages on your website, such as sales or about us pages. Above all, it keeps a visitor on your website. You can't convert a visitor into a lead or a customer if they bounce off your homepage because it didn't draw them in.
But you will miss all these and other benefits if you hide your homepage video below the fold.
Make sure your video takes center stage. Shine a spotlight on it, so it can't be accidentally ignored. It must be the first thing visitors notice when they land on your homepage.
To make your video on website homepage the center of attraction:
Don't hide it below the fold so people don't have to scroll to see it.
Get rid of attention-grabbing elements around the video (e.g., sliders).
Make the video play button prominent and eye-catching to entice visitors to click.
Here is an excellent example of a homepage video from InVideo:
It's effective because it's prominent. It appears just under the website title. Plus, it's a static video that shows the product in use.
3. Keep your video short and sweet
It's easy to get carried away when creating a homepage video.
Please resist the temptation to go on and on with a lengthy explanation of your brand, its mission, and its products.
Here's why:
Research by HubSpot shows most people, 36% to be specific, prefer watching marketing videos that are one to three minutes long [1].
That's understandable when you think about it.
Your website visitors aren't on a site to watch a one and a half hour long movie for entertainment. They are there for business. So, three minutes or so should be enough for you to share the core message of your brand. Besides, this is a welcome video on a homepage, not an intricate product walkthrough.
To keep your videos short:
Have a specific goal for your homepage video.
Don't get into too much detail – a quick overview is enough.
Strip your message down to its core and remove all frills.
Sexena White, a securities litigation firm, uses video to good effect:
It's a short 30-second hero video that reveals all kinds of clients they deal with: black, white, Hispanic, young, old, firefighters, etc. It captures the company's essence: "One Firm Fits All."
4. Introduce your brand memorably to potential customers
Using a video on website homepage designs is the closest you can get to face-to-face communication.
You get to talk straight to your site visitors as if you were in a real-life setting. For most people, listening is more immediate than reading, so you can connect faster with visitors. This immediacy of the spoken word is incredibly useful when doing introductions.
When prospects land on your website, their three biggest questions are:
Who are you?
Share your company name and your position at the company.
What do you do?
Tell visitors the core of your business activities.
Who do you do it for?
Describe who your ideal customer is. Better still, reveal their biggest problem that your product solves.
A great example is the Encircle homepage video, which answers all the essential questions.
From the video, website visitors get to know:
Who Encircle is – It's a field restoration software.
What Encircle does – It makes the field documentation process faster and paperless.
Who Encircle targets – It's for field technicians.
5. Talk about your product's uniqueness
There are countless products similar to yours on the market.
Your homepage video is superb for teasing potential customers by telling them what makes your product special. It allows you to use powerful persuasive weapons like your voice and gestures. Besides, with video, you can pack a lot of product info into a short, two-minute reel.
Is it faster, safer, or a premium service?
Whatever the case, highlight it in your video as Liberty Safe does.
Their homepage video underlines that the company has the most advanced, high-tech manufacturing facility. Plus, it pioneered revolutionary technology in the industry. The only quibble is that they buried this brilliant video at the bottom of the page.
6. Showcase your signature product
Video gives you the opportunity to shine the spotlight on your signature product.
Your signature product is your proven best seller that generates sales, month after month, year after year. Since that's the case, it makes sense to advertise it to new site visitors on your homepage. This works well for simple products or services that don't need intricate explanations to convince prospects to buy.
MUDWTR, an alternative coffee brand, uses a homepage video to show its product in use.
Plus, the copy and testimonial around the video support it splendidly.
To maximize conversions as you market your signature product via homepage video:
Focus on its best features and benefits that have proven to be a hit with customers.
Use social proof to impress visitors and tease them to join the bandwagon.
Add a call to action that takes people straight to your sales or checkout page.
7. Lead with a powerful customer testimonial
Testimonial videos are marketing gold.
Up to 77% of people say watching a video testimonial has motivated them to buy a product [2]. Video testimonials resonate with potential customers. They see their struggles, motivations, dreams, and, above all, the future transformation they can get after buying your product.
Codecademy entices visitors with a series of video testimonials on their homepage: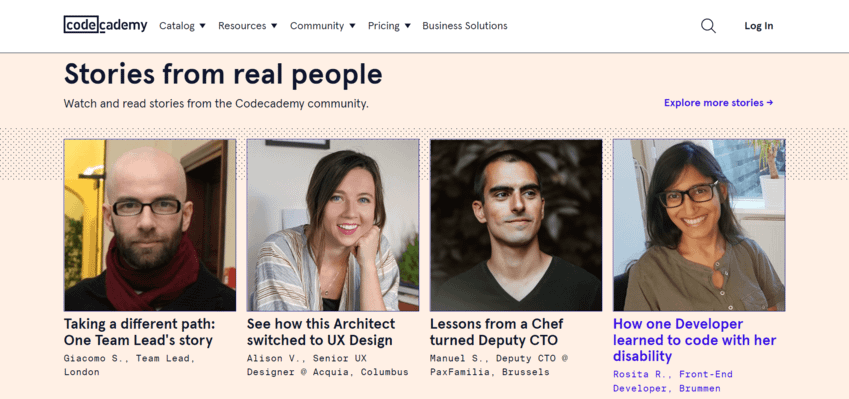 People choose the video with a customer profile they identify with.
To drive more conversions with your video on website homepage, follow these best practices:
Show your products in use for a more engrossing video.
Demonstrate the before and after so visitors see your product's impact.
Showcase your best customer, who represents the ideal customer you are targeting.
8. Make sound optional when using auto-play
Did you know that up to 69% of people watch videos with the sound turned off [3]?
A blaring sound that kicks in when a video auto-plays irritates most users and surrounding people, especially in public spaces.
Therefore, making sound optional is convenient for most users. It puts the power in their hands.
They can watch the video on silent and follow the captions. Or, they can switch the sound on if they like. A good user experience means more people will watch your video.
9. Add the video to your WordPress homepage
Nailed all aspects of your video on website homepage?
It's time for the last step – adding it to your WordPress homepage.
You can embed it using the WordPress native embed feature.
Here's how to do it:
Click the "+" icon on the top left of your page.
Select the Video block.
Select Insert from URL to add a video from a third-party site.
Paste the URL of the video.
Hit Insert into post to embed the video on your page.
While you can upload a video from your computer for the third step, it's always best to use a third-party platform for reasons I outlined earlier.
You can also use Otter Blocks, a free, lightweight block editor extension that makes building pages with Gutenberg a breeze. Add your video easily using the Flip Card Block. True to its name, the flip card block adds a cool effect to your video. When a user hovers over it, it flips. This eye-catching feature drives more clicks.
Boost conversions with video on website homepage 🔥
To sum up, adding a video on website homepage layouts makes them come alive.
It engages site visitors better than plain-text copy. Engaged users will probably do what you want them to do on your page and get them closer to buying from you. Your video can inspire visitors to:
Click through to another page.
Fill out a lead capture form.
Schedule a free discovery call.
Navigate to your sales page.
Use these tips and best practices to optimize your homepage video so it captures visitors' attention, creates a good first impression, and drives action.
Do you have any thoughts on using a video on website homepage? Let us know in the comments section below!
…
Don't forget to join our crash course on speeding up your WordPress site. Learn more below: