Welcome to the 9th edition of our transparency report! In this series, I talk about everything going on here at CodeinWP, from a business standpoint. I try to focus on the interesting stuff and the things that play an important role for our business growth. This means everything from the current goings-on, wins and loses, overall plans, etc. (Here are all the previous reports.) In this edition, I talk about what happened at CodeinWP in October 2015:
Who would have known that stock photos are still a thing…
So as I mentioned in the previous report, we launched our own "free stock photos" website. It's called MyStock.photos, and it's our spin on custom-shot CC0 photography.
(Where by "custom-shot" I mean that all photos on the site come from us – we have 4 passionate photographers on the team. You can't find those photos elsewhere on the web. That's the main thing that sets MyStock.photos apart from Unsplash and other websites like it.)
We launched the site officially a couple of weeks ago through various channels … some social media promotion, a mention here and there in a guest post, but most importantly via Product Hunt and AllTheFreeStock.com. Our listing got to the top spot on Product Hunt for that specific day, and we got featured as one of the new sites at AllTheFreeStock. This resulted in thousands of visits.
(The credit for these awesome results goes to Cristian who was directly in charge of the project.)
On a personal note, moments like that make my job great as a CEO! When you can empower people to do what they love – like photography, in this case – and then see the results of their work gaining traction, this is the biggest reward I can ask for.
Are "Welcome Pages" the way to go with your WordPress themes?
Okay, so here's a question: What do you think should happen after a user installs a new WordPress theme? (Apart from it activating without fail, obviously.)
…
One of the interesting ways to go about this is invite the user to view a Welcome Page. We've decided to test this and introduced such a page into Zerif Lite.
Here's what it looks like:
What's the big idea here:
It enables us to better present the main features of the theme.
There's FAQ (extra important!).
It lists a couple of recommended plugins and child themes (we have 5-6 of them right now).
It displays the changelog (important for dev users).
It presents a quick "free vs. paid" comparison (vs. Zerif PRO).
Additionally, there's a quite smart system of dismissable notifications (they are integrated in the customizer as well; they're not intrusive to users and allow theme developers to better communicate changes/problems; I actually consider this a good practice and am disappointed that most theme developers don't use any sort of notifications).
As you can see in the screenshot above, that Welcome Page is "user first." I mean, we start by pointing to the theme's most important traits and answering the common FAQs. Only then we transition to some other more dev-heavy things further down the page and in the subsequent tabs.
Essentially, we were kind of forced to build a page like this and include it in our themes. With growing functionality, new extensions (plugins and child themes) we can no longer expect that every user will be able to use the theme right out the box with no trouble.
Why I think Welcome Pages are a good practice
Okay, so let me make my case first, and then I invite you to share your opinion in the comments.
Basically, a Welcome Page is great at achieving a couple of specific goals:
a) It guides the user through the customizations step-by-step, while at the same time it isn't intrusive. For instance, see the "Actions required" tab:
Although that plugin is something we recommend and something that integrates with the theme, it's not a required install. Every user can read what the plugin is about and decide whether they want it or not. At the same time, a tab like this allows us to add some gravity to the whole thing and point out that this action indeed is important.
(In our case, the default contact form will be removed in the future versions of the theme, hence the recommended Pirate Forms install.)
b) The page is really convenient to anyone who wants to customize their site with a child theme.
Here's the "Child themes" tab:
Quite easy to use … you just need to click "Get now."
c) It's also a great opportunity to invite people to chip in and join the development process (the "Contribute" tab).
By the way, check out Zerif Lite on GitHub.
d) A Welcome Page is an additional marketing tool in your arsenal. Again, the fact that it's not intrusive and that it lets the user choose whether they want something or not is what makes it good.
Here's our main promotional tab – "Free VS PRO":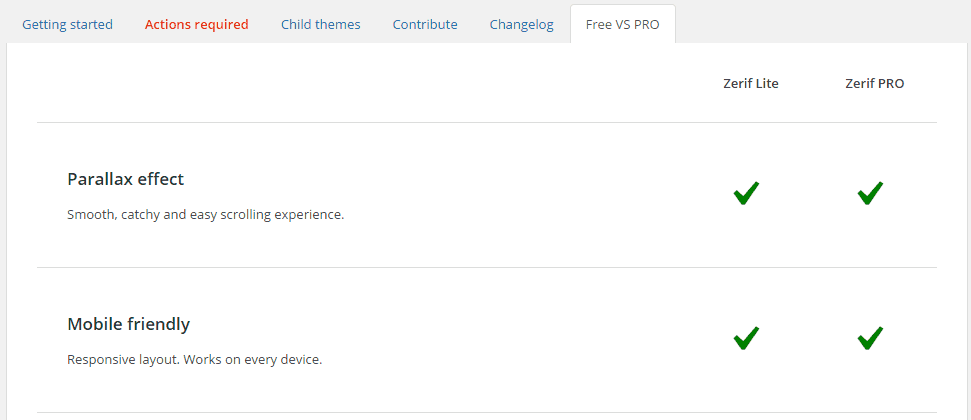 The Parallax One Plus release … the numbers
As you may know, we've added a premium component to Parallax One – our most feature-rich free theme.
Just to remind you, it's the theme that we released on our site only, and refused to place it in the official repository at WordPress.org. You can read all about our reasons in the previous reports.
We've been receiving some great feedback from the community, but we've also felt that we can do even more with the theme and expand its functionality even further.
So … we released an add-on, called Parallax One Plus.
Even though the name might suggest so, it's not a theme, but a plugin that integrates with the user's current installation of Parallax One. That way, everyone can keep their theme settings and just get the additional stuff without any interference.
This add-on is basically a kind of a "limitless customization kit" (e.g. there's section customization via drag-and-drop, section hiding, a new Shop section, shortcodes, all sorts of cool stuff, you should check it out).
We released the add-on to our customer base first. We offered a 30% discount and also made the plugin available on the main ThemeIsle site.
Up until today, this add-on has brought us total revenue of:
The screenshot above says 30 sales. But we also have to factor in that some people didn't go for the add-on alone, but instead selected our Treasure Chest plan. So in total, we can estimate that Parallax One Plus is responsible for around 40 sales.
With 1870 visitors to the landing page, this would put the conversion rate at around 1.6%-2.1%.
From those 1870 visitors, 806 came from the newsletter, by the way, and the rest were a combination of other traffic sources (direct, Google, referrals).
In the end, certainly a good start, but it's going to be a while before the time invested in developing this add-on pays off. On another note, the email list still proves to be one of the top assets a web-based business can have.
Mistakes? Well, we've noticed one somewhat serious problem with the whole release. It seems that most of the users who bought the add-on tried installing it like a theme. Since it's a plugin, that couldn't have gone well.
It's only our mistake that we didn't make the offering clear enough and didn't point out how to install the thing exactly. So that's a lesson for the future … just because you know what your product is, doesn't mean that your customers will too.
The value of small niche plugin releases
Okay, so this is something I didn't expect. But let's start at the beginning.
A couple of weeks ago, we launched another pro plugin, an add-on to our Visualizer plugin.
The add-on offers 3 new features compared to the free plugin: data importing, inline data editor, support. And there are 3 different licenses available: Personal, Business, and Developer ($75, $150, $299).
As it turns out, this plugin is selling really well for such a niche thing. To date, it's made us:
Granted, not a huge amount, but let's just imagine the possibilities. Here's what I mean:
If you're running a small development house and you have just a handful of plugins, this doesn't have to stop you from launching pro versions of those plugins. You can still make good sales. Those numbers add up. For example, with 5 plugins like that, we're talking roughly $4,600.
Lesson? Take part in small projects even if there's no huge customer base.
Exciting! New people on the team
The CodeinWP team is growing, which I'm very happy about.
Just last month, we've hired Gourav to work full time on support. So far, he's replied 1,200+ times to various support requests.
We also welcome Andrei, the newest member to the design part of the team. Here's his spin on Zerif (something we might implement in the future):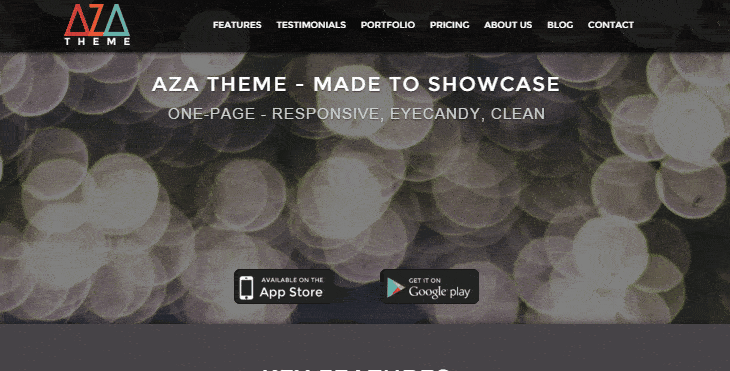 Our contact form plugin picking up speed + an offer
I'm happy to see our latest contact form plugin – Pirate Forms – doing well in the repository. With around 1,500+ downloads per day, we're on track to crack 50,000 total downloads.
Now, the offer.
We're actively looking for partnerships!
If you're a theme developer and …
you think that our Pirate Forms plugin could be a good addition to your product,
… so much that you would consider recommending it via in-dashboard recommendations or in the docs,
… please make yourself known.
Or maybe you know someone else who could benefit from this?
Revenue breakdown (Oct 1st – Nov 1st)
Here are our numbers for October, coming from an in-house tracking system we have set up:
Compared to the last month, that's a 8.9% increase.
Here's our bestseller list:
There's slightly more Treasure Chest sales since we're still running the split test I talked about last month (the one line of CSS that cost us $30,000). Next month, we might get rid of single theme licences completely, and focus on selling just the club membership and plugins.
What's next?
I know I promised you an entire report on how Parallax One is performing and what we're planning to do with it going forward. I'm really sorry that I haven't been able to get to that yet, but there's just so much new stuff going on every month that I just can't skip it. It is coming, though!
As always, thanks for reading and for supporting CodeinWP! Stay updated and get new reports delivered to you. Just leave your email here:
All edits and witty rewrites by Karol K.