Welcome to this sixth edition of our transparency report! This series is all about sharing everything that's been going on at CodeinWP business-wise. Each month, I'm taking the time to discuss specific aspects of the business, the lessons learned, and the plans going forward. (See the series' dedicated category to get to the previous reports.) In this edition, I talk about everything that happened at CodeinWP in July 2015:
Table of Contents
The story of Parallax One
Last month, I shared my plans about launching our newest theme – Parallax One.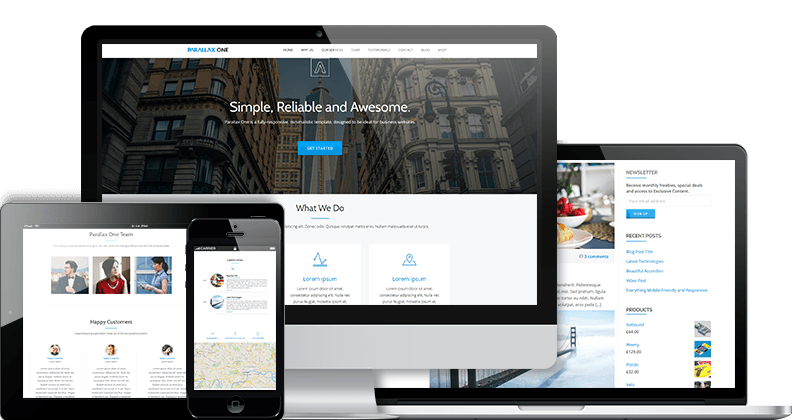 The thing that stood out about this particular launch was that the theme was nowhere to be found in the official directory at WordPress.org (still the case). In other words, we launched this theme through our website only.
Two important details:
the theme was and still is free,
you need a user account at Themeisle.com to download it.
Apart from that, there were no strings attached. No hidden fees to "unlock" premium features, or anything like that.
Parallax One was and is fully functional right out the box. In other words, it's a premium-quality theme that you can get for free.
Why we did this? Well, I didn't want to make any direct sales through this theme, but rather make our brand better known and spread the word about what we're doing.
There was also a handful of side-goals:
We wanted to find a better way to communicate with the users (through our own support channels, instead of using WordPress.org).
We wanted a more reliable way of distributing the updates (since everyone needed to register, we now can send an email to the users and let them know about new things).
We wanted to improve our chances of ranking the theme's original page in Google, as opposed to ranking its WordPress.org listing.
Most of all, we wanted to test how effective promoting a free theme outside of WordPress.org can be.
That last part is what I want to discuss today.
Our results from Parallax One promotion
At the time of writing this, Parallax One has been on the market for little over one month. During that time, we generated around 6,200 downloads.
Here's the breakdown of the individual channels that led to those downloads, along with my conclusions:
1. Building a good traffic base pays off
Visits: ~9,000
Downloads: 1,510
Conversion: 16%
We got ~9,000 visitors coming from CodeinWP.com to the theme's listing on Themeisle.com.
Around 16% of those visitors signed up for a Themeisle account and downloaded the theme.
Overall, the downloads coming from CodeinWP add up to ~25% of all downloads of the theme.
Note. This is not only direct traffic (people coming from CodeinWP straight to Parallax One), but also indirect traffic (people going to some other page within Themeisle, browsing around looking for themes, and finally deciding to go for Parallax One).
Now, even though the raw numbers might suggest that CodeinWP is responsible for ~25% of the total downloads, this number is actually much higher. We've been lucky enough to make loads of connections along the way when running the site, and those connections pay dividends in a much broader way than just sending direct downloads. In other words, had there been no CodeinWP, the downloads would have gotten a much bigger hit than just going down by 25%.
The lesson here: Building a good traffic base pays off. Even if you're launching a product as part of a separate brand, utilize your previous successes as much as you can to accelerate your results.
2. Organic Google traffic helps … some
Visits: ~5,600
Downloads: 370
Conversion: 6.6%
GA tells me that we got ~5,600 visits from Google straight to the theme's listing on Themeisle.com, and that 6.6% of those people downloaded the theme (~370 downloads). Those downloads make up 6% of the total number.
In short, getting organic traffic is always good, that goes without saying. However.
A visitor coming from Google has a very different mindset than someone coming from a source that already pre-sold them on downloading the theme. As you can make out by looking at the numbers, we're getting around 3x better results (conversion-wise) sending people over from CodeinWP to Themeisle.
The lesson: If you want to take full advantage of incoming organic traffic, don't assume that the person is already interested in getting your product. Write your copy in a way that can appeal to any random Google visitor.
3. Direct visits perform very well
Visits: ~4,500
Downloads: 480
Conversion: 10.6%
Direct traffic has been quite big for us. We've generated ~4,500 visitors that way, and they converted at an impressive rate of 10.6%, giving us ~480 downloads in total.
Usually, direct visits are a result of a number of factors all working together. Things like guest posts, the overall strength of the brand, reviews, forum posts, Twitter, all play a role here. It's also expected that whoever comes to your site directly is more likely to convert. After all, they're actively looking for that one specific product/brand.
The lesson: Direct visits are not something you can directly influence (no pun intended), but they are still a good indication of your overall "brand health," so to speak. The more brand searches and direct visits you get, the better your position on the market. In other words, having direct visits is what you should ultimately aim for. For instance, Coca Cola doesn't want people to crave a "black sugary drink." They want then to crave a Coca Cola.
4. Email is still king
Visits: ~3,000
Downloads: 750
Conversion: 25.4%
Promoting Parallax One to our email lists resulted in around 3,000 visits to the theme's listing. Those visitors then converted at an impressive rate – 25.4%.
In total, we generated ~750 downloads that way (12% of the total downloads).
The lesson: Email is still king. If you craft your message right, you are always going to get better results from your own list than from anything else. You already have a preexisting relationship with your people. They trust you, so they will pay attention to what you have to say.
5. JustFreeThemes.com starts being an asset
Visits: ~3,000
Downloads: 100
Conversion: 3.47%
In the previous report, I mentioned that we now own and run JustFreeThemes.com – an alternative directory of free WordPress themes. The site has been growing nicely for the past couple of months, and continues to attract more visitors month after month.
We've created a listing for Parallax One on JustFreeThemes and then displayed it as the main featured listing on the homepage. Apart from that, we didn't promote the theme in any other way there. No hard sell or anything.
As a result, JustFreeThemes sent over 3,000 people to Themeisle and generated ~100 downloads (conversion rate of 3.47%).
Also, JustFreeThemes generated over 700 downloads directly from JustFreeThemes.com (there's a download link straight to the ZIP file of the theme).
I'm quite happy about these numbers, considering the fact that promoting Parallax One through JustFreeThemes didn't cost any additional money. Like I said, we just created a listing and displayed it at the top of the homepage.
The lesson: The same as lesson from #1 – use your already existing assets/websites to promote all new products. Even if the conversion rates are not stunning, those are still conversions you wouldn't have gotten otherwise.
One thing needs to be addressed here:
Looking at the numbers, the conclusion is that 60% of all downloads came from our own audience (through different channels, like our sites, email, etc.).
This helps me see where we stand as a brand at the moment. Personally, I'm quite pleased that our readers – you – trust us enough that you're happy to check out the new products/themes we have in store.
Also, the fact that 40% of the downloads come from external sources gives me confidence that the theme itself is of good quality and has the potential to become one of the most popular free themes on the market.
What about paid promotion?
Yep, no launch these days goes without spending some good dollar on promotion.
Here are the individual things we did / are doing:
SyndicateAds
We've invested $2,500 into SyndicateAds so far in order to have sponsored posts published on a couple of sites. We also have two newsletters waiting to be sent to third-party publications.
Facebook
Particularly, we took advantage of Facebook retargeting, and the results were quite pleasing.
Around 2,200 people came to the theme's listing, and 11% of those people signed up (~250 downloads).
We paid $100 for the promotion, which means $0.40 per single download.
Sidebar.io
We sponsored Sidebar.io for one week ($400).
As part of the sponsoring deal, Sidebar.io features your link on the main site, in the daily and weekly newsletters, and in the RSS and Twitter feeds. Overall, it's a great opportunity, provided that you have the right product for their audience.
Sacha – the guy behind Sidebar.io – is rather picky, so not everything makes it through (having the $400 to spend is not enough to get your product through the door).
Anyway, we got ~3,300 clicks out of this, and around 100 downloads (the conversion rate at 3.12%). Cost per download: $4.
BuySellAds
We did a couple of things through BSA.
We booked a newsletter shout-out at PixelBuddha.net. The results were quite impressive, considering the fact that we tried this before for a CodeinWP article and they were much lower. Overall, we got ~300 downloads for a $300 investment.
We did indirect campaigns for both Parallax One and Zerif Lite, testing 20 different banners and different publishers. We've spent around $3,500 so far.
We've also experimented with the Fancybar ad unit (a horizontal top-bar that slides into view once the user has scrolled approximately 100 pixels down the page). We're working with a $1,000 budget (not spent yet), but the results aren't very stunning (only 6 downloads so far).
AdWords
In the same fashion, we have increased our AdWords budget and we're now actively promoting Parallax One in the search engine.
Over the past month, we've spent $240 here, and got 114 downloads (8.53% conversion rate). Overall cost per download: $2.10.
I've decided to invest in AdWords because I truly believe we have one of the best free themes out there, and even though the ads can be expensive, we still get great exposure for the product. In the end, making it possible for more people to see it – people who wouldn't have come across the theme through other channels.
As you can see, Facebook retargeting brings the best results for us – in terms of paid promotion. However, let's keep in mind that you can only "retarget" people who have already been to your site. So it's not exactly a new acquisition channel, but rather reaching out to people who already know about your existence.
Community marketing
Reviews, guest posts, affiliate promotions, the like.
Just a sample of the reviews we received:
Some of the reviews were paid-for, others we submitted as guest posts. Overall, they all performed nicely.
Reviews are always great no matter what product you have to offer. Ultimately, your users want to see the product in action before they download (or buy) it. An honest review gives them just that.
Additionally, reviews also often reveal some issues with the product that you might have missed yourself. So inviting people to test your product is always a worthy investment, both from a promotional and product development perspective.
We also landed two big guest posts:
I hope that those will continue bringing results into the future, like guest posts tend to do. Apart from direct traffic, we also get brand exposure, which for me is a huge benefit not only for Parallax One, but also for future products/themes.
I also tried some ProductHunt promotion, but so far I don't have much to show for. (Feel free to bump us up though. Much appreciated!)
Overall conclusions from this launch
In the end, promoting anything costs serious money.
And if what you're promoting is a free product then you don't even get a direct way of making that money back.
Overall, doing such a thing is a huge investment and a big risk, but I believe it will pay off when we enter the second stage of the launch.
"A what?!"
Yes, there will be a second stage. But don't worry. The theme will remain free. This part doesn't change.
The things we did up until now were more like an initial release of Parallax One. In the next months, we will be submitting the theme to WordPress.org. Thanks to the hard work that we already put into promoting it, I hope that once it's available in the official directory and using the official download link, we will start with a good number of downloads right from the get-go. My goal is to see it among the top 20 most popular themes there.
Until that happens, I have a monthly budget set for tests and experiments to try different platforms and approaches. Apart from trying to get as many downloads as I can, the main focus here is learning.
On one hand, you could try mixing loads of different types of promotion all at once (like display ads, CPC, paid listings, reviews, retargeting, and so on), but this would get real expensive real fast. And even if one channel delivers a great ROI, all the other less effective ones can still bring the whole marketing effort down and render it unprofitable. That's why I try to be careful when testing new things and never go over the planned budget.
Ultimately, I want to be able to control a big part of the distribution, so I don't have to rely on any single marketing channel. The more baskets you have for your eggs, the better off you are.
Takeaway: Start with one promotion method, learn it, get results, only then move to the next one. Starting from point 0 with multiple methods at the same time won't even let you have a decent look at what works and what doesn't. Instead, take just one step at a time.
Revenue breakdown (Jul 1st – Aug 1st)

Comparing to the previous month. In June:
# of customers: 971
revenue per customer: $98.02
total revenue: $95,178.77
Which gives us (approximately):
# of customers: -8.1%.
revenue per customer: -0.8%.
total revenue: -8.9%.
That's a slight drop, but I'm not very surprised, to be honest. With so much effort put into promoting Parallax One, other areas received less attention.
Zerif Pro is still our top performing product, delivering around 42% of our theme revenue this month.
Final thoughts
We're going to continue working on Parallax One, introducing new features, making the support better, and possibly launching some add-on plugins in the near future. The reviews have been great so far, but there's still much room for improvement. I really want to dominate with this theme and make it as good as it can possibly be.
Of course, the promotion will continue as well … testing new distribution channels, etc. I'll keep you updated on that too.
On another note, it seems that these transparency reports have brought some value to the whole WordPress community. For instance, I see lots of people submit way better themes to WordPress.org instead of putting them behind a pay-wall.
In an era when theme business is so crowded – Envato traffic going down and so on – many developers have started to see WordPress.org as a huge opportunity, and now treat it as an important distribution channel for their products.
Another big indirect benefit is that due to the WordPress.org's rules, every theme needs to be GPL, so the whole community benefits hugely simply because they get more quality themes that they can use, fork, build on top of. All that jazz.
Okay, that's all for now. I hope to have you on board for the next report where I'll cover some more Parallax One details and brand new business lessons I learned after month two of the launch. As always, thanks for reading and supporting CodeinWP!
Stay updated:
All edits and witty rewrites by Karol K.