Welcome to the 26th edition of the monthly transparency report (for March 2017). In this series, I do my best to cover everything that's been going on here at CodeinWP and Themeisle. We talk business, development, marketing, productivity and other fun stuff. Click here to see the previous reports.
How often people change their (free) WordPress theme?
Something that I talked about in the previous report was for how long people tend to stick with our free themes after they first install and activate them – aka. our theme retention, or stick rate.
What I wasn't able to do at that time, though, was split those retention rates by time period and also exclude localhost installs from the calculation. I finally have this data now.
Here's the breakdown for Hestia – one of our top free themes:
(Charts by Visualizer Lite.)
How to read this:
For example, for the first chart, out of all the domains/websites where the theme was installed within the last 3 days, 93.2% are still active.
Of course, this is just one theme, and I do realize that it probably doesn't represent the market to a huge extent, but it's still an interesting insight to have.
Monitoring this sort of thing can bring you huge value as a theme developer. For example, if you see your theme sinking a significant number of active installs in the first three days then you're facing a product problem – the theme not good enough for its marketing. Similarly, if no one is using your theme after a year, that's pretty much the same problem all over again.
By the way, if you have similar data of our own, I'm really curious what those numbers are for you. Please feel free to share in the comments!
The state of our content game
At the time of writing this, it's been a little over a year since we launched the Themeisle blog and 10 months since I spoke anything about it, more or less.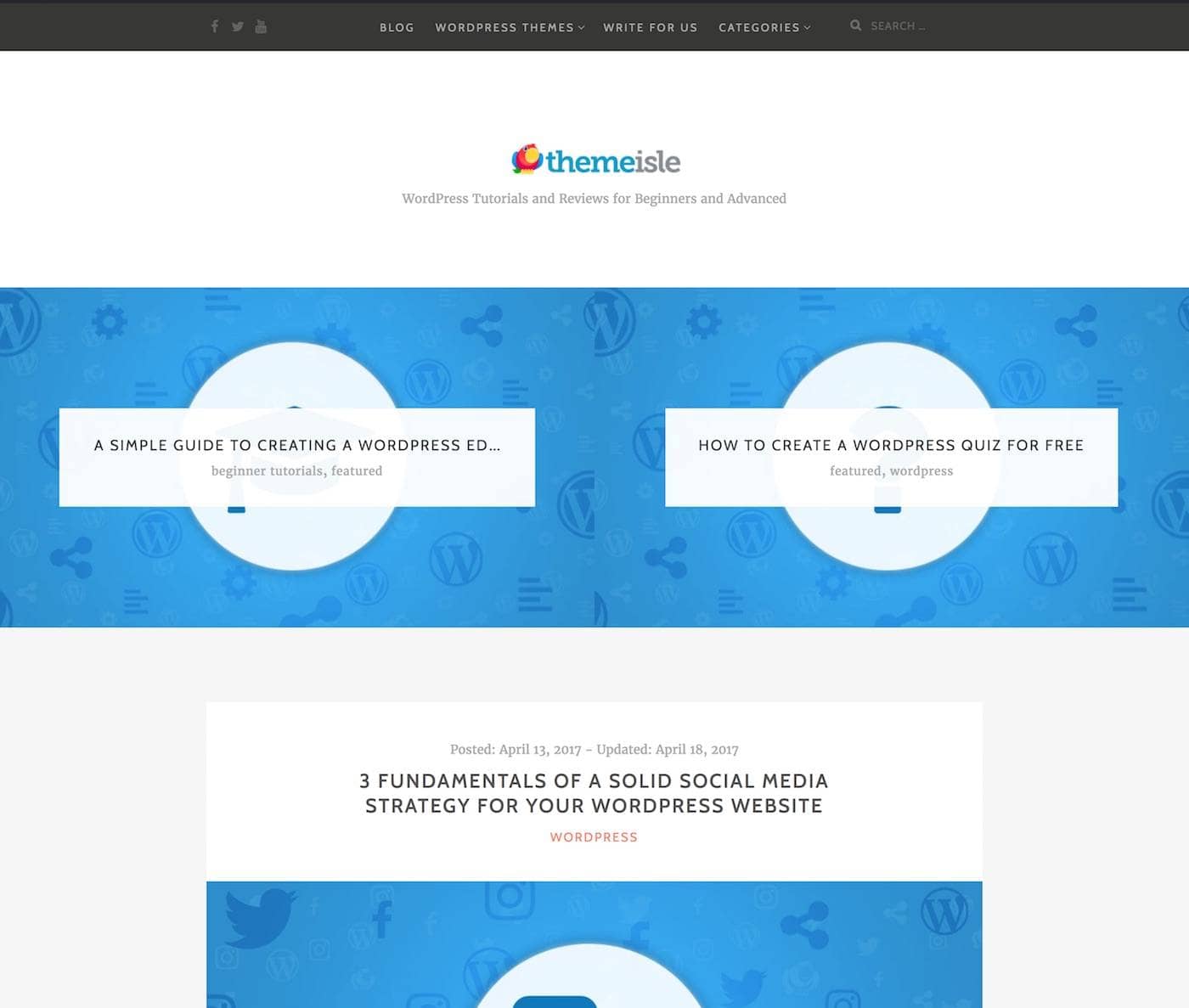 One of the main details that I shared back then was that we were spending around $4,000 per month on content. This turned out to be a very controversial piece of information, and I got a couple of emails from people telling me it was way too much, especially considering our volume of traffic at that time – around 40 clicks a day.
Fast forward 10 months to today, we're nearly at the 200th article mark, and our total investment in the blog's content is in the $40,000 range (content writing, editing, planning, etc.).
About our results:
Looking through the Search Console panel, we are now close to 1000 organic clicks per day.
Is this good enough?
For now, honestly, I find it a decent investment.
Granted, these results are not huge, but let's not fall victim to all those "from $0 to greatness" blog success stories. For the great majority of website projects, significant investments are always required to get any decent results. And the more you're willing to invest – be it time or money – the more you can expect in return.
To put our numbers into perspective, let's take WPDean.com as the benchmark here. A while ago, the site was auctioned off on Flippa. With around the same number of visitors, the price tag settled in the neighborhood of $70,000. So in "potential internet dollars," the Themeisle blog is still at a $30,000 profit.
Also, on top of those raw traffic numbers, there's other, less measurable value. I'm talking about the fact that we've built a strong team of writers and good content writing/editing process overall, just to name a couple. I find this to be very valuable in the long run.
We still have a lot of stuff on the plate to do with the blog, though. Chief of which, we need to improve the presentation and content strategy (create more complex guides, diversify the blog's position more).
By the way; based on the experience building the Themeisle blog from scratch and working on the current CodeinWP blog, we have launched a mega, no-BS guide on how to create, grow and monetize a blog. And no, this isn't only about how to buy hosting and install WordPress. We go a lot more in-depth and focus on the actual stuff that matters. I hope you find it interesting!
Introducing video content
Okay, so with the blogs out of the way, what I haven't mentioned yet is that we also started creating YouTube videos (our channel here) to further diversify our content offering.
Currently, every video of ours is based on a blog article + some internal documentation. Some examples:
I believe that video content is something that makes sense for our business and is aligned with our mission to help and educate people on how they can build their sites and achieve certain tasks with WordPress overall.
Let's face it, video is the content type in this day and age. YouTube is totally exploding and keeps attracting more viewers month after month. Quite simply, if you're not there, or aren't at least planning to be there soon, you're missing out hugely!
We've actually reached the 100 videos mark recently (including some old tutorials, theme presentation videos, etc.). The number is a surprise even to me…
Here's what our traffic looks like right now from organic sources like YouTube search + suggestions: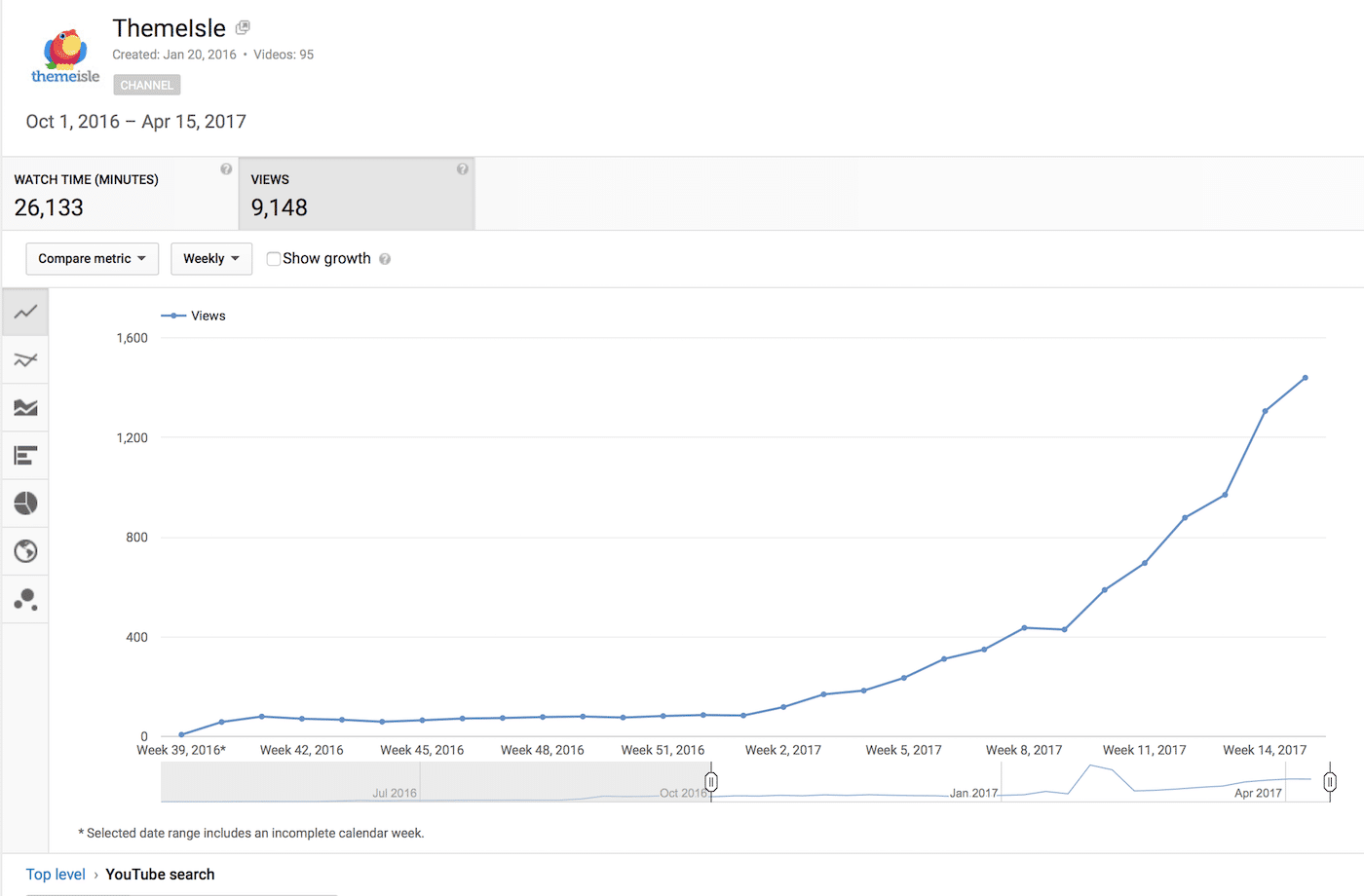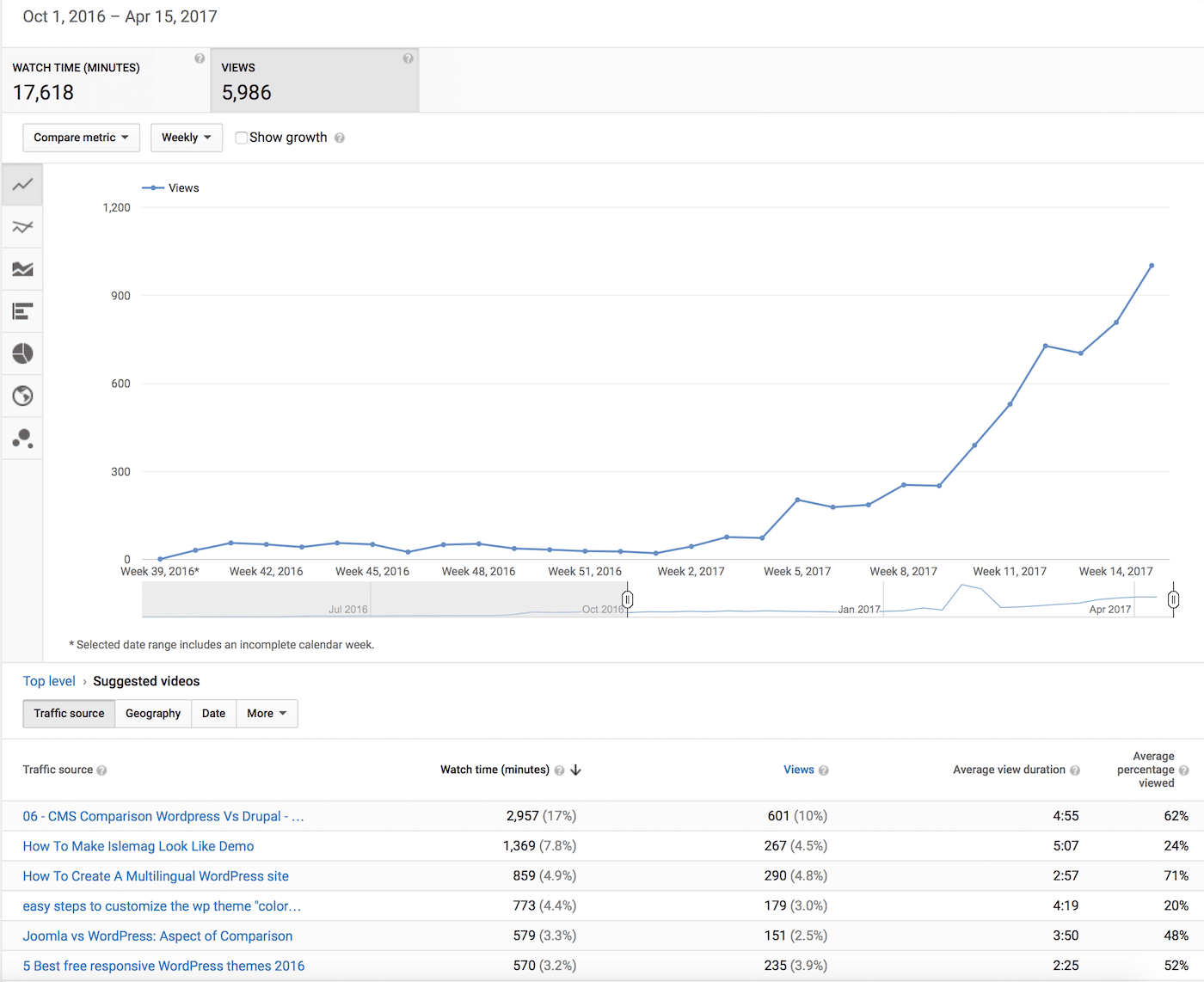 And okay, obviously we're not beating Casey Neistat anytime soon when it comes to views. We still have a lot to learn about this whole video thing, and it's hard to say if the whole investment is going to end up worth it in the long run (cost vs reward). However, I feel that we're on the right path to finding out.
Extra tip: If you are into YouTube, a tool that we've found really helpful for managing our channel is TubeBuddy. Worth looking into.
Working with an external agency part 2
Another thing that I talked about in the previous report was the value of working with external companies – especially when you want to take care of something that you're not that skilled at yourself. For us, that something is Facebook ads.
While I am passionate about analytics and UX, I am not the most organized person out there. Basically, whatever tracking I did with our campaigns was very messy and hard to follow / work with on a consistent basis. This became especially apparent when the time came to show all that stuff to an external agency and let them take care of the campaigns.
For instance, among the first things that the agency suggested was adapting standardized funnel tracking and an analytics environment that would make everything much more digestible. They recommended GTM and explained how it can help us track more effectively. They also suggested integrating Attribution as the next step – meant to help us see a summary of all ongoing campaigns in one place (ads, email marketing, what happens on the site, etc.).
In other words, they're forcing us to be more professional when it comes to marketing campaigns. They make it an effort to explain why all this helps and how it helps based on experience coming from working with several other clients.
For example, I have never thought to categorize our blog content based on the different stages in the buyer's journey and to see categories as part of our funnel. So, for example, if a user reads something from Category 1, they will then automatically get an article from Category 2 recommended in their Facebook News Feed, and so on.
The point here is that you don't know what you don't know…
As weird as it may sound, ponder it for a minute.
Basically, it's usually much more effective to start working with people who already have skills in a given field, rather than trying to figure things out on your own. At the end of the day, you still won't come up with the same quality of stuff that a more skilled/experienced person will.
In that light, working with a professional or an agency to handle a given task will not only help you get that task taken care of, but it will also force you to be more professional and more organized about your processes overall.
The future of Themeisle
This is probably the most significant part of this month's transparency report…
With a big focus on things like content, our platform and marketing, the theme development side of the equation feels to me like it's been left behind a bit.
On the one hand, we're constantly working on developing new themes, improving the previous ones, and we've just released Belise – our newest restaurant WordPress theme. But on the other, I also think that the overall value that we bring to our users themes-wise might not be enough.
I mean, I feel like we don't have enough quality stuff in our directory of themes. For example, we rank on the first page of Google for lawyer WordPress themes, yet we have only one average theme dedicated to that. At the same time, I do realize that it will be hard – or even impossible – for our small team to develop multiple different themes for multiple sub-niches.
That's why we're pondering inviting third-party authors to collaborate with us. Here's how this could work:
We want to start slowly and include manually tested and already "popular" niche themes into our new club offering.
The way this can work specifically is us acting mainly as a reseller, plus also offer most of the support for those third-party themes.
We'll pay theme authors a fee per month, based on the number of active sites using their themes.
We want to guarantee our authors a minimum monthly amount, just to make sure we don't waste their time.
For the authors, we plan to make things as smooth as possible. We'll take care of the update system, support and sales pages, they "just" need to keep maintaining the themes and make them awesome.
For the users, we basically hope to make things simpler than ThemeForest does right now. Why not pay a single price and be able to access every theme, right? The only thing we'll probably limit is the number of active sites that get support/updates.
And most importantly, we'll put special focus on keeping support consistent from theme to theme. This way, the user won't need to wonder how quickly a given author gets around to handling their ticket.
That being said, we're not planning to add like 10,000 themes to the directory, or demand exclusivity. We just want to give theme authors a fair model that's worthwhile no matter if you have only a handful of active installs or thousands of them.
If you are interested in joining, say, the alpha version of this program, or even just talking over how this can work for you as a theme author, do let me know!
I really hope that this initiative is going to let us better use our know-how, expand our passion for themes, and better serve our users and partners overall. I am really excited to see how this experiment works out!
Okay, that's everything I have for you this month. As always, thanks for reading and for supporting CodeinWP! Stay updated and get new reports delivered to you by subscribing here:
All edits and witty rewrites by Karol K.