In general, people can't code. HTML? CSS? PHP? You name it.
That stuff is hard, and not everyone has the time to master the skill.
But there's another problem. A lot of people need a website, but they might not be able to afford it – hiring a web designer can get expensive.
Luckily, there are some tools that can come handy here, and today, we're looking into 6 of them.
Here's our comparison of the top 6 best website builders out there:

PRICE
You can get Adobe Muse as part of a Creative Cloud Single-App plan for $14.99 a month. Adobe Muse CC also offers special plans for individuals, businesses, students, teachers, schools, and universities. It also presents the price tags in your local currency.
MAIN FEATURES
Offers the possibility to make a mobile-friendly site.
Comes with hundreds of web fonts, provided by Typekit.
Lots of add-ons, widgets, starter files, and multiple modern design elements.
Complete tutorials filtered by your experience level. You can access them right from your browser.
Multiple scroll effects and multiple types of animations.
Live editing right from the browser.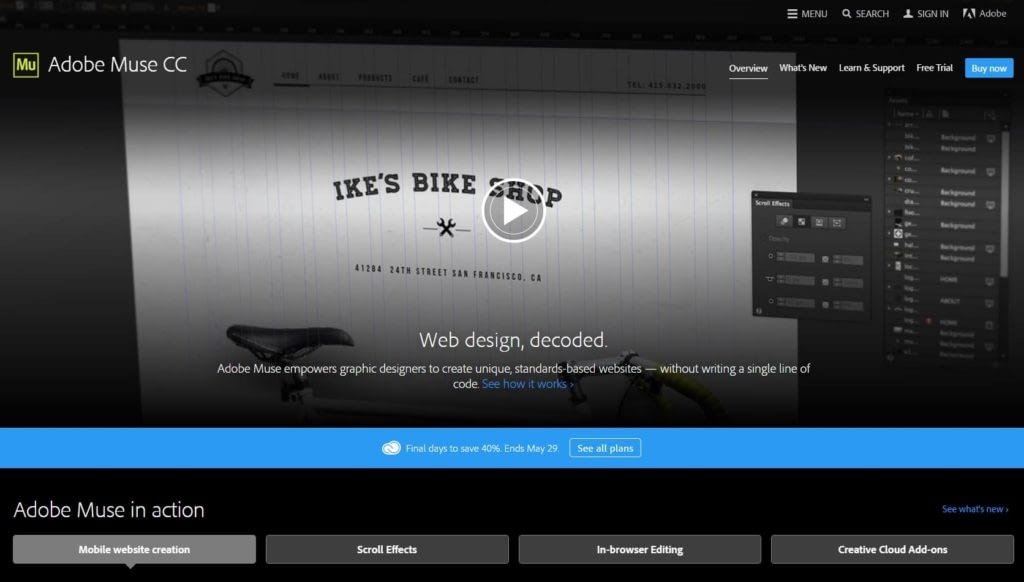 PROS
You can edit everything without it being necessary to touch any code. If you have technical skills though, Adobe offers a separate window for HTML editing too.
It comes with the drag-and-drop feature. You can drop widgets, buttons, sliders, contact forms and many other elements.
It comes with almost all of the modern and professional features and settings a website needs these days – widgets, sliders, animations, parallax effect, mega menus, buttons, slideshows, contact forms, social buttons and more.
CONS
Even though it doesn't require technical skills, it is a rather advanced editor, so you still need at least some experience working with this kind of thing. It can be a little difficult at first.
Overall, Adobe Muse is an advanced website editor. It therefore might not be the best idea for everyone. It comes with great modern and professional features and settings, but it has its learning curve.
OVERALL SCORE – 9 / 10
PRICE
Based on the plan: free, $4.50, $9.20, $13.90, $18.00 (per month). Wix presents the price tags in your local currency.
MAIN FEATURES
Wide selection of professionally designed templates.
Drag-and-drop store builder and image editors built-in.
Photo galleries for showcasing your content.
Optimized for mobile use.
100 fully customizable templates filtered by categories.
Tons of additional web apps and services available.
eCommerce platform included.
Free hosting.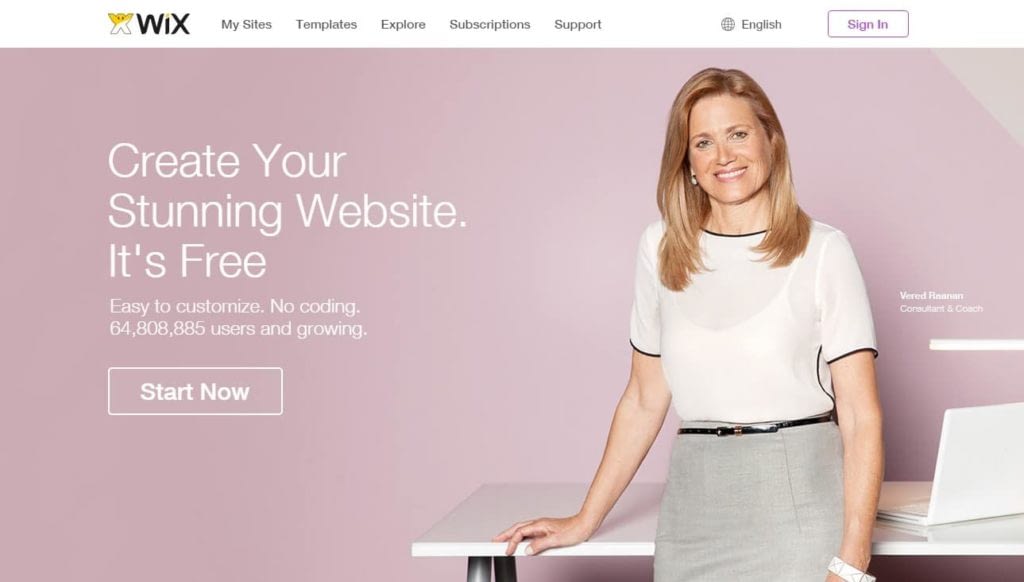 PROS
Comes with tons of templates in many categories. No matter the purpose of your site, you will surely find a template that will fit your needs. It also provides thousands of free images, clipart, and icons.
It offers free hosting and the freedom to make your site look exactly the way you have imagined it.
It offers a blog, an online store, photo, video and audio galleries, social media and SEO integration, in-built marketing, statistics, and etc.
Everything is fully and easily customizable, there's no creative limit here.
CONS
The only thing that comes to mind is that all the settings, templates, options and everything Wix offers can confuse the user a little at first. But that's not a big deal, Wix is much easier to get used to than, say, Adobe Muse.
Overall, this is what every non-technical user needs! Every customization and change is a piece of cake. You just need to let your creativity and imagination play their roles.
OVERALL SCORE – 10 / 10
PRICE
Free (plus the domain and hosting).
MAIN FEATURES
Free content management system.
Comes with thousands of plugins and themes that can help you build a good-looking and functional website.
There are lots of tools and resources primarily created to integrate with WordPress.
Just by installing some plugins and tools, you can have all the features you need: SEO optimization, in-built marketing, online stores, amazing effects and animations, multimedia integration, embedded video and audio files, portfolios, impressive sliders, advanced and modern widgets, social buttons, lots of design templates and layouts and many other features.
Easy-to-use interface. You can edit almost everything from the dashboard, which is user-friendly and intuitive.
Plus myriads of other things.
PROS
Comes with lots of plugins and tools, which will help you improve your site's performance.
Everything is customizable and it's up to you what you want to showcase on your site.
WordPress offers endless extension and customization possibilities.
If you are a developer, feel free to create your own tools, use them in WordPress and show them to the community.
CONS
Creating a site with WordPress requires you to be knowledgeable about certain things such as domain setup, web hosting, and etc. For that reason, WordPress isn't very friendly to first-time users. Additionally, to make your site really feature-rich, you need a handful of plugins that you have to find and install on your own.
Overall, WordPress is a free piece of software that comes with amazing extension capability and good features built-in right from the get-go. Although the setup can be stressful, managing your site later on is a breeze.
OVERALL SCORE – 10 / 10
PRICE
$129.
MAIN FEATURES
10 professionally designed themes.
Easy-to-use WYSIWYG program, that comes with all the necessary tools.
Offers a safe and secure web hosting on the CoffeeCup's own platform.
Publish with one click.
HTML editor integrated.
Unlimited colors and effects.
Graphics, and various shapes.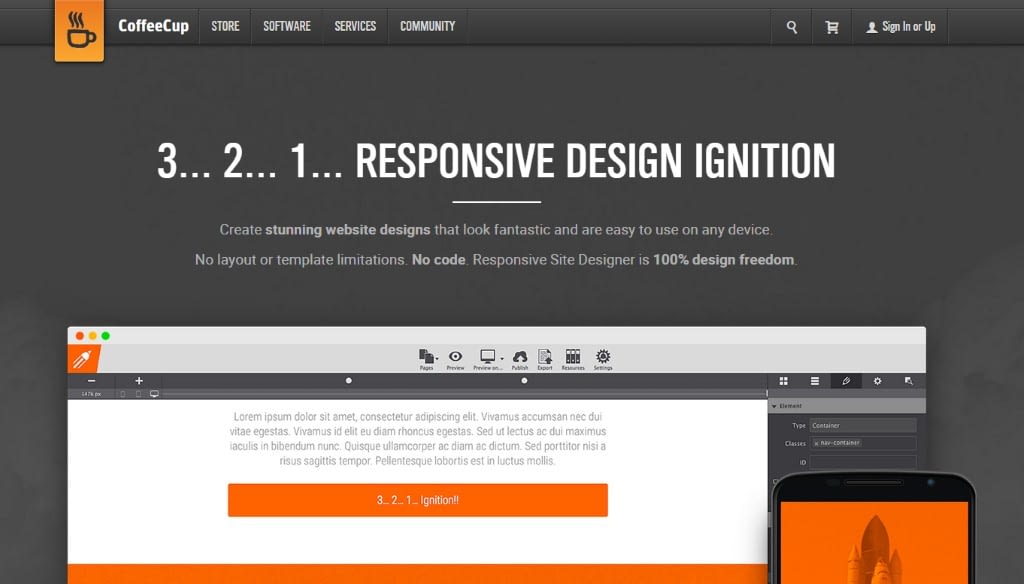 PROS
A very good WYSIWYG interface, so you won't need to write any code.
It comes with CoffeeCup Video Player (which converts videos into flash) and JukeBox (adds music players on the site), photo galleries, sitemaps, and etc.
You can do the editing right in the software program, which you can install on your computer.
CONS
Even though it's relatively user-friendly and shouldn't cause any trouble, it's not capable of helping you create a more complex website.
It comes with a couple of nice themes, but you have to pay for each one you use.
Overall, it's an easy-to-use editor, that could be a good choice for a personal blog or for a minimalist website, for which you don't need impressive features.
OVERALL SCORE – 8 / 10
PRICE
Free
MAIN FEATURES
WYSIWYG editing.
Integrated file management via FTP.
CSS editor provided.
Extended color picker.
Customizable toolbars.
Tabbed editing, so you can work with multiple pages.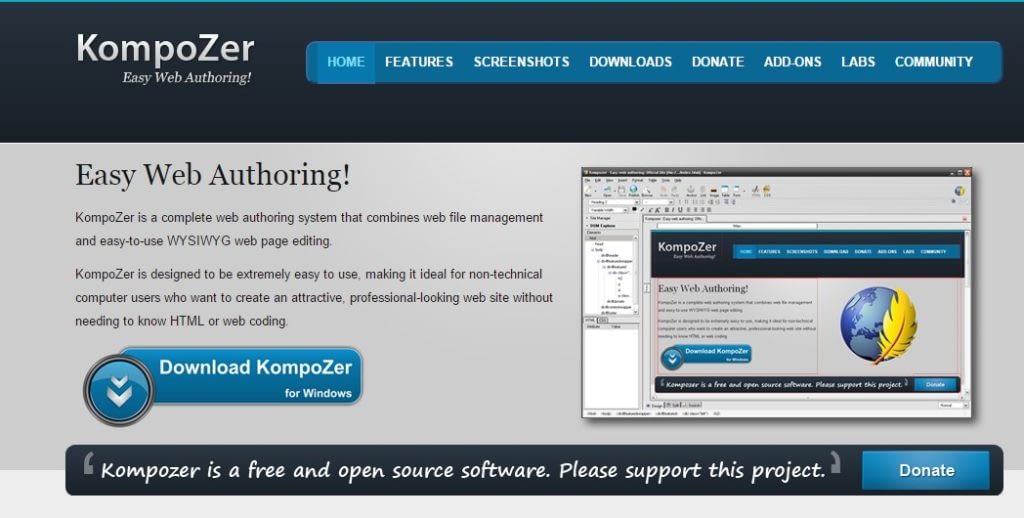 PROS
Besides the non-technical interface, KompoZer also comes with HTML, CSS, and PHP editors.
CONS
It comes with not a lot of features compared to what we see from the competition. It has an old and basic design.
Overall, KompoZer should only be used for a personal site or for an online business card.
OVERALL SCORE – 5 / 10
PRICE
Based on the plan: Free, $5.99, $12.99, $22.99 (per month).
MAIN FEATURES
Customizable themes/templates.
SEO tool that will help you optimize the site for Google, Yahoo and Bing.
Social media integration.
Mobile-ready.
Local listing (submits your business information to over 100 local directories online).
Photo and video galleries integration.
Web analytics.
Online store and e-commerce.
Free cloud hosting.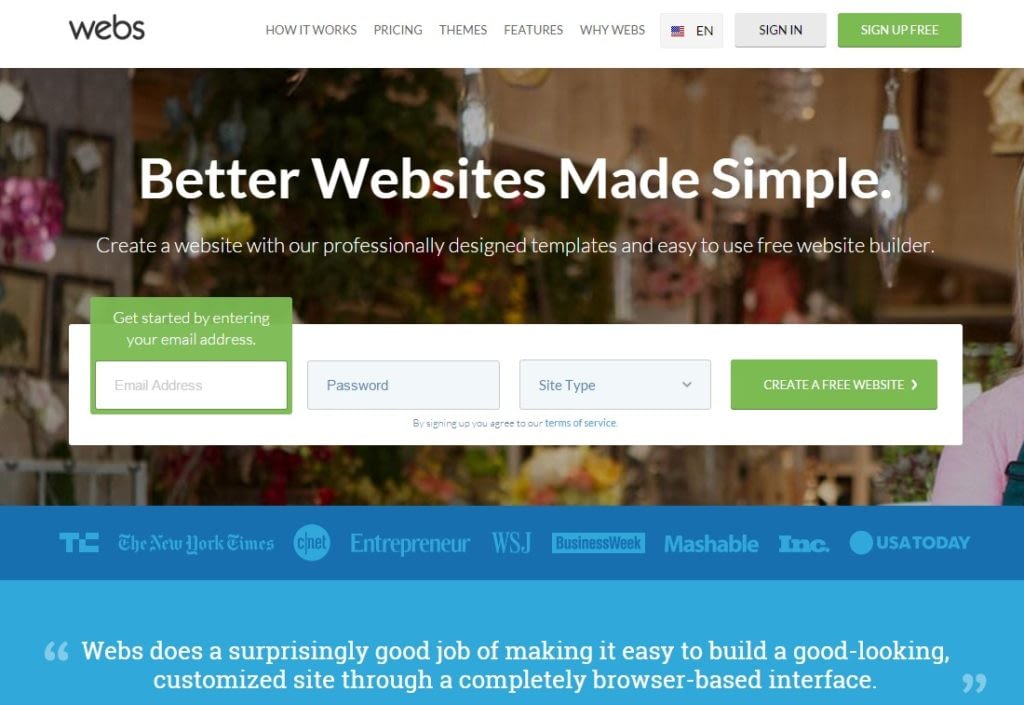 PROS
The interface is based on drag-and-drop page building, which makes your work a lot easier. Everything is really intuitive.
It has blog and e-commerce sections integrated. It also offers many free themes and layouts.
It comes with free hosting.
It also comes with social buttons, widgets, multimedia integration, email subscription, SEO optimization, password protection, and etc.
CONS
If you want to use the HTML editor, modify the footer – adding your own brand name – or have your personal domain name, you will need to go premium.
Overall, Webs is a nice and easy-to-use editor, and it offers some good options for a decent and nice looking website. If you need a more advanced website, though, WordPress is still a better choice.
OVERALL SCORE – 8 / 10
The winner?
Two of them:
If you're a web-savvy person, your winner is WordPress. It still offers the most in terms of features, extensions, themes, and the overall possibility to use the site for any purpose.
If you're new to site building, your winner is Wix. It's ultra-easy to use, and gives you all the features you might need as a new website owner. Plus there's support (something you don't get with WordPress).