ThemeForest vs independent theme shops? Well, let's face it – the myriad of options available to any prospective WordPress theme purchaser is utterly overwhelming. As such, reducing the pool of contenders to one or two trusted sellers seems like a good idea, but it raises the question: where should you actually buy WordPress themes from?
For many, ThemeForest is the go-to resource. It has a vast library of themes, and you'll find no small number of WordPress users raving about its bestsellers. However, there's debate to be had over whether ThemeForest is an ideal marketplace. In fact, purchasing from ThemeForest may even raise some ethical questions you haven't yet considered.
Popular publications such as WordPress Tavern have raised doubts about ThemeForest in the past, and with that in mind, we want to delve deeper into the issue of ThemeForest versus independent theme retailers. In this post, we're going to briefly discuss what ThemeForest is exactly, go deep on the pros and cons of buying from them, and look at independent theme shops as an alternative. By the end, you'll know exactly where to buy WordPress themes.
ThemeForest vs independent theme shops
What is ThemeForest?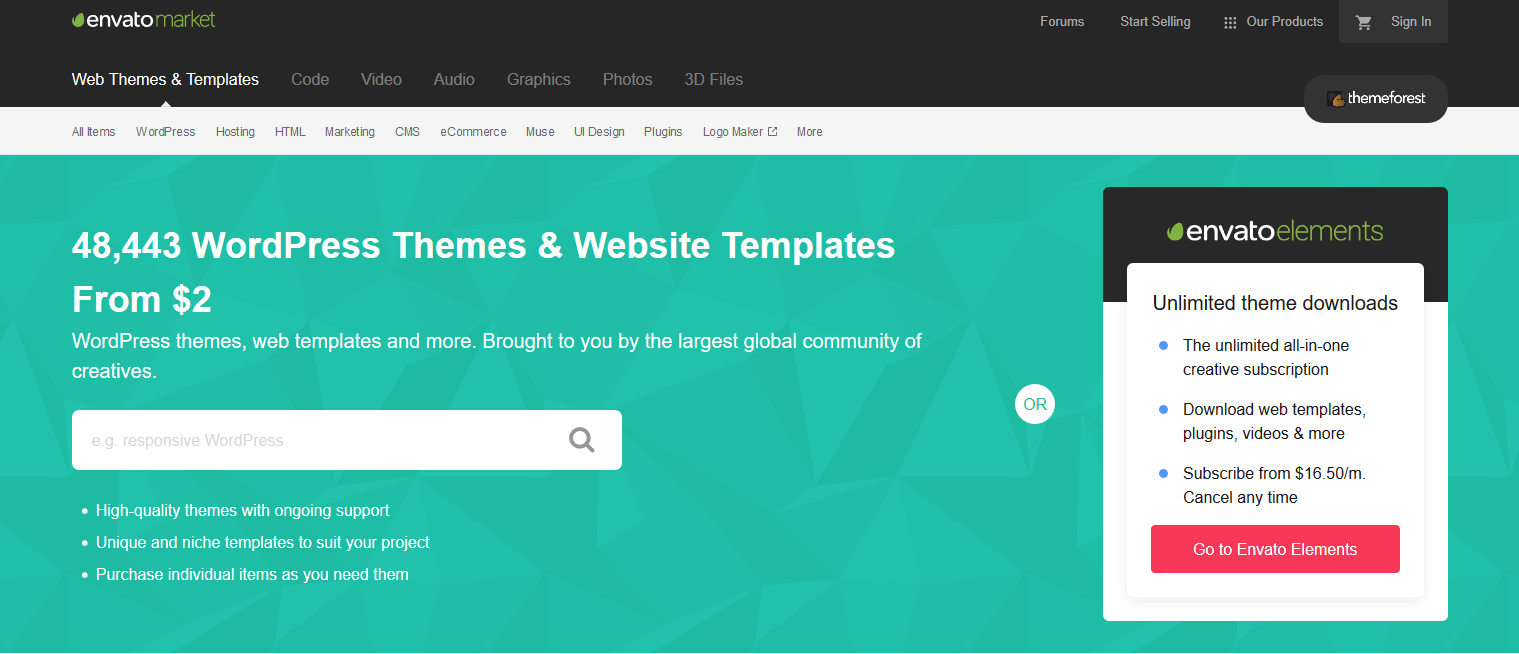 ThemeForest, one of Envato's many software-pushing businesses, is a marketplace for website themes. At the time of writing, it is the 890th-ish most visited website in the world, according to Alexa.
It offers thousands of themes for all manner of platforms, with WordPress featuring heavily. This popularity within the WordPress community has resulted in ThemeForest's rampant financial success, with 50% of all WordPress themes on ThemeForest raking in at least $1,000 per month.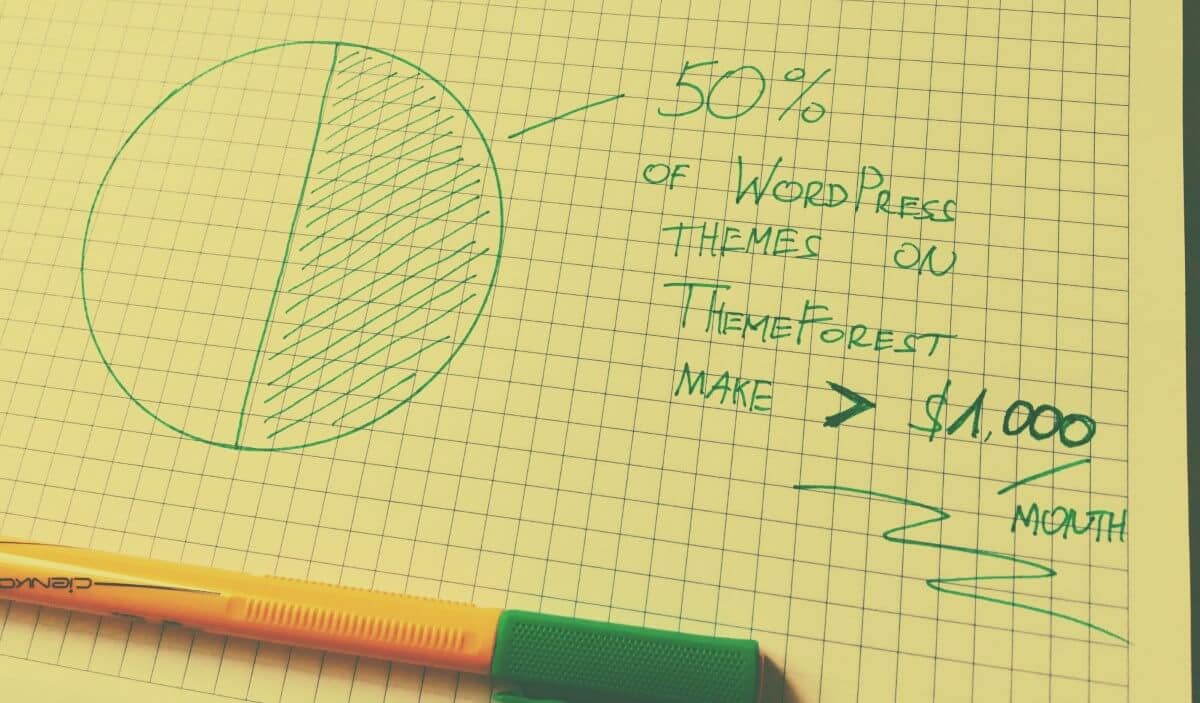 There's no doubting that ThemeForest offers a broad variety of themes (albeit of varying quality), nor can one question their dominance in the WordPress theme market. So, what exactly is the issue here?
Should you buy from ThemeForest?
ThemeForest is the digital grand bazaar for WordPress themes. If you're looking for a specific type of theme, it's likely to be found somewhere within their extensive library.
On top of quantity, you will also find quality. ThemeForest serves up a huge selection of well-built themes, many of which are user-friendly, and enable you to get up and running quickly. ThemeForest's best selling theme of all time, Avada, is an excellent example of all the above in action: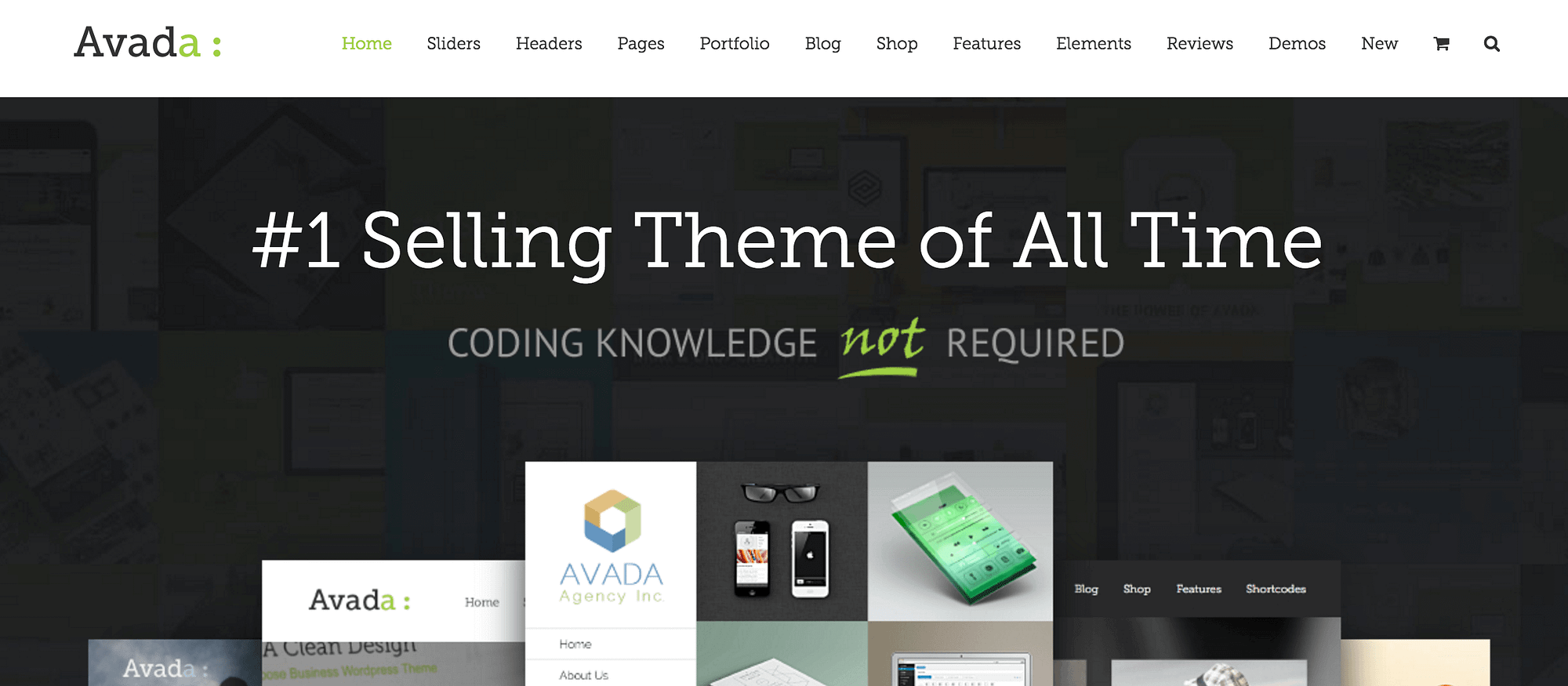 However, it's not all sunshine and rainbows over at ThemeForest.
Theme bloat is the first issue worth pondering upon when discussing ThemeForest vs anything else. ThemeForest is a marketplace full of vendors vying with each other to produce bigger, better, and more feature-rich themes – which sounds awesome, at first glance.
In reality, however, this fierce competition means that certain themes are overloaded with functionality that most WordPress webmasters would never use. Bulkier themes can contribute to increased load times, which in turn can negatively affect SEO. This isn't just theory either – it's been noticed by end users.
As for licensing, ThemeForest is inconsistent with what's on offer – something discussed by the guys at EngageWP. Rather than every product being offered under a General Public License (GPL) – as most free WordPress themes and plugins are, for example – ThemeForest serves up products that vary in terms of licensing, causing uncertainty.
For example, some themes are only partially GPL – meaning that certain elements within the theme are protected by commercial licenses, which goes against the spirit of WordPress' open-source nature. Talk about confusing.
The ethical issues of buying from ThemeForest
It can be argued that buying from ThemeForest vs from somewhere else raises some ethical issues. Let's take a look at the argument from either side:
From a moral perspective, it's worth considering the importance of helping small businesses – particularly in today's stormy financial climate. After all, it's the spark of those smaller businesses that truly drive the WordPress community forward, whereas one could argue that Envato largely funnels that community spirit into an opportunity for monetization.
On the other hand, many see ThemeForest as a positive force in the WordPress community. They give small (as well as large) vendors a prominent platform to market their digital wares in front of a massive audience. For many small-time WordPress theme builders, ThemeForest is nothing but a blessing in this regard.
That said, although you may still be helping the "little guy" when purchasing from ThemeForest, you will also be contributing to Envato's continuing growth. This is a corporation that, for example, does not deal with developers who have no tax treaty with the USA. In other words, it doesn't represent a level playing field for the global development community.
Finally, there is the simple issue that enabling one entity to control a huge proportion of the market is rarely a good thing in the long term. While things seem relatively cosy with ThemeForest right now, who's to say where we'll be down the line.
What about independent theme shops?
Independent WordPress theme shops are dotted all around the internet (see our roundup of top 110+ companies), and many of them command respect within the WordPress community. By purchasing themes from independent retailers such as Elegant Themes, WPMU, StudioPress, and – obviously – Themeisle, you'll likely avoid the drawbacks inherent with ThemeForest.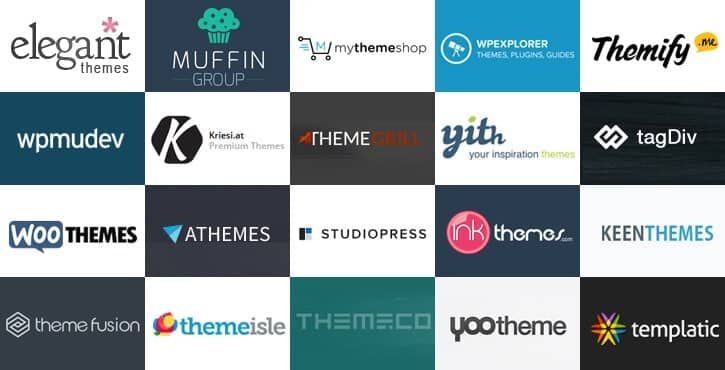 You may also find that by purchasing from an independent source, you're joining a true WordPress community – complete with a blog, support forums, invested support staff, Facebook groups, and so on.
In short, if you're asking whether you should buy your next WordPress theme from ThemeForest or an independent theme shop, there is no right or wrong answer. However, your average theme shop is certainly a very different beast to ThemeForest, and it may well suit your needs more appropriately.
Conclusion – ThemeForest vs theme shops
There are plenty of good reasons to buy from ThemeForest, and despite our reservations, we're certainly not advocating for anybody to boycott them.
However, the issues raised throughout the post are important ones, and they should be taken into account before your next purchase. As a result, you may consider an independent vendor the next time you decide to purchase a WordPress theme – for the good of yourself and the community!
To recap, here's what you should consider before deciding where to buy your next theme from:
Are you concerned about the ethics behind your purchase?

Would you like a lightweight, purpose-built theme, or a multipurpose beast?

Would you like your theme to be available under a General Public License?

Is joining a community that you can rely upon important to you?
What's your opinion on this "ThemeForest vs" issue – are you a ThemeForest fan, or an advocate of independent theme shops? Share your views with us in the comments section below: