This is the January 2019 edition of "This Month in WordPress with CodeinWP."
Hello everyone and happy New Year! While we've been busy enjoying the holidays, we still found some time to collect all the best WordPress news and stories from the past month.
This roundup includes plenty of news on the two biggest stories around: WordCamp US and the release of the new Gutenberg block editor! But these are not the only headlines from the month.
Keep reading to catch up with everything WordPress. And, last but not least, the whole CodeinWP team wishes you a very fruitful and challenging 2019! 🙂
January 2019 WordPress News with CodeinWP
WordPress 5.0.2 Maintenance Release
The Gutenberg storm came and passed, but users' opinions are still divided. Some find the block editor better than they initially thought, while others are still unhappy with the change.
Matt Mullenweg's decision to release WordPress 5.0 (aka "Bebo") a day before WordCamp US was not very well received in the community, but there have been two more releases since then (security and maintenance) and the one-third of the web powered by WordPress continues to function.
The major version – WordPress 5.0 – came out on December 6th, providing 16 content blocks and a new default theme – Twenty Nineteen – fully compatible with Gutenberg.
Then, WordPress 5.0.2 brings 45 block editor improvements, including 14 performance enhancements and 31 bug fixes. One special focus of this release was improving performance for content with lots of different blocks.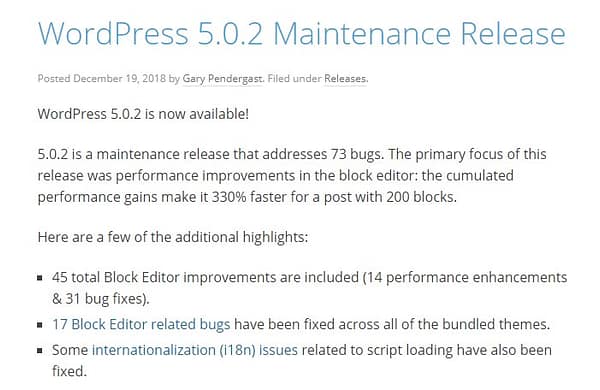 State of the Word 2018: WordPress Embraces the Block Editor
Nashville hosted WordCamp US 2018 in the first week of December, about 24 hours after Gutenberg was merged into the WordPress core. As usual, Matt Mullenweg had his well-known speech in front of the US audience.
Here are the main takeaways (all about Gutenberg, no surprise at all):
"Learn Blocks Deeply" – was the most memorable quote of the event, just like "Learn JavaScript deeply" became famous three years ago.
A selection of videos showing how new users struggled with simple tasks in the old editor, hence the necessity of blocks. Those videos were actually funny.
Gutenberg phase 2: Navigation menu block, widget blocks, theme content areas.
Gutenberg phases 3 and 4: Collaboration and core support for multilingual sites.
An overview of the mistakes and lessons learned throughout the 5.0 release process.
The priority projects for 2019.
WordPress Plugin Directory Now Features a Curated Section for Block-Enabled Plugins
Coinciding with the release of WordPress 5.0, there's been an avalanche of Gutenberg-related plugins that will give you extra functionality and blocks for your site. To help you find these plugins at WordPress.org, the core team added a new plugin category at the top of the page, named "Block-Enabled Plugins".
All the plugins that are based on blocks will be posted in that section from now on, which means that if you're looking to improve your Gutenberg experience, you can browse through that section directly.
You'll find our Gutenberg blocks plugin – Otter Blocks – in that section, as well.
You may also be interested in: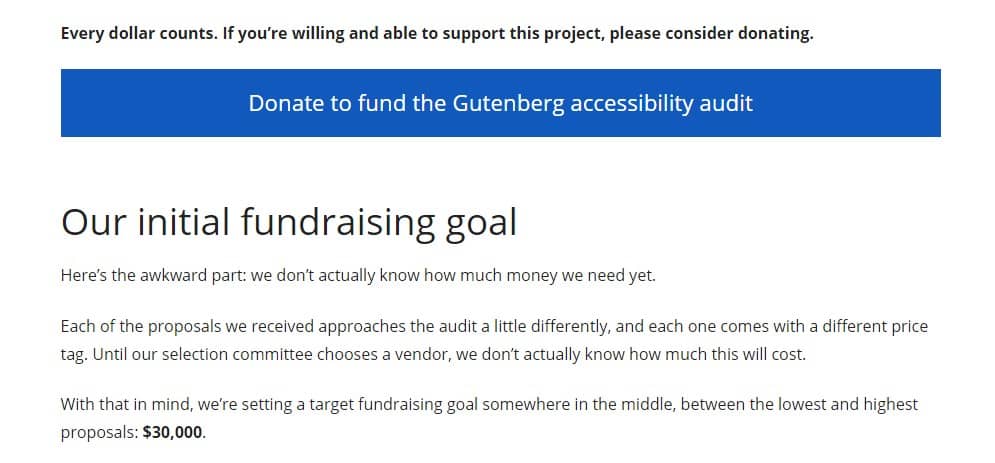 Fundraising for WPCampus Gutenberg Accessibility Audit
The Gutenberg block editor has received a healthy share of criticism when it comes to accessibility. There were even altercations on this issue between the core team and the Accessibility team in the past months. To help make the block editor accessible to everyone, WPCampus has created a fundraising campaign to conduct an accessibility audit.
This audit was proposed two months ago by Matthew MacPherson, the new Accessibility team leader following Rian Rietveld's resignation. WPCampus – a non-profit organization that helps web professionals, teachers, and other people working with WordPress in higher education – offered to take this cause in their own hands in order to make this audit finally happen.
Call for Host City 2020
Want to see WordCamp Europe 2020 in your city?
After Leiden, Sofia, Seville, Vienna, Paris, Belgrade, and Berlin, it can be your team who brings WordCamp Europe to your country by filling out this survey. Applications will close on February 28, while the final decision will be made by March 15.
Great Articles From Around The Web
AMP Plugin 1.0 Stable Release
Just like many other popular plugins, AMP for WordPress is also Gutenberg-friendly now by introducing Gutenberg-integrated AMP validation. This December, its authors had a reason to celebrate as they published the plugin's first major release.
Interview with Matt Mullenweg on Gutenberg, WordPress, and the future – Brian Krogsgard
Brian Krogsgard from Post Status hosted an online interview with Matt Mullenweg just after WordCamp US, breaking down the latest major WordPress release: the decision making, Gutenberg, core processes, Automattic's business, and a few words on how WordCamp US looked this year.
E-commerce Statistics for 2019 – Chatbots, Voice, Omni-Channel Marketing
Online shop owners, it's time to do your research while stepping into 2019! To help you prepare for what will happen in 2019, Kinsta collected the best stats that will help you get the picture of what is next for your business, so you can adjust properly.
We analyzed 275,045 recovery campaigns to find out what kind of discounts really work
On the same page, Jilt studied which kind of discounts convince shoppers to eventually buy a product after abandoning their carts. Find out how to cut your abandoned cart rate and get more sales.
WCUS contribution day exercise: keep, set on fire, add
The Design team had a nice exercise at WCUS Contributor Day. They were given three categories – Keep, Set on fire, and Add – for things related to WordPress UI. Which features were the most loved or the most disliked by the participants? Here's what everyone wrote down.
Bounces, AutoReplies, and You
During WCUS, the WordPress core team removed over 150 plugins from the official repository "due to auto-replies, bounces, and confusing plugin ownership". If you have a plugin and don't want to find yourself in the same situation, you should read this post for more details.
Gutenberg vs Elementor: Comparing The New WordPress Block Editor To Elementor
Are Gutenberg and Elementor much alike? After all, they are both page builders. Here's an interesting comparison from the guys at Create & Code, showing you how the two editors work and what makes them different (screenshots included).
WordPress 5.0: A Gutenberg FAQ
Still have questions about the new Gutenberg block editor? To make things a bit more straightforward, Matt created an FAQ page on his own blog, featuring the basics that we should be aware of. Take a look and ask Matt your own questions via the comments section if you're still confused.
Multilingual SEO on WordPress: 7 Tips To Rank In All Languages
When you have your site in one language (English or your native language), it's enough to do some research and kind of understand how to optimize your site for SEO. But when you add more than one language, things get a bit complicated. Here's how to rank well if your site is multilingual.
That's it for January 2019. Anything we missed?
…
Don't forget to join our crash course on speeding up your WordPress site. Learn more below: