Finding the right solution for shipping for ecommerce is as important as finding a high-quality product to sell in the first place. 🛍️
You can't just set up a USPS shipment and expect the delivery to take care of itself. With continuously growing competition, it is essential to provide your customers with real-time shipment tracking. But that's not the only reason to use third-party ecommerce shipping solutions.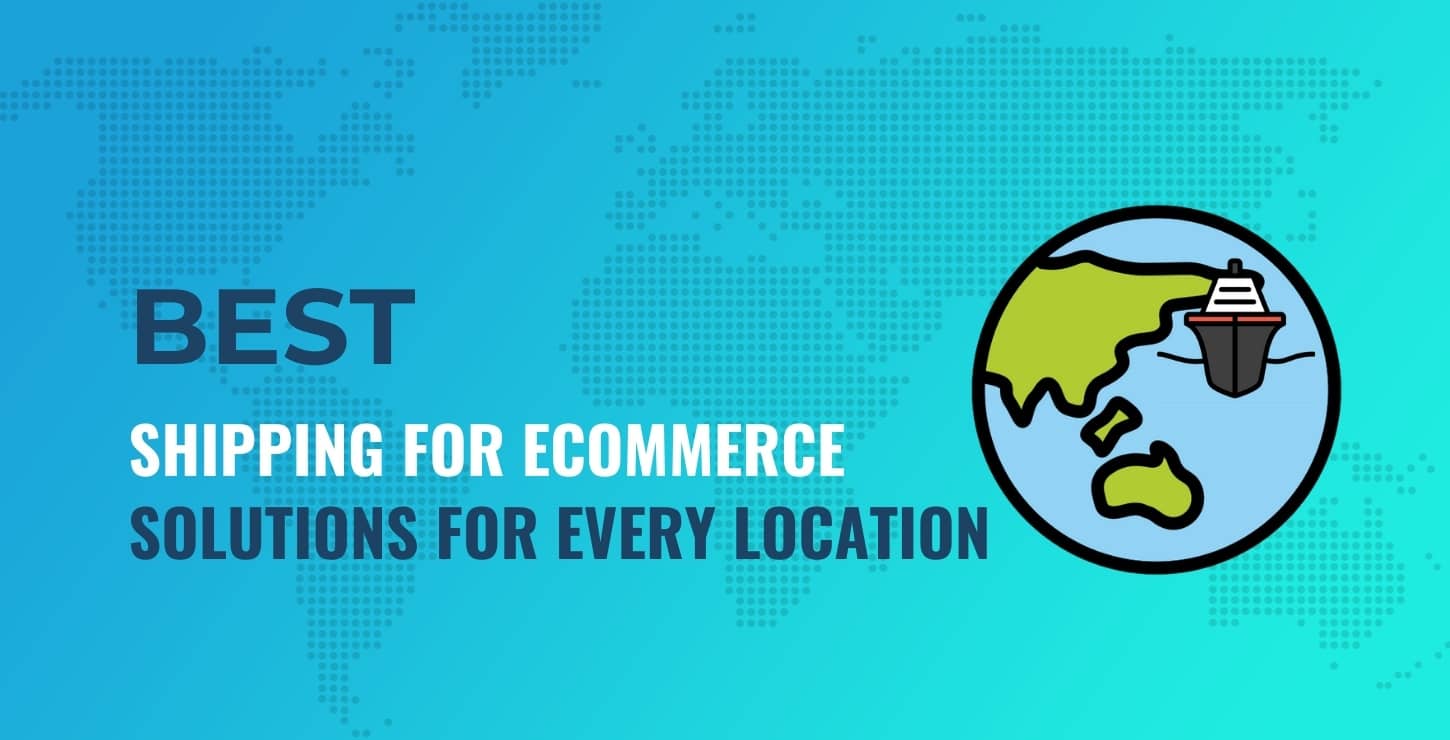 Companies offering logistics and fulfillment services often offer other side-services such as warehousing near your target region, and then the option to personalize the package and add some custom branding on the box before it gets shipped.
To help you automate shipping for ecommerce and provide your customers with a branded tracking page, we have compiled a list of 10 amazing ecommerce shipping solutions that your online store can use today!
Shipping for ecommerce: best carriers in 2023
The final lineup in no particular order: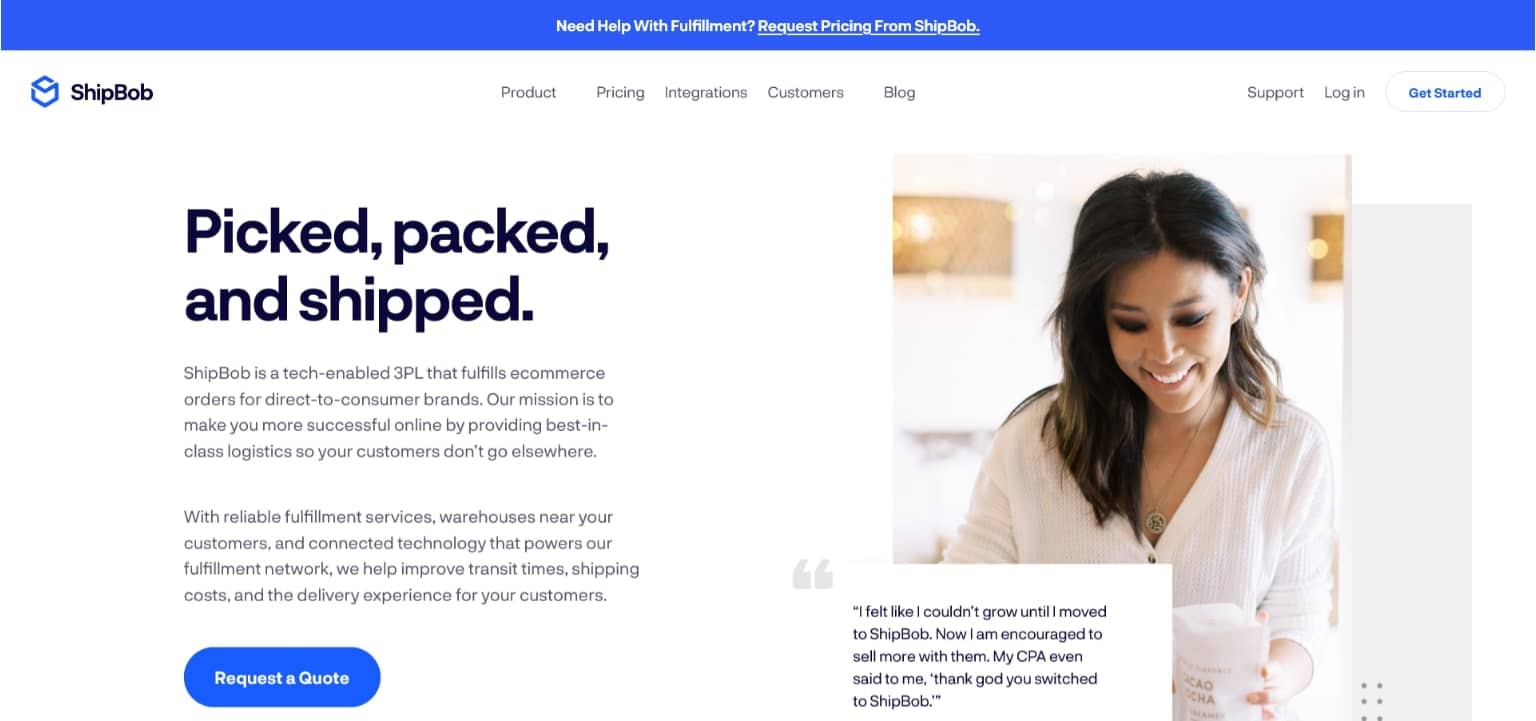 ShipBob is a third-party fulfillment service that helps you with shipping for ecommerce. This software is especially good for those who have a direct-to-consumer business model and want a reliable 3PL fulfillment service for their online store.
With 5,000+ active partners and affordable rates, ShipBob is quickly becoming the most recommended shipment service. Their Trustpilot score is 4.1 / 5, guaranteeing reliability.
You can split your inventory among various locations for faster shipment. Also, ShipBob integrates with all of the top ecommerce platforms, making it extremely easy for retailers to manage the entire sales process.
Features ⚙️
Works with top ecommerce platforms & marketplaces
Same-day shipping (pre-noon orders)
5+ returns management integrations
Multiple freight & shipping partners
Supply chain operators
Advanced reporting and analytics
High-quality customer support
Where they deliver & shipment details 🚚
ShipBob, a tech-based fulfillment service with warehousing centers located in the US, Ireland, and Europe. It operates both domestically and internationally.
Their packages are rated according to the shipping zone. There are eight zones for domestic, and, based on that, they calculate shipping costs. But you can split inventory across different locations to reduce both the transit time as well as shipping cost.
Also, they have guidelines for dangerous goods and HAZMAT items.
Price 💸
ShipBob requires a custom quote based on multiple factors: a one-time implementation fee for 30 days of support, receiving inventory, warehousing products, and shipping items. You can request a quote here.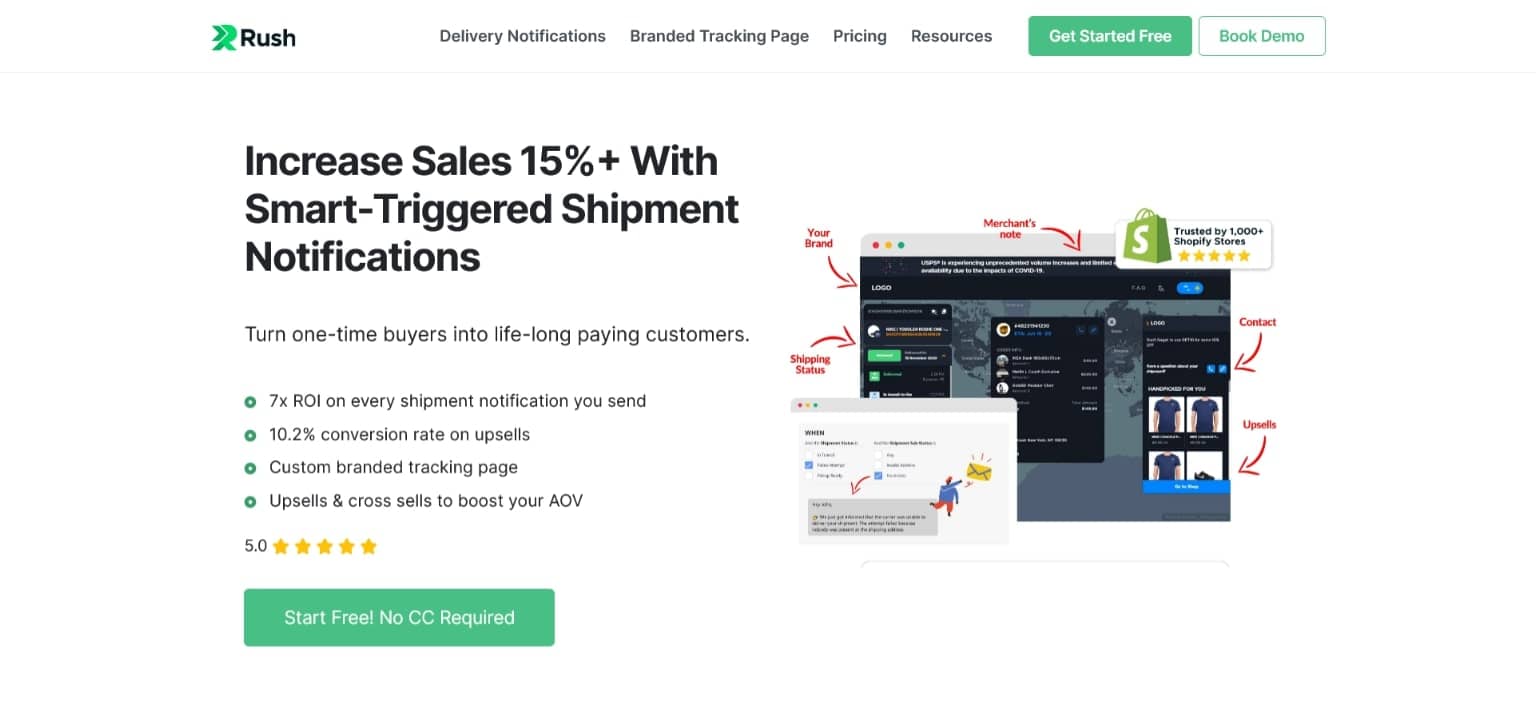 Rush is perfect for those who want to provide their customers with a premium post-shipment experience. You can use this ecommerce shipping solution for setting up a fully-customizable tracking page for your customers and managing the entire shipment process with little effort. Rush even allows you to add upsell and cross-sell recommendations.
Overall, it is an awesome ecommerce shipment software for setting up a branded shipment page and keeping your customer updated about carrier delays.
Features ⚙️
Supports 400+ carriers
Custom-branded tracking page
On-page product recommendations
Automatic carrier mapping
Built-in email notifications
Blacklists specific locations
Custom reports
Where they deliver & shipment details 🚚
Since it's shipment-tracking software, it integrates with most shipment couriers from around the world. You work with and provide your customers with tracking numbers.
When it comes to ecommerce platforms, however, Rush only integrates with Shopify.
Price 💸
You can get started with Rush for free.
The next pick on our list of solutions for shipping for ecommerce is ShipStation. It is a complete ecommerce order fulfillment system for growing businesses. This solution is popular because it makes multi-channel shipping insanely easy. You can create global rules for each platform and easily manage the shipment process.
Talking about integration (something ShipStation is very proud of), it integrates with top eCommere platforms, marketplaces, shopping carts, and carriers. Plus, it provides you with a branded tracking page to keep your customers updated.
Features ⚙️
Easy order management
Sets up shipping labels
Adds branded shipping
Inventory and stock management
Popular shopping cart and platform integrations
Awesome customer support
Where they deliver & shipment details 🚚
ShipStation offers integrations for Australia, Canada, France, United Kingdom, and the United States. They offer discounts based on shipment carriers.
Price 💸
You can check out ShipStation with a free 30-day trial.
They offer multiple pricing plans based on your shipment needs and packaging customization.
Starter – $9 per month (50 shipments)
Bronze – $29 per month (1,500 shipments)
Silver – $49 per month (1,500 shipments)
Gold – $69 per month (3,000 shipments)
Platinum – $99 per month (6,000 shipments)
Enterprise – $159 per month (10,000 shipments)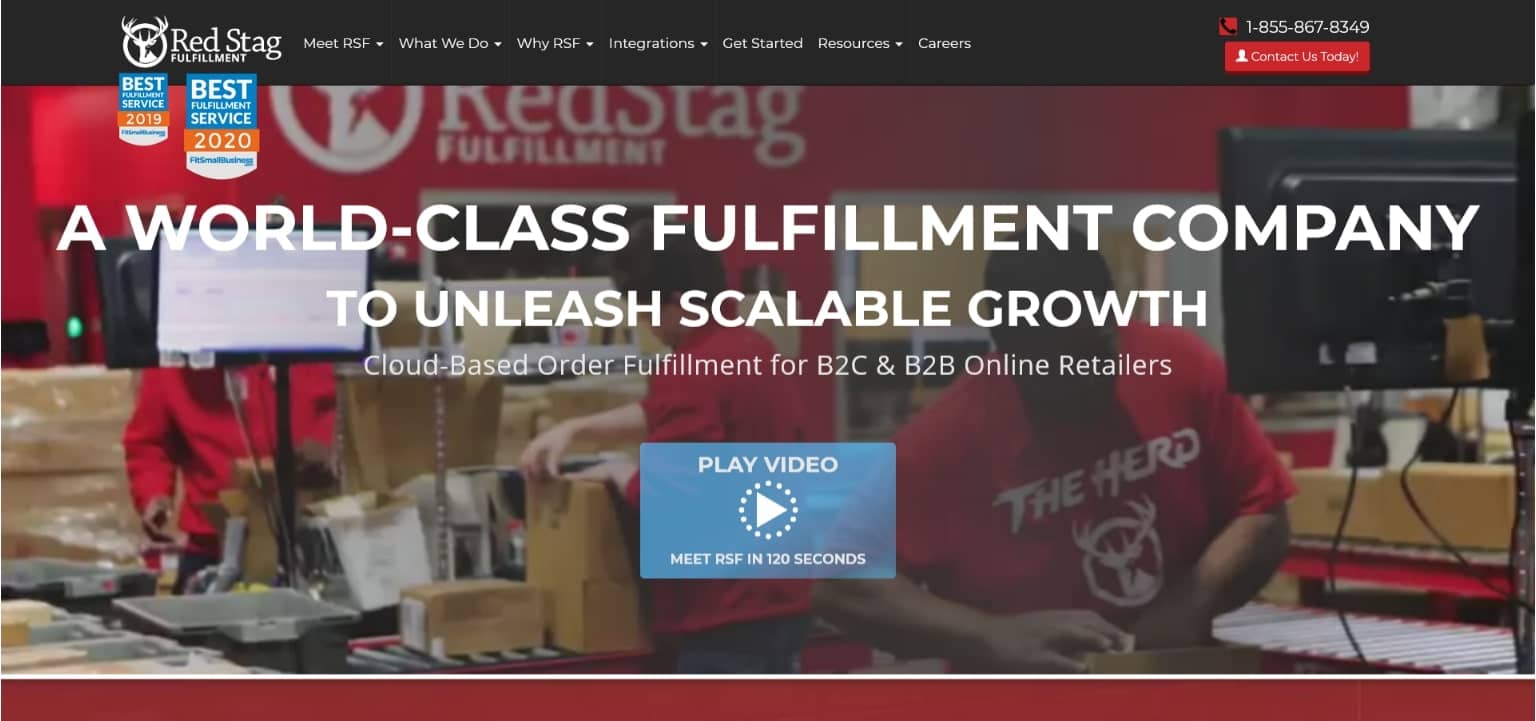 Red Stag Fulfillment is a cloud-based warehouse, 3PL, and fulfillment service that offers a 100% guarantee on receiving, inventory accuracy, order speed, and order accuracy. The company refunds shipping fees for orders that do not meet that guarantee. This shipment company offers scalable growth with exclusive, world-class features for B2B and B2C order fulfillment.
Features ⚙️
Easy order management
Sets up shipping labels
Adds branded shipping
Inventory and stock management
Popular shopping cart and platform integrations
Awesome customer support
Where they deliver & shipment details 🚚
Red Stag Fulfillment has four different warehouses across the US – two on the east coast and two on the west coast. Just like most of the top shipping solutions, they offer shipping-rate discounts. Also, Red Stag Fulfillment accepts packages weighing 30 to 70 pounds, allowing you to ship heavier items.
They are more focused on quality and thus limit the companies they accept.
Price 💸
Request a personalized quote to find out their pricing details.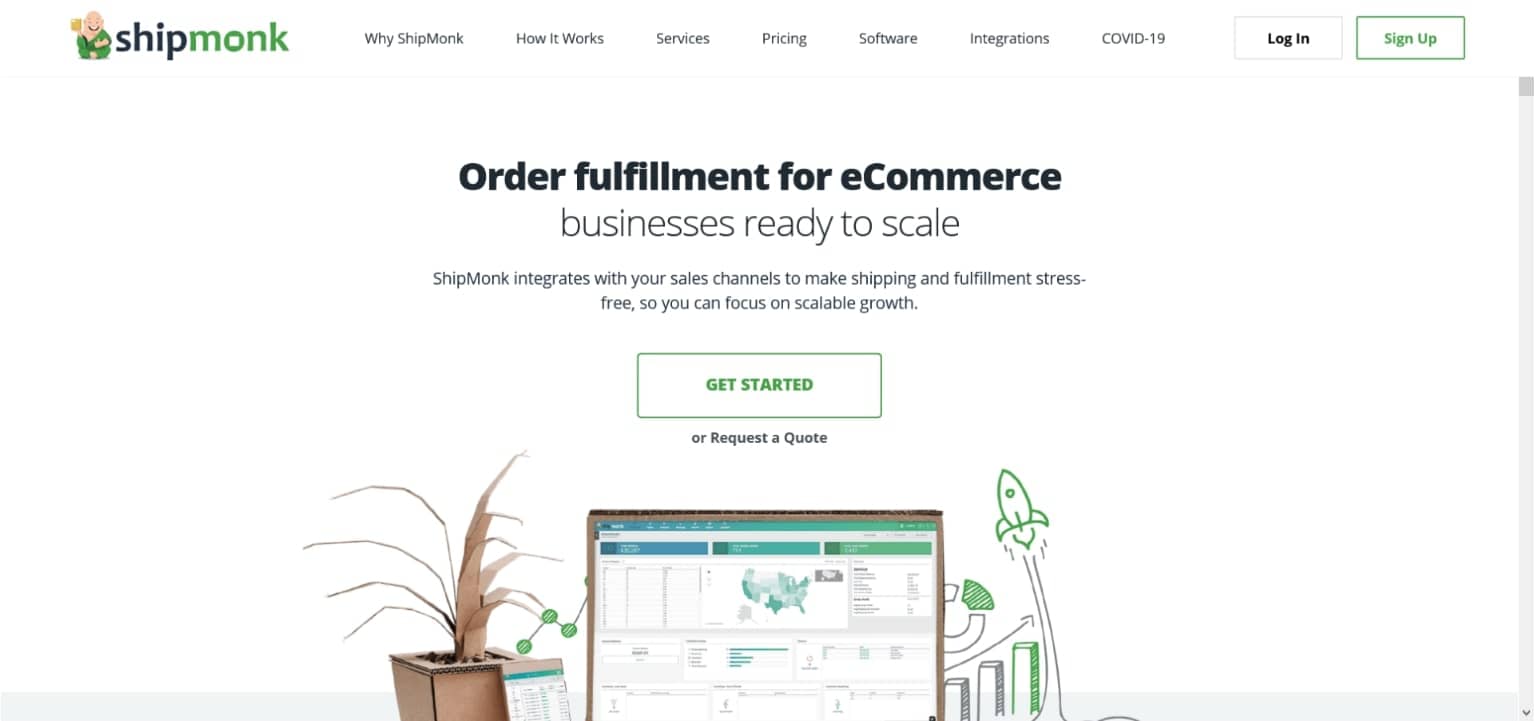 ShipMonk is another alternative 3PL shipping solution with a proactive approach and scalable pricing module. You can auto-import orders from multiple channels and track your inventory with ease.
Their user interface is beginner-oriented with no learning curve. So even with extensive integrations and automated fulfillment, you will still have full control over the shipment process.
Also, like most of the top solutions that provide shipping for ecommerce, ShipMonk offers a 99.9% accuracy rate.
Features ⚙️
Industry-leading fulfillment service
7+ fulfillment models for different businesses
Up to 100 shopping cart/marketplace integrations
Lower fulfillment cost
Secured storage locations
Unique custom packaging options
Actionable shipment reports
Easy returns management
Exclusive shipping discounts
Where they deliver & shipment details 🚚
ShipMonk has three warehouse locations – San Bernardino, CA, Pittston, PA, and Fort Lauderdale, FL – allowing you to reach your customers located in densely populated areas of the US.
Just like other third-party fulfillment companies, ShipMonk uses dimensional weight (a pricing technique used by carriers). This technique takes into account both the dimensions as well as the weight of the item. So if you are shipping multiple items like stuffed animals, irons, monitors, and baby cribs, you'd be charged for DIM weight even if the block of iron is smaller than a big stuffed animal.
Price 💸
The 4-in-1 cloud-based solution provides multiple options for ecommerce shipping. You can select any of the following plans based on your business model:
Ecommerce fulfillment – based on monthly orders
Subscription box – based on kitting fees
Retail fulfillment – depends on SKUs and handling units
Amazon FBA prep – depends on number of SKUs for pick and handling units
Since we are talking about ecommerce shipping and fulfillment, their starter package covers – monthly order (0 to 500), picking fee ($0.20), additional item fee ($0.50), promotional inserts ($0.20), and return processing ($2 + 0.50 per additional plan).
To that, they will add charges based on your storage needs (e.g., $1 for a small bin). But to make it worth it, they offer incredible shipping discounts and unlimited integrations. Plus, if you don't need any features from their regular plan, you can select one-off costs.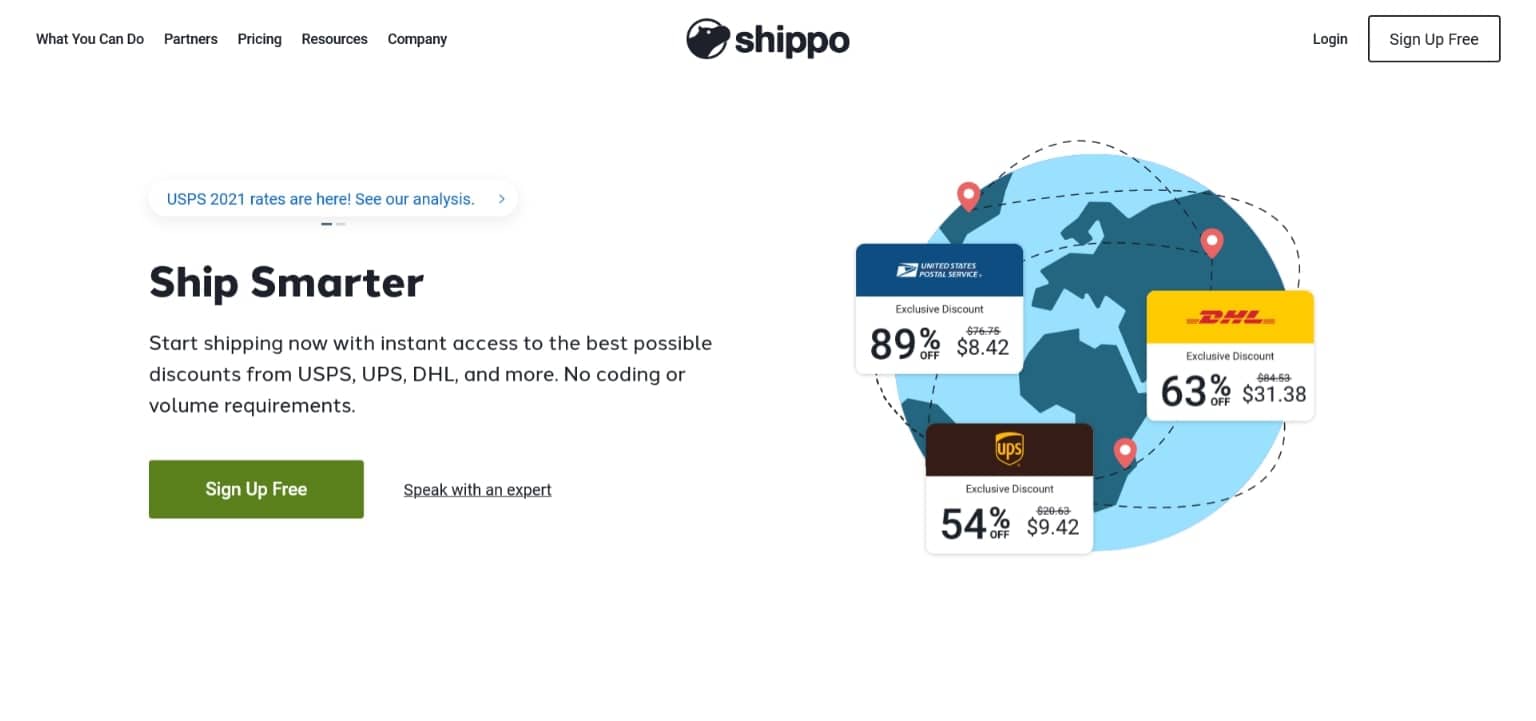 Shippo is a multi-carrier shipping API that helps store owners easily manage things like creating shipping labels, connecting tools, managing customer experiences, and scaling the business.
With over 10,000 business partners, Shippo is quickly gaining popularity. But what makes them unique is the real-time shipping rates and automated international paperwork. Should you want a trustworthy shipping company that you can rely on, Shippo is the best pick.
That said, Shippo does have a few drawbacks that could be deal-breakers for some merchants. First, their customer support isn't the best (they only offer online support limited to email or live chat). Second, Shippo isn't very techie, i.e., you won't get a shipping app for managing your business via a mobile phone. Also, the integrations are a bit limited.
Overall, though, Shippo is an excellent choice for growing businesses that don't want to be bothered by an extensive list of features they don't need.
Features ⚙️
Easy shipment tracking
Order and return management
White label or branding options
Limited but unique integrations
Libraries in multiple languages
Scan-based return labels
Order syncing via storefront
Where they deliver & shipment details 🚚
Shippo provides an outstanding shipment experience for its customers by using multiple fulfillment partners. They have over 17 different fulfillment partners, including ShipBob, to provide worldwide fulfillment and shipping services.
Price 💸
You can get started with Shippo for free. However, to get a better selection of useful features – like custom branding and automated workflows – the fee is $10 per month.
ShipperHQ is an ecommerce shipping software that tailors both the shipping and the checkout experience for your buyers. What makes it even better for shipping for ecommerce is the decade of experience serving thousands of worldwide retailers.
You can use this platform to offer spectacular delivery choices to your customers during checkout. Being closely integrated with multiple shipping carriers allows store owners to provide the best shipping rates to their customers. You can also fully customize the experience and reduce cart abandonment by setting up rules or restrictions for offering certain discounts, surcharges, and promotions.
That said, some features (warehouse management system or in-person support) that could push ShipperHQ to be the very best shipping solution for ecommerce are missing.
Features ⚙️
Unique shipping rules for geographic zones
Live rates & support for 50+ carriers
Shipping consultation and configuration (paid)
In-store pickups
Multi-origin shipping
Backup carriers and LTL freight
Address validation for lower spamming
Where they deliver & shipment details 🚚
ShipperHQ is less about warehouse and storage and more about the post-purchase shipment experience. You can set up shipping rules and pick-ups. For some carriers, ShipperHQ even offers delivery dates and transit times for UPS, UPS Freight, FedEx, USPS, Canada Post, and Table Rate Custom Carrier. This feature means you can let your customers decide when they want to receive their orders and what shipping method they want to use.
Price 💸
ShipperHQ pricing depends on the ecommerce platform you are using. For WooCommerce, BigCommerce, or Shopify, pricing starts at $50 per month.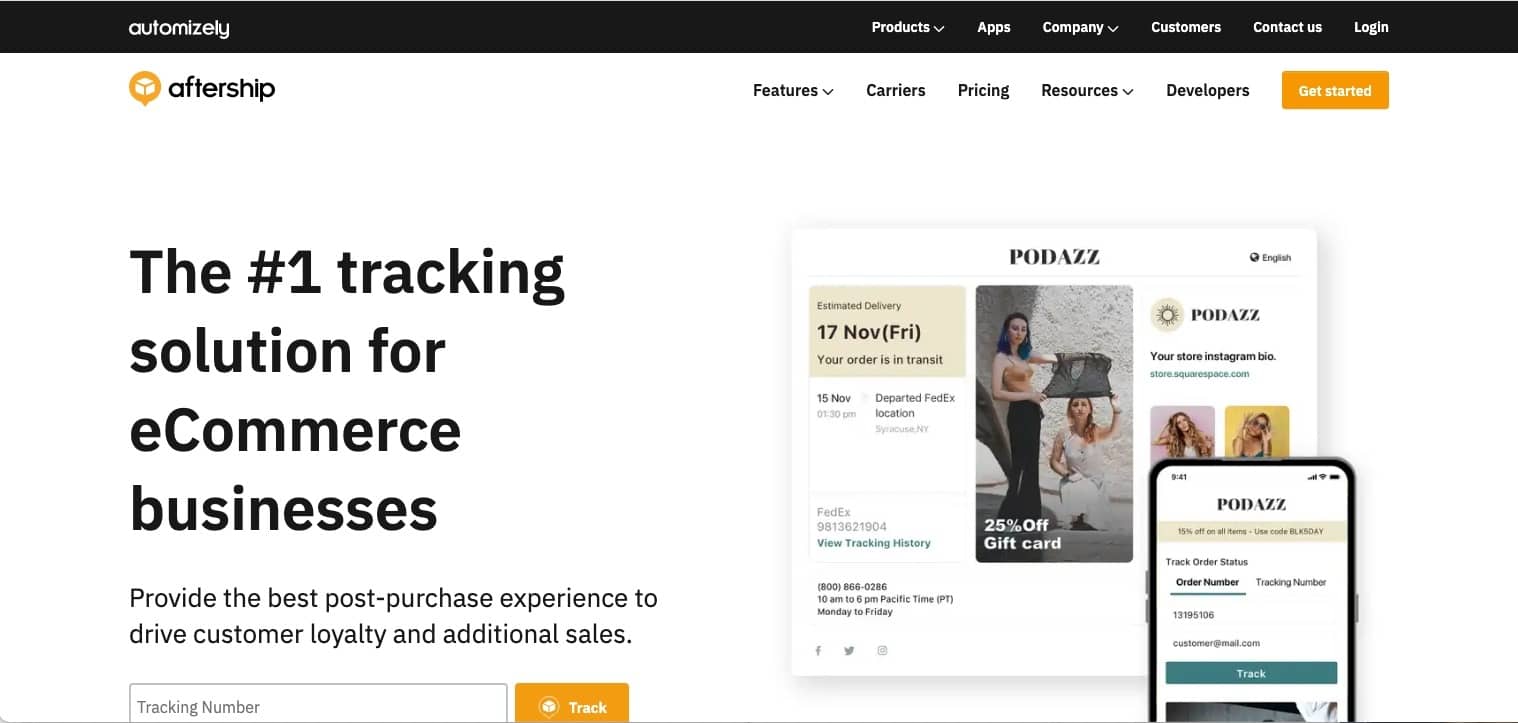 AfterShip is an ecommerce tracking solution that provides an excellent post-shipment experience for your customers.
What makes this an excellent post-purchase software are the targeted features that let you retain your customers and drive more sales.
AfterShip partners with hundreds of shipping carriers, so you can easily create a custom tracking page with whatever carrier you choose, improving shipment transparency.
Features ⚙️
Improved shipment transparency
Used by sites like Etsy, eBay & Rakuten
Branded tracking page
Quick shipment notifications
Manage multiple organizations
Multiple user accounts (paid)
Order lookup widgets
760+ shipment carriers
Custom analytics
GDPR compliant
Where they deliver & shipment details 🚚
AfterShip is a post-shipment solution, so there is no warehousing. However, you can expect worldwide shipment due to an extensive amount of carrier integrations.
Price 💸
AfterShip offers four shipment plans based on the number of shipments and additional features:
Free – $0 per month up to 50 shipments
Essentials – $9 per month for 100 shipments and $29 per month for 500 shipments
Pro – $99 to $999 for 2k to 25k shipments
Enterprise – custom plan for big brands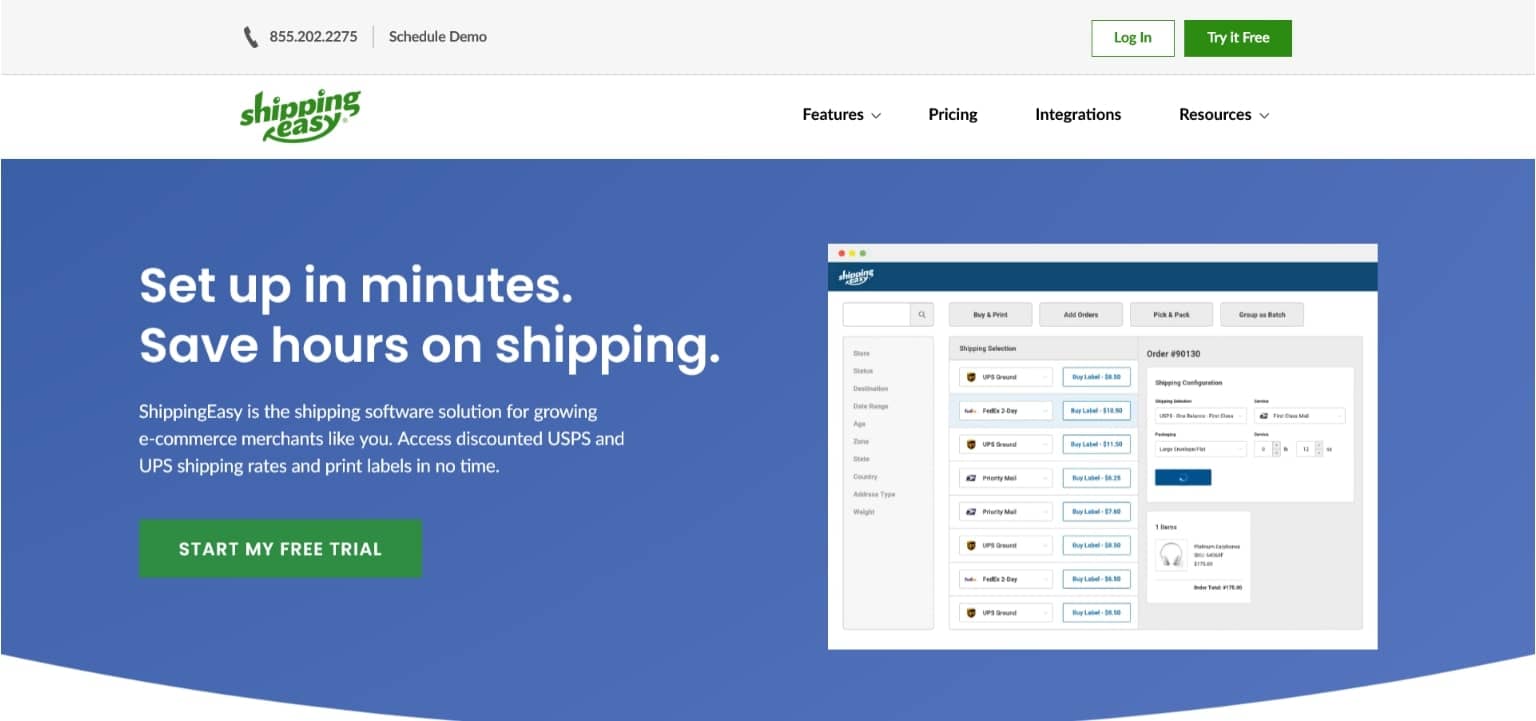 ShippingEasy is a shipping software specifically for growing businesses. ShippingNow™ helps merchants to import orders, print labels, and track packages without breaking a sweat. You can also enjoy an exclusive shipping discount for multiple shipment carriers.
The cloud-based solution will help you automate shipments and boost productivity, letting you use that time for marketing your products. They also offer customer marketing add-ons that provide customer insights, segmentation, and lifecycle analytics that you can use to set up an effective email marketing strategy.
Features ⚙️
Shipping workflow for custom rules
Advanced reporting dashboard
Customer marketing campaign management
Shopify seller suite
Seamless shipping integration
Branded tracking page
Amazon seller tools
Where they deliver & shipment details 🚚
ShippingEasy is handy with USPS, UPS, FedEx, DHL ecommerce, DHL Express, and many more. You can get an exclusive discount and manage your shipment process with ease. For international shipments, they offer custom discounts.
Price 💸
ShippingEasy is free for up to 50 shipments per month.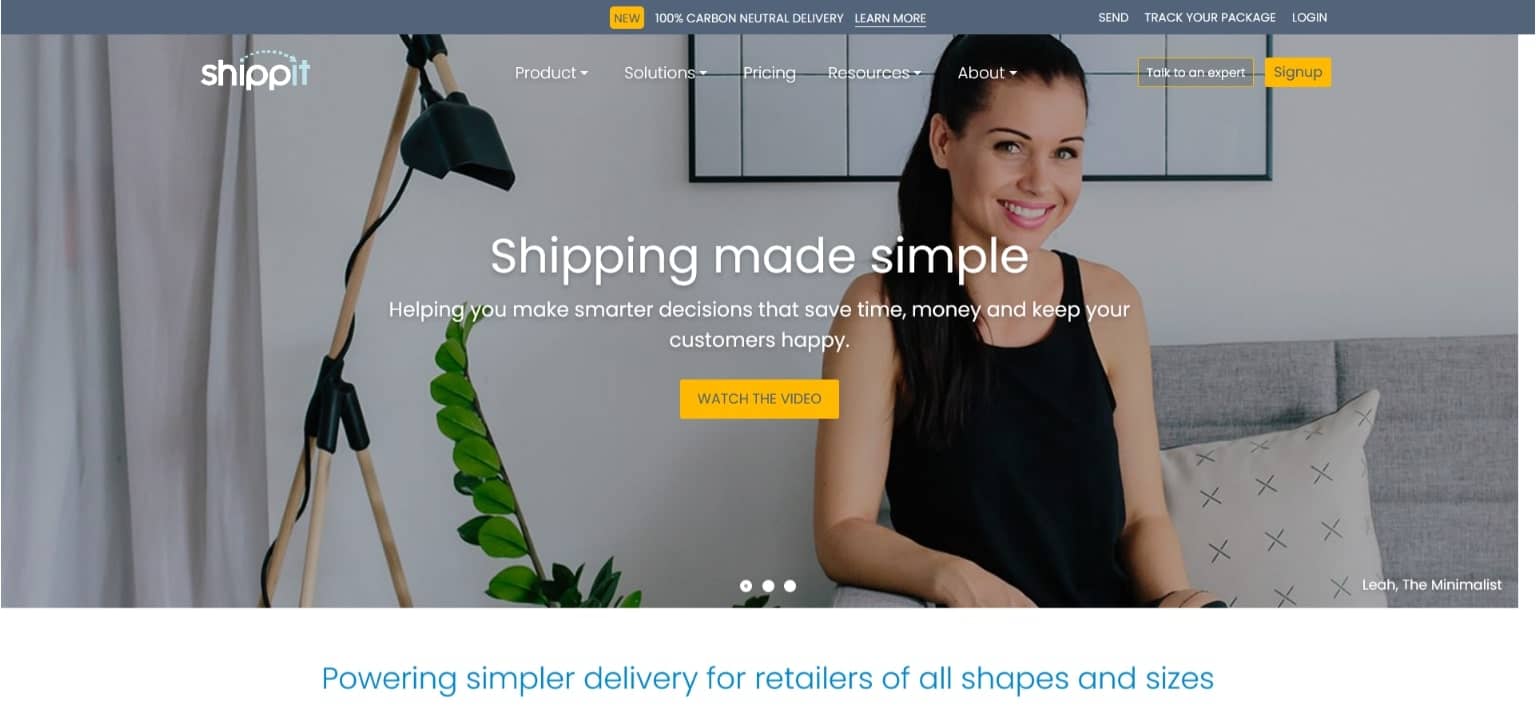 Shippit is a smart shipping solution aimed at providing simpler fulfillment to leading retailers. What sets them apart is the enterprise shipping rates that let you compete in the marketplace.
The Australia-based cloud shipment software is designed to automate the order fulfillment and delivery process. With multiple delivery options, fast fulfillment, and centralized tracking, Shippit makes it super easy to provide a remarkable delivery experience to your customers.
Plus, it even allows Shopify stores to set up COD payments for Singapore- and Malaysia-based retailers.
Features ⚙️
Tailored for enterprise experience
Easily book shipping carrier
Multiple shipping options
Live shipping calculator
Automated order fulfillment & delivery
Shipping rates during checkout
Integrates with top inventory-management systems
100% carbon neutral
Where they deliver & shipment details 🚚
Shippit claims to offer the most affordable delivery rates for leading couriers. And though it's based in Australia, you can ship anywhere in the world.
Price 💸
Shippit offers four different plans based on shipping discounts and the add-ons needed:
Start – $19 per month up to 20 orders
Grow – $49 per month up to 250 orders
Unleash – $149 per month up to 500 orders
Empower – $249 per month up to 1500 orders
The Empower plan goes further, up to 15,000+ orders with custom pricing. You can also add branded tracking for $50 per month.
Shipping for ecommerce: conclusion
So that's our take on some of the top solutions to help you with shipping for ecommerce.
If your business is based in the US, you will have more to choose from vs Europe or Asia. Regardless, the key when picking your ideal solution is to go with a company that offers the exact set of features that are the most important for your specific business case.
For instance, if you just need a branded tracking page, you can select a post-purchase shipment solution. But if you need faster fulfillment, third-party logistics would be the better option.
Find out more about the challenges of ecommerce fulfillment from our ultimate guide on the topic.
Have any questions about shipping for ecommerce? Ask away in the comments section!
…
Don't forget to join our crash course on speeding up your WordPress site. Learn more below:
Layout and presentation by Chris Fitzgerald and Karol K.