What's the deal with this whole SEMrush vs Ahrefs debate? Well, wouldn't it be nice if you didn't have to randomly choose blog post keywords and hope they perform well? Wouldn't it be nice to see what the competition is doing and get suggestions on how to improve in the search engines?
Well, luckily, we have these two online SEO tools that provide a bevy of options for improving your rankings and finding the perfect keywords. Now, depending on who you ask, some people will tell you that Ahrefs is better than SEMrush, while others will say the opposite. In this article, we'll compare SEMrush vs Ahrefs across several criteria, so you can decide for yourself which one is best for you.
SEMrush vs Ahrefs: An introduction to both tools
SEMrush and Ahrefs are search engine optimization and online marketing tools.
They're both considered premium solutions for online marketers, social media experts, bloggers, and more. In fact, just about any online business could benefit from SEMrush or Ahrefs – and they are particularly important for ecommerce stores.
As mentioned, these are premium solutions, so the lowest price you're going to pay is around $100 per month.
As for what you'll get from SEMrush and Ahrefs, here's what to expect:
Keyword analysis

• Keyword tracking •

Keyword suggestions

• Content suggestions •

Competitor spying

• Social media tracking •

Search engine ranking and analysis

• Domain comparisons •

Reports

• Ad optimization, and much more
Here's a quick comparison of SEMrush vs Ahrefs. After that, take a look at our in-depth comparison to see which one works best for you. Each of them have trials, so we recommend testing both.
SEMrush vs Ahrefs

| Tool | Pricing | Features | UI | Rank Tracking | Keyword Research | Competitor Analysis |
| --- | --- | --- | --- | --- | --- | --- |
| SEMrush | ⭐⭐⭐➕ | ⭐⭐⭐⭐⭐ | ⭐⭐⭐⭐ | ⭐⭐⭐⭐ | ⭐⭐⭐⭐ | ⭐⭐⭐⭐⭐ |
| Ahrefs | ⭐⭐⭐⭐ | ⭐⭐⭐ | ⭐⭐⭐⭐ | ⭐⭐⭐⭐⭐ | ⭐⭐⭐⭐⭐ | ⭐⭐⭐⭐ |
SEMrush vs Ahrefs: Features
It all starts with the features. Does Ahrefs have a content research area for filling your blog with articles? Does SEMrush provide useful reports for checking in on your search engine rankings?
We'll pit SEMrush vs Ahrefs to see which of them has the longest list of features, along with the most impressive features.
Considering both of these SEO and marketing tools are filled with features, it's impossible to cover every little function. However, there are plenty of "must-haves" and unique features that we'll touch on to help you make a decision on whether to choose SEMrush or Ahrefs.
SEMrush
Here's a list of our favorite features from SEMrush:
Competitor research to see the best keywords, organic competitors, and position changes.
Advertising research with ad budgets and keywords.
Backlink checking tools for conducting analysis and spotting good places to get backlinks.
Keyword research with support for long-tail keywords.
Traffic analytics.
Keyword checking with keyword difficulty and related recommendations.
Domain vs domain comparisons.
Beautiful charts.
A Keyword Magic Tool for getting millions of keyword ideas.
An SEO writing assistant.
Search engine position tracking.
A site audit to see your SEO health.
Social media tracker and poster.
A content analyzer to see if what you're writing is any good.
Local SEO tool that visualizes competition on a local level.
And this is only a taste of what SEMrush has to offer. It looks a bit intimidating for some users, but it doesn't take long to start taking advantage of the long list of tools in SEMrush.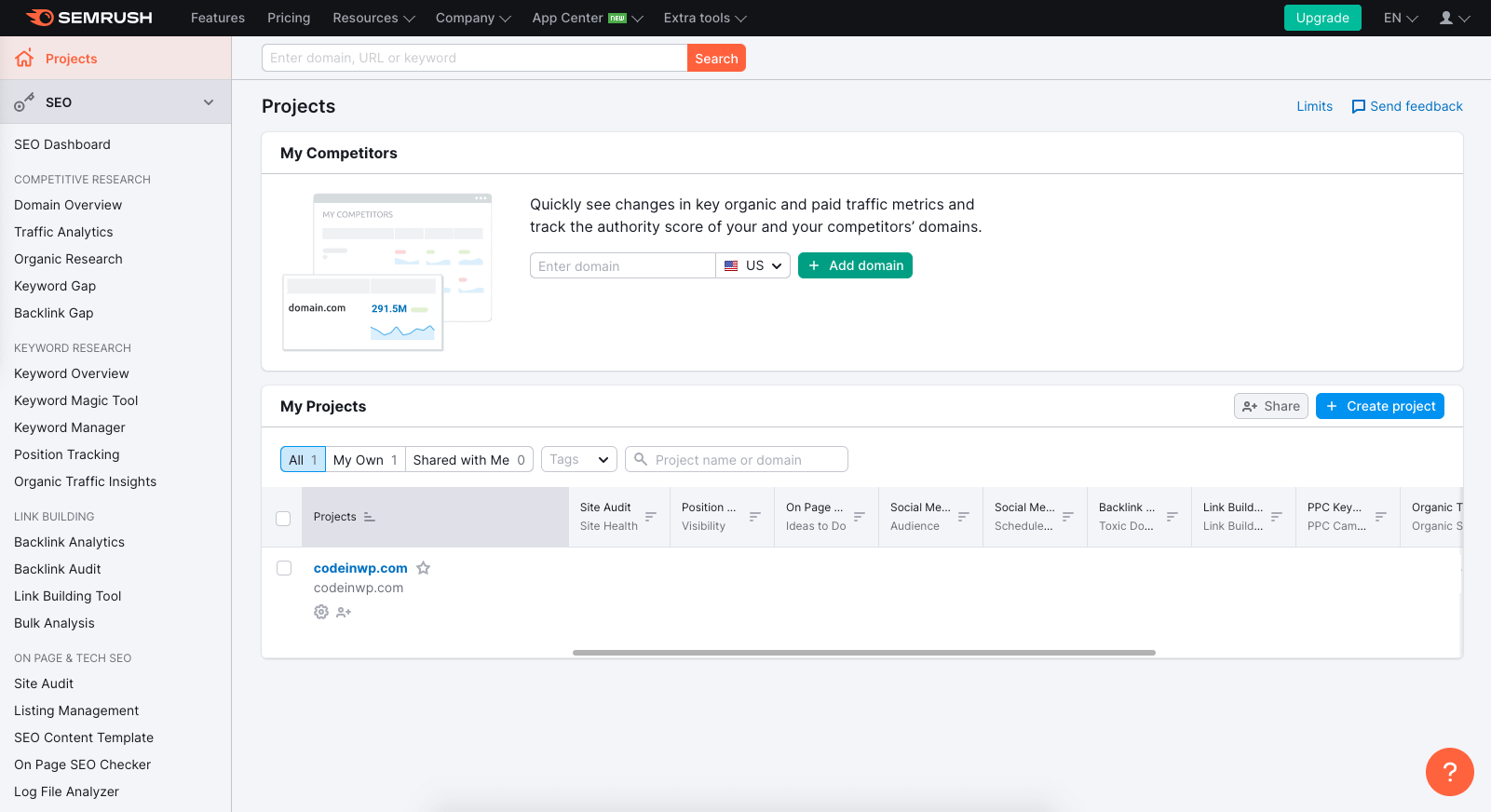 Ahrefs
Here are some of the best features from Ahrefs:
An intuitive dashboard and overall interface for quickly seeing the health of your website and where you rank in the search engines.
Alerts for things like backlinks, mentions, and new keywords.
A site explorer to see an in-depth look into backlinks and search traffic.
A content explorer with excellent suggestions.
A keyword explorer to find the keywords that will give you the best results.
A search engine rank tracker.
Domain comparisons.
Reports with charts.
A site audit for a complete crawl of your website. This is great for finding SEO issues.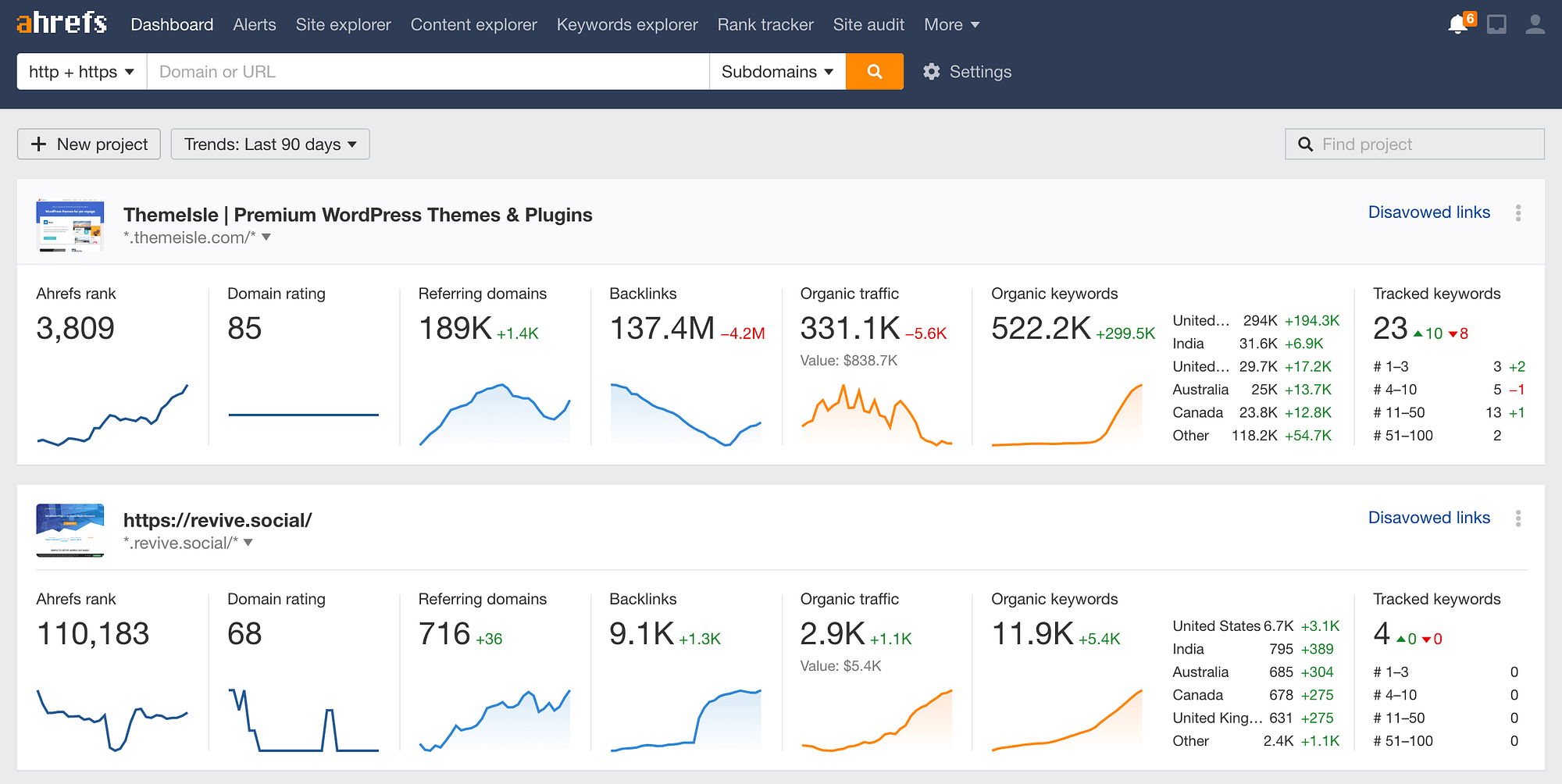 Winner: SEMrush
This is a no-brainer, simply because SEMrush has more features than Ahrefs. So, the power users out there and the professional online marketers will most likely enjoy SEMrush better than Ahrefs.
However, it's important to give credit to Ahrefs for simplifying the entire process. There will be many people who see the overwhelming number of features as a downside for SEMrush.
SEMrush vs Ahrefs: Pricing
As always, pricing is a factor that everyone wants to know about. How much is your organization going to have to pay in order to utilize all of the tools we've talked about? Is it going to be worthwhile from an ROI perspective? Also, is the pricing too steep for some smaller businesses that also need to pay for other tools to run their operations?
Overall, SEMrush and Ahrefs are rather similar when it comes to pricing. In addition, they're not what we would consider inexpensive tools. However, the features packed into both of them should definitely justify the cost. After all, many companies can quickly break even with the $99 payment per month – considering SEMrush and Ahrefs will be drastically boosting your SEO and marketing.
Also, keep in mind that you can save money by opting for annual billing. This is true for both SEMrush and Ahrefs.
So, what pricing are you to expect from both tools?
SEMrush
Pro – $129.95 per month / $108.33 if paying annually – for 10,000 results per report, 3,000 reports per day, up to 20,000 pages crawled per site audit, up to 50 social media profiles that you can track for all projects simultaneously, traffic sources, rankings, and more.
Guru – $249.95 per month / $208.33 if paying annually – for all features in the previous plan, 30,000 results per report, 5,000 reports per day, up to 20,000 pages crawled per site audit, up to 100 social media profiles that you can track for all projects simultaneously, extended limits, branded reports, historical data, and a content marketing platform.
Business – $499.95 per month / $416.66 if paying annually – for all features in the previous plan, 50,000 results per report, 10,000 reports per day, up to 100,000 pages crawled per site audit, up to 300 social media profiles that you can track for all projects simultaneously, API access, extended limits, sharing options, Google Data Studio integration, and white label reporting.
Enterprise – You need to contact SEMrush for custom pricing and volumes, but you also get on-site training, special add-ons, custom limits, custom keyword databases, and unlimited crawling for larger websites.
Ahrefs
Lite – $99 per month / $83 if paying annually – for one user, five projects, 750 tracked keywords, 25,000 maximum number of pages that can be crawled per project, 5 number of keywords lists you can create to save and organize important keywords.
Standard – $199 per month / $166 if paying annually – for one user, 20 projects, 2,000 tracked keywords, 50,000 maximum number of pages that can be crawled per project, 50 number of keywords lists you can create to save and organize important keywords.
Advanced – $399 per month / $333 if paying annually – for one user, 50 projects, 5,000 tracked keywords, 250,000 maximum number of pages that can be crawled per project, 100 number of keywords lists you can create to save and organize important keywords.
Enterprise – $999 per month / $833 if paying annually – for one user, 100 projects, 10,000 tracked keywords, 5,000,000 maximum number of pages that can be crawled per project, 250 number of keywords lists you can create to save and organize important keywords.
Winner: Ahrefs
When comparing the pricing difference between SEMrush vs Ahrefs, the Ahrefs tool does offer less expensive rates across the first three tiers. We can't comment on the fourth tier because SEMrush requires you to contact them for pricing on that.
The annual rates also come out cheaper across the board with Ahrefs. You may also notice that Ahrefs bases its pricing strictly on volume. So, you would pay more for additonal reports and keyword tracking, while SEMrush is focused on charging more for additional features – which can often mean that you're paying for features that you don't utilize.
On one note, SEMrush does provide the option to contact them for a customized plan. Ahrefs would most likely work with you to customize a configuration, but it doesn't actually advertise this on their website.
SEMrush vs Ahrefs: User interface
SEMrush and Ahrefs both offer comprehensive reports and analytics right from their dashboards. Ahrefs has more of a configuration process where it asks for your competitors, domains, and desired keywords. However, SEMrush gets you into the dashboard a little quicker to begin your analysis.
For user interface, we like to take a look at the elements provided on the dashboard (for quick glances), then explore how easy it is to complete tasks such as exploring new content and looking up the best keywords for your next blog post.
With that said, keep reading to learn more about if SEMrush or Ahrefs has the better interface.
SEMrush
The SEMrush dashboard has a few modules that you see right away. One of them is a quick analysis of your domains, with information about organic keywords, traffic, and ad keywords.
A search bar is there for typing in a domain, keyword, and anything else you'd like to explore. The menu is situated on the left side of the screen, with quick links to marketing insights, projects, keyword analytics, and more.
We also like that customer support resources are provided right in the SEMrush dashboard. This way, you can ask questions to the support team or check out resources like webinars, blog posts, and news.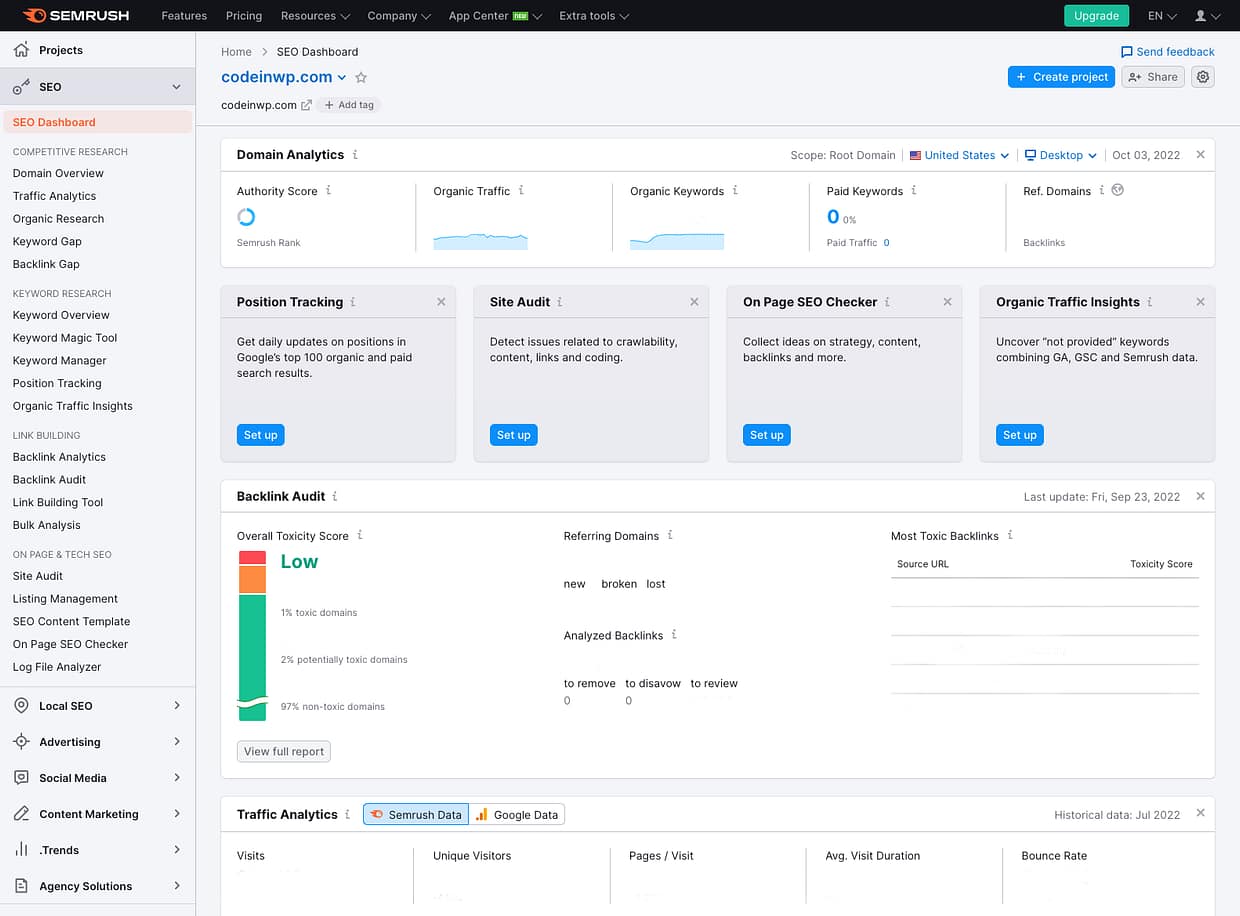 Another area that's rather impressive from SEMrush is the information descriptions for just about everything in the program. This is a huge advantage considering it can be difficult for people to understand acronyms such as CPC or abbreviations that you often see in SEO tools.
For instance, the Keyword Magic Tool has several columns for testing out some potential keywords. You see headers like Volume, Trend, and KD%. But what the heck is KD%?
As with all of the column headers in SEMrush, placing your mouse over it reveals the definition. In this case, we not only learn that KD% means Keyword Difficulty, but it gives a pretty long description for you to better understand.
Ahrefs
The Ahrefs dashboard and overall interface is less cluttered than that of SEMrush's. It also has a different layout, with the primary menu at the top of the page. The search bar is only for typing in domains, so that's more limiting than SEMrush.
We really enjoy the dashboard analytics in Ahrefs, considering you can see everything from search engine rankings to domain ratings, and referring domains to backlinks.
All in all, jumping from one tool to another is simple for all users. You can go to the Keywords Explorer module and check in on what keywords you should target right now. After that, jumping directly to rank tracking is done with the click of a button.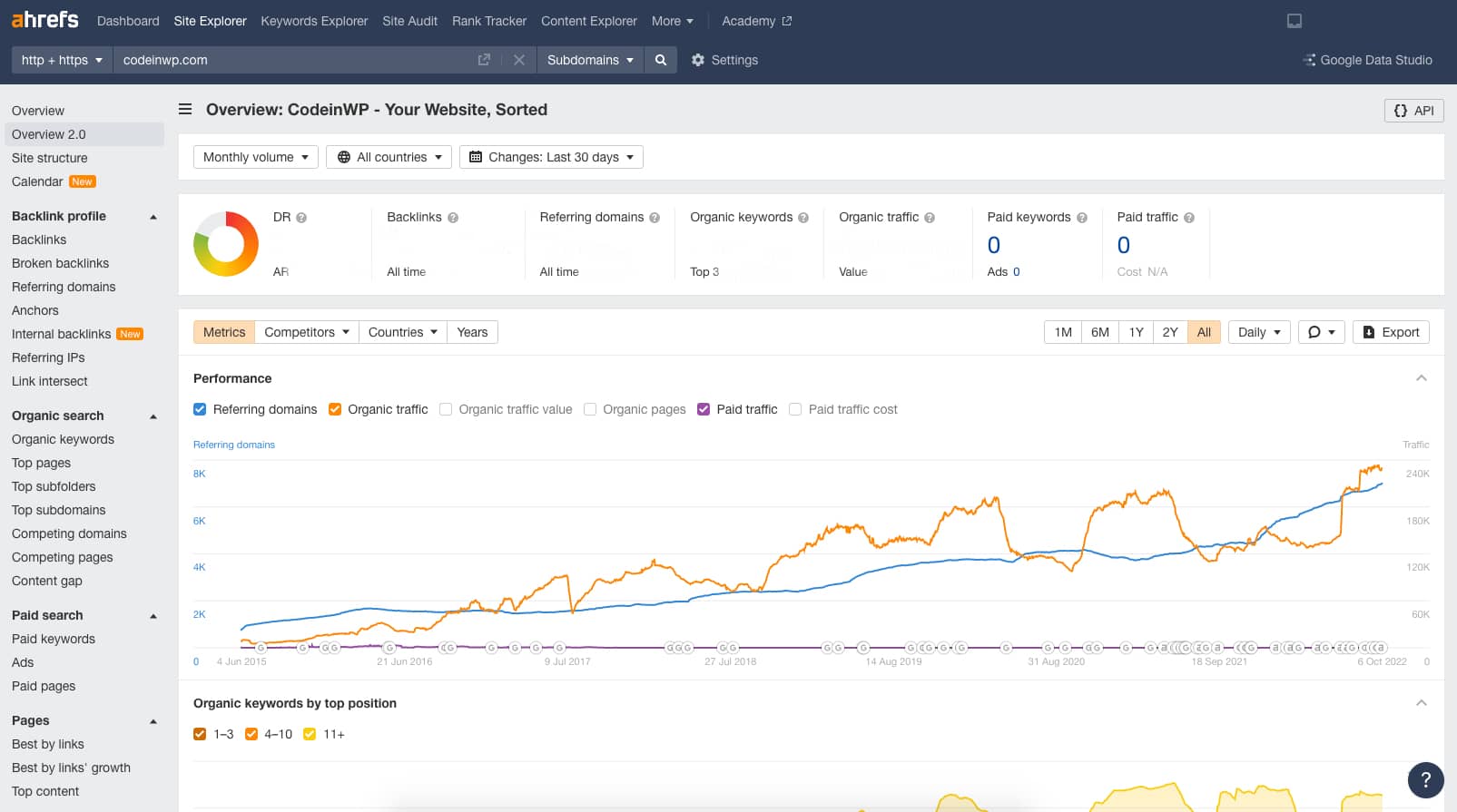 Ahrefs also has their own tooltip helper tool – similar to that of SEMrush's. Just hover your mouse cursor over something that isn't clear and you'll see an in-depth explanation.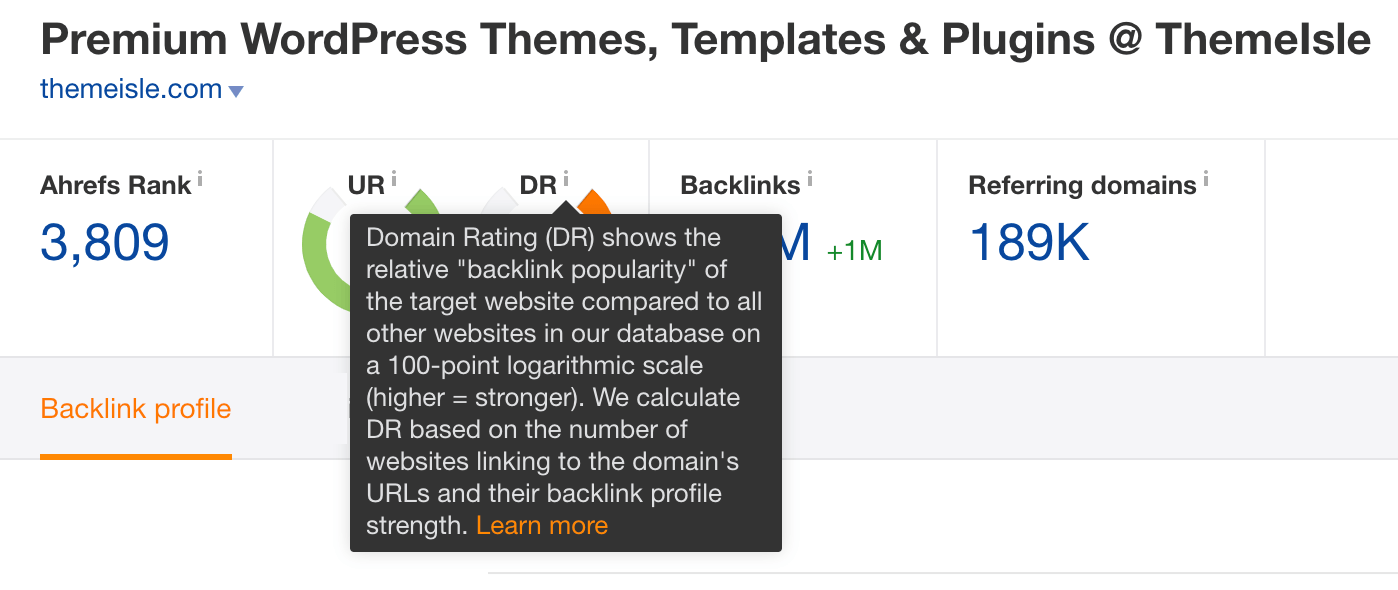 Winner: Tie
This is a tough one because both have strengths and weaknesses.
If you're more interested in a clean, modern, simple interface, Ahrefs is clearly easier to work with. However, SEMrush packs more tools into the screen and you can access plenty of customer support resources right from the dashboard.
This one depends entirely on how you feel after testing both dashboards yourself.
SEMrush vs Ahrefs: Rank tracking
The rank tracking features are great for understanding your position on search engines. You can also check in on how you compare to your competition.
What's more is that you can typically decide on what changes need to be made in order to boost your rankings. For instance, you may find that your competitors have far more backlinks to their content than you, even though you're targetting the same keywords.
Let's compare SEMrush and Ahrefs to see which one performs best in the rank tracking arena.
SEMrush
The majority of rank tracking tools in SEMrush are organized under the Projects tab. You can find links for the On-Page SEO Checker, a Position Tracking tool, and even some options for social media tracking.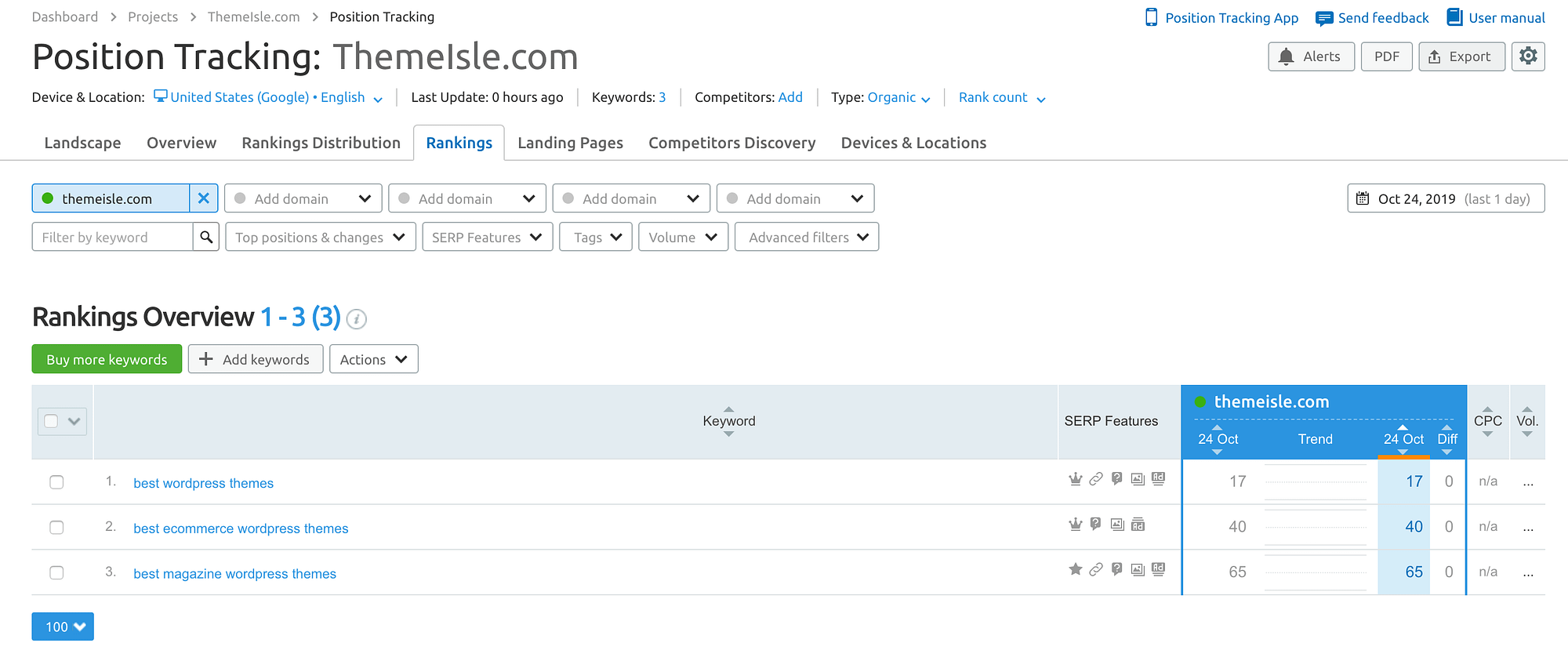 It all looks promising for you to analyze what needs to be done to boost your rankings.
The On Page SEO Checker is a good place to start, even though it doesn't necessarily give you the rankings. It allows you to import a large collection of your site's pages. After that, it generates ideas and strategies for improving your rankings in the search engines.
After that, you can set up your rank tracking. This tool asks for your domain name and what keywords you would like to track. As an example, we could track something like "WooCommerce plugins" to see if we move up or down in the rankings for some posts.
It takes a bit to populate the information, but you get a chance to see everything from estimated traffic to the number of times you rank in the top 3, top 10, and top 100 for certain keywords.

The reports are somewhat intuitive, and you can always jump back in to change the items being tracked.
Ahrefs
It's easier to understand the Rank Tracker on Ahrefs, primarily because there's one page for it without many additional features.
The process starts when you type in the domain you'd like to test and some keywords. This way, Ahrefs looks into how well your rankings are on those particular pages for those particular keywords.
The results are easy to understand, with results for things like visibility, average position, traffic, and keyword difficulty.

You can also go into the keyword difficulty area to see whether or not it's worth it to even target that keyword at all. For instance, the keyword I tested shows that it's "Hard" to rank for that keyword, estimating that I would need around 202 backlinks to rank in the top 10.
This might be worth it for an established brand, but it would be better to skip for a smaller blog.

Winner: Ahrefs
Ahrefs is far more user-friendly. It takes seconds to type in domain names and keywords. Then, you can make a quick decision whether or not to move forward with targetting a keyword or figuring out how to rank higher for certain keywords.
One advantage that SEMrush has is social ranking analytics.
SEMrush vs Ahrefs: Keyword research quality
The keyword research quality ties somewhat into rank tracking, but it's more about deciding on the keywords you plan on using in the future, as opposed to tracking the keywords you currently have on your product pages, blog posts, and overall website.
Users of both of these tools frequently utilize keyword research options, so this is a rather important area to look into.
SEMrush
The core feature for keyword research in SEMrush is called the Keyword Magic Tool. It's a great solution where you type in any keyword you want and see a large list of suggested keywords and how you may be able to perform with each of them.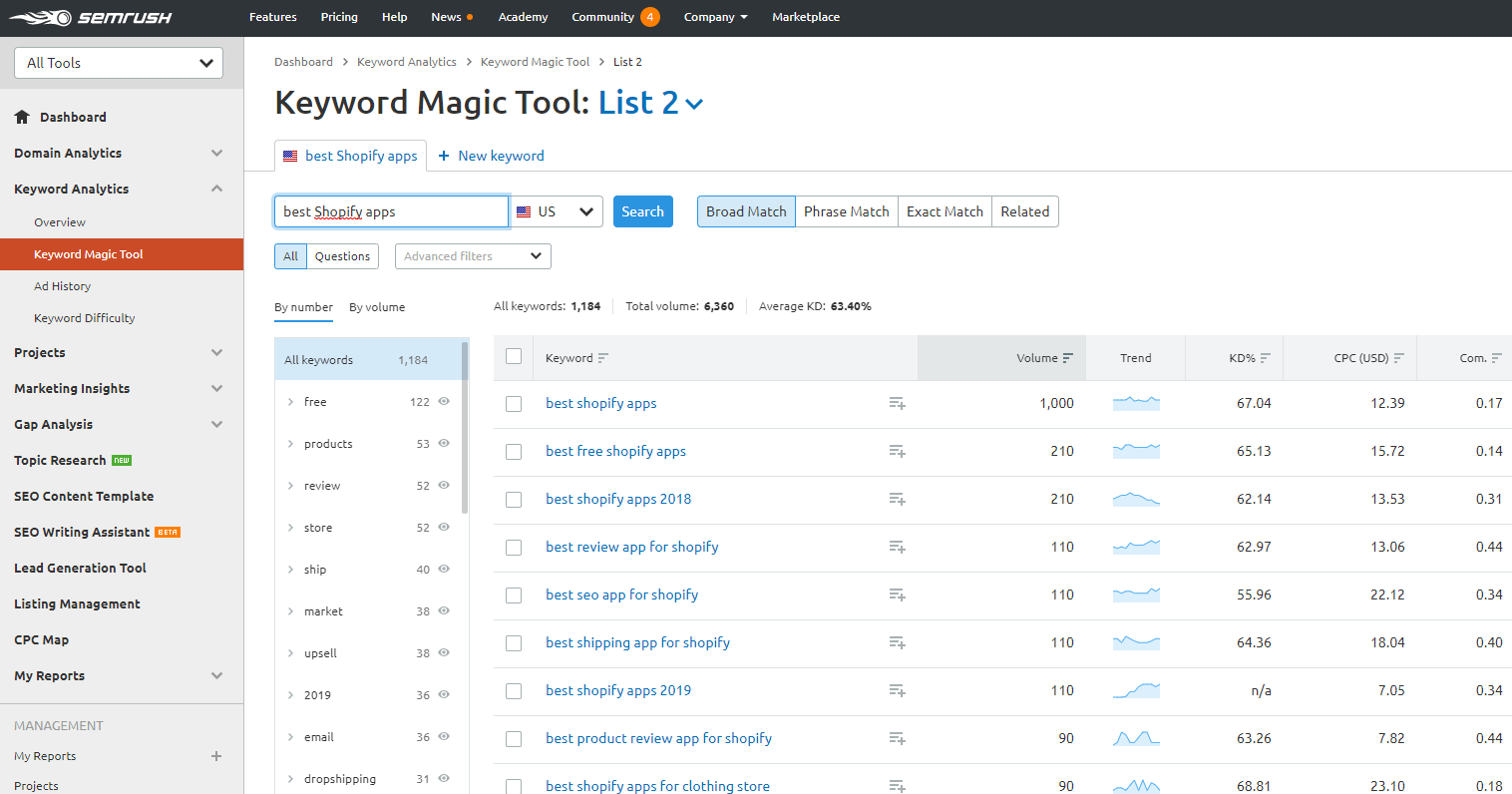 SEMrush lets you search based on broad keyword matches, phrase matches, and exact matches. We also like the related tab, which is a good tool for finding keywords that aren't exactly like what you typed in.
For instance, I typed in "best Shopify apps," and the related keywords included "top Shopify apps" and "best apps for Shopify store" – two options that I may not have thought of in the first place.
Other than that, each keyword result delivers metrics like search volume, trends, keyword difficulty, and cost per click. With all of this information you should have a decent time trying to figure out the right keywords to use.
Ahrefs
When in the Ahrefs dashboard you can go to the Keywords Explorer tab to get thousands of relevant keyword ideas with metrics included.
You can also target based on search engines. So, if you only wanted to see results for Google or Amazon, that's entirely possible.
It's also nice that you can type in multiple keywords at one time to analyze them together.
For our test I'll type in a few keywords for a travel blog. I'll go with "Wisconsin camping," "Wisconsin travel," and "Wisconsin car rentals."
The first result tells us the basics, like which keywords are worthless and which keywords have good search volume and clicks.

Then, the user is able to click on the keywords that have potential. For instance, the only one that looks appealing is the "Wisconsin camping" keyword.
Results like keyword difficulty and search volume are shown as usual, but the true strength of this area shows up towards the bottom of the page. Here, you can see all sorts of keyword suggestions related to that initial search. These are great for instantly seeing what other options you may have that you never thought about.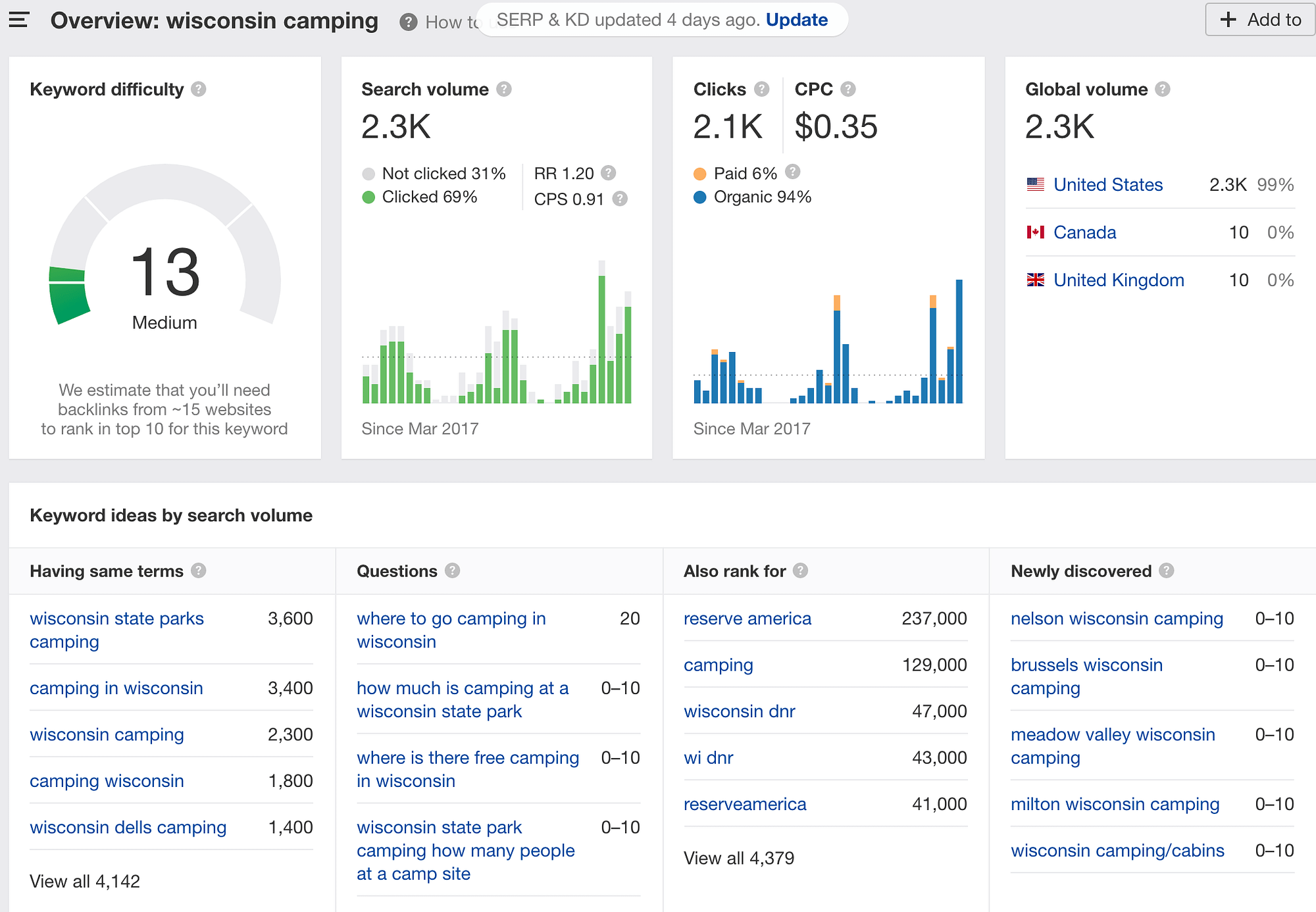 For example, "camping in Wisconsin" has the same keyword difficulty, but the search volume is actually higher than "Wisconsin camping," making me think that I have a better chance of getting more people to my site if I do end up ranking for the keyword.
Winner: Ahrefs
Again, Ahrefs wins because of its simplicity and ability to break down some complicated tasks into something appealing to beginners and advanced users alike.
To be fair, SEMrush seems to suggest far more keyword alternatives than Ahrefs. So, if you're interested in the number of keyword suggestions, SEMrush may have what you're looking for. But SEMrush seems to leave more work for the user when it comes to the final keyword decision.
SEMrush vs Ahrefs: Competitor analysis
Competitor analysis is one of the most important parts of SEO, but it often goes forgotten. It's easy to fall into the trap of using your gut and thinking of keywords off the top of your head.
However, wouldn't it be easier to find keywords that are already effective for your competition? Then you could take some of those top keywords and try to rank for them with better articles.
Both SEMrush and Ahrefs have competitor analysis tools, so let's see which one works the best.
SEMrush
The great part about SEMrush is that there is no shortage of opportunities. SEMrush works as a blank canvas for you to test your competition and spy on them the most efficient way possible.
The first tool to use is the Keyword Gap feature. This asks you to compare multiple websites with your own. It then provides a list of the most popular keywords on all of those sites, along with which of them rank best for those keywords. It's a beautiful comparison table that you can't beat.
There's also an awesome Topic Research area for seeing what your competition is writing and what keywords are best for you to target and beat them. For example, I searched "WordPress form plugins" and received a solid list of headlines that I could pull from.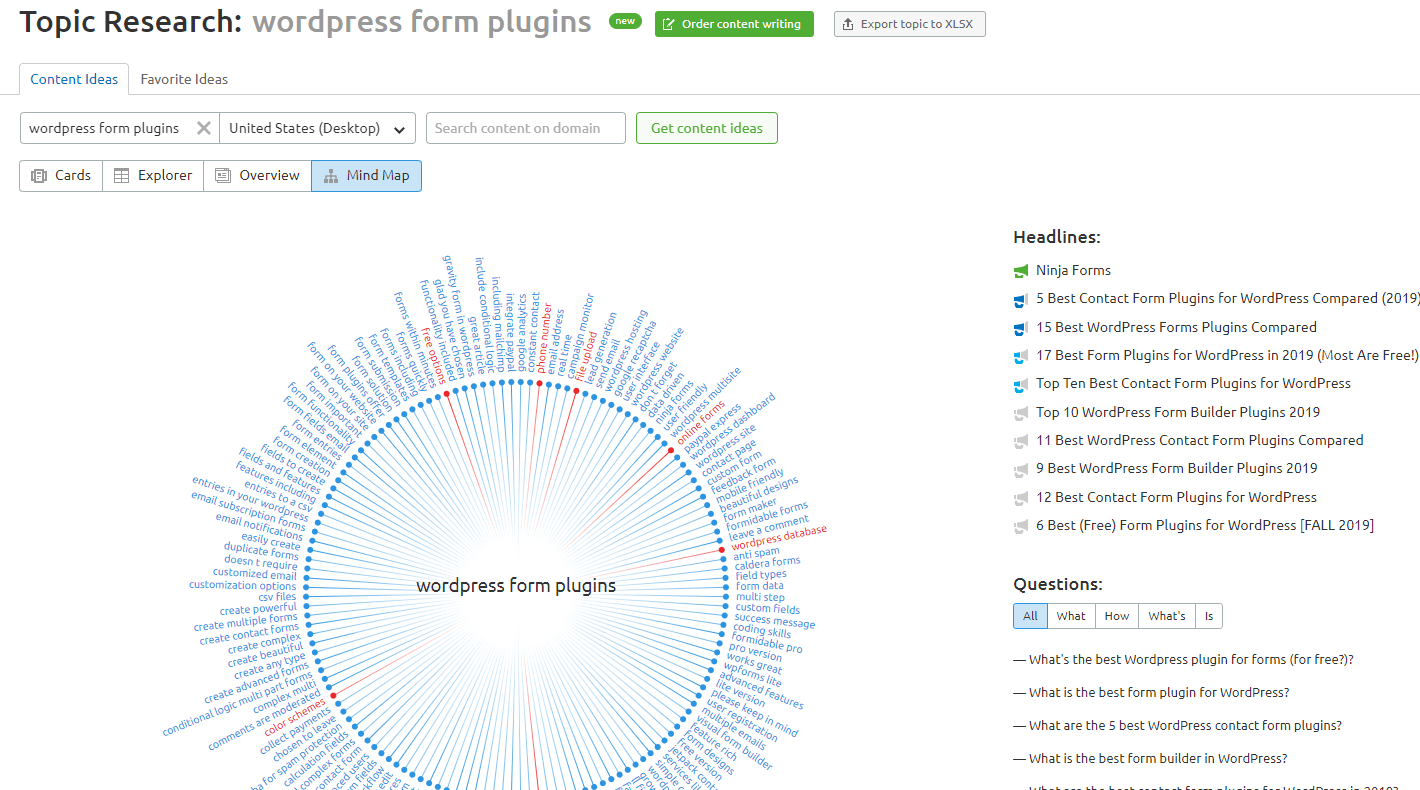 Our other favorite competitor research module in SEMrush is called the Market Explorer. The search bar asks you to type in a domain (like your own). It then reveals a list of websites or articles similar to what you typed in. You have options for tracking these markets and companies, all with the help of superior analytics.
Ahrefs
A domain comparison tool is also provided in Ahrefs. It's rather similar to the one in SEMrush, where you type in up to five sites (your website and the competition) to compare them side-by-side.
Ahrefs shows metrics like domain ratings, backlinks, images, and much more. This is a way to compare how well your site is doing compared to every other site, but it doesn't exactly give you any information on how to improve.
There's also a Competing Domains section in the sidebar for each of your tracked sites (projects) in Ahrefs. In it, you're going to get a list of your most direct competitors along with a cool keyword intersection graph.

For more information, you would go back to the trusty Site Explorer and Content Explorer modules. The only difference is that you'd type in a competitor's URL instead of your own.
As an example, I picked out one of the potential competitors for CodeinWP. After a quick search, you're able to scroll down on the results page to see the top organic keywords on that site. The top pages are also revealed.
Now, this may simply mean that the keywords or pages are too competitive. But many times you'll realize that these are great target keywords, since you know they are effective and the competition might be low. It's particularly important to check the volume and search position. Then, you can test that keyword to see if it's hard to rank for.
Winner: SEMrush
SEMrush has many more tools dedicated directly to finding your competition and figuring out what they're doing right and wrong. Not only can you compare multiple websites with your own, but it's possible to get content recommendations from your competitors and track the overall market.
Ahrefs is in no way a slouch in this area, but it takes a combination of tools to really understand what your competitors are doing.
Our conclusion on SEMrush vs Ahrefs
Here's that quick comparison table again:
SEMrush vs Ahrefs

| Tool | Pricing | Features | UI | Rank Tracking | Keyword Research | Competitor Analysis |
| --- | --- | --- | --- | --- | --- | --- |
| SEMrush | ⭐⭐⭐➕ | ⭐⭐⭐⭐⭐ | ⭐⭐⭐⭐ | ⭐⭐⭐⭐ | ⭐⭐⭐⭐ | ⭐⭐⭐⭐⭐ |
| Ahrefs | ⭐⭐⭐⭐ | ⭐⭐⭐ | ⭐⭐⭐⭐ | ⭐⭐⭐⭐⭐ | ⭐⭐⭐⭐⭐ | ⭐⭐⭐⭐ |
Are you still on the fence when it comes to SEMrush vs Ahrefs? Here are some final suggestions to make your decision easier.
Consider SEMrush if…
You want more SEO and marketing features.
You need social analysis tools as well.
You're looking for a huge list of keyword suggestions.
You need the best possible competitor analysis tools.
You're seeking a way to increase organic backlinks.
Consider Ahrefs if…
You'd like a cleaner interface.
You'd like to save a little money (but not that much compared to SEMrush).
You want superior rank tracking.
You like the idea of simplicity when it comes to keyword suggestions.
👉 Don't forget, Semrush is just one alternative to Ahrefs. Check out our list of Ahrefs alternatives here, where we analyze Ahrefs vs other great SEO tools.
👉 Just starting out with WordPress? Take the work out of your SEO efforts with one of these SEO-friendly WordPress themes.
Do you have any experience working with Ahrefs vs SEMrush? Which one do you prefer? Let us know what you think in the comments below!
…
Don't forget to join our crash course on speeding up your WordPress site. Learn more below:
Layout, presentation and editing by Karol K.
* This post contains affiliate links, which means that if you click on one of the product links and then purchase the product, we'll receive a commission. No worries though, you'll still pay the standard amount so there's no additional cost on your part.