While many of the popular digital marketing tools often double up as sales funnel tools, the truth of the matter is, if you're looking for only the very best sales funnel tools, you'll probably want something that's more purpose-built.
Your end-goal should be finding a truly remarkable sales funnel tool that integrates seamlessly with your marketing framework to form continuous customer journeys.
Well, of course, it's possible to achieve all that with one all-inclusive marketing and sales suite. But then again, in some cases, independent sales funnel tools tend to perform much better over the long haul.
Now, to help you make up your mind, this article reveals the best sales funnel tools in 2023. I invite you to tag along as we explore their core sales management capabilities – from lead generation and nurturing to lead conversion.
But, before we jump into all that, let's get the basics right. What type of features are we even prioritizing overall? Or rather, what factors should you evaluate when it comes to choosing sales funnel tools for your business?
What you should consider when choosing sales funnel tools
Ease of use

Your selected sales funnel tool should be simple enough for you and your team. If you're running a small business, for instance, your best bet would be a tool that's capable of building and managing sales funnels without any specialized technical skills.

Lead management

Sales funnel tools are built to help you connect with your leads. As such, you should examine each tool's lead generation, lead nurturing, and lead conversion features. Then while you're at it, pay very close attention to the available campaign channels.

Campaign automation

In addition to delivering omnichannel experiences, the best sales funnel tools are capable of automating engagement campaigns.
And while you continue engaging your leads across multiple channels, your sales funnel tool should be intelligent enough to track the relevant parameters and, subsequently, generate detailed reports and analytics about your campaigns.

Integration

All in all, you need a sales funnel tool that seamlessly embeds with your digital ecosystem. It should be able to work well with not only your eCommerce platform, but also the website itself, as well as your marketing tools and resources.
Best sales funnel tools in 2023
1. Kartra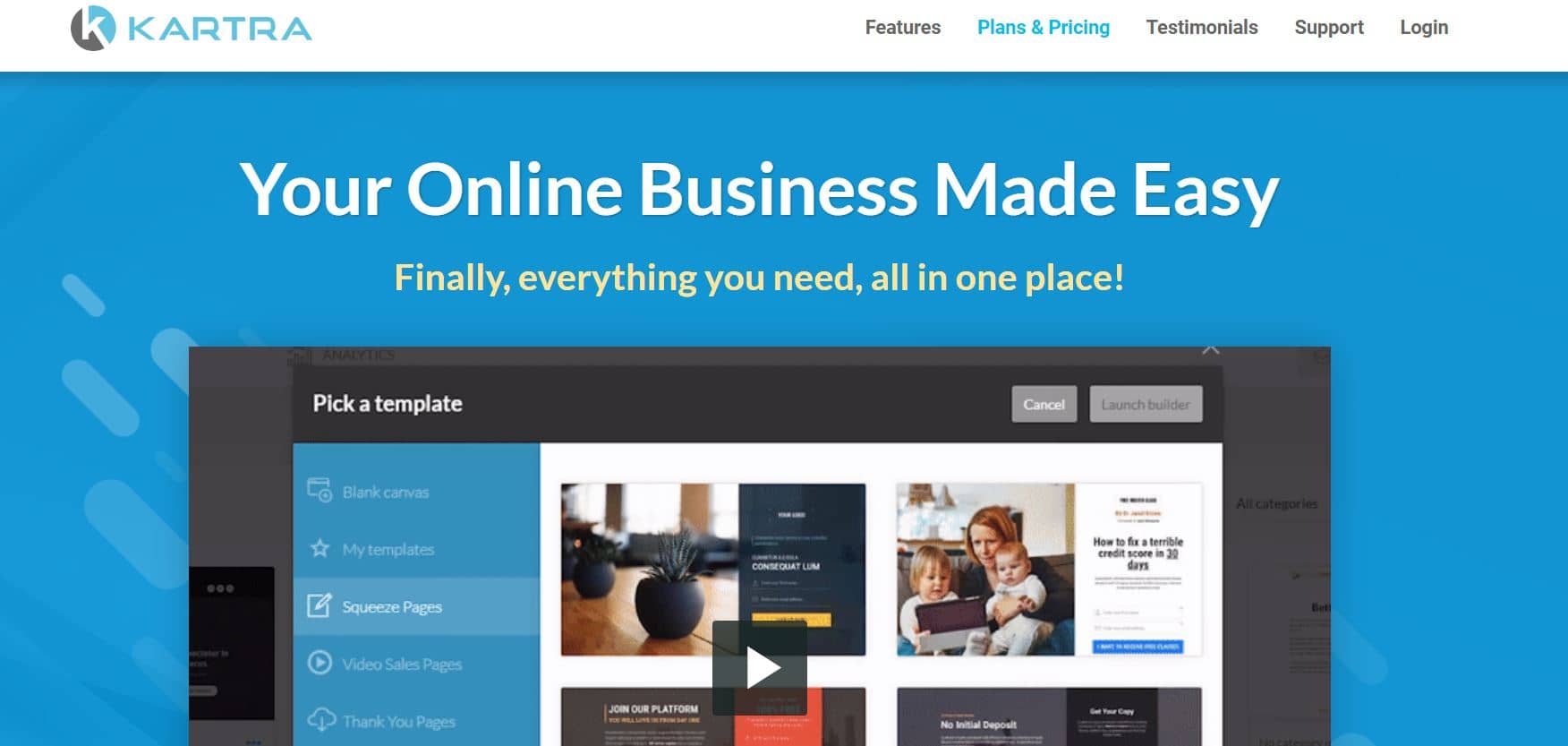 Kartra isn't just a sales funnel builder. It's more of an all-in-one suite for managing your sales and marketing campaigns.
While most of the sales funnel tools today focus on basic funnels and landing pages, Kartra manages to extend its functionalities to cover the entire customer journey. You can use it to build and manage automated campaigns involving your landing pages, sales pages, checkout pages, product pages, etc.
What's more, Kartra is capable of targeting your leads based on their behaviors – after which it takes pre-specified actions such as sending follow-up messages, adding to marketing sequences, subscribing/unsubscribing to lists, cart abandonment tagging, upselling, down-selling, and lead segmentation.
Kartra features for sales funnels ⚙️
Campaigns and funnels available in Kartra's Campaign Marketplace // Export sales funnels and campaigns directly from your dashboard // Built-in sales funnels for plug-and-play campaigns // If/then automation rules // Tracks leads as they travel along the sales funnels // Drag-and-drop sequence builder // Automated email campaigns // Lead segmentation and targeting // Multi-page sales funnels // Automated lead scoring // Customizable checkout forms // Cart abandonment tagging // Upsells, downsells and cross-sales // Sell an unlimited number of products
Kartra pricing 💵
Kartra has four plans. If you choose to pay annually, the per month costs are $79, $149, $229 and $379. If you choose to pay month-to-month, then the prices are $99, $199, $299 and $499, respectively.
2. Ontraport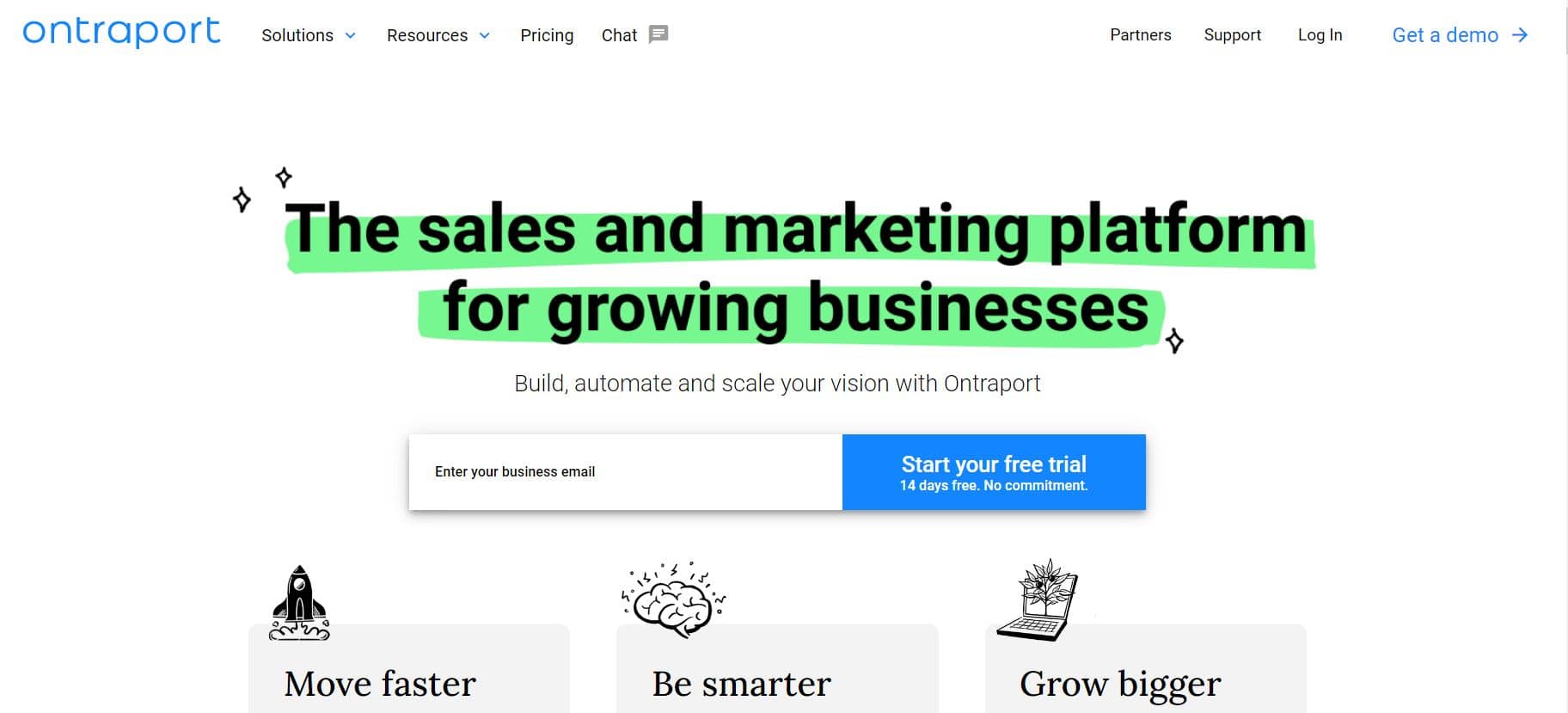 Ontraport is yet another all-in-one tool-suite that specializes in marketing automation and customer relationship management.
But, make no mistake about it, Ontraport is not a basic email marketing solution with some CRM capabilities. On the contrary, Ontraport packs a robust CRM system that stretches to cover email and SMS marketing campaigns.
You can use its powerful automation tools to create dynamic sales sequences that engage and direct customers throughout their purchase journeys. Ontraport focuses on every single stage – from lead generation and nurturing to the follow-ups that come immediately after purchase.
And if you're not sure where to begin, you could simply proceed with one of the pre-built sales funnels you'll find on Ontraport.
Ontraport features for sales funnels ⚙️
Marketing automation // Lead scoring and routing // Task automation // Unified contact history // Smart pipelines // Segment with groups // Automated follow-up // Automated partner management // Partner tracking // Drip content // Split testing // Conditional filtering // Facebook lead capture // Pre-built campaign marketplace // List segmentation (groups) // Email marketing // Campaign maps
Ontraport pricing 💵
Assuming a baseline starting point of 500 contacts, Ontraport will charge you $24 per month for their Basic Plan, $83 per month for their Plus Plan, $124 for their Pro Plan, and $249 for their Enterprise Plan. All of those prices reflect the discounted per month rate if you purchase an annual plan. $29, $99, $149, and $299 are the monthly prices if you choose to pay month-to-month.
3. ClickFunnels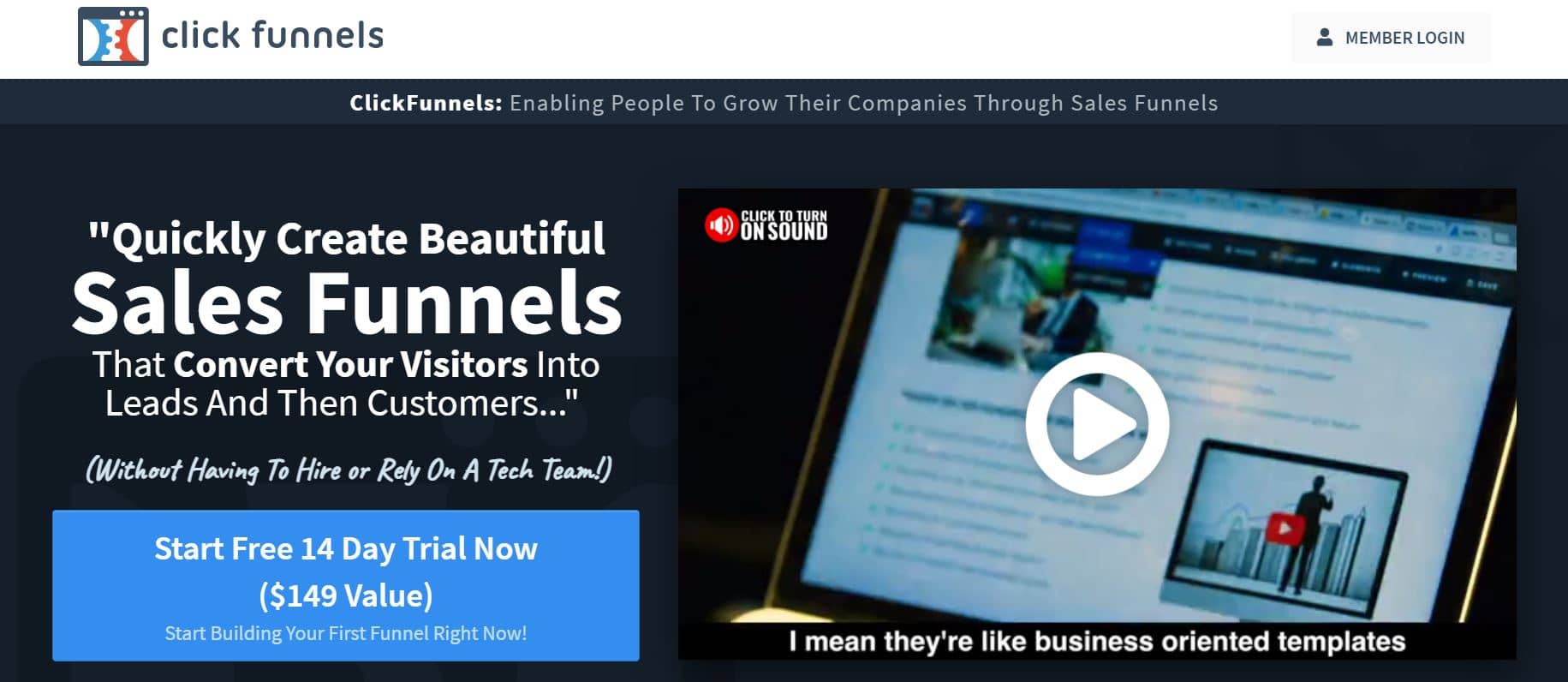 ClickFunnels has made a name for itself as a tool that helps businesses quickly set up high-converting sales funnels. You can think of it as a one-stop-shop that specializes in growing sales, creating one-click upsells, generating leads, selling webinars, promoting membership sites, building mailing lists, plus launching products.
However, before you even start working on all that, ClickFunnels requires you to pick an ideal sales funnel. And when it comes to that, some of the customizable pre-built options you'll find here include; Networking Marketing Bridge Funnel, Fishbowl Funnel, The "Real Stuff" Funnel, Perfect Webinar Funnel, Product Launch Funnel, and Bestseller Book Funnel.
ClickFunnels features for sales funnels ⚙️
Singe click upsells // Order bumps // Automated email sequences // Pre-built email templates // Campaign split-testing // Sales funnels in intuitive visual charts // Simple sales funnel builder // Drag-and-drop page editor // Backpack affiliate framework // Follow-up sales funnels // Pre-built campaign templates
ClickFunnels pricing 💵
ClickFunnels offers three pricing plans and has a built-in discount if you choose to pay on annual basis. The per month costs for the annually priced plans are $127, $157, and $208, while the per month costs on the month-to-month plans are $147, $197, and $297.
👉 Learn more about ClickFunnels vs LeadPages here
4. CartFlows ← sales funnel tools for WordPress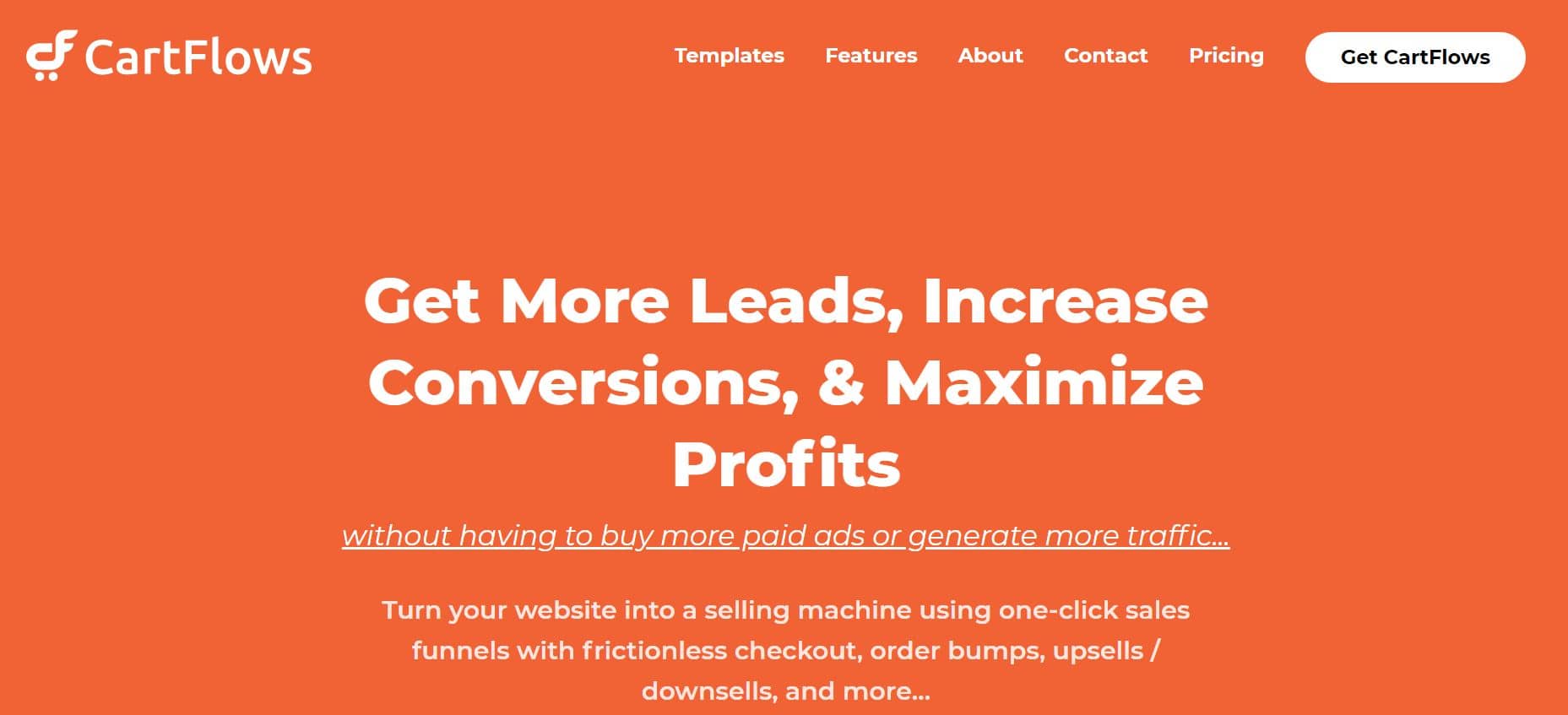 Combined, WordPress and WooCommerce are capable of many things alright. But, unfortunately, they are not the best when it comes to building sales funnels and optimizing checkout pages.
Now, to fill that gap, you need a compatible sales funnel tool like CartFlows, which comes in the form of a WordPress plugin.
Once you install it into your system, you should be able to set up your own automated funnels using CartFlows' templates. Besides, they happen to work well with all the popular WordPress page builders – Elementor, Divi Builder, Beaver Builder, Gutenberg.
CartFlows features for sales funnels ⚙️
One-click upsells and downsells // Basic order bumps // Custom checkout fields // Dynamic flow sequencing // High conversion campaign templates // Cart abandonment follow-ups // Sales funnel builder // Checkout offers // Easy-to-use interface
CartFlows pricing 💵
CartFlows is available at an annual price of $79 for a single site license, $149 for a license covering ten sites, or $269 for a license covering 30 sites.
5. Leadpages
Just as its name suggests, Leadpages is a landing page builder that seeks to help you generate and nurture leads. But, it doesn't stop there. Leadpages happens to top off its landing pages with pop-ups and alert bars.
Therefore, you just need to scan through Leadpage's template collection to find yourself a suitable high-converting landing page – after which you could customize its elements, and ultimately, supplement it with exit-intent popups, and alert bar CTAs.
It really is that simple – you don't even need to write any code.
Leadpages features for sales funnels ⚙️
Real-time analytics // Lead magnet hosting & delivery // Mobile responsive pages // Lead notifications // Unlimited pop-ups and alert bars // Email trigger links // Unlimited A/B split testing // Online sales and payments // Opt-in text campaigns // Exit-intent pop-ups // Countdown timers // HTML and custom code editing // Thank-you and confirmation pages
Leadpages pricing 💵
There are two plans. If you pay annually, the Standard Plan costs $37 per month, while the Pro Plan comes in at $74 per month. If you pay month-to-month, then it's $49 and $99 per month, respectively.
6. ActiveCampaign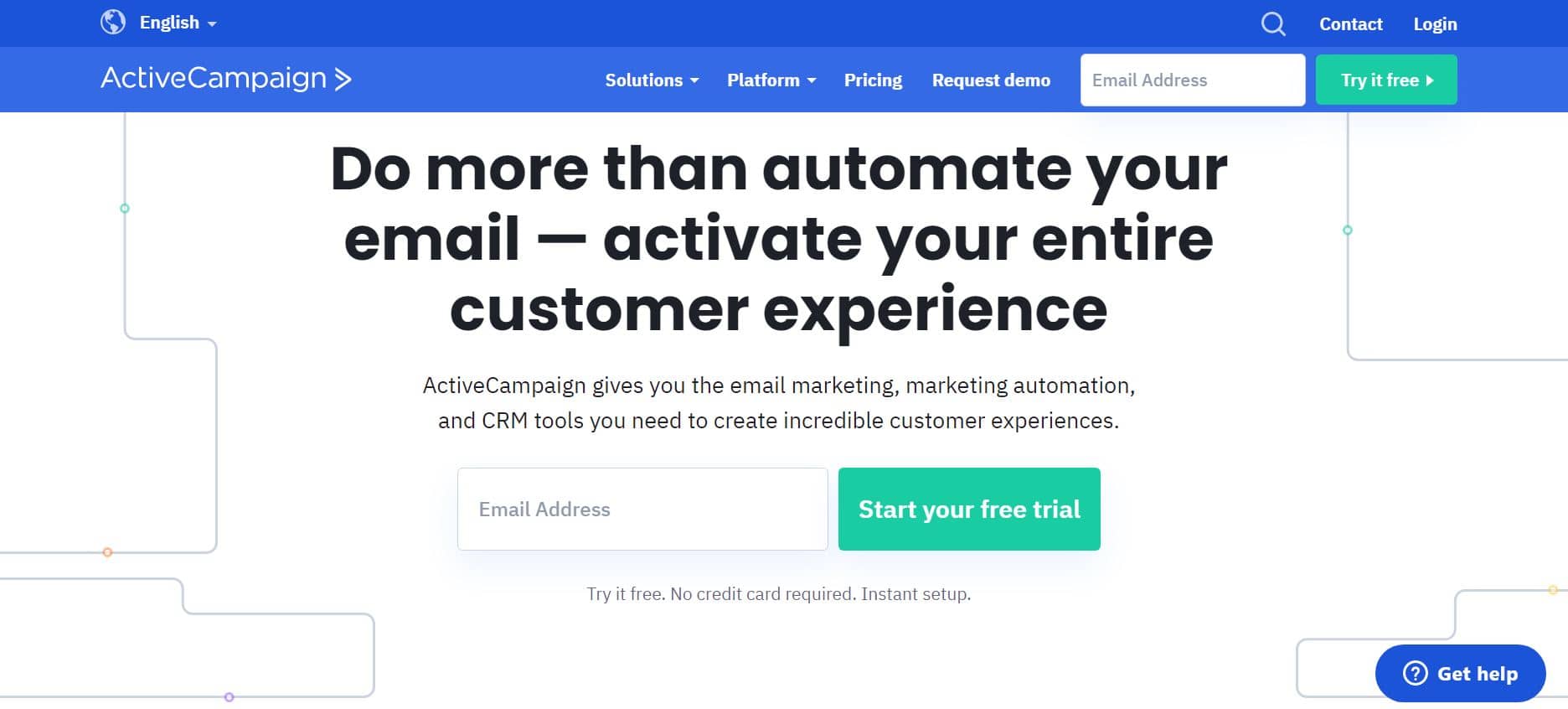 As a marketing automation solution that doubles up as CRM software, ActiveCampaign seeks to automate the entire customer experience. You can count on it when it comes to email marketing, SMS marketing, lead capturing, lead nurturing, and sales pipeline management.
Speaking of which, you'll particularly enjoy working with ActiveCampaign's deal pipelines. You can use its visual builder to create as many deals as you like, and with your own custom automation rules.
ActiveCampaign features for sales funnels ⚙️
Social data enrichment // Win probability // Unlimited email design testing // Site messages // CRM with sales automation // Conversion reporting // Split automations // SMS prospect nurturing // Marketing attribution // Predictive content // Conditional content // Lead capture forms // Automated chatbot workflows // Automations map // Customer health scoring // SMS marketing // Contact scoring // Campaign and automation reporting // Site and event tracking // Segmentation // Automated email marketing // Deal path reporting // Customer success pipelines
ActiveCampaign pricing 💵
Assuming a baseline starting point of 1,000 contacts, ActiveCampaign will charge you $29 per month for their Lite Plan, $49 per month for their Plus Plan, $149 for their Professional Plan, and you have to contact them to get a quote for their Enterprise Plan. All of those prices reflect the discounted per month rate if you purchase an annual plan. $39, $70, $187 are the monthly prices if you choose to pay month-to-month.
7. Mailchimp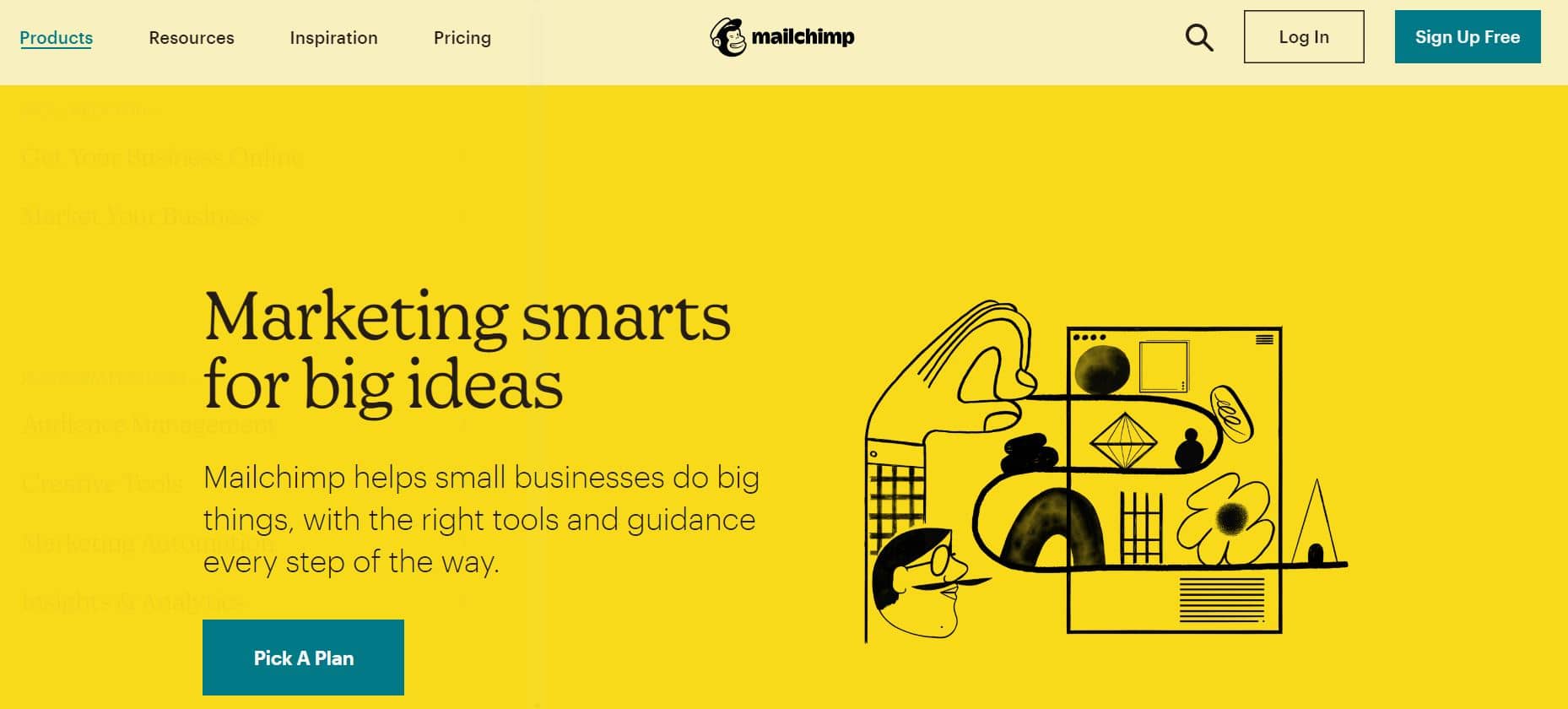 Mailchimp is a lot like ActiveCampaign. Just like its sibling, it's a multi-faceted marketing automation tool that integrates email campaigns with customer relationship management.
In addition to running behavior-based automation sequences, its sales funnel tools are particularly effective in tracking leads, and subsequently, analyzing the quality of the relationship they have with your business. As such, you should have an easy time determining their corresponding purchase likelihood based on Mailchimp's predicted demographics.
Mailchimp features for sales funnels ⚙️
Multivariate testing // Comparative reporting // Pre-built customer journeys // Customer journey builder // Classic automations builder // Shoppable landing pages // Custom-coded templates // Pre-built templates // Purchase likelihood // Customer lifetime value // Predicted demographics // Behavior-based automation series // Behavioral targeting // Surveys // Lead segmentation and tagging
Mailchimp pricing 💵
Mailchimp is generous enough to get you started for free, but with a limit of 500 contacts. Its premium plans, on the other hand, start at $13 per month, $20 per month, and $350 a month. Those prices go up with the size of your contact list. For example, if your list is 1,500 contacts, then the first two premium plans will get bumped up to $26.50 and $60 per month, respectively.
8. Thrive Architect ← sales funnel tools for WordPress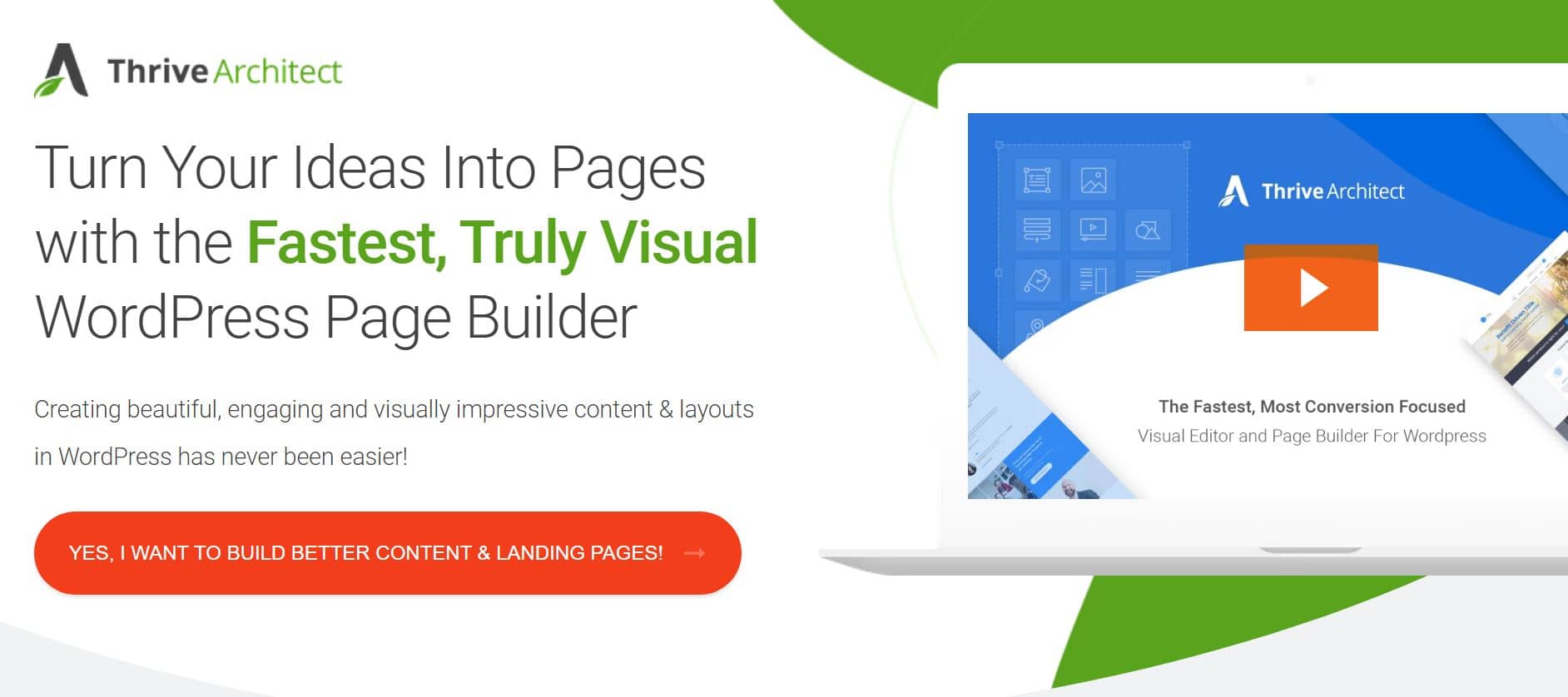 While Thrive Architect is largely famous for its page building capabilities, it's not your typical WordPress page builder. Rather, it's purpose-built for conversion-focused websites.
In its arsenal, you'll find a huge selection of high-converting landing page templates, all of which you can fully customize using Thrive Architect's drag-and-drop builder. And that's not all. As it turns out, Thrive Architect further allows you to tweak the entire site through inline editing.
Thrive Architect features for sales funnels ⚙️
Mobile responsive editing // Pre-built conversion elements // Product launch pages // Opt-in pages // Drag-and-drop editing // High converting landing page templates // Sales pages builder // Guarantee boxes // Call-to-action boxes // Animated countdown timers // Lead generation forms // Testimonials
Thrive Architect pricing 💵
Thrive Architect is available via yearly subscription for $97 per year. This will allow you to use it on one website. You can also opt to sign up for the full Thrive Suite, which is a yearly investment of $299. This will allow you to use Thrive Architect on up to five websites, and you'll get a whole array of other benefits, including access to additional plugins, A/B testing, lead form templates, Thrive Suite courses, and more.
9. Kajabi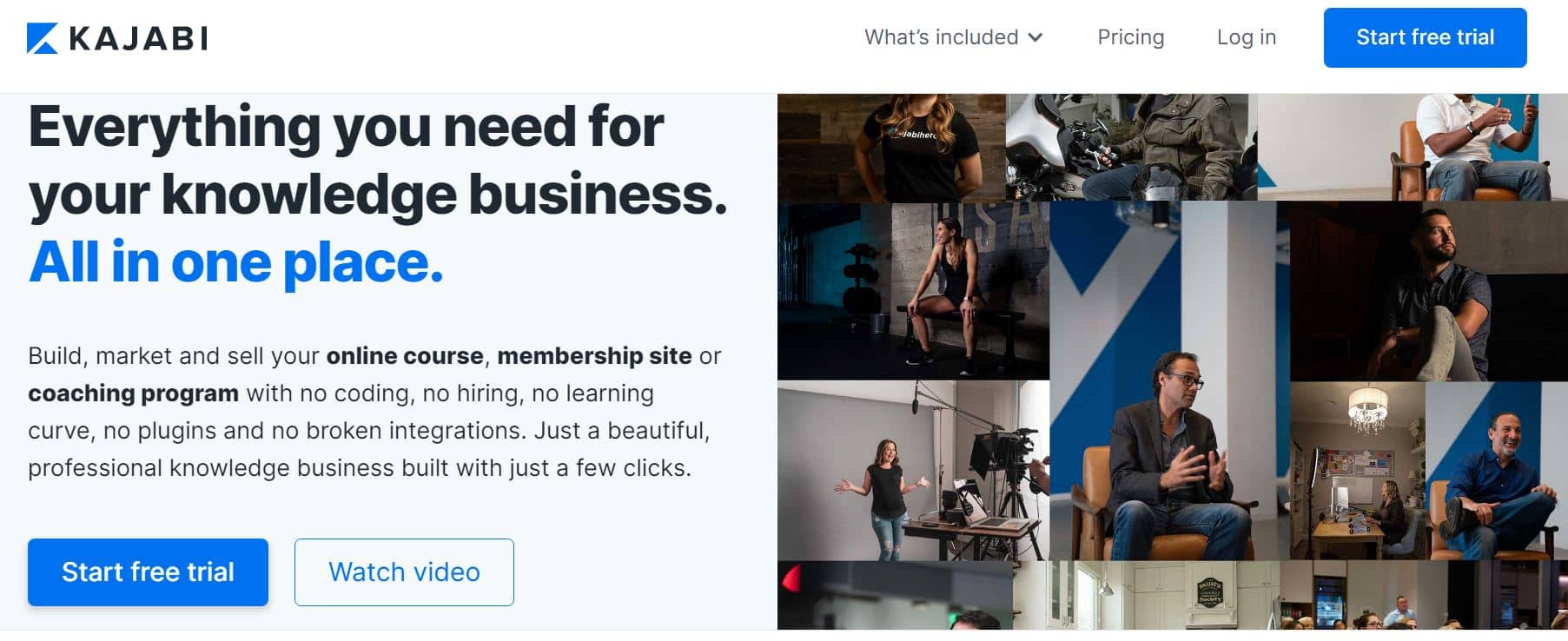 Kajabi is probably not the first thing that might come to mind when you're asked about the best sales funnel tools. And that's understandable – because, all things considered, Kajabi is not a "tool" per se. Rather, it's a fully-fledged learning management system that helps online tutors build online courses, sell programs, distribute content, and manage online students.
Unlike other online course platforms, though, Kajabi has a special trick up its sleeve. You see, when it comes to selling online courses, the platform manages to empower tutors through marketing and sales automation. You basically get to use a sales pipeline builder to create and automate funnels, as well as engage your prospects through automated email campaigns.
Kajabi features for sales funnels ⚙️
Intuitive visual editor // Ready-made sales pipelines // Behavior-tagging // Lead segmentation // Trigger emails, coupons, and product access // Integrated checkout // Email sequences // Marketing pipeline blueprints // Drip content // One-click upsells // High-converting page templates // One-click marketing sequences
Kajabi pricing 💵
Kajabi starts you off at $119 per month, with the option of upgrading to $159 per month, or $319 per month. Those prices reflect the per month price when billed on annual basis. If paying month-to-month, the prices are $149, $199, and $399 per month, respectively.
The best sales tools overall
Well, I'm sorry to disappoint you, but after getting a good feel of all these sales tools, I can't quite make up my mind on the best one overall. Every single one of them has an exceptional twist.
I'll tell you this though. If you're looking for an enterprise-grade sales funnel, I'd advise you to settle for Ontraport. But, if you're on the market for a robust all-in-one sales funnel builder, I'd suggest trying out Kartra.
Beginners and small businesses, on the other hand, would be much better off with Mailchimp or ActiveCampaign, while WordPress users should feel right at home with CartFlows.
If you have any questions related to finding your ideal sales funnel tool, don't hesitate to ask in the comments below.
…
Don't forget to join our crash course on speeding up your WordPress site. Learn more below:
Layout and presentation by Chris Fitzgerald and Karol K.