When picking a web host, there are many questions you need to answer. Budgets and server parameters are just the tip of the iceberg. If you want to have full control over your server, the first thing to decide on is whether to go with Plesk vs cPanel.
Plesk and cPanel are two of the most popular web hosting control panels. They provide the menus, functionality, and organized interfaces for you to not only understand more about hosting, but for taking action like adding email addresses or cleaning your database.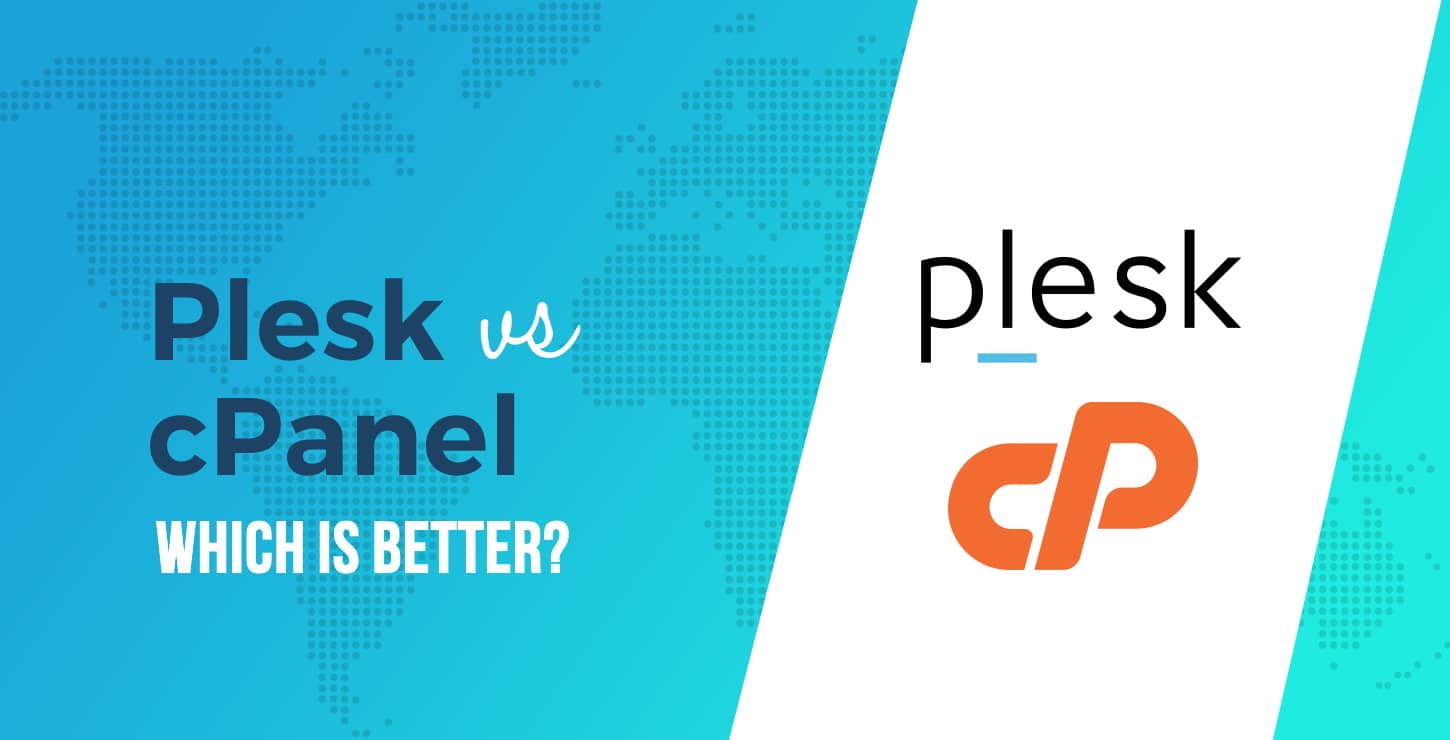 📚 Table of contents:
Which is more popular // Dashboard designs // Features // Pricing // Web server types // Scripting languages available // Databases // Which one is right for you?
It doesn't matter if you run a web design agency or if you're making your own websites, a self-hosted website is typically recommended. With this type of web hosting, you'll either be given a choice between Plesk vs cPanel, or you'll have to opt for one based on the host you choose.
This comparison will also prove useful for hosting companies or resellers that need to decide which option is right for their customers.
Therefore, we want to help make that decision easier for you. This way, you'll understand the differences between the two hosting management interfaces and be able to make a more informed decision about hosting.
The popularity of Plesk vs cPanel
It's worth mentioning that in most circles, cPanel is more popular than Plesk. This is because many hosting companies use cPanel for its file management interface, essentially cutting out any other option from the discussion.
So, if you've worked with a host like Bluehost or SiteGround, you've already been introduced to the cPanel dashboard interface. However, Plesk is also a viable option, and you can find it with hosts like A2 Hosting or HostGator.
Overall, you can select either Plesk or cPanel to handle your own self-managed servers, or you can opt for a host that already uses one of them.
In order to access information about these hosting management platforms, go to the Plesk and cPanel websites.
You may also be interested in:
Dashboards in Plesk and cPanel
The first element that's going to sway your decision is the dashboard.
Is one more user-friendly than the other?
Are there quick links to different items and customization options for designing the interface the way you want it to look?
As mentioned before, more people are familiar with the cPanel dashboard. Yet, that doesn't mean it's better.
Let's explore the differences in the dashboards to understand which is best for you:
The cPanel dashboard
The cPanel dashboard is fully customizable for hosting companies and resellers who would like certain features highlighted for their customers.
The interface has been overhauled a few times over the years, with modernizations and improvements to make it look cleaner.
The dashboard is divided into several sections, such as Files, Databases, and Domains. This layout may look a little intimidating at first, but it's actually easy to find the buttons you need.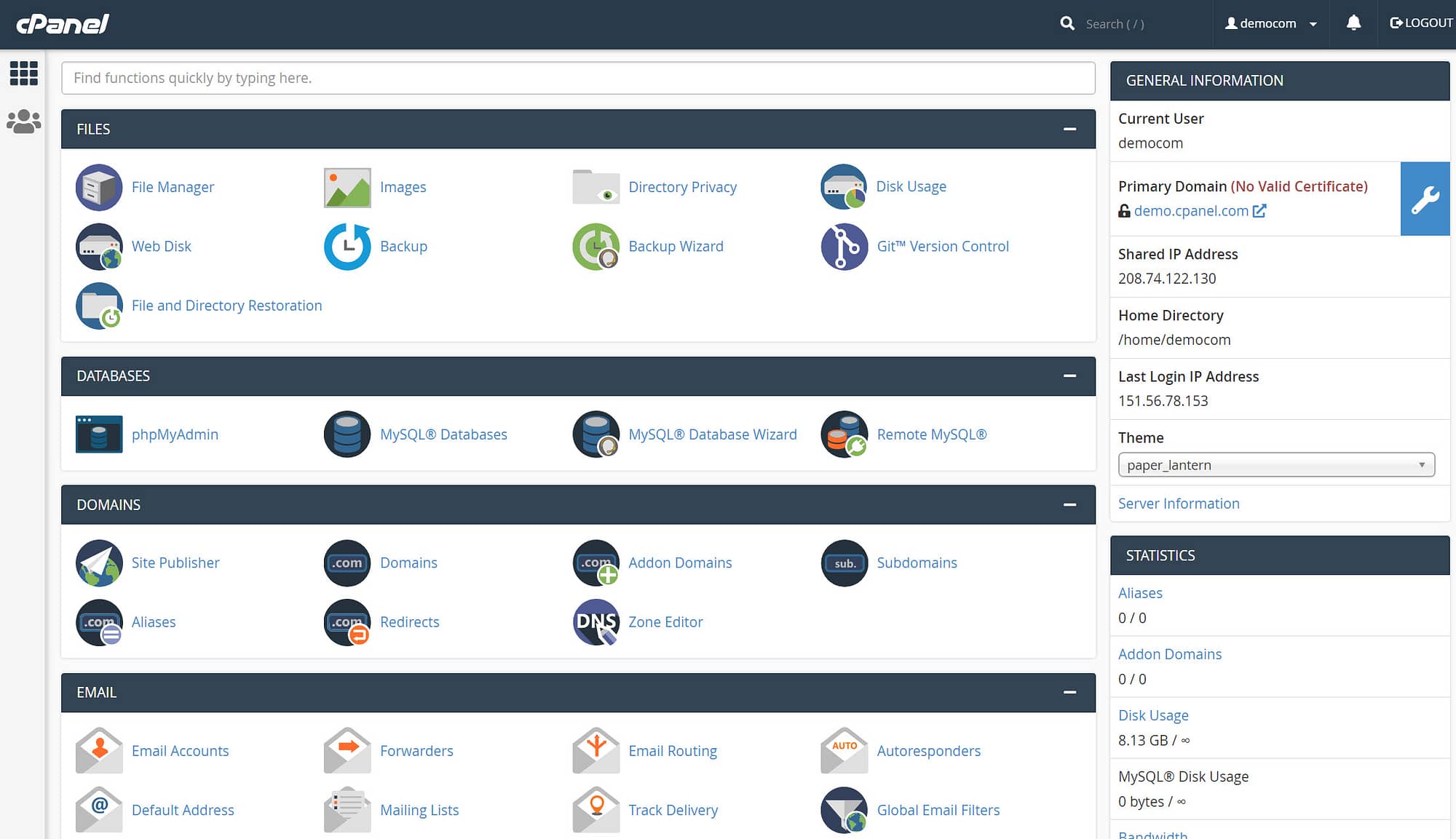 In short, cPanel forgoes a traditional menu. Instead, all menu items are shown on the dashboard, taking up more space, but providing all options for users without forcing them to click on multiple menu items.
For instance, the default configuration for cPanel highlights some of the following categories:
Files
Databases
Domains
Email
You can also see general information like your home directory and statistics. It's nice to see that cPanel includes a search bar for those who want to locate files or functions fast.
That's all there is to the cPanel dashboard! It's almost like a long, organized list of links.
For instance, as we keep scrolling down on the demo dashboard, we see modules for Advanced tools, Preferences, and Applications. A WordPress quick installation button is included, along with items for indexes and error pages.
The modules continue with Metrics, Security, and Software.
This is typically how all cPanels are configured. You can, of course, adjust the order of these modules. You also might consider hiding some of the buttons or categories you find less important for customers or your own organization.
This layout isn't for everyone, considering it doesn't really look like a modern website configuration. However, taking a bit of time to adjust to this interface isn't that bad. In fact, many will argue that once you get used to the cPanel dashboard, it's actually easier to find what you need, compared to Plesk.
The Plesk dashboard
Plesk takes an entirely different approach when it comes to dashboard design. In fact, it looks somewhat like WordPress, or other content management systems.
As you may assume, which layout works best depends entirely on the individual. Some users will prefer the cPanel dashboard, while others will scoff at the idea of anything besides the Plesk dashboard.
I enjoy how cPanel presents all control panel buttons on one page. This is similar to a one-page website, where it removes the need to dig around for features on a large menu.
However, the Plesk interface has a far more modern design, aligning itself with the likes of standard website layouts and content management systems.
As you can see, the main menu is located on the left side, with buttons for subscriptions, customers, domains, and more. "Quick view" modules are provided in the center of the page, showing things like subscription details, hints, and a system overview. This area is customizable, so you may consider having stats and other elements that are more relevant to your business.
I like how Plesk categorizes its menu items, using titles like Server Management and Hosting Services. I'd argue that the average user would be able to navigate around the Plesk dashboard a little easier than on cPanel. However, configurations like this also tend to increase the number of unused features, seeing as how buttons sometimes get hidden or forgotten about.
Overall, it's tough to argue for cPanel or Plesk after only looking at the dashboard. Some users will lean towards one or the other, but if I were to pick a more desirable interface, Plesk appears to be the leader.
The main features of cPanel vs Plesk
Having a nice dashboard for your hosting control panel is a priority, but even more important is what the control panel has in terms of features. Can it install WordPress with the click of a button? Can you back up and transfer files right from the dashboard?
Let's take a look.
Plesk vs cPanel

| Feature | cPanel | Plesk |
| --- | --- | --- |
| Email accounts | ✅ | ✅ |
| Quick install options (like for WordPress) | ✅ | ✅ |
| Domains and subdomains | ✅ | ✅ |
| SSL | ✅ | ✅ |
| Database management | ✅ | ✅ |
| Backups | Somewhat complicated | Very easy |
| Website builder | ✅ | ✅ |
| Migrations | ✅ | ✅ |
| Development tools | Strong | Strong |
| Pricing for individuals and regular businesses | Okay | The best |
| Pricing for developers/resellers | The best | Okay |
The standard features are pretty similar when looking at cPanel and Plesk side-by-side. I would argue that cPanel has better features set up for resellers, while Plesk provides its extension database, which we like for regular businesses that may need to expand functionality in the future.
Having said that, the most needed features, like email address management, one-click WordPress installs, and database access, are included with both cPanel and Plesk.
Pricing of Plesk vs cPanel
Pricing for a hosting control panel depends on who you are. If you're building your own website and require hosting, the control panel cost is typically factored into how much you're paying for a shared or managed server.
However, opting for a dedicated server often means that you have full command over the control panel. The same can be said for hosting companies, resellers, and website developers. In short, some companies will indeed have to worry about pricing from cPanel and Plesk and include that cost into what customers are being charged.
Note; if you're only looking for a host capable of running cPanel or Plesk, consider giving these a chance:
cPanel pricing
The cPanel pricing is organized into several plans, with options for resellers as well.
Here's what to expect for regular businesses running their own servers or customizing their own control panels:
Solo – $15 per month to activate cPanel on one hosting account.
Admin – $20 per month for agencies and slightly larger businesses that need a few accounts.
Pro – $30 per month for up to 30 accounts. This makes sense for larger agencies and mid-level businesses.
Premier – $45 per month for up to 100 cPanel accounts.
Partner licensing for cPanel
The plans listed above are suitable for small businesses, mid-level businesses, and agencies with up to 100 hosting accounts. This may work for some brands, but many hosting companies, resellers, and larger agencies require far more than 100 accounts.
That's where partner licenses come into play for cPanel.
Bulk account – The cost is $0.10 per account per month. You must have at least 1,780 hosting accounts to be considered for this discount.
Quite a few other custom cPanel plans are available for you to consider. For instance, enhanced cPanel packages are provided with extensions already included with the plans. One of them incorporates the CloudLinux OS and a cPanel account for $16 per month. Feel free to check out these alternative plans based on your own requirements.
Plesk pricing
Plesk is known for offering discounts throughout the year. It's also useful to know that yearly payments save you money compared to monthly payments.
Plesk also seems to provide a simpler pricing structure, allowing for clarity when purchasing.
Here's what you can choose from:
Web Admin Edition – $10 per month for both VPS (virtual private server) and dedicated hosting. This plan supports 10 domains and provides WordPress Toolkit SE.
Web Pro Edition – $15 per month for VPS and dedicated hosting, with support for 30 domains. Everything is included from the previous plan, along with a developer pack, subscription management, and account management.
Web Host Edition – $25 per month for VPS hosting and $45 per month for dedicated hosting. You receive everything from the previous plans, as well as reseller management tools.
That's about all you need to know when it comes to Plesk pricing. It's cheaper than cPanel for almost every plan level, and you have the option to customize a plan based on the number of hosting accounts you need for customers.
Furthermore, there's an enhanced Plesk ecosystem with addons for tasks like site backups, smart updates, and speed optimization.
Web server types available
Both cPanel and Plesk offer support for virtual private servers and dedicated servers.
Linux and Windows are also options for both control panels. Although it's worth learning about, servers shouldn't have much of an impact on which hosting control panel you consider. Linux and Windows are supported through both, and you can tap into documentation for things like Apache, IIS, and Nginx.
Essentially, if you're interested in using a unique server, or you'd like to create a modified version of the control panel for your customers, there's a good chance it's possible. You may have to speak with a customer support representative, but both companies appear to be rather flexible.
Scripting languages available
Similar to the web server situation, the average user would most likely be fine with either Plesk or cPanel based on the number of supported scripting languages.
Regardless, here are the currently listed scripting languages from each control panel:
cPanel
Perl
PHP
Ruby on Rails
CGI
XML/XSLT
JSP with help from Tomcat
Python (at your own risk)
Plesk
ASP
Microsoft ASP.NET
Server Side Includes
PHP
CGI
FastCGI
Perl
Python
In conclusion, your use of a particular scripting language could influence your decision, so go through these lists to decide which is easiest to use for the languages planned.
Databases in Plesk vs cPanel
I briefly touched on this in the features section, but it's worth covering since hosting control panels usually provide some of the best database management tools.
The question is, which types of databases will you have access to when using cPanel and Plesk?
cPanel databases
Launching a database in cPanel is often done without the user knowing it. A one-click WordPress installation activates and installs the required databases in the background, allowing for those complicated procedures to remain somewhat hidden.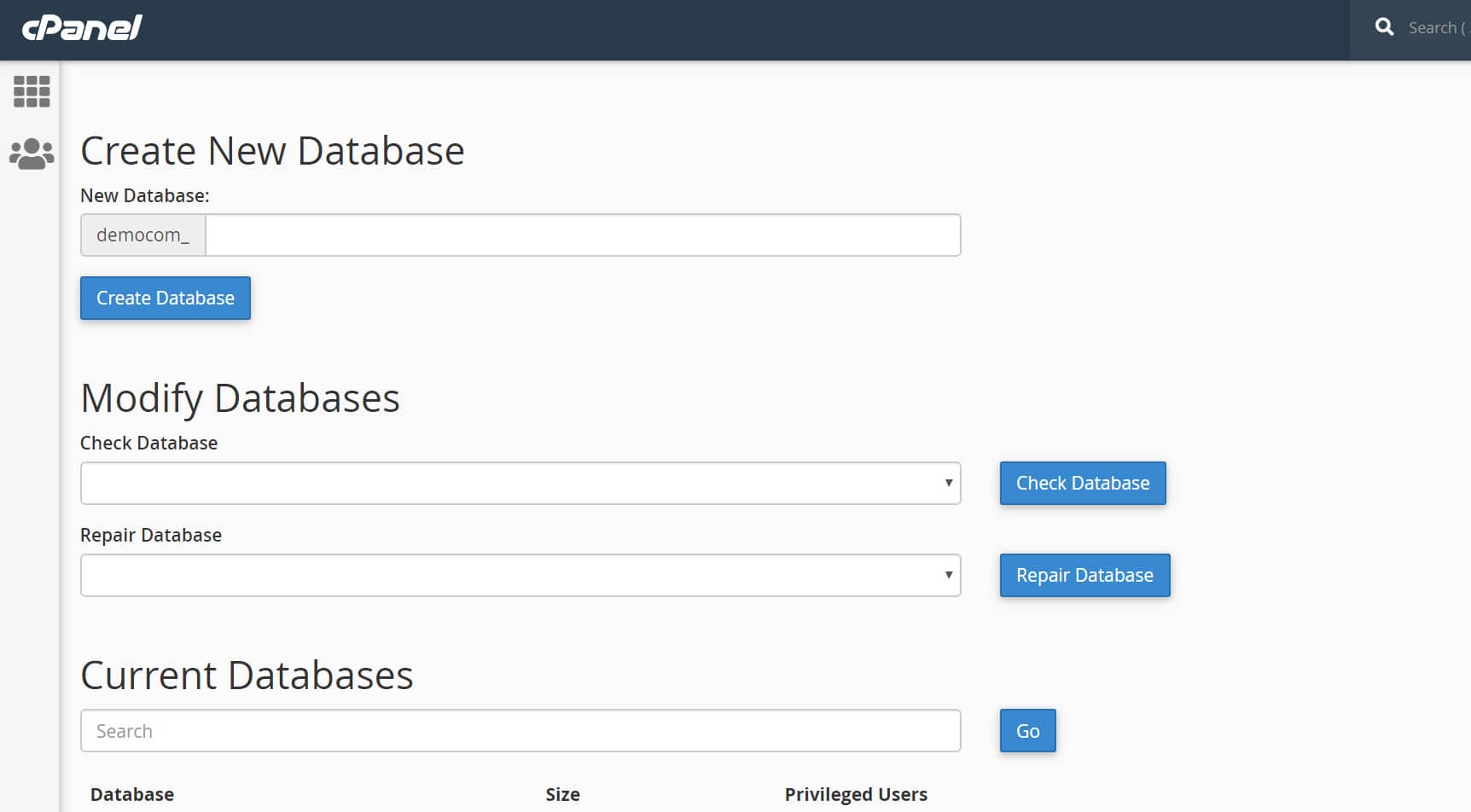 However, developers clearly want access to these databases, and sometimes a casual user would need to tap into the database as well.
Luckily, cPanel offers custom database creation with the MySQL Wizard and phpMyAdmin. A few other tools are available for managing your databases, but MySQL and phpMyAdmin are the industry standards. Therefore, it's great to see that both are supported.
Plesk databases
Similar to cPanel, Plesk provides access to phpMyAdmin for managing MySQL databases. It's unclear about some of the other database management tools provided through cPanel, because some of them simply aren't listed on the cPanel website.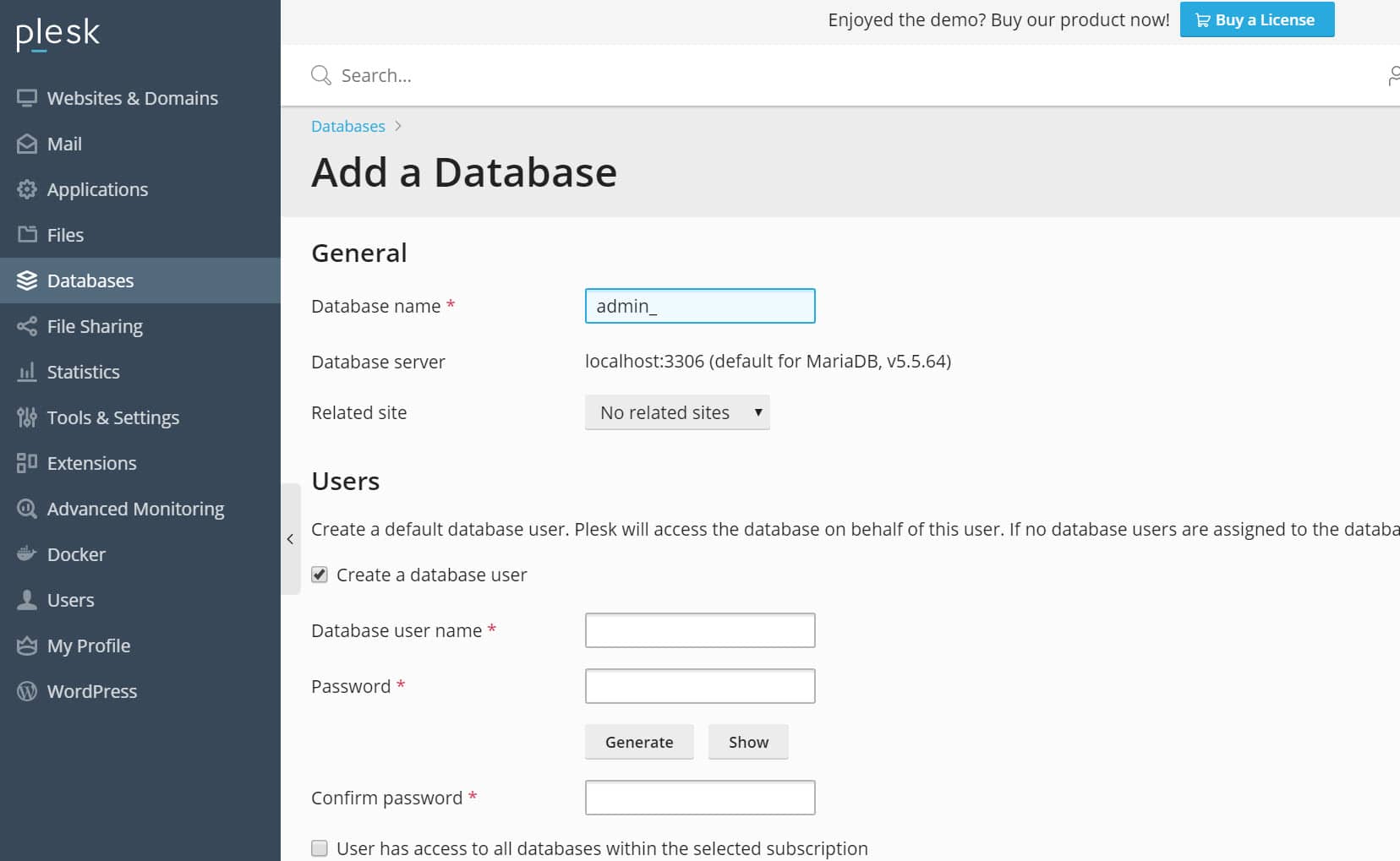 However, we do know that Plesk supports phpPgAdmin for PostgreSQL databases. Some others to consider from Plesk include myLittleAdmin and ASP.NET Enterprise Manager.
Overall, cPanel and Plesk both have the essentials for database management. It appears that each one has other database tools. Yet, Plesk is more transparent about the specifics.
SUMMARY: Which one is right for your organization?
For some users, choosing between cPanel and Plesk is like deciding between a chocolate or vanilla milkshake. They'll both get you what you want, but it depends entirely on your own personal preference.
And that's typically the case when it comes to the primary features. After all, you can manage emails, databases, CMSs, and backups from both dashboards.
However, the differences typically pop up when talking about the interfaces, pricing, and what type of hosting you're trying to support.
Here are the main differences:
Plesk's dashboard has a modern design with a menu and consolidated settings, whereas cPanel displays everything on one page.
Plesk has better pricing all around.
cPanel has a stronger infrastructure for large businesses, hosting companies, resellers, and bigger agencies.
We recommend testing out cPanel and Plesk, considering each of them has demos online.
Again, here are some of the hosts offering these control panels:
If you have any questions, or would like to state why you like Plesk or cPanel, drop a line in the comments section below.
…
Don't forget to join our crash course on speeding up your WordPress site. With some simple fixes, you can reduce your loading time by even 50-80%:
Layout and presentation by Karol K.