Okay, so, after making your WordPress website, you have your About page, your Blog listing page, your Contact page.
Done. Right?
Or … maybe you could take the game further and include some other pages that aren't as obvious?
Let's find out!
Here's a quick list of 11 pages that your WordPress site might need that you've never thought of … probably.
And, of course, feel free to pick and choose whatever makes sense for the kind of WordPress site that you're building right now. Business sites have different needs than traditional blogs, for example.
1. Income Report / Traffic Report
Those pages have gained a lot of popularity lately.
The most famous reports out there are Pat Flynn's and John Lee Dumas':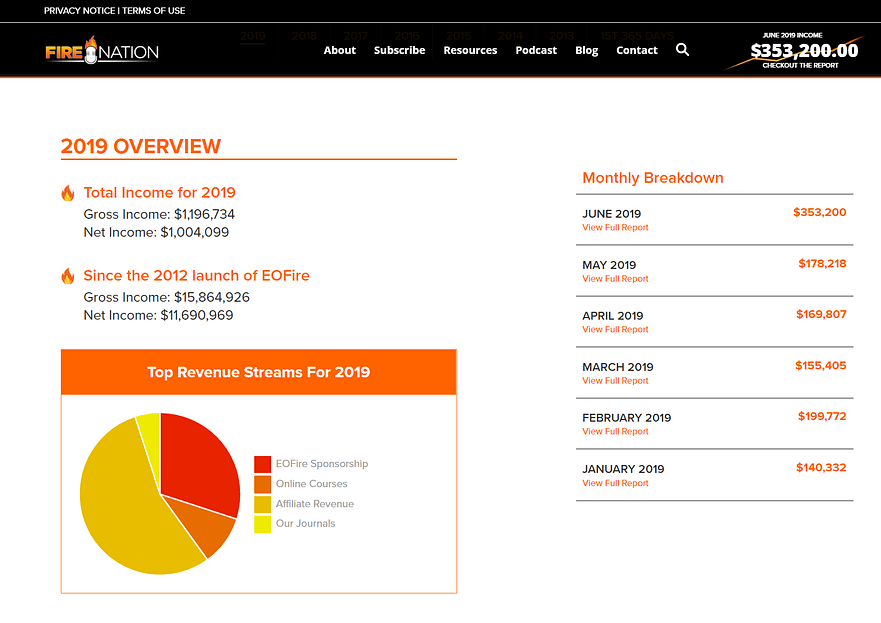 Basically, this sort of report is meant to showcase the site owner's progress in their niche and introduce some transparency into their operations (more on transparency in a minute).
As it turns out, income reports often end up being one of the most popular pages on the websites that publish them. People are just naturally curious about those things.
How to build it:
The are two parts to this task: 1) You have to build a hub page – a page that links to the previous reports. Then, 2) you need pages for individual reports. That second part can also be done via blog posts.
Standard page template will do its job as the hub page.
2. Transparency Report
We first started publishing transparency reports back in March 2015. We were truly fascinated by what the Buffer team was doing and the amount of detail that they were willing to share (and still are).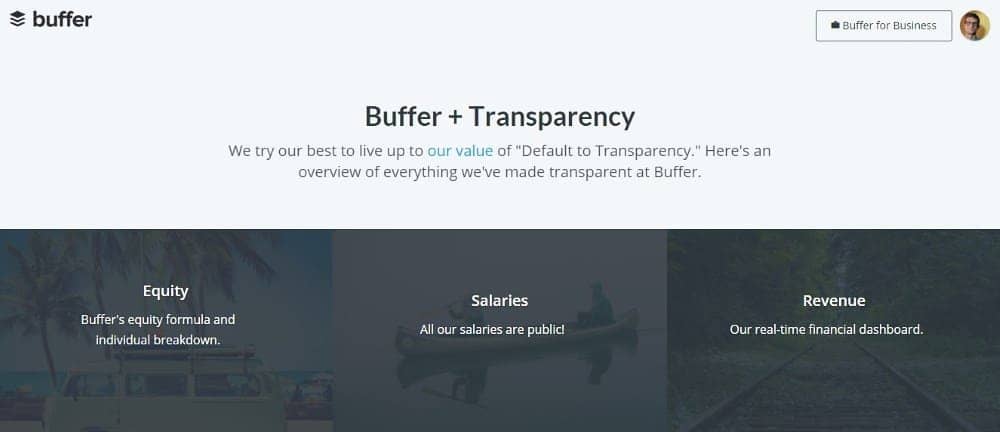 Our goal was to simply talk about what's going on behind the scenes at CodeinWP business-wise. Right now (some months later), the transparency reports are ones of the most commented posts on the blog. We also believe that they provide good insight to people in similar lines of business who might be dealing with similar challenges.
Either way, transparency reports are a great way to connect with your audience on a more personal level and share some of the behind-the-scenes details.
How to build it:
Each report should cover the most important goings-on. Talk about the challenges you're facing, your results, your experiments. Basically, everything that's a piece of interesting behind-the-scenes info.
Ongoing themes. For instance, apart from individual stories, Ionut always shares a revenue breakdown for the previous month. Whatever it is in your case, make it consistent.
A lesson. Try providing clear takeaway lessons in your reports. The reports shouldn't be entirely about you, but also point out how the audience can learn from your experiences.
You can publish the reports either as standard WordPress posts or pages.
3. Consulting
A must-have type of page for businesses offering any consulting services, obviously.
Under the hood, it can be a standard sales page, but the "item" on sale is a very specific kind of service.
Consulting is often difficult to sell because there's no direct graspable result of the service. At the end of the day, it's copywriting and good design that play a key role in establishing the business' credibility and making the offer attractive.
A great example of a well-designed consulting page comes from Neil Patel and his personal site: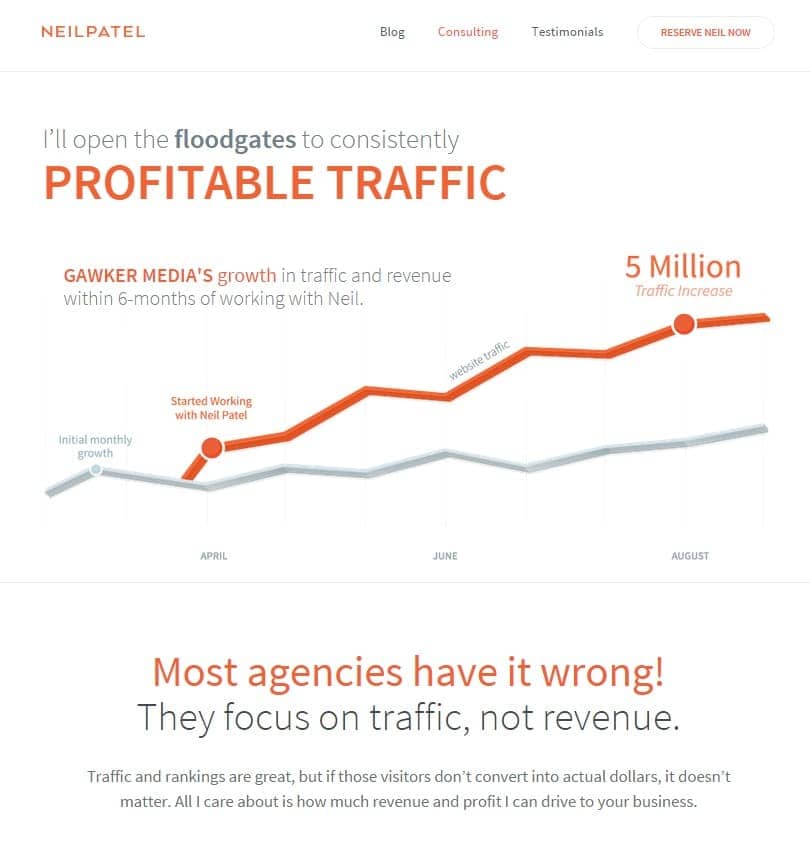 Neil uses a handful of clever elements to sell his consulting service. For instance, he presents a proof that his methods work. He does this by displaying numbers, logos of companies he's worked with and testimonials. Then, there's the design of the page itself, which is very catchy yet simple and professional. Lastly, there's an integrated booking mechanism that allows the visitor to schedule a consulting session right away.
How to build it:
Having a booking mechanism is especially important for a consulting page. One of the best plugins offering this sort of thing is called Booking Calendar (free).
When it comes to the structure of the page, you can try mimicking Neil and going for a custom-designed modular layout.
4. Speaking
Similar to a consulting page, but this time it's about hiring the person/business for a speaking appearance.
Here's an example of a speaking page by Josh Shipp – a recognized teen expert, TV personality and author: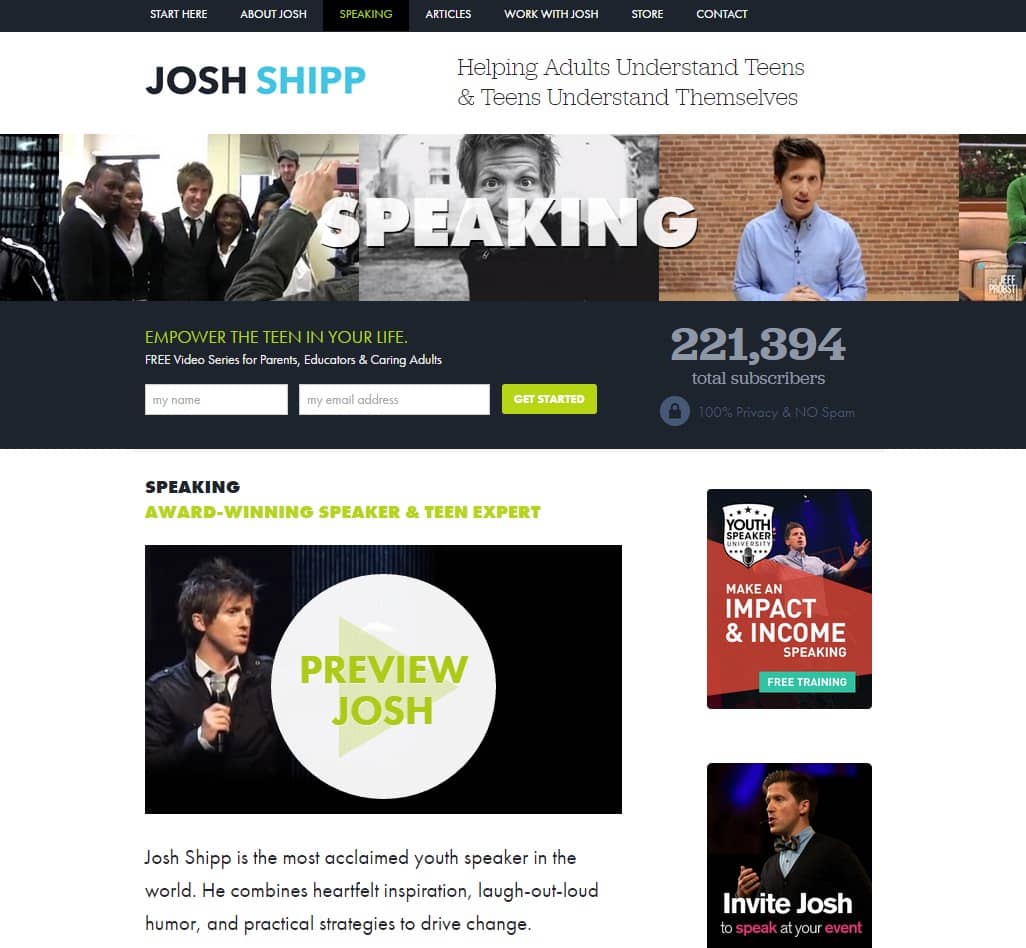 How to build it:
From a technical point of view, this can be a standard WordPress page or a custom modular page like the consulting page mentioned above.
An integrated contact form should also find its place on the page, so the visitors interested in the offer can reach out right away.
5. FAQ
Since the visitors are likely to ask certain questions repeatedly, then why not provide them with some ready-made answers?
How to build it:
The first option is to build such a page by hand, on top of a standard page template.
The alternative is to use a plugin like Ultimate FAQ.
6. Guest blogging guidelines
Depending on the site you're building, and especially if you plan on creating an online magazine, a lot of people will start reaching out about guest blogging opportunities once the site becomes authoritative enough in its niche.
Having a page meant to give those people basic information about the guidelines is a good idea. More than that, having this sort of page is an equally good idea even if the site doesn't accept guest bloggers (in that case, it can be used to simply state that guest contributions are not a possibility at the time).
This works for a simple reason. Picture this: someone researches guest blogging possibilities on the site > finds the guidelines page > sees that no guests are allowed, so they don't reach out with a pitch. The end.
If the site does allow guest contributions, on the other hand, then the page should state the rules of getting in and all the steps necessary.
Tip. If you want to see if someone has read your guidelines before pitching, on the guidelines page itself, say that every pitch needs to mention a certain safe-word (something that's not obvious, like "Aston Martin"). And that if it doesn't, the pitch will be discarded.
How to build it:
Standard WordPress page template will do.
7. Partnerships / affiliate program
Similarly to a "hire me" page, the main value of a Partnerships page is that it attracts partners partly because of its sole existence. Of course, good copy is crucial too, like with most types of pages.
A Partnerships page should present a summary of what the business is doing in its niche and what sort of partnerships they're looking for.
For affiliate programs, the page should go into even more detail and talk about things like commissions, the results that affiliates can expect, how to get started, why this affiliate program is better than the others and why anyone should join.
Two examples; the first one comes from Paid to Exist: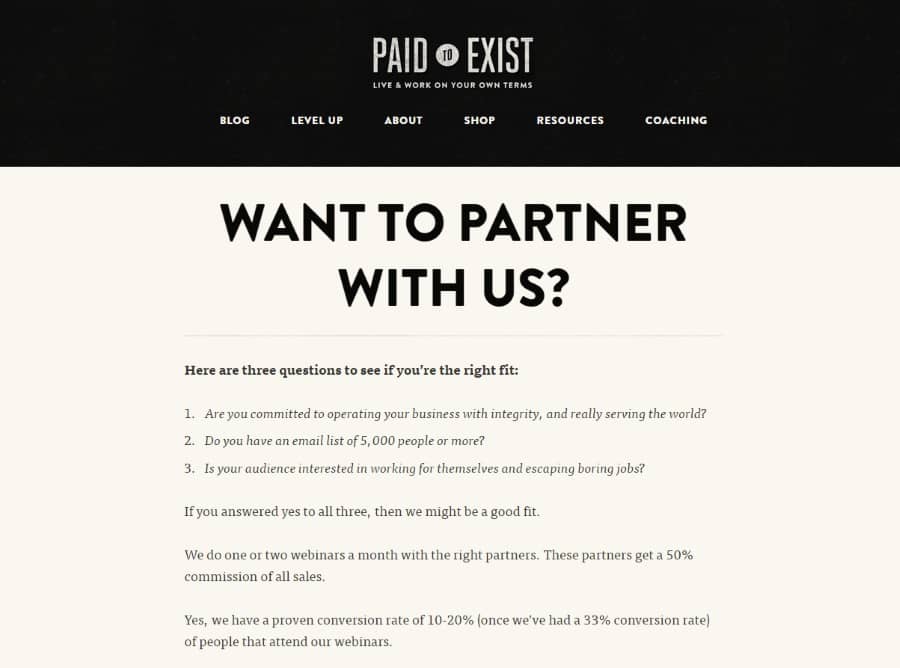 And the other one from Themeisle: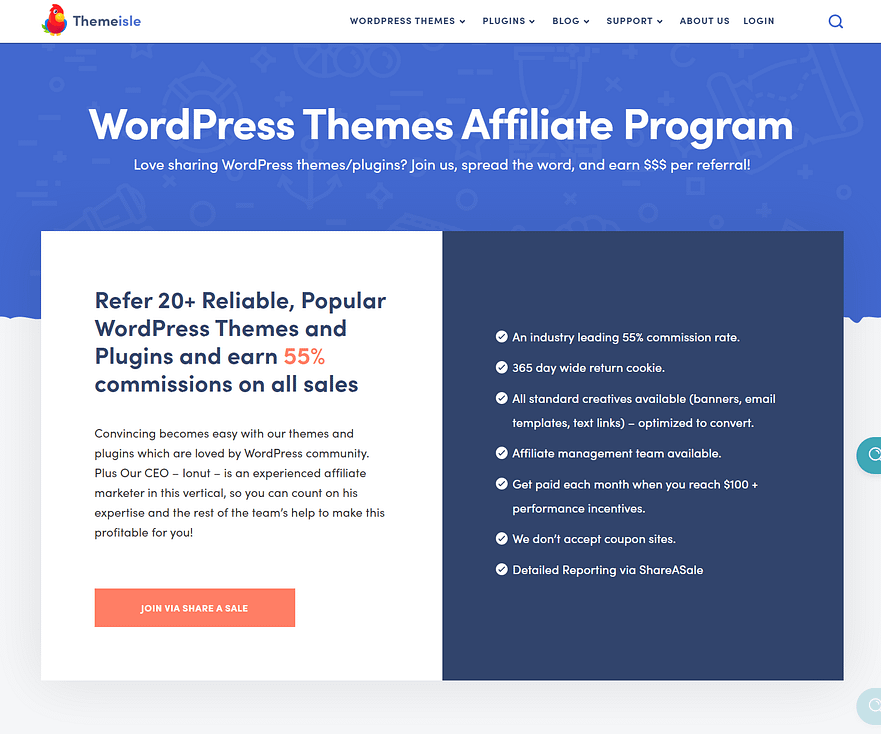 How to build it:
Can be a standard WordPress page template. Usually sans the sidebar.
Contact form or signup form integrated on the page.
8. Podcast / YouTube channel
If the business behind the website has a podcasting element as part of their content offering then it's a good idea to showcase it on a separate page.
Here's an example by Michael O'Neal:
Nothing fancy, just a listing of all the episodes along with links pointing to individual sub-pages devoted to single episodes. Direct links to the podcast's iTunes page and RSS feed are a must too.
How to build it:
Standard WordPress page template.
Custom category listing for "podcasts."
9. Books
The purpose of the Books page is to simply recommend the best publications on a given topic.
No matter what niche the website's in, there's certainly a number of books that the visitor could/should be interested in – sort of a must-read set of books for the niche.
Additionally, this page gives you an opportunity of earning some extra income by referring people to Amazon where they can buy the actual books.
How to build it:
Use a full-width page template.
Pick 5-10 books and get your embed codes from Amazon.
Don't forget about some form of an affiliate disclosure – letting people know that what they see are affiliate links.
10. Shop
Is there anything that you want to sell directly from the website? If so, build an e-commerce store that's integrated with the website itself.
These days, you can use WooCommerce to do the heavy lifting. It also takes care of the presentation – giving you access to the most effective e-commerce layouts.
How to build it:
11. Advertising
The Advertising page is meant to present the advertising options available on the website, along with all the info that a potential advertiser might be interested in.
For example, here's a page used by Entrepreneurs-Journey.com: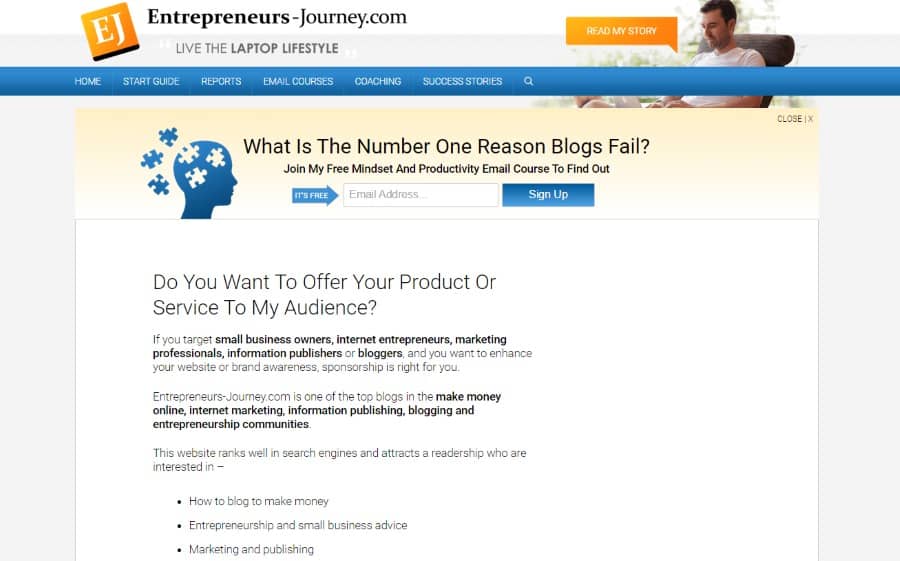 Very simple presentation, with just the basic info on it. In fact, you don't need anything else. No fancy graphics or anything. The advertisers won't be interested in that anyway.
How to build it:
Again, a standard page template will do.
Include things like: monthly page views or other traffic stats, available ad placements and campaign types, how to get started (preferably a contact form embedded in the page itself).
Your turn
What other pages do you like to include in your WordPress sites that might not be as obvious? Feel free to share in the comments.