If you run a blog on your WordPress site, it's important to publish fresh, high-quality content on a regular basis. This can help you build authority in your niche and climb the rankings in search engine results . However, if you already have a lot on your plate, you might need to outsource content writing for your business.
Fortunately, it's easy to find professional writers who can help you grow your blog. When you follow a few simple guidelines, like establishing your budget and creating a style guide, you'll be in a better position to hire the right person for the job.
👉 In this post, we'll look at some reasons to outsource content writing for your site. Then, we'll share five tips 🥷 to help you get started. Let's dive right in!
When to consider outsourcing content writing
Whether you run a business site or a professional blog, publishing valuable content can help you generate more traffic and grow your audience. As an expert in your niche, you might enjoy writing your own articles. Unfortunately, though, this isn't always sustainable or realistic.
That's because if you manage other areas of your business, you might not be able to produce regular content for your site. Moreover, you may need to cover topics that are outside your area of expertise. Outsourcing your content writing can help you fill in these gaps.
Additionally, you might not have enough time to work on your Search Engine Optimization (SEO) and perform keyword research for your posts. However, since on-page SEO is key in increasing your visibility in search engines, it's a good idea to make it a priority. Therefore, you might also consider employing the services of a writer and SEO expert.
The good news is that outsourcing content writing can be more cost-effective than hiring and training in-house writers. If you only need to publish a few articles per month, it likely makes more sense to use a freelancer and pay them per project.
However, if you're looking for more, content creation agencies sometimes offer complete solutions. 👉 For example, they might also manage your social media posts and newsletters. With either of these options, you can avoid the costs associated with permanently expanding your digital marketing team.
How to outsource content writing for your WordPress site (5 tips)
If you want to outsource content writing for your WordPress site, there are a number of things you should consider. Now, let's look at some tips to help you find the right solution for your business.
📚 Table of contents:
1. Establish your budget and needs
First, you'll want to think about your content creation needs. This will help you decide whether to hire a freelancer or an agency.
For instance, if you just want to publish a series of posts on a specific topic, you might consider reaching out to a professional blogger in that niche. Alternatively, if you're looking to set up a content strategy, it's likely better to contact a marketing or creative agency.
Your budget will also determine the type of service that you go for. Hiring a freelancer for each project might be more affordable than using an established agency.
However, if you also want someone to work on your social media content or email marketing strategy, it might be more cost-effective to outsource everything to the same agency. Additionally, this option means you'll have fewer third parties to deal with, which can help streamline your workflow.
2. Create a style guide and brand kit
Before you start outsourcing your content writing, you'd be wise to create a style guide for your site. This may include things like:
Formatting guidelines for titles, headings, and paragraphs
Spelling preferences for certain words (e.g. color versus colour, e-books versus ebooks)
Tone and voice (e.g., formal, friendly, or conversational)
Having a style guide can help you establish a sense of cohesion and consistency across your site. This is particularly important if you're planning to hire different writers.
This style guide can be similar to the editorial guidelines that you'd find on publications that accept submissions (like The Independent):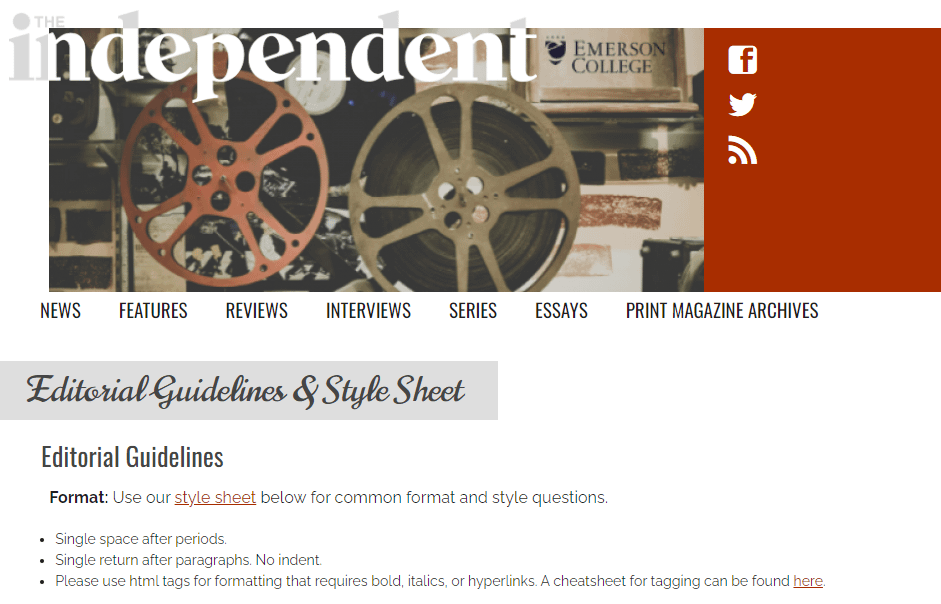 Additionally, you might want to put together a brand kit. This can be especially useful if you're thinking of hiring a creative agency to handle all of your content needs.
Your kit should include important visual elements like a brand logo, fonts, colors, and any other essential stylistic notes. This way, your content creators will know how to implement your unique style across all platforms.
If you want to design a brand kit that is sleek and accessible, a tool like Canva can make the task a lot easier: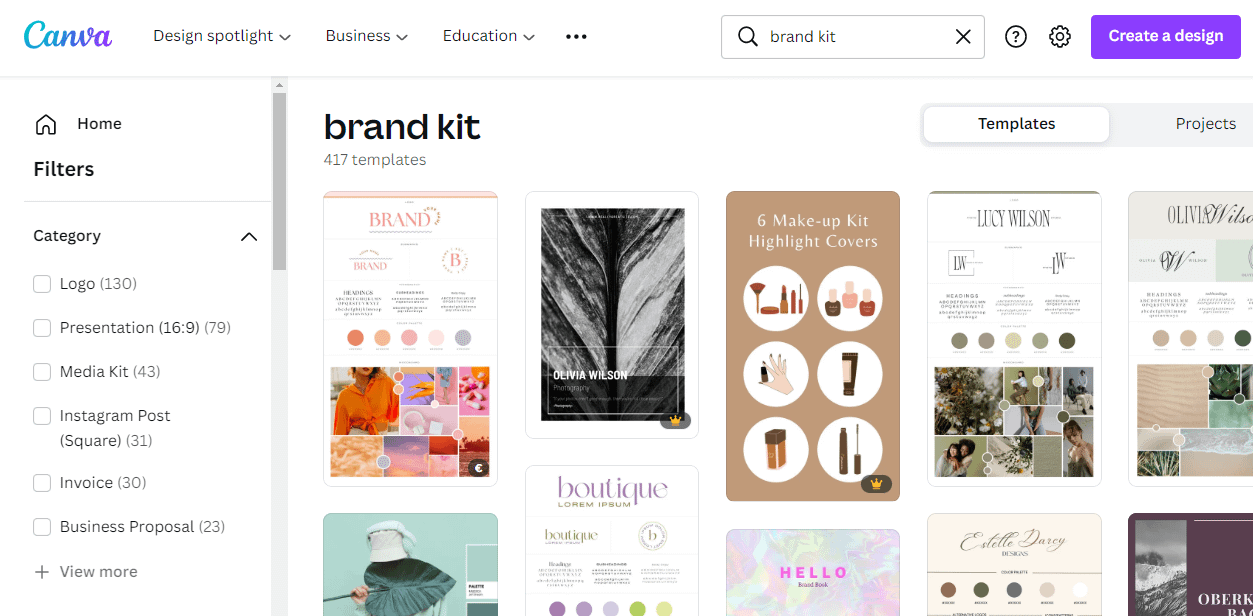 Canva offers several templates for creating a professional kit. Once you select a design, you can customize it to suit your needs. Then, simply download the kit as a PDF (or in image format) and share it with prospective writers.
3. Reach out to professional bloggers in your niche
As we mentioned, you might prefer to hire a freelancer for a small writing project. This might be a more affordable solution for your business.
You can start by looking for writers or bloggers in your niche. Naturally, some of them will have their own blogs, so you'll be able to look at their work and gauge their level of expertise before making a decision.
Some bloggers even advertise their writing services on their websites (like Christina Lyon does):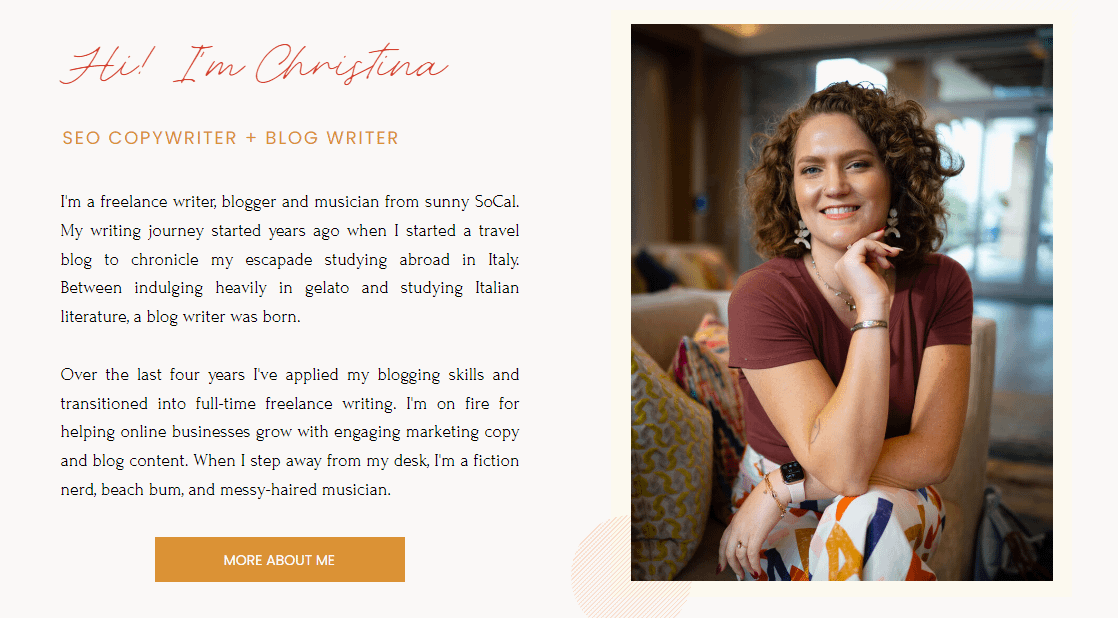 You can reach out to these individuals directly and ask for their rates. If they're happy to work with you, the next step is to set up an agreement or contract. This should include a timeline or deadline for the project delivery, method of payment, and other important details.
Alternatively, you can connect with freelancers through platforms like Fiverr: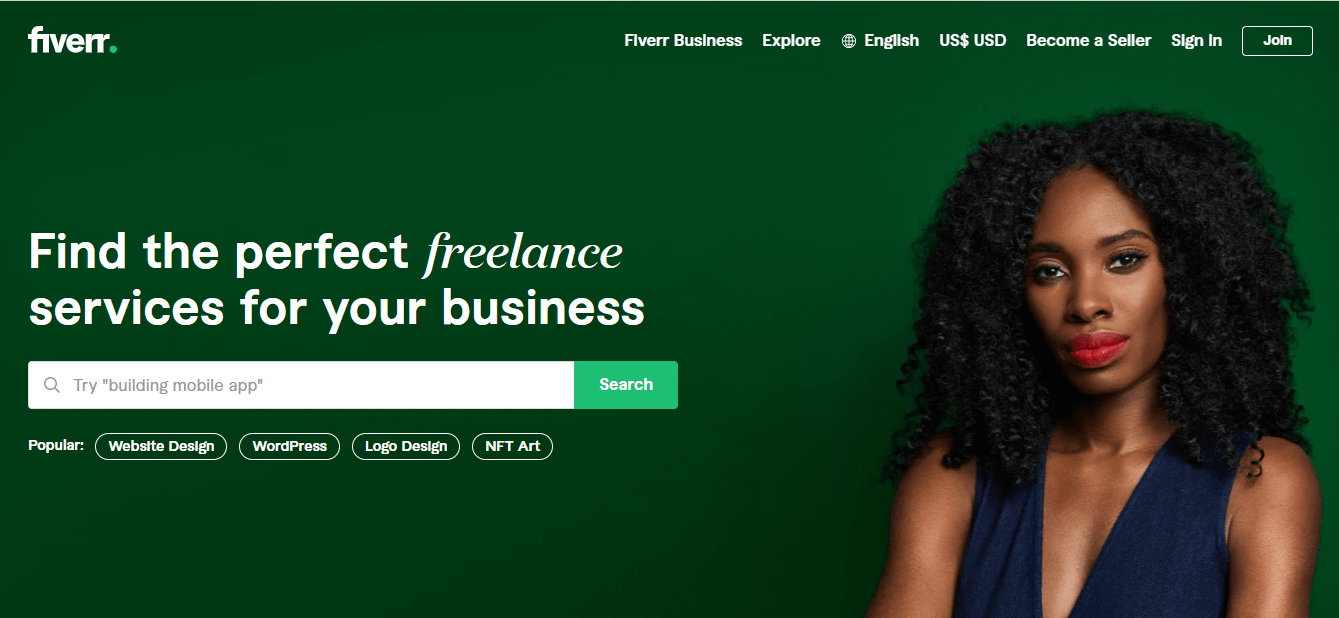 These platforms enable you to find writers or bloggers that fulfill specific requirements. 👉 For example, you might look for freelancers that are familiar with WordPress and SEO.
4. Hire a content creation agency
If you have a large budget or more complex writing projects to outsource, you might consider hiring a creative agency. Some companies can help you create a complete content strategy from scratch, or improve an existing one.
There are several benefits to hiring an agency to handle your content writing. For starters, they may provide a tailored service designed to help you boost your traffic and conversions. Some might also offer to do a content audit to identify areas of improvement.
In addition, an agency might produce better quality content than freelancers. This is because articles will likely be checked by an editor or proofreader before they're submitted.
Depending on the agency, you might even get additional services such as on-page SEO, social media management, and email marketing. Outsourcing these tasks can further reduce your workload. Plus, you wouldn't need to hire a separate professional or agency for these jobs.
You can start by running 👟 a quick Google search for creative agencies in your area, or looking for agencies that specialize in particular industries: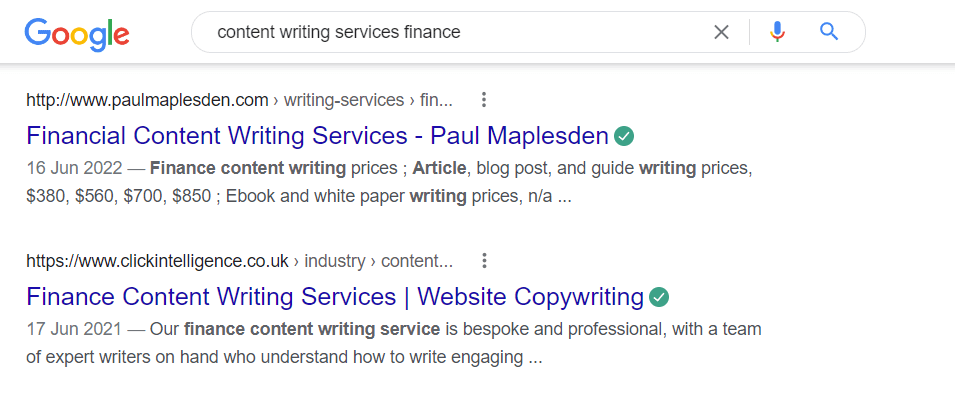 In most cases, you'll need to contact the agency for a quote. Therefore, it's smart to prepare a list of your specific content needs and flesh out your requirements as best as you can, beforehand. This way, you can get a clearer indication of the cost and the amount of work involved.
5. Request writing samples or set up trial tasks
Before you make your final decision, you might want to request some writing samples. This can help you determine whether you're choosing the right professional or agency.
Alternatively, you could set up a few trial tasks. This can be a more effective way to determine a writer's suitability for the job.
👉 For example, you can ask them to write a complete article on a particular topic to test their knowledge and research skills. This will also show you whether they can help you fulfill your business needs and goals.
A trial task can help you gauge the level of professionalism exhibited by a freelancer or agency. You can use it to see if they are able to deliver projects on time and follow your guidelines.
Fortunately, most veteran freelancers and content agencies will be accustomed to this type of request. They will likely expect you to pay 💰 them for their trial tasks, but they are usually willing to accept a reduced rate.
Conclusion
High-quality, original content can help boost traffic to your site and grow your business. However, you might not have the time or the knowledge to produce well-researched articles that drive conversions.
To review, here are some tips to follow if you want to outsource content writing for your WordPress site:
Establish your content creation needs and set a budget. 💰
Create a style guide and brand kit to ensure cohesion across your site. 🎨
Reach out to professional writers and bloggers in your niche. ✍️
Hire a content creation agency for more complex projects. 🚧
Request writing samples or set up trial tasks to find the right fit. 🖱️
Do you have any questions about outsourcing content writing for your WordPress site? Let us know in the comments section below!
…
Don't forget to join our crash course on speeding up your WordPress site. With some simple fixes, you can reduce your loading time by even 50-80%: