Trying to choose between Outlook vs Gmail for your personal or business email?
Both tools let you create a personal email for free – e.g. [email protected] or [email protected]. If you want a professional business email address – e.g. [email protected] – both platforms also offer paid services to let you set that up (or free workarounds in some cases).
But how can you pick between the two? That's the topic of this post.
To help you make your decision, we're going to compare Outlook vs Gmail in seven different categories: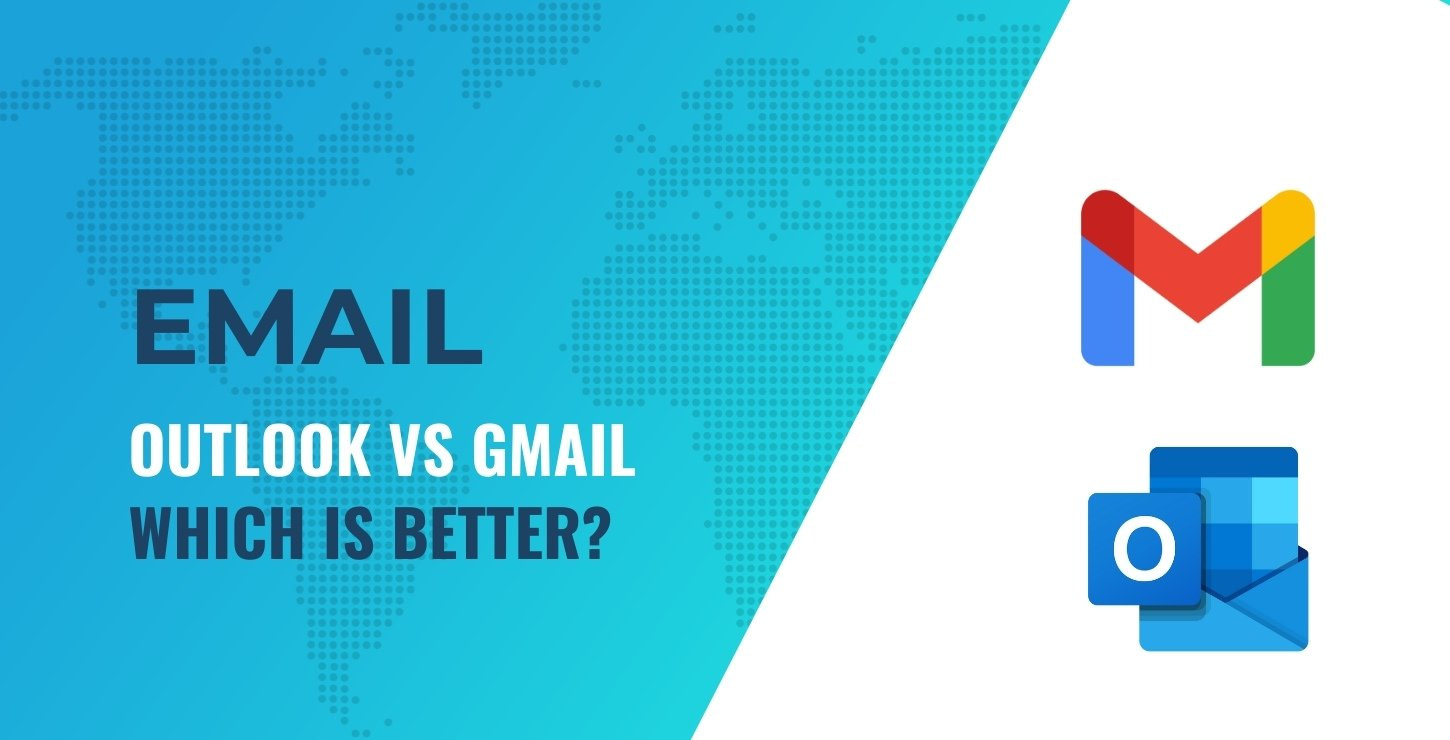 🤫 If you're in a rush, I think that Gmail is a better option for most people, though it largely depends on what you value. To learn where that comes from, you'll need to read our full Outlook vs Gmail comparison.
Features
Let's kick things off with a quick look at the features of Outlook and Gmail.
The obvious answer here is "email." Well yeah, both of these tools help you with email. But there are also smaller features that will control how you interact with your email. And both platforms also go beyond just offering email.
First, let's look at the email-specific features:
Outlook vs Gmail: email features
Outlook
Gmail
Free plan

✅

✅

Web interface

✅

✅

Desktop software

✅

❌

Mobile apps

✅

✅

Option for custom email address

✅

✅

Folder organization

✅

❌

Label/tag organization

✅

✅

Snooze emails

✅

✅

Free storage
15 GB
15 GB
Attachment limit
20 MB
25 MB
Cloud storage integration

✅

(OneDrive)

✅

(Google Drive)
Then, both platforms also offer some other notable features that are built into the email interface:
Outlook vs Gmail: additional features/tools

| | Outlook | Gmail |
| --- | --- | --- |
| Calendar | ✅ | ✅ |
| Chat/messaging | ✅ | ✅ |
| Video calls | ✅ | ✅ |
Interface
Let's take a look at the interfaces. Both Gmail and Outlook give you a lot of options for customizing your interface, so there's no "one" interface in both tools. With that being said, you should get a good idea of the feel of each interface in this post.
Outlook
Outlook divides the interface into five main columns of varying size. The bulk of the interface is three columns:
First column – switch between different folders.
Second column – view a list of emails.
Third column – see the text of an email or compose a response (once selected).
When you first open it, it will look like this because you haven't selected any email: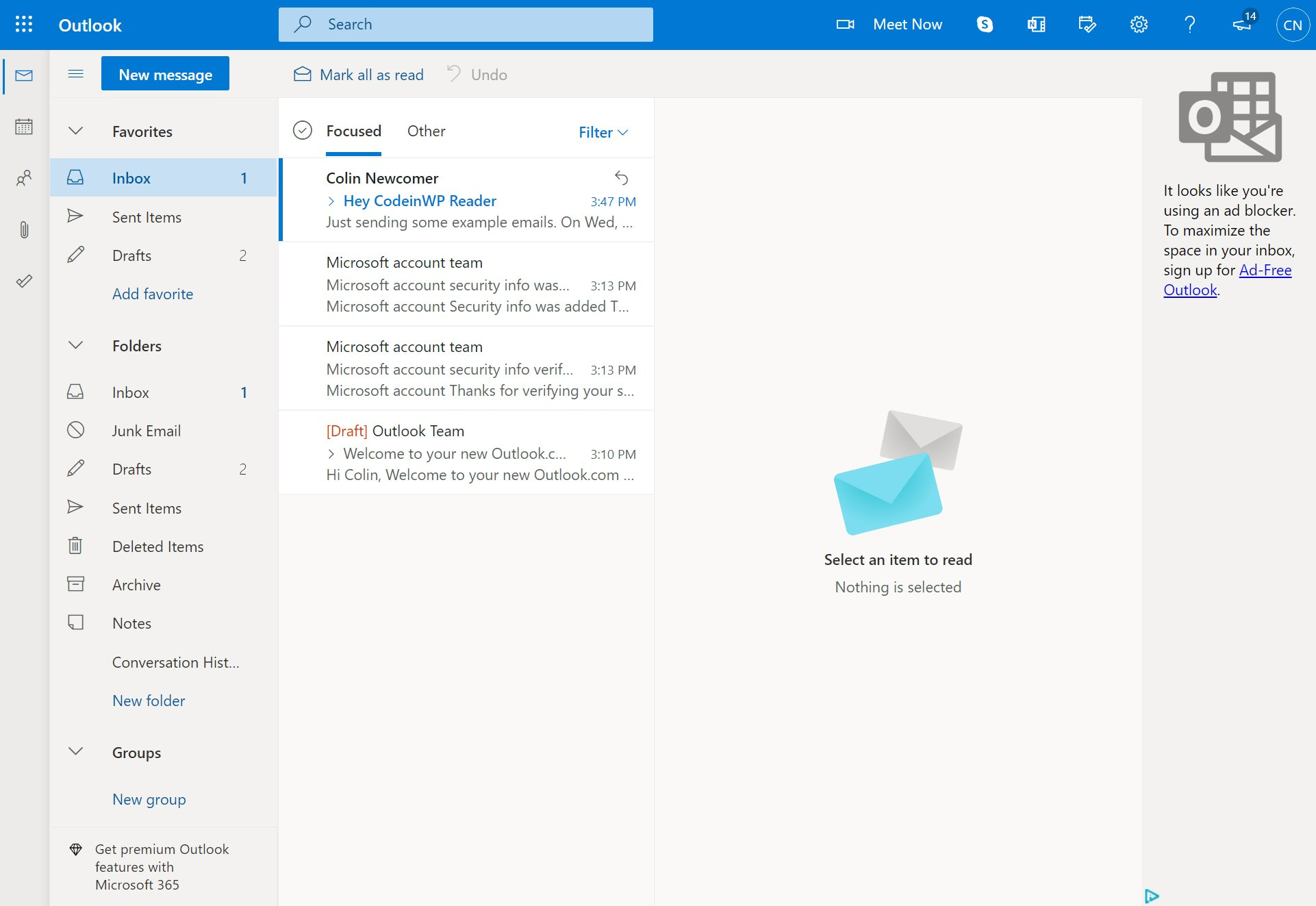 If you click on an email, you'll see that specific email along with the full thread of the conversation (if there have been multiple emails back and forth):
When you compose a new email, it will replace the email viewer with a text editor.
You'll get tabs at the bottom that let you quickly switch back to the email viewer for the email that you have open. This tabbed functionality is notable because it's something that Gmail doesn't offer.
Or, if you reply to an email, it will just add the email compose box below the existing emails.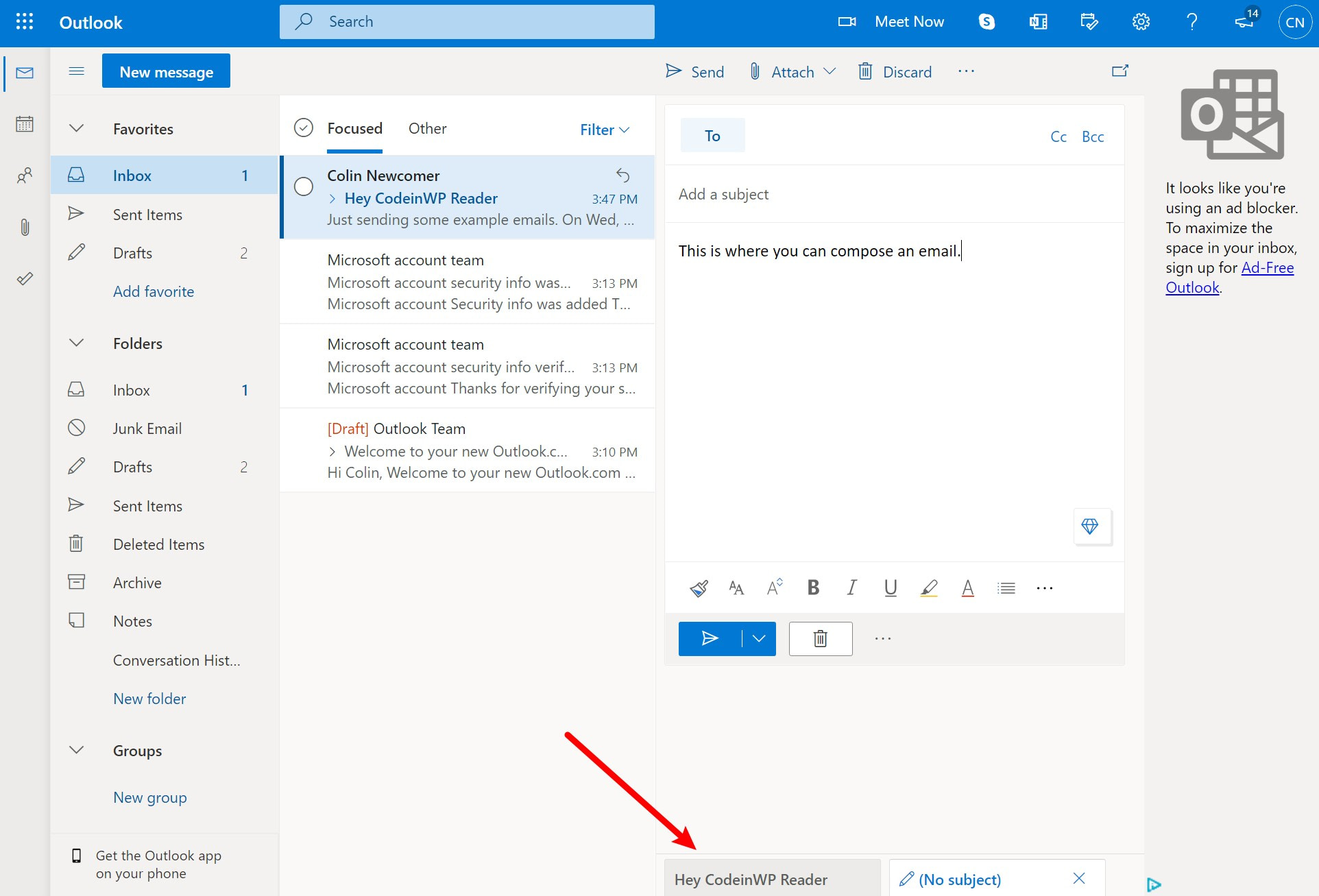 From the tabs on the very small sidebar on the left, you can quickly jump to your calendar, contact list, files, or to-do list (tasks).
Gmail
The Gmail interface is divided into three columns, with only two columns taking up the bulk of the real estate. This makes it feel a little less busy, at least in my personal opinion.
You can move between different inboxes/labels in the sidebar on the left and view a list of all your emails in the middle: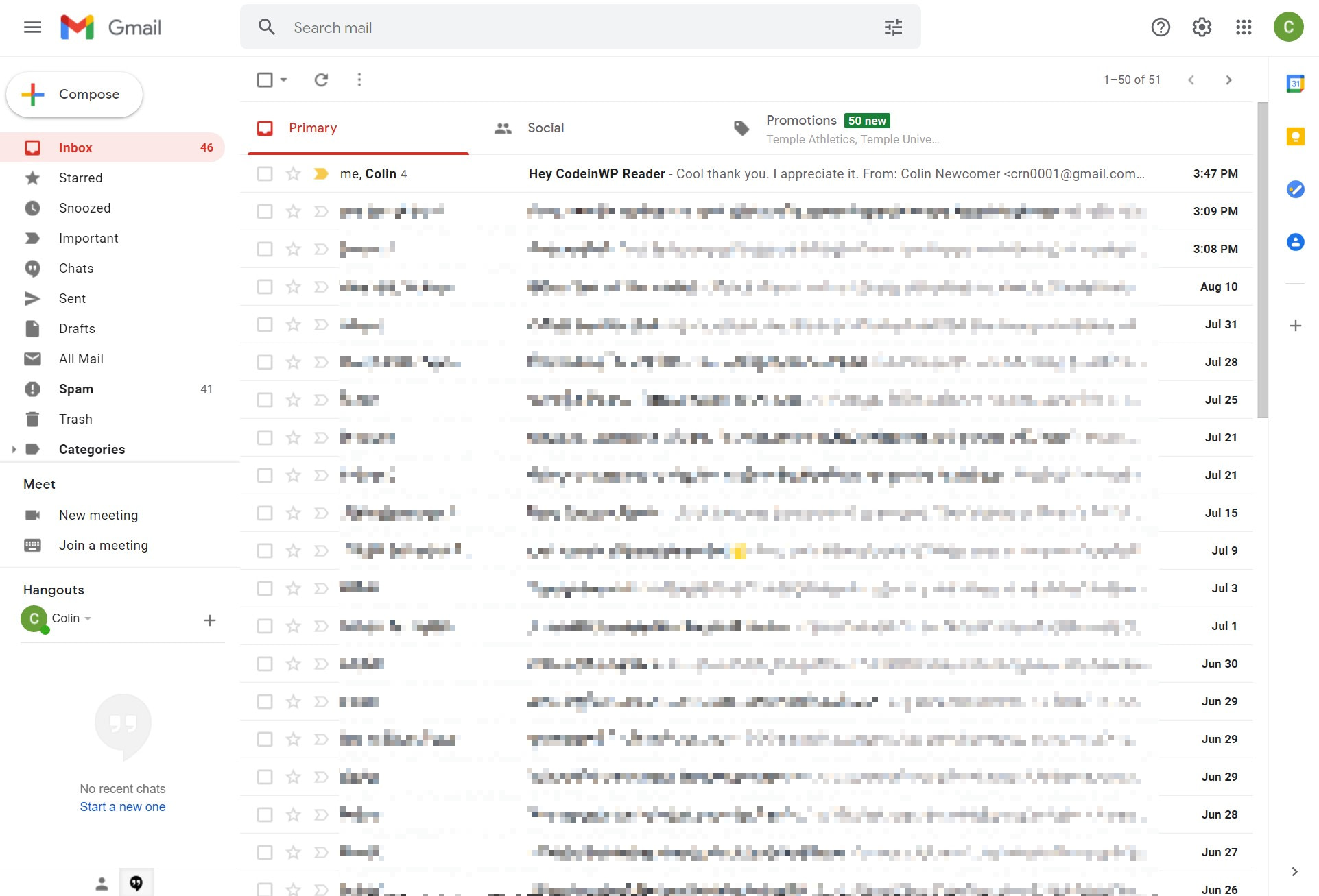 If you open an email, Gmail will replace the email list with a full view of that email (and any other emails in the thread). You can expand and collapse emails in the thread as needed: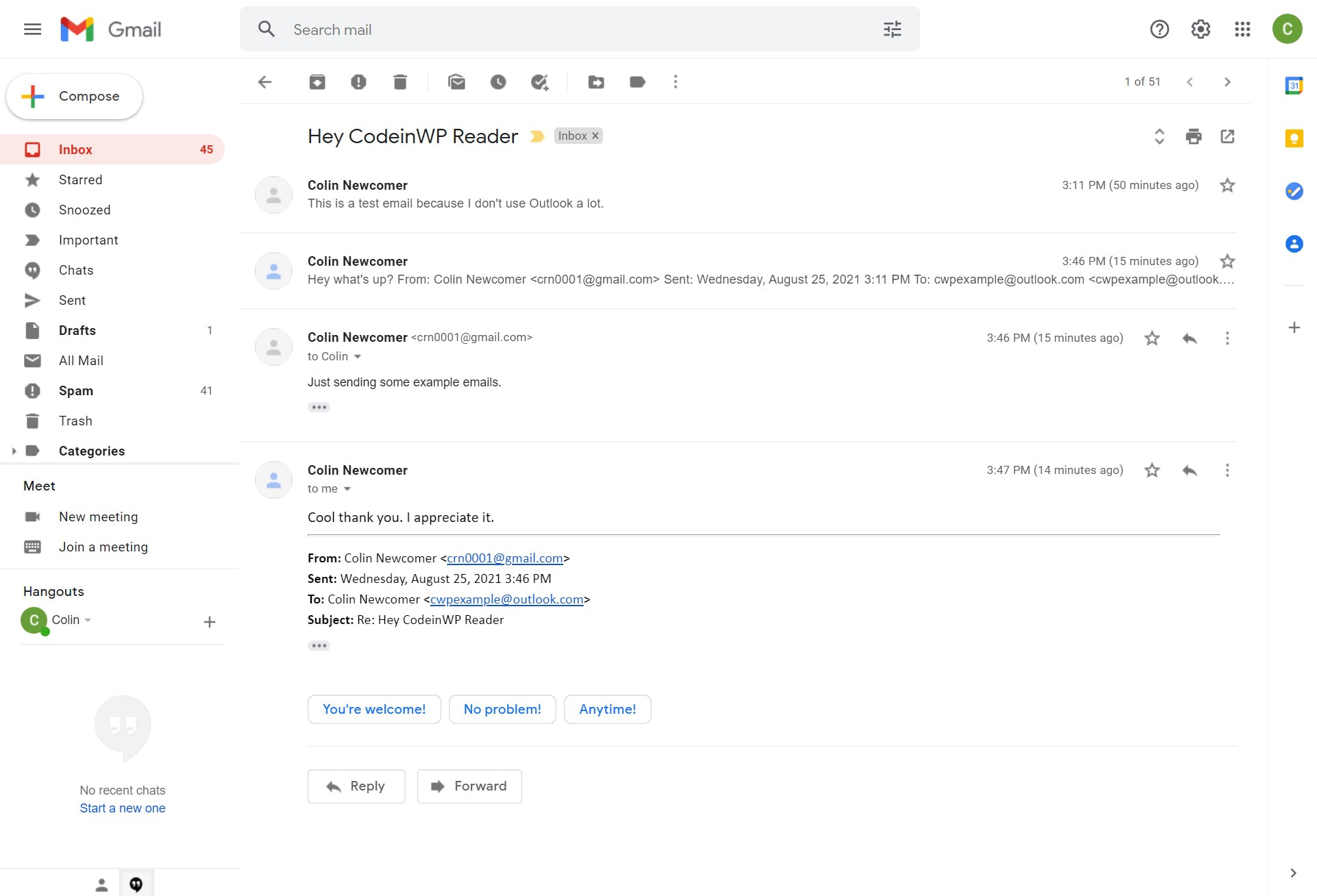 To compose an email, you have two options:
If you're replying to an existing email, the email compose box will appear in the thread.
If you're composing a new email, it will appear as a popup box (that you can make full-screen if you want more real estate).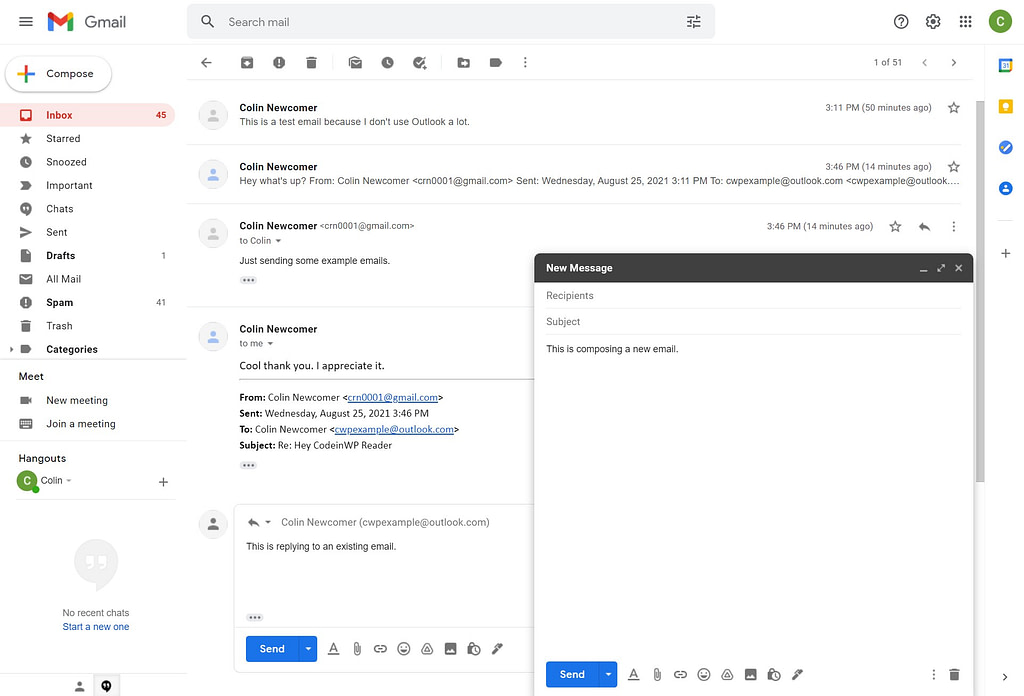 Personally, I like the popup approach because it makes it easy to compose a completely new message while still looking at an email thread. With Outlook, you could use the tabs to quickly switch back and forth, but you can't see both at the same time.
🏆 Winner:
Picking an interface is subjective, so this one could go either way. Personally, there's no contest between Outlook vs Gmail, I prefer Gmail's interface – but I also use Gmail every day so I'm more familiar with it.
Basically, my personal opinion is biased because Gmail feels "normal" to me while Outlook feels "foreign." So – hopefully the screenshots will help you choose which interface you think is the winner.
Organization, search, and filter
Now, let's start moving into some more nitty-gritty areas, starting with the options that you have for organizing your emails and searching/filtering when needed.
Once you have a lot of emails, it can be helpful to have an organization system to keep track of them all. That, combined with a strong search and filter system, can help you stay on top of thousands of emails.
Outlook
Outlook lets you organize emails using different folders as well as categories (which function more like tags). If you like the folder approach, that's a point in Outlook's favor as Gmail doesn't offer folders (though you can achieve a similar effect with Gmail):
To find emails, you can also search using the bar at the top. When you search, you can use basic search operators such as "from:[email protected]" to show emails from that address.
You can also expand a drop-down with specific filters: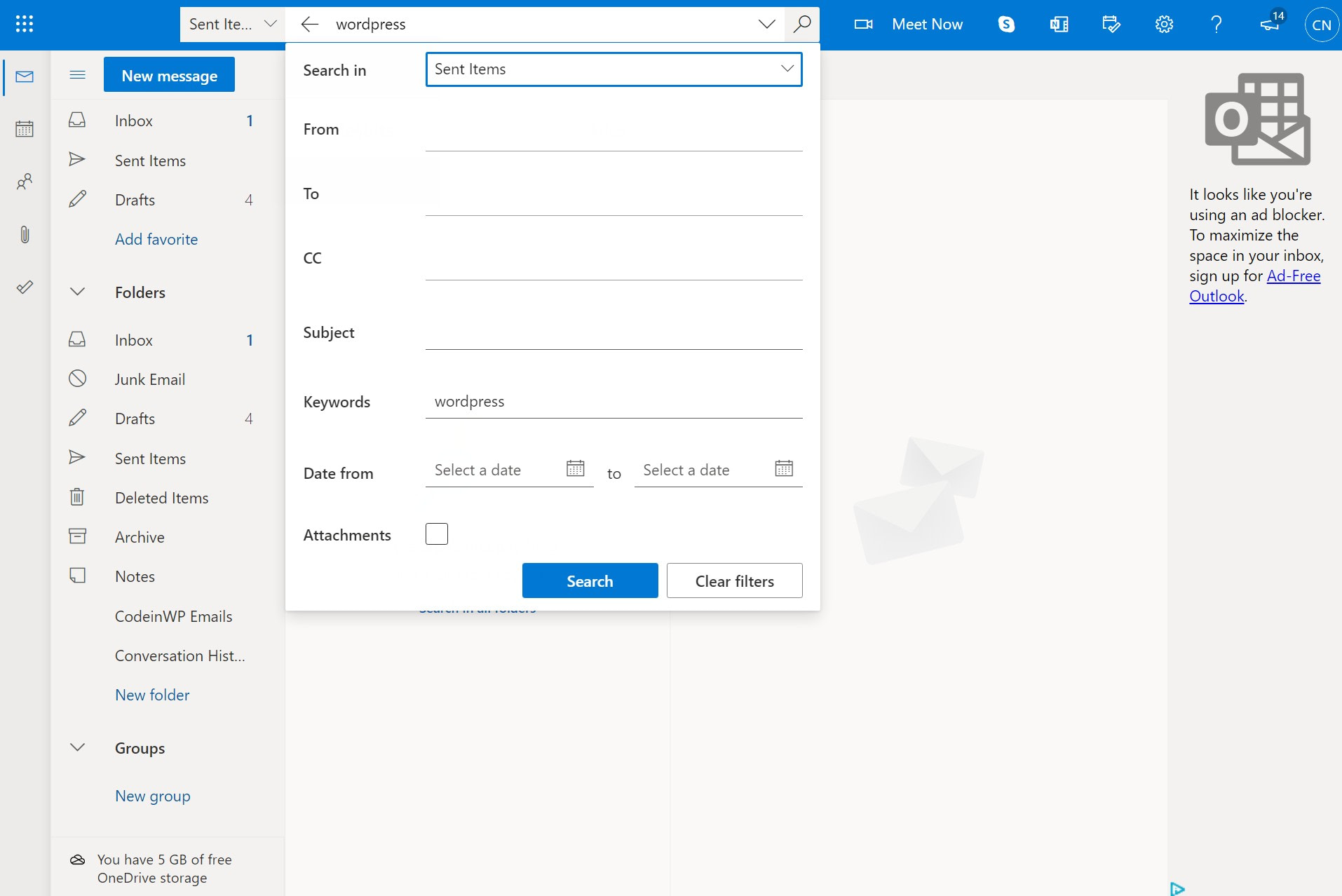 Gmail
Gmail handles things a bit differently when it comes to organization and search.
First, Gmail will try to automatically filter your incoming emails by three inboxes:
I think this feature is useful to quickly filter out a lot of unimportant emails…but it's not perfect so you'll need to check those other tabs to make sure Gmail didn't accidentally send an important email to "Promotions." Thankfully, you can drag-and-drop emails between the different inboxes and Google will remember your choices going forward.
To organize emails, you'll get two quick options to star them or mark them as important. Beyond that, you can also apply your own labels/tags: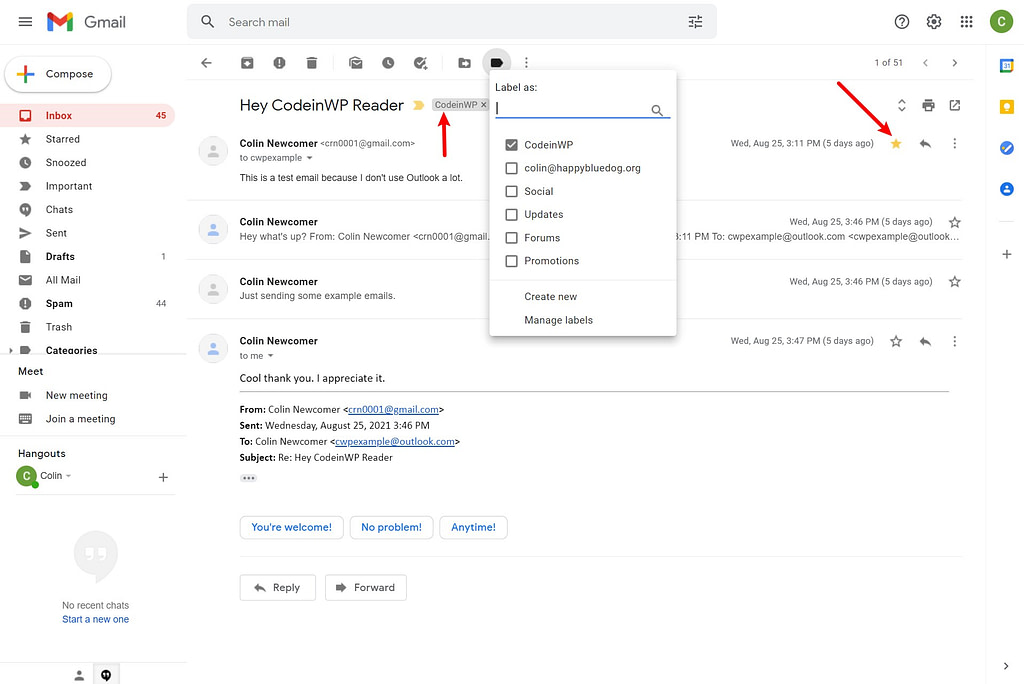 However, you can't create your own custom folders like Outlook allows, though you can create parent labels and sub-labels, which lets you achieve similar organization.
Like Outlook, you can search using the box at the top, including search operators. However, Gmail's search operators are more robust, which gives you more flexibility. For example, you can search by "is:unread" to only return emails that are unread; or "before:2021/08/30" to show emails received before Aug 30th 2021.
You can also expand a drop-down to show more filters: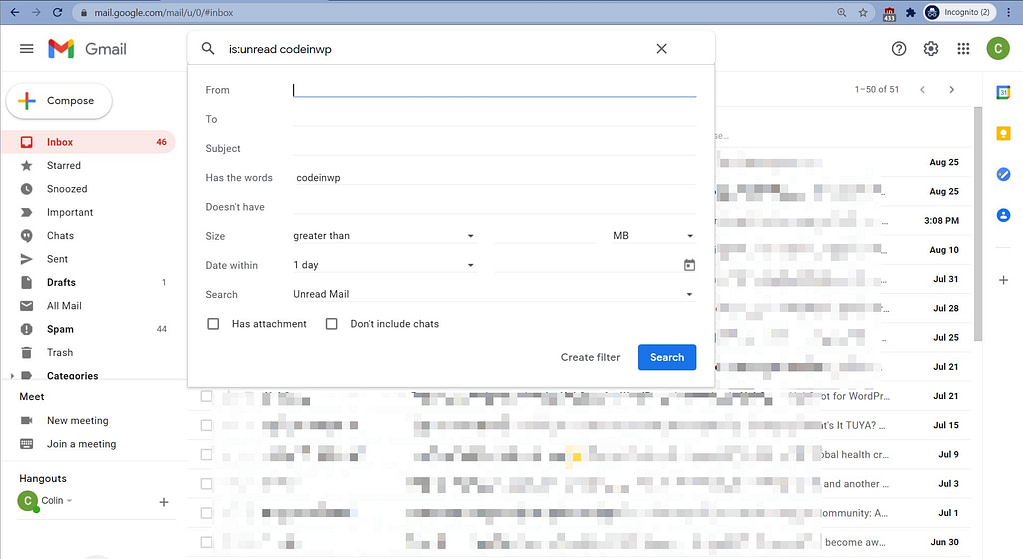 Another useful filter option is that you can select any email and choose "Filter emails like these" to automatically show similar emails.
🏆 Winner:
It depends on what you value. Outlook offers more organization because you get both custom folders and categories, while Gmail only supports labels.
However, I personally prefer Gmail's search interface because it allows more operators and I find operators to be easier to use than the full filter interface.
Integrations and apps
For more advanced workflows, you might want an email client that has apps and integrations with third-party tools. Here's how Outlook vs Gmail stack up in this respect.
Outlook
To extend Outlook, Microsoft offers extensions called add-ins (not "add-ons"). You can browse all of the add-ins here, but in general you'll get options for:
Gmail
Gmail has a built-in add-on system that you can access from the Gmail interface called the Google Workspace Marketplace.
You can view the full list here, but you'll get the same sorts of add-ons as Outlook including:
Salesforce and other CRM tools.
Zoom and other video conferencing tools.
Trello and other project management tools.
Todoist and other to-do list apps.
In addition to the dedicated Gmail app marketplace, you can also find Gmail extensions in the form of Chrome extension, which give you another avenue to extend Gmail.
🏆 Winner:
It's a tie because both offer extensions for the essentials. If you have a specific integration that you need, I recommend checking the list above.
Security
When it comes to securing your email account, one of the biggest things that you can do beyond having a strong password is setting up two-factor authentication.
With two-factor authentication, you need to both have a physical item in your possession (like your smartphone) and enter your password to log in.
It's possible that hackers could get access to your email password, but it's unlikely that they could ever get both your password and the two-factor tool.
Both Gmail and Outlook support two-factor authentication via the following options:
Text message
Authenticator app (TOTP) – you can use any authenticator app that supports common protocols, including Google Authenticator, Authy, and others.
Physical hardware – e.g. the YubiKey.
Backup codes – save backup codes in case you lose your two-factor method.
Outlook also lets you verify using your Windows PC – via your face, fingerprint, or PIN.
Basically, both Gmail and Outlook give you all the tools that you need to keep your email account secure.
Personal use pricing
In this section, I'll focus on personal use pricing. In the next section, I'll cover business pricing.
For personal use, both Gmail and Outlook have free options.
With the free plans, you can use both for essentially unlimited emails forever, all without spending a penny. Both also give you identical storage – 15 GB.
However, there are potential paid options for personal use with both services, so let's go through them.
Outlook personal pricing
In addition to the free plan, Outlook offers a paid service called Microsoft 365 Personal (formerly Office 365). With the premium plan, you get the following extra benefits:
No ads.
50 GB of Outlook mailbox storage – instead of 15 GB on the free plan.
Dedicated desktop apps for Windows and Mac – the free version only gives you apps for web, Android, and iOS.
1 TB of OneDrive storage at no extra cost.
Desktop versions of the Microsoft Office apps (Word, Excel, etc.) – the free version only gives you access to web versions of Office.
More advanced message encryption.
The option to use a custom domain name – e.g. [email protected]. You must use GoDaddy to register the domain, which is kind of annoying.
Automatic protection for unsafe links and malware scanning for attachments.
Microsoft 365 costs $69.99 per year or $6.99 per month for one person. Or, you can get a family plan for up to six people for $99.99 per year or $9.99 per month.
Gmail pricing
Unlike Outlook, Gmail is 100% free. Gmail also gives you free access to some of the premium features from Microsoft 365. For example, you get:
Automatic protection for unsafe links and malware scanning.
The option to use a custom domain, though it requires a sort of workaround (you can pay for a more straightforward setup – more on that next).
However, there is one area where you might need to pay – storage. As your account ages, or if you get sent a ton of attachments, you might start bumping up to the storage limit on your account.
This is unlikely if you're strictly using the account for email. But it can happen if you're also taking advantage of Google Drive, Docs, Sheets, etc.
To add storage to Gmail, you'll need to increase the storage for your entire Google account (so this is the same storage used for Drive, Docs, etc.). This is different from Outlook where Outlook splits the Outlook mailbox storage and OneDrive storage.
100 GB – $1.99/month or $19.99/year.
200 GB – $2.99/month or $29.99/year.
2 TB – $9.99/month or $99.99/year.
10 TB – $49.99/month.
🏆 Winner:
Slight edge to Gmail. While both offer free plans, Gmail's free plan gives you more features and it's cheaper to add storage to Gmail.
Business plans pricing 💼
If you're just a casual user looking for a personal email address, you don't need to look into this section.
But if you want to access advanced business features and use Gmail or Outlook for your own custom business email address – e.g. [email protected] – you'll probably be interested in the business plans.
Both Gmail and Outlook offer premium business plans for individuals or teams:
Of the two, Google Workspace is cheaper if you're strictly looking at email. Looking beyond email is trickier because Microsoft's business plans include features that Google doesn't offer, such as Microsoft Teams (a Slack alternative).
You can view the pricing below – note that Microsoft 365 Business only includes business email on the Standard plan and above:
Microsoft 365 Business: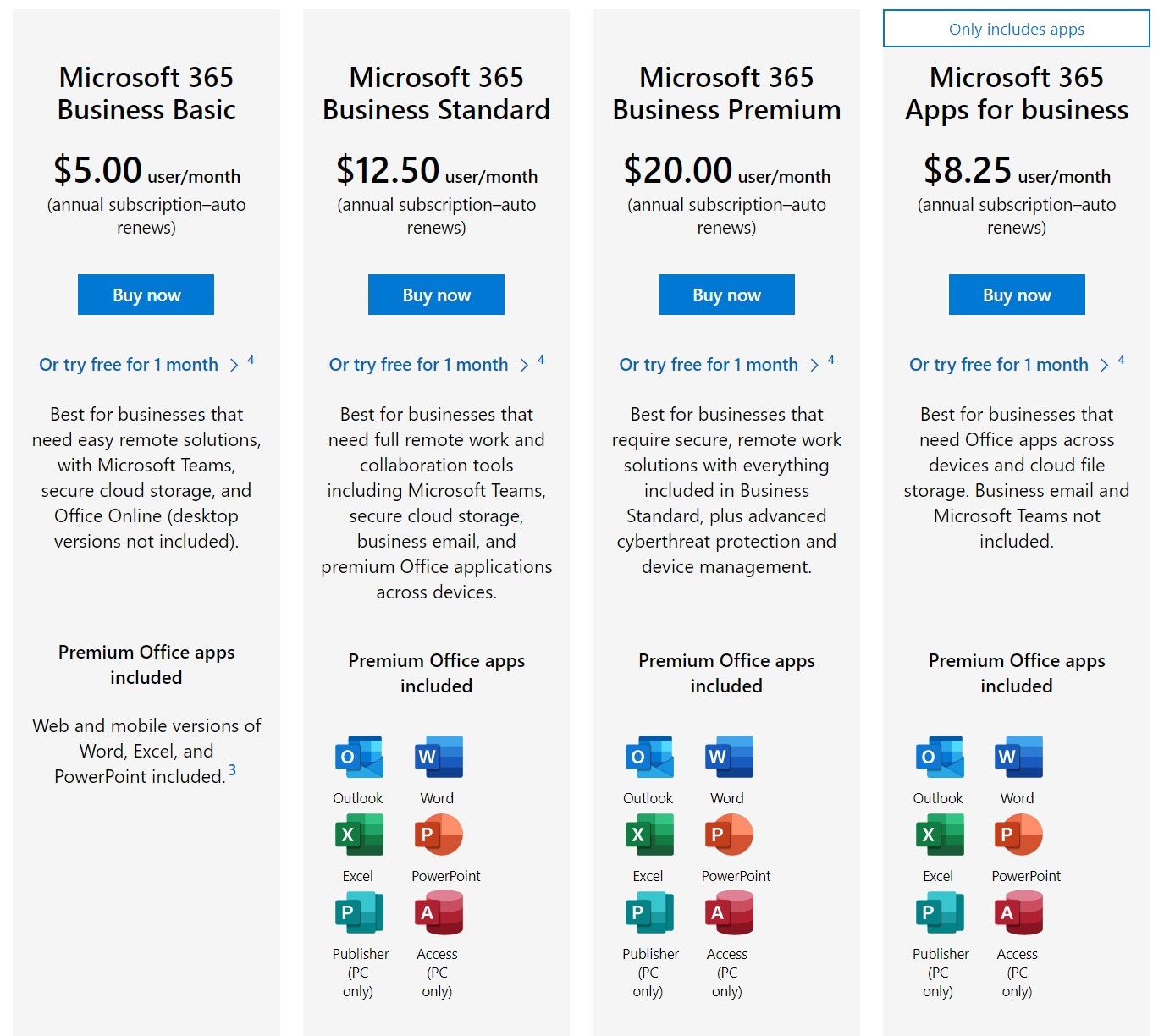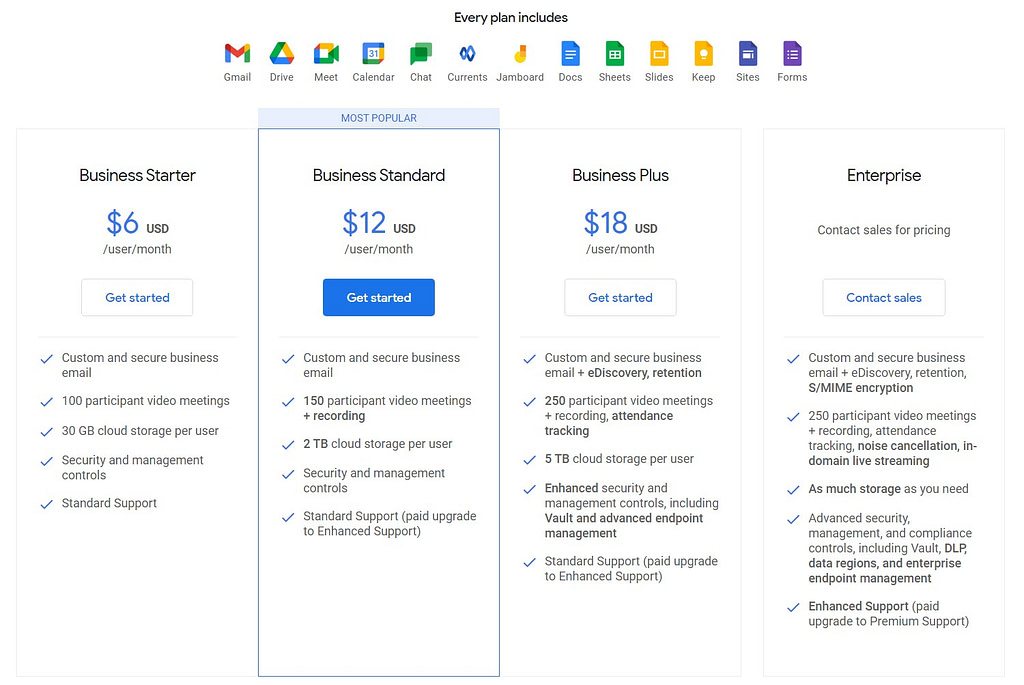 🏆 Winner:
Google's business plans are cheaper if you're only looking at email. However, Microsoft 365 Business can offer better value if you'll use other features like Teams.
Outlook vs Gmail: Which should you use?
Overall, both Outlook and Gmail are quality tools, so, in large part, choosing between them really just comes down to personal preference.
Both are free for personal use. Both offer all the core features that you need for email, including useful features like snooze. And both offer identical storage (15 GB).
For personal email, your decision really just comes down to:
Which interface you like better.
Whether you have a personal preference for organizing – e.g. folders and categories (Outlook) vs labels and sub-labels (Gmail).
Whether there's a specific add-in/integration that you need to optimize your workflows.
If you think you'll blow past the 15 GB storage limits, storage pricing might also play a role in your decision.
If you're still not sure where to start, I recommend Gmail.
I think Gmail's interface is better for most people and it offers all the features that most people need in an email client.
The rest of the world seems to agree with my recommendation – Gmail has a 34% market share while Outlook has just 7%.
If you want to learn how to get started with both Gmail and Outlook, you can check out our full tutorial on setting up a professional email address.
Do you still have any questions about Outlook vs Gmail? Let us know in the comments and we'll try to help!
…
Don't forget to join our crash course on speeding up your WordPress site. With some simple fixes, you can reduce your loading time by even 50-80%: