Welcome to another edition of This Month in WordPress w/ CodeinWP. This time, we're looking into the interesting things that happened in the WordPress space in March 2015.
It was an eventful month, that's for sure, and it brought us many theme and plugin releases, events, tutorials, interviews, and lots of other cool stuff.
March 2015 in WordPress
Have you ever thought about how the issues of law play into the WordPress world? Attorney Richard Best has created a blog, which guides through official rules and conventions related to WordPress. His articles share a lot of interesting info about the dos and donts when working with your favorite open source platform.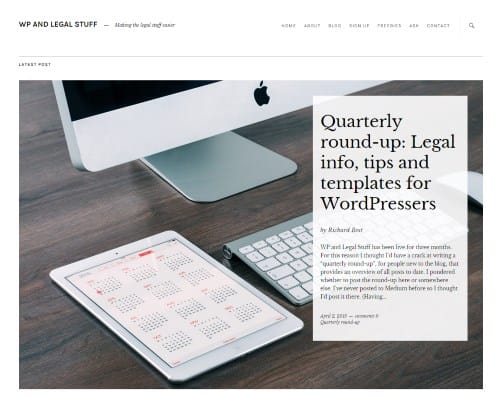 What's Coming in WordPress 4.2 (Features and Screenshots)
WordPress 4.2 Beta version is available for testing right now. The final version is planned to be released by the end of April. So what new can we expect?
new and improved emoji support,
switching themes in the customizer,
faster plugin installations and updates,
new and improved "Press This" bookmarklet,
as always, numerous under-the-hood improvements.
ThemeConf: A New Conference for Themers
Designers and front-end developers working with any open source platform have been given another occasion to meet and talk about their work. The conference will be held in Keswick, England, on June 18-19th, and it's sponsored by Automattic. The event will focus on "theming" for open source applications such as WordPress, Drupal, Joomla, and Ghost.
Version One of The WordPress History Book is Ready for Review
Finally, I should say! A book about the history of WordPress will be out soon. After two years of writing, Siobhan McKeown has announced that the first version is ready for review. The official version will be ready in a while, but until then you can read it online here. Also, you can contribute to it with your own information or feedback.
WordPress Publishes a Security White Paper
WordPress published a security white paper. Its purpose is to teach the public more about the core software security regarding the platform. The document contains an introduction to the Core Leadership Team, the WordPress Security Team, how the release cycle works, common security vulnerabilities, and how WordPress protects itself against various potential risks.
New Plugin: Build Your Community with Private Messaging
Private Messaging is a new plugin created by WPMU DEV. It's meant for building an engaging community, where users can communicate easily with each other right through the website interface. One of the purposes is a safer method of sharing information in a rapid way. Also, there are a bunch of add-ons you can activate in your settings menu:
integrate with bbPress for seamless use with your forums,
allow users to block users they don't want to communicate with,
limit the sending capabilities to specific WordPress roles,
send a message to all users at the same time,
display a visual notification for users when a new message is received,
add a WYSIWYG editor to the message composer.
Some Great Articles From Around The Web
15 WordPress hacks busy bloggers will love
We all have those moments when we get too busy and every second in our lives matters. That's why knowing some shortcuts can't hurt, especially in WordPress. Here's a useful article with some great hacks that will help you regain some work time.
Introducing Lasso, a New Frontend Editor For WordPress
A new commercial plugin, developed by Nick Haskins, has been released. Lasso adds a front-end editor to WordPress, so you won't have to go to the dashboard anymore to work with your content. All you have to do is to click on a specific area you want to edit and a small editor box will show up. With Lasso, you can edit content already published or use it as the primary editor to create new content.
8 Questions with WPBeginner's Syed Balkhi
An interview with the founder of WPBeginner and the creator of some popular WordPress plugins, such as Optin Monster, Soliloquy, Envira Gallery and more.
How to Tell Which WordPress Theme a Site is Using
Have you ever visited a website and fell in love with its design? Here's an article with great advice on how to find out the theme that's used on that given website.
That's it for this edition. Is there anything we missed?
Don't forget to join our crash course on speeding up your WordPress site. Learn more below:
Layout and presentation by Karol K.