Kartra and Kajabi have various tools for including elements like lead pages, funnels, and memberships in any business's marketing flow. Yet, when compared side-by-side, they mainly overlap for those making online courses or educational businesses.
So, in this article, we compare Kartra vs Kajabi to understand which offers the best online course features, pricing, and more.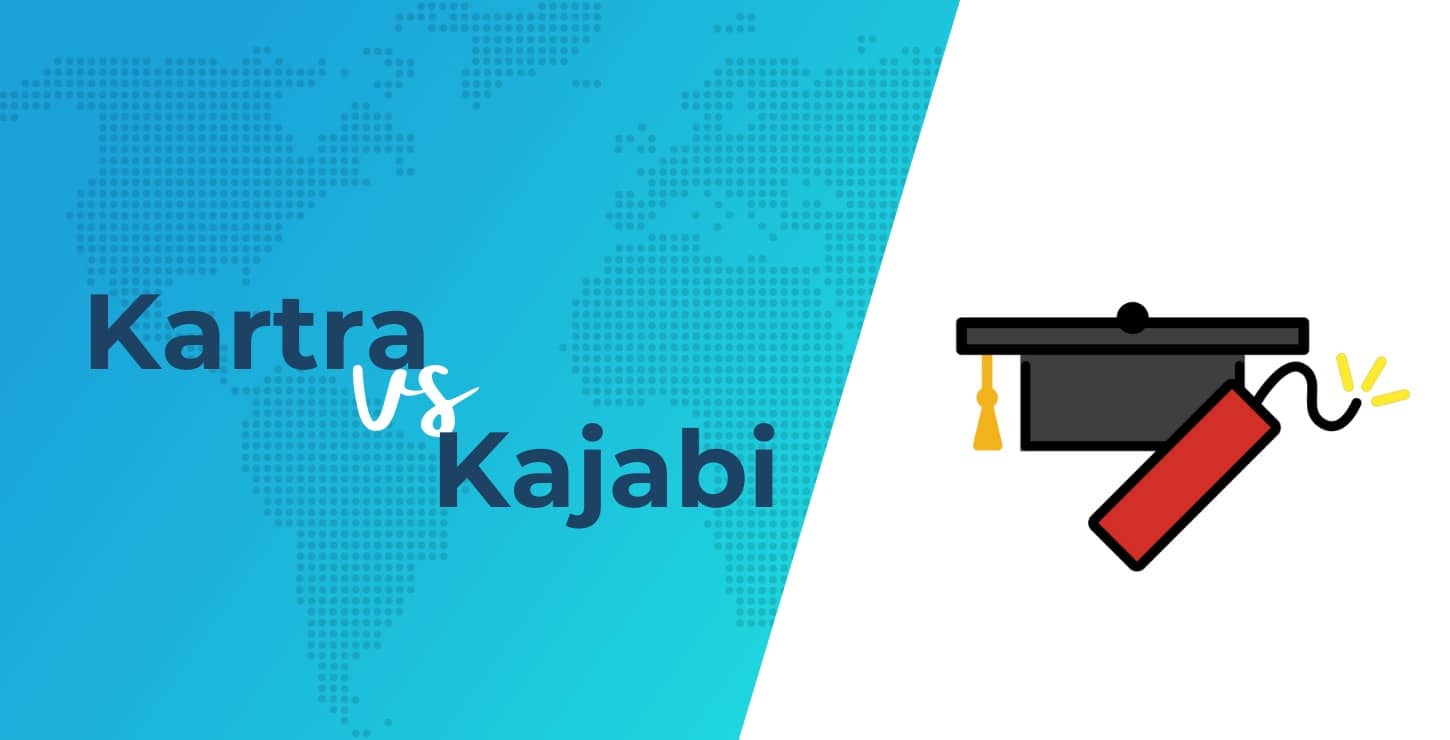 Kartra vs Kajabi: An introduction to both tools
On the surface, what are the main things to know about Kartra and Kajabi?
Kartra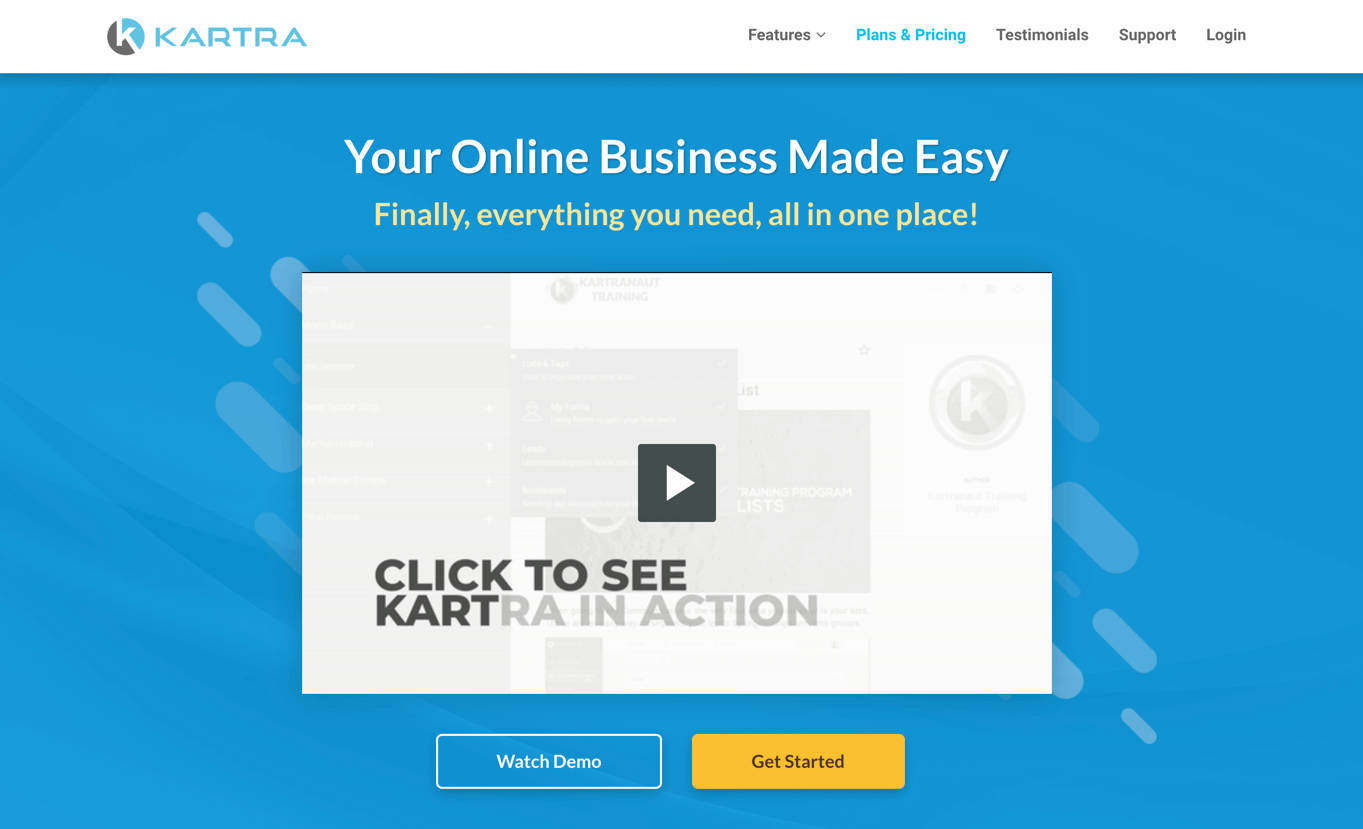 Kartra is sold to a wide range of online businesses, many of which sell online courses, videos, or other products that require features to manage memberships, collect leads, and process payments. Businesses that use Kartra include software developers, agencies, membership websites, and online stores with both physical and digital products.
So, Kartra works for more than just online courses and educational sites, but we'll focus on its functionality for online course owners since that's how it lines up best with Kajabi.
Overall, Kartra brings everything you need for an online course into one platform. You can set up a membership website, launch course and landing pages, bring in leads, process payments, and handle lessons with sleek videos, quizzes, and surveys.
Kajabi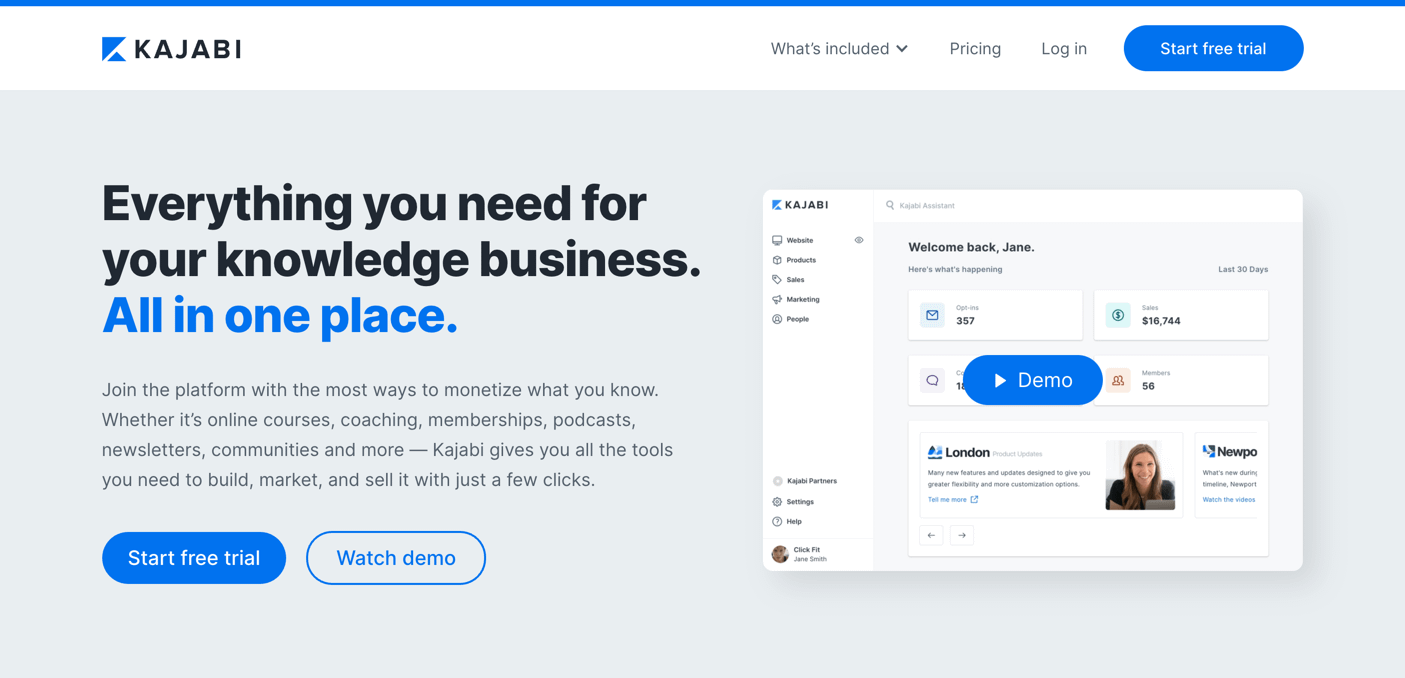 Kajabi doesn't have as much cross-industry range as Kartra since it's more designed to work really well for membership sites, particularly online courses.
Some of the reasons you may consider Kajabi are to launch a platform, manage marketing, and process payments for the following types of sites:
Online courses.
Internal educational training.
Coaching business websites.
Membership sites.
Podcasts.
Online communities.
Kajabi acts as a suite of products combined into one sleek interface, essentially replacing third-party software for things like email marketing, analytics, and page building. For instance, you could cut out Teachable, Squarespace, and Mailchimp and still get the same features since Kajabi offers online courses, a website builder, and email marketing.
Here are the main products from Kajabi:
Digital product creation.
Payment processing.
Analytics.
Landing pages and leads.
Pipelines.
Customer management.
Communities.
Mobile management.
Kartra vs Kajabi: Features
Below, we'll outline the most important features from each to help you understand which has the tools required for your online store, educational website, or membership portal.
Kartra
Here's a look at our favorite features from Kartra:
A complete membership suite for sharing your knowledge, setting up courses, and publishing training material for workers, students, or customers. It offers a drag-and-drop interface, multiple membership tiers, beautiful templates, support for multiple file types, and lesson structuring.
A content dripping tool to send out lessons over time.
A progress tracking module to check on your students.
A survey and quiz feature that allows you to build both in minutes, automate how people see results, and optimize the forms to improve the number of people who respond.
A video player that hosts all of your video content while offering centralized management, opt-in forms, checkout buttons, and sharing buttons.
Calendars with real-time bookings, support for mobile devices, and options to collect payments for scheduled courses.
A page builder to construct websites and landing pages with section templates, drag-and-drop modules, and various fonts and colors.
Leads, funnels, and campaigns to guide users through your sales process, tag the best leads, build sequences, and send out emails.
Forms and checkout options to either obtain more information from customers or collect payments. You can sell an unlimited number of course products, set several price points, and use upsells.
Powerful analytics to check on the success of your products, courses, students, emails, and subscriptions.
You also gain access to email marketing, a helpdesk tool to offer support, and other features for integrations, affiliates, and agency work.
Kajabi
Here are the best features from Kajabi:
An online course builder for selling memberships, handling coaching programs, and more.
A complete website builder with visual drag-and-drop modules, custom domains, and templates.
Simple and intuitive payment processing with PayPal and Stripe. What's more, is that Kajabi doesn't charge any payment processing fees!
Excellent analytics for running reports and compiling data about your emails, website traffic, and online course sales.
A robust email marketing program with multi-touch sequences and templates.
A separate landing page builder that has one-click templates, a visual designer, and full integration with emails, products, and offers.
Prebuilt pipeline automations that are proven to funnel customers into your online course. Some templates include funnels for webinars, free books, and coaching campaigns.
Customer relationship management for setting follow-up emails, handling customer information, and gaining a deeper insight into your customers.
A community feature that replaces the likes of online forums and Facebook Groups.
Two mobile apps to manage your entire online course business while on the go.
🏆 Winner: Kartra
This is a tough one, but Kartra definitely has a more robust feature list. However, Kajabi primarily focuses on features for online courses and membership sites, so some people might find it more intuitive with only the necessary tools you need for that. Having said that, Kartra still has more features, so it's best in the Feature category.
You may also be interested in:
Kartra vs Kajabi: Pricing
If budget factors in, check out this section to understand which is more economical.
Kartra
Kartra has the following monthly pricing plans:
Starter: $99 per month for up to 2,500 leads, one custom domain, 15k emails per month, 50GB of bandwidth, 100 hosted pages, 50 hosted videos, 20 products, 2 membership sites, and options to connect a helpdesk and one team member.
Silver: $199 per month for up to 12,500 leads, 3 custom domains, and unlimited emails, bandwidth, pages, videos, products, membership sites, team members, and helpdesks. You also gain access to Kartra Agency.
Gold: $299 per month for up to 25,000 leads, 5 custom domains, and unlimited everything else.
Platinum: $499 per month for up to 50,000 leads, 10 custom domains, and unlimited everything else.
You get up to 25% off the listed prices if you opt for annual payments.
Kajabi
Pricing plans from Kajabi include:
Basic: $149 per month for 3 products, 3 pipelines, 10,000 contacts, 1,000 active members, 1 website, and 1 admin user. You get unlimited landing pages and marketing emails, along with Kajabi University, a 0% transaction fee, webinars and events, templates, quizzes and surveys, chat support, and automations.
Growth: $199 per month for 15 products, 15 pipelines, 25,000 contacts, 10,000 active members, 1 website, 10 admin users, and unlimited landing pages and marketing emails. You also get everything from the previous plan plus 24/7 chat support, advanced automation, an affiliate program, and the option to remove Kajabi branding.
Pro: $399 per month for 100 products, 100 pipelines, 100,000 contacts, 20,000 active members, 3 websites, 25 admins, and unlimited landing pages and marketing emails. All features from the previous plans are included, plus a code editor.
Annual payment saves you about 20% compared to the listed monthly prices.
🏆 Winner: Kajabi
This is a deceiving one because although we like that Kartra has a lower cost plan (at $99 per month), a closer look shows that Kajabi has a much better value-to-price ratio. The $149 per month Kajabi plan gets you far more contacts, unlimited emails, and a 0% transaction fee. Not to mention, Kajabi has a free trial.
Kartra vs Kajabi: Membership and online course interface
In this section, we take a look at the ease of use when building a membership website, especially for online courses.
Kartra
Kartra comes with various components, but they're all compiled in the dashboard, and they all integrate well with each other.
For online courses and membership sites, you start in the My Memberships tab to add elements like your Logo, Sections, Posts, and Levels.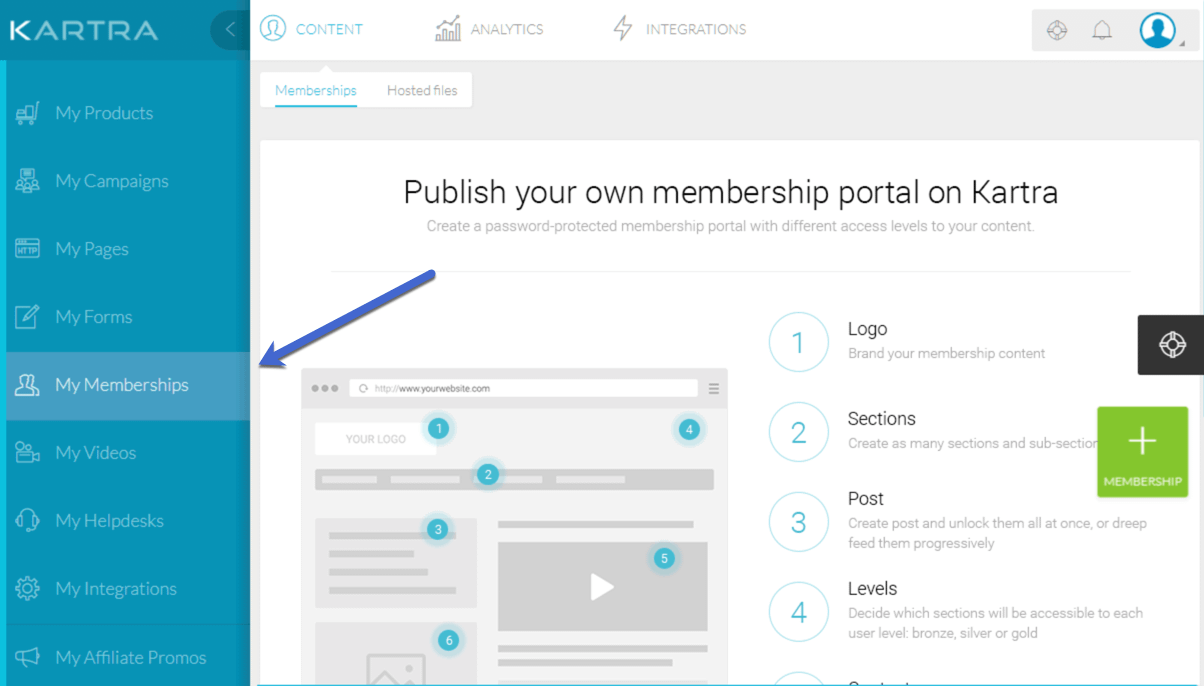 The interface is rather intuitive and customizable, as it offers several templates, a drag-and-drop builder for some sections, and one centralized dashboard for managing multiple membership sites.
In addition, you can access necessities like My Pages (for making landing pages), My Videos (for hosting your course videos), and My Products (for creating purchasable digital items) from the main menu.
With some quick work, you can produce a beautiful course with benchmarks, content with multiple media types, and a status bar.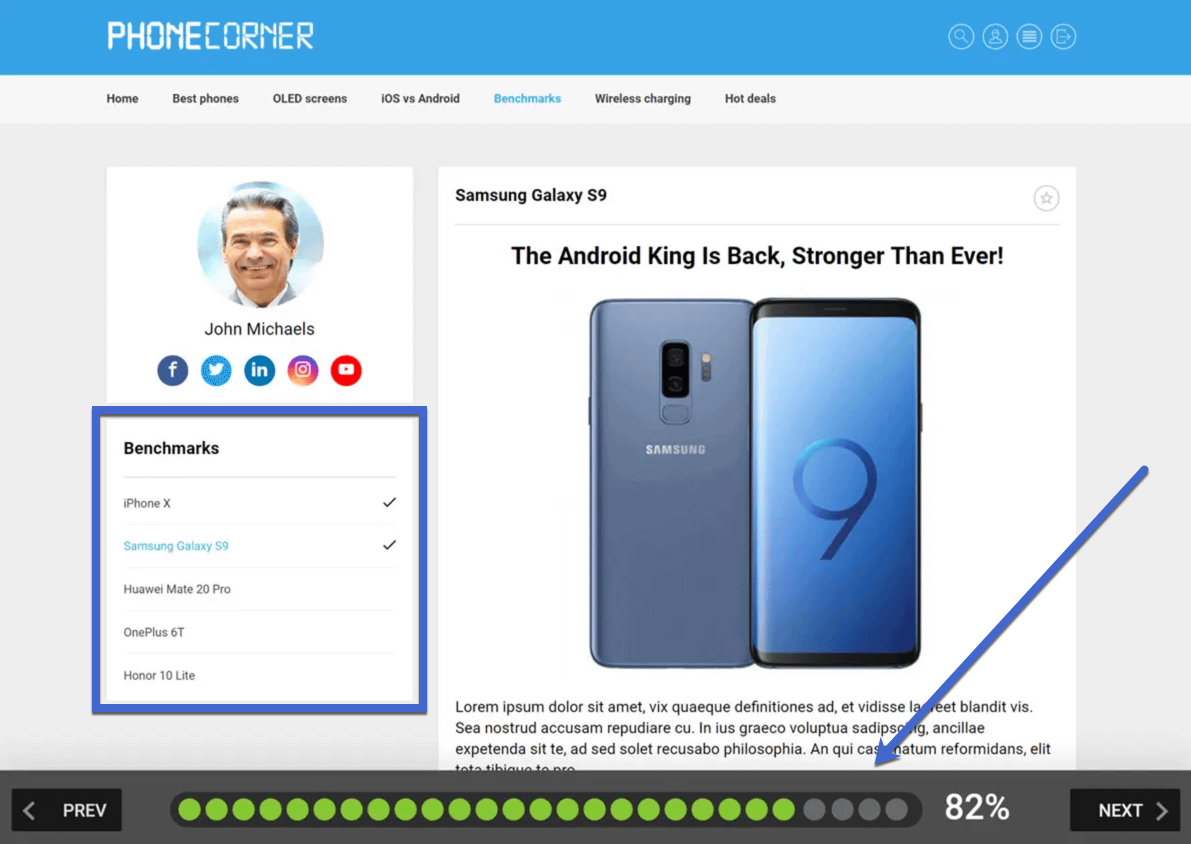 Finally, you're able to attach the membership site to all other Kartra features – if you want to add quizzes, collect payments, or offer a community discussion.
Kajabi
The course building interface from Kajabi is a bit more straightforward than what you get from Kartra. There's definitely a larger collection of features in Kartra, but the Kajabi site and course building process is significantly easier due to less clutter and a more streamlined system.
In the Kajabi dashboard, you add products by choosing predesigned templates like an Online Course, Coaching Program, or Drip Course.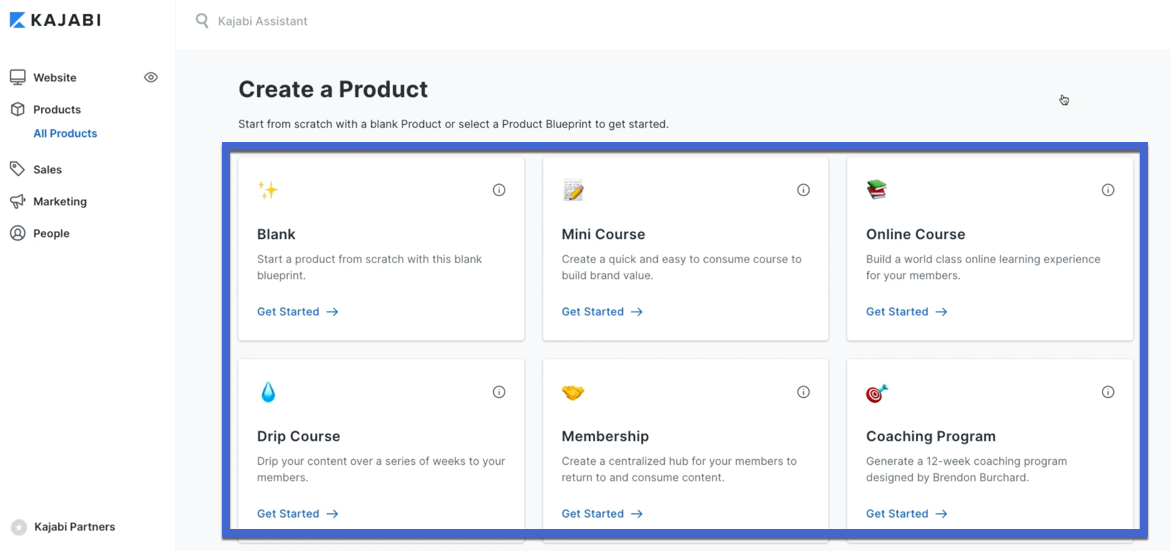 You can then add content, organize lessons, and customize everything from the media in your lessons to the colors and comments.
As a result, you end up with a sleek course page, where users click on different lessons, view how much they've completed, and interact with one another.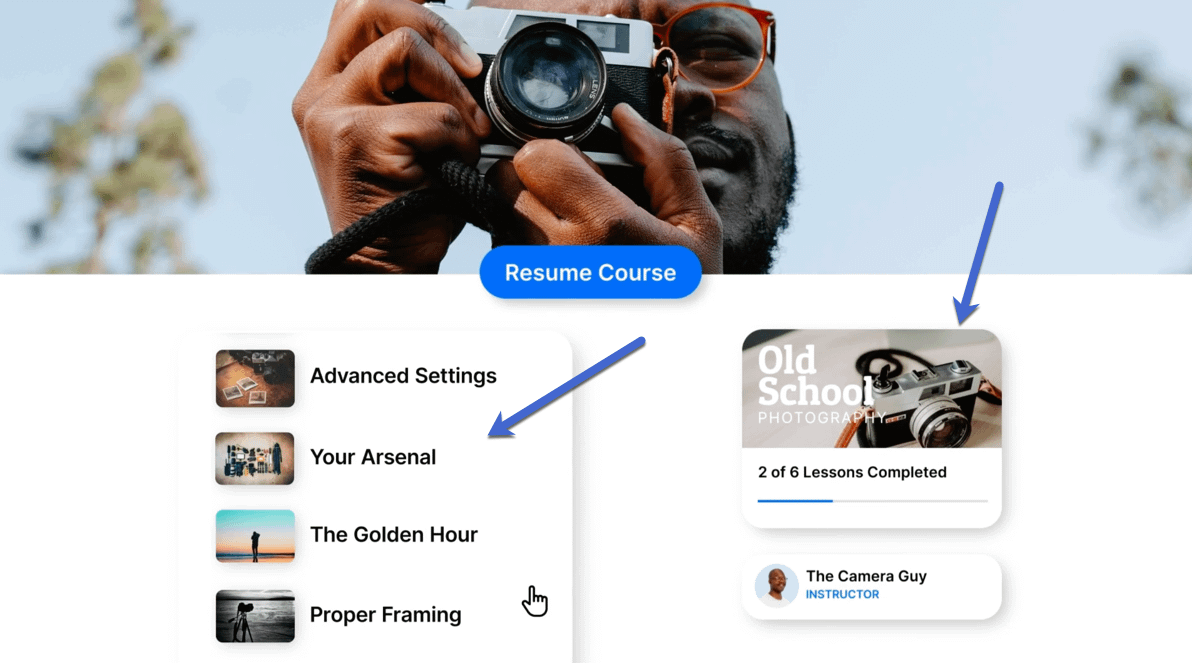 After that, Kajabi lets you boost the course page with integrated features like landing pages, automated emails, and pipelines.
🏆 Winner: Kajabi
Kajabi is completely focused on membership sites and online courses, from the templates to the simple course creation. Kartra does the trick as well, but the interface has more of a general focus, meaning you're left customizing more than you should have to.
Kartra vs Kajabi: Marketing and lead acquisition
How do they stack up for bringing in more customers?
Kartra
Kartra offers lead acquisition tools, landing pages, automated emails, and funnels for improving your marketing exposure.
When combined, you can configure a robust funnel to guide users through the purchasing process.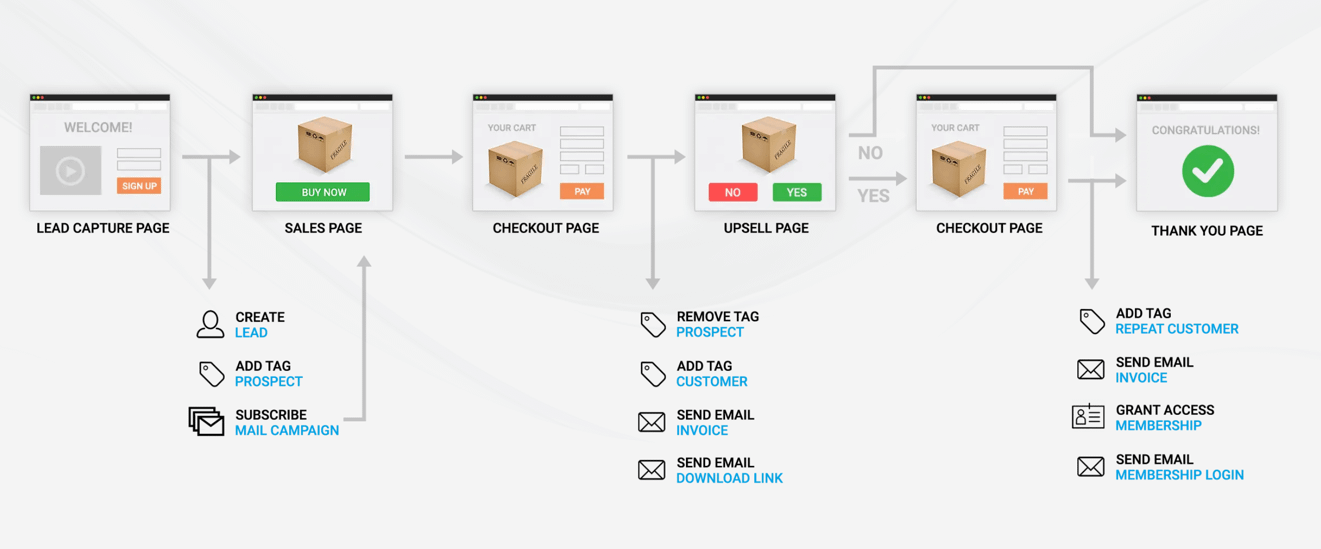 After that, all leads get placed into the system with customer value numbers and overall scores, along with tags that you type in for organization.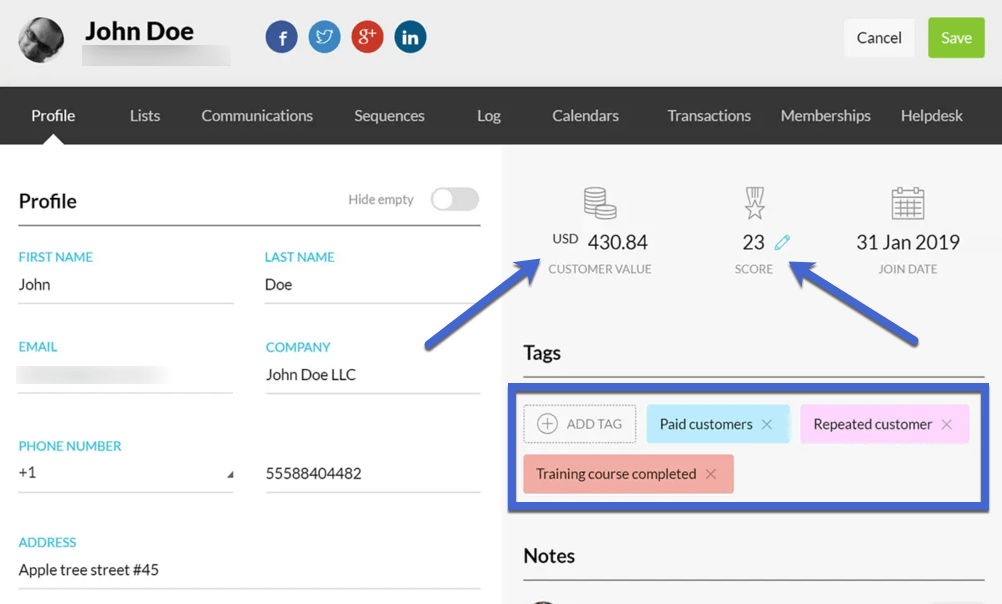 You can also create automated email marketing campaigns to bring back students or convince new ones to buy.
Along with affiliate marketing, landing pages, and video marketing, Kartra appears to have you covered in this category.
Kajabi
Kajabi provides lead and marketing features through its newsletters, websites, emails, landing pages, pipelines, and more.
It lets you create offers, coupons, and affiliate promotions.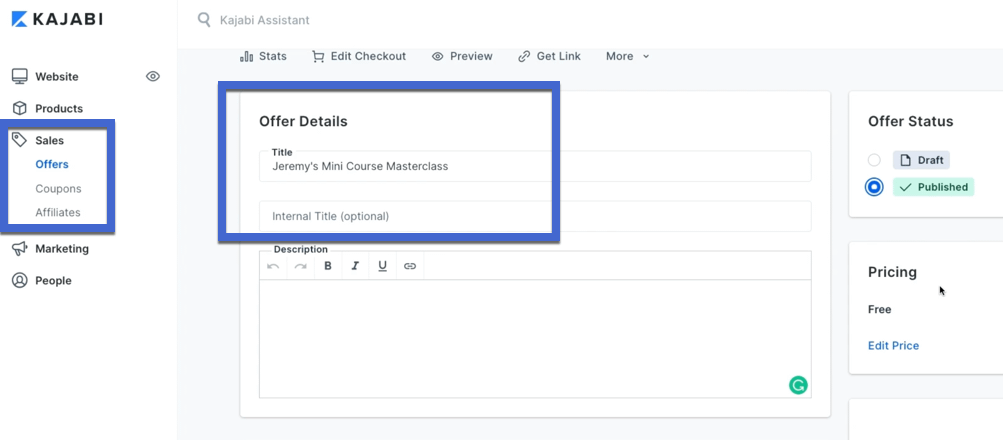 There are also options to upsell, configure cart abandonment, and run automations.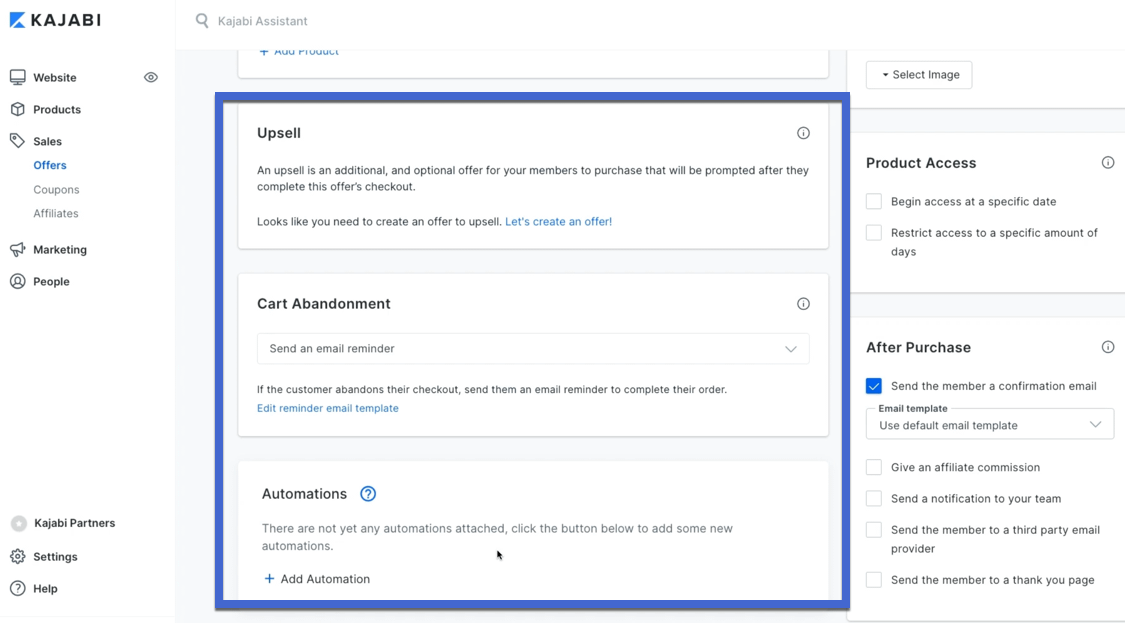 Under the Marketing tab, you can set up email campaigns, pipelines, events, and forms.
🏆 Winner: Kartra
Kajabi keeps it clean and simple, but we like seeing the powerful funnel system from Kartra. You can keep an eye on every step of the buying process and generate as complex of a funnel as you want.
Kartra vs Kajabi: Page building
And what about designing the actual website?
Kartra
Kartra offers hundreds of section and page templates for building your website. It has a sectionalized drag-and-drop builder with access to styles, components, pop-up windows, and the footer bar. You can even add your own code.
Kajabi
The Kajabi page builder provides a cleaner interface, drag-and-drop modules, and a wide selection of course-ready templates.
The content blocks are ready to go for selling memberships with items like call to action buttons, hero banners, and feature cards.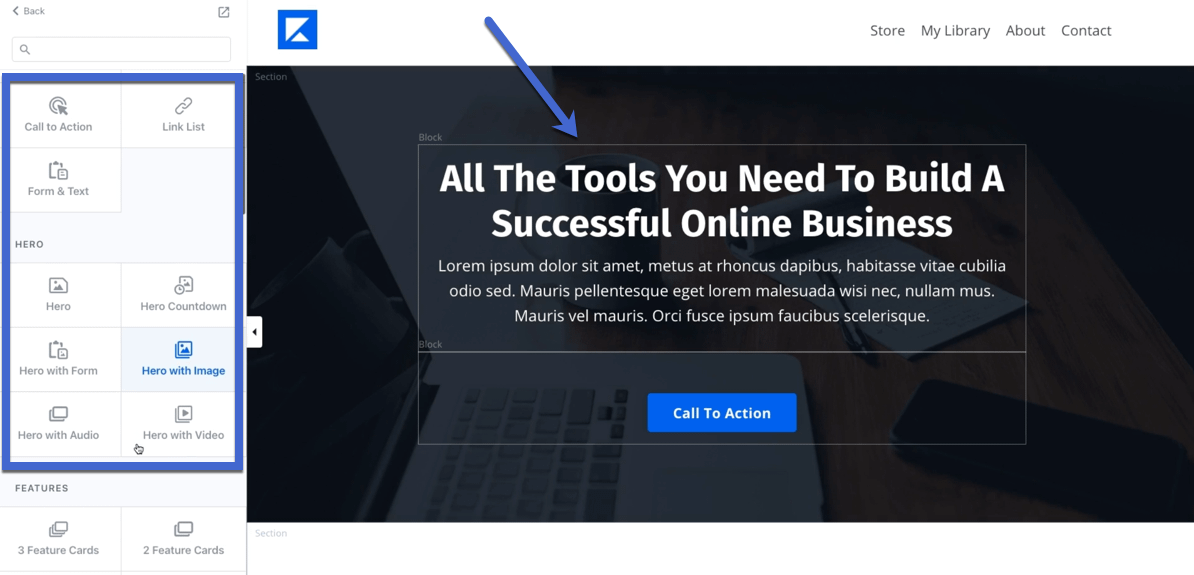 🏆 Winner: Kajabi
A beginner non-developer is more likely to enjoy the manageable nature of Kajabi's page builder. Furthermore, the templates and content blocks are more catered to memberships and online courses than those from Kartra.
Our conclusion on Kartra vs Kajabi in 2023
What's the final result?
Due to more quality in its pricing plans, a stronger focus on online courses and memberships, and its simple yet powerful page builder, Kajabi beats Kartra!
However, I still like Kartra if you need more complex features, superior marketing tools, or the cheaper $99 per month pricing plan (even though it's not as great of a value as the $149 plan from Kajabi).
Leave us a comment if you have any questions about our Kartra vs Kajabi comparison!
…
Don't forget to join our crash course on speeding up your WordPress site. Learn more below: