Setting up a blog is relatively easy. The difficult part is turning it into a profitable business. With the increasing number of bloggers worldwide, it can be challenging to make your content stand out. So, you might be wondering: is blogging worth it?
Fortunately, it's still possible to create a successful blog. With the right strategies (and mindset), you can start earning a passive income through your site and establish yourself as an authority in your niche.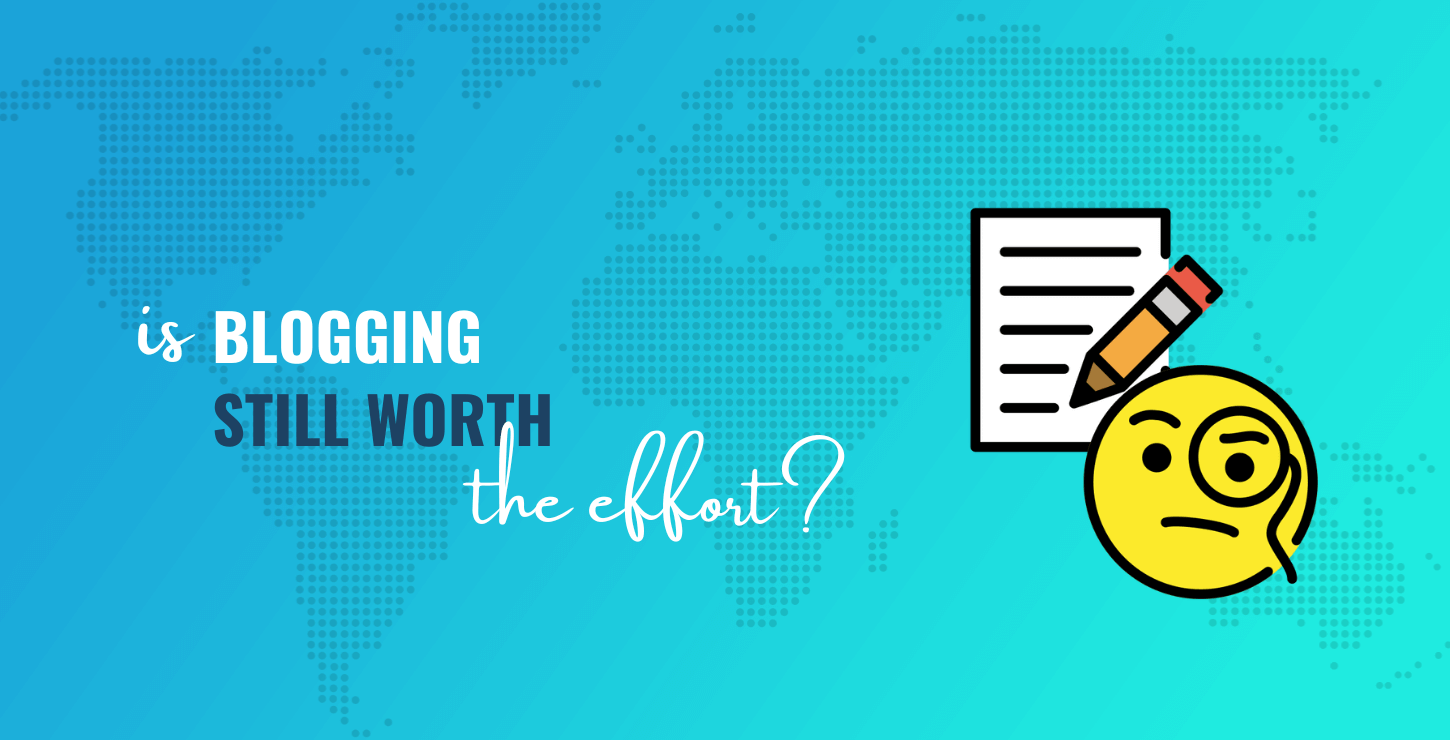 The state of the blogging industry in 2023
The popularity of blogging has skyrocketed in recent years. For instance, the number of active bloggers in the US rose from 28.3 million to 31.7 million between 2015 and 2020 [1]. Additionally, recent studies show that more than half of internet users read blogs at least once a week [2].
Bloggers are often influencers in the marketing world. In fact, many companies work with a variety of content creators to promote new products or to increase brand awareness. In a 2022 survey by Influencer Marketing Hub, 28 percent of marketers said they partnered with bloggers through affiliate marketing [3].
Affiliate marketing is a setup where a blogger promotes a product on their site and earns a commission on sales made through their referral link. It is one of the most popular ways to monetize a blog:
By building trust and authority, bloggers can influence their audience's purchasing decisions. In fact, 60 percent of consumers say that blog posts play a crucial role in their buying journeys [4].
Those audience relationships result in 21.5 percent of bloggers making between $50,000 and $75,000 annually [5]. Meanwhile, around 18.4 percent have an annual blogging income of $75,000 to $100,000. Some popular blog niches include travel, health and fitness, and lifestyle.
As we can see from these statistics, blogs have continued to maintain a strong presence on the internet. Additionally, many creators still make a decent income from blogging. These figures suggest that the number of bloggers will continue to grow in the coming years, which also means that the market will become even more competitive.
Is blogging worth it in 2023?
We just discussed how the blogging industry has expanded significantly in the last few years. Currently, there are over 600 million blogs worldwide [6]. However, only a small percentage of content creators make money from blogging, which begs the question: Is blogging worth it in 2023?
The answer is that running a profitable blog remains very possible, especially if you target growing trends and markets. For instance, the pandemic has led to an increased interest in home cooking [7]. Google has also witnessed a spike in search queries related to wellness, including more specific trends such as self-care and veganism [8].
These opportunities can be great news if you're considering starting a food or lifestyle blog. However, competing against established bloggers in any niche may still be challenging. Many content creators have already dominated the search results for trending queries and popular keywords:
Also, take into consideration that the pandemic harmed some industries, mainly travel and hospitality. Like most businesses in their niche, many travel bloggers have experienced significant losses in the last few years. With fewer people booking holidays, affiliate revenue quickly dried up. Some companies, like AirBnB, even canceled their affiliate programs.
Fortunately, starting a blog remains easy. WordPress is still the most popular blogging platform, powering over 40 percent of websites in the world [9]:
The introduction of Full Site Editing (FSE) has made it even easier to create a WordPress site. Additionally, the WordPress software is free – you'll simply need to pay for web hosting and a domain name. Many web hosts offer affordable plans for beginners, allowing you to get started with a more modest budget.
However, running a money-making blog may not be as easy as the start-up process is. You'll need to invest a lot of time and energy if you want to outrank your competitors, build authority in your niche, and generate a steady income. That being said, the effort can pay off in the end!
How to start a profitable blog in 2023 (essential tips)
Starting a blog in 2023 may be worth it if you're prepared to put in a lot of work. Becoming a professional blogger doesn't happen overnight – you'll need to rack up a decent amount of high-quality posts before generating traffic and income.
Let's look at some tips and strategies that can help you build a profitable blog in 2023:
1. Invest in Search Engine Optimization (SEO)
Search Engine Optimization (SEO) is key to your blog's success. You'll need to find the right keywords and use them in your content.
Fortunately, a free keyword research tool like Google's Keyword Planner can help you determine search intent within your niche:
If you're just starting, you'll want to aim for keywords with average to high search volumes but low competition. Then, you can use an SEO plugin like Yoast SEO or Rank Math to optimize your posts for these keywords.
If you want to grow your blog more quickly, you may want to invest in a premium SEO tool. Both Yoast and Rank Math have pro versions with advanced features, like performance tracking.
Additionally, it might be worthwhile to take an SEO course. You'll find plenty of masterclasses on learning platforms like Udemy:
However, SEO is not just about using the right keywords. You'll also need to work on improving your site speed and overall performance. You can start by choosing a lightweight theme and optimizing your images. Selecting a high-performance hosting plan is also an essential consideration.
2. Perform market research
To make blogging worth it in 2023, you'll need to find a profitable niche. More importantly, you'll want to find a gap in a popular market.
For instance, there are possibly thousands of food blogs that share healthy recipes. To stand out, you'd need to choose a specific niche and target a particular need or interest. You might consider catering to people with particular dietary requirements, or who use specific ingredients.
You could start by doing some market research. 👉 For example, if you ran some keywords through Google's Keyword Planner, you could view a list of topics related to what people are looking for within your niche:
This platform can help you identify a specific interest in the market. For instance, if you're looking to start a blog on healthy cooking, you might consider focusing on recipes that use slow cookers or air fryers.
Another great tool for market research is Pinterest Predicts:
Pinterest is a popular social media platform that enables users to explore ideas and find inspiration for different projects. Every year, the platform publishes a report on trending topics and makes predictions on popular searches.
While this information is based on Pinterest searches, it's still valuable. You can use the data to identify new trends and target a specific audience.
3. Create multiple revenue streams
Finally, you might want to consider different ways to monetize your blog. While affiliate marketing can be effective, we don't recommend using it as your only source of income. Businesses can unexpectedly reduce commissions or close their affiliate programs.
For more financial stability, you'll need to create multiple revenue streams. 👉 For example, you could sell digital products to boost your income. In fact, around 45 percent of bloggers who earn over $50,000 per year sell their own products or services [10].
If you're a graphic artist or photographer, you might consider selling your artwork on your blog. You can use a plugin like WooCommerce to build a shop in WordPress.
Alternatively, you could create an online course and promote it on your blog:
👉 For example, if you're a travel blogger, you might launch a course to help readers plan trips on a budget and save money. You could even offer additional services through your blog, such as tailor-made itineraries.
Conclusion 🧐
There are thousands of blogs on the internet, but only a small fraction of them generate income. For this reason, you might think that blogging isn't worth it anymore in 2023.
However, if you're willing to put in the work, you should be able to turn your blog into a source of income. That's especially true if you make your mark in a growing niche, such as home cooking or wellness.
🏅 To be successful, it's worth investing in 📈 SEO, doing some market research, and possibly creating your own digital products.
Do you have any questions about making blogging worth it in 2023? Let us know in the comments section below!
…
Don't forget to join our crash course on speeding up your WordPress site. Learn more below: