The art of selling your business involves more than just slapping a price tag on it and sitting back to fend out countless offers. It's a bit more complicated than that; the success of your business sale relies heavily on preparation.
That's why preparing to sell is a vital part of learning 👨‍🎓 how to sell your business online overall.
The process of preparation, when talking about selling businesses, entails:
Benefits of preparing your business for sale 🛒
It's astounding how many seasoned business owners believe that their numbers, or perhaps their public image, are enough to convince buyers to spend thousands, hundreds of thousands, or even millions of dollars on their business.
There's more to it than pointing to your website and sales numbers, and saying, "Pretty good, huh?"
👉 You must prepare. Otherwise, you miss out on benefits like:
Establishing a realistic valuation of your business.
Increasing the chances of finding suitable buyers with the money, know-how, and passion to run your business.
Actually continuing to run your business while the sale happens.
Being able to reach for detailed documentation to provide answers to the trickiest of questions from potential buyers.
Unveiling the story and history behind your business, including its failures and problems. A compelling story often helps to increase your brand value.
How to sell your business online 🪜
We have a seven-step process to cover all bases when readying your business for sale. This way, you're able to answer questions from potential buyers. You also have all the documentation ready to make it clear why your business is worth what you think.
👇 Follow the steps below on how to sell your business online:
Step 1: Conduct a business assessment
Continuously heralded as a method for improving your business regularly, business assessments are also essential before you sell the entire business.
A proper business assessment does three things:
Highlights key performance indicators
Diagnoses dysfunctions and gaps
Discovers areas of opportunity for the future
Keep in mind that a financial assessment is only one aspect of a business assessment. It's not all about showing that your business had $10M in revenue last year, but analyzing all key performance indicators. There are multiple ways to break it down, but the SWOTT assessment is the most well-known:
Strengths
Weaknesses
Opportunities
Threats
Trends
Filling in these blanks ensures you're not tongue-tied when a potential buyer inevitably asks about threats and failures, when you've mainly focused on what's so great about your company.
You may also be interested in:
Step 2: Value the company and project future earnings
Valuing your company is obviously important; you have to put a price tag on it. But, we find that many business owners find it too intimidating. There is also an opposite situation, when everything's perfect, so they overvalue, scaring potential buyers.
From book value to discounted cash flows, and market capitalization to EBITDA (earnings before interest and taxes), there are plenty of methods for putting a value on a business.
👉 Here are the most straightforward methods to get you started, as outlined in our guide on how to calculate the overall value of your website:
Use a valuation calculator (like Worth of Web) to assess things like overall traffic, domain age, and income estimates.
Calculate it manually by taking net profit (monthly or annually) and multiplying that by three or four years.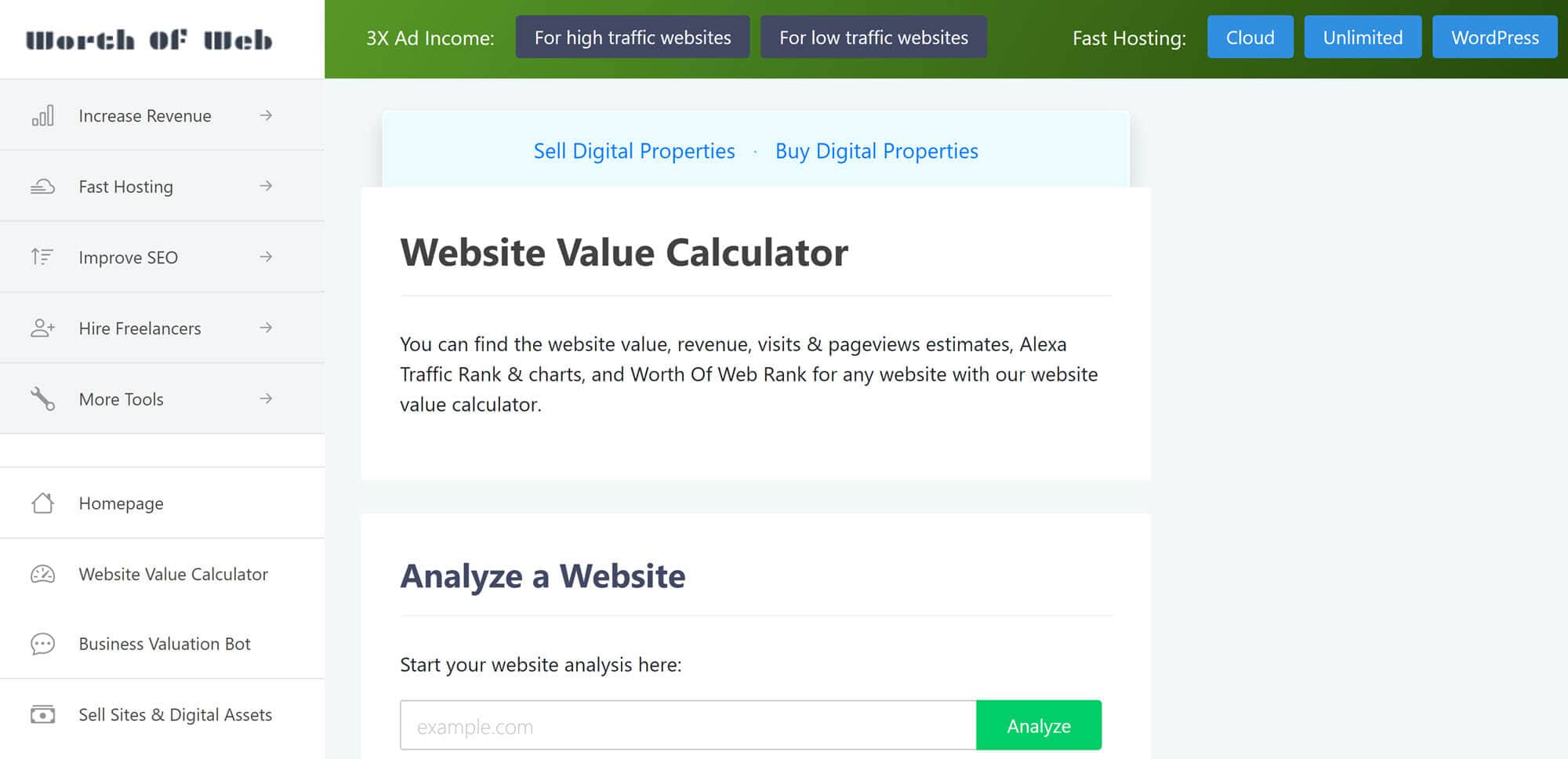 For non-online businesses (and online businesses after using an online calculator anyway), we recommend calculating all the following to get a range of valuations:
Enterprise value: Debt + Equity – Cash. (Often results in the most generous valuation since it accounts for market capitalization and cash.)
Market capitalization: Share Price x The Total Number Of Shares. (Only accounts for the value of equity.)
Discounted cash flows: Terminal Cash Flow (1 + The Cost of Capital) x Estimated Number of Years Into The Future. (Considered one of the most accurate valuation methods, since it forecasts future cash flows.)
Step 3: Complete all due diligence
Due diligence is a vague term, but in general, it means taking all reasonable steps to satisfy an agreement. In this case, you should try to complete those steps before you even have an agreement, so as to appear knowledgeable and ready to sell.
For due diligence, consider:
Compiling together important documents like insurance policies, benefits plans, and contracts. Make multiple copies for potential buyers.
Organizing a file for financial records of things like revenue, operating costs, and traffic. Have a CPA double-check everything.
Optimizing and affordably upgrading anything that needs it, including your website, equipment, materials, and signage. Make your business look good.
Filing documents with standard business information like your business name, mailing address, sales tax number, business activities and the number of employers.
Documenting everything about your business, including liabilities, assets, employees, contractors, permits, and debt/equity interest.
Step 4: Create a compelling story
You're not making up a story, but recalling the business' history. Then, you're creating a compelling narrative to intrigue buyers and make for a stronger sales pitch.
Memorize and write down your story, adding these key points:
Why was the business formed? What problem was it solving, and how did you come upon the idea?
Explain the sources of conflict that you overcame.
Add protagonists and antagonists. They don't have to be good and evil. Something like: "the recently unemployed founder (protagonist) who was rejected by 10 investors (the antagonists) before finding one".
Maintain a simple, focused story.
Wow listeners with a great ending, whether that's focus on your "tipping point," or your ambitious plans for the future.
Step 5: Find a broker and list on business-selling marketplaces
Learning how to sell your business online comes easier when you have people on your side. That's the idea behind a business sale broker.
When researching for brokers, seek out those that:
Keep your identity and business confidential (if you want that)
Allow you to continue running your business while the sale happens
Have experience with landing sales that are in your industry
Have a strong network of professional relationships, and places they can send your sale documentation
👉 You can also list the sale of your business on online marketplaces, like BuyBizSale and ExchangeMarketplace, but ideally, your broker does this for you.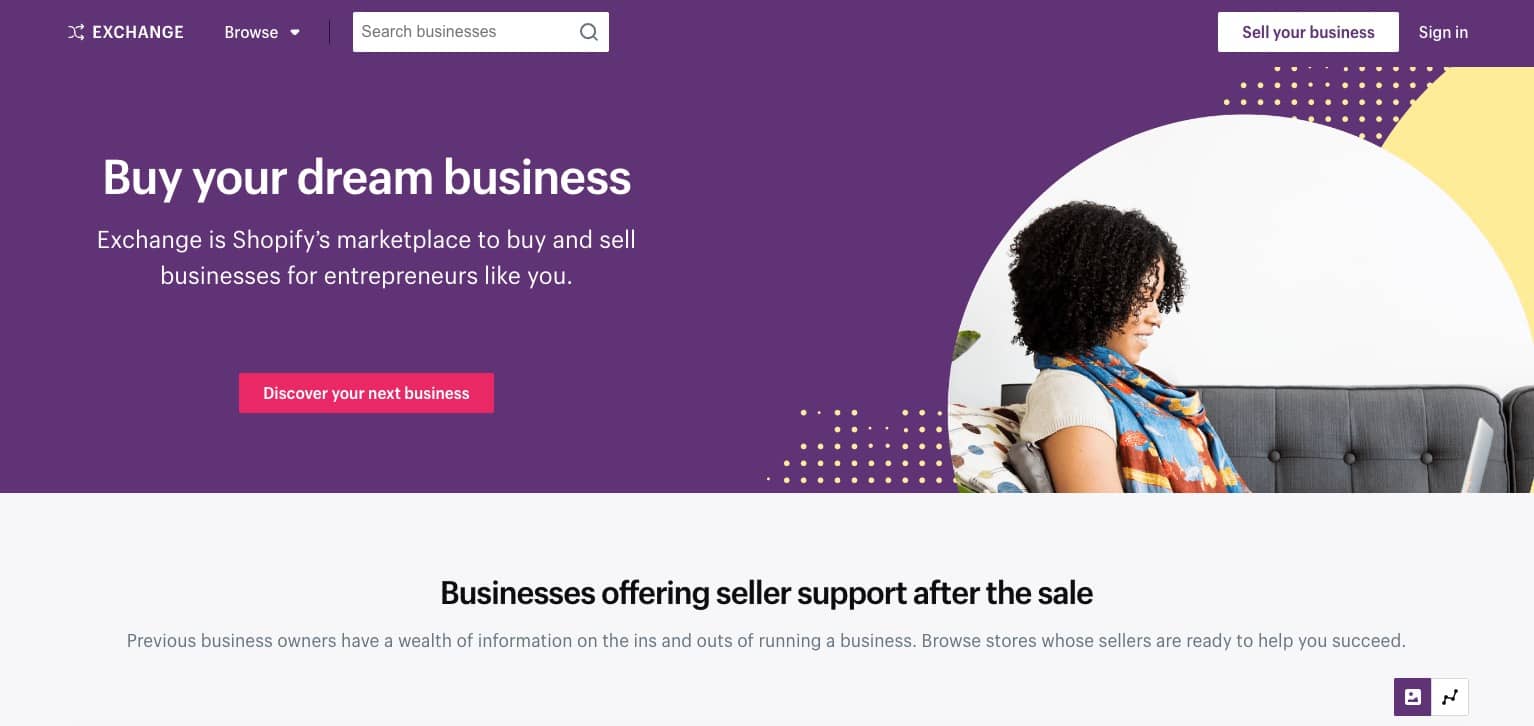 Step 6: Identify potential buyers
Your broker handles much of this, but it's important to give the following information to the broker:
What's your ideal buyer?
Are you willing to sell to a competitor?
Which means of advertising are you willing to pursue?
👉 We also encourage reaching out to your networks, with tactics like:
Speaking to any employees or business partners who may have shown the ambition and interest to run your business, especially considering they already know something about it.
Going to local industry shows or even general chamber of commerce meetings to see who might be interested. These are already established business owners who might be looking for something new, or to attach your business to theirs. If anything, they could recommend you to others.
Contacting competitors, seeing as how they definitely understand the industry, and may want to break away from their company or absorb your business into their own.
Searching LinkedIn for high-potential candidates in your industry who may be itching to get away from their current position.
Step 7: Make the sale
No sale goes the same way, but here's a basic template as to what you should expect:
Send due diligence and sales proposals to potential buyers.
Negotiate, then set a final price.
Sign and file documents like conflict waivers, entity formation documents, bill of sale, meeting stock certificates, security agreements, and financing statements.
Summary on how to sell your business online 📋
The sale of your online business may look different depending on its industry, the methods used to seek potential buyers, and whether you go with a broker. Yet, these standard steps of how to sell your business online provide the framework for doing it right, making your business look desirable, and getting the best price possible.
From conducting a business assessment to making the sale, we wish you the best of luck 🍀 in selling your business.
Have you ever sold a business? Share your experience and some tips on what to do and what not to do in the comments section below.
…
Don't forget to join our crash course on speeding up your WordPress site. Learn more below: