If you've ever tried to learn how to sell on Facebook, you know that it's (how do I put this lightly) an "interesting" experience. Facebook rules, interfaces, security, and just about every part of the social network changes on a regular basis. Many times, it seems like the modifications have nothing to do with helping out users. And those modifications definitely aren't trying to help out businesses, unless you're paying for ads.
Regardless, online stores need Facebook. Ecommerce shops need it for selling, marketing, and even customer service. That's why we want to teach you how to sell on Facebook in the easiest way possible.
As mentioned, things change quite often on Facebook. Therefore, it's not always easy to figure out the best way to sync your products with your WooCommerce store or to actually accept transactions directly on Facebook.
Does Facebook send users to your website shopping cart or are the payments done right on Facebook? Both have been offered at some point by Facebook. And to make things even more complicated, it would depend on what country your business is located in.
But enough complaining!
We're here to show you how to sell on Facebook in the easiest way possible with the least chance of your shop breaking or causing problems for your customers.
Table of contents
The benefits of learning how to sell on Facebook
To some, a Facebook shop doesn't make much sense. "Wouldn't you rather have people come directly to your website?"
To others, the benefits are rather clear. "Tons of people are on Facebook. I want access to them!"
Regardless of your position, it's essential to understand that both are true. Yes, it's better to have customers buy from your site so you can capture their data and have your own branding on everything – not Facebook's.
However, almost 3 billion people are users on Facebook. Many of these users follow brands and take what those brands say seriously. So, with this type of engagement, it makes sense to use Facebook as a medium for bringing users to your site, and getting some sales in the process.
How to sell on Facebook the right way
Now that the benefits are clear, let's take a look at how to sell on Facebook:
It depends on your eCommerce platform, but the result is typically the same. This tutorial uses WooCommerce as the eCommerce platform, but other options like Shopify and BigCommerce work in similar ways. The main differences are that you may have to find a "link to Facebook" button on your platform's dashboard.
With that said, here are the steps for making your Facebook store!
As we talked about before, the configuration process may be different depending on your country. So, I'm covering how to sell on Facebook in the US, then I'll expand on how it works in Europe and other parts of the world.
👇👇👇
Method 1: Sell on Facebook as a US-based business
Begin the process by going to your Facebook Business page. If you don't have one, learn how to make a Facebook Business page here.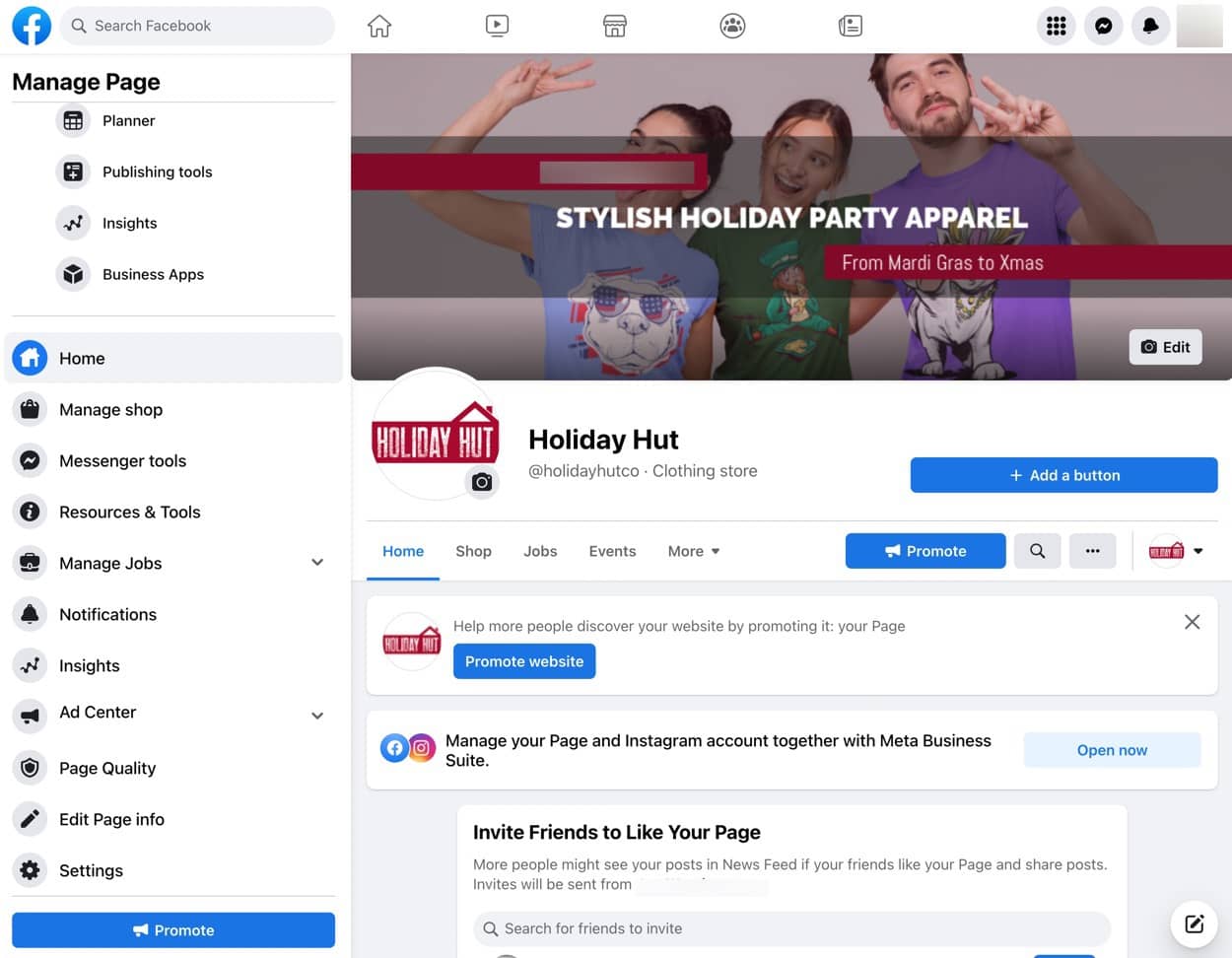 Step 1: Add page templates and tabs for a shop
With your Business Page open, click on the Settings tab on the lower left side.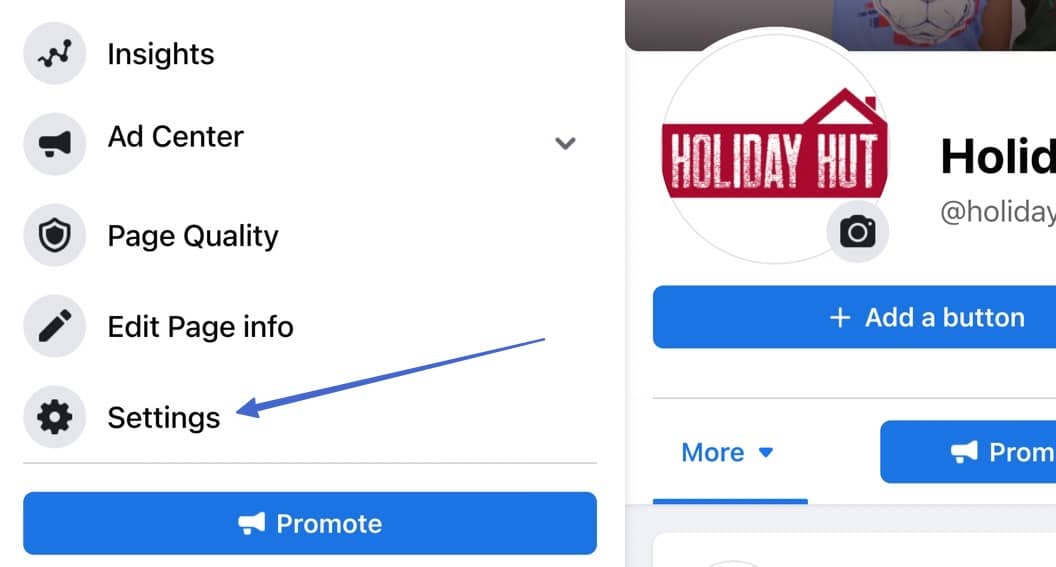 This reveals a list of options for you to choose from. Select the Templates and Tabs button.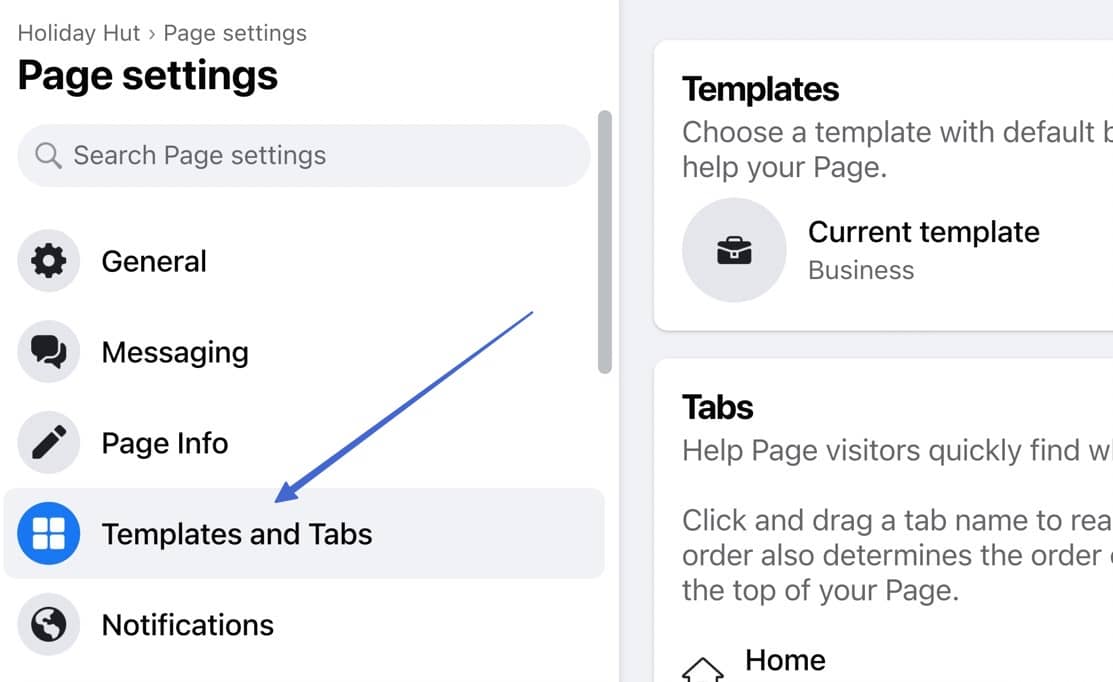 The Templates and Tabs page is where you get to decide which tabs are shown on your Facebook Business page. It's similar to a website menu – you can choose to have tabs like About, Community, Offers, and Shop.
Scroll to the bottom and locate the Shop header. Click the switch to activate the Shop tab.
Next, move to the frontend of your Business Page. In its menu, you should now see the Shop tab. If not, click the More tab to see if it's under there.
Note: Feel free to move around the order of your menu items in the Templates and Tabs module.

Does this mean your shop is configured? Nope!
In fact, you may see an error when trying to visit the actual Shop page. That most likely means you need to adjust your template and start adding products.

Going back to the Templates and Tabs page, look for the header called Templates.
By default, the "Standard" template is installed, which is fine, but we're looking for something else.
Click on the Edit button.
Find and click on the Shopping template option.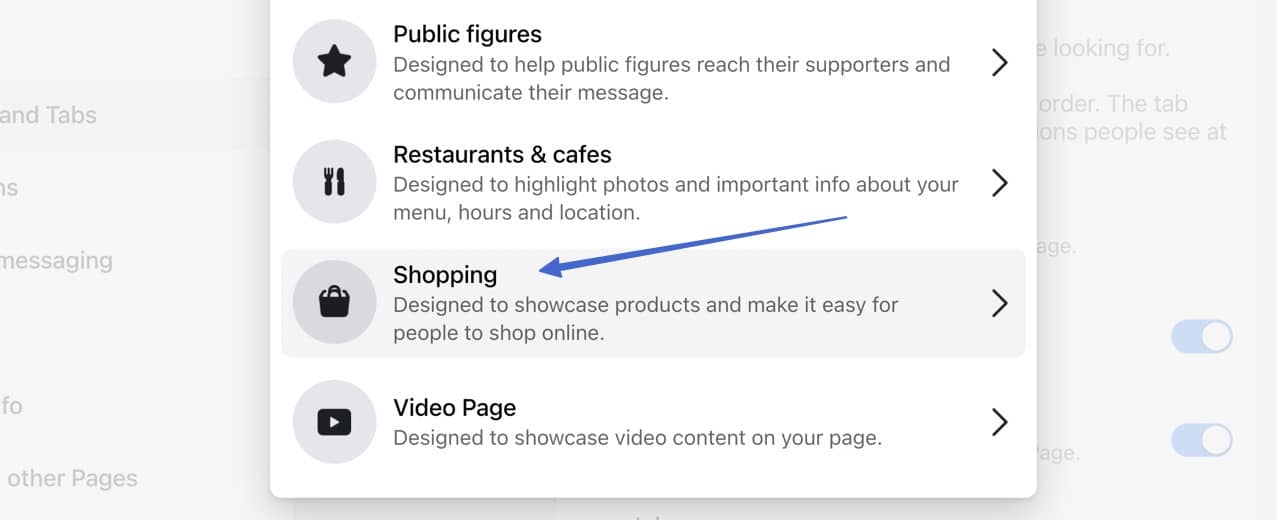 That activates the "Shopping" template for your Facebook page, which is made for showcasing your products just like any other online store. Make sure you click Apply Template to turn it on.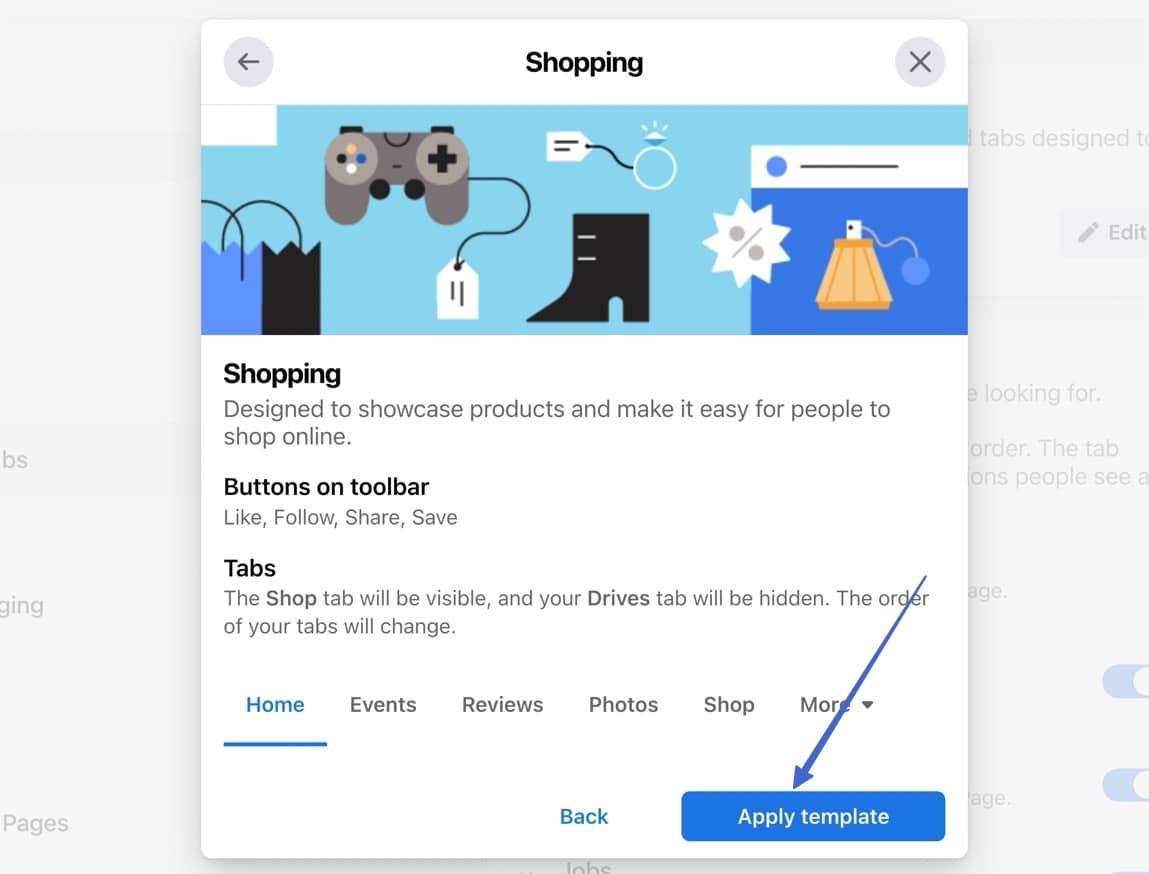 Step 2: Choose where you would like to sell
After that, navigate back to your Facebook Business page and click on the Shop button. A popup reveals itself to begin the process of configuring your store. Click on the Go to Commerce Manager button to proceed.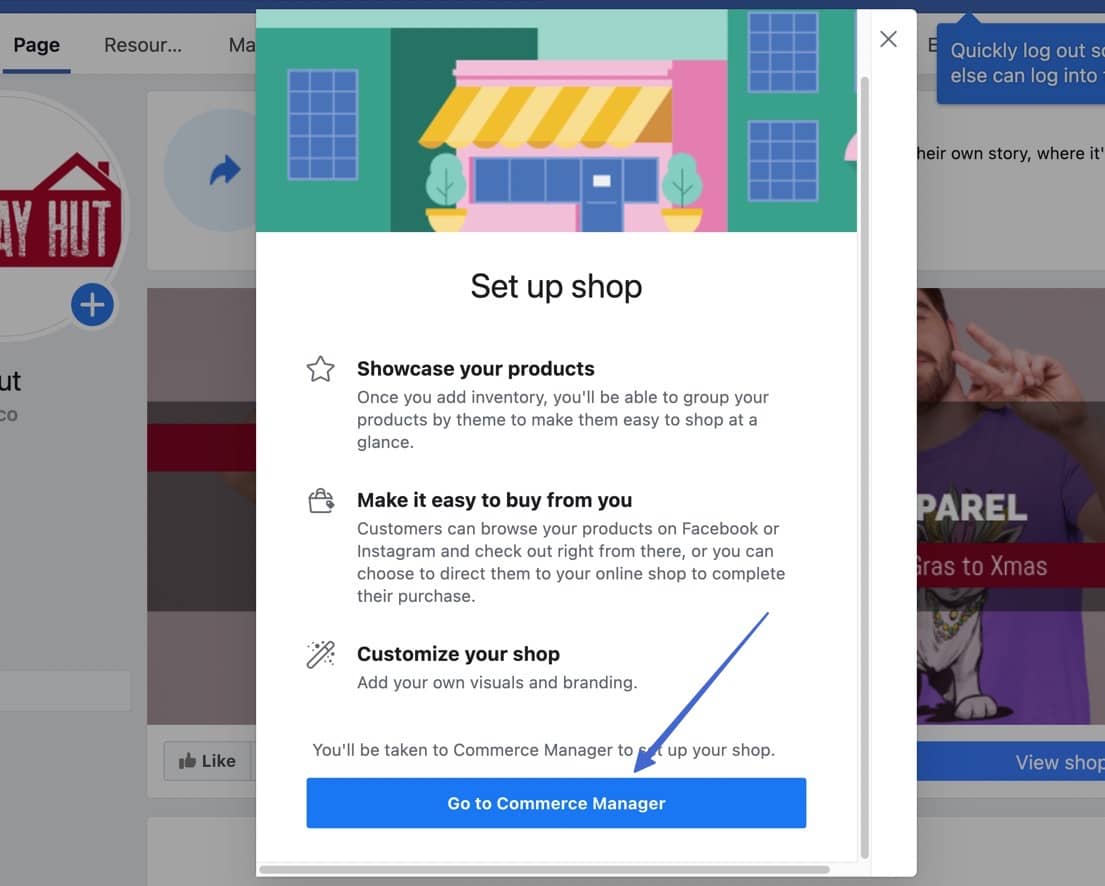 This module asks you where you would like to sell.
As you can see, several partner platforms are available for you to choose from (under Sync a Partner Platform). These are easy enough, seeing as how all you have to do is click on those buttons and follow the steps shown on your screen. We won't go through all of that, since each of the platforms are completely different.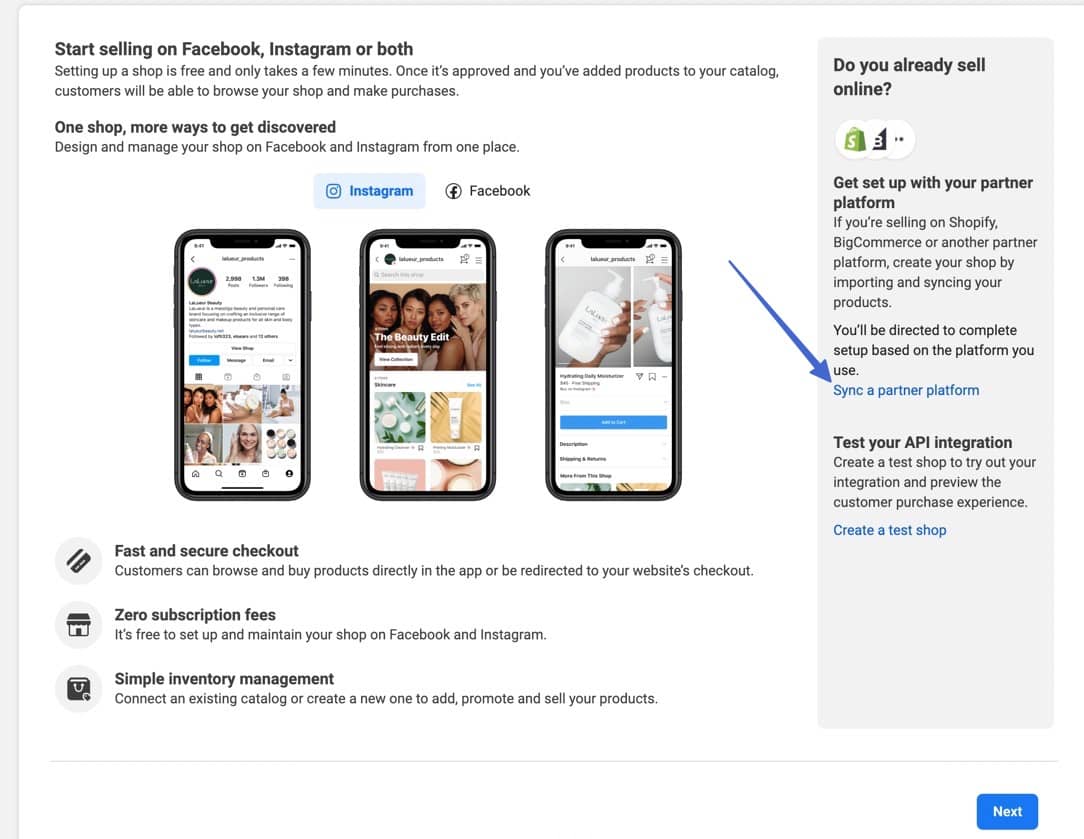 Instead, we'll walk you through how to configure your site manually and import products without a one-click setup.
To do so, select Facebook (you can add an Instagram Shop later if you'd like), then the Next button.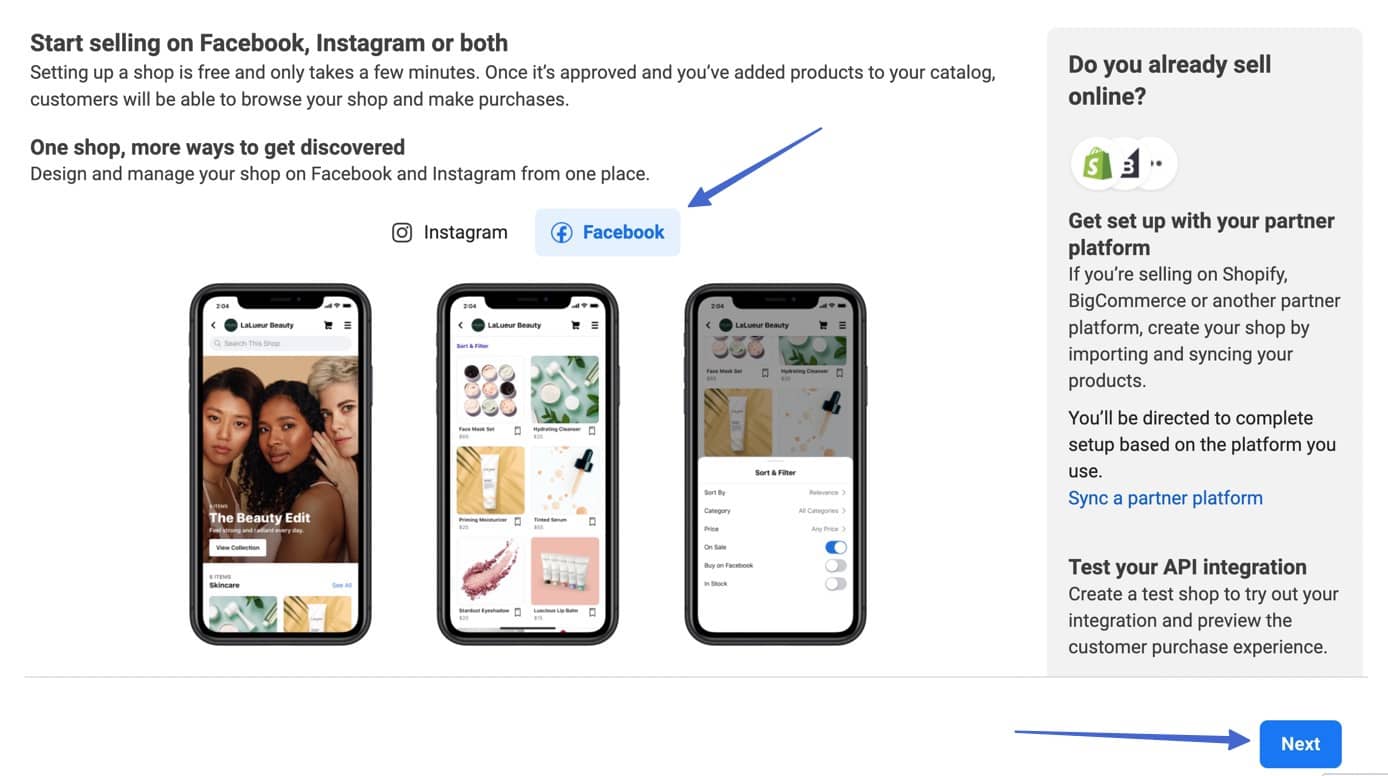 Step 3: Decide how customers will check out
Now it's time to configure how customers will check out on your store. The first and recommended option is to Checkout with Facebook or Instagram.
Note: Checking out through Facebook/Instagram is only available to US merchants.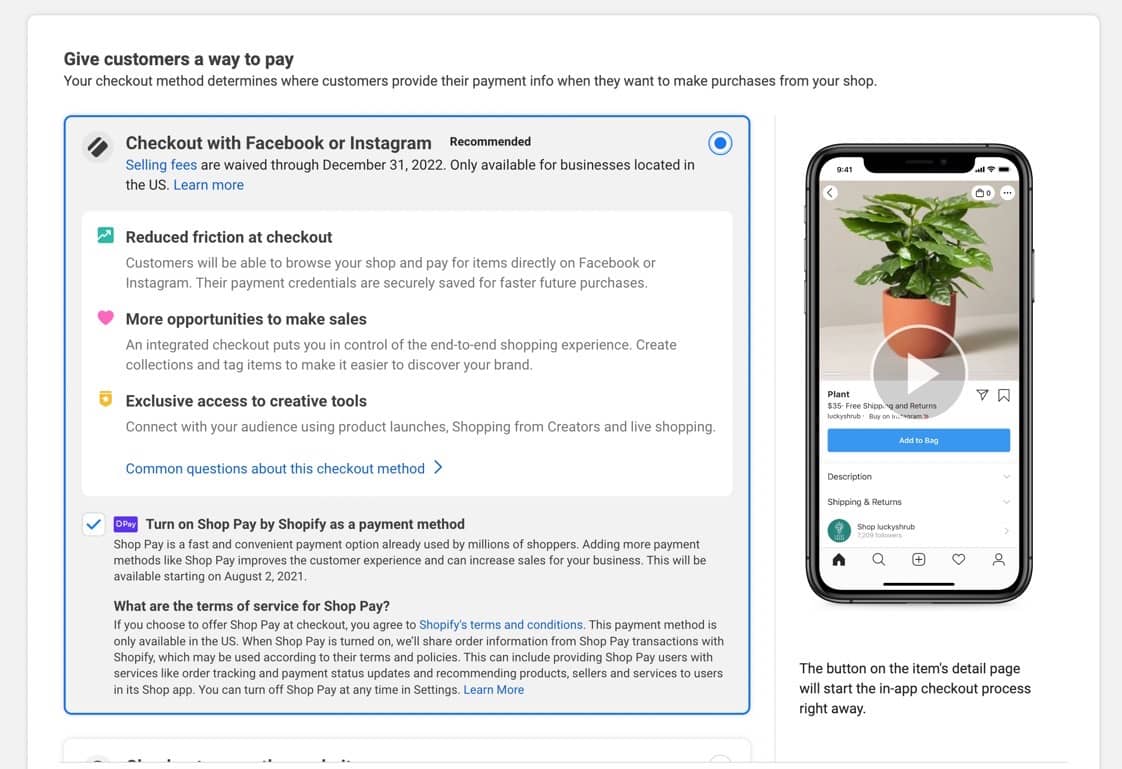 Alternatively, you can opt to have customers:
Check out on another website
Check out with messaging
These are mainly for non-US merchants, but may prove useful for US businesses with certain needs.
Pick the checkout method you desire, and click Next.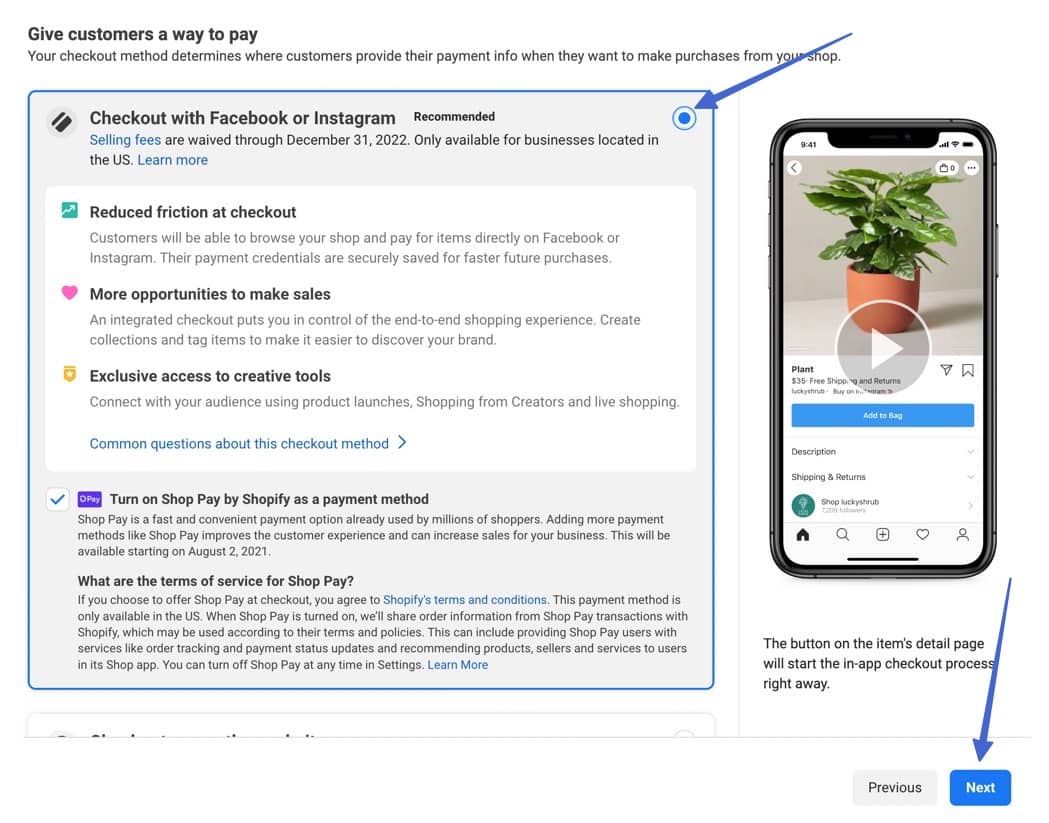 Step 4: Set catalogs, shipping, and returns
On the following page, select the Facebook Business page to which you'd like to attach the store. Click Next to proceed.

You must then choose which products you want to sell. If you already have a catalog configured, select that.
If not, there's an option at the bottom to Create a New Catalog. Simply click on that area, type in a Catalog Name, and click Next.
There are three ways to ship products:
Standard Shipping
Expedited Shipping
Rush Shipping
Fill in details like the cost for shipping, cart minimum for free shipping, and the estimated delivery days.
Remember, these are simply displays of which shipping methods you provide to customers. Facebook doesn't ship anything for you, so you must set up your own shipping process for whichever you pick.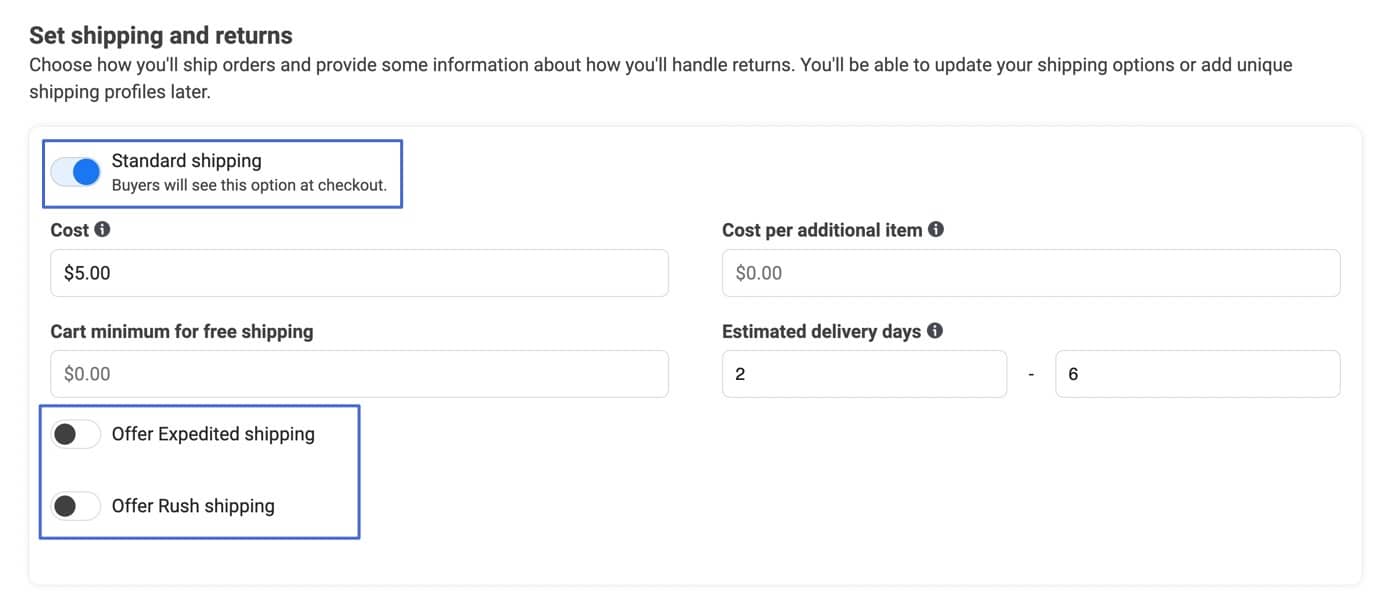 For returns, type in how many days customers have to return products to your store. Also indicate a customer service email address. Click Next.

Step 5: Submit the store for review
The following page lists all of your previous selections for the store. Review everything, mark the checkbox, and click Finish Setup. This submits your store for Facebook to review that you've followed all the guidelines.
Step 6: Set up payouts
The final step to launch your store is to accept payouts; this means you need to type in business and bank account information for payment processing. Click the Get Started button.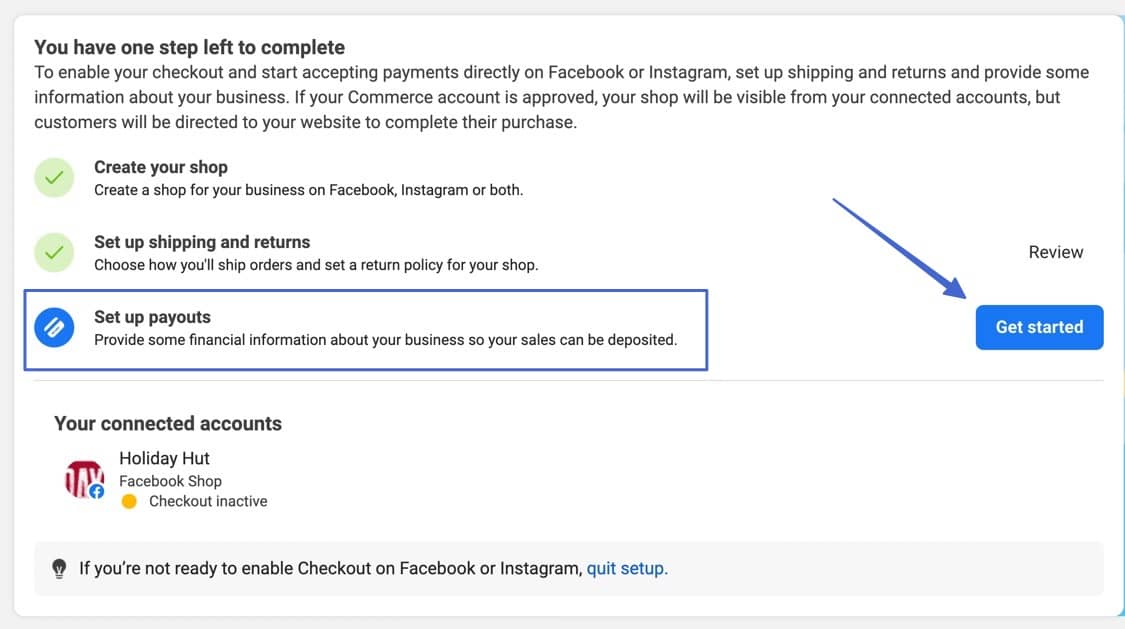 There are several quick steps involved with setting up payouts. You can start by clicking Next.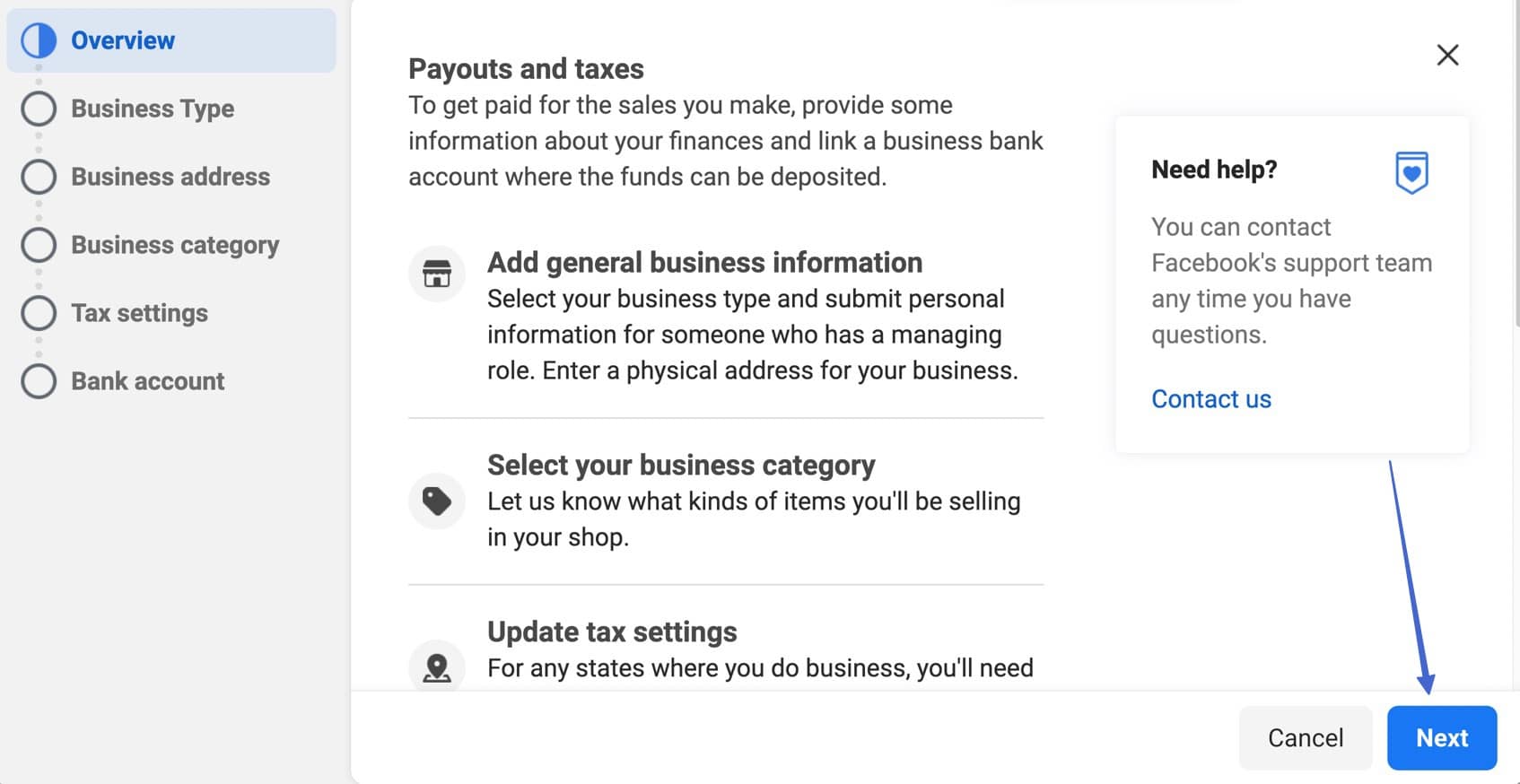 For Business Type, specify the type of business you run, along with personal details like name, social security number, and date of birth. Click Next.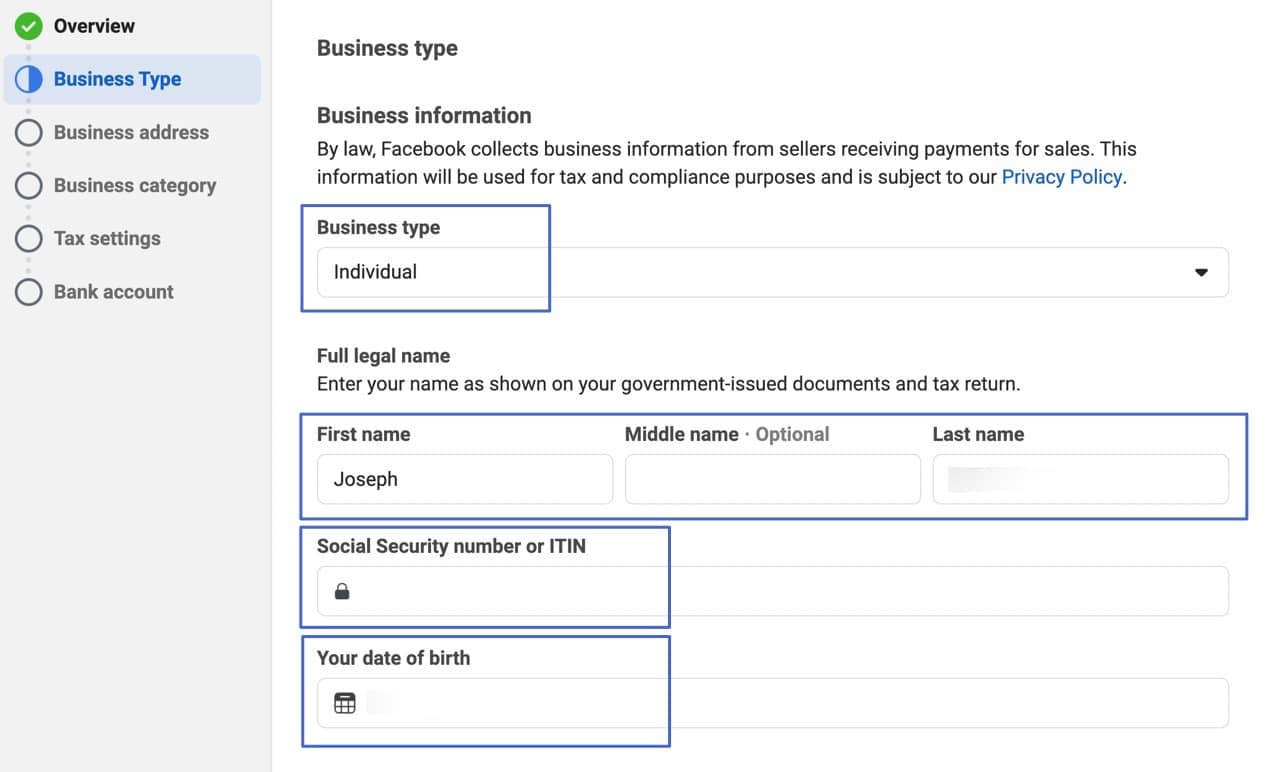 On the Business Address page, fill in:
Street address
City
State
Zip code
Email address
Click Next.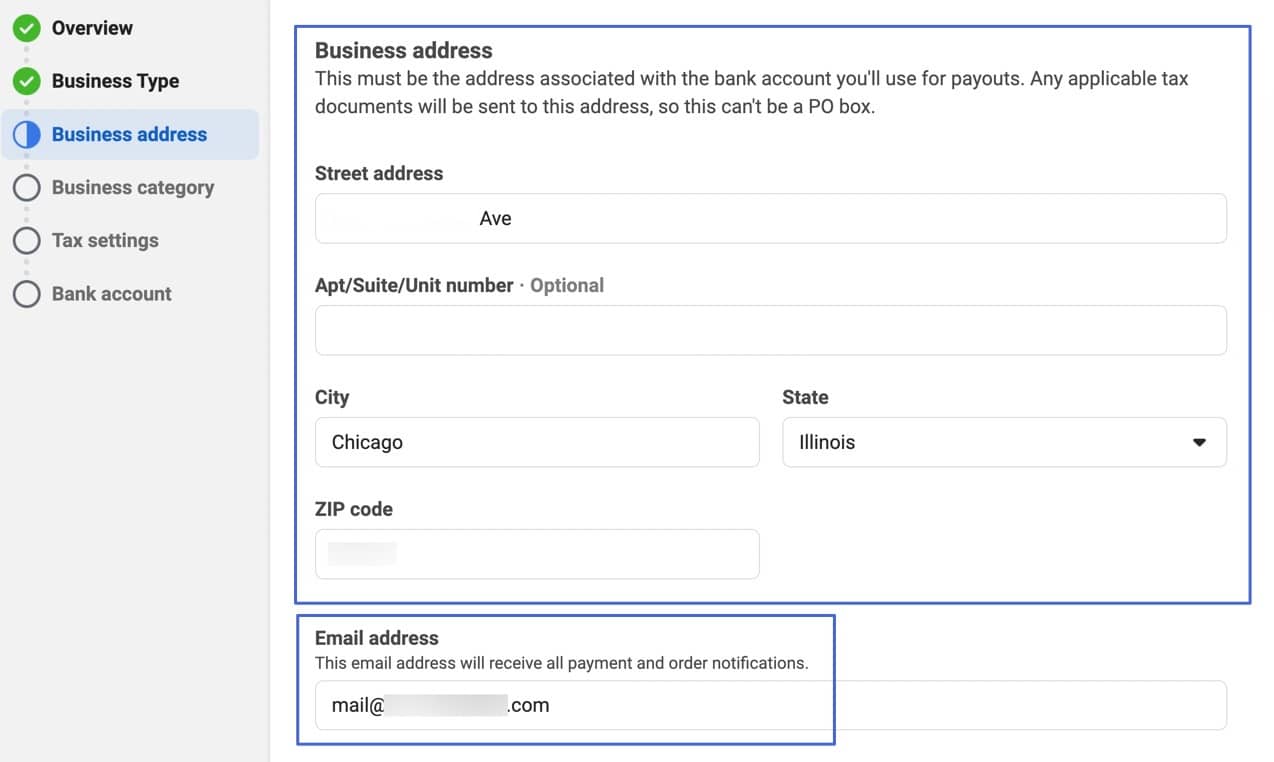 The next area asks for your Business Category. Use the dropdown menu to search for one that's most relevant to your industry. Click Next.

The Tax Settings page talks about current requirements for certain states. Answer the questions listed, then click Next.

Finally, you must type in banking account information, such as:
Bank routing number
Bank account number
Name on bank account
Use the Finish Setup button to complete setting up payments.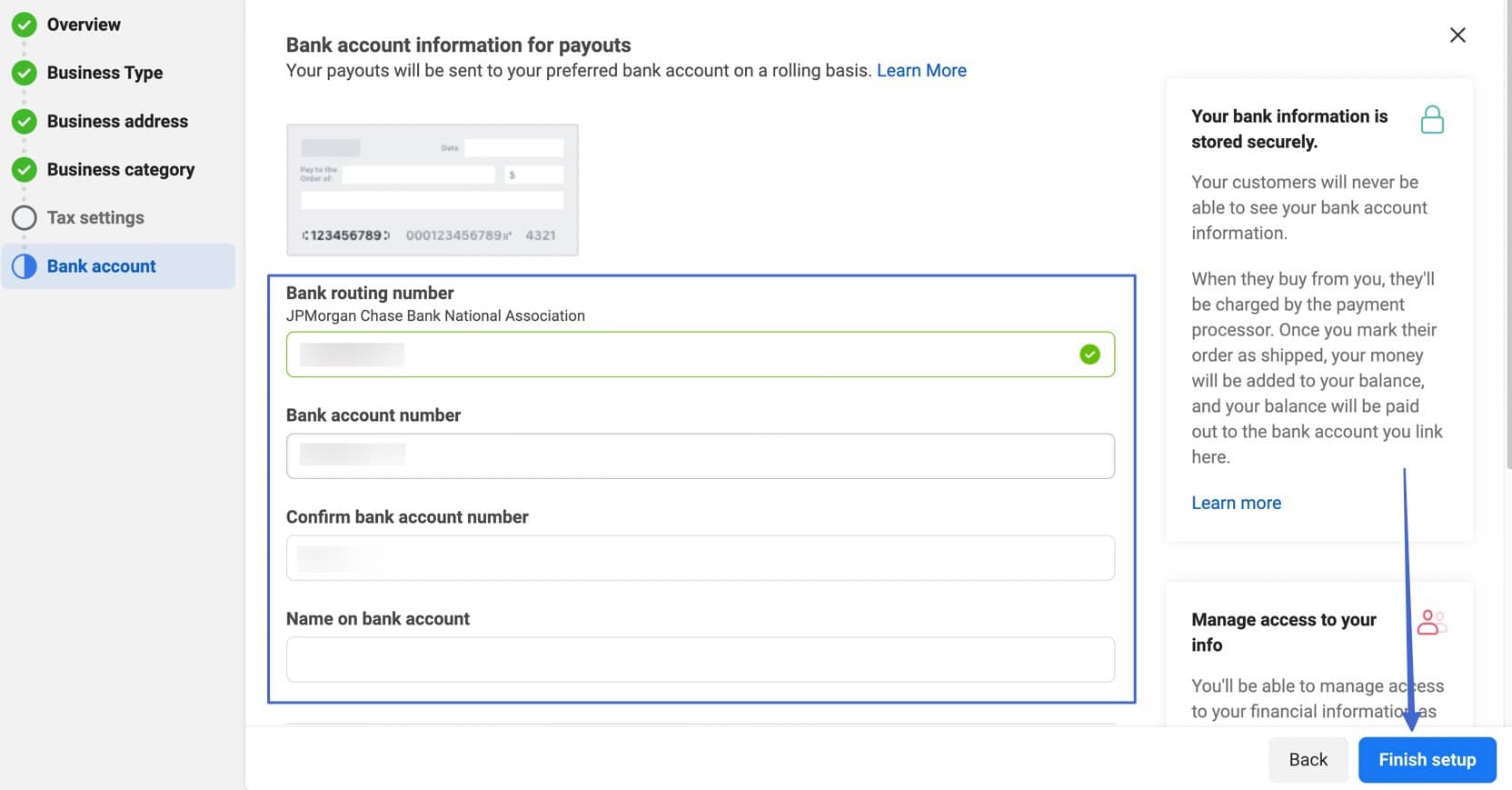 Use the Publish Shop button to make it live on your Facebook Business page. You may still have to wait for approval for this to work. Otherwise, use the Review Products button to add items and customize your store.
Step 7: Customize the shop layout
In the store customizer, Facebook has tabs for:
You can add everything from offer banners to products carousels, all while looking at a preview of the store. Be sure to click the Publish Updates button whenever you make a change.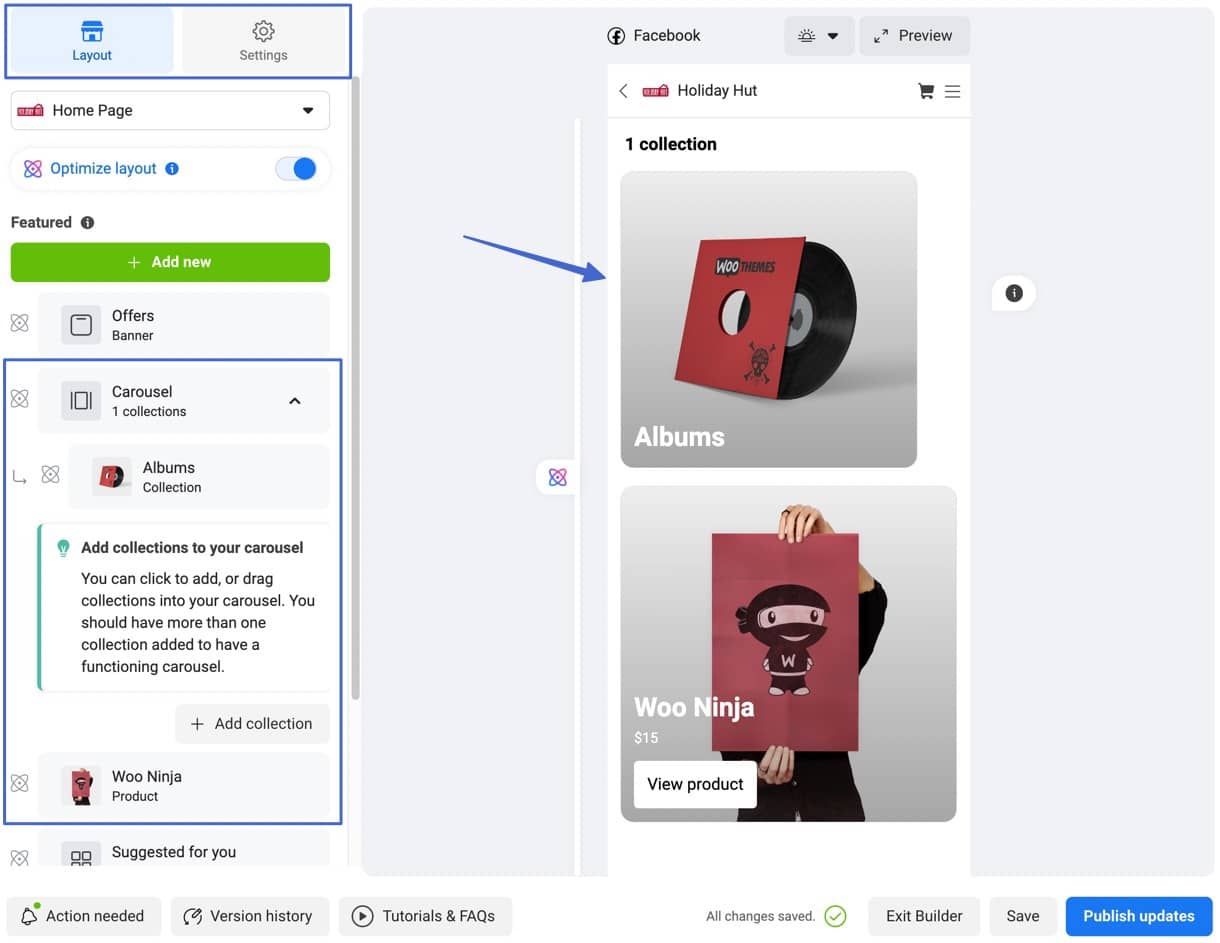 And it's always possible to manage the entirety of your store from the Meta Commerce Manager. From there, you can:
Add products
Customize shops
View and manage orders
Handle payouts
Communicate through the inbox
Create ads
Run promotions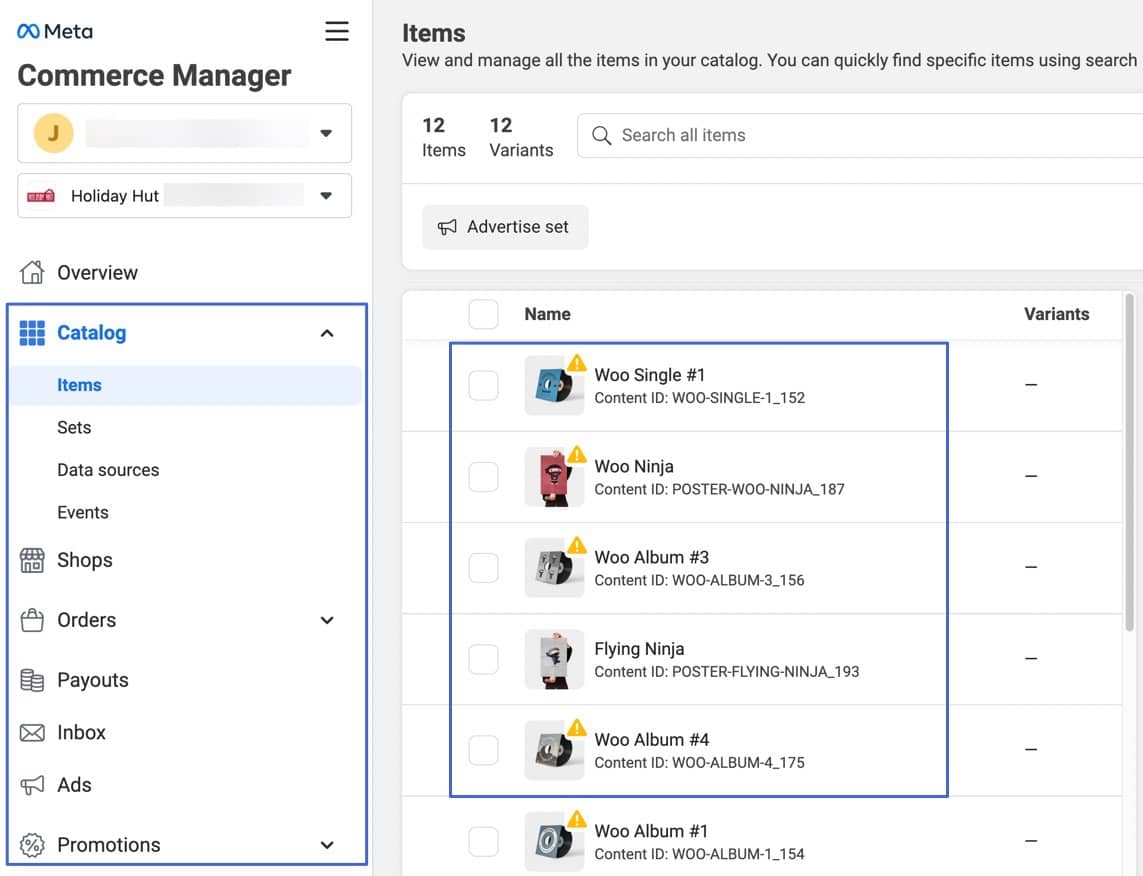 Once you've customized the store, and the review process is completed, you'll find a store on the front of your Facebook Business page! This is accessible through the main menu, and they even add little widgets that feature collections lower on the page.
That's how to sell on Facebook as a company in the United States!
Bonus Step: Adding products
You have several ways to add products to a Facebook shop.
In the Commerce Manager, go to Catalog > Items. Click the Add Items dropdown button in the upper right corner. Select Add Multiple Items or Add One Item.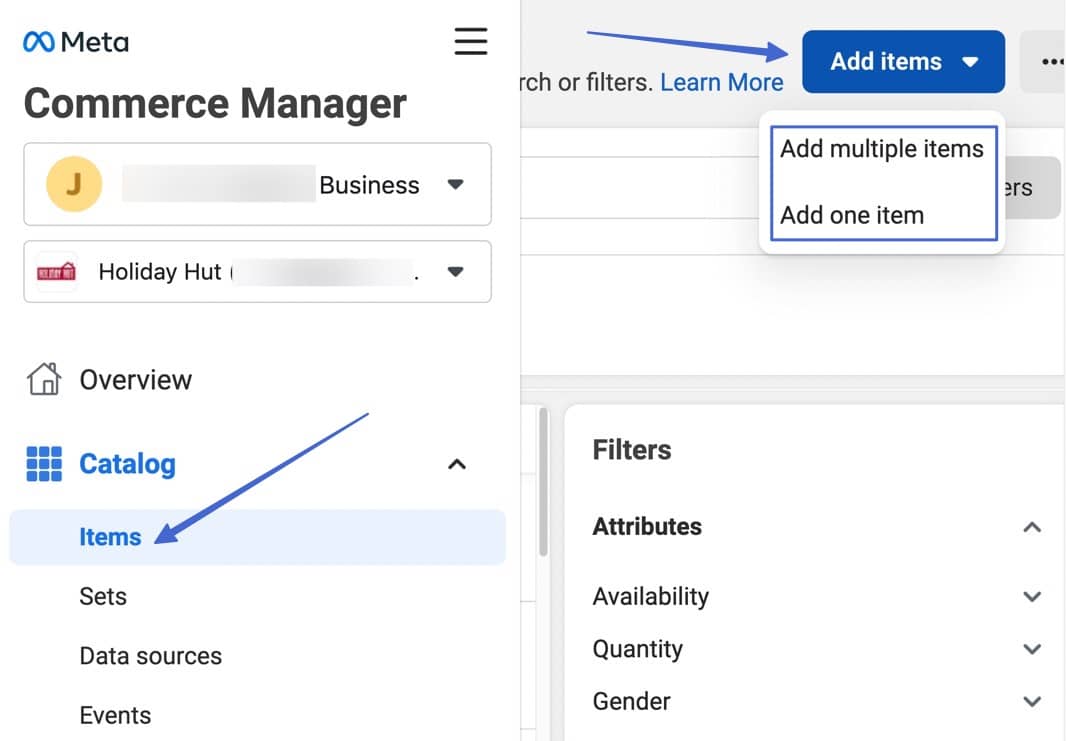 If you opt to add multiple products, there are several ways to do that.
Manual: Works nicely for new stores, or those with fewer products.
Data feed: Great for larger product collections and transferring over data you already have from another platform.
Pixel: This option is great for automatically adding/updating items (using Facebook Pixel) as people visit your store.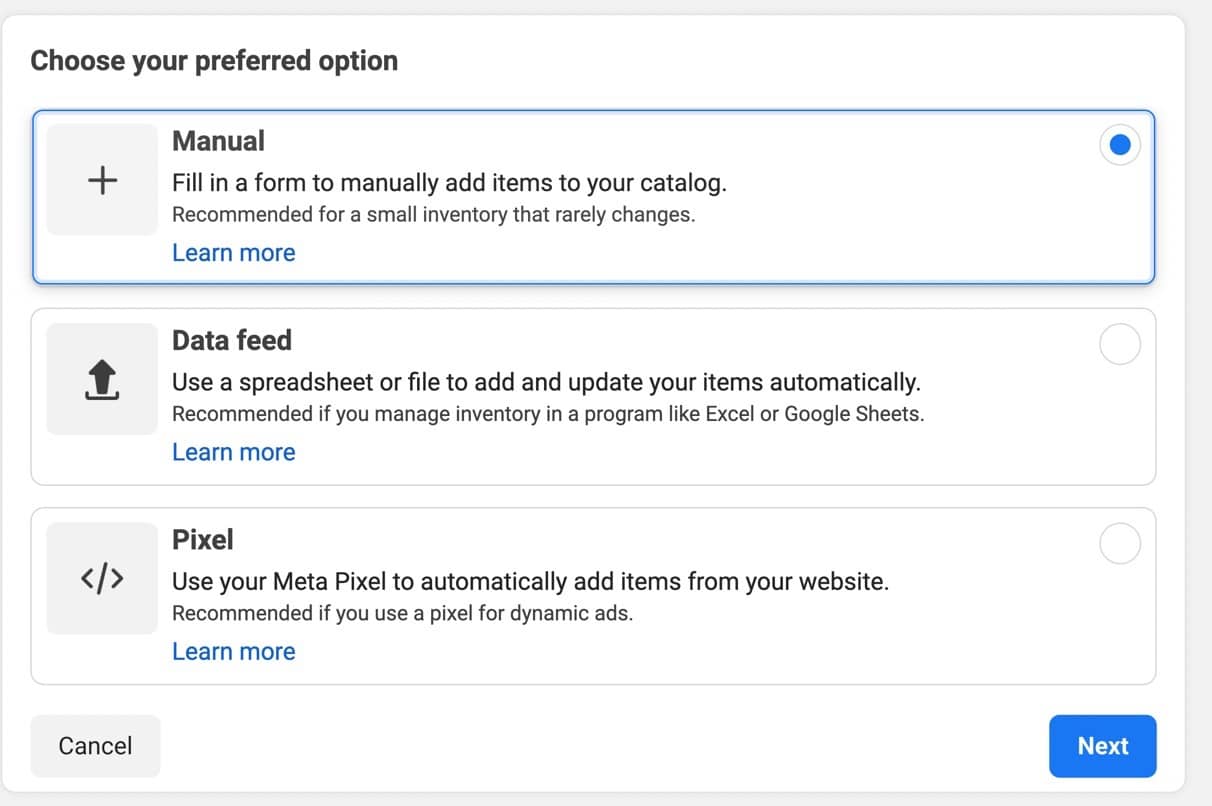 If you opt to Add One Product, there's a way to add products manually. That brings you to an individual product creator, which asks for:
A main image
Product title
Description
Price
Display options
Shipping options
Variants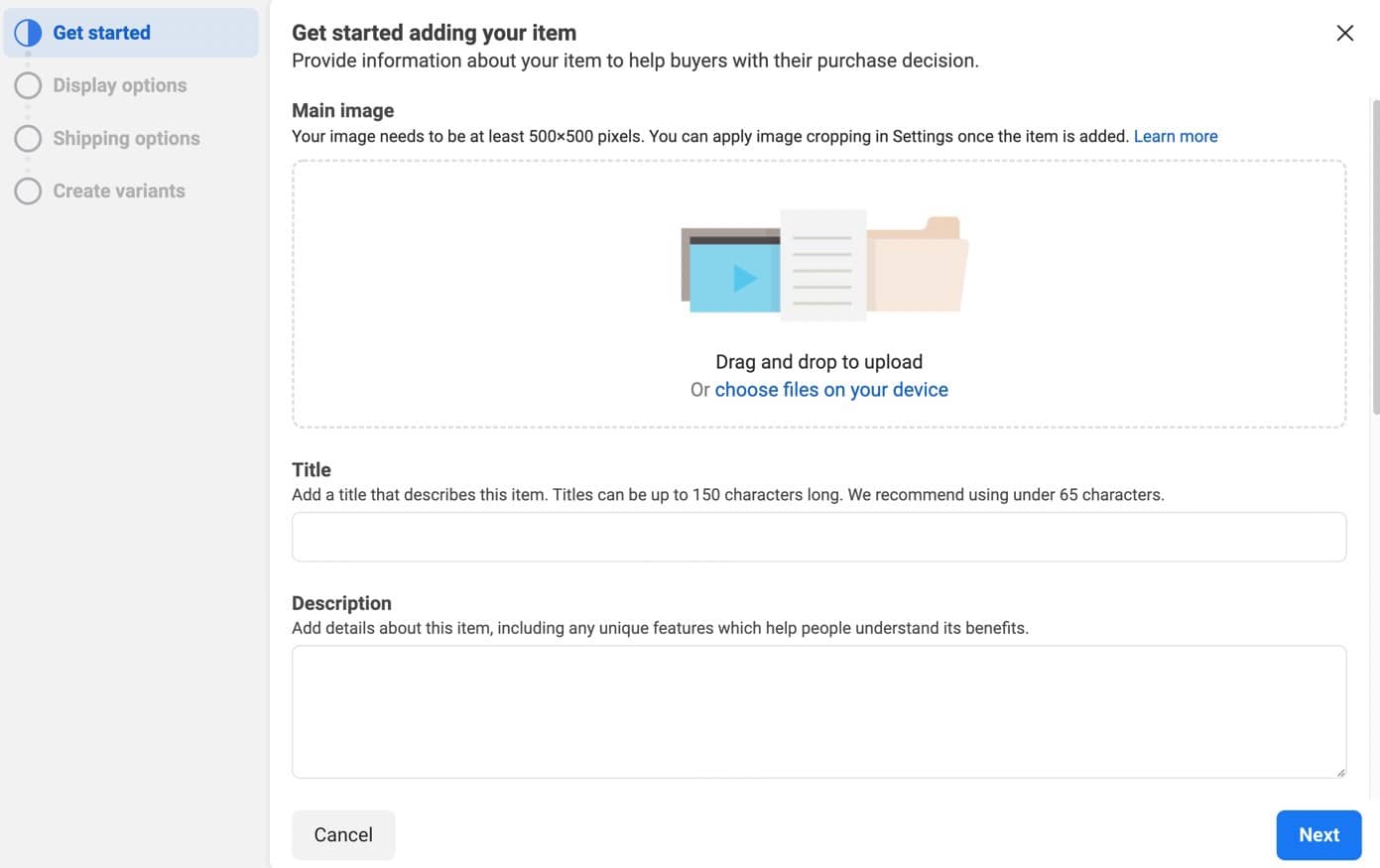 Regardless of the method you choose, simply walk through each process until you see the Publish button!
Method 2: Sell on Facebook as a company outside the US
Facebook has varying rules for selling through its platform, and much of it is based on where you conduct business.
Many of our readers are based outside of the US, so they don't have social security numbers or US bank accounts.
Is it still possible to sell on Facebook?
Yes.
The only restriction is that you can't process payments through Facebook. Other than that, Facebook lets you create online stores. You just have to choose one of the following checkout options:
Checkout on another website
Checkout with messaging
The Checkout With Messaging option doesn't actually process payments through Facebook Messenger. It essentially just allows you to send a link through Messenger so the customer can check out on another website.
We feel that that's not a true checkout method, so we'll stick with the option to Checkout On Another Website. That allows you to build a store on Facebook, but at the end, instead of checking out on Facebook, the Buy button sends customers to the right product page on your website.
Here's how to do it:
On your Facebook Business page:
Click More > Edit Tabs
Choose Edit, and select the Shopping template (also scroll down in the Tabs section to activate the Shop tab
Go back to the front of your Facebook Business page and select the Shop tab (it may be located under the More menu item)
As long as you didn't previously set up a store, this brings you to a popup asking you to create a Facebook shop. Click the Go To Commerce Manager button to continue.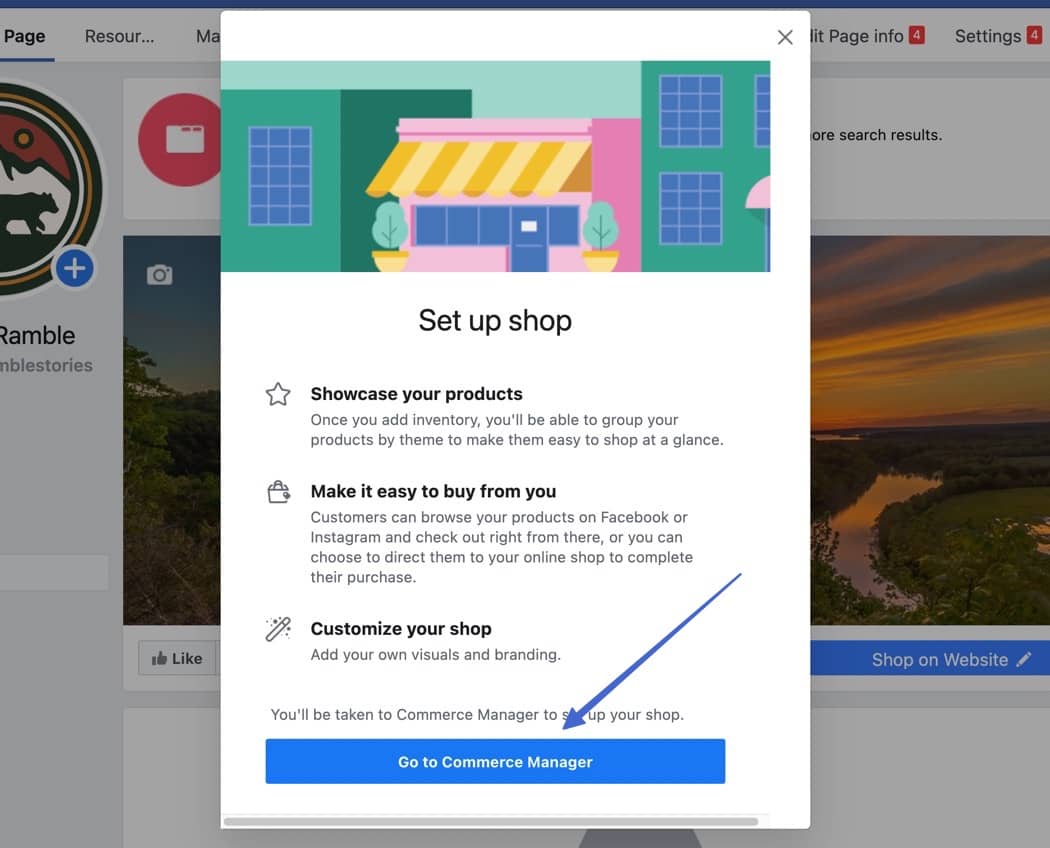 As with US merchants, non-US sellers can always sync a partner platform like WooCommerce or Shopify to pull products into Facebook.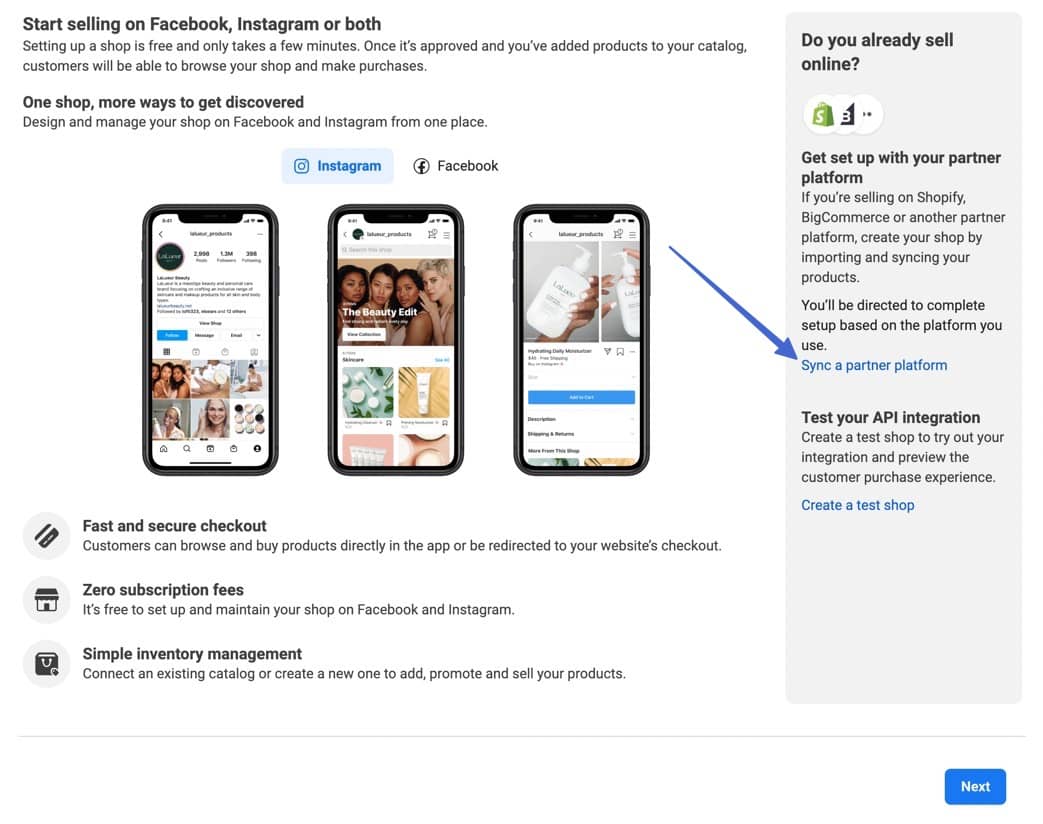 Yet, we find it easiest to walk through the configuration on Facebook (otherwise you have to mess with third-party plugins).
Step 1: Choose to have customers check out on another website
To begin, select Facebook (you can make an Instagram shop later), then click Next.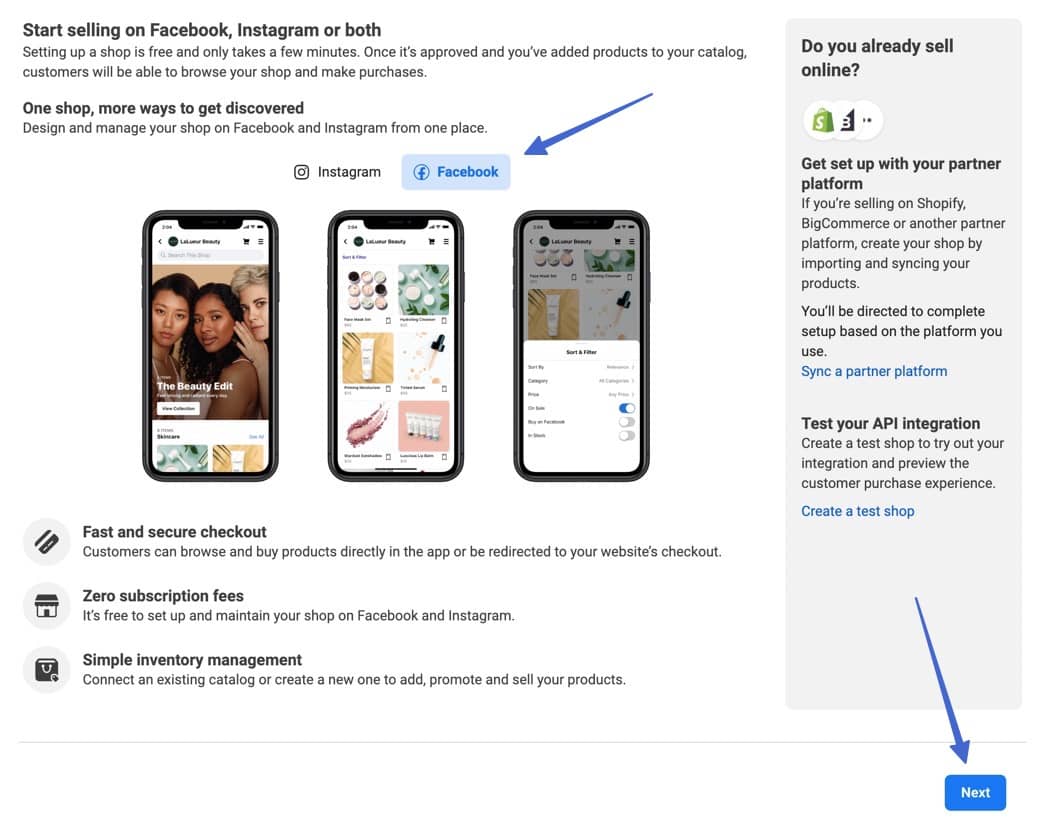 Choose the option to Checkout On Another Website. This is the primary way for non-US merchants to run a Facebook Shop. You can't process payments on Facebook, but all of the other features are the same. Click Next.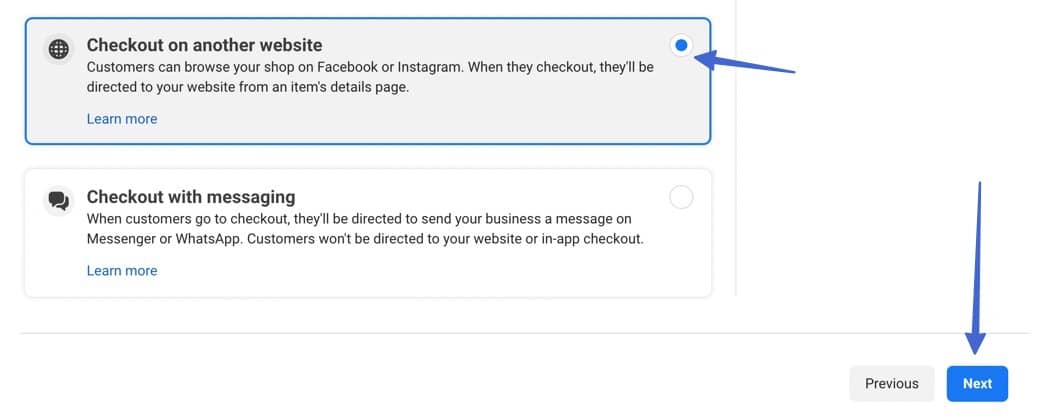 Pick the business you'd like to add the shop to. Click Next.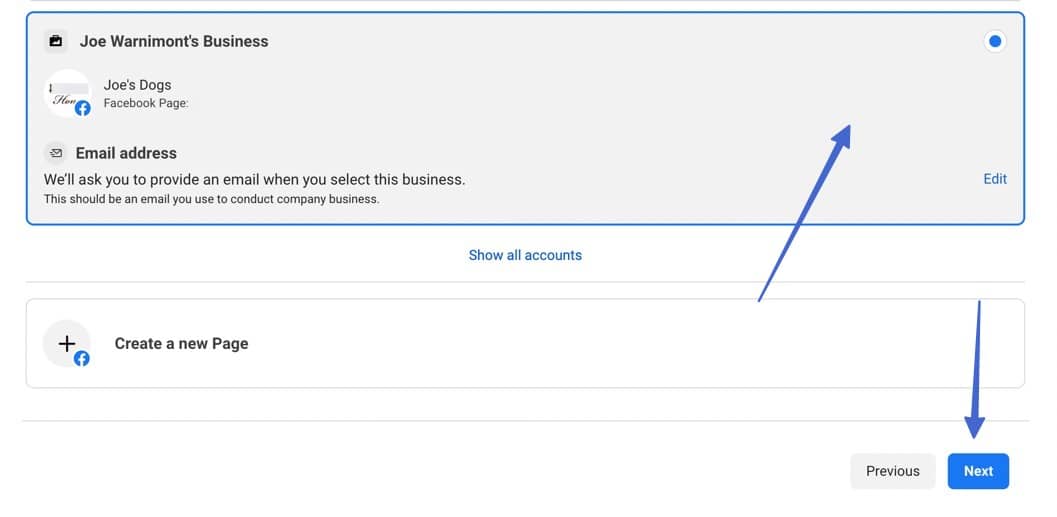 Step 2: Add product catalogs and shipping locations
Select a collection of previously added/synced products, or pick to Create New Catalog. Click Next to proceed.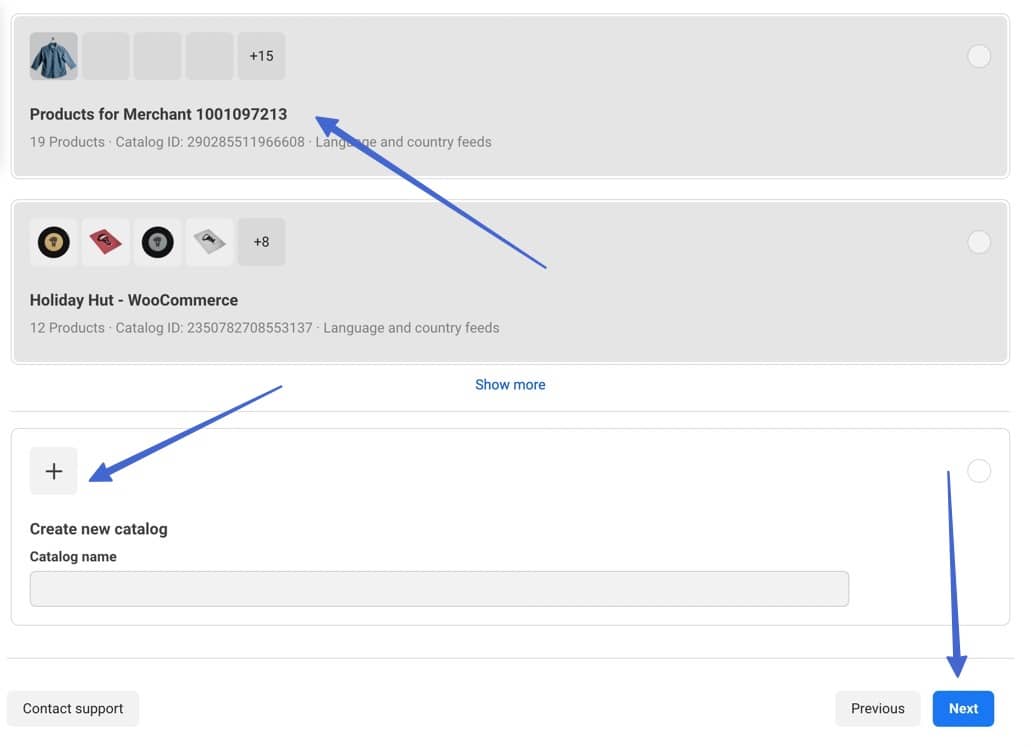 The next page asks where you plan to ship products. Select the countries you ship to from the dropdown menu. Click Next.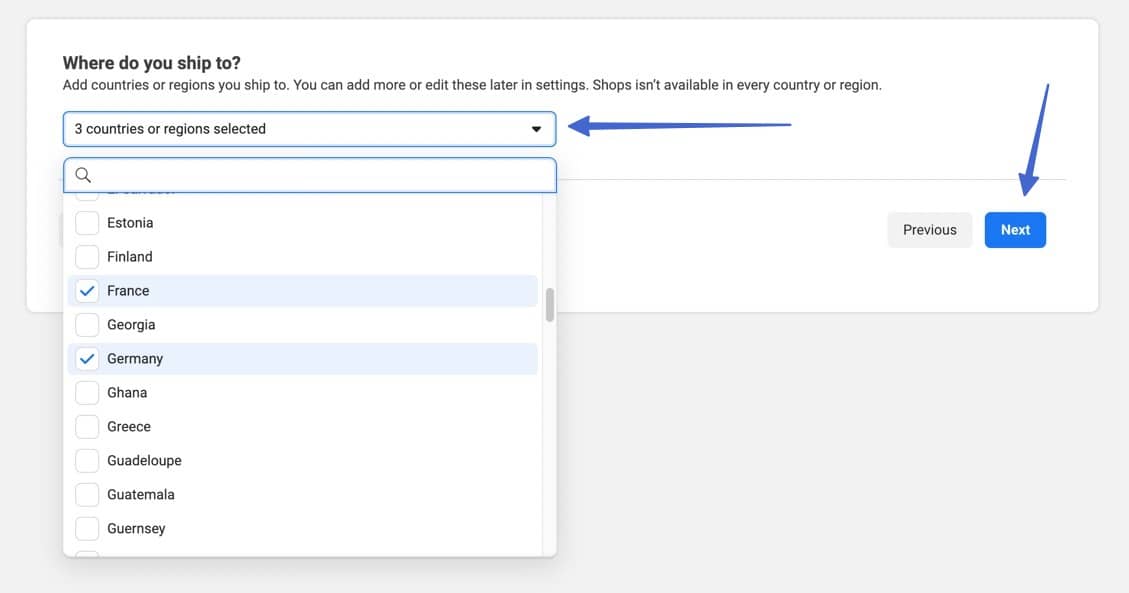 This last page is a review of what you've done so far. Make sure everything looks correct, mark the checkbox agreement, then click Finish Setup.
You can click to Publish Shop, but just know that it may not do anything if you're still in the review process. You must wait until Facebook approves your shop for it to appear on the page.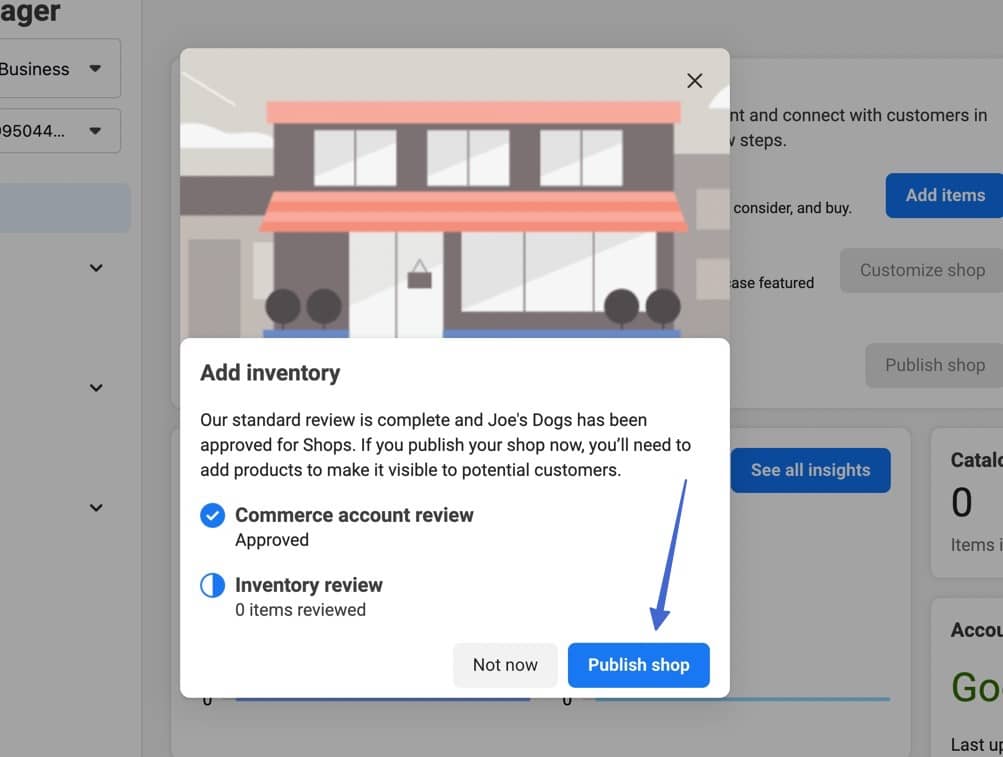 Step 3: Add products and customize your Facebook Shop
In the mean time, feel free to use the Commerce Manager; consider tasks like:
Adding items
Creating catalogs
Running promotions
Looking at insights
Making ads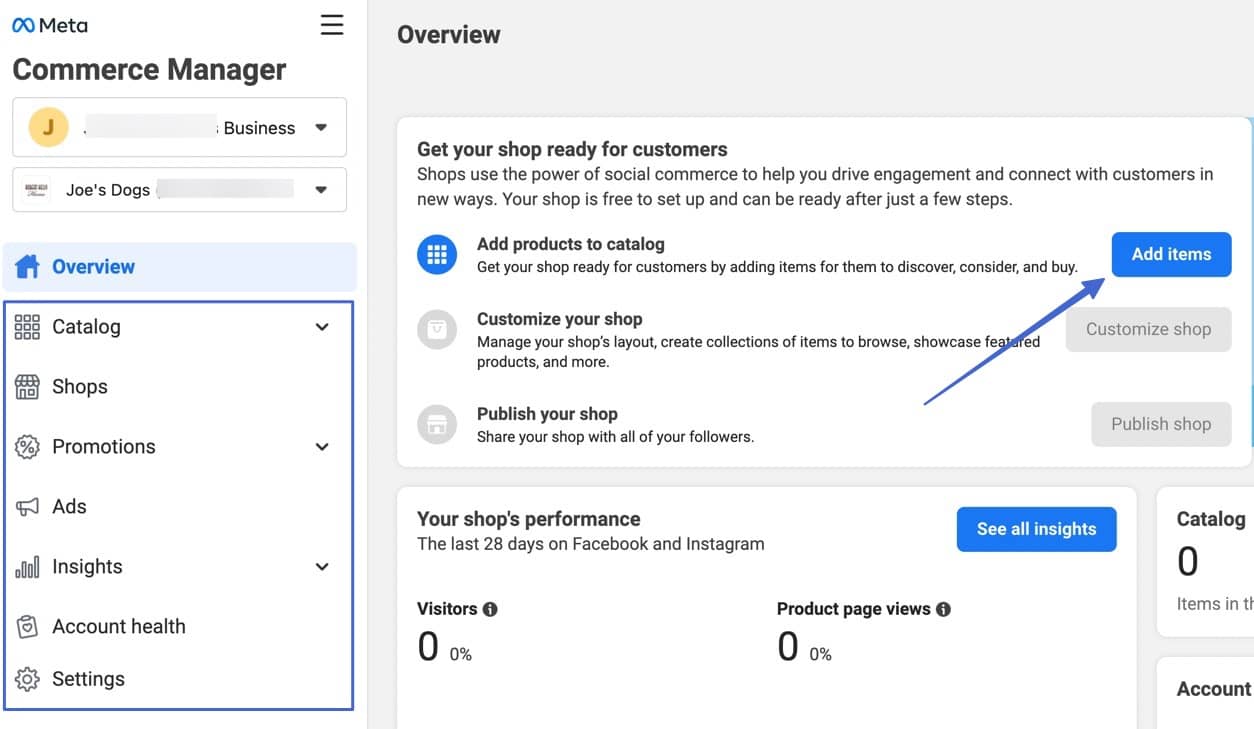 Finally, make yourself familiar with the Facebook Shop customizer. Find it by going to Shops > Edit Shop.

The customizer provides a preview of your current shop, along with tools to arrange products, add carousels, include offers, and more. Just be sure to click Publish Updates when you're done.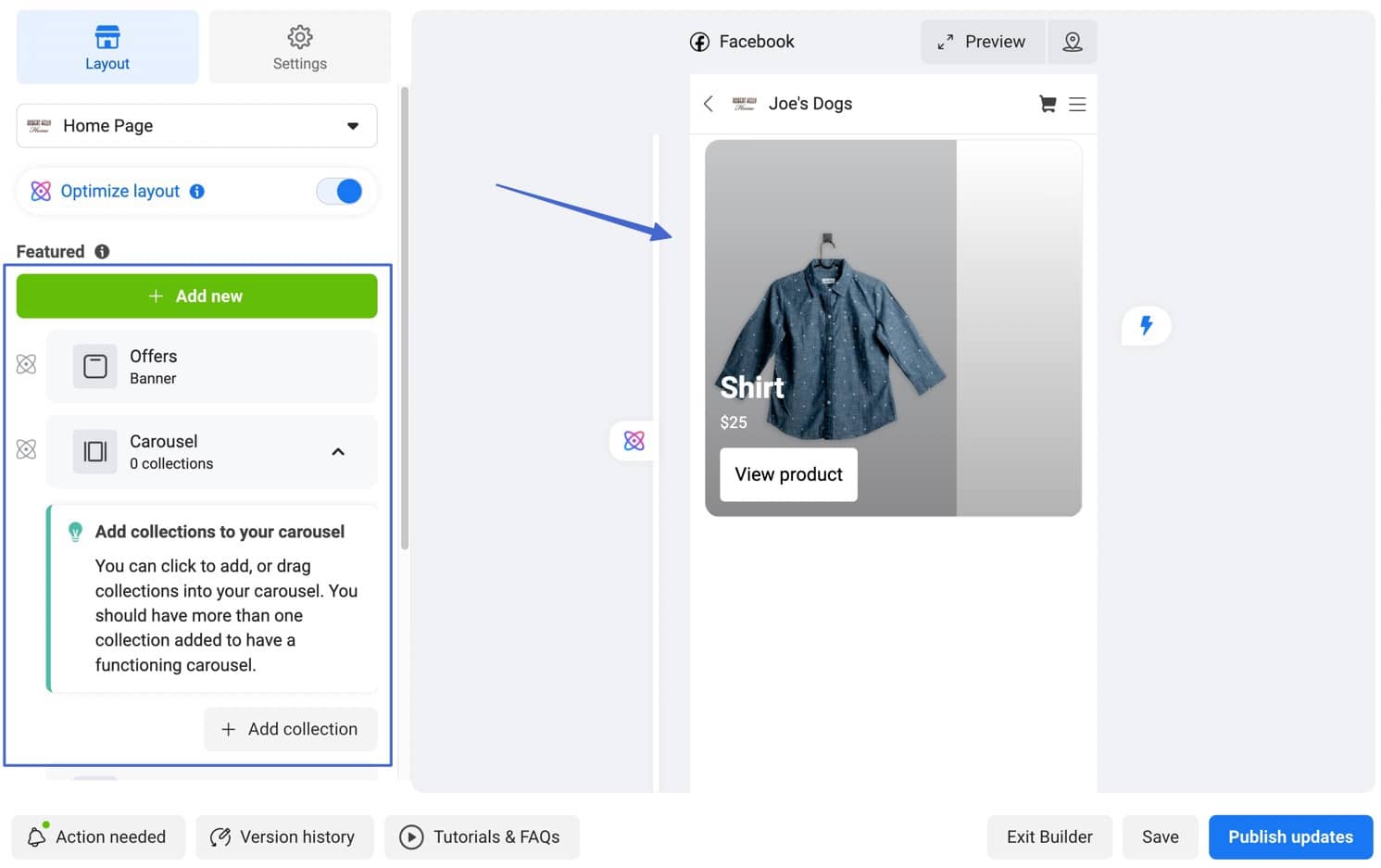 And that is it! This is how to create a Facebook shop page without a US address or social security number.
Facebook Shop fees explained
Does a Facebook Shop cost money?
Here's what you need to know:
There are no upfront Facebook Shop charges to build a store
There are no monthly or subscription fees to run a Facebook Shop
You will have to pay a Facebook Shop transaction fee after selling each product
You will have to consider shipping fees (whether you pass them along to customers or pay them yourself)
So, there's no need to worry about upfront or recurring subscription charges. However, there are Facebook Shop selling fees, similar to how all ecommerce platforms and payment gateways charge small fees for credit card purchases.
Facebook Page Shop fees are:
A 5% fee for each sale (automatically deducted after you ship)
or…
A flat charge of $0.40 if the sale is for $8.00 or less
Sellers keep the rest of the earnings.
The Facebook Shop fees cover:
Support for the Facebook selling infrastructure
The cost of processing credit card payments
Taxes
Here are example transactions with potential Facebook Shop fees:
A $50 sale incurs a fee of $2.50
A $9 sale incurs a fee of $0.45
An $8 sale incurs a flat fee of $0.40
A $5 sale incurs a flat fee of $0.40
Facebook Shop chargeback fees
Unfortunately, Facebook doesn't disclose its fees for chargebacks, but they state that any applicable fees will appear in your financial reports. To give you an idea of what it may cost, most payment processors charge $10 to $25 per successful chargeback, while some simply stick you with the initial transaction fee.
Do you have any questions about how to sell on Facebook?
Facebook was, is, and will continue to be finicky for store owners. Some of these procedures may change in the near future, but what's good to know is that the process of adding the Shop tab and walking through the steps has largely remained the same.
Right now, US businesses have a tool for completing transactions on Facebook, with the money being sent to your banking account.
Non-US businesses are able to make Facebook Shops as well, but you don't link to a banking account, and the Buy button is a redirect to your real website.
Some people may find this complicated, but both methods are great for at least showing your products to customers online. Furthermore, you're able to link to these products for advertisements.
If you have any questions about how to sell on Facebook, let us know in the comments below!
…
Don't forget to join our crash course on speeding up your WordPress site. Learn more below:
Layout, presentation and editing by Karol K.