Wondering how to sell digital products on your website? Many people do. Setting up an online store has never been easier. Even if you don't have any physical goods to sell, you can create a virtual item and market it to your audience.
There are several tools that you can use to get started. Whether you want to offer online courses or sell any type of digital file, doing some research can help you pick the right platform for your products.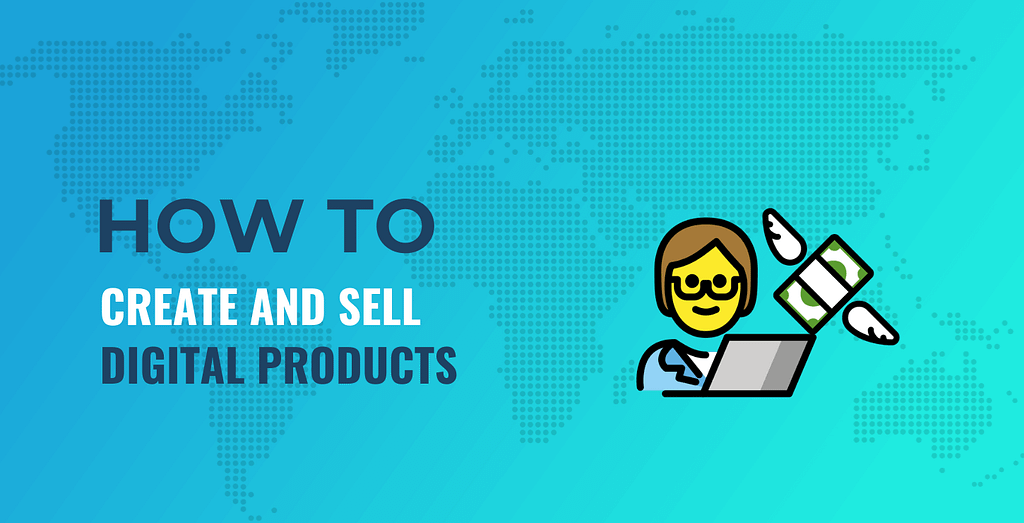 💡 In this post, we'll show you how to sell digital products on your website in four steps. Let's dive right in!
Step 1: Do some market research 🔎
Perhaps you want to sell digital products to make extra money but have no idea what to offer. Alternatively, you might already have a product you want to sell.
There are many digital products you might sell, including:
Ebooks or other types of downloadables (e.g., woodworking plans)
Online courses, webinars, and coaching sessions
Digital art, templates, and photography
Software like plugins and apps
Memberships and subscriptions
However, competition is high in most of these industries. Therefore, it's essential to do some research before launching your product. This process will help you identify gaps in the market that you can fill and establish your selling point.
There are several market research methods you can use. For instance, you might collect feedback from your audience. This strategy can be advantageous if you run a blog or have a significant social media presence.
Let's say you blog about digital marketing, and you're thinking of creating an online course on search engine optimization (SEO). You might ask your readers or followers if they've taken any SEO courses and what they liked or disliked about them.
You could also look at the products offered by your competitors to see if they're lacking anything. For example, you might notice a need for more practical courses or one-on-one SEO coaching calls.
Additionally, you could perform some keyword research to see what users are looking for and gauge the level of competition for that product. Google's Keyword Planner helps you explore popular search terms in your niche: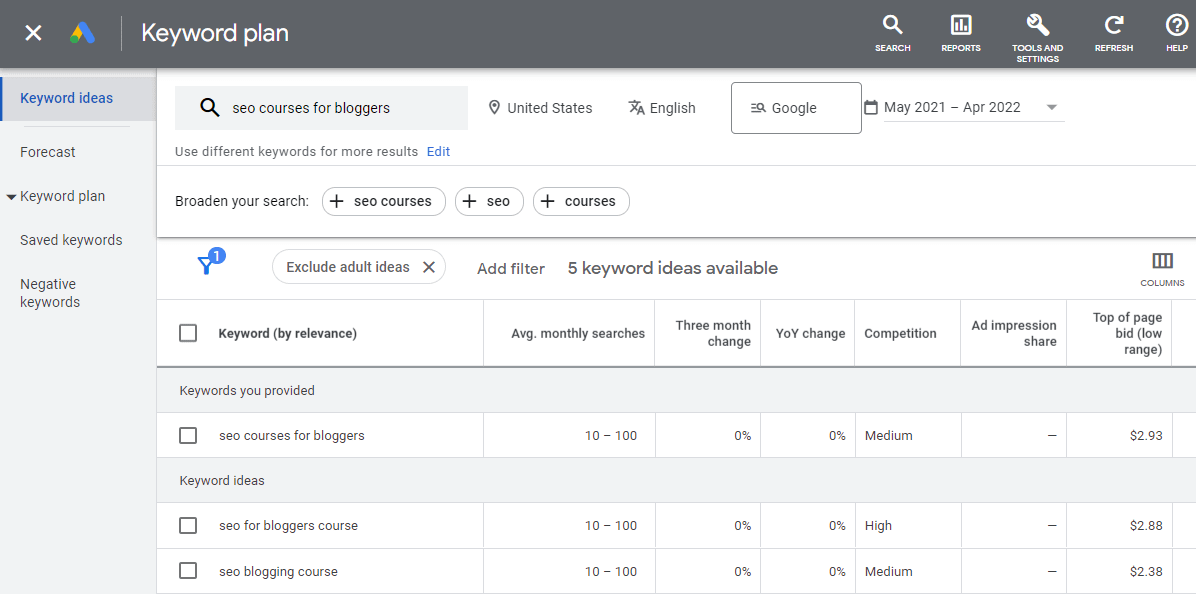 Paid tools, such as SEMrush or Ahrefs, can also help you dig much deeper into search behavior.
Ideally, you'll want to target search terms with a high average of monthly search numbers. You might even consider choosing a long-tail keyword, such as "SEO courses for food bloggers."
Step 2: Create a buyer persona 🧑
Once you've established the type of digital product you want to sell, it's time to create a buyer persona. This is a profile of your target consumer.
If you already have a website, you could use a tool such as Google Analytics to learn more about your audience. This platform contains vital data about visitor demographics, behaviors, and more: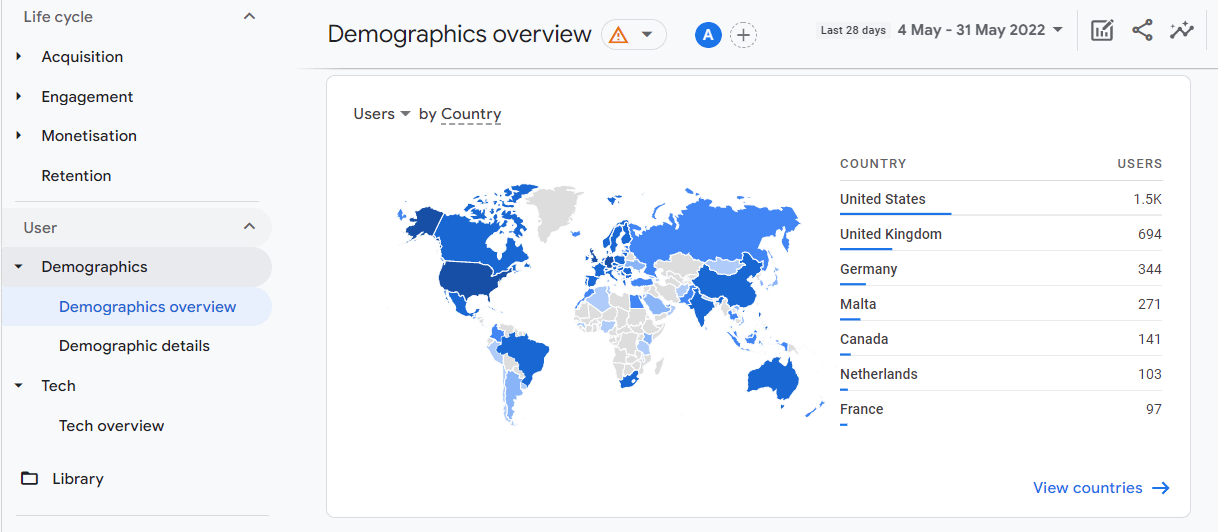 You can then use this information to build your profile.
If you haven't yet set up a website yet, you could think about the type of person you wish to target.
Your audience profile should contain the following:
Demographics, including age, gender, and nationality
Educational or professional background
Main interests and pain points
Having a clear idea of your target customer can help you promote your digital product to the right audience. For instance, if you're creating social media plugins for WordPress, you might target full-time bloggers looking for an affordable solution.
Step 3: Select your platform and tools 🧰
If you already have a website, it might be easier to sell your digital products on your existing site than to start a new one. However, we recommend keeping your existing content separate from your online store.
📌 Fortunately, there are several platforms and tools you can use to create and sell your products. Let's look 😎 at some of the best options on the market.
WordPress is one of the most popular content management systems (CMSs). You can use it to create almost any type of website, from blogs and portfolios to online stores and eCommerce businesses.
There are several WordPress plugins you can use to sell products on your site. For instance, Easy Digital Downloads is a complete eCommerce solution that enables you to sell different types of digital products, such as photography, eBooks, software, and documents:
It also comes with different payment gateways, including Stripe and PayPal. Additionally, it offers a smooth checkout process and easy customer management.
If you're offering memberships on your WordPress site, you could use a tool such as MemberPress: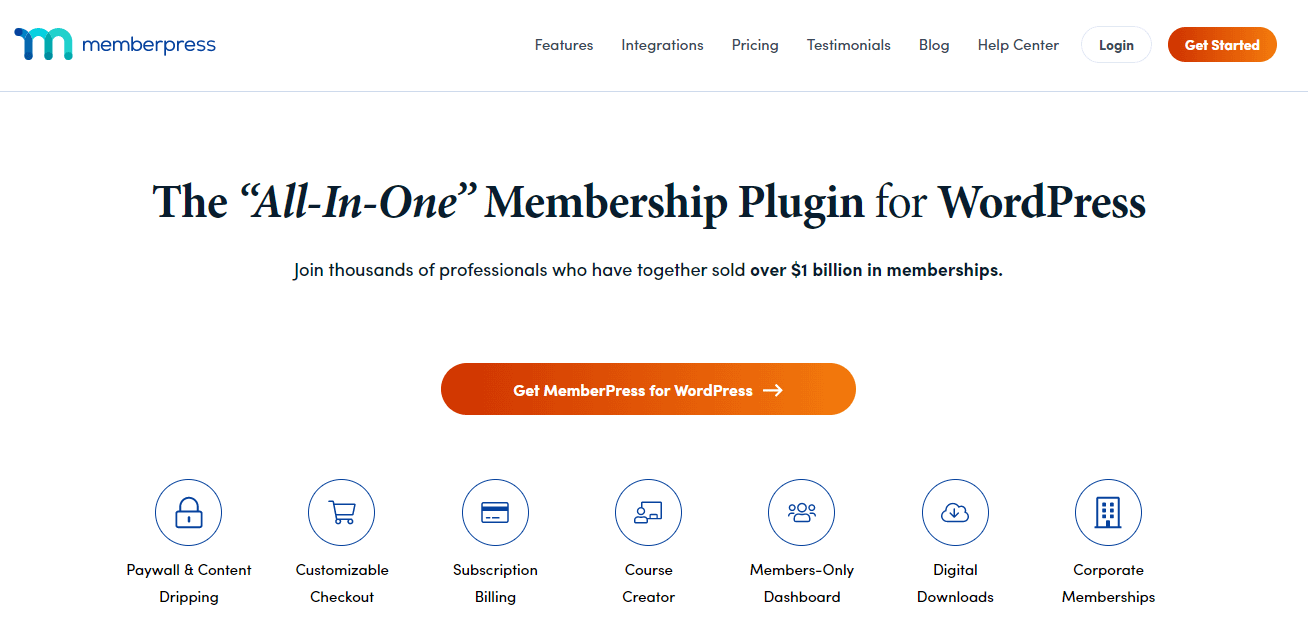 With this plugin, you can create an exclusive area on your site behind a paywall. Users will need to purchase a subscription to access some of your content.
Meanwhile, if you're selling courses, you can use a learning management system (LMS) tool like LearnDash:
This plugin enables you to create an immersive learning experience on your site. LearnDash also lets you set up different pricing models, including onetime purchases and subscriptions.
As you can see, WordPress is a flexible platform that almost anyone can use. Whether you're an artist, a software developer, or an educator, you'll get total freedom over the design of your site and the management of your products.
You can set up your preferred payment methods, customize the layout of your shop and product pages, and select the best hosting for your eCommerce site. Additionally, you can integrate your site with various third-party tools, including email marketing services and analytics platforms.
💳 Price: The WordPress software is free. However, you'll need to purchase web hosting and a domain name. Many WordPress plugins are also free, but you'll typically need to upgrade to premium versions to access more features.
Shopify is a popular eCommerce platform that powers over three million stores worldwide. You can use it to sell both physical and digital products:
With Shopify, you get your website, hosting, domain, and personalized email address in a single package. This means you can manage everything from one account. Additionally, Shopify provides its own marketing and analytics tools, so you won't need to purchase additional services.
Shopify also has its own payment solution. With Shopify Payments, you can accept Visa, Mastercard, Discover, and American Express, and enjoy a low credit card rate.
If you want to manage every aspect of your online business from one place, Shopify might be the right platform for you. It's also ideal if you're thinking of adding physical products to your store. Moreover, you can fulfill and process orders on the go, thanks to the Shopify mobile app.
💳 Price: The Basic plan costs $24.00 per month and is ideal for new or small businesses. You can upgrade to the Advanced plan to access more features, including eCommerce automations, which costs $299 per month.
If you're selling courses and webinars, you might consider hosting your services on Podia. This platform enables you to create an interactive learning environment and grow a community:
With Podia, you can offer videos, quizzes, and drip content. You can also sell digital downloads, such as checklists, eBooks, and audio files.
If you're giving webinars, you can also offer group calls or one-on-one sessions. Podia integrates with Zoom and YouTube Live.
Moreover, Podia lets you create a custom website for your courses and comes with built-in email marketing features. You can also set up an affiliate program and choose your own commission terms for members.
If you're looking for an all-in-one LMS solution, Podia might be the right option. It enables you to offer your courses as a bundle and pre-sell your content.
💳 Price: Plans start at $33 per month and include unlimited courses, downloads, and coaching products.
Another powerful platform for selling digital products is Gumroad. You can offer video lessons, monthly subscriptions, tutorials, software, and more:
Gumroad comes with a flexible page editor to help you build and customize your site. Payments are processed through the platform, and you can also create discount offer codes for your products. If you're selling software, Gumroad can even generate the license keys.
Additionally, you'll get detailed analytics on your audience and purchases. You can also set up automated workflows, including email newsletters.
You might consider using this platform if you're selling subscriptions or memberships. For instance, you could give members access to your software, course material, and other digital services or products.
💳 Price: You can set up an account for free. Gumroad will charge you a fee on each transaction, starting at 9% and getting lower as you earn more money. For instance, once you make your first $1,000 from your Gumroad store, you'll pay a 7% fee instead.
Step 4: Promote your product 📢
Once you've established how you'll sell your product, you can start promoting it. If you already have a site, you can insert a banner or create a landing page.
It's a good idea to start advertising your product a few weeks before the launch. This way, you can generate interest among your existing followers and attract potential customers.
There are several ways 🛣️ you can promote your digital product:
Create social media posts. If you're selling art or photography, a media-focused platform like Instagram would be an effective option. Alternatively, for courses or webinars, you might create a video and publish it on Facebook.
Mention your product in blog posts. You can even design your blog content around your products. For example, you can offer some tips for creating an effective Google ad and include a plug for your marketing courses.
Reach out to your subscribers. If you use email marketing, you can promote your offerings in your newsletter. If not, you can start an email list before the launch of your product to build your audience.
Run paid ads. If you want an instant source of qualified traffic, you can pay to run ads on platforms like Facebook or Google.
It's important ℹ️ to continue promoting your product even after launching it. This consistency will help you keep your audience engaged and build brand awareness. You might even consider setting up an affiliate program to help spread the word.
Start selling digital products today 🎢
Creating and selling a digital product can be an effective way to monetize your website and increase your income. For instance, you might sell your photos or graphic art, launch an online course, develop a plugin or app, or set up memberships on your site.
To recap, here's how to sell digital products on your website:
Do some market research to find a gap in your niche and establish your selling point.
Create a profile of your target customer.
Select the right platform and tools for your products.
Promote your product on your site and social media platforms.
If you haven't created your main website yet, check out ☑️ our guide on how to make a website to start building an online presence from which you can sell digital products.
Do you have any questions about selling digital products on your website? Let us know in the comments section below!
…
Don't forget to join our crash course on speeding up your WordPress site. Learn more below: