Ever wondered how to sell a website? 🤔
Maybe you've always wanted to sell your website, and it's finally grown enough to be worth a decent amount of money. Or maybe you've loved growing it, and you're ready to move on to the next big adventure, whether that's a new business or retirement.
Whatever the reason, you've decided that now is the time to sell your website. This can be a daunting process, but we're here to help with a simple guide on how to sell a website in nine steps: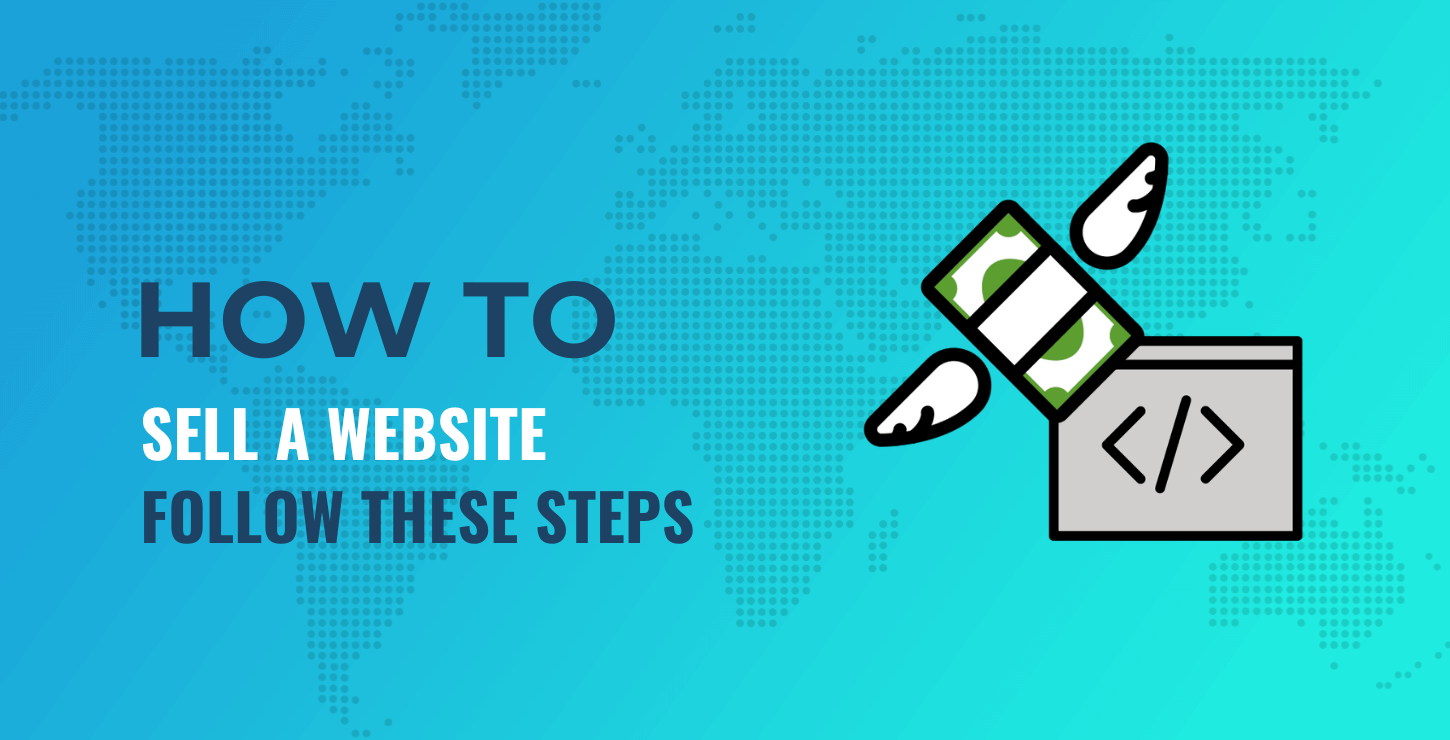 Let's dive into it!
How to sell a website in 9 steps
1. Diversify your traffic sources
One of the most important factors in a website's value is the traffic, both how much of it there is and where it comes from.
Specifically, you'll want to make sure that the majority of your traffic is organic and comes from search engines. It requires less financial investment than traffic from ads, thus ensuring greater profits. It's also more stable than the one coming from social media sites.
You can increase organic traffic by going through our 👉 WordPress SEO Checklist and using an SEO plugin to optimize your content.
If you do rely on social media for a large percentage of your traffic, you'll also want to make sure that it comes from multiple different platforms. This is essential, as the algorithm can change at any time, devaluing the platform and your website in turn.
2. Diversify your income streams
Another major factor in a website's value is the way it makes money. Low-effort income streams, like the use of advertising networks, are particularly valuable as they allow the buyer to make money without investing a huge amount of time into the site.
The number of income streams a site has is also important. If you have one income stream and it dries up, your site becomes unprofitable. If, on the other hand, you have several and you lose one, your site will still be making money.
There are numerous income streams you can leverage to make your site more valuable:
A direct-sale advertising program
Sponsorships and business partnerships
Products
If you already have some of these income streams set up, take some time to optimize them, so you can show potential buyers that your site's earning potential is steadily increasing.
3. Automate and outsource
The next step in how to sell a website is to make it as easy as possible for the new owner to take over. This means automating and outsourcing various aspects of website management and related business tasks to reduce the amount of time that the new owner needs to spend on maintaining it.
There are many plugins available to help you automate email marketing, and you can use our own Revive Old Posts plugin 🔌 to automate your social media sharing.
For tasks that aren't easy to automate, you'll want to hire people. You can check out our guides on 👉 where to hire a WordPress developer, where to find a freelance project manager, and how to hire a web designer for help with this.
4. Organize your financial and analytics documents
Once you've bolstered your traffic and built systems to make site management easier, you can start preparing for the sale itself. This begins with organizing the following financial documents:
Profit and loss (PnL) statement covering at least 12 months
Proof of sales for six to 12 months
Ad spend
An accountant can help you organize these documents.
You'll also need the following analytics documents:
Google Analytics reporting for at least three months.
Google Search Console Reports for at least three months. This is used to determine the value of your organic traffic.
Ads Reports from any and all advertising programs run on your site. This includes ad networks and self-run advertising programs.
With these documents in hand, you can move on to the next step in how to sell a website:
5. Get your website valuated
In order to get a good price for your website, you first need to know how much your website is worth. You can figure this out in a couple of different ways:
Use an online website valuation tool. You can enter your domain and some basic business information into a valuation tool like the Worth of Web website valuation calculator to get an estimate of what your website is worth.
Calculate it yourself. You can calculate the worth of your website by multiplying your net profit by a specific number. Most websites recommend multiplying your net profits for one year by three. So, if your net profits for a year are $12,000, your website value would be $36,000.
Of course, this is only an estimate of what to aim for. The actual price of your website will be determined by what a buyer is willing to pay, and most buyers will want to negotiate a lower price so they can earn out on their investment quickly. This means that you should know both your website's ideal value and the amount you're willing to lower the price during negotiations.
6. Find a marketplace or website broker
The next step in how to sell a website is to figure out where you're going to sell it. In most cases, you'll want to go with one of two options:
A website or business marketplace. Sites like Empire Flippers make it easy to list your website, negotiate a sale, and process payments. You can also choose business marketplaces that aren't entirely focused on website sales.
A broker. You can also work directly with a website broker or business broker. These are professionals who help you with optimizing your sales page, finding a buyer, negotiating your contract, and making sure you get paid.
If you already have a buyer lined up, you can also sell your small business on your own. However, this still requires you to hire an accountant and a lawyer to make sure all of the documentation is in order.
7. Optimize your sales page for potential buyers
Once you've decided where to sell your website, it's time to create your sales page. If you're using a business marketplace, the site should offer guidance on what to include in your sales pitch. Similarly, a broker can help guide you through the process of creating your sales page.
We've also got a couple of our own tips to help you optimize your sales page:
Focus on your profit. Include your exact profit margin as a percentage, as well as the actual number. You'll also want to include traffic stats, and depending on how you intend on selling your website, you may need to share additional information.
Be specific. Get specific about the niche your site is in and the technology your site runs on. The latter is particularly important, as some people may only want to work with sites that use a specific CMS (Content Management System), like WordPress.
Mention your main income streams. Your site listing should specify where you make most of your money, whether that's through advertising or through product sales.
You'll also want to make sure that you include an itemized list of all of the assets that will be sold with the site, such as social media accounts and product inventory.
8. Prepare your team for the sale
The next step in how to sell a website is to prepare your team for the transfer. There are a couple of things you can do to streamline this process:
Make sure everyone knows their role in the transfer. Assign tasks to team members as appropriate. For example, if you have a social media manager, their task might be to give the new owner full access to the social media accounts connected to your site. They might also be responsible for helping the new owner understand your social media marketing plan.
Introduce systems that make transfer easier. For example, you might want to consolidate your internal communications and project management through a tool like Slack, which offers simple processes for transferring channel ownership.
This ensures that the transfer goes smoothly and that your site's new owner will be able to start making money on their investment right away.
9. Sell your site
Once you've got all of the appropriate systems in place and an interested buyer, you're ready to sell your site. To actually make the sale, though, you'll need to do a few things:
Negotiate your contract. Your contract will specify the assets you plan to sell with your website, the price your buyer will pay for the site, and other terms and conditions related to the sale. For example, your contract might include stipulations that the new owner has to keep your site's current employees for a period of time. Your buyer may also want to include a non-compete clause stating that you won't create a competing website for a certain period of time.
Finalize the sale. Once you've finalized the contract with help from a broker or a lawyer, you can finalize the sale and arrange payment. You may want an accountant to help with this part of the process.
Conduct the transfer. Your final step is to transfer your website, domain, social media accounts, and other relevant business assets to the new site owner. You may want to work with your website developer and other team members to make sure this transfer goes smoothly.
Most of all, take your time with this process. You want to make sure the contract is favorable to both parties and that the transfer doesn't damage your website or related assets.
Final advice on how to sell a website 🏁
You might be in a hurry to sell your website so you can start your next adventure, but it's important to take the time to do it properly. You want to make sure your site has high traffic and profit numbers that will entice buyers; diverse income streams that will make it easier for a buyer to recoup their investment; and automated systems in place to make it easier for the future owner to run.
You'll also need to make sure you fully understand your website's value. This means doing a website valuation, looking at the value of comparable sites, and using that data to come up with a target number, plus a lower number that represents the lowest dollar amount you're willing to accept for your website.
🎬 The final part of how to sell a website is the sales process itself. You can do this on your own, with a broker, or through a website marketplace. Regardless of how you do it, make sure you have a lawyer to look over the contracts, and systems in place to make transferring ownership when the deal is done.
Do you have more questions about how to sell a website? Share them in the comments below!
…
Don't forget to join our crash course on speeding up your WordPress site. Learn more below: