Knowing how to sell a domain name isn't a skill you just pick up naturally. Even if you understand how the basic process works, there are some key details you'll need to be familiar with. Understanding and using them to your advantage can be crucial to getting the most out of your sale.
Fortunately, you don't have to be an expert to reap these benefits. By keeping a few pieces of advice in mind, you can confidently (and safely!) sell your domain name for maximum profit.
In this article, we'll take you through five strategies for optimizing your domain sale. We'll also suggest a few useful tools that can give you a hand along the way. Let's get started!
📚 How to sell a domain name in 5 steps:
1. Know your domain's value
Understanding how to sell a domain name effectively starts with one key piece of knowledge: the domain's value. After all, you have to know what buyers are willing to pay in order to set a reasonable price.
There are a few elements to consider that might affect the value of your domain name. Some of these include:
Length. Domain names under 15 characters tend to be more valuable.
Keywords. Having relevant terms in the domain name can boost a site's SEO potential.
Simplicity. Overly complicated names can be difficult for users to remember, thus decreasing their value.
In other words, a short, simple, and specific name will usually fetch a higher price. However, you might want more specifics regarding your domain's value. That's why we recommend using a service such as GoDaddy's appraisal tool: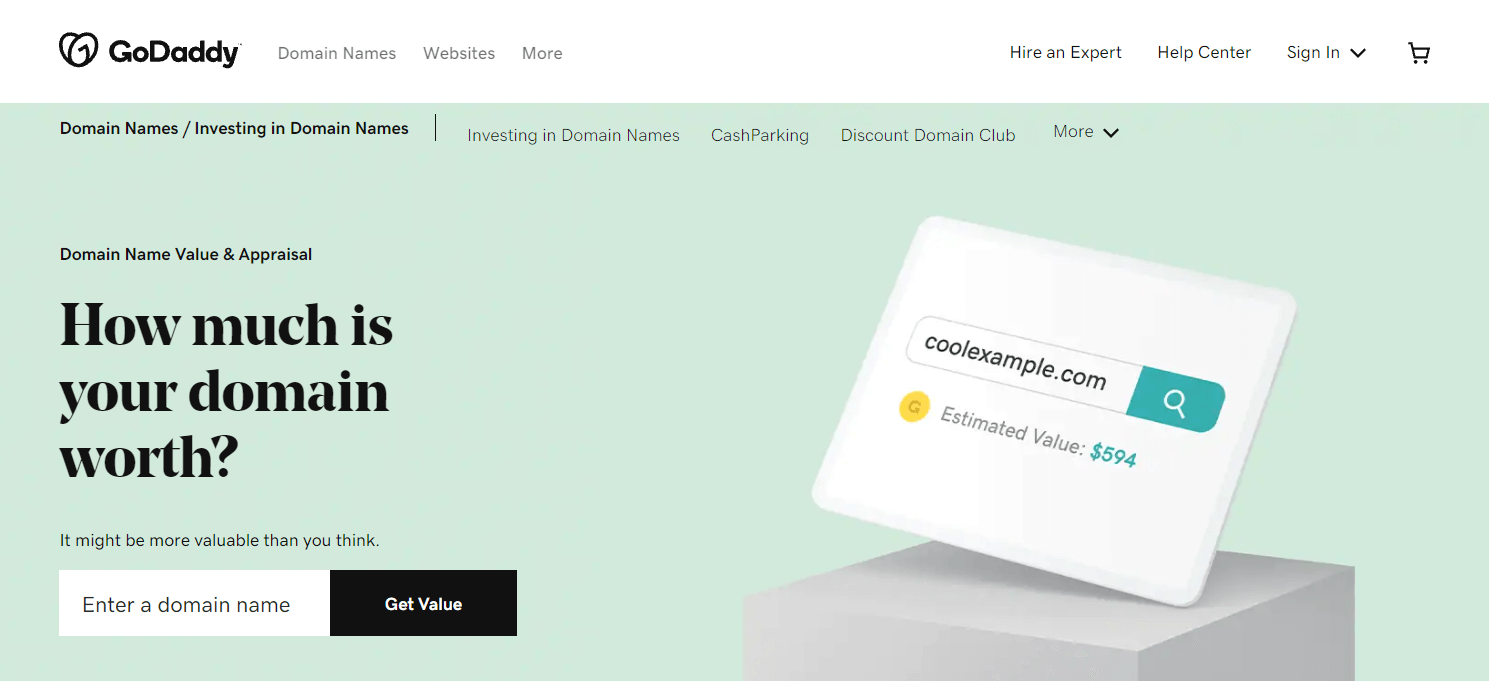 All you have to do is enter your domain name into the box and click on Get Value. You'll see a basic report that looks something like this: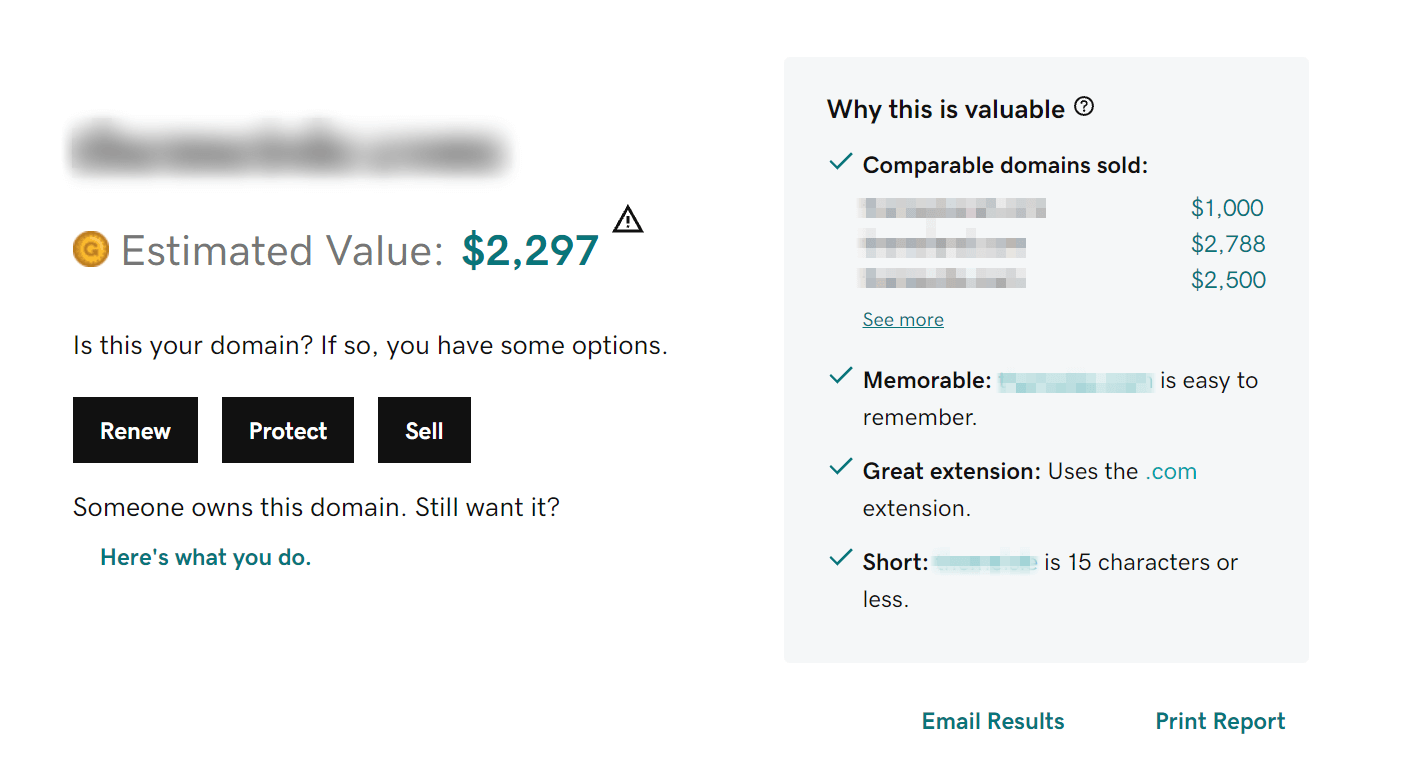 That's it – the program will return a figure based on real-world sales data. Nevertheless, this is still only an estimation. As such, feel free to adjust this number as you see fit (for example, perhaps you know that your domain name's perceived value will soon be increasing).
Knowing the value of your domain name is undeniably useful. However, that alone isn't all you need to get the most out of it. You'll also need to decide on the best sales strategy.
How to pick the right pricing method for selling a domain name
When it comes to your sales options, each domain marketplace will work a little differently. Even so, there are three pricing methods that you'll typically encounter: 'buy now,' 'make an offer,' and public auction:
The 'buy now' option is exactly what it sounds like: you post a price, and then any buyer with enough money can purchase the domain instantly. If you're looking for a quick and easy way to sell a domain name, this is probably your best bet. However, the lack of haggling means you should also be confident in your price.
The 'make an offer' option requires more hands-on work. Rather than an immediate purchase, an interested buyer can contact you and suggest a price. You can accept their offer, reject it, or negotiate for a new one. You might want to choose this method if you're happy to invest time and effort into selling your domain.
Finally, a public auction allows buyers to bid against each other. You set a starting price, and then users put in their offers. The highest bidder wins. If you think your domain will be popular, this can be an effective way to drive the price up without the need to spend time negotiating.
If you're not sure which option is right for you, we recommend starting with the 'make an offer' method. It takes more work, but it also gives you more control over the process. It might also give you a better idea of what your domain name is worth, which can help you readjust the price if necessary.
2. Choose where you'll sell your domain name
You probably won't be surprised to hear that there are many places where you can sell your domain name. However, the large selection of quality options can make it hard to pick one. The good news is that there are a few factors that you can consider to find your perfect fit.
For example, a site's popularity can be an important factor. Simply put, more users means more potential buyers. Nevertheless, this could also mean you're facing a lot of competition. We think it's worth considering both sides of this double-edged sword.
You may also want to check and see whether a marketplace caters to a certain niche. Those without a focus will reach a wider audience, but a very a niche-specific domain name can get overlooked.
Recommended platforms to sell your domain name
If you're not sure where to begin, don't worry! We have a few suggestions to give you a head start. See how the following recommendations compare with your responses to the above advice before settling on an option.
One of the more well-known platforms is GoDaddy. This company offers everything from hosting to domain names. If you like to keep all of your website resources centralized, GoDaddy might be worth your consideration.
Another option is Flippa. Flippa helps you sell domain names, but that's not all – you can sell entire websites and businesses there too. As such, we recommend giving it a try if you're not intimidated with how to sell a domain name and are looking to make it a major source of income.
Finally, let's talk about Sedo. Sedo is one of the most popular marketplaces for domain sellers. It offers built-in escrow services, robust customer service, and an intuitive interface with lots of filters: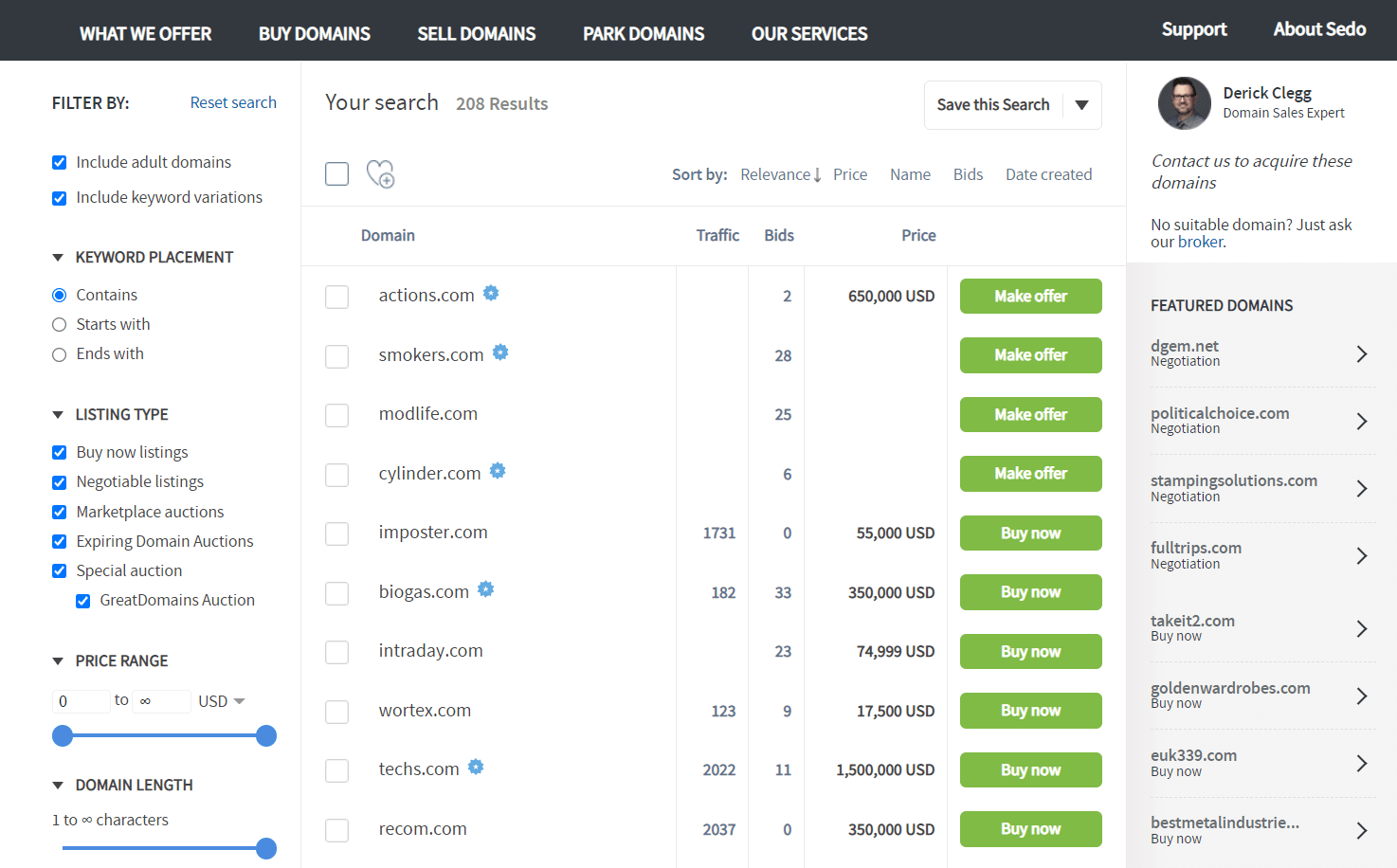 Given all of its strengths, we generally recommend Sedo if you're not sure which marketplace is right for you. If you're a beginner, the quick and simple upload process is a significant benefit.
Nevertheless, there are far more than just these options out there. Don't be afraid to spend some time looking for other domain marketplaces. You might find that your best option is more off the beaten path.
3. Advertise your domain's best features
You don't technically need to market your domain name. A lot of sites will let you post it for sale with just the name and price. While this might be the easiest method, it may not be the best way to maximize your profit.
That's why we recommend that you compile some key pieces of information to supplement your posting. Not only will this demonstrate the advantages of your domain name, but it can also show buyers that you won't settle for less than it's worth.
For example, consider using analytics to track a parked domain name's traffic. Even if the domain is currently empty, a high visitor count could suggest that a lot of people are interested in it. This kind of exposure may be attractive to buyers.
🤔 "Why would random people visit your domain even though it doesn't hold any meaningful content?" – you ask. Well, the most likely scenario is that your domain name contains a popular-enough keyword as part of it. Not only that, but it might also rank for that keyword on Google. This is where the traffic comes from.
Another element to focus on might be how memorable your domain name is. Short, simple names are usually the best candidates. If you're in doubt, try using the billboard test: if you saw the URL on a billboard, would you remember it when you got home? If the answer is yes, chances are you have a marketable domain name on your hands.
Finally, try not to underestimate the power of the extension. Sites that end in ".com" are typically more valuable. Nevertheless, that doesn't mean a ".net" extension is a deal-breaker. Also, some more unique domain extensions have been making a name for themselves recently as well (no pun intended). Domains like ".io" or ".store" can sell at high prices.
Try to advertise as many of these elements as are relevant. Most marketplaces offer an open-ended field for this very purpose. You might also benefit from platform-specific features such as the option to link to a sales portfolio, as this example from Sedo shows: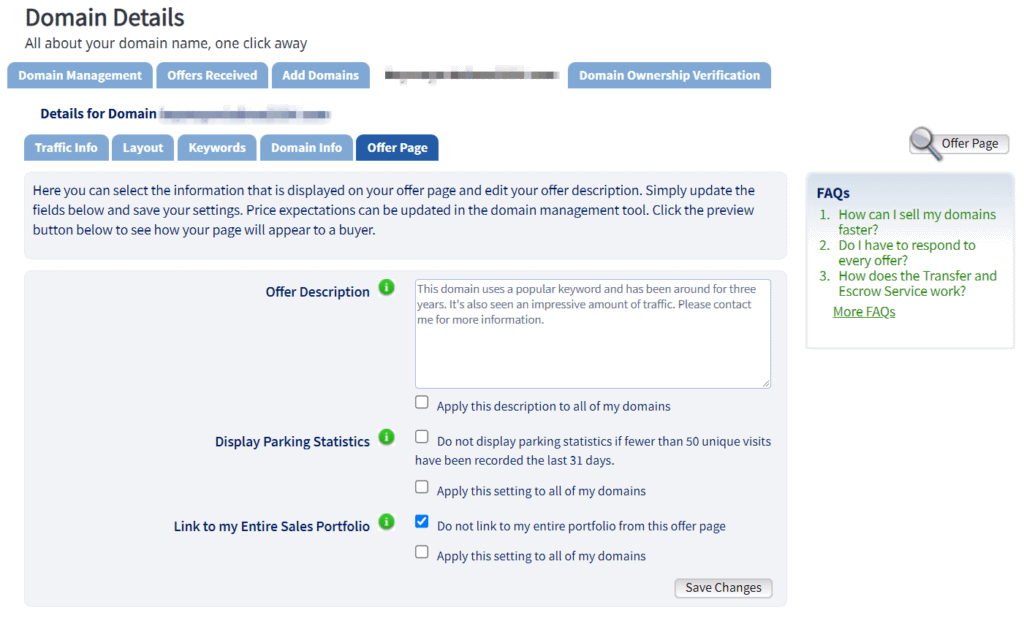 We suggest that you try balancing the important details with brevity. The more you can show off your domain name, the more likely it is that you'll catch a potential buyer's eye – but it's important to do so quickly and concisely.
4. Protect your domain sale with an escrow service
Once you get an interested buyer, it's normal to feel eager. However, try not to let your excitement get the best of you. It's almost impossible to be too cautious with an online sale.
Unfortunately, not everyone on the internet is looking for an honest deal. There's always a chance of losing your domain to a scammer. Fortunately, an escrow service can go a long way towards preventing that.
Escrow is a legal agreement where a company acts as a neutral third party. They hold your domain name until they've received the funds. Then they execute the trade to ensure that both parties get what they agreed on.
There are plenty of high-quality escrow services out there. We're particular fans of Escrow.com, given its stellar track record and popularity: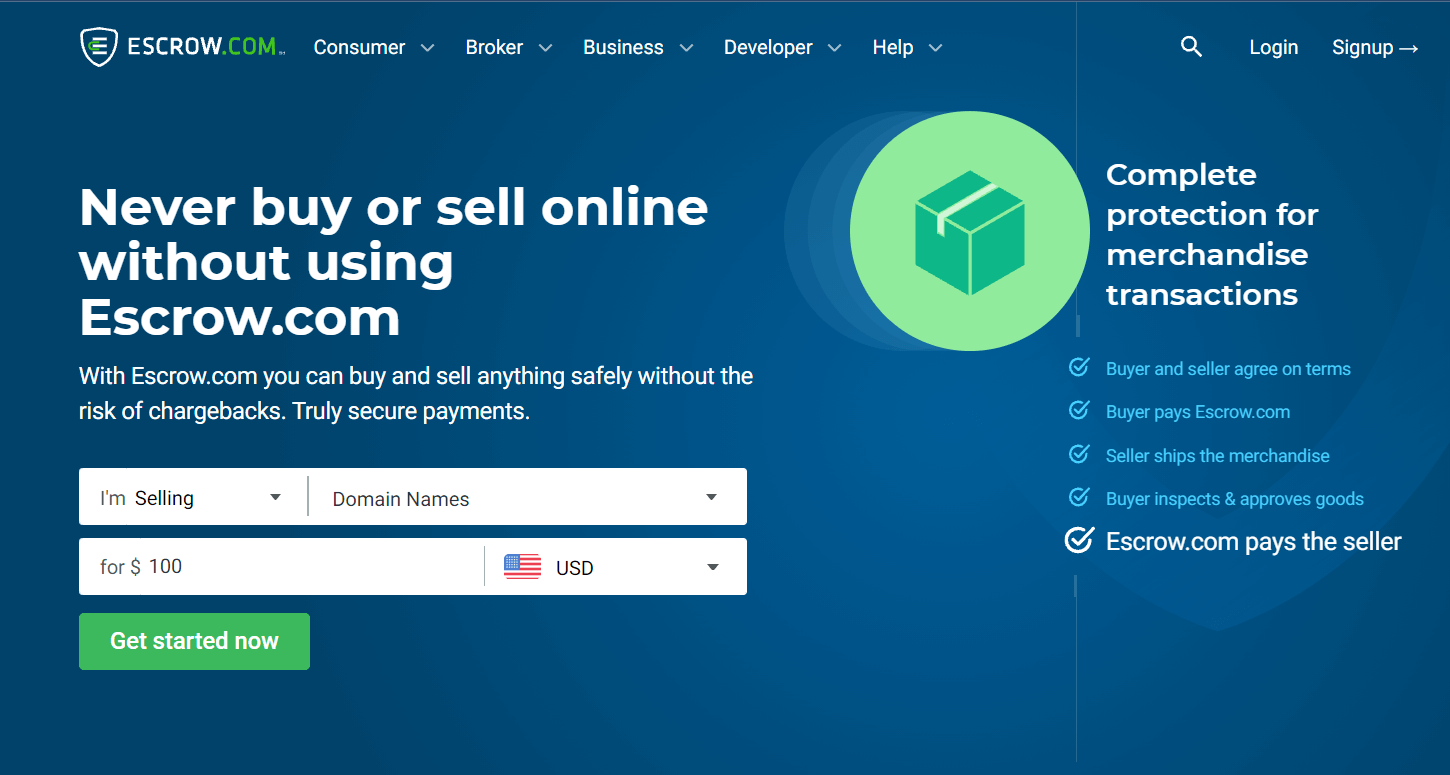 However, any other secure service will do the trick. Just take a look at how much they charge in commission – you probably don't want an unwelcome surprise. The customer service may also be worth investigating, in case you ever need support.
In our opinion, the only way to go wrong here is to not use an escrow service. It can be tempting if you're not excited about paying a commission, but that discount comes with a pretty severe risk to your security.
This goes double for any suspiciously high bids. Scammers may offer you an unreasonable amount of cash for your domain, but insist that none of it goes through escrow. That way, they can take the money and run. We recommend that you avoid these kinds of deals at all costs.
5. Closely monitor the final domain name transfer
Once you've found a buyer and started the escrow process, you may be tempted to sit back and let the sale finish itself. However, we recommend that you stay engaged throughout the final transfer.
For example, most domain marketplaces will charge a small commission fee. This usually happens after you've been paid and the domain has been successfully transferred. Thus, you may want to track this stage so you know exactly how much money you're ending up with.
Furthermore, your buyer might have questions during the transfer process. Staying in the loop can ensure that you answer these promptly, which can in turn improve your reputation as a responsive domain seller. If you want to double down on this benefit, remember to communicate professionally.
Monitoring the end process also keeps your schedule up to date. Most escrow services will have a waiting period to ensure that funds are properly allocated. However, these can vary depending on the seller and situation, so you may want to stay informed in case any problems arise.
After the final transfer is made, we also recommend that you look back on your experience. If the marketplace and escrow company you chose made the process easy, then you know you can save time on a new search and simply return to them next time you need to sell a domain name.
Conclusion
No one ever said that understanding how to sell a domain name was easy. However, it doesn't have to be tricky, either. You can follow a few tried-and-true pieces of advice to get the most out of your sales experience.
In this article, we covered five tips to help you get the most value out of your domain sale:
Know how much your domain name is worth.
Choose your domain marketplace carefully.
Highlight the domain's best features to attract more buyers.
Protect your sale with escrow services.
Keep an eye on the final transfer process.
Do you have any questions about how to sell a domain name? Let us know in the comments section below!
…
Don't forget to join our crash course on speeding up your WordPress site. Learn more below: