Wondering how to measure traffic to a website – any website?
Well, you've landed on the right page!
Enter the almighty website traffic checker – a tool you can use for that exact purpose.
In this article, we're going to review and compare the four best web traffic measurement tools available on the market in 2023. Not only that – we'll also go over the benefits and the pricing for each tool.
Then we'll wrap it up by giving you advice on how to choose the one that works best for your needs. By the time you're done reading, you won't have to wonder how many people are visiting a website – you'll be able to check!
Let's get to it! Here's a shortlist of tools that we've chosen to feature:
Semrush is a popular tool among SEO professionals and has a lot going for it in terms of why you'd want to consider using it to measure traffic to a website.
First, it should be noted that Semrush isn't merely a website traffic checker, it's a comprehensive SEO software. As an SEO software, it provides users with a massive amount of data. While discussing the full range of what you can do with Semrush is outside the scope of this article, one of the pieces of data that it does provide, is how much traffic a website gets. Hence its inclusion on this list.
There is both a premium (paid) version and a free version, but if all you're looking to do is measure traffic to a website, then the free option delivers. One might even say it over-delivers as you can see below.
🎁 Benefits of Semrush:
High generosity: While many web traffic measurement tools have a free option that provides some data – including how much traffic a website gets – they hold back a lot of the "good stuff" behind a paywall. Semrush has a paywall as well, but the free version gives you quite a bit to work with. 📊
Movers-n-shakers: Quickly see which top five keywords are driving the most traffic to your website so you can reassess which keywords you are optimizing for in your posts. This is important for on-page SEO. 📈
Know thy competition: See which keywords you and your competitors both rank for. The free version only shows a partial list, while the paid version unlocks the full list. In addition, with the paid version you get additional data like which keywords your competitors rank for, but that you don't (rank for). 🤺
Free link building tool: When we said that Semrush was generous with the advanced SEO audit tools we weren't kidding. Another amazing feature in their free plan is an analyzer that displays all possible websites where you'd be able to potentially insert a backlink, based on up to ten keywords. It gives details about the sites, including the strength of their domain authority (how strong search engines perceive them to be). It also includes a way to reach out to the domain owners to ask if they'd be willing to add a backlink back to your page. 🤯
Here's what you'll see when you visit the homepage of Semrush:
Once you type in the website address that you want to know the traffic data for, you'll be asked to quickly register. Upon completion of registration, you are taken to the search results page, which looks like this:
💵 Semrush pricing:
Free version with limited functionality
Pro starting at $129.95 per month
Guru starting at $249.95 per month
Business starting at $499.95 per month
Semrush offers up to 17% off the prices listed above if you switch to paying annually, instead of monthly. The pricing for that looks like:
Pro starting at $108.33 per month
Guru starting at $208.33 per month
Business starting at $416.66 per month
In addition to the above, they have several add-on services and even a custom plan option.
Ahrefs is another popular SEO tool that lets you check website traffic information, and it's often compared to Semrush. In fact, we've made this comparison ourselves in our Semrush vs Ahrefs article. We recommend checking it out if you decide to narrow down your choices to these two tools after you finish reading this post.
Much like Semrush, Ahrefs also offers both a premium (paid) version and a free version.
Luckily, the traffic measuring feature is available in its free version so you don't need to pay anything to use it.
However, it does have a significant limitation:
The free option only allows you to measure the traffic of your own website. In addition, you will need to verify that you own the site, so it's not as simple as just dropping a URL in a search box. There's a set-up process involved.
If you want to be able to track the website traffic of sites other than your own, then you'll need to upgrade to an Ahrefs paid plan.
Technically, Ahrefs categorizes its paid website traffic checker and its free website traffic checker as two entirely different tools. This is a bit different from the way Semrush and the other choices on this list do it. The more popular method is to offer a free version of the same product, but with limited capabilities.
With that said, the Ahrefs paid tool is called site explorer and looks like: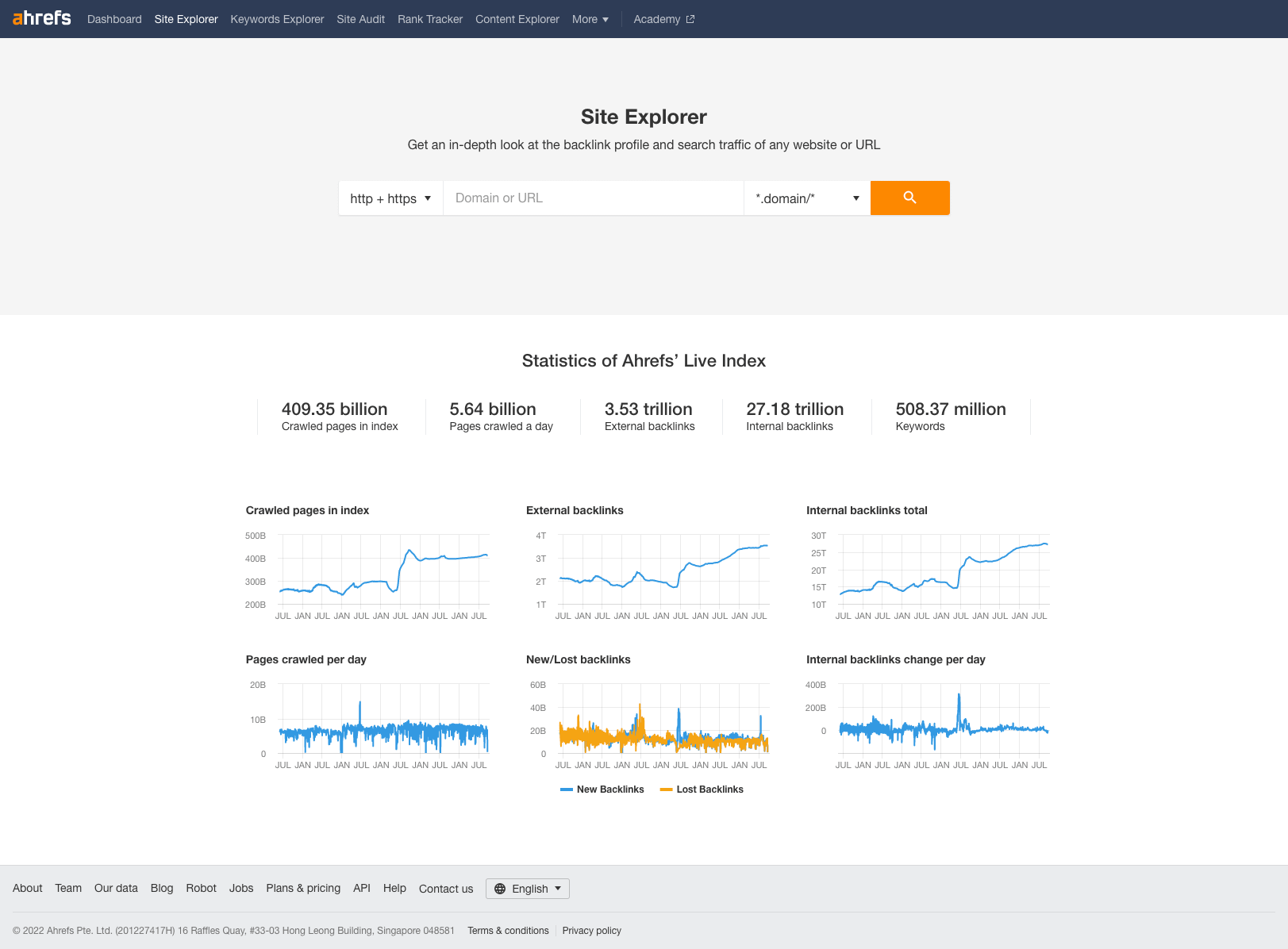 Their free option is called the website checker. It looks like:
🎁 Benefits of Ahrefs:
Free website traffic checker: Although it's primarily a paid SEO software, it does have a free tool, which allows you to measure website traffic to your own website (as shown above). 🆓 If you want to check the website traffic of competing sites, you'll have to upgrade to a paid subscription and use the site explorer.
SERP (search engine results page) analysis: This provides important details about websites that rank on the first page of Google for a given keyword – including how much web traffic they get each month. The free version shows data for the first three positions only, while the paid version unlocks the rest. 🖥️
Lots of hand-holding: Ahrefs offers its users a lot of features – particularly in the paid option. This is generally good, but it can also feel overwhelming if you are just starting out with either SEO or learning how to measure traffic to a website. Luckily, the Ahrefs team has recognized this, and has included a "how to use" link next to the heading for each tool. They also have an enormous library of blog posts that can help you understand how to leverage their tools to improve the traffic performance of your website. 📖
Keyword traffic checker: Knowing website traffic is useful, but knowing keyword traffic is just as useful. The paid version of Ahrefs gives you both. It has a detailed keyword analysis tool that displays how many people are searching for a particular keyword every month. In addition, you can see how much overall traffic the top position gets monthly. For example, if you searched for "best books for new dads," you would see the information below 📈:

💵 Ahrefs pricing:
Free version with limited functionality
Lite starting at $99 per month
Standard starting at $199 per month
Advanced starting at $399 per month
Enterprise starting at $999 per month
Ahrefs offers a discount for those who pay up front for the year – you get two months for free. If you choose to take advantage of this option, then the pricing is more attractive:
Lite starting at $83 per month ($990 per year)
Standard starting at $166 per month ($1,990 per year)
Advanced starting at $333 per month ($3,990 per year)
Enterprise starting at $833 per month ($9,990 per year)
As was stated earlier, this tool is much more than a simple website traffic checker, but if all you're looking for is to check the traffic of your own website, then it has you covered. If you want go further down the website analysis rabbit hole, then you'll want to consider one of their paid subscriptions or another choice from this list.
Similar to both Semrush and Ahrefs, Serpstat not only allows you to measure traffic to a website, but it also provides you with a full scope SEO analyzer. As you've probably guessed by now, this is the norm rather than the exception. Virtually all web traffic checkers nowadays offer way more services than simply measuring website traffic.
It seems that the web traffic analysis is offered for free as part of their marketing strategy. They let you check how much traffic a website is getting to pique your interest, and hope that you'll be willing to pay a premium to see the other data behind the curtain.
With that said, since the focus of this post is about measuring website traffic, we will share with you how Serpstat is able to fulfill that need. They actually make it very easy. As soon as you land on the Serpstat homepage, you are greeted by a search bar asking you to put in a website address.
It's a tiny bit misleading though, because they do require you to register in order to view the results – so don't expect immediate gratification after you hit that green search button. There is one extra step in between you and website traffic data glory.
On the positive side, they let you use either a Google account or a Facebook account to log in. This makes it extremely fast to register. Therefore, despite the extra hidden step, it doesn't take too long to get the web traffic info you are looking for.
The Serpstat landing page looks like this:

Once you've finished registering, you are welcomed with the detailed – and free – website analysis below:
🎁 Benefits of Serpstat:
Short distance: Only two clicks stand between you and the website traffic data you want. 🏃
No need to bargain: The free version of Serpstat gets the job done. 🆓
Overdelivers on value: Not only does the free version get the job done, it goes above and beyond. Some of the additional info it provides includes the estimated number of visitors per month from Google searches; the number of organic keywords that an analyzed domain is ranking for in Google's top 100 results; the domains' pages that drive the largest amount of traffic from organic search results along with the number of keywords each page has in Google's top 100 search results; and more. 📶
An investment that pays: For those who are thirsty for an even deeper website analysis, the paid version of Serpstat has more than 30 tools that are able to do things like: conduct a whole site analysis, analyze competitors, check backlinks, carry out an audit, perform clustering and more. 🧰
💵 Serpstat pricing:
Free version with limited functionality
Lite starting at $69 per month
Standard starting at $149 per month
Advanced starting at $299 per month
Enterprise starting at $499 per month
Serpstat has a multi-layered discount program where the per-month cost gets increasingly lower if you choose to pre-pay farther ahead. This caps out at a whopping 35% off of the prices you see above. That's a really steep discount, but to unlock that you'd need to commit to using the service for 60 months (five years).
Ubersuggest is another excellent SEO tool that provides a way to check website traffic. Although it can be considered a free website traffic checker, it does have a catch: the free plan limits you to only three website scans per day.
If you're just starting a blog or maintaining a website as a fun side hobby with no significant ambition to grow your online presence, then three scans per day might be sufficient enough to meet your needs. However, if you are serious about growing and monetizing your blog, then you'll need to do some more in-depth research. In that situation, three scans per day are probably not going to cut it.
The nice thing about Ubersuggest though, which differentiates it from the other options on this list, is that it offers a seven day free trial to test it out. If you find that during the trial it's really not what you were looking for, then you can easily cancel. Even if you cancel, you'll still be able to continue using their free tool to measure traffic to any website, so you have nothing to lose by taking them up on their offer.
🎁 Benefits of Ubersuggest:
Try before you buy: Aside from the free option, there is a seven day trial you can take advantage of. It gives you full access to the comprehensive paid platform without spending a cent. 💲
Nothing to set up: Unlike the Ahrefs free website checker tool, Ubersuggest does not require you to verify ownership of a website to get website traffic information on it. 🚀
Check any website: Again, unlike the free Ahrefs option, which limits you to only checking the traffic of your own website, with Ubersuggest you can check competitor websites as well. 💻
Learn your strengths: Even in the free version, you are able to see a limited list of the keywords that are driving the most traffic to your site. You're also shown the pages on your site that receive the most amount of traffic. 🔝
Easy on the eyes: This is a personal preference thing to some extent, but we find that the color palette and overall aesthetic presentation of Ubersuggest makes it very easy to quickly eye-scan the screen for what you need. Simply put, there's a good amount of information, but it doesn't make you feel like you're drowning in data. 👀
Friendlier pricing: This is covered in detail below, but the cost of Ubersuggest is generally more approachable for smaller businesses or one-man / one-woman blog operations. 🤑
💵 Ubersuggest pricing:
Ubersuggest has an interesting pricing model that breaks away from what we saw earlier with Ahrefs and Serpstat, which were similar in a few ways. To begin with, much like Semrush, Ubersuggest offers only three paid plans along with a limited free plan. Ubersuggest's limitations are set up a bit differently than Semrush though. It caps you at three website traffic analyses per day, and all plans come with a seven day free trial period – which is not the case with Semrush.
Free version with limited functionality
Individual starting at $29 per month
Business starting at $49 per month
Enterprise / Agency starting at $99 per month
Like the other web traffic measurement tools on this list, Ubersuggest also offers a discounted pricing model. However, instead of doing the typical pay-up-front-for-a-year (or longer) discount, they offer a lifetime subscription option for each of their plans. Those don't come with the seven day free trial, but instead have a 30 day money guarantee. Given that it's a one-time fee for lifetime access, it's a fairly reasonably priced way to measure traffic to a website.
Individual is $290 for lifetime access
Business is $490 for lifetime access
Enterprise / Agency is $990 for lifetime access
Which is the best way to measure traffic to a website?
This is a common question that gets asked about many website tools, and traffic checkers are no exception. The answer always comes back to: what is your intention or purpose with using X tool, and how will X tool fit in with the overall goals of your website or blog.
Consider the following use case scenarios:
😎 Just for fun
Recommendation: Ubersuggest Free Version
If you have a website as a side hobby and aren't particularly ambitious about growing it, then you might not be very enthusiastic about spending money just to check website traffic. That's completely fine, because with Ubersuggest's free version, you'll be covered for up to three free website traffic checks per day. Even if you get curious and want to check the traffic of a site other than your own, you'll be able to do that as well – also for free.
🐔 Going for the golden egg
Recommendation: Semrush Pro Annual Plan
On the opposite side of the spectrum, if you plan on starting an ecommerce business or take your blog seriously, then you're going to need a lot more artillery on your side than just a simple website traffic checker. In general, if your goal is to monetize your blog or website, then the old saying "spend money to make money" is very applicable.
Although all four website traffic checkers featured here are great in their own ways, Semrush will arguably give you an edge that you won't get with a more inexpensive option like Ubersuggest. Just as one example: the backlink opportunity tool is much more developed in Semrush than it is in Ubersuggest – or even in Ahrefs for that matter. Simply put, Semrush will equip you with all of the tools and data you'll need to make your website or ecommerce store a success. It's not cheap, but you'll find that it's worth it.
🐣 Just starting out
Recommendation: Ubersuggest Individual Plan
What if you're somewhere in between the above? Maybe you're just starting your blog or online shop, and although you have high ambitions, you have a low budget. If limited funds are a concern, then the Ubersuggest individual plan – at only $29 per month – is by far the most inexpensive entry level plan on this list. Plus, if you really see yourself sticking with it for the long haul, then you can also drop $290 and get the lifetime subscription.
FAQ
Why measure website traffic?
Checking your competitors' traffic is a quick way to gauge how well they're doing compared to your own site. While this sort of traffic estimates are never 100% accurate, they will give you a nice overview of where you stand vs your competition – especially if you put your own site through these tools as well.
Can you measure website traffic for free?
Yes, there are free options out there, such as the free version of Ubersuggest – they have pro tiers as well.
What is the best all-around tool to measure website traffic?
That would be Semrush. Their Pro plan packs all the features you might need and lets you do a really deep analysis of your competitors' sites – and even whole online presences that go way outside just what's going on on their websites.
Final thoughts on how to measure traffic to a website
Whether you landed on this page because you Googled "how can I check organic traffic to my website for free?" or "how to measure traffic to a website?," or something similar, we hope that you found your answer.
👉 At the end of the day, we generally recommend trying several free website traffic checkers before investing into one (or more) of them. This will give you a taste of how they function, what data they give you, and in general, if you think that the tool is a good match for you and your website's needs.
Most people who work professionally with SEO and are tasked with measuring website traffic, usually have a toolbox that combines the functionalities and data of multiple tools. We urge you to slowly start working on your own toolbox. What you ultimately put into it is going to be largely dependent on your goals and your budget, as we outlined in this article.
Do you know of any other ways of how to measure traffic to a website that we didn't mention here? Let us know in the comments section below!
…
Don't forget to join our crash course on speeding up your WordPress site. With some simple fixes, you can reduce your loading time by even 50-80%: