Getting a domain name is most people's roadblock when trying to release a new website to the world. Basically, you cannot even start working on a website until you have a domain name at your disposal. But what if you could actually get your domain without paying anything for it? In this guide, we're going to show you four very real methods of how to get a domain name for free. 🤑
But let's zoom out 🔍 before we get into the specifics:
Not all of these methods work the same way and produce the same outcome. There are pros and cons to each of them, and basically only two materialize a domain name that you're in full control of.
The long story short is that paying for a domain name gives you total ownership rights and absolute control of what you want to do with that domain. Therefore, if you mind being in control, buy your domain name. However, if all you want is to learn how to get a domain name for free for the purpose of an experimental project or a personal website, then here are the options we're going to cover:
👉 We'll thoroughly explore these options, including their pros, cons, and best use cases. Read on to discover how to get a domain name for free:
1. Get a free subdomain from a website builder
Site builders like WordPress.com, Wix, Squarespace, and even Mailchimp offer inclusive plans that also cover free (sub)domain names.
The only downside is that your domain name would indeed actually be only a subdomain instead of a custom domain.
For example, instead of having a domain like pizzasgallore.com, you'll get pizzasgallore.wordpress.com or pizzasgallore.wixsite.com.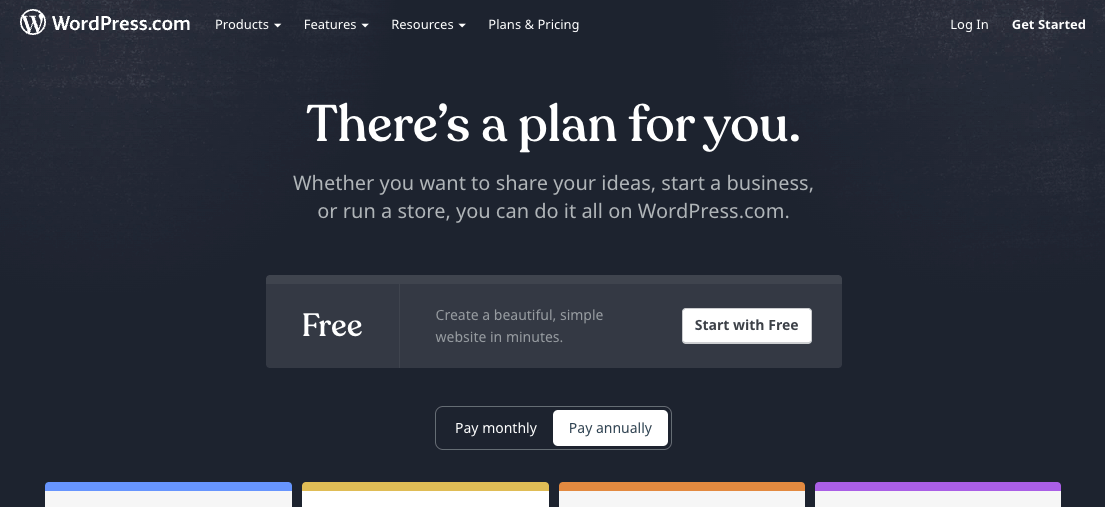 How to set it up ⚙️
The process works very similarly with most website tools such as the aforementioned WordPress.com, Wix, or Squarespace. The specific steps might differ from tool to tool, but you'll usually have to:
Create a free account with one of the website builders (like Wix)
Choose a template or theme
Customize your site to suit your specific personal/business needs
Launch the site to the public
Depending on the specific tool you use, you'll be able to pick your subdomain while executing any of the steps above.
Pros 👍
Free web hosting and domain name forever
You can easily build a website with zero experience
Some website builders offer free SEO tools to improve your site
Cons 👎
Long domain names – not great for branding
It's not a viable long-term option
Limited access to site-building features
The plans don't include email accounts
Verdict: is a free subdomain good enough for you?
🌱 Best for starting small websites or testing new ideas before committing any funds to the project.
2. Purchase a web hosting plan and get a free domain name included
You can get a free domain name when purchasing a hosting plan from Bluehost, Hostinger, or some other hosting companies.
Bluehost is a top-rated hosting provider. So we'll use it in this example.
The platform allows you to kill two birds with one stone by hosting your website and providing a free domain name at the same time.
How to set it up ⚙️
Sign up for Bluehost's services by going to the shared hosting section on their site and clicking on the Get Started button.
All hosting subscription plans come with a free domain name for a year, SSL certificate, anti-spam protection, and unlimited bandwidth. You can pick the cheapest one to keep things on a budget:
(Do not go directly to the Domains section of the site as this would take you to the paid domain name connection.)
Once you've chosen a plan to work with, you can create a new domain name: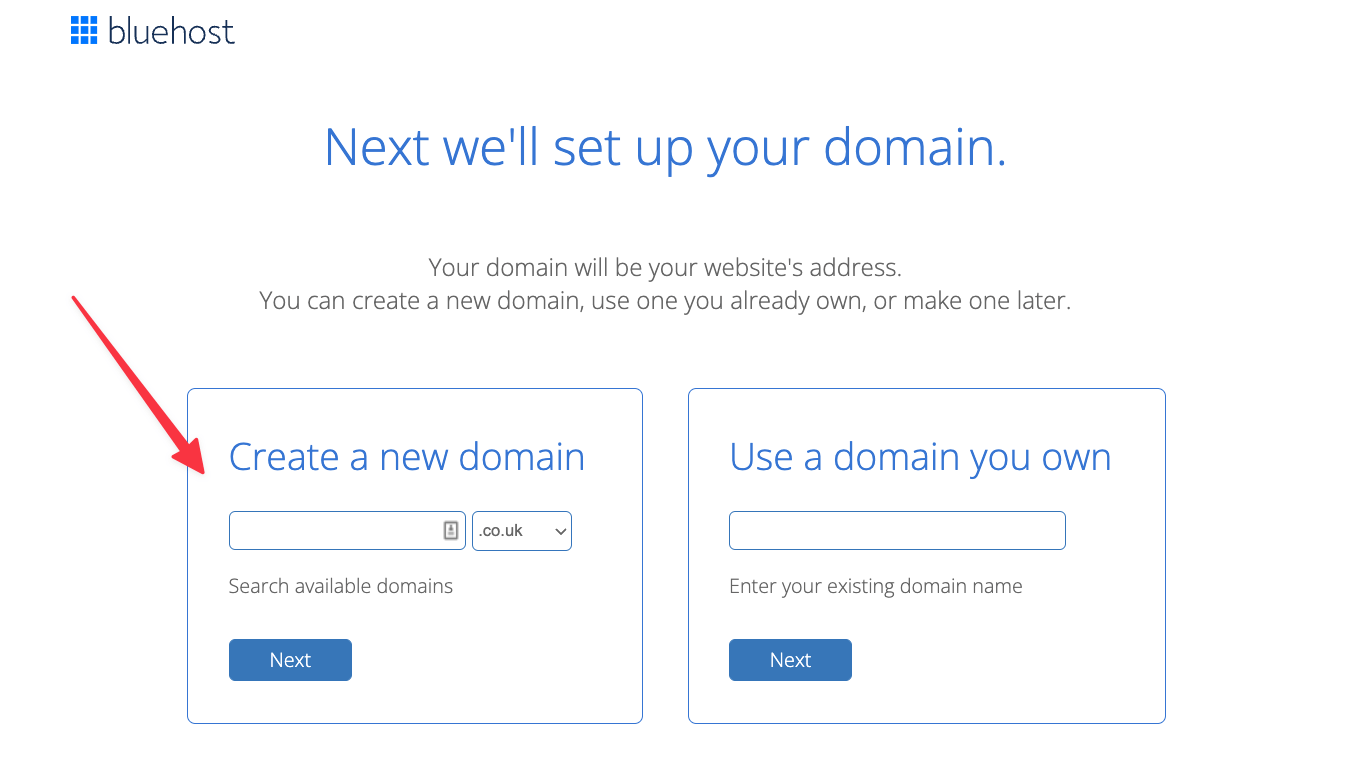 Bluehost offers multiple TLDs (domain extensions) including .com, .net, .org, .co, and more. We'll go with .com, since it's the most popular and makes your website look more professional.
📛 Note; if you're not quite sure what domain name you should choose or even where to get started, DomainWheel might be of some help! It's a domain name generator that takes a seed word or phrase, analyzes it, and comes back with numerous domain name suggestions. All those domains are available for registration. This can be a huge time saver.
Enter your preferred domain name and check if it's available. If it is, you can proceed to the next step. If it's unavailable, the system will provide some alternatives: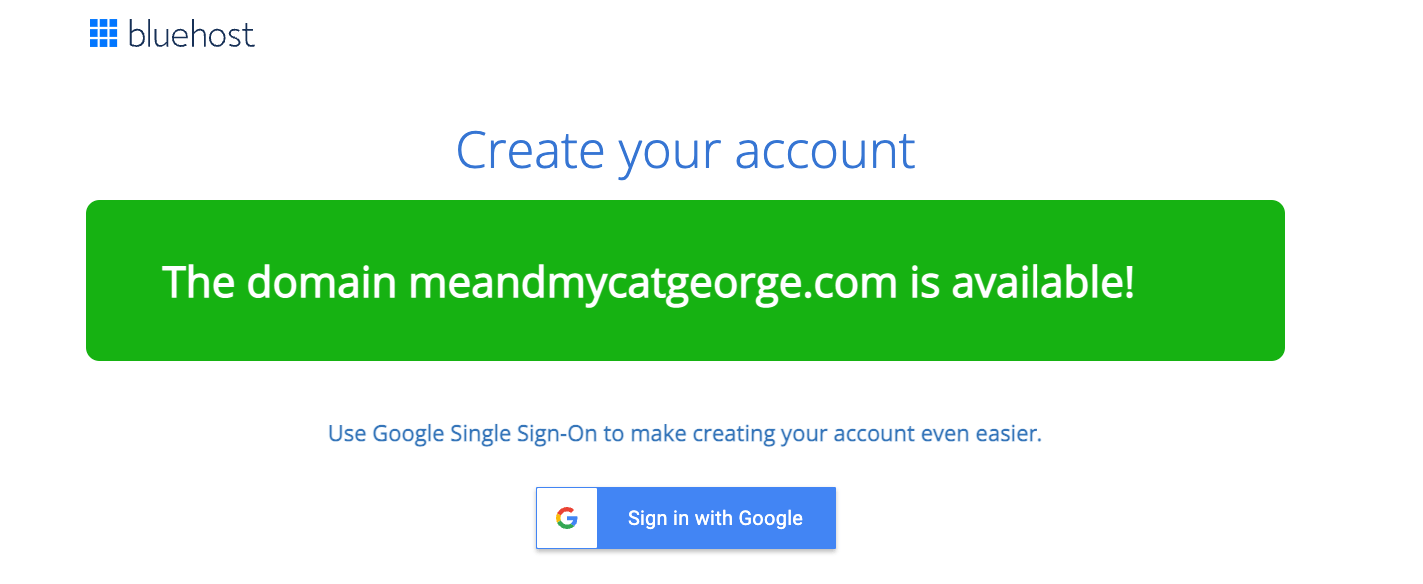 Once you've selected a suitable domain name, Bluehost directs you to the account creation page. Here, you'll fill out the necessary information and sign up: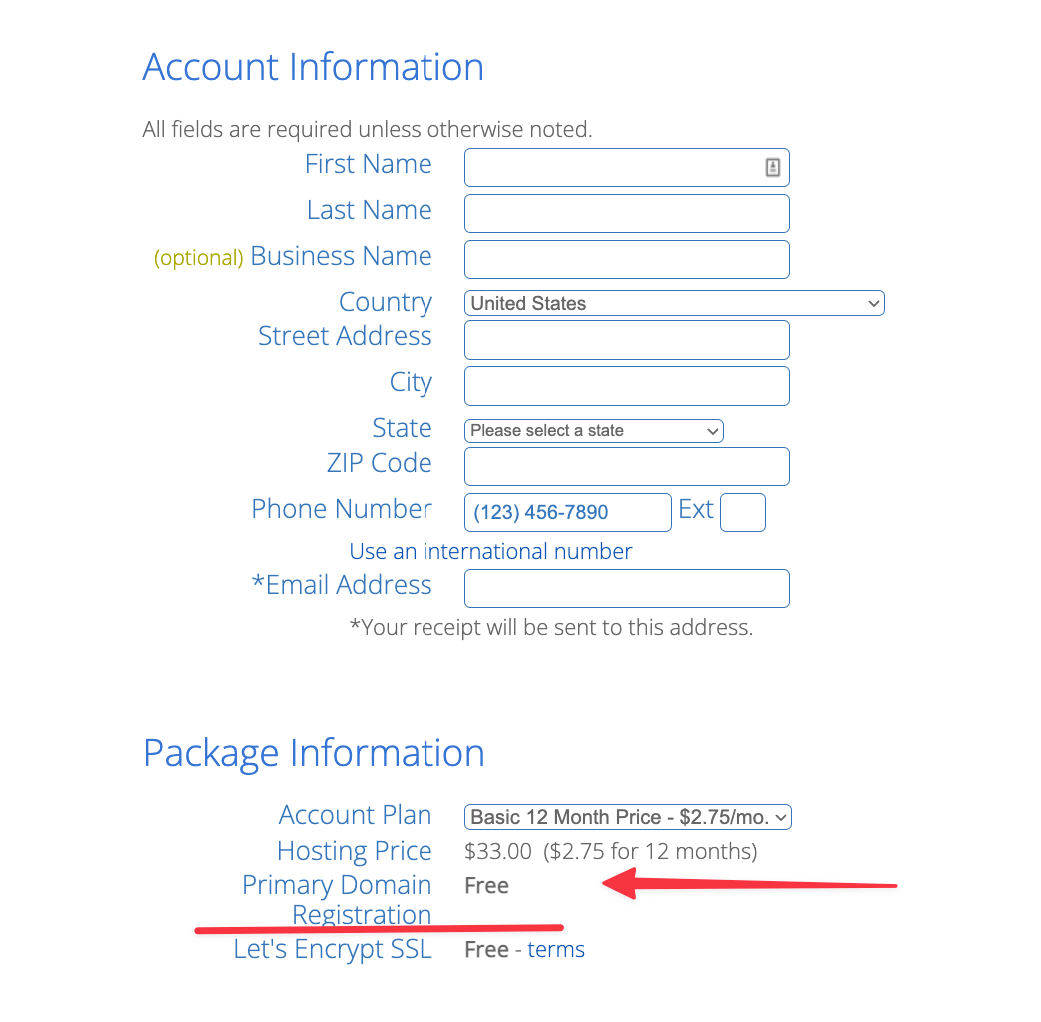 Pros 👍
Your domain name looks credible and professional
Access to top-level domains like .com, .net, .org, and many more
Bluehost lets you use WordPress – the most popular of all website platforms – and you can install it with a couple of clicks, speeding up your website launch process considerably
You can easily set up your business emails as well (no additional fee)
Cons 👎
You must pay for a yearly hosting plan to get a free domain name
Pricey renewals for your domain – starting from $15 a year
You lose your domain name if you fail to renew your plan
Verdict: is a host's free domain name best for you?
🚀 Best if the reason you're looking for a free domain name is to build a website on it anyway – and you're just looking for possible savings. This method lowers your initial cost when launching a small website.
3. Buy a website builder subscription and get a free domain name included
This section is an extension of the first method we mentioned earlier. What's different about this approach, however, is that now we're going to be purchasing one of the premium plans that these tools offer and getting a free domain name bundled in.
What's better about this approach is that this time it's not going to be a subdomain, but a fully featured custom domain. Generally, most of the popular website platforms offer a free domain for one year.
How to set it up ⚙️
Choose one of the popular website building platforms such as WordPress.com, Wix, Squarespace, or Weebly. All of them offer a free domain name if you purchase a premium subscription.
We're going to use Wix for this example – it's a great builder that rivals WordPress in many ways.
Go to Wix.com and click on the Get Started button:
Next, sign up using your contact info and follow along through the Wix launch wizard: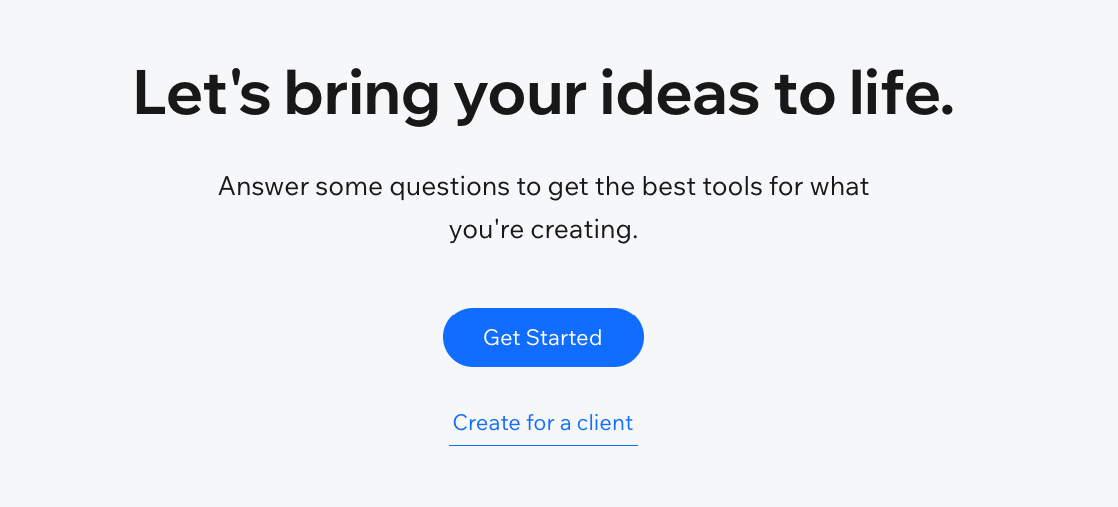 When you're all done, you can go to the main Wix dashboard and get a free domain name from there. Go into the Site Actions menu that's in top right and click on Rename Site:

Next, click on Upgrade Now to pick one of the premium plans and get a free domain name as part of the bundle: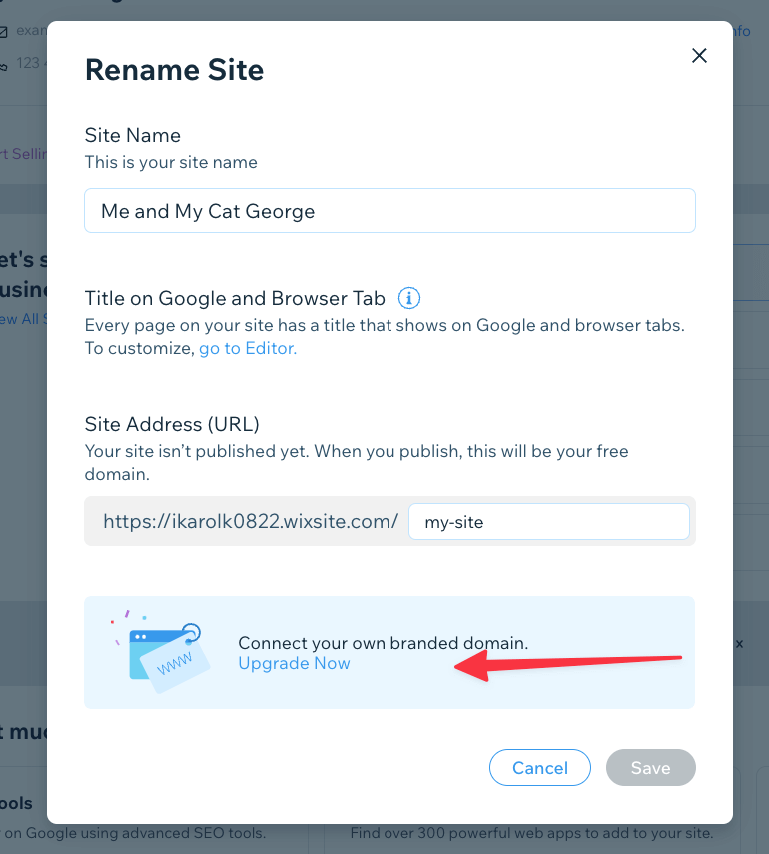 Type the domain name you want to use to check its availability, and then fill in the domain registration information when prompted. Make the necessary payments to purchase the subscription plan.
Pros 👍
Free domain and hosting for a year
Better customer support
You get the whole package needed to build and launch a new website
It's easy to create a website on your own
Cons 👎
You must pay for a full-year plan
It's more expensive compared to hosting companies (the previous method)
The domain name expires when your subscription plan ends
Verdict: is getting a free domain name from a site builder tool best for you?
🛠️ Best if you want to get a free domain to then build a website on top of it – and you want to do it all the DIY way. This is a great solution for those who don't have any experience in this field nor any coding skills.
4. Get a free domain from a domain name registrar
You can obtain a free domain through a domain name registrar specializing in free accounts. While this method is not ideal, it's still a viable solution.
💡 Note that it's best to exhaust all the other options before settling for a free domain registrar, because they'll make your website appear untrustworthy and/or unprofessional.
The domains you get this way are usually lower-quality and less popular ones, such as .tk, .ml, or .cf. Most of these platforms will give you a free domain name in exchange for placing ads on your site.
How to set it up ⚙️
Use Dot.TK or Freenom. They function alike.
For example, go to Freenom.com and check your domain name availability:

If your domain name isn't available, you can try a new one or choose from Freenom's suggestions.
Select your preferred domain extension and click the checkout button. This might require some trial and error, though. These free services are not always the most intuitive to use.
Choose your registration period, and continue. Registering the domain up to one year is free. Going above the one year mark will require a payment.
Fill out the registration form with your info and email address: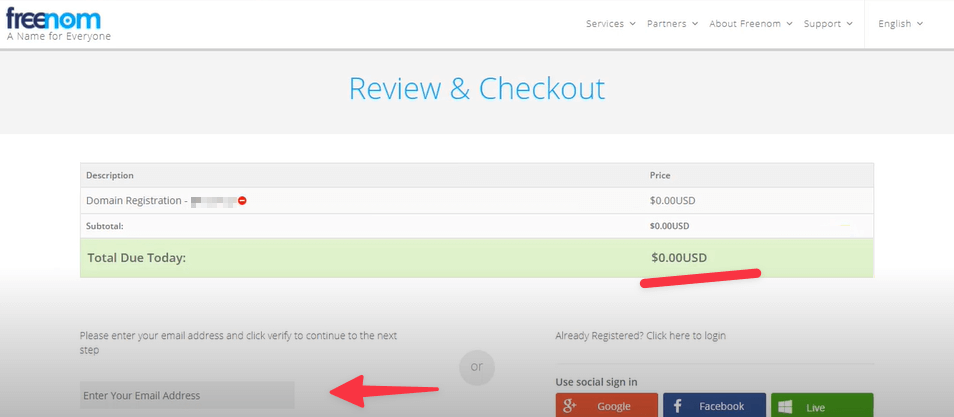 Click the link in your inbox to verify your email and proceed. Next, review and complete your order.
After creating your domain, you can view and manage all free domain names under the services section:
Pros 👍
A relatively easy way of registering a free domain name
You don't have to buy any other service to get this free domain name
You can choose when your domain expires
Cons 👎
The awkward domain extensions are confusing and appear unprofessional
You don't have control over things like ad placements on your website
The reviews on the quality of such services are mixed, plus sometimes the free domain registration process doesn't work at all 🤷‍♂️
The platform can disable your domain name at any time, this makes it not a great solution for professional sites and can have negative impact on your SEO
Verdict: is a registrar's free domain name best for you?
🤷‍♂️ Best for dummy websites, experimental projects, and other non-professional or non-commercial use cases.
Final words 🏁 on how to get a domain name for free
There you have it! These have been four ways of how to get a domain name for free, actually!
If you ask me, the best path is to pay a moderate amount for web hosting and get your domain name for free as a bundle deal. Bluehost is one of the most well-known companies that offer deals like this, plus it's also our top-recommended web host for WordPress websites. You can get started with Bluehost for $2.75 a month.
As an alternative solution, if you're not planning to use WordPress for your website, you can subscribe to a premium tier with website builder platforms like Squarespace or Wix. They're excellent when it comes to ease of use and reliability, plus you also get a free domain name as a bundle deal from them.
Lastly, for experimental projects, or projects that you might want to take mainstream later on, you can opt for a free subdomain from either WordPress.com or Wix. Those services will serve their purpose well and also allow you to upgrade to a more professional setup if you ever need it.
Whatever method you choose, make sure it's from a legitimate domain provider or website builder! For that very reason, we don't recommend you use method no. 4 from the list above. We're only including it to keep the message complete and show you an actual 100% free way to get a domain name. However, in most real-world scenarios, it's not a setup that's viable for any long-term application.
👉 If you want to learn more on how to build your first site using Wix, read this in-depth guide.
👉 If you're more of a DIY WordPress person, here's a detailed walkthrough on how to make a WordPress site from scratch.
Do you have any other questions on how to get a domain name for free? Let us know in the comments section below!
…
Don't forget to join our crash course on speeding up your WordPress site. Learn more below: